New York Mets:

Ray Ramirez
May, 10, 2013
May 10
10:19
PM ET
WHAT IT MEANS:
The only real dilemma ought to be which pitcher Zack Wheeler replaces in the rotation.
Shaun Marcum
became the first pitcher in franchise history to fail to complete five innings in each of his first three starts as a Met as the Amazin's lost to the
Pittsburgh Pirates
, 7-3, Friday night at Citi Field.
Marcum (0-3) watched his ERA rise to 8.59 after surrendering six earned runs in 4 2/3 innings.
He allowed five straight Pirates to reach base to open a three-run second inning. He then allowed a replay-awarded three-run homer to
Garrett Jones
in the fifth that gave the Pirates a 6-0 lead. Marcum surrendered nine hits and plunked two batters before being replaced by
Robert Carson
.
Marcum took a line drive off his left wrist off the bat of
Wandy Rodriguez
in the second inning, and twice was visited by trainer Ray Ramirez during the frame.
Later in the second, shortstop
Ruben Tejada
's double-clutch on a makeable play on
Starling Marte
's grounder resulted in a late throw to first base. Instead of the final out, the infield single plated Pittsburgh's third run.
SILENT NIGHT:
The Mets had another quiet night at the plate, with the lone damage through eight innings coming on
Anthony Recker
's solo homer in the fifth against Rodriguez. It was Recker's first homer as a Met.
In the fourth,
David Wright
had produced a leadoff double. He was stranded as
Lucas Duda
grounded out to first base,
Marlon Byrd
popped out to first base and
Ike Davis
popped out to third base.
Wright again was stranded in scoring position in the sixth after a leadoff single.
The Mets finally scored a pair of runs in the ninth against
Jose Contreras
, prompting manager Clint Hurdle to insert closer
Jason Grilli
with two on and two out in the ninth.
WHAT'S NEXT:
On Banner Day at Citi Field, the Mets send
Jonathon Niese
(2-3, 4.66 ERA) to the mound opposite left-hander
Francisco Liriano
. Liriano will be making his Pirates debut after opening the season on the DL with a broken humerus bone in his non-throwing arm.
Wheeler, by the way, starts for Triple-A Las Vegas on Saturday night opposite ex-Met
Aaron Laffey
of the Albuquerque Isotopes (Dodgers).
April, 19, 2013
Apr 19
9:54
PM ET
WHAT IT MEANS:
The Citi Field crowd said it best, chanting in the sixth inning: "Har-vey's better! Har-vey's better!"
That certainly was the case at least on this night, in a hyped matchup between
Matt Harvey
and
Stephen Strasburg
.
Harvey took a scoreless effort against the
Washington Nationals
into the seventh inning. Then, after surrendering a run, he wriggled free of a bases-loaded, no-out jam that teammate
Daniel Murphy
helped create.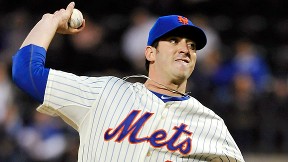 Kathy Kmonicek/Associated Press
Matt Harvey took a scoreless effort into the seventh, then really rose to the occasion.

The final score: Mets 7, Nats 1.
The crowd, announced at a paid 26,675, included Dwight Gooden. Ike Davis and
Lucas Duda
each homered twice.
Harvey ultimately limited the Nats to one run on four hits and three walks while striking out seven in a 105-pitch effort spanning seven innings.
Harvey's ERA actually rose to 0.93. He has limited opponents to 10 hits and nine walks while striking out 32 in 29 innings this season.
He became the first Met since
Pedro Martinez
in 2006 to earn the victory in each of his first four appearances of a season.
The tense moment came in the seventh, which Harvey entered working on a two-hit shutout.
Adam LaRoche
opened the inning with a walk and
Ian Desmond
and
Chad Tracy
singled as the Nats pulled within 4-1.
Steve Lombardozzi
then hit into a would-be 4-6-3 double play. But as
Ruben Tejada
crossed the bag, Murphy's flip was behind him, toward the third-base side of the infield. The duo failed to connect. Instead, Washington had the bases loaded and none out, trailing by three runs.
Tejada received a visit from trainer Ray Ramirez, but remained in the game.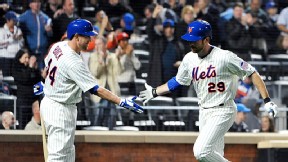 Kathy Kmonicek/Associated Press
Ike Davis homered twice Friday.

As
Brandon Lyon
warmed in the bullpen and Harvey's pitch count approached triple-digits, the Mets' ace stepped up.
Harvey struck out
Kurt Suzuki
and coaxed a foul pop-out to the catcher from
Roger Bernadina
, who was pinch-hitting for Strasburg.
Denard Span
then grounded out on Harvey's final pitch as the Mets maintained a three-run lead.
Strasburg, who surrendered solo homers to Davis and Duda in the sixth that expanded the Mets' lead to 4-0, matched a career high with his third straight loss. He allowed four runs (two earned) on five hits and two walks in six innings.
Davis also delivered a two-run shot in the eighth against
Drew Storen
. Duda again followed Davis' lead, with a solo shot that frame.
The Mets scored a pair of unearned runs in the first.
Jordany Valdespin
opened the half-inning by reaching on an error by Desmond at shortstop. Valdespin advanced to third on a single by Murphy and scored on a wild pitch. Murphy scored with two outs on a single by
John Buck
.
Harvey did not allow a hit until Strasburg's one-out, opposite-field double in the third. The next hit came from Span on a single to open the sixth. Span was erased when the ensuing hitter,
Jayson Werth
, grounded into a double play.
WHAT'S NEXT:
Jeremy Hefner
, who served up two homers in an inning of relief Thursday at Colorado, starts for the first time since April 10. Hefner (0-2, 7.20 ERA) opposes left-hander
Gio Gonzalez
(1-1, 4.50) at 3:05 p.m. at Citi Field.
August, 16, 2012
8/16/12
5:58
AM ET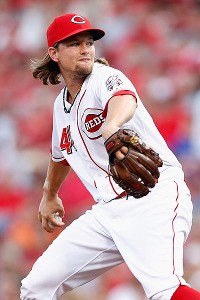 Joe Robbins/Getty Images
Mike Leake pitched a complete game against the Mets on Wednesday.

A bracelet-deprived
R.A. Dickey
surrendered consecutive fourth-inning homers to
Scott Rolen
and
Todd Frazier
(a 474-foot shot), then a long ball to
Jay Bruce
in the sixth and the Reds beat the Mets, 6-1, Wednesday night at Great American Ball Park. The three homers matched the most surrendered by Dickey as a Met and deprived him of win No. 16.
Mike Leake
became the third pitcher to toss a complete game against the Mets this season, joining Toronto's
Brandon Morrow
and Atlanta's
Paul Maholm
.
The Mets dropped a season-worst seven games under .500.
Now,
Matt Harvey
(1-3, 3.63 ERA) takes the mound tonight trying to arrest a personal three-game losing streak and help the Mets avoid a sweep. He opposes right-hander
Homer Bailey
(10-7, 4.08).
The Mets have not been swept in Cincinnati since the season-opening series in 2005, when stopgap closer
Braden Looper
blew
Pedro Martinez's
debut with the organization on Opening Day by serving up consecutive ninth-inning homers to
Adam Dunn
and
Joe Randa
.
Thursday's news reports:
• Plate umpire
James Hoye
, supported by crew chief
Jim Joyce
, instructed Dickey to remove a pair a bracelets from the wrist of his glove hand during the second inning. Dickey said the bracelets had been made by his daughters before his offseason climb of Mount Kilimanjaro, and that he had worn the jewelry since January. Trainer
Ray Ramirez
had to be cut the bracelets because they were homemade and did not have fasteners. Dickey admitted being angry in the moment, but downplayed the significance on his performance -- even though
Terry Collins
said pitchers loathe changes to their patterns and suggested it may have affected the knuckleballer.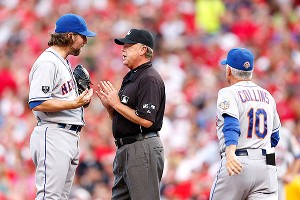 Joe Robbins/Getty Images
Crew chief Jim Joyce offers further explanation to R.A. Dickey about his bracelet removal before the start of the bottom of the third inning.

Dickey said umps told him during a delay when he took the mound the following inning -- which he did not appreciate, either -- that the directive came from Major League Baseball's uniform police, not the Reds or even the crew itself. Collins and Dickey found the timing curious, since it is already August and he had worn the bracelets all season without issue. Dickey said there are jewelry and other assorted violations across baseball, and likened the enforcement to a holding penalty in football -- that it can be enforced on any play. (Case in point: Check
Felix Hernandez's
left wrist in
this photo
after completing the final out of his perfect game Wednesday in Seattle.)
This wasn't the first time a bracelet had become an issue in a Mets game. Nine years ago,
Jae Weong Seo
became unnerved when Braves manager
Bobby Cox
convinced umps to force him to remove a Buddhist bracelet. Seo immediately surrendered a homer to
Andruw Jones
in that May 25, 2003 game at Turner Field.
Joyce told
Mark Hale
in the Post
after Wednesday's game: "You cannot wear anything on either hand, bracelet-type or anything like that." Told Dickey had worn it all season, Joyce added: "Tonight we saw it, this crew saw it, and we just asked him to take it off."
• Collins predicted he would go with a different lineup look Thursday, although there is a limit to how much maneuverability the manager has. Options include
Kelly Shoppach's
Mets debut,
Justin Turner
getting a start,
Jason Bay
in the lineup (he has two doubles in three career at-bats against Bailey) or a call-up such as
Lucas Duda
. Meanwhile,
Josh Thole
had a franchise-record three passed balls last night.
Read game recaps in the
Star-Ledger
,
Newsday
,
Record
,
Times
and
Daily News
.
• The Mets will utilize a six-man rotation beginning Sunday, when
Jeremy Hefner
starts in D.C. Exempt from the arrangement is Dickey, who will continue to pitch every fifth game. So after Hefner, Dickey should come back on standard rest Monday for the series opener against Colorado at Citi Field, followed by
Chris Young
on Tuesday and Harvey on Wednesday.
The system should allow Harvey to reach the end of the season without exceeding his front-office-imposed 170-inning limit. It also should give
Johan Santana
and Young needed extra rest in their first seasons back from shoulder surgery. And
Jon Niese
has performed dramatically better this season with extra rest between starts.
Analyst
Bobby Ojeda
on SNY found the timing of the six-man-rotation implementation curious. Ojeda suggested September, after rosters expand, might be more appropriate. Ojeda also linked the bracelet and six-man rotation issues. His point: Collins noted pitchers are creatures of habit when discussing the bracelet issue, but yet is implementing a pitching schedule that could disrupt their sacred between-starts routines.
Read more in the
Star-Ledger
and
Post
.
• Shoppach, assigned No. 6, joined his new teammates Wednesday.
Rob Johnson
was demoted to Buffalo to clear the roster spot. Shoppach actually has caught a knuckleballer before. He rose through the minors in the Red Sox organization with knuckleballer
Charlie Zink
, plus had limited exposure in spring-training camp in 2005 to
Tim Wakefield
. Collins said he intends to pair Thole with Dickey, but that could be revisited. Red Sox bullpen coach
Gary Tuck
gave Shoppach a refresher lesson on catching the knuckleball once they learned he was headed to the Mets. Read more in
Newsday
, the
Star-Ledger
and the
Daily News
.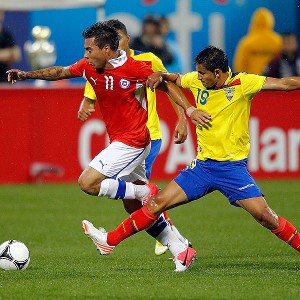 Paul Bereswill/Getty Images
Citi Field hosted an Ecuador-Chile soccer match on Wednesday night. Pictured, Luis Fernando Saritama (19) of Ecuador tries to stop Eduardo Vargas (11) of Chile.

• With the Mets away, Citi Field hosted soccer Wednesday night. Ecuador beat Chile, 3-0. The crowd on the rainy night was announced at 31,901.
• Former Red Sox first-round pick
Craig Hansen
, who last had appeared in a professional game in 2010 with the Pirates in the minors, surfaced with Brooklyn on Wednesday. Hansen, a St. John's product selected 26th overall in 2005, allowed one run on three hits and a walk in the eighth inning of the Cyclones' 6-2 loss at Tri-City. His contract keeps him under the Mets' control for 2013.
Brian Harrison
went 3-for-4 with three RBIs in Savannah's 8-2 win against Lexington.
Erik Goeddel
tossed seven scoreless innings for St. Lucie. Read Wednesday's full minor league recap
here
.
TRIVIA:
Who started for the Reds at pitcher opposite Pedro on Opening Day in 2005 in Cincinnati?
Wednesday's answer: Shoppach made his major league debut with the Red Sox on May 28, 2005 -- four years after being drafted by the organization out of Baylor. He was traded to Cleveland on Jan. 27, 2006 in the deal that landed
Coco Crisp
in Boston and subsequently played for the Rays before re-signing with Boston as a free agent last offseason.
July, 31, 2012
7/31/12
2:12
AM ET
WHAT IT MEANS:
Scott Hairston
may remain a Met beyond the 4 p.m. ET trade deadline. That's undoubtedly fine with his teammates.
Hairston tied the score with a two-run homer in the eighth against
Sergio Romo
. Then, a half-inning after the Mets blew a two-run lead in the ninth, Hairston went deep again. His tiebreaking solo homer against
Santiago Casilla
in what became a two-run 10
th
lifted the Mets to
an 8-7 win against the Giants
on Monday night at AT&T Park.
It was Hairston's sixth career two-homer game, and his second as a Met. He also homered twice last July 31 in a 3-2 loss at Washington.
A day after
Terry Collins
suggested teams in playoff contention undoubtedly ought to covet Hairston and
Justin Turner
, it was precisely that duo who rallied the Mets.
After Hairston's two-run homer against Romo evened the score at 4, the lightly used Turner followed with his first hit in 11 days -- a pinch-hit RBI double -- as the Mets scored four runs in the eighth to take a 6-4 lead.
The Mets ultimately won for only the third time in 45 games when trailing after seven innings.
HELP WANTED:
Won't you save them
Frank Francisco
?
Asked to protect a two-run lead after a late rally by his teammates,
Bobby Parnell
again failed to close the door in the ninth.
Parnell surrendered a run and was pulled by Collins with the tying run at third base. Rookie
Josh Edgin
then entered the high-pressure situation with one out and coaxed
Nate Schierholtz
into a grounder to first.
However,
Ike Davis
couldn't handle it and the tying run scored. (It was very generously ruled a double, although Davis appeared poised to field it, freeze the runner at third and get an out at first.)
Edgin escaped a loss. Ultimately confronted with the bases loaded, two outs and a full count, he got a called third strike on
Marco Scutaro
on a backdoor cutter to force extra innings.
It officially was the first blown save of Edgin's career, although that's not exactly fair. It actually was a testament to the manager's faith in Edgin that the rookie remained in for the duration of the ninth, since
Manny Acosta
had warmed in the bullpen.
Acosta did protect a two-run lead in the 10
th
, despite issuing two walks and surrendering a run. He notched his ninth career major league save and first since last Sept. 24, with the Mets against the Phillies. Edgin notched his first major league win.
Francisco, by the way, is due to pitch for Double-A Binghamton on Tuesday and Wednesday before the Mets consider activating him from the DL.
E-4:
Filling in for
Daniel Murphy
at second base,
Ronny Cedeño
delivered a two-run double in the fourth inning that staked the Mets to a 2-1 lead. Two innings later, however, Cedeño muffed a would-be inning-ending double-play grounder, allowing the tiebreaking run to score.
Ryan Theriot
followed with a seeing-eye RBI single that chased
Jeremy Hefner
as the Giants took a 4-2 lead in the sixth.
There's little doubt Hefner will continue in the rotation until
Johan Santana
returns from the disabled list. Had Cedeño successfully initiated the double play, rather than muffing
Aubrey Huff's
grounder and having to settle for only the out at second, Hefner would have completed the sixth inning with the score tied at 2.
The worst part: Huff injured himself and had to deliberately limp up the first-base line on his grounder to Cedeño, so any sort of clean play would have resulted in a double play.
Matt Cain
had to pinch-run for Huff.
OUCH: Andres Torres
appeared to jam his right hand/wrist falling to the ground after getting tangled with Giants pitcher
Madison Bumgarner
on an infield single in the fifth inning, during a bang-bang play at first base. Trainer
Ray Ramirez
visited Torres, and the ex-Giant remained in the game at that point. He departed later amid the defensive maneuverings, so it was unclear if the injury was an issue.
Angel Pagan
, for whom Torres was traded, also departed midgame without immediate explanation.
BAY WATCH: Jason Bay
snapped an 0-for-23 drought with a two-out single off the right-field wall in the sixth. Bay ended his hitless streak one shy of matching his career high, produced last season with the Mets.
WELCOME BACK: Mike Baxter
singled against Casilla as a pinch hitter in the 10
th
, in his first major league at-bat since separating his right shoulder on the June 1 catch that preserved Santana's no-hit bid.
NOT AGAIN:
The same umpiring crew that gave the Mets fits in Atlanta again had Collins on the field disputing a call.
In the fourth,
David Wright
singled. Hairston then sent a grounder to third base. Theriot, covering second, dropped Scutaro's throw, but ump
Dale Scott
ruled he held the ball long enough and lost the ball on the transfer -- a debatable call.
That's the inning Cedeño followed with the two-run double, so arguably it could have been a bigger inning.
It was Scott who gave
Jordany Valdespin
credit for a catch in left field, which was then overruled by his crewmates, during a game at Turner Field that opened the second half. A day later in Atlanta,
Dan Warthen
erupted at plate umpire
C.B. Bucknor
over the strike zone afforded Santana. Bucknor again was behind the plate Monday night.
WHAT'S NEXT: Matt Harvey
, coming off a major league debut in Phoenix in which he tossed 5 1/3 scoreless innings, opposes
Tim Lincecum
(4-11, 5.88 ERA) Tuesday at 10:15 p.m. ET.
July, 6, 2012
7/06/12
11:49
PM ET
By
Mike Mazzeo
| ESPNNewYork.com
Johan Santana twisted his ankle in the fifth inning of Friday's 8-7 loss to the Cubs, but the Mets left-hander isn't concerned that the injury will cause him to miss any time.

"I still feel it a little bit, but I don't think it'll be a big deal," Santana said. "I'll be fine."

The injury occurred as Santana was trying to catch Justin Turner's flip at first base with his bare hand. Santana dropped the ball, and Reed Johnson -- who had hit a dribbler between the mound and first leading off the frame -- stepped on his ankle, causing him to go down for a moment. At the time, the score was tied at 2.

Terry Collins and Ray Ramirez came out to the mound to check on Santana, but he felt fine after throwing two warmup pitches, so Collins let him stay in.

Santana went on to give up hits to six of the next seven batters he faced -- including a crushing three-run homer to Anthony Rizzo and a solo shot by Jeff Baker -- before being lifted.

He wound up surrendering a career-high tying 13 hits -- three of them homers -- along with a season-high seven earned runs in 4 2/3 innings.

Santana (6-5) came in with the second-best ERA in the majors at home (1.16).

Collins wasn't concerned about Santana's ankle either. He explained his decision to keep the left-hander in the game.

"Number one, he's made a career of getting out of trouble," Collins said. "If anybody can do it, he can. We're short a guy in the bullpen a little bit and I wanted to make sure we didn't extend our bullpen that early and I thought he could get through it."

Santana battled command issues all night long.

"They were very aggressive and coming up with big swings and big hits," he said. "I was just trying to stay with it and keep the ball down, but a couple mistakes ended up out of the ballpark."

Santana didn't know how the injury occurred when it happened.

"I didn't know if he stepped on it or anything. I just wanted to continue and try and get some outs. My execution was poor. I wasn't thinking about it," he said.
June, 10, 2012
6/10/12
9:01
AM ET
Mark Teixeira's
two-run homer in the sixth inning against
Dillon Gee
overcame a one-run deficit and the
Yankees beat the Mets, 4-2
, on Saturday night in the Bronx. Now, the Mets will send
Jon Niese
(4-2, 4.11 ERA) to the mound in Sunday's 1:05 p.m. game, looking to salvage the series finale against lefty
Andy Pettitte
(3-2, 2.78).
Sunday's news reports:
• Gee said he had
trouble getting loose every inning
on the mound. Read more in the
Star-Ledger
,
Daily News
and
Newsday
.
• Read game recaps in the
Post
,
Newsday
,
Record
,
Daily News
,
Times
and
Star-Ledger
.
•
Darin Gorski
tossed eight scoreless innings and
Eric Campbell
homered twice as Binghamton routed the Yankees' Double-A Trenton affiliate, 12-0. Meanwhile, 49-year-old
Jamie Moyer
topped prospect
Jenrry Mejia
in Triple-A Buffalo's 5-0 loss. Read Saturday's full minor league recap
here
.
•
Tony Bernazard
, who was fired by the Mets in 2009, surfaced in the stands at Yankee Stadium on Saturday. Bernazard, accompanied by
Jim Leyritz
, told
David Lennon
in Newsday
about his dismissal from the Mets: "I know what really happened. It was mostly lies."
Kirk Nieuwenhuis
,
David Wright
and trainer
Ray Ramirez
chatted with Bernazard pregame, according to Lennon. Bernazard declined to tell Newsday his current employer. As for his rooting interest in the Subway Series, Bernazard said: "I root for players -- not teams."
•
Ike Davis
said he received advice from
Reggie Jackson
on Friday, although manager
Terry Collins
noted listening to too many voices can further mess up a player. Davis' father
Ron
played for the Yankees. "I went to Old-Timers' games at old Yankee Stadium," Davis said. "And I got to meet Reggie a couple of times. And then in high school we had a workout with the Dodgers before the draft. And Reggie was there and I got to talk to him then. It's really the first time I got to see him since then. It's really cool that he recognized me. Obviously he's Reggie Jackson. We both went to ASU [Arizona State]. He's amazing. So it's great to talk to a guy like that."
As for the nature of Jackson's advice, Davis said: "We talked about hitting -- just to slow it down a little bit. He gave me good advice. Nothing with swing mechanics or anything. It's just that you have to make contact and let the ball go out of the yard, not try to hit the ball out of the yard. It was good stuff."
Davis went 1-for-2 with two walks Saturday, moving his average to .162. A team insider told ESPNNewYork.com that Davis
needs to have a big week
. Otherwise,
Lucas Duda
may be occupying first base once the Mets return to NL play on Friday and lose the DH.
On the play-him-or-bench-him-or-demote-him issue, columnist
Joel Sherman
in the Post
writes about Davis:
Look, if the Mets were 28-32 and, as expected, entrenched in last place, then I could see playing for the future, letting Davis continue to try to work out of this season-long slump in the majors. But we are beyond Memorial Day, the Mets are surprise contenders and Davis is among the worst hitters in the sport (.162 average, just five homers). Therefore, there must be accountability to the whole roster and to the fan base to field the best team possible to try to win. "What is best for this club is Ike swinging the bat well, here," hitting coach Dave Hudgens said. "... I hope he works through this here. He is one of our core guys. We need him to do well. ... If he gets out of this, he helps us win. I don't have a crystal ball, so I don't know if he is going to get out of it. But I know this, if we are going to compete on a large scale, we have to have Ike Davis in the middle of the lineup."
Read more on Davis in the
Daily News
,
Star-Ledger
,
Record
,
Times
and
Newsday
.
• Lennon
in Newsday
discusses the power disparity between the Yankees and Mets. Writes Lennon:
What's kept the Mets alive? Timely hitting. They are hitting .256 with runners in scoring position, sixth in the NL, and .268 in those situations with two outs, which ranks second. It's helped that Wright is having an MVP-type season, but he can't continue to do it alone. With five homers in his last 10 games, Duda is shaping up to be a strong sidekick, but Collins has been holding his breath waiting for more bats to show up. "We seem to be riding David pretty much solely," Collins said, "so we've got to get some guys to chip in. Singles don't win many games in this park." That's become obvious. Not so obvious is the solution, and until that changes, the Mets can't go toe-to-toe with the Yankees in a longest-drive contest, as the last two days have shown.
• With the no-hitter drought behind them, Sherman notes
in the Post
, the Mets also are devoid of a 20-game winner since
Frank Viola
got there in 1990. Sherman adds that the Mets legitimately have a candidate for every individual postseason award -- Wright for MVP,
R.A. Dickey
for Cy Young, Nieuwenhuis for Rookie of the Year and Collins for Manager of the Year. Add to that, perhaps,
Johan Santana
as NL Comeback Player of the Year.
• Wright told
Mark Hale
in the Post
his next contract -- which won't be negotiated in-season -- will be about playing in a place with a chance to win. "I want to win now. I want to win years from now," Wright told Hale. "That's going to be my deciding factor. Not money. I've been extremely lucky [financially]. The last thing I'm worried about is my next contract. That's the honest truth."
•
Mike Kerwick
in the Record
laments the planned slicing of the Subway Series from six games per season to three or four with the shift of the Houston Astros to the American League in 2013.
•
Justin Tasch
in the Daily News
speaks with Mets fan/entrepreneur
Darren Meenan
, who prints and sells Mets-themed T-shirts.
•
Zach Berman
in the Times
profiles the latest Mets shortstop,
Omar Quintanilla
.
TRIVIA:
Where did Quintanilla
play college baseball?
Saturday's answer: Through Friday, the Mets had been outscored by 16 runs. Saturday's 4-2 loss then upped the run differential to minus-18, better than only Milwaukee (-21), Miami (-26), Houston (-30), Colorado (-31) and Chicago (-59) in the National League.
April, 3, 2012
4/03/12
6:25
PM ET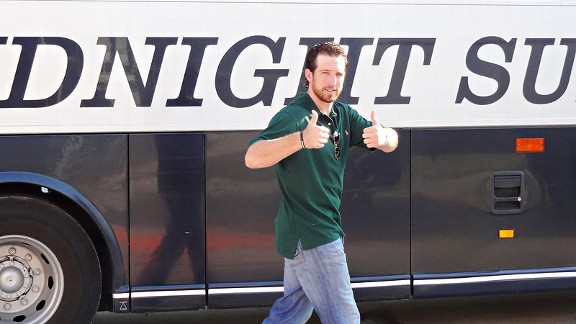 Adam Rubin
Ike Davis heads to a team bus to leave spring training in Port St. Lucie after belting a walk-off homer Tuesday.
The Yankees made their first visit to Port St. Lucie since 1995, and
Tim Byrdak
and
Andres Torres
made their returns to Grapefruit League action, as the Mets essentially fielded their Opening Day lineup for the first time all spring training.
Ike Davis
provided the heroics, launching a deep walk-off homer to center off
Mark Montgomery
as the Mets beat the Yankees, 7-6, Tuesday before a record crowd for spring-training baseball in Port St. Lucie of 7,644.
"Oooh, that was way back,"
Josh Thole
said after watching on TV from the clubhouse as Davis crushed Montgomery's offering.
Said
Justin Turner
: "That ball
still
hasn't landed."
Terry Collins
was thrilled he was able to field his regular lineup (plus
Scott Hairston
at DH) for the first time all spring training -- Torres, followed by
Daniel Murphy
,
David Wright
, Davis,
Jason Bay
and
Lucas Duda
, then Thole and
Ruben Tejada
after the Hairston DH spot that won't exist come Thursday.
The manager, earlier in the day, also watched closer
Frank Francisco
successfully throw a bullpen session to test his gimpy left knee, which had required a cortisone shot Sunday.
"We're very pleased," Collins said. "Frankie had a good pen. He said the knee is still a little irritated, but he said he's fine. He could pitch with it.
"There were smiles on all the coaches' faces today that we finally ran our team on the field. As a matter of fact, we like to post the lineup early, and we couldn't even do that until we got all the things in place this morning -- talking to the trainers, talking to the players.
Sandy
[
Alderson
] and I met [about] the ramifications if something should happen, what were we going to do. But about 9:30 we finally came up with the lineup."
After the game, the Mets bused to Tampa. They will play the Yankees in the final 2012 Grapefruit League game. Collins said he will use his full lineup for a couple of innings in Wednesday's spring-training finale.
•
Mike Pelfrey
had a strong final tune-up for Game 4 of the regular season, against the Washington Nationals on April 9. Pelfrey limited the Yankees to one run on two hits while striking out five and walking none in four innings. The lone damage came on a homer by
Nick Swisher
.
December, 5, 2011
12/05/11
5:58
PM ET
Terry Collins said Monday he has all but resolved to use Angel Pagan in the leadoff spot. Collins even planned to call Pagan to have a conversation about it soon.

But, the manager added, Daniel Murphy would be the alternative. In fact, the manager said, team officials had discussed that possibility Monday because of Murphy's high on-base percentage. Collins said he could see Murphy like a Wade Boggs atop the lineup. Collins wanted to avoid using Ruben Tejada at leadoff to limit the pressure on Jose Reyes' successor.

Other tidbits:

• Collins congratulated Reyes with a text Monday morning, and Reyes replied with a brief thank you. On the Marlins' spending, Collins said: "I was a little surprised they had that much money to burn." As for the Mets' psyche, Collins added: "We cannot start spring training sad."

• Collins said as of now he would project Murphy as the second baseman, with Justin Turner also in the mix.

• The manager said the debate now in the organization is whether to sign one higher-end closer or spread the money a little more around with multiple relievers. The latter option may prevail, meaning that Frank Francisco/Jon Rauch-type caliber. Collins said he can foresee Jenrry Mejia being the team's closer once he has recovered from Tommy John surgery. But, Collins added, the organization has not resolved to move Mejia to the bullpen just yet.

• Collins said he expects much more offense out of David Wright and Jason Bay with the outfield walls moved in.

• Collins said Johan Santana right now is "healthy" and that he expects the southpaw to make 30 starts in 2012. Still, Collins cautioned, Santana is unlikely to ever see 95 mph ever again.

• Trainer Ray Ramirez will go to Panama soon to check on how Tejada is bulking up this winter for the rigors of a major league season.

• Asked which prospects may make their major league debuts in 2012, Collins said right-hander Jeurys Familia -- potentially in the spring-training starting mix, potentially in the bullpen -- as well as left-handed reliever Robert Carson and center fielder Kirk Nieuwenhuis, assuming he's recovered from shoulder surgery. Collins did not see 2010 first-round pick Matt Harvey being a factor in 2012.
November, 15, 2011
11/15/11
7:21
PM ET
The Mets won't make major changes to their medical staff, but are flipping a pair of assignments.

According to Newsday, Ray Ramirez will remain head trainer with the major league club. He now will be assisted by Brian Chicklo, who oversaw the Florida operations last season after several years as a minor league trainer. Mike Herbst, who had been Ramirez's assistant, reportedly will flip roles with Chicklo and be assigned to Port St. Lucie.
August, 14, 2011
8/14/11
9:58
AM ET
Mike Pelfrey
lobbied to stay in Saturday's game after being struck with a fifth-inning line drive in the right elbow off the bat of
Gerardo Parra
. Trainer
Ray Ramirez
didn't allow it. So
D.J. Carrasco
entered and coughed up a two-run lead by serving up a three-run homer. The Mets eventually lost at Arizona, 6-4, to slide three games under .500.
Pelfrey joked that he wished assistant trainer
Mike Herbst
rather than Ramirez had come to the mound, since it was Herbst who allowed Niese to throw that ill-fated warm-up pitch after an injury covering first base two years ago. Niese collapsed on the mound Aug. 5, 2009 during that warm-up pitch and required surgery for a torn hamstring tendon.
Pelfrey expected to make his next start, which would be Friday at home against the Milwaukee Brewers, when
Francisco Rodriguez
comes back to Citi Field. X-rays of Pelfrey's elbow were negative, the organization reported, and Pelfrey was diagnosed with a bruise.
Pelfrey also clarified his quotes in Saturday's Post, saying any suggestion he made that it was "unrealistic" for the Mets to win a championship this year were taken out of context. "I've said stupid stuff before," Pelfrey said. "But this time, I didn't."
Pelfrey said he left the interview Friday believing he had said something positive, and noted he said that the organization is heading in the right direction under
Sandy Alderson
and crew. "This isn't a big deal,"
David Wright
said.
Read the full ESPNNewYork.com report
here
.
Sunday's news reports:
• Read game stories/Pelfrey reaction coverage in the
Times
,
Star-Ledger
,
Newsday
,
Daily News
and
Record
.
Mike Puma
in the Post
has this opening to his story:
Mike Pelfrey's foot hadn't even left his mouth last night when a new body part became an issue.
•
Zack Wheeler
was a tough-luck loser. He allowed one run in five innings in his third start with Class A St. Lucie since being acquired for
Carlos Beltran
. "It was just that I couldn't get command of my fastball tonight. I was all around the plate," Wheeler told
Bill Whitehead
at TCPalm.com
. Said St. Lucie manager
Pedro Lopez
, who managed against Wheeler's Augusta team in the South Atlantic League last season: "He's much different. He pitched more up in the zone last year. This year it's more downward plane with his pitches. He a really special kid. Tonight he didn't have his best stuff, but he gave up one run in five innings."
Meanwhile, fellow top pitching prospect
Jeurys Familia
tossed five scoreless innings for Double-A Binghamton. Read the minor league recap
here
.
• While not set in stone, sources
project the Mets' September call-ups
to include right-handers
Chris Schwinden
and
Josh Stinson
, left-hander
Robert Carson
, infielders
Josh Satin
and
Zach Lutz
, outfielder
Fernando Martinez
and catcher
Mike Nickeas
.
•
Justin Turner
pinch hit in the ninth inning Saturday and plans to return to the lineup Sunday after missing two starts, despite a hip flexor/quadriceps issue.
•
Terry Collins
started
Mike Baxter
over
Scott Hairston
in right field on Saturday night. The primary reason? Collins thought Hairston was more equipped to be a late-game pinch hitter than Baxter, who produced his first major league triple during Saturday's game. Read more on the rationale in the
Star-Ledger
and
Record
.
• Staten Island's
Jason Marquis
, who faces the Mets on Sunday after being sent July 30 from Washington to Arizona, again is a free agent this offseason. And like the previous times he has been available, he would love to pitch at home, he
told the Daily News
. "I try not to extend my focus past (this season), but obviously I have always had a desire to pitch at home," Marquis told the newspaper. "I'm a New York guy, and I have always dreamed of playing for the Yankees or Mets, representing my hometown."
•
Christian Red
of the Daily News speaks with one Long Island family about their Sept. 11 loss, and how
Mike Piazza
and the Mets
were a part of the healing
10 days later.
BIRTHDAY:
Outfielder
McKay Christensen
, a waiver claim from the Dodgers, who had four plate appearances as a Met during the 2002 season, turns 36.
NBA
NHL
COLLEGE BASKETBALL
NFL