New York Mets:

Reggie Jackson
July, 12, 2012
7/12/12
8:38
AM ET
Baseball is nearly back. The Mets will hold a workout today at Turner Field in Atlanta at 4:15 p.m. to get back into the swing for Friday's second-half opener, which now pits
Chris Young
against
Tim Hudson
.
Johan Santana
is expected to throw a bullpen session to test whether his twisted right ankle is ready to perform Sunday, potentially against ex-Brewer
Ben Sheets
. Otherwise,
Jon Niese
would pitch the finale against the Braves and Santana would wait until Tuesday in D.C.
In Tampa,
Jason Bay
(concussion) and
Frank Francisco
(oblique) are expected to make a second attempt at beginning a rehab assignment for Class A St. Lucie. Wednesday's Florida State League game was rained out.
Thursday's news reports:
•
Dillon Gee
plans to undergo surgery Friday
at Barnes-Jewish Hospital in St. Louis to repair damage to an artery in his shoulder. Gee was discharged on Wednesday after being hospitalized in New York for two days with a blood clot in his shoulder, which doctors believe they successfully dissolved using a catheter. The surgery in St. Louis should prevent the recurrence of clots and give Gee a healthy long-term prognosis, as well as allow him to pitch without issue from the get-go in 2013. As for this season, Gee most likely is done. Still, he may begin throwing in as soon as six to eight weeks, so a return in late September (or if the Mets are in the postseason in October) is not entirely out of the question. Read more in the
Journal
,
Post
,
Star-Ledger
,
Daily News
,
Record
,
Times
and
Newsday
.
• Before the resolution by Gee to undergo Friday's procedure,
Terry Collins
indicated
Miguel Batista
would assume Gee's rotation spot, at least for the short term. That turn can wait until as late as next Saturday before being required, because the Mets have an off-day after the series in Atlanta.
Collins has not weighed in since the latest Gee development, regarding Friday's surgery. But there is zero reason to believe that changes the resolution to use Batista the first time that spot comes up. Down the road, now, the Mets will have to more strongly consider
Matt Harvey
, or identify another candidate.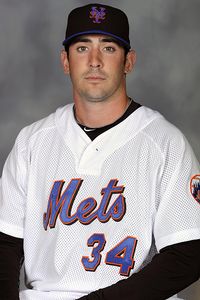 Courtesy of New York Mets
Matt Harvey

Harvey continues to maintain, as he has since spring training, that he is ready for major league duty. Scouts say Harvey needs more refinement, though, noting his fastball up in the strike zone will not have the same success against major league hitters. They also express concern that his reluctance to use a changeup at times will make it easier for advanced hitters to sit on the fastball. Writes
Andy McCullough
in the Star-Ledger
:
Before this week, the Mets were content to give Harvey more time to mature. In an ideal world, explained Paul DePodesta, the club's vice president for scouting and player development, "we want our young players to force their way on the team." Harvey has not reached that point, even after he pitched two hitless innings in the Triple-A All-Star Game last night. Club officials cited a need to improve his efficiency and consistency. In an ideal world, he'd spend the majority of this season with Buffalo. "We're pretty committed to trying to do this right," DePodesta said last week. "Trying to do the right thing for the long term." Except this world is not ideal. Tomorrow morning, Gee will undergo a second procedure to repair the damage done by a blood clot in his right shoulder.
Buffalo manager
Wally Backman
told McCullough: "For me, he's still not quite there. But he's close."
Said Harvey: "If in your mind you don't believe you're ready, and don't believe you belong, then you probably don't. For me, every time I pick up a baseball, I feel like I'm ready."
Writes columnist
John Harper
in the Daily News
:
The time and circumstances, then, appear to be right to give Harvey a shot. For the moment, however, the Mets aren't ready to make that move, club sources said on Tuesday. They like the way Harvey is progressing, but GM Sandy Alderson is determined not to rush any of his young pitching prospects. That's a reasoned and prudent approach, particularly for an organization that may still be paying for foolishly rushing Jenrry Mejia two years ago.
But Harvey, by all accounts, is a mature 23-year-old who has spent significant time in Class A, Double-A, and now Triple-A since the Mets made him their first-round draft choice out of the University of North Carolina in 2010. At Buffalo he is 7-3 with a 3.39 ERA and a mid-90s fastball, and Backman thinks Harvey has progressed enough to hold his own in the big leagues. "He'll take a lump or two if they call him up," Backman said by phone on Tuesday. "But his fastball command is much improved. He can help them."
• Rookie
Josh Edgin
will take Gee's roster spot in Atlanta
, joining workhorse
Tim Byrdak
as a second southpaw option in the bullpen. Edgin's promotion should better gauge for
Sandy Alderson
how aggressively the GM needs to acquire bullpen help before the July 31 deadline -- assuming the Mets capably navigate this next stretch of games: at Atlanta, at Washington, vs. the Dodgers, vs. the Nats.
Edgin's fastball ranges from 92 to 95 mph. He also throws an 82-85 mph slider. He grew up in rural Three Springs, Pa., and found his way to Ohio State University, where he served as a reliever. In December of his junior year, Edgin then transferred to Division II Francis Marion, where he had the opportunity to start.
"The Ohio State coach wanted to keep me in the bullpen," Edgin told ESPNNewYork.com last season. "I thought that I needed to start to get drafted. When I was playing summer ball in the Coastal Plains League, I met a guy named
David Walters
, who is with the Orioles now. He was on my team. We talked. He said, 'Hey, we're one good pitcher away from a D-II World Series team.' Basically I got hooked up with them through him. And it just so happened that one of my catchers from Legion ball when I was in high school actually went to Francis Marion as well. That kind of drew me, and playing baseball in the South."
Edgin was drafted after his junior year in the 50
th
round by Atlanta but did not sign. The Mets then took him in 2010 in the 30
th
round on the recommendation of amateur scout
Marlin McPhail
, who has repeatedly unearthed middle-round gems for the Mets from the Carolinas over the years.
Edgin, 25, was borrowed repeatedly from minor league camp this spring with Byrdak having undergone left knee surgery to repair torn meniscus cartilage. Edgin ended up officially being added to major league camp and ultimately finished with 10 1/3 scoreless Grapefruit League innings. He made 35 relief appearances for Triple-A Buffalo, during which lefties hit .220 against him (vs. .256 for righties). The Mets opened a 40-man roster spot for Edgin when
Chris Schwinden
cleared waivers earlier in the week.
•
Tom Seaver
, on hand for the Triple-A All-Star Game, added to the criticism of
Reggie Jackson
for speaking ill of the credentials of several Hall of Famers, including the late
Gary Carter
. "Reggie is Reggie. And I like Reggie, but Reggie sometimes turns the logical part of his brain off," Seaver said, according to
Mike Harrington
in the Buffalo News
. "And Reggie loves to talk. It just didn't make very much sense to me."
As for the reception Jackson might get when the Hall of Famers gather for the upcoming induction ceremonies, Seaver added via Harrington: "It will be interesting to see, won't it? Reggie will apologize. He's very diplomatic. The other part of it is he believes very strongly about the institution. He wouldn't be saying that if it was just about himself, I hope. And he's too bright not to be that way."
Read more in the
Daily News
.
•
R.A. Dickey
appeared on the "Late Show" on CBS last night. Dickey taught
David Letterman
the knuckleball grip. Letterman then attempted to catch some knuckleballs, although Dickey gave him a tame version of the pitch. Watch the video
here
.
The Dickey-featured documentary "Knuckleball!" will be available for order on digital cable beginning Sept. 18, according to
Cody Derespina
in Newsday
. Meanwhile, the All-Star Game ratings peaked about the time Dickey entered Tuesday's game for the sixth, writes
Bob Raissman
in the
Daily News
. Read more on the Letterman appearance in the
Daily News
.
•
Jerry Seinfield
recently explained to
Richard Sandomir
in the Times
why he has no interest in buying a share of the Mets. "There is no higher level to being a fan," Seinfeld said. "It's not a better experience if you own the team. ... It's like the Empire State Building. If you like it, go there. You don't need to own it. ... I have enough people yelling at me about things in the street -- 'Nice play at third base, Jerry; nice pickup' -- that I didn't need to add ownership to it."
• Harvey tossed two scoreless innings and
Valentino Pascucci
reached base four times in the Triple-A All-Star Game before a sellout crowd in Buffalo of 18,025. Meanwhile, Binghamton's
Eric Campbell
delivered a walk-off RBI single in the Eastern League All-Star Game. Read Wednesday's full minor league recap
here
.
Campbell earned MVP honors. Read more in the
Binghamton Press & Sun-Bulletin
.
•
Michael Salfino
in the Journal
chronicles the Mets' two-out success during the first half. With 48 percent of their runs scored with two outs, the Mets have plated the highest percentage of runners with two outs in the majors in any season since 1974, when Stats LLC started keeping the statistic. Next best: the 1994 San Francisco Giants, at 46.6 percent of their runs scored with two outs. Writes Salfino:
If the Mets this year performed with two outs at a league-average rate of 38%, they would have about 39 fewer runs -- or an estimated four fewer wins. New York went into the break at 46-40 and battling for playoff contention. If not for their two-out magic, though, the Mets would have a losing record. The Mets hit .254 with no outs and .247 with one out, both 21st in baseball. But their .274 average with two outs is third in the majors and would be the highest two-out average in their history. Last year, they were also good when the chips were down, posting a .269 two-out average that's second best in franchise history. This year's two-out charge has been led by David Wright (.386 with 25 RBI), Josh Thole (.357/7), Daniel Murphy (.337/24), Lucas Duda (.320/23) and Ruben Tejada (.320/5).
• Triple-A right-hander
Collin McHugh
continues to blog about his minor league life
here
.
• Sheets appears likely to pitch for Atlanta on Sunday against the Mets. It would mark his first major league action since July 19, 2010 with Oakland. Read more in the
Atlanta Journal-Constitution
.
TRIVIA:
What remembrance from the first game back at Shea Stadium after Sept. 11 did
Chipper Jones
keep after finding it on the field?
Wednesday's answer: In his second start as a Met,
Pedro Martinez
opposed
John Smoltz
in Atlanta on April 10, 2005. Smoltz carried a 1-0 lead into the late innings. But
Carlos Beltran
delivered a two-run homer in the eighth and Martinez went the distance as the Mets prevailed, 2-1, to snap a season-opening five-game losing streak.
July, 9, 2012
7/09/12
3:19
AM ET
Jon Niese
allowed four first-inning runs and ultimately
surrendered seven runs in seven innings
as the
Mets lost to the Cubs, 7-0
, at Citi Field on Sunday. The Mets entered the All-Star break with a 46-40 record, exceeding many expectations, but off a series loss to Chicago.
If the playoffs started today, the National League division winners would be Washington (49-34), Pittsburgh (48-37) and Los Angeles (47-40).
Atlanta (46-39) and Cincinnati (47-38) would claim the wild cards, with the Mets as well as St. Louis and San Francisco -- with identical 46-40 records -- a half-game back.
The Mets reassemble for a late-afternoon workout Thursday at Turner Field in Atlanta. They then begin another critical stretch Friday against the Braves. That series will be followed by one in D.C. The Amazin's then return home to face Los Angeles and again the Nats.
As for going 2-4 this season against the Cubs, who are now a half-game better than Houston for the worst record in the majors,
Terry Collins
said: "They played us really well. Maybe it's one of those, it's a bad matchup for us." The Mets also were swept in Houston a month into the season.
Monday's news reports:
• The
Mets and Rockies are discussing a trade
involving righty-hitting catcher
Ramon Hernandez
. The deal could be expanded to include left-handed reliever
Matt Reynolds
, a baseball source told ESPNNewYork.com. The source added that players who interest the Rockies include
Justin Turner
as well as prospects
Matt den Dekker
,
Jacob deGrom
,
Josh Edgin
,
Chase Huchingson
,
Jack Leathersich
,
Domingo Tapia
and
Wilfredo Tovar
. While there was optimism a deal could ultimately be consummated, there was no indication the Mets would agree to include any of those Rockies targets. The Post's
Joel Sherman
also links the Mets to catchers
Kelly Shoppach
(Boston) and
Miguel Olivo
(Boston).
"
Sandy
[
Alderson
] and I talk every single day," Collins said, speaking generally about the trade deadline. "He's certainly aware of what our needs are. We talk about it. We know where our holes are. We know how to fill them. But the asking price to fill them sometimes isn't going to be paid. We're just not going to sacrifice the future for a piece for a month. And I've been there before. Believe me. And it's one of the things I've learned -- look, I can't worry about what I don't have. I know what we need. Everybody on any team that's competing right now needs a piece to get better. But I also know it can kill you down the road to give up some of those things that you have to.
"In my past places, some of the asking prices, when you go to the players and go, 'Yeah, we could have gotten so-and-so, but it would have cost that guy,' they all say, 'Well, you can't move him.' So we'll just have to see what happens."
Writes Sherman about Hernandez
in the Post
:
It is the kind of incremental improvement they want to make to enhance their postseason chances. One Mets official said, "We are not talking about acquiring Gary Carter in 1985 here." Translation: It is still a few weeks from the deadline, when teams can ask for big returns, but the Mets will wait for more realistic requests or else not make the purchase.
Alderson, speaking on SNY during Sunday's game, suggested he had been burned in the past by acquiring a catcher midseason. That was the case, he suggested, because of the acquisition's unfamiliarity with the new pitching staff and not providing enough offensive improvement over the incumbent to justify the swap in retrospect. In the current case,
Mike Nickeas
is hitting .172 with a homer and 13 RBIs in 93 at-bats.
Read more in the
Star-Ledger
.
•
R.A. Dickey
,
David Wright
and
Terry Collins
departed for the All-Star Game in Kansas City via chartered plane after Sunday's loss. Dickey
made one last pitch for the starting nod
on the mound for the NL, saying it would be easier for starting catcher
Buster Posey
if the knuckleballer opened the game, since that would afford the duo extra time to work together during warmups as well. NL skipper
Tony La Russa
is expected to name his starting pitcher at a 1:30 p.m. ET press conference Monday. Meanwhile, Wright is excited to return to the All-Star Game after a one-year absence. He was not selected for the 2011 game, snapping a six-year streak, because he was sidelined with a stress fracture in his lower back. Read more in
Newsday
.
• Columnist
Tara Sullivan
in the Record
salutes Wright's first-half performance, writing:
As he stood postgame at his locker trying to remember everything he needed to pack for his upcoming sixth All-Star Game appearance and the six-game road trip that follows, Wright talked about the consistency his team needs to find in the season's second half. What he never would say is that everyone needs to find it but him. Wright has been the eye in the center of this crazy storm, the steward, the leader, the beacon of consistency amid all that swirls around him. Like a straight line through a swirling mass, he has kept this team on course. "Absolutely carried us in the first half," manager Terry Collins said.
•
Jon Rauch
had a rough beginning to the All-Star break. The reliever revealed
via Twitter
he was involved in an automobile accident after Sunday's game. He tweeted:
got sideswiped on the way home.....awesome. guy tried to merge into my jeep. Jeep 1 - Benz S-class 0. took 2.5 hrs for police to show up. Entire side of the benz destroyed by the 37" tires and Ace Eng. sliders. Couple dents in the rear door from his mirror. The Jeep is a tank. no injuries. glancing blow to both cars. He's lucky i didn't drive over the top of his hood!! to be honest, felt like i hit a pothole. heard the accident more than i felt it.
Rauch then tweeted a photo of his Jeep pre-accident, which you can view
here
.
• It turns out
Johan Santana's
right ankle is
not as healed as desired
. After twisting it then getting stepped on Friday by
Reed Johnson
while covering first base, Santana nonetheless was scheduled to start Friday's second-half opener in Atlanta. Now,
Dillon Gee
will take that start, followed by Dickey in Game 2. Collins said either Santana or Niese will start Sunday's finale at Turner Field, with the other opening the following series at Washington.
Chris Young
remains the fifth starter out of the break. "He's fine. Don't misread anything," Collins insisted about Santana. "We just want to make sure that he's 100 percent when we come out of the break." Read more in the
Post
,
Record
and
Daily News
.
• Read Sunday's game recaps in the
Times
,
Post
,
Record
,
Newsday
,
Star-Ledger
and
Daily News
.
• Alderson appeared for an inning and a half on SNY. There were no revelations, but the GM did suggest
Zack Wheeler
would make roughly two more starts for Double-A Binghamton before being promoted to Triple-A Buffalo. And Alderson, without naming
Josh Edgin
, implied the lefty reliever would be imminently promoted after the All-Star break so the Mets can gauge what they have before the trade deadline. Alderson spoke about multiple relievers coming up, so perhaps
Jenrry Mejia
is soon to join the Mets as well. "I think you'll see a couple of new faces between now and the end of July," Alderson said on the telecast, referring to promotions. "And we'll take a look at them and see what we think, and at the same time be evaluating what else is available to us."
• Wheeler and fellow Binghamton Met
Wilmer Flores
participated in Sunday's Futures Game
in K.C. Wheeler retired both batters he faced. Flores started at third base for the World team and went 0-for-2. "Amazing," Flores told
David Lennon
in Newsday
about Wheeler. "He's one of the best. He's going to make some money."
Wheeler's Double-A dominance had a brief interruption recently, when he allowed 12 runs (11 earned) on 13 2/3 innings over a pair of starts. But Wheeler got back on track in his most recent outing, which happened to come against the Double-A affiliate of his former organization, the San Francisco Giants. He limited Richmond to one run in 7 1/3 innings Thursday. A runner inherited by the bullpen scored for the only to be charged to him. "Sometimes you can get away with throwing hard and missing your spots," Wheeler told Lennon. "But in those games, I was missing my spots and they were hitting me. That reminded me of what would happen if I was in the big leagues. It was a good learning experience, so actually I'm glad it happened."
Read more on Wheeler and the Futures Game in the
Times
and
Post
.
• Ex-Met
John Maine
surrendered six runs in 4 2/3 innings, including damage on homers by den Dekker and
Josh Satin
, as Buffalo headed into its All-Star break on a four-game winning streak. Mejia was struck above the right ankle in that game and was pulled. Buffalo hosts the Triple-A All-Star Game on Wednesday. The home run derby, scheduled for today, includes
Valentino Pascucci
. Read Sunday's full minor league recap
here
.
• Collins believed
Jason Bay
(concussion) and
Frank Francisco
(oblique) both could
appear in their first rehab game
Wednesday, with Class A St. Lucie at Tampa. The expectation would be both could rejoin the Mets for the series at Washington that begins next Tuesday, after a team off-day. Meanwhile,
Andres Torres
, who has remained on the active roster despite back woes, hopes to be ready to reenter the lineup the day the Mets open second-half play.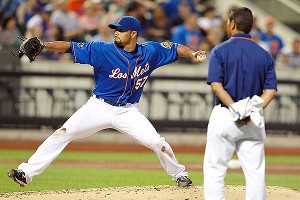 Mike Stobe/Getty Images
Trainer Ray Ramirez observed Johan Santana after the southpaw's ankle twisted, then was stepped on by Reed Johnson at first base in the fifth inning Friday. Two days later, the Mets disclosed Santana's first second-half start will be delayed.

• Francisco has ended up entangled in another Yankees-related controversy, although this time the closer did not call them "chickens" or anything else.
Andrew Marchand
writes at
ESPNNewYork.com
about a spat between Boston reliever
Vicente Padilla
and the Yankees'
Mark Teixeira
that managed to rope in Francisco. Writes Marchand:
Padilla and Teixeira have had a feud that dates back seven years. In his initial two at-bats against Padilla in 2005, Teixeira hit homers each time. Since, according to Teixeira, Padilla has been head-hunting. ... [Padilla] implied that Teixeira had issues with Padilla and former teammate Frank Francisco because they were Latin. "The problem is he talks about all the wrong things that others have done, but the things he's done -- against the Latinos [on the Texas Rangers] -- he doesn't open his mouth about," Padilla told the website (NESN.com). "He once threatened me and said he was going to hit me with a bat, and that's when we were playing on the same team."
•
Jordany Valdespin
made his first major league start in center field Sunday. "I guess it was towards the end of the first year I ever saw him, when you saw the athleticism, you almost said, 'You know what? This guy would make a pretty good center fielder,''' Collins said. "So there was always that thought to put him out there.'' Valdespin, a natural middle infielder, had made 15 appearances (14 starts) in the minors this season in center field. He also had four Grapefruit League appearances (two starts) at the position this year. Read more in the
Star-Ledger
.
•
Wally Backman
again criticized
Reggie Jackson
for comments critical of
Gary Carter's
Hall of Fame worthiness, this time in the
Daily News
.
• Marlins outfielder
Logan Morrison
tweeted he used to play for the Mets
.
•
Anthony Rieber
provides a first-half recap in
Newsday
, as does
Jared Diamond
in the
Journal
.
Mike Kerwick
in the
Record
recommends to believe in the Mets.
•
Michael Salfino
in the Journal
notes that if
Ike Davis
maintained his .203 average and his current RBI pace, he would have the worst average in baseball history among players who drove in 90-plus runs. It would top
Dave Kingman's
.204 average and 99 RBIs, which Kingman happened to post in 1982 as a Met.
TRIVIA:
Who is the youngest Met ever to have a plate appearance in an All-Star Game?
Sunday's answer:
Edgardo Alfonzo
was the last Met to appear at second base in an All-Star Game. He went 0-for-2 at Turner Field on July 11, 2000 after replacing starter
Jeff Kent
.
July, 8, 2012
7/08/12
6:00
AM ET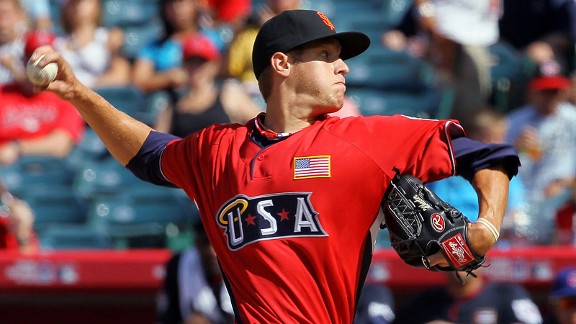 Stephen Dunn/Getty Images
Zack Wheeler will participate in his second Futures Game today. He was a participant in 2010 as well, while with the San Francisco Giants.
Jordany Valdespin
and
Ike Davis
homered,
Dillon Gee
matched a career high by
tossing eight innings
and
Ruben Tejada's
over-the-shoulder catch
aided
Bobby Parnell's
second save as the
Mets beat the Cubs, 3-1
, Saturday.
The Mets now send
Jon Niese
(7-3, 3.35 ERA) to the mound in the first-half finale against right-hander
Ryan Dempster
(3-3, 2.11). The Amazin's are looking to match their season high at eight games over .500.
Sunday's news reports: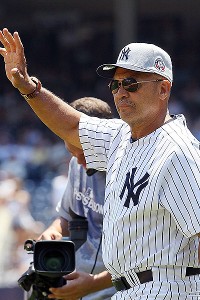 Jim McIsaac/Getty Images
Reggie Jackson (pictured) irked Wally Backman by questioning late '86 teammate Gary Carter's Hall of Fame credentials.

• Buffalo manager
Wally Backman
called Record columnist
Bob Klapisch
to complain about
Reggie Jackson's
comments regarding '86 teammate
Gary Carter
. "Who is he to question?" Klapisch,
on Twitter
, quoted Backman about Jackson. "At least Gary was a complete player. It's unbelievable Reggie would criticize a great guy and great player who's passed away. Show some respect."
Among other derogatory statements, Jackson had told Sports Illustrated: "I didn't see
Kirby Puckett
as a Hall of Famer. I didn't see Gary Carter as a Hall of Famer. I didn't see
Don Sutton
as a Hall of Famer. I didn't see
Phil Niekro
as a Hall of Famer. As much as I like
Jim Rice
, I'm not so sure he's a Hall of Famer."
• In a Q&A with
Steve Serby
in the Post
,
Sandy Alderson
offers these tidbits:
On whether the Mets are serious buyers before the July 31 trade deadline: "Well, we're serious lookers right now. We'll see where we are as we get closer to the deadline. Right now the market for players is not quite as defined as it will be in the next couple of weeks." Still, Alderson added: "Right now we're in a somewhat different mode than we were last year at this time."
On acquiring a right-handed bat via trade: "Well, I hope the right-handed bat we have [is]
Jason Bay
. I know that doesn't inspire confidence on the part of most Mets fans, but I think Jason has an opportunity to play a big part for us the second half. ... I think we have to keep in mind that Jason could be the biggest addition we could hope to get. No guarantees that he'll make a big contribution, but he certainly has that potential."
On whether he believes the Mets are a playoff team: "Yeah, I do. There are two things about our rotation -- No. 1, it's deep. We match up pretty well, regardless of the opposition, with all five of our guys. And, the other thing is that right now we have some real quality at the top end, which can have a very big impact in a short series."
On
David Wright's
future as a Met: "I think it will be a long one, and hopefully very bright."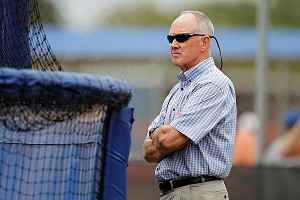 Jeff Roberson/Associated Press
Sandy Alderson says Jason Bay may be the best righty bat the Mets add after the All-Star break.

On
Matt Harvey
reaching the big leagues in 2012: "It's conceivable. I think it's unlikely, but I think it's conceivable."
On
Zack Wheeler
: "It's very possible that he'll be moved to Triple-A sometime in the near future. I'd be surprised if he ends up in New York by the end of this season, but he is someone who would have to be protected on the major league roster going into next year, so at the very worst, he'll be in major league camp next year, and I'm sure he'll be competing for a rotation spot."
• Columnist
John Harper
in the Daily News
discusses Wright's MVP-caliber season with the third baseman. Writes Harper:
Only two seasons ago, in fact, Wright racked up a whopping 161 strikeouts. Entering the final game before the All-Star break he has only 46 Ks, a reduction that is as astonishing as it is revealing. "It's funny how it works," Wright said at his locker on Saturday. "You have some success and all of a sudden your mentality is different. You're aggressive but also confident that if they pitch you out of the strike zone you're going to take those pitches. Whereas, there were times the last few seasons I felt I was swinging before the ball was even thrown. I had those at-bats when no matter what the pitcher threw, I knew I was swinging at it."
Wright acknowledges the revised Citi Field dimensions have helped. He tells Harper: "It's a huge difference. It allows you to relax and know you don't have to try to hit the ball a mile to see results. And, at the same time, if you do hit the ball well and you see results, instead of a 400-foot flyout, you're 1-for-1 and feeling good about yourself. There were times the last couple of years I tried to muscle up and hit the ball a mile, and that had something to do with my strikeouts going up, too.''
• The Mets
used an all-homegrown starting lineup
Saturday for the second time this season and fourth time in franchise history. Read more in
Newsday
.
• Read game recaps in
Newsday
, the
Record
,
Star-Ledger
,
Times
,
Daily News
and
Post
.
• Third baseman
Wilmer Flores
and Wheeler will represent the Mets in the Futures Game in Kansas City at 5 p.m. ET today. The prospect showcase will be televised by ESPN2. Wheeler tossed a scoreless inning in the 2010 Futures Game while a Giants farmhand. Flores actually started at second base and went 0-for-2 in the 2009 Futures Game while a month shy of his 18th birthday.
Flores is hitting .390 with two homers and 11 RBIs in 59 at-bats since a promotion to Double-A Binghamton. With third base also occupied by
Jefry Marte
with the B-Mets, Flores has appeared at three games at second base and two games at first base in addition to hot-corner duty in Double-A. Flores exclusively was a shortstop in the Mets system until this year, although he had played other infield positions in winter ball.
"He's never been extremely fast. He's never been your typical shortstop," B-Mets manager
Pedro Lopez
told
Lynn Worthy
in the Binghamton Press & Sun-Bulletin
. "He probably has that type of body -- what you look for from a shortstop, a body like that. But his first step wasn't fit for a shortstop. We all knew that eventually he was going to end up moving. But I had him his first year, in 2008. Watching him in 2008 and watching him play last year every day at short was night and day. He learned how to play that position. He played it well.
"Right now, there are a lot of guys in the big leagues that, No. 1, don't have the arm that he has. They don't have the glove that he has. They're playing second base because of the bat. His bat definitely profiles at second, but he's also a good third baseman. He's got good hands. His arm definitely plays there, if you played at short. I think as a third baseman you don't have as much ground to cover as short. I think he's done a good job."
•
Johan Santana
, whose ankle was cranky but likely a non-issue a day after twisting it, is scheduled to start the second-half opener in Atlanta on Friday.
R.A. Dickey
and Niese will round out that series. Gee then starts next Tuesday in Washington, in the series opener against the first-place Nationals, followed by
Chris Young
. Placing Santana at the start of the rotation to begin the second half is an expression of confidence there are no lingering questions about his shoulder's health since his return from Sept. 14, 2010 surgery to repair a torn anterior capsule. Read more in the
Star-Ledger
.
•
Frank Francisco
threw off a mound Saturday
for the first time since landing on the DL during the Subway Series with a strained left oblique. He is due to pitch in a rehab game for the first time Wednesday,
Terry Collins
said.
• Collins said he needs to find a way to
get Valdespin into Sunday's game
after he homered for the second straight day Saturday. Read more in the
Daily News
and
Newsday
.
• Davis' homer tied him with
Scott Hairston
and
Lucas Duda
for the team lead at 12. Read more in
Newsday
and the
Post
.
• Columnist
David Lennon
in Newsday
has some early thoughts about Tuesday's All-Star Game, in which neither Wright nor Dickey may start. Writes Lennon:
What complicates things now is that the fan balloting, which used to involve folksy punch cards distributed at ballparks, has evolved into a powerful online gateway for advertising revenue and website hits for MLB.com, a huge money-making enterprise. Not that there's anything wrong with that. This is, after all, an entertainment business. But as a result, there will be some inequities -- [Pablo] Sandoval starting over Wright, for instance -- and that tends to hurt the integrity of the overall message. It also puts a burden on the All-Star Game managers to balance that showcase element with some sort of competitive mindset.
• Dickey tells
Mike Puma
in the Post
it would be unfortunate if he is disqualified from starting the All-Star Game because he is a knuckleballer. "I feel like [the decision] is probably being over-thought on a lot of different fronts," Dickey told Puma. "Anybody would love to start the game, so if you're asking me, of course I would like to start it. That doesn't mean I'll be insulted if I don't. There are plenty of candidates that are worthy. But I do think the knuckleball angle, as far as that being a deterrent, is a little bit blown out of proportion. Simply because I've worked with so many guys who have been able to get it, basically. And I've gotten one wild pitch this year and I think my strikeout-to-walk [ratio] probably speaks for itself -- as far as the control aspect goes -- so I don't see the real issue with that."
• Buffalo right-hander
Collin McHugh
, whose blog entries periodically are reprinted at ESPNNewYork.com, discusses the
transition from Double-A to Triple-A
in his latest entry. McHugh is an under-the-radar prospect who is starting to get attention. He has drawn comparisons to Gee.
• SNY is advertising in the Bronx, at the subway stop by Yankee Stadium, according to
Richard Sandomir
in the Times
. "This isn't about the Mets' network trying to co-opt Yankee fans," SNY president
Steve Raab
told Sandomir. "This is a regional sports network that has always positioned itself as the home of all things New York sports taking the program that is most representative of that positioning and going for sports fans."
Yankees president
Randy Levine
offered this reply to the Times: "There's no such thing as any kind of turf. But I give SNY credit. When you're a consistent No. 3 network, you shoot for No. 1."
•
Matt den Dekker
had a three-run homer and
Justin Hampson
resurfaced for the save with Buffalo.
Cory Mazzoni
tossed seven scoreless innings for Binghamton.
Jimmy Fuller
tossed five no-hit innings for Savannah. Read the full minor league recap
here
.
TRIVIA:
Who was the last Met to play second base in the All-Star Game?
Saturday's answer: Dempster pitched for the Marlins and Reds before being released by Cincinnati in November 2003 and signing later that offseason with the Cubs.
June, 10, 2012
6/10/12
9:01
AM ET
Mark Teixeira's
two-run homer in the sixth inning against
Dillon Gee
overcame a one-run deficit and the
Yankees beat the Mets, 4-2
, on Saturday night in the Bronx. Now, the Mets will send
Jon Niese
(4-2, 4.11 ERA) to the mound in Sunday's 1:05 p.m. game, looking to salvage the series finale against lefty
Andy Pettitte
(3-2, 2.78).
Sunday's news reports:
• Gee said he had
trouble getting loose every inning
on the mound. Read more in the
Star-Ledger
,
Daily News
and
Newsday
.
• Read game recaps in the
Post
,
Newsday
,
Record
,
Daily News
,
Times
and
Star-Ledger
.
•
Darin Gorski
tossed eight scoreless innings and
Eric Campbell
homered twice as Binghamton routed the Yankees' Double-A Trenton affiliate, 12-0. Meanwhile, 49-year-old
Jamie Moyer
topped prospect
Jenrry Mejia
in Triple-A Buffalo's 5-0 loss. Read Saturday's full minor league recap
here
.
•
Tony Bernazard
, who was fired by the Mets in 2009, surfaced in the stands at Yankee Stadium on Saturday. Bernazard, accompanied by
Jim Leyritz
, told
David Lennon
in Newsday
about his dismissal from the Mets: "I know what really happened. It was mostly lies."
Kirk Nieuwenhuis
,
David Wright
and trainer
Ray Ramirez
chatted with Bernazard pregame, according to Lennon. Bernazard declined to tell Newsday his current employer. As for his rooting interest in the Subway Series, Bernazard said: "I root for players -- not teams."
•
Ike Davis
said he received advice from
Reggie Jackson
on Friday, although manager
Terry Collins
noted listening to too many voices can further mess up a player. Davis' father
Ron
played for the Yankees. "I went to Old-Timers' games at old Yankee Stadium," Davis said. "And I got to meet Reggie a couple of times. And then in high school we had a workout with the Dodgers before the draft. And Reggie was there and I got to talk to him then. It's really the first time I got to see him since then. It's really cool that he recognized me. Obviously he's Reggie Jackson. We both went to ASU [Arizona State]. He's amazing. So it's great to talk to a guy like that."
As for the nature of Jackson's advice, Davis said: "We talked about hitting -- just to slow it down a little bit. He gave me good advice. Nothing with swing mechanics or anything. It's just that you have to make contact and let the ball go out of the yard, not try to hit the ball out of the yard. It was good stuff."
Davis went 1-for-2 with two walks Saturday, moving his average to .162. A team insider told ESPNNewYork.com that Davis
needs to have a big week
. Otherwise,
Lucas Duda
may be occupying first base once the Mets return to NL play on Friday and lose the DH.
On the play-him-or-bench-him-or-demote-him issue, columnist
Joel Sherman
in the Post
writes about Davis:
Look, if the Mets were 28-32 and, as expected, entrenched in last place, then I could see playing for the future, letting Davis continue to try to work out of this season-long slump in the majors. But we are beyond Memorial Day, the Mets are surprise contenders and Davis is among the worst hitters in the sport (.162 average, just five homers). Therefore, there must be accountability to the whole roster and to the fan base to field the best team possible to try to win. "What is best for this club is Ike swinging the bat well, here," hitting coach Dave Hudgens said. "... I hope he works through this here. He is one of our core guys. We need him to do well. ... If he gets out of this, he helps us win. I don't have a crystal ball, so I don't know if he is going to get out of it. But I know this, if we are going to compete on a large scale, we have to have Ike Davis in the middle of the lineup."
Read more on Davis in the
Daily News
,
Star-Ledger
,
Record
,
Times
and
Newsday
.
• Lennon
in Newsday
discusses the power disparity between the Yankees and Mets. Writes Lennon:
What's kept the Mets alive? Timely hitting. They are hitting .256 with runners in scoring position, sixth in the NL, and .268 in those situations with two outs, which ranks second. It's helped that Wright is having an MVP-type season, but he can't continue to do it alone. With five homers in his last 10 games, Duda is shaping up to be a strong sidekick, but Collins has been holding his breath waiting for more bats to show up. "We seem to be riding David pretty much solely," Collins said, "so we've got to get some guys to chip in. Singles don't win many games in this park." That's become obvious. Not so obvious is the solution, and until that changes, the Mets can't go toe-to-toe with the Yankees in a longest-drive contest, as the last two days have shown.
• With the no-hitter drought behind them, Sherman notes
in the Post
, the Mets also are devoid of a 20-game winner since
Frank Viola
got there in 1990. Sherman adds that the Mets legitimately have a candidate for every individual postseason award -- Wright for MVP,
R.A. Dickey
for Cy Young, Nieuwenhuis for Rookie of the Year and Collins for Manager of the Year. Add to that, perhaps,
Johan Santana
as NL Comeback Player of the Year.
• Wright told
Mark Hale
in the Post
his next contract -- which won't be negotiated in-season -- will be about playing in a place with a chance to win. "I want to win now. I want to win years from now," Wright told Hale. "That's going to be my deciding factor. Not money. I've been extremely lucky [financially]. The last thing I'm worried about is my next contract. That's the honest truth."
•
Mike Kerwick
in the Record
laments the planned slicing of the Subway Series from six games per season to three or four with the shift of the Houston Astros to the American League in 2013.
•
Justin Tasch
in the Daily News
speaks with Mets fan/entrepreneur
Darren Meenan
, who prints and sells Mets-themed T-shirts.
•
Zach Berman
in the Times
profiles the latest Mets shortstop,
Omar Quintanilla
.
TRIVIA:
Where did Quintanilla
play college baseball?
Saturday's answer: Through Friday, the Mets had been outscored by 16 runs. Saturday's 4-2 loss then upped the run differential to minus-18, better than only Milwaukee (-21), Miami (-26), Houston (-30), Colorado (-31) and Chicago (-59) in the National League.