New York Mets:

Remember When We Met
August, 25, 2011
8/25/11
2:54
PM ET
By
Mark Simon, ESPN Stats & Information
There's still a gleam in
Dwight Gooden's
eye, even though the days of baseball glory are in the past, and he's fighting his most recent battle with drug and alcohol addiction. It comes through particularly when he talks about the period in which he dominated baseball as a Mets fireballer, from 1984 to 1986.
Gooden was the world's best pitcher in a stretch that culminated with a championship. Thursday, the 26th anniversary of his being the youngest pitcher to win 20 games in a season, he toured ESPN.
We caught up with him for a few minutes to reminisce about Mets victories past as he battles for off-the-field victories in the present.
On his near no-hitter against the Cubs, a one-hit shutout on September 7, 1984.
"I always thought that if I could get through five innings, I could get it.
(Keith) Moreland
got an infield hit (a dribbler along third base on which
Ray Knight
couldn't make a play)," Gooden said. "That's just the way baseball is. I think maybe if it had been the eighth inning, they might have given him an error. Ray even said afterwards that he couldn't grip the ball."
"The trivia question is about all the guys who threw one after leaving the Mets. It's me,
(David) Cone
, Seaver,
Nolan Ryan
, and then some people don't get the last ones (
Mike Scott
and
Hideo Nomo
)."
Ray Stubblebine/AP Photo
Dwight Gooden won 157 games for the Mets in a career that spanned from 1984 to 1994

On his home-field advantage, a group of fans who formed The K Korner
"That was fun," Gooden said. "When they would throw the ball around the infield, I'd peek up to see how many strikeouts I had. It helped because if I got two strikes, on anything close, the hitter was going to swing, or the umpire was going to ring him up."
On going 24-4 with a 1.53 ERA in 1985
"I had a couple of games in Los Angeles against
Fernando Valenzuela
," Gooden said. "The moment I remember most was in the eighth inning of one of them. Tie game. The Dodgers had the bases loaded and nobody out. Davey Johnson came out, said he had Orosco ready, and asked how I was doing. I said I could get them out.
They had three left-handed hitters in a row-
Greg Brock
,
Mike Scioscia
, and
Terry Whitfield
. I got them out and we won the game in the ninth."
"I remember my first home run. That day, we had no batting practice. (Pirates pitcher)
Rick Rhoden
hung a slider and I hit it out. The next few starts, I didn't take batting practice. I thought that would help me hit home runs."
On the legendary 1986 Mets team
"We knew that was going to be something special. Everyone was shooting for the same goal," Gooden said.
"On Opening Day, I gave up a home run on like the second pitch of the season to
R.J. Reynolds
, and I thought, 'This is gonna be a long year."
"I wanted to duplicate 1985. I was 4-0, 5-0, 6-0. I think I started putting pressure on myself. I don't know if part of it was the media, where if I won 2-1 with three strikeouts, the next start, I'd try to get 10 strikeouts in the first inning.
"Clinching the division at home was incredible. I was going for the strikeout of
Chico Walker
(for the last out on September 17, 1986) and he grounded out. But what a feeling. It wasn't (like being out there) for winning the World Series, but it was the next-best thing.
"For Game 6 of the World Series, I was in the clubhouse in the 10th inning. A few of us were there planning our winters. Ray Knight got the hit and I was back in the dugout. I still can't believe that happened. I'll say this because I get asked it whenever someone brings it up. I don't think
Bob Stanley
would have beaten
Mookie Wilson
to first base, when the ball went through Buckner's legs.
"There's a funny story involving our clubhouse assistant,
Vinny Greco
. He told us he was going to celebrate and storm the field no matter what. He goes to the Red Sox clubhouse, puts on a Red Sox jacket, and there are pictures of him on the top step with two outs, waiting to celebrate.
Two days later, we win the World Series and we start celebrating on the field. We all started pounding on Vinny Greco."
May, 12, 2011
5/12/11
8:00
AM ET
By
Mark Simon
| ESPNNewYork.com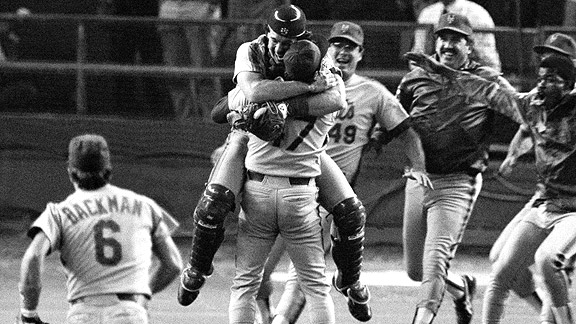 AP Photo/Mike MurphyThe Mets clinched a pennant in Houston in 1986, but they've also played many other memorable games in that city.
Each Thursday, Mark Simon will commemorate the Mets' 50th season with stories and notes related to the history of the team. This week's piece is on the city the Mets visit next-- Houston.
Think of the Mets and their time spent in Houston and the thoughts immediately turn to Game 6 of the 1986 NLCS, in which the Mets rallied from three runs down to tie in the ninth inning, then clinched the series by outscoring the Astros 3-2 in the 16th inning of a 7-6 win.
It is a game considered among the greatest in baseball history and is a significant part of the story of the Mets most recent championship season.
But Houston has been the site for much more than that with regards to the Mets. The Astros and Mets came into baseball together as expansion teams in 1962 and they shall be forever linked in many ways.
As
fellow blogger
Greg Prince said: "That's what happens when you separate fraternal twins at birth."
Houston is a city perhaps best known as the home of NASA, whose astronauts strive to reach the greatest of heights. So too is it a place in which the Mets have done so.
Let's review some of the bonds these teams share from the past 49 seasons of Mets visits to Houston.
The Houston Marathons
Including postseason play, the Mets have played 48 games lasting at least 15 innings. They've played 29 of those games in New York. The city in which they've played the second-most marathons is Houston (five). The most famous of those is that 1986 playoff clash.
But what about those other contests? The Mets lost three of them, 1-0 in 24 innings in 1968 (on
Al Weis'
error), 3-2 in 18 innings in 1979 (the Mets had two runs with no outs in the first and didn't score again), and 9-8 in 15 innings in 1986 (
Bill Doran
scored the winning run, beating
Keith Hernandez's
throw home by a millimeter).
They won one other. The most recent Houston marathon was this 17-inning clash on July 7, 2007, best known for
Carlos Beltran's
game-saving staggering catch of
Luke Scott's
bid for a walk-off hit in the 13th, while climbing up "Tal's Hill" in center field. Beltran would then get the winning hit in the 17th inning, leading to a 5-3 victory, one in which Mets relievers combined for 10 scoreless innings.
It was a measure of revenge for Beltran, who has been vilified for leaving the Astros for the Mets prior to the 2005 season.
The best game ever (by a Met)
The greatest offensive performance in Mets history came on Aug. 30, 1999 in Houston, when
Edgardo Alfonzo
went 6-for-6 with three home runs and five RBIs in a 17-1 rout of the Astros.
Alfonzo was one of three players (along with
Jim Wynn
and
Jeff Bagwell
) to hit three home runs in that ballpark, one that was notoriously difficult for power hitters. Alfonzo is the rare Met who loved to hit in Houston. He hit .371 there in his Mets career.
The best series ever
With two weeks left in the 1998 season and the Mets deadlocked with the Cubs in the NL wild card race, the Mets played in what was arguably their most exciting four-game series, the regular-season equivalent to the 1986 NLCS. The opponent was the same as it was then: the Astros in Houston.
The Mets won three of the four games and the turning point of each contest was a late-inning home run. The Mets won the first game of the series, 7-4, tying the score in the ninth inning on
Brian McRae's
two-run homer, and winning on McRae's two-run double.
The next day, the teams played an epic doubleheader. In the topsy-turvy first game, the Mets tied the game in the ninth, blew a lead in the 11th, and lost in the 12th on a home run by
Derek Bell
. In the nightcap, a
John Olerud
three-run homer in the eighth gave the Mets an 8-4 comeback triumph.
The series finale was one of the most excruciating games in Mets history. The Mets had at least one baserunner in each of the first eight innings, but were down 2-0 in the ninth. With one on and two out, an Olerud single kept the game going for
Mike Piazza
, who worked the count to 2-2 before crushing a long home run against Astros closer
Billy Wagner
. The Astros would tie the game in the bottom of the ninth, but the Mets would be victorious in the 11th, when pinch-hitter
Todd Hundley
(displaced as a regular by Piazza) homered.
A not-so-miraculous place to be
The Mets have had their share of rough times in Houston as well. Let's review them in reverse chronological order.
• In the summer of 1986, four players spent a night in jail, the result of a dispute at a local bar, a major source of embarassment for the franchise at the time.
• In 1977,
Tom Seaver
beat the Astros in his final game as a Met, prior to being traded to the Cincinnati Reds on June 15.
• The 1969 Miracle Mets played six games in Houston but somehow didn't win any of them. The Astros team was a Mets bugaboo during that championship season, the only team against which the Amazin's had a losing record (2-10).
The Mets' chief nemeses that season were pitchers
Tom Griffin
and future Astros manager
Larry Dierker
. Griffin struck out 22 in 17 scoreless innings in two meetings in Houston. Dierker, who took a perfect game into the ninth inning against the Mets in 1965, was similarly good, tossing two complete games in the Astrodome and winning two other matchups at Shea Stadium.
• Lastly, the first Mets-Astros series in the Astrodome in late April, 1965. In the Mets' first game in baseball's first indoor facility, the Mets were one out from a win, but lost on a two-run double by
Eddie Kasko
, a ball that Mets left fielder
Joe Christopher
lost in trying to glance skyward at the ballpark roof.
Manager
Casey Stengel
was not pleased.
This Date in Mets History
recounts how Mets management claimed the ballpark's air conditioning system was rigged to blow out when the Astros were at-bat, and in for the visitors' turns.
The other highlight from that series was where Mets broadcaster
Lindsay Nelson
was situated for the call of the next game … in a gondola, 208 feet above second base.
The Mets would lose the ballgame, but it was a day in which Nelson would reach the highest of heights. The Mets had their share of such moments in this city. Perhaps another one awaits this weekend.
May, 5, 2011
5/05/11
9:00
AM ET
By
Mark Simon
| ESPNNewYork.com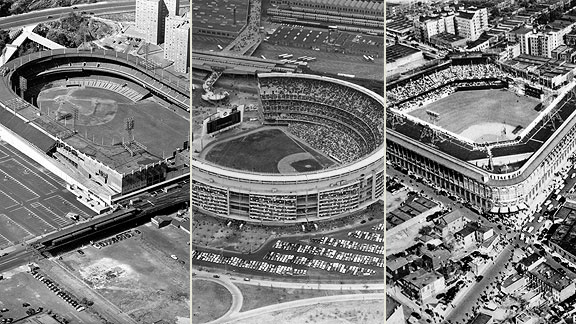 AP Photos, Getty ImagesThe Polo Grounds (left) and Ebbets Field (right) preceded Shea Stadium (middle) as second homes for many New York baseball fans.
Each Thursday, Mark Simon will commemorate the Mets' 50th season with stories and notes related to the history of the team.
On a recent episode of ESPN.com's
"Baseball Today"
podcast, co-host
Eric Karabell
and I got into a rather involved discussion about the idea of rooting for two teams. I spoke of my affinity for the Tampa Bay Rays dating back to mid-2008, when the Mets were floundering and the Rays appeared to be a team of destiny. But I acknowledged I could never see myself abandoning my primary rooting interest.
With both the Giants and Dodgers in town this week, it struck me that it would be interesting to learn about the process by which fans of those two teams in the 1950s became Mets fans.
My father was 11 when the Giants left for San Francisco after the 1957 season and he tried to stay loyal, but he gradually felt the pull of the Mets. The trade of
Willie Mays
in 1972 solidified it in his mind: "It was something that happened to me without even really thinking about it, it just kind of happened over a period of time and one day I was a Mets fan," he said the other day.
That triggered a desire to learn the stories of others. So with the help of a few friends, I found some people willing to share:
Gerry Stern, retired, former head of the judicial review committee of New York State
Westchester, N.Y.
I had lost all interest in baseball when the Dodgers left Brooklyn. From 1958 through 1967, I did not watch a single baseball game and could not care less who won, who was in the World Series, or how the Mets were doing. I was anti-Dodgers, but never saw (even on TV) Sandy Koufax or Don Drysdale pitch in an LA uniform. I did not watch a World Series game during that period.

In 1968, my son was six years old and he wanted to go to baseball games. By 1969 both he and I were really into it, and I was a rabid Mets fan from 1969 on. I caught the fever. And we rooted vigorously all season for the 1969 Mets. It was not a matter of the Mets winning in 1969 and becoming Mets fans after they won. By 1972 I was taking my son and daughter (then age seven) to Mets games. And the rest is history (he's a long-time season-ticket holder)

Today, I "fake it" when someone speaks of some great event, great plays, great players, or interesting games during the period that I had quit. (I make believe that I remember, but I don't.)

I was the Rip Van Winkle of baseball.
George Sommerfeld, retired attorney
Greenwich, Conn.
Living on the Upper West Side I was a Giants fan since 1945 (although by all rights I really should have been a Yankees fan but that is another story). I started law school in 1956 and had little time for baseball for the next three years.

So when the Giants departed after the '57 season I was sad but had other things on my mind. By 1962 most of the players I knew were history. The Mets were easy to cheer for and it was fun to try to guess how they were going to lose each day.

There is a difference between a person moving and a team moving. I believe that usually when a person moves he continues his old allegiance. It ties him to his youth, memories and old friends. When the team leaves a city it is like a divorce with your ex-spouse moving. Perhaps you still love her and wish her all the best but she's the one who left you.

I felt great last year and got really excited during the playoff games against the Phillies. I felt connected with the crowd at the San Francisco parade after the World Series. But if one day it comes down to the final game of the season between the Mets and Giants, "Let's Go Mets."

I enjoy going to ballgames at all levels no matter the teams. Hopefully one day we will see the Mets and Giants in the seventh game of an NLCS. For me it is a WIN/win.
Wally Ramsey, retired teacher
Monterey, Calif.
I had been a Dodger fan since 1939 when we moved to Connecticut and one spring day I heard the dulcet tones of Red Barber on the radio, and I was hooked. Coincidentally, years later, his daughter, Sarah Lanier Barber, was a classmate of mine at Rollins College (in Florida).

It was unthinkable to root for the hated Yankees (a little-known fact is that Yankee attendance actually decreased during the five years of no Giants and no Dodgers). By the time 1962 rolled around, I was teaching English at The Greenwich Country Day School, and one of my best friends was Frederick K. "Fritz" Trask III, whose father Fred was in the investment business in NYC with a woman named Joan Whitney Payson (Payson and Track), and he was on the board of directors of the fledgling Metropolitans.

We went to hundreds of games, usually had dinner with our wives in the director's lounge, went to the '69 playoffs against the Braves, and went to the third game of the '69 World Series … whew! Then, miracles of miracles, Tom Seaver moved into our neighborhood, and we played basketball together in the GCDS gym weekends and during school vacations before he went to spring training … later we became business partners.

'Conversion' was a joy, I've never regretted it, and one of the joys of living in California is that they usually come on at four in the afternoon and are done by dinner time.

As the 80-year-old said, "I've been a Mets fan all my life …
Eleanor Siegel, clinical pyschologist
East Windsor, N.J.
It was fairly easy. I am almost 65 years old and had gone to the last game the Giants played at the Polo Grounds before they left for San Francisco. At the time I was about 11 years old. I did listen to Les Keiter do his recreations (of games on the radio) for a while but when the Mets came to be, I was hooked right away. So I did not find it difficult because at that age I didn't want to be listening to my transistor radio in bed all night.

It was quite easy to get tickets to the Mets at the Polo Grounds. I still loved Willie Mays
I didn't have any friends that were Giants fans, just my father and uncle. I don't think they converted. I developed some friends that were Mets fans, but being a very independent person, it wouldn't have mattered if none of my friends rooted for the Mets

I don't regret the conversion at all. I do admit that I did root for the Giants in the World Series and all the way through the playoffs partially because being a Mets fan I did not want the Phillies to win and also because of sentimental reasons.
Ken Bernstein, psychotherapist
Amherst, Mass.
I was 11 when the Giants left New York. It was like the floor was pulled out from under me. It runs deep.

When the Mets came in 1962, they were palpable. Of course, they lost 120 games. You go from a team that abandons you to a team that has the most losses ever. I don't know if that's a step up.

I grew up in a tenement in the Bronx during Willie, Mickey, and the Duke. We always knew who the better player was. I bought a Mets jersey last year, number 24 and had Mays sewn on the back of it.

I was at the game on Tuesday night. By the end, there were more Giants fans there than Mets fans. That's an odd source of pleasure and pain.

One thing that has been odd (about converting) is (the Mets embracing Dodgers heritage). It's like being a child in a divorce. There's no allusion to having another side of genetic makeup. In embracing the Dodgers, there's no acknowledgement of that Giants lineage.
April, 28, 2011
4/28/11
10:15
AM ET
By
Mark Simon
| ESPNNewYork.com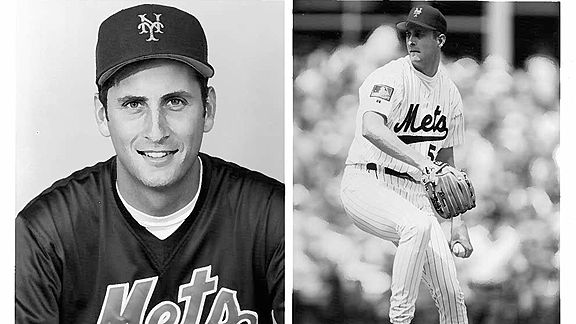 NY Mets
Eric Hillman preceded Chris Young as the tallest pitcher in Mets history.
Each Thursday, Mark Simon will commemorate the Mets' 50th season with stories and notes related to the history of the team.
Chris Young
does not stand alone as the tallest pitcher in Mets history. Before Young came 6-foot-10 left-hander
Eric Hillman
.
Hillman is oft-forgotten in Mets history because, though he stood out in a crowd, his stats weren't impressive. In 49 appearances over three seasons, he was 4-14 with a 4.85 ERA. Hillman had the misfortune of being on the 1993 Mets, who went 59-103 and became known as "The Worst Team Money Could Buy."
Hillman didn't throw hard, with a fastball that was in the mid-80s. So, like Young, he tried to take advantage of pitching at a higher trajectory by developing a sinker and a slurve. He admits: "I couldn't throw the ball by guys, so I tried to trick 'em. Some days were better than others."
Young has had more success in the majors than Hillman did because he was able to find what could get hitters out. Hillman, who later worked as a broadcaster on the Colorado Rockies' postgame show for three years, was impressed by Young's ability to hide the ball well and use his glove and motion to make it hard for hitters to see the ball.
The best moment of Hillman's career was a five-hit shutout of the Dodgers in Los Angeles on July 25, 1993. It was the second start in a two-start stretch in which he pitched 17 scoreless innings. But it became secondary to the story of teammate
Vince Coleman
throwing a firecracker into a crowd.
"That team was an absolute disaster," Hillman said. "I was 26 and I came up to the big leagues, which had been my dream since I was a little kid. And all I saw were players who were more concerned about their jewelry, their cars and their real estate than the outcome of games."
The best days of Hillman's career came in Triple-A, where he went 10-1 for the Mets' Norfolk affiliate in 1994, and in Japan, where he pitched for four seasons and won the Japanese equivalent of the Cy Young in 1996 for the
Bobby Valentine
-managed Chiba Lotte Marines. (Hillman liked Valentine so much he recently asked if he could be his bullpen coach if Valentine returned to the major leagues.) A shoulder injury ended his career after a comeback attempt in the States was unsuccessful. He retired in 2000.
Hillman's favorite on-field moments were meeting Cubs broadcaster
Harry Caray
, who mistook him for teammate
Dave Magadan
, getting "mauled" by then-Reds owner
Marge Schott's
mascot dog,
Schottzie
, and laughing so hard at jokes being told in the dugout that his eyes would regularly water up.
Hillman might have the most unique post-playing career in Mets history. He and his wife
Heather
own
Purepuppy.com
, which develops and sells dog care products, such as shampoos and conditioners, with an emphasis on ingredients that are all natural. Hillman's other passion, besides baseball, is the environment. On the back of one of his baseball cards, it says he aspired to someday become a marine biologist.
"In a world where gas prices are out of control, my wife and I are looking to do our part," Hillman said. "I've pushed very hard for recycling in this area and making businesses more responsible. There is only so much in this world. We need to be able to reuse it."
Hillman, who lives in Denver and turned 45 on Wednesday, is self-deprecating about his career and his height. He noted that the best thing about being 6-foot-10 is being the first to know that someone else is balding. He also jokes that his company's product "is as natural as the tears Mets fans shed every time I pitched."
But he did go on the message board at the popular fan site "Ultimate Mets Database" when a couple of posters criticized his pitching ability.
Hillman even contacted one who claimed that Hillman ignored him when asked for an autograph, and the two spoke at length on the phone. Hillman wants Mets fans to remember him in a positive manner, like one fan he met at Mets Fantasy Camp a few years ago, who thanked him for bringing him into the Mets' dugout as a little kid.
Hillman dealt with some tough times and bad teams during his Mets tenure, but has always been very positive about his time in the major leagues. That positivity has carried over into his post-playing career.
"I always tell my two kids that every day is a good day," Hillman said. "We're on the fun side of the soil here."
Five Things You May Not Know About Tall Mets
With help from Baseball-Reference.com
1--
Hillman is one of 25 players estimated at 6-foot-6 or taller to play for the Mets. Hillman and
Randy Johnson
were the tallest players in major league history until 6-foot-11
Jon Rauch
surpassed them. (Some sources list Rauch as 6-foot-10 as well.)
2--
Of those 25, 22 were pitchers, the winningest of which is 6-foot-7
Mike Pelfrey
, who enters Thursday with 44 major league victories. The only other "tall" Met to win 10 or more games for the team was 6-foot-6
Ed Lynch
, who pitched for them from 1980 to 1986 and won 38 games.
3--
Prior to Hillman, the tallest Met was 6-foot-9 reliever
Terry Bross
, a former center for St. John's, who pitched in eight games in relief in 1991. Bross is currently an agent.
4--
The three Mets position players who stood 6-foot-6 or taller were
Tony Clark
(6-foot-8),
Dave Kingman
(6-foot-6) and
Darryl Strawberry
(6-foot-6). That trio combined for 422 home runs during their respective Mets stints.
5--
The five pitchers in major league history listed at 6-foot-10 or taller are Hillman, Young, Johnson, Rauch and former Royals left-hander
Andy Sisco
. They combined for 394 major league victories, five of which have come for the Mets.
April, 21, 2011
4/21/11
9:00
AM ET
By
Mark Simon
| ESPNNewYork.com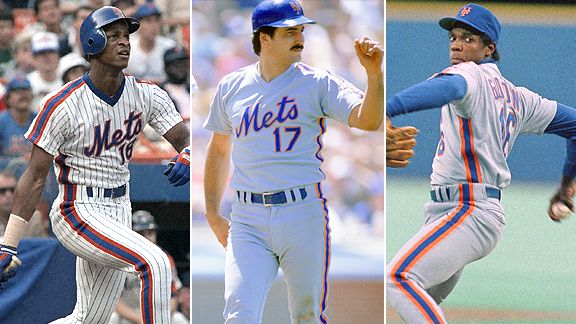 Getty Images, AP Photo
Darryl Strawberry, Keith Hernandez and Dwight Gooden were among the keys to the best run of success the Mets ever had.
Each Thursday, Mark Simon will commemorate the Mets' 50th season with stories and notes related to the history of the team.
If you're a Mets fan who is feeling down about the team's current losing ways, this would seem like a good time to celebrate the most dominant period of winning in club history.
We've just passed the 25th anniversary of the beginning of that run, an 18-1 stretch by the 1986 club that started with a streak of 11 wins in a row. A club record reached three other times, the 11-game streak was rudely interrupted by defeat, and was then followed by seven more victories.
Manager
Davey Johnson
promised that team would dominate. It took until the season's sixth game for the Mets to establish they would do so loudly and proudly.
The Mets opened the season 2-3 entering their game against the Phillies on April 18, but by May 10, they were 20-4 and on their way to an NL East romp.
How good is an 18-1 run? Only three teams have had one in the regular season since the 1986 Mets (the 1991 Twins, the 2002 Athletics and the 2006 Twins; the 2007 Rockies had a run that included postseason games). Those Mets are the last NL team to have such a streak. The only other NL team with one in the Divisional Era (since 1969) is the 1977 Phillies.
The Mets' top four starters --
Dwight Gooden
,
Bob Ojeda
,
Ron Darling
and
Sid Fernandez
-- were unhittable during this stretch, combining to go 15-0 with a 1.74 ERA.
The Mets' offense was led by
Wally Backman
, who hit .432 in 10 games, platooning with
Tim Teufel
,
Keith Hernandez
, who had a .440 on-base percentage, and
Darryl Strawberry
, who had six home runs, averaged an RBI per game, and had six game-winning RBIs.
Gary Carter
went through a brief slump, but also chipped in three game-winning RBIs.
Third baseman
Ray Knight
also came up with a couple of game-winning RBIs, and had a big home run in an eventual walk-off win against the Pirates.
"What I remember about that streak was the grind-it-out type of team we became," said Darling, now a Mets TV analyst, who started the win streak by beating future Hall of Famer
Steve Carlton
and the Phillies. "Seven innings plus of real fine pitching. A late rally.
Roger
[
McDowell
] and
Jesse
[
Orosco
] being impeccable. It wasn't like we were blowing guys out 10-2 all year. The games were very close. I remember saying 'This is the way we're going to be all year.'"
The Mets won seven one-run games during this run. The most significant of these were two in St. Louis as part of a four-game sweep of the defending NL champion Cardinals.
Third baseman
Howard Johnson
tied the series opener with a two-run ninth-inning home run off
Todd Worrell
and the Mets won in the 10th on a
George Foster
hit. Two days later they'd win 4-3, with reliever McDowell getting a key force out at third base on a bunt, and Backman snaring
Terry Pendleton's
groundball with a diving stop, turning a possible game-tying hit into a game-ending double play.
"I do remember that was such a critical series in April in St. Louis," said Hernandez, now part of a three-man booth with Darling and
Gary Cohen
on SNY. "They had beaten us out in 1985. To go in and sweep them, that set the tone for the whole year.'"
The only blemish during the streak was a 7-2 loss to the Braves. Nemesis
Zane Smith
struck out 12 on a day in which the Braves hit four home runs off Mets pitchers. The next day, the Mets were back, jumping out to an 8-2 lead on the Reds and hanging on for an 8-7 win, as Orosco closed after some struggles by McDowell.
They would win the next six after that, including two exciting clashes in an NLCS preview against the Astros. By the time they were finished, they were five games up on the Expos. It might as well have been 25 games. No one would come close to catching them the rest of the way.
"I remember that first streak we were saying to ourselves: 'Finally! This what I'm talking about. This is how good we're going to be,'" Darling said.
Five Things You May Not Have Known About the Mets' 18-1 Run in 1986
1. The MVP of that run may have been Gooden, who went 4-0 with an 0.51 ERA, three complete games and an eight-inning effort in four starts.
Many remember that Gooden was 24-4 with a 1.53 ERA in 1985. He actually started the 1986 season even better than that -- 5-0 with a 1.04 ERA in his first six starts. The best of those was a two-hit shutout of the Astros on May 6, as the Mets beat
Bob Knepper
, 4-0.
2. The Mets went through almost all of the streak without center fielder
Mookie Wilson
, who had suffered an eye injury when he was hit by a ball during a rundown drill in spring training. He didn't make his season debut until May 10. With Wilson out, rookie
Kevin Mitchell
split time in center field and the leadoff spot with
Lenny Dykstra
and hit .314 with five RBIs and six runs scored in 10 games. Wilson would play a much more integral role later in the year.
3. Orosco pitched 10 1/3 innings during that stretch and didn't allow a run. In fact, Orosco opened the season by allowing no runs, six hits, and only two of nine inherited runners to score in his first 16 1/3 innings.
4. The Mets have had three other win streaks of 11 games -- in 1969, 1972 and 1990. They've never had another 18-1 run, with the closest they've come being a 17-2 stretch in 1990.
5. The Mets' chances of going 19-1 ended in bizarre fashion with a 3-2 loss to the Reds. Cincinnati scored in unusual fashion, netting three runs on a bases-loaded, two-out, full-count single by player-manager
Pete Rose
. They would be the last RBIs of Rose's career against the Mets.
ESPN The Magazine's Doug Mittler contributed
April, 7, 2011
4/07/11
9:00
AM ET
By
Mark Simon
| ESPNNewYork.com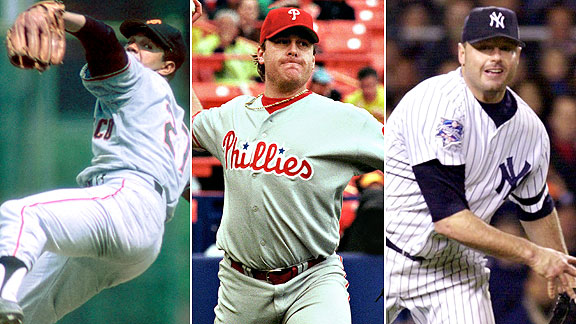 US Presswire/Getty Images
The Mets have had their share of notable wins against baseball's greats, including Juan Marichal, Curt Schilling, and Roger Clemens.
Each Thursday, Mark Simon will commemorate the Mets 50th season with stories and notes related to the history of the team.
Three pitchers have had seasons in which they've gone 4-0 against the Mets as part of a Cy Young Award winning campaign.
Sandy Koufax
was 4-0 with an 0.29 ERA against the Mets in 1963.
Bob Gibson
was 4-0 with a 1.18 ERA against the Mets in 1968 (The Year of the Pitcher)
And
Roy Halladay
was 4-0 with a 2.56 ERA against the Mets in 2010.
While you wouldn't put Halladay in Koufax's or Gibson's class, he's making his way towards great-of-the-game status with his two Cy Young Awards and this three-year stretch from 2008 to 2010 in which he went 58-31 with a 2.67 ERA, including a perfect game in the regular season and a no-hitter in the playoffs.
Beating Halladay will be a challenge, but it's one to which the Mets have a long and storied history of rising. Yes, they've had issues with some of the game's all-time best, most notably Koufax (21-2 vs them) and
Greg Maddux
(35 wins, the most by any pitcher vs the Mets), but we're here to celebrate victory rather than wallow in defeat. With that in mind, we ask the question: What is the Mets best win against an all-time great pitcher?
Here are the first nine candidates that came to mind for me. Feel free to share your favorites in the comments section.
The first
The Mets first win against a future Hall of Famer was also their first walk-off win, a 3-2 victory over the Braves on
May 12, 1962.
The game ended on
Hobie Landrith's
two-run home run off Warren Spahn in the bottom of the ninth inning. Spahn would finish his career with 363 wins, including four for the Mets in 1965, his final season in the major leagues.
A dandy versus Sandy
One of the most notable wins of the early days was the one in which they beat
Sandy Koufax
for the first time. Koufax went 13-0 in his first 14 appearances against the Mets and didn't lose until
August 26, 1965
, when a young starter named
Tug McGraw
(who would become famous later in his Mets career) edged him out, 5-2.
Juan and Done
Hall of Famer Juan Marichal has come to ESPN's Bristol headquarters on a few occasions, and on one, I asked him if he remembered when the Mets beat him 1-0 in 14 innings on
August 19, 1969
.
"
Tommie Agee
," he said wistfully, recalling the game-winning home run in that contest. "I can still see that ball going over the fence."
19 K … and a loss
On
September 15, 1969
, Cardinals pitcher
Steve Carlton
(who would go on to greatness with the Phillies) struck out 19 Mets, but got beat, 4-3, by a pair of
Ron Swoboda
home runs. Carlton would win 329 games in his Hall of Fame career, but the Mets beat him on 36 occasions, more than they've beaten any other pitcher.
Nailing Nolan
The Mets found themselves in a must-win situation in
Game 2 of the 1986 NLCS
against the fireballing (and ageless)
Nolan Ryan.
Much like he would do in Game 5 of the series, Ryan overpowered the Mets early, before an offensive onslaught led to five runs.
Keith Hernandez
had the key hit, a two-run triple that got the ball rolling in the right direction and helped even the series.
Curt-in Call
Curt Schilling
would go on to win two World Series with the Red Sox, but in his Phillies days, he had a few intriguing matchups with the Mets. The most notable of those came on
May 23, 1999
, when Schilling took a 4-0 lead into the bottom of the ninth inning.
The Mets rallied in a fashion resemblant of some of their best wins in 1986, scoring five runs.
John Olerud
got the winning hit, a walk-off single with two outs.
Beating Mariano
Mariano Rivera
has only one blown save against the Mets, but in came in an amazing game. On
July 10, 1999
, the Mets beat the Yankees, 9-8 on
Matt Franco's
two-run two-out single in the bottom of the ninth. The Mets persevered in a gutty effort, surviving six Yankees home runs to win.
Measuring up to the Big Unit
Randy Johnson
had a losing regular season against only one National League team. He finished 6-7 against the Mets, but it's a postseason loss for which he's best known.
In Game 1 of the 1999 NLDS
, after the Mets had just won four straight games (including a one-game playoff in Cincinnati) just to make the postseason, the Mets hammered Johnson for seven runs in an 8-4 victory. Attach a bit of an asterisk here because the Mets got the game-winning hit (
Edgardo Alfonzo's
grand slam)off reliever
Bobby Chouinard
, but Johnson took the defeat nonetheless.
Rocking the Rocket
Mets fans have taken great satisfaction in their success against
Roger Clemens
, primarily because it's viewed as payback for both his beaning of
Mike Piazza
and his throwing a bat shard at Piazza during Game 2 of the 2000 World Series.
Take your pick among Clemens' six losses to the Mets for the best one. We like two in particular, a 12-2 drubbing on
June 9, 2000
, and an 8-0 win on
June 15, 2002
. The former featured a Piazza grand slam. The latter was highlighted by
Shawn Estes
, missing on his attempt to hit Clemens with a ball, but clobbering a Clemens pitch for a home run later in the game.
There are those who say Clemens got what he deserved for another reason. Next time you watch a replay of Game 6 of the 1986 World Series, check out the shot of Clemens celebrating in the Red Sox bullpen, which was defaced with a huge "RC" in red spray paint.