New York Mets:

Rick Anderson
April, 11, 2013
4/11/13
3:40
PM ET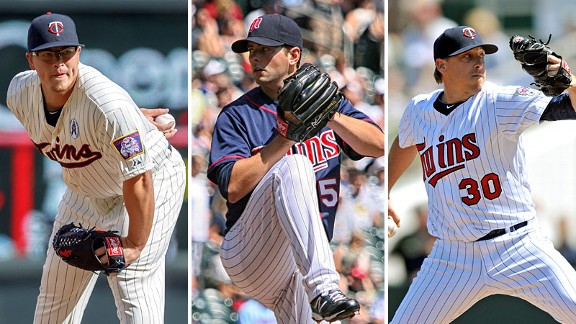 Icon SMI
The Mets face (l to r) Vance Worley, Scott Diamond and Kevin Correia this weekend -- weather permitting.
METS (5-4, third place/NL East) at MINNESOTA TWINS (4-5, fourth place/AL Central)
Friday:
LHP
Jonathon Niese
(1-0, 2.13) vs. RHP
Vance Worley
(0-1, 5.73), 8:10 p.m. ET
Saturday:
RHP
Matt Harvey
(2-0, 0.64) vs. LHP
Scott Diamond
(0-0, -.--), 4:10 p.m. ET
Sunday:
RHP
Dillon Gee
(0-2, 7.71) vs. RHP
Kevin Correia
(0-1, 3.14), 2:10 p.m. ET
Twins short hops
• Left-hander
Scott Diamond
, a SUNY Binghamton product, is due to be activated from the disabled list for Saturday's start. He underwent Dec. 18 surgery to remove a bone chip from his left elbow. In a rehab appearance Sunday with Class A Fort Myers, Diamond allowed four runs on six hits in an 82-pitch effort spanning five innings. Among American League rookies in 2012, Diamond ranked fourth in wins (12), second in ERA (3.54) and sixth in innings pitched (173).
• Right-hander
Vance Worley
was acquired from the
Philadelphia Phillies
with right-hander Trevor May for
Ben Revere
on Dec. 6, 2012. He is 3-3 with a 5.17 ERA (38.1 IP, 22 ER) in seven previous starts against the Mets.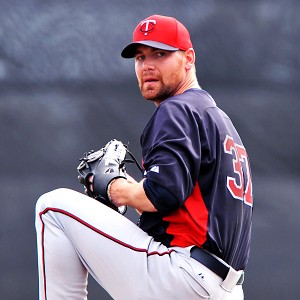 Al Messerschmidt/Getty Images
Mike Pelfrey is not scheduled to face his former team this weekend.

• Center fielder
Aaron Hicks
' role as leadoff hitter may be in jeopardy. The rookie is off to a 2-for-35 start to his major league career, with 16 strikeouts. He also drew criticism from manager Ron Gardenhire on Wednesday for not running out a ball that ended up being dropped by Kansas City center fielder
Lorenzo Cain
. Hicks, 23, was the 14
th
overall pick in the 2008 draft out of high school in Long Beach, Calif. The Mets took college players
Ike Davis
18
th
overall and Reese Havens 22
nd
overall in that first round.
• The customary Twins lineup is:
Hicks, cf
Joe Mauer
, c
Josh Willingham
, lf
Justin Morneau
, 1b
Ryan Doumit
, dh
Trevor Plouffe
, 3b
Chris Parmelee
, rf
Brian Dozier
, 2b
Pedro Florimon
, ss
•
Mike Pelfrey
, who was non-tendered by the Mets in December, signed for a base salary of $4 million with the Twins. He is next due to start Monday, after the Mets leave town. Pelfrey underwent Tommy John surgery last May 1. He was roughed up in Kansas City in his second Twins outing, lasting only two innings. Pelfrey did not allow an earned run in 5 1/3 innings against the
Detroit Tigers
in his Twins debut five days earlier.
• Twins setup man
Jared Burton
got to jam on his guitar at the team's hotel Monday with Eddie Vedder. The Pearl Jam singer is friendly with Twins broadcaster
Ron Coomer
and watched the NCAA men's basketball championship game with the team.
• Outfielder
Darin Mastroianni
has been dealing with a bone bruise on his left ankle, which he suffered in a March 25 Grapefruit League game.
• Roof-less Target Field, which opened in 2010, has never had a snow cancellation. The field is heated, aiding snow melting. According to the Minneapolis Star Tribune, four games were snowed out while the Twins played for 21 years at outdoor Metropolitan Stadium, before relocating to the Metrodome for the 1982 season.
• Gardenhire and pitching coach Rick Anderson have Mets ties. Gardenhire spent his entire five-year major league career with the Mets, hitting .232 in 710 at-bats from 1981 to '85. Anderson debuted with the Mets in 1986 before being traded the following March to the Royals with Ed Hearn for
David Cone
.
• The Mets' lone previous visit to Minnesota came in 2004. The Twins swept the series at the Metrodome.
Johan Santana
limited the Mets to one run in seven innings in the middle game of that series, topping
Steve Trachsel
. The 15-inning series finale ended with an RBI single by Mike Ryan against
Ricky Bottalico
.
September, 13, 2010
9/13/10
10:30
AM ET
By
Mark Simon
| ESPNNewYork.com
Where did
Dillon Gee's
big league debut rank among others in Mets history?
Let's go through a simple exercise to figure that out.
Baseball-Reference.com
charts pitching performance using Bill James' metric, Game Score.
Game Score is a rating, usually on a scale of 100 (though occasionally, it can exceed 100 or fall below 0) that rewards a pitcher for getting outs (with a bonus for strikeouts) and punishes pitchers for allowing baserunners. A score of 90+ would typically be a shutout with a high number of strikeouts and a low baserunner total.
Gee's line (7 IP, 1 R, 2 H, 4 K, 3 BB) rated a 70, and tied in this metric for third-best Game Score in Mets history. Let's run through the other four in the top five.
1. Dick Rusteck, June 10, 1966 vs Reds
,
Dick Rusteck
is the standard-setter and rightfully so. He's the only Mets pitcher to throw a shutout in his major league debut, his being a four-hitter against a lineup that rated in the upper half of the National League and featured a young
Pete Rose
and
Tony Perez
. Rusteck didn't allow a Red to reach beyond first base, and for bonus points, he beat
Jim Maloney
, who had 12 wins in his first 16 decisions against the Mets.
Sadly the baseball story did not get any better for Rusteck, a promising 23-year-old southpaw at the time. Though his pro career lasted until 1977, injuries set in, and he never won another big league game.
2. Masato Yoshii, April 5, 1998 vs Pirates
It's a little unfair to call this a big league debut for Yoshii, since he'd pitched 10 years in Japan prior to his first major league appearance, and his experience showed. This was one of a host of games that
Masato Yoshii
, a bit inconsistent in his Mets career, handled with total aplomb.
Yoshi's game score rated a 77 and the only reason it's not higher than Rusteck's is because Yoshii didn't go the distance. Overall, he was nearly flawless, allowing just three hits and one walk while striking out seven in stopping the Pirates, 7-0.
T3.
Rick Anderson, June 9, 1986 vs Phillies
Used as a fill-in after spending nine seasons in the minor leagues,
Rick Anderson
made the best of his big league moment, allowing just one run and four hits in seven innings against the Phillies, with a pitching line almost the same as Gee's.
Anderson would be deprived of a win due to lack of support from the Mets bats and bullpen as Jesse Orosco coughed up the lead in a rare, 3-2 loss for the eventual World Champions. Anderson would go on to win a pair of games during stints with the team later that season, including one on a torn-up Shea Stadium field the day after the Mets clinched the NL East.
Anderson is a baseball success story, though he only won four major league games. He's currently a very highly-regarded pitching coach for the AL Central-leading Minnesota Twins.
5. Jason Isringhausen, July 17, 1995 at Cubs
Jason Isringhausen
and Gee share two common threads. They're the two pitchers on this list who made that debut on the road. And they're the only two pitchers to debut by allowing two hits or fewer in seven innings or more.
Isringhausen laid the groundwork for some high hopes for the future, ones that materialized for teams other than the Mets, by allowing only two runs and two hits in seven innings at Wrigley Field, retiring both the first and last 10 hitters to face him.
Isringhausen was 9-2 with a 2.81 ERA in that first Mets season, leading many to think that he could be a future Mets ace. The expectation isn't quite that high for Dillon Gee, though if he pitches in his second start tonight, like he did in his first, he might raise the hopes of Mets fans just a little bit for 2011.