May, 27, 2012
5/27/12
4:00
PM ET
By
Mark Simon, ESPN Stats & Information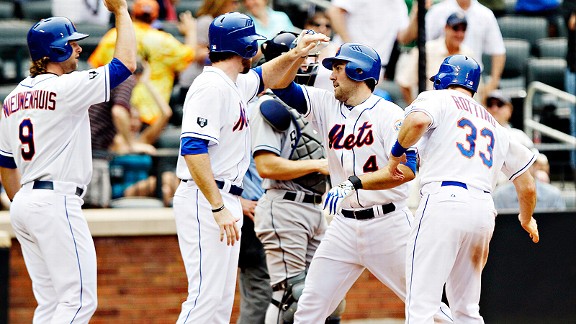 AP Photo/Frank Franklin IIMike Nickeas had muliple reasons to celebrate this weekend.
With the help of
Baseball-Reference.com
, we recap the Mets series win over the Padres.
Stat of the Series
On Saturday,
Mike Nickeas
became the first Mets catcher to hit a grand slam and catch a shutout in its entirety since
Mackey Sasser
on July 29, 1990 against the Cardinals. That was a combined shutout by
Dwight Gooden
and
Bob Ojeda
.
The only other Mets catcher to match that was
Jerry Grote
for
Tom Seaver
in 1973.
Gary Carter
gets inclusion with an asterisk for hitting a grand slam and catching five innings of a
Sid Fernandez
shutout in 1986.
Byrdak Soaring
Tim Byrdak
pitched a full inning in relief in Friday's win and got two outs in Sunday's victory. That snapped a streak of 13 straight appearances in which he pitched exactly one-third of an inning. That is, by far, a Live-Ball Era record for consecutive appearances of that length, breaking the mark of eight shared by four pitchers.
These were Byrdak's 14th and 15th straight hitless appearances. That's the most such consecutive hitless appearances, retiring at least one hitter, in that span, surpassing the 14 set by
Sergio Romo
of the Giants last season.
Golly Gee
Dillon Gee
struck out a career-best nine in seven innings to earn the win. Gee posted a Bill James Game Score of 71, the second-best mark of his career, trailing only his 7 2/3 inning scoreless start against the Nationals last May 25 (a 75). Of Gee's nine strikeouts, seven came on pitches that were out of the strike zone.
V is for Vinny and Victory
Vinny Rotino
became the 370th player to hit a home run for the Mets. The Mets have had five players whose given name started with the letter V hit a home run, the others being
Valentino Pascucci
,
Vance Wilson
,
Vince Coleman
and
Victor Diaz
. Pascucci hit his most recently, last season.
Moment of the Series: Johan Santana completes a shutout
On Saturday, Santana became the 10th pitcher in Mets history to record multiple walk-free shutouts. He also had one against the Pirates in 2008.
Seaver
had nine walk-free shutouts as a Met, the most in franchise history.
Baseball-Reference.com has fairly complete records of pitch counts. The
last documented instance they have of a Met throwing 96 pitches or fewer in a nine-inning complete game
is
Rick Reed
against the Braves in 2001 (he had back-to-back 96-pitch complete games against them).
Elias noted that Santana threw nine pitches in each of the last five innings, the first time in his career he's thrown fewer than 10 pitches in each of five straight innings.
R.A. is Really Awesome ... Again and Again
R.A. Dickey
led the Mets to the last of their three straight wins in this series, striking out 10 in 7 1/3 innings. Dickey joined
Pedro Martinez
(2006) as the only Mets with consecutive double-digit strikeout games in the last 20 seasons.
Looking ahead, the last Met with three in a row was
David Cone
in 1992.
Perhaps more impressive is that Dickey has only one walk in his last two starts. He joins
Tom Seaver
,
Dwight Gooden
and Cone as the four Mets with consecutive starts of double-digit strikeouts AND one walk or fewer.
Dickey struck
Jesus Guzman
in the fourth inning with a 60 mile-per-hour pitch. It was the slowest strikeout pitch of the season, edging out a 61-mile-per-hour curve by
Carlos Zambrano
against
Joey Votto
.
June, 15, 2011
6/15/11
12:03
PM ET
By
Mark Simon
| ESPNNewYork.com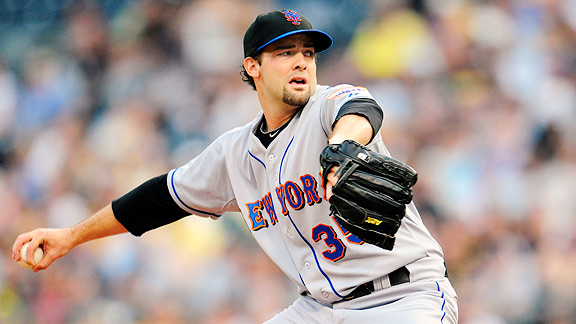 Jeanine Leech/Icon SMI Dillon Gee's early mound mastery has been one of the surprising stories of 2011.
Dillon Gee's
popularity is rising with each successive victory that he's able to add to his ledger, which stands at 7-0 this season heading into his Wednesday night start in Atlanta.
Gee's mark is the best among major league pitchers who are currently undefeated. One more win and he'd match
Dwight Gooden
as the only pitchers to start 8-0 for the Mets, with all eight wins coming as a starting pitcher. (Gooden did it in 1988.)
Gee is an interesting one to root for because he doesn't do anything that's particularly amazing. His fastball is 89-90 mph. His changeup is effective, but not dominant. He's a pitcher who seems built like a
Rick Reed
or
Bobby Jones
. Good, but not great. Consistent, but not dominant.
But just how much of a pitching whiz is Gee compared to his peers?
Let's answer that question in a statistical manner.
Run Prevention
Gee's ERA is 2.90, impressive for any year within the 2000s, but not quite as much in 2011, considering where Gee is pitching (pitcher-friendly Citi Field) and the caliber of other pitchers this season.
ERA+, a stat tracked on
Baseball-Reference.com
, measures how good a pitcher's ERA is, adjusting for the performance of his peers and the ballpark in which he pitches. A score of 100 means he's an average pitcher. The higher above 100, the better the pitcher is with regards to those factors (peer/park).
Gee rates a 121. That's
really
good. But is it elite?
No.
The top 13 pitchers with at least 50 innings pitched all score 150 or better. Currently injured Marlin
Josh Johnson
leads the majors with a 239.
Gee rates 32nd in the majors, tied with the likes of
Roy Oswalt
and
Randy Wolf
, which certainly isn't bad company. Being 32nd is good, but not great, which fits the Gee profile. It puts him among the top 25 percent of all pitchers.
Controllable Factors
Gee isn't a strikeout pitcher and that's reflected in both his strikeout rate (6.4 per 9 innings) and walk rate (2.9 per 9). Let's use that in conjunction with some other information.
According to the stats published on
Fangraphs.com
, Gee has yielded 64 fly balls this season and four of them have gone for home runs. That 16:1 fly ball/home run rate is far, far better than the typical major league pitcher, whose rate is typically around 10:1.
That is likely a product both of Gee's pitching style and the ballpark in which he pitches approximately half the time.
We can look at Gee's Expected Fielding Independent Pitching (xFIP), which looks at what a pitcher's ERA should be based on his strikeouts and walks, and a major league average fly ball:home run rate.
Gee's xFIP is 3.91 -- a jump of a full point from his current ERA. That's tied for 76th best in the major leagues. It's second-best on the Mets behind
Jon Niese's
3.52.
Sabermetricians will tell you that a pitcher whose gap between his ERA and xFIP is that great will likely see his ERA rise in the near future.
The other stat often cited in this regard is his batting average on balls in play (BABIP, meaning at-bats that end other than with a strikeout or home run). Gee's BABIP is .244, which ranks 18th in the majors and seventh in the National League.
Most major league pitchers will have a BABIP between .290 and .310, because their teams are able to convert batted balls into outs at around a 70 percent rate.
Digging a little deeper
BABIP and xFIP aren't definitive. They can provide a clue to performance, but require digging a little deeper. In doing so, we can find what Gee has done best this season.
Our data shows that Gee has allowed 29 line drives this season, a rate of one for every six batted balls. That's a good rate, within striking distance of that of
Roy Halladay
and
Cole Hamels
.
But with that, the line drives Gee's allowing are not your typical ones. We use a company that major league teams use, Inside Edge, which charts every pitch and every batted ball in every game.
They use "video scouts" to make judgments on whether balls are hard hit. It's a subjective rating, but the criteria are such that you and I would ideally make the same call if we saw every batted ball.
Of those 29 line drives, only 12 have been classified as "well-hit" by these video scouts. An average major league pitcher would have yielded 19 out of 29, seven more than Gee, whose well-hit rate ranks seventh-best in the bigs in 2011.
And the good thing about avoiding "well-hit" line drives is that softly hit liners tend to be outs more frequently. Gee's only allowed a hit on 15 of his 29 liners, pretty good considering that line drives go for hits about three-quarters of the time.
I don't know what Gee is doing to induce soft line-drive contact, but it's worth watching him more closely to see if both this and his winning ways can continue.
May, 11, 2011
5/11/11
4:13
AM ET
Jon Niese
opposes
Ubaldo Jimenez
in Wednesday's matinee rubber game, and a makeshift lineup will be behind the Mets' southpaw. Despite
Ike Davis
being
diagnosed with a left calf strain
that forced the first baseman from Tuesday's 4-3 win against the Colorado Rockies,
Terry Collins
plans to proceed with giving
David Wright
off in the series finale. That means
Justin Turner
will start at third base,
Daniel Murphy
at first base and, likely,
Willie Harris
over
Chin-lung Hu
at second base in the rubber game.
Wednesday's news reports:
• Davis said he hoped to miss minimal time because of his injury, which resulted from a collision with Wright in the fourth inning, although a disabled-list trip cannot be ruled out. Read more about the injury and Tuesday's win against the Rockies in the
Star-Ledger
,
Record
,
Times
,
Post
,
Daily News
and
Newsday
.
•
Sandy Alderson
said he cannot foresee trading
Jose Reyes
before the July 31 deadline and re-signing him during the offseason. "I think that's unlikely," Alderson tells
Brian Costa
in The Wall Street Journal
. "I think if you go back and look historically at similar cases, you'll probably find very few examples of that." ESPN's
Mark Simon
lists examples as
Mike Bordick
(2000),
Sidney Ponson
('03),
Geoff Blum
('05) and
Austin Kearns
('10).
• Newsday's
David Lennon
offers
one sign Wright's back/neck is bothering him
. Wright usually protests getting a day off, but said about Collins' intention to rest him Wednesday: "With the two days in a row, I'll have a chance to knock this out." The Mets have an off-day Thursday before opening a series in Houston.
•
Josh Thole
decided to give up his Twitter account because what he hoped would be fun interaction with fans turned negative. Thole described some people badgering him as "ruthless." Read more in the
Star-Ledger
.
• Despite a sizzling start to his professional career, Tuesday's blemish with Class A St. Lucie aside, don't look for 2010 first-round pick
Matt Harvey
to appear at the major league level this season, even in September. Read vice president for player development
Paul DePodesta's
reasoning
here
.
• After
Mike Pelfrey's
second straight positive start with
Ronny Paulino
as his catcher, look for Collins to continue pairing them. Read more in
Newsday
.
•
Dillon Gee
slides into
Chris Young's
rotation spot, so the Times'
David Waldstein
notes the comparisons between Gee and ex-Met
Rick Reed
. Gee agrees he was unheralded, noting he
could not even crack the rotation at Brooklyn
after being drafted in the 21st round out of Texas-Arlington in 2007. He was prepared to follow his father's footsteps in firefighting had baseball not worked out. Writes Waldstein:
The comparison between Gee and Reed goes beyond the fact that both pitchers were low draft choices -- Reed was taken in the 26th round in 1986 -- and that Gee wears No. 35, as did Reed. It is more about their control and use of four good, but not necessarily outstanding, pitches. "He has four pitches that are all a tick above average," the pitching coach Dan Warthen said of Gee. "But he commands them all with pinpoint control and he really knows what he's doing."
• Ex-Met
Jeff Francoeur
, visiting the Bronx with the Kansas City Royals, advises the Mets to
bring in those Citi Field walls
to help Wright and
Jason Bay
, among others. Read more in the
Post
.
BIRTHDAY:
Walt Terrell
turns 53. Terrell is the only pitcher in Mets history with a multi-homer game. He hit a pair against the Cubs and Hall of Famer
Ferguson Jenkins
on Aug. 6, 1983 at Wrigley Field. "It was a fluke," Terrell said when we interviewed him a few years ago. "The wind was blowing out, but I like to tell my kids it was blowing in at 40 mph." Funny story: the second homer was caught in the stands by one of Terrell's ex-teammates from Morehead State. Terrell, whose three homers that season are tied for the club record for a season by a pitcher with
Tom Seaver
, later played a valuable role for the Mets. He was traded to the Tigers for
Howard Johnson
before the 1985 season.
-Mark Simon
April, 18, 2011
4/18/11
9:08
AM ET
After snapping a seven-game losing streak, the Mets take a day off before likely welcoming back
Jason Bay
(rib-cage strain) for Tuesday's series opener against the Houston Astros at Citi Field.
Monday's news reports:
•
Terry Collins
used starters
R.A. Dickey
and
Chris Capuano
in relief in Sunday's victory
. It marked the first time since a 14-inning game in 1997 when
Bobby Valentine
used
Rick Reed
and
Brian Bohanan
out of the bullpen that the Mets used two starting pitchers in relief.
• Read game stories on the 3-2 win against the Braves in
Newsday
, the
Times
,
Star-Ledger
,
Daily News
,
Post
and
Record
.
•
Dillon Gee
did not have his normal routine Sunday because his
clothes and baseball equipment were lost
during his travel from Providence to Philly to Atlanta. Read more in
Newsday
, the
Journal
,
Post
and
Record
.
• Braves manager
Fredi Gonzalez
says this about Gee's performance: "He pitched well. I was impressed with his command and his breaking pitches. He swings the bat pretty good also. I don't know the Mets but with this outing, I think he deserves a chance to get another start."
As for the failed suicide squeeze with the bases loaded and
Tommy Hanson
batting that ran Atlanta out of an inning, the Braves skipper said: "It's one of those situations where [it is] early in the ballgame. … Nobody missed a sign. That was a squeeze; we just missed a bunt. It's one of those situations where the worst thing that could happen is he swung through it and when you're not scoring runs you've got to try to make something up. That's why they call it a suicide squeeze. It didn't work this time."
Read full Braves postgame quotes from the Atlanta Journal-Constitution's
Braves blog
.
• Collins tells the Daily News there's at least a chance he would "consider" using
Willie Harris
on a
limited basis at second base
once Bay is activated. Primarily an outfielder, Harris has started 167 major league games at second base. However, Harris' bat has faded slightly since a big season-opening series in Miami, and he's currently hitting .273. So returning him to the backup outfielder role he was signed for probably is the prudent thing.
BIRTHDAYS:
Former second baseman
Doug Flynn
turns 60. Flynn came from the Cincinnati Reds in the Tom Seaver trade in 1977 and won a Gold Glove with the Mets in 1980. It's fair to call Flynn light-hitting. He had a .557 OPS in more than 2,000 at-bats for the Mets, averaging a home run every 407 at-bats. ...
Rico Brogna
turns 41. Brogna broke in with the 1994 Mets and hit .351 in 131 at-bats that season. Brogna's other claim to fame was partaking in a bench-clearing fight and hitting a walk-off home run on "
John Franco
Day" in 1996.
June, 25, 2010
6/25/10
11:30
AM ET
By
Mark Simon
| ESPNNewYork.com
While Joe Torre renews acquaintances with the Yankees this weekend, the Mets will be having a reunion weekend of their own, with Johan Santana's start against the Twins on Saturday at Citi Field.

There's lots of interesting material related to Santana and his former squad. Among the things we've culled from various resources (Baseball-Reference.com, Stats LLC, and the Elias Sports Bureau) that are most noteworthy:

" Since the Twins franchise moved to Minnesota in 1961, Santana ranks as the team's all-time leader in win percentage (.679) and strikeouts per nine innings (9.5), and ranks among its all-time leaders in WHIP (1.09), and total strikeouts, (1,381).

" From 2003 to 2006 with the Twins, Santana set the standard for post-All-Star Break performance. In that span, he went 40-4 with a 2.07 ERA, including a 13-0 mark with a 1.21 ERA in 15 starts in 2004.

Santana had one other unbeaten run after the All-Star Break run, going 8-0 with the 2008 Mets.

" After snatching Santana away in a post Rule V draft trade with the Marlins, the Twins greatly limited the situations in which Santana appeared.

In 2000, they went 2-28 in his 30 appearances. Both wins were games in which Santana won in relief. From 2003 to 2007, they'd go 117-62 when he pitched, 105-47 when he started.

" Santana was 3-0 with an 0.82 ERA for the Twins against the Mets. That's the third-best ERA against the Mets for any pitcher with at least three starts against them.

Entering the day of his first win against the Mets (June 18, 2002), his career record was 4-4. The last of his three wins was, a 9-0, one-strikeout shutout of the Mets on June 17, 2007. After that game, his mark stood at 85-37.

" The Mets and Twins have shared a host of prominent pitchers besides Santana, among them Jerry Koosman, Frank Viola, Rick Reed and Rick Aguilera.

Those four along with Santana, each won at least 25 games for both the Twins and the Mets. Santana's 127 wins combined for these two teams trail the "leader," Koosman, who finished with 179 between the two.

Mark Simon is a researcher for Baseball Tonight. Follow him on Twitter at @msimonespn or e-mail him at webgemscoreboard@gmail.com.