New York Mets:

Robert Thompson
April, 9, 2014
4/09/14
8:45
AM ET
Jayce Boyd
hit a combined .330 with nine homers and 83 RBIs in 458 at-bats last season between Savannah and St. Lucie.
After June 28, however, the righty-hitting/righty-throwing Boyd was limited to DH because of thoracic outlet syndrome. That compression in the shoulder led to tingling as he released the baseball -- "like hitting your funny bone on something" -- and compromised throwing.
Boyd, 23, had early symptoms dating back to his college days at Florida State. He had the issue surgically repaired in late September by doctor
Robert Thompson
in St. Louis and resumed playing first base on Opening Day this month for Double-A Binghamton.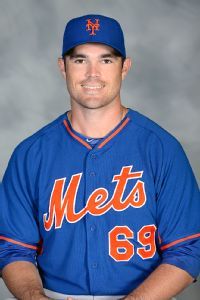 Courtesy of Binghamton MetsJayce Boyd
Thompson is the same doctor who surgically repaired
Dillon Gee's
throwing shoulder in 2012 after the near-complete blockage of an artery led to numbness in his arm.
"I came into [last] season prepared and ready to go," said Boyd, a sixth-round pick in 2012. "It obviously takes a toll on anyone just playing pretty much every day. It got fixed, and I'm excited to move on."
Boyd's .330 average ranked first in the organization last season, while his 83 RBIs trailed only
Dustin Lawley
(96) and
Wilmer Flores
(86).
"Last year was great, getting to learn what I am as a hitter and refining my approach, how to translate it from college into the professional atmosphere," Boyd said. "… I did widen my stance a little bit and just tried to refine my zone as far as pitches I wanted to hit and drive. Working counts and getting into good hitting counts is obviously the goal of hitting. Last year, I got much better at laying off the marginal pitches, whether it was fastballs or offspeed -- the marginal ones I knew I could put in play, but I just couldn't put in play hard. I think that's what I've gotten better at -- swinging at better pitches that I know I can drive."
As for his power potential, Boyd added: "My approach has never really been to hit home runs. My approach isn't to get in the box and try to hit the ball out of the ballpark. My philosophy is to hit the ball gap to gap and be more, I guess, a doubles guy than a home-run guy. But I think those translate into home runs eventually as you get stronger and progress as a hitter."
After starting at first base on Opening Day for the B-Mets, Boyd served as designated hitter the next two games. That was not about easing him back after the shoulder injury, Boyd suggested. Instead, it was about ensuring playing time for teammates.
Matt Clark
, who slugged 25 homers in Japan last season, started Game Nos. 2 and 3 at first base. Boyd returned to first base Tuesday, with Clark DHing.
"I think we just have a lot of guys in our lineup who are pretty much everyday guys," Boyd said. "So everyone is getting in the rotation and getting their chance to play."
As for his 2014 goals, Boyd said: "I'm just refining my approach still, growing as a player. And getting back into playing first base. It's been a while since I played first every day and felt comfortable over there. It's an exciting feeling to get out there and to be able to play comfortably and not have to worry about anything anymore -- any symptoms coming back."
Organization leaders
Average:
Zach Lutz, Vegas, .500; Matt Clark, Binghamton, .412; Eric Campbell, Vegas, .360; Jared King, Savannah, .357; Patrick Biondi, Savannah, .353; Kirk Nieuwenhuis, Vegas, .346; Brandon Nimmo, St. Lucie, .313; T.J. Rivera, St. Lucie, .313; Wilfredo Tovar, Binghamton, .308; Cesar Puello, Vegas, .304.
Homers:
Eric Campbell, Vegas, 1; Zach Lutz, Vegas, 1; Kirk Nieuwenhuis, Vegas, 1; Matt Clark, Binghamton, 1; Gilbert Gomez, St. Lucie, 1; T.J. Rivera, St. Lucie, 1; Patrick Biondi, Savannah, 1; Gavin Cecchini, Savannah, 1; Victor Cruzado, Savannah, 1; Stefan Sabol, Savannah, 1.
RBIs:
Zach Lutz, Vegas, 9; Eric Campbell, Vegas, 7; Jared King, Savannah, 7; T.J. Rivera, St. Lucie, 5.
Steals:
Jeff McNeil, Savannah, 2.
ERA:
Dario Alvarez, Savannah, 0.00; Jacob deGrom, Vegas, 0.00; Hansel Robles, Binghamton, 0.00; John Gant, Savannah, 1.50; Logan Verrett, Vegas, 1.50; Domingo Tapia, St. Lucie, 1.80; Dawrin Frias, Savannah, 2.08; Seth Lugo, St. Lucie, 2.08; Rafael Montero, Vegas, 2.45.
Wins:
Josh Edgin, Vegas, 1; Erik Goeddel, Vegas, 1; Daisuke Matsuzaka, Vegas, 1; Noah Syndergaard, Vegas, 1; Jeff Walters, Vegas, 1; Rainy Lara, Binghamton, 1; Jack Leathersich, Binghamton, 1; Cody Satterwhite, Binghamton, 1; Gabriel Ynoa, St. Lucie, 1; Dawrin Frias, Savannah, 1; John Gant, Savannah, 1; Tim Peterson, Savannah, 1.
Saves:
Chasen Bradford, Binghamton, 2; Robert Coles, Savannah, 1; Jeff Walters, Vegas, 1; Beck Wheeler, St. Lucie, 1.
Strikeouts:
Rafael Montero, Vegas, 14; Hansel Robles, Binghamton, 8; Dawrin Frias, Savannah, 7; John Gant, Savannah, 7; Jack Leathersich, Binghamton, 7.
Short hops
• After
Eric Campbell
started three straight games at first base to open the season with Las Vegas facing southpaws, Campbell shifted to second base the next two games against right-handers. That allowed
Wally Backman
to start
Allan Dykstra
at first base. Team officials say that it more about trying to get both bats into the lineup than a burning desire to see Campbell at second base. Campbell, who nonetheless should benefit from the increased versatility, last played second base in 2008 with Brooklyn, in his first professional season.
• Mets doctors have diagnosed
Cory Mazzoni
with a lat strain, a team official said. The preliminary diagnosis had involved the triceps. Mazzoni apparently is now not particularly close to joining the Triple-A Las Vegas rotation, but Mets officials are relieved it is neither a shoulder nor elbow injury that might raise alarm. Mazzoni was forced to pull himself from the Grapefruit League finale as the Mets were breaking camp two weeks ago.
•
Zach Lutz
is off to a strong start at the plate with Vegas. Not only is the third baseman hitting an organization-best .500, he also has a .679 on-base percentage through six games with the 51s.
July, 18, 2013
7/18/13
8:34
AM ET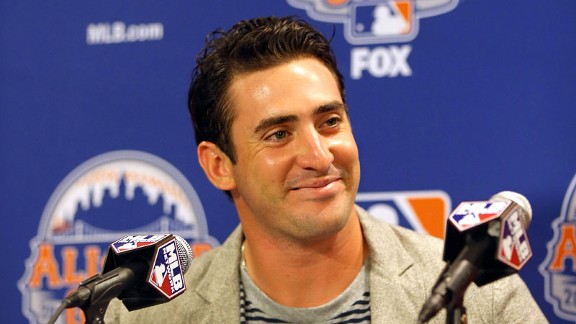 Mike Ehrmann/Getty Images
Matt Harvey relishes being a bachelor in New York City.
NEW YORK
FIRST PITCH:
Matt Harvey
has big expectations off the field, too.
Here are more quotes from a
Men's Journal article
we originally linked to in yesterday's Morning Briefing …
On waiting to buy a Manhattan apartment: "No matter what, New York is now my home. I could buy a place now, but I've gotta wait for that $200 million contract. If I'm going to buy an apartment, it has to be the best apartment in the city."
On his social life philosophy: "I have a 48-hour rule. No drinking two days before a start. But those other days? Yes, I'm gonna go out. If I was locked up in my house all week, I don't know what I'd be like on the baseball field."
On living in the East Village: "I'm young, I'm single. I want to be in the mix."
On
Derek Jeter
: "That guy is the model. I mean, first off, let's just look at the women he's dated. Obviously, he goes out -- he's meeting these girls somewhere -- but you never hear about it. That's where I want to be."
On being a savior: "I love the idea of coming into a struggling franchise and seeing if I can help them win. First off, I hate to lose. At anything. Secondly, who doesn't want to be the guy to help turn something around?"
Thursday's news reports:
• Speaking with David Lennon
in Newsday
, Sandy Alderson offered these thoughts:
The payroll will be "substantially higher" than $55 million, and could approach $100 million in 2014. "There's a substantial capacity there and hopefully we can use it," the GM said.
On contracts such as the ones handed to
Shaun Marcum
and
Frank Francisco
, Alderson said: "Something that has disappointed me is the inability to get any real performance out of some of the bigger investments that have been made."
On the ETA for competitiveness, Alderson said: "Was 2014 always a target year? Yeah. It should be an important year for us."
• At a charity golf event Wednesday to benefit Superstorm Sandy recovery,
Ike Davis
said via Zach Braziller
in the Post
: "I just want to play better and prove that I am a decent big leaguer, I am a good big leaguer. I feel pressure because I want to play better. I really don't worry what they're going to do, where they are, because I have no control in that. ... I want to play better just because obviously I don't like doing bad and it doesn't help the team when I do bad. It's more self-driven to play better and help the team."
Read more on Davis in the
Journal
,
Daily News
and
Newsday
.
• Jorge Castillo
in the Star-Ledger
writes the Mets' rotation has exceeded expectations.
• Mitch Williams picks Harvey for the Cy Young, writes Howie Kussoy
in the Post
. Columnist Bob Klapisch
in the Record
picks Harvey as the runner-up to
Clayton Kershaw
.
• Michael Salfino
in the Journal
suggests the Mets ought not trade
Bobby Parnell
.
• Mike Kerwick
in the Record
assigns grades to the Mets. He also suggests
five second-half games to watch
and
previews the second half
.
•
Justin Turner
, who is expected to be activated from the disabled list for the weekend series against the Phillies, combined with shortstop Wilfredo Tovar to turn a triple play, but Binghamton lost to Richmond. Kyle Johnson, acquired in the trade for
Collin Cowgill
, had three RBIs as St. Lucie beat Brevard County, 9-3. Read the full minor league recap
here
.
•
Ruben Tejada
has switched agents, leaving Peter Greenberg (who represents
Jose Reyes
and
Johan Santana
, among others) for Barry Praver and Scott Shapiro, according to ESPN.com's Jerry Crasnick.
• The Mets confirmed Marcum underwent surgery Monday in St. Louis for neurogenic thoracic outlet syndrome. Dr. Robert Thompson performed the surgery at Washington University Hospital.
•
From the bloggers …
Faith and Fear in Flushing
remembers Citi Field's longest day of 2013 and sets it to music. …
The Eddie Kranepool Society
reviews All-Star week. … John Delcos at
Mets Report
writes how the Mets responded to their first-half question marks.
BIRTHDAYS:
Joe Torre, a player-manager for the Mets in 1977 and now MLB official, turns 73. He managed the Yankees between those two gigs.
TWEET OF THE DAY:
Remember this? pic.twitter.com/MNFldAnIMS

— Howard Johnson (@20Hojo) July 18, 2013
YOU'RE UP: What do you make of Matt Harvey's quotes in Men's Journal?
July, 8, 2013
7/08/13
6:45
PM ET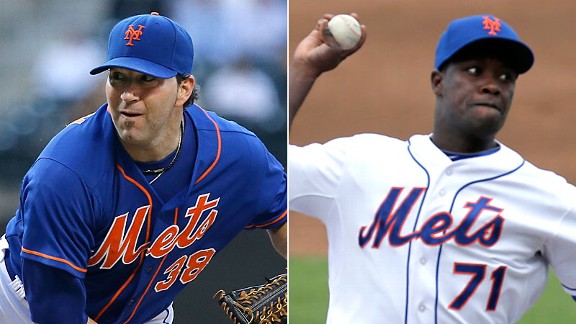 Associated PressShaun Marcum is likely to replaced on the active roster by Gonzalez Germen, but the move will not take place until Tuesday.
SAN FRANCISCO --
Gonzalez Germen
is en route to San Francisco, the Mets announced, signaling
Shaun Marcum
appears headed to the disabled list.
Because Germen has not been in the minors 10 days, he can only return if a major league player lands on the DL.
Germen is not due to arrive until late in Monday's game at the earliest, so he will not be active for the series opener and Marcum will not be placed on the DL tonight.
Marcum was examined by a specialist in St. Louis on Monday because of tingling and numbness in his cold right hand. Assistant GM John Ricco said full details would not be disclosed until Tuesday.
Dillon Gee
visited the same specialist, doctor Robert Thompson, last July at Barnes-Jewish Hospital.
"Dr. Thompson is one of the top guys in the country," Ricco said. "We were in Milwaukee, so we were close. It's close to Shaun's home. It's something he was comfortable with."
Regardless, Terry Collins said before Monday's opener against the Giants that he will use a four-man rotation the remainder of the first half, taking advantage of Thursday's off-day between series in San Francisco and Pittsburgh.
Matt Harvey
will return on standard rest Saturday, with Gee closing the first half on Sunday.
July, 13, 2012
7/13/12
6:37
PM ET
Dillon Gee underwent surgery to repair a damaged portion of the artery in his shoulder on Friday in St. Louis. Dr. Robert Thompson of Barnes-Jewish Hospital performed the procedure.

The Mets said Gee would be discharged from the hospital Tuesday or Wednesday.

The team did not identify a targeted return date, but a source familiar with the plan told ESPNNewYork.com that Gee likely is done for the season. There remains only an outside chance Gee returns in late September, or October if the Mets reach the postseason.

Bobby Parnell, who had a clot in the middle finger of his pitching hand early last season that led to numbness, noted his issue paled in comparison to Gee's situation. Still, Parnell continues to take aspirin every two to three days to help thin his blood and guard against future clots. He was not confident the issue was resolved until early this season, when he pitched in cold weather without experiencing a recurrence of the numbness.
ATLANTA --