New York Mets:

Roger Clemens
July, 28, 2014
Jul 28
5:24
AM ET
Associated PressBartolo Colon makes his final start before the non-waiver trade deadline on Monday.
NEW YORK
FIRST PITCH:
Bartolo Colon
makes his final start before Thursday's 4 p.m. non-waiver trade deadline when the Mets return home to face the
Philadelphia Phillies
on Monday.
Colon (9-8, 4.03 ERA) enters the start off an outing in Seattle in which he retired the game's first 20 batters.
Robinson Cano
broke up the perfect-game bid in the seventh with a line single.
Colon opposes right-hander
A.J. Burnett
(6-9, 3.86) in the 7:10 p.m. series opener.
The Mets took four of five games in Philly when the teams last met, May 29-June 2.
Of course, the Mets won eight of 10 games on their last homestand and now have a 25-23 record at Citi Field this season. The Mets have not finished a season with a winning home record since 2010.
Colon, incidentally, likely will be eligible to be traded in August, too -- either by clearing waivers or via the Mets dealing with a team that puts in a claim. That is because he is owed $11 million in 2015, during a season in which he will turn 42 years old.
Monday's news reports:
• After giving an interview to Willie Weinbaum
at ESPN.com
in which he advocated
Roger Clemens
,
Barry Bonds
and
Mark McGwire
getting voted into the Hall of Fame with asterisks, Tony La Russa went further during an interview published
in the Daily News
.
Mike Groll/Associated PressTony La Russa said he brought concerns about steroid use to Sandy Alderson during their days with the A's, but was rebuffed.
La Russa said he voiced concern to
Oakland Athletics
GM Sandy Alderson and the team's ownership during that era about potential player steroid use, but nothing was done.
"I knew our programs in Oakland were 100 percent clean," La Russa told the Daily News. "But we had our suspicions -- guys hitting stronger but not working out. I went to Sandy and ownership about this. And they told me flat off, 'Right of privacy. It's a collective bargaining issue.'"
Alderson told the newspaper: "I'm not going to comment on that until at least Monday" -- presumably so any comments would not detract from induction weekend.
•
Jacob deGrom
tossed 6 1/3 scoreless innings in his latest dominating performance and
Lucas Duda
slugged his fourth homer in six games as the Mets beat the Brewers, 2-0, Sunday at Miller Park to earn a split of the four-game series.
The Mets went 5-5 on their second-half-opening trip to San Diego, Seattle and Milwaukee. With 57 games remaining, the Mets trail the first-place
Washington Nationals
by 8½ games and are seven games out in the wild card.
Mike McGinnis/Getty ImagesJacob deGrom has a 0.66 ERA over his past four starts.
DeGrom has now limited opponents to two runs in 27 1/3 innings over his past four starts -- all wins -- to even his record at 5-5. He has not allowed a homer in his last 59 innings. That is four outs shy of matching the franchise's rookie record, set by Mark Bomback in 1980.
Duda had four of the Mets' five homers on the entire 10-game trip, with
Curtis Granderson
producing the other. Duda entered Sunday with an NL-leading 24.3 percent of his at-bats this season ending with a ball deemed "hard hit," according to ESPN Stats & Information.
Jenrry Mejia
wriggled free despite allowing two baserunners in the ninth. He has now recorded a save in each of his last seven appearances. That's the longest string of appearances with a save by a Mets reliever since
Billy Wagner
had a save in nine straight appearances in 2007.
The Mets posted a 5-5 trip despite failing to exceed three runs in any of the final nine games. If the Mets fail to reach four runs on Monday against the Phillies, it will become the longest streak of games producing three or fewer runs since 1981 (11 straight).
In the second half, the Mets are hitting .186 (60-for-322) and averaging 2.2 runs per game. Only the
Cincinnati Reds
are worse in those categories in the National League.
Read game recaps in the
Post
,
Daily News
,
Newsday
,
Star-Ledger
,
Record
,
Journal
,
Times
and at
MLB.com
.
• Read more on Duda in the
Post
and
Newsday
.
•
Tom Glavine
made multiple references to the Mets during his 17-minute induction speech in Cooperstown on Sunday.
Gregory J. Fisher/USA TODAY SportsTom Glavine generously mentioned the Mets during Sunday's Hall of Fame induction speech.
"To all the folks associated with the Mets organization, thank you for treating me and my family the way you did," Glavine said. "Thank you Fred and Jeff Wilpon for the opportunity to play in New York and for providing the resources so I could experience a postseason there. To the fans of New York, thank you so much for your support and for ultimately treating me and my family with so much respect."
Glavine singled out former Mets pitching coach Rick Peterson and trainer Mike Herbst for gratitude.
"Rick, you helped me to reinvent myself, make the changes I needed to make for the latter part of my career -- which, trust me, when you were doing something for 16, 17 years, it's not an easy thing to change," Glavine said. "But you talked me into it, you convinced me of it, and you gave me confidence to do it."
Joe Torre also paid homage to the Mets early in his induction speech.
Torre lauded Hall of Famer Tom Seaver, who was in attendance in Cooperstown, then said during in speech: "I was with the Mets a couple of years before I became manager. And then once I became manager on May 31, 1977, my first bit of duty was to trade Tom Seaver two weeks later, which wasn't a whole lot of fun. And the last time he pitched for me -- I don't know if you remember, Tommy -- he pitched in Houston. And when I went out to take him out of the game, he patted me on the rear end.
"I did have one accomplishment with the Mets as a player. And, again, you can't go through life alone. Certainly in baseball, you need all the help you can get. Well, on July 21, I hit into four double plays in one game. And I just want to make sure I share the credit, because I could not have done it unless Felix Millan had hit four singles right in front of me.
"In 1977 I became manager. I want to thank the
New York Mets
, at the age of 36, for trusting me with their ballclub -- M. Donald Grant, chairman of the board. It was a great opportunity for me. You talk about learning. As I said, we had to make some trades a couple of weeks after I took the job. And there was a lot of learning -- young players -- but [it was] a great experience. A great experience."
Read more on Mets references in Glavine's speech in
Newsday
.
• Matt Reynolds launched a go-ahead three-run homer in the seventh as Las Vegas beat Salt Lake, 6-5. Noah Syndergaard allowed two runs (one earned) in five innings.
Jeremy Hefner
allowed three runs in three innings in his fourth minor-league start since returning from Tommy John surgery as Daytona beat St. Lucie, 4-3, in Game 1 en route to a doubleheader sweep. St. Lucie has lost eight straight. Michael Bernal went 4-for-4 with four RBIs off the bench as Brooklyn beat Lowell, 9-3. Read the full minor-league recap
here
.
•
Troy Tulowitzki
may love New York, but it looks like the Bronx would be his strong preference. Tulowitzki, on the DL with the
Colorado Rockies
and in the Northeast to visit a doctor in Philly, swung by Yankee Stadium on Sunday to watch
Derek Jeter
play.
"It's a short drive from Philly," Tulowitzki
told The Denver Post
. "I'm with my family. I wanted to see Jeter play one more time."
• Terry Collins dismissed any apparent friction with
Jonathon Niese
, who was displeased with getting pulled after five innings Saturday.
"I love Jon and support everything he says," Collins said. "I know he doesn't want to come out. … Sandy Koufax told me many years ago, 'Pitchers and managers never get along.'"
• Why did
Juan Lagares
slide headfirst into first base Sunday, against what his manager would prefer? "I was just trying to do something to get a hit because I don't remember the last time I did," Lagares told Mike Vorkunov
in the Star-Ledger
.
•
From the bloggers ...
Faith and Fear
isn't so nervous during ninth innings these days.
BIRTHDAYS:
No one to appear in a game for the Mets was born on this date, but Soulja Boy and Manu Ginobili celebrate birthdays on July 28.
TWEET OF THE DAY:
#Mets are 50-55 with 57 games remaining. They must go 31-26 to finish .500. Not easy, but doable. That is my goal for them to build on in 15

— Russ O'Brien (@russelltob) July 28, 2014
YOU'RE UP: Did Tony La Russa throw Sandy Alderson under the bus?
May, 22, 2014
May 22
10:10
PM ET
NEW YORK --
Zack Greinke
had a lengthy streak snapped. Ex-Met
Justin Turner
got some revenge.
Jenrry Mejia
cleared a hurdle toward closing full time. And, in the game's decisive at-bat,
Juan Lagares
continued to establish he belongs in the starting lineup.
Lagares delivered a two-out, go-ahead RBI single in the seventh against
Chris Perez
and the Mets ultimately avoided getting swept with a 5-3 win against the
Los Angeles Dodgers
on Thursday at Citi Field.
The Mets won for only the sixth time in 20 games in May.
Back-to-back:
For the first time in four years, Mejia pitched on consecutive days. In a major step toward becoming the full-time closer, Mejia logged a scoreless ninth inning for his second save since moving to the bullpen. The work came a day after Mejia tossed eight pitches in a 1-2-3 ninth on Wednesday. Mejia last pitched on consecutive days at any level June 5-6, 2010, during his first tour of bullpen duty with the Mets.
Retribution:
Turner's ho-hum return to Citi Field ended with a bang. Turner blasted a two-run homer against
Jonathon Niese
(7 IP, 4 H, 3 ER) in the seventh to even the score at 3. It was Turner's first long ball since last Sept. 8 at Cleveland, during a series in which he produced his only two homers of 2013. Turner was a surprise non-tender by the Mets on Dec. 2.
Ron Antonelli/Getty ImagesThe Mets ended Zack Greinke's streak allowing two runs or fewer at 21 starts, although two of their three runs against him were unearned.
Halted:
Greinke's major-league record streak of 21 straight starts allowing two runs or fewer came to an end. His fielders, including an ex-Met, helped torpedo it.
Greinke was poised to escape the fifth inning trailing 2-1 when he coaxed a two-out grounder to the left side of the infield from
Daniel Murphy
. However, after ranging to his left, Turner -- starting at third base with
Juan Uribe
having landed on the DL -- muffed fielding the ball, allowing Niese to score the Mets' third run.
Niese earlier in the inning became the lone Mets pitcher other than
Jacob deGrom
to produce a hit this season. He delivered an RBI double that plated
Anthony Recker
for the lone earned run surrendered by Greinke. (Mets pitchers are now 3-for-76 on the season.)
The Mets had produced an unearned run in the second inning after
Matt Kemp
was slow getting to
Curtis Granderson
's shot to deep center. Kemp did not cleanly pick up the baseball, so the play was scored a double and E-8. Granderson scored on Eric Campbell's sac fly.
Greinke's final line: 5 IP, 4 H, 3 R, 1 ER, 2 BB, 4 K. He threw 101 pitches (63 strikes).
Greinke nonetheless has now allowed two
EARNED
runs or fewer in 22 straight starts, passing
Roger Clemens
(1990-91) for the longest streak in the majors since earned runs became a stat in 1913.
Web gem:
Yasiel Puig
turned in a highlight-reel catch, even by Lagares standard. On
Wilmer Flores
' second-inning shot to right-center, Puig covered an awesome amount of ground and made a diving catch that even the pro-Mets crowd at Citi Field recognized with applause.
Puig had a complicated game.
Puig was tagged out between second and third base for a double play in the sixth when
Hanley Ramirez
hit a popup that was ruled an infield fly. Murphy had lost the ball and it dropped to the ground.
Two innings later, after producing a one-out double, Puig was doubled off second base. Campbell made a diving catch in his first major-league game in left field. Puig broke for third, not recognizing the catch, and was doubled up at second.
What's next:
The
Arizona Diamondbacks
visit Citi Field for a weekend series.
Bartolo Colon
(3-5, 5.34 ERA) opposes rookie right-hander
Chase Anderson
(2-0, 5.06) in Friday's 7:10 p.m. series opener.
February, 24, 2014
Feb 24
6:51
AM ET
Above, video of Ike Davis swinging in a cage Sunday.
PORT ST. LUCIE, Fla.
FIRST PITCH:
Ike Davis
wants to remain a Met. He's doing a heckuva job of fueling getting himself traded, though.
Davis
told the Post
on Sunday that he
concealed an oblique injury
for most of last season, even from the team.
That's not likely to sit well with Sandy Alderson and Terry Collins, who reportedly were unaware until late in the year, about when the oblique gave out on a sacrifice-fly swing against the
Washington Nationals
.
The Mets clearly can pull the trigger on a deal for Davis at any point during spring training. It's just a question of how low a threshold they will accept from the
Pittsburgh Pirates
or
Baltimore Orioles
or elsewhere.
If Alderson is upset enough, he might lower that threshold further.
Monday's news reports: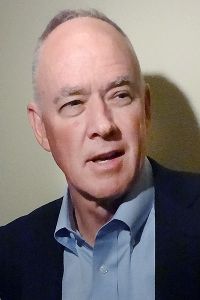 Adam RubinSandy Alderson wants to build a legacy as the man who rebuilt the Mets for long-lasting success.
• It's not a great surprise, but Jeff Wilpon intends to pick up Alderson's team option for 2015, Kristie Ackert writes
in the Daily News
. "I think you'd have a hard time getting Sandy to say this, so I will kind of maybe say this for him: Everybody is kind of concerned with how they are remembered,"
David Wright
told Ackert. "… He wants to be remembered for taking an organization that was struggling and slowly building it up with the system with some good trades and free-agent signings. I know he wants to be remembered for leaving it in a much better place than he got it."
• Tim Rohan
in the Times
reviews the mechanical changes
Daisuke Matsuzaka
made with pitching coach Dan Warthen toward the end of last season that resulted in a 1.37 ERA over Dice-K's final four starts. Writes Rohan:
Warthen had suggested that Matsuzaka lock his right foot snug against the rubber and keep his right leg straight as he raised his left leg during his windup. That way, Matsuzaka could increase torque and really push off the rubber and pitch downhill. His foot had been sliding and his leg had been crooked. Now he felt more balanced. He had better control. He seemed to be throwing harder, too. And his breaking balls had a sharper bite.
• Rafael Montero will
start Friday's Grapefruit League opener
against the Washington Nationals in Port St. Lucie.
John Lannan
starts Saturday, followed by Matsuzaka on Sunday. Noah Syndergaard faces the
Atlanta Braves
at Disney next Monday. Then
Jonathon Niese
pitches the following day. Read more in the
Daily News
,
Star-Ledger
,
Record
,
Journal
and
MLB.com
.
• Frank Viola told Mike Vorkunov
in the Star-Ledger
about the 23-year-old Montero: "I don't know if you'll ever have a perfect delivery, but that's as close as you're going to see. Everything working together, the ball just explodes from his hands. The thing that's beautiful to watch is I could sit back and close my eyes and know where the ball is going. He's just that good at locating and spotting pitches, and he's only going to get better."
• Columnist John Harper
in the Daily News
discusses lefty reliever Jack Leathersich, who needs to cut down on his walks to make an impact in the majors. While striking out 47, Leathersich also walked 29 in 29 Triple-A innings last season.
•
Wilmer Flores
took groundballs at shortstop
Sunday, and Collins says he will use Flores there at least on occasion during Grapefruit League play. Read more in the
Post
and
Star-Ledger
.
• Flores, from Venezuela, hopes for a safe resolution to the conflict in his country. "Obviously, I'm really worried about it," Flores told Marc Carig
in Newsday
. "My whole family's there. I wish I was there to support them, to be with them. I just hope that everything just calms down and that there's peace."
• John Rowe
in the Record
profiles Syndergaard, who is ticketed for Triple-A Las Vegas likely until mid-June at the earliest. "Right now, I'm in camp, hoping to make it, be part of the starting rotation. But I know there's a bigger picture," Syndergaard told Rowe. "When the organization feels I'm ready, then I'm looking forward to being in New York."
•
Omar Quintanilla
, if he appears in the majors this season with the Mets, would become the 14th player in MLB history to wear the No. 0, Jared Diamond writes
in the Journal
. The list also includes former Met Rey Ordoñez.
• Anthony DiComo
at MLB.com
catches up with
Daniel Murphy
.
• Columnist Kevin Kernan
in the Post
profiles
Jeff Walters
, who had 38 saves with Double-A Binghamton last season. Among the nuggets: Walters' father is a jeweler and his mother works at Disney. "I could get the girlfriend some jewelry for free and go to Disney for free," Walters told Kernan. "It was awesome.''
• Collins said
he is eager to see
catching prospect Kevin Plawecki behind the plate. Read more in
Newsday
.
•
Eric Young Jr.
participates in a Q&A
in the Star-Ledger
.
• The broken bat
Roger Clemens
tossed in the direction of
Mike Piazza
during the 2000 World Series sold for $47,800 at auction, Jim Baumbach writes
in Newsday
.
•
From the bloggers …
John Delcos at
Mets Report
discusses
Matt Harvey
. …
Rising Apple
discusses what it might take to acquire Seattle's
Nick Franklin
.
BIRTHDAYS:
Hall of Famer Eddie Murray, who played for the Mets in 1992 and '93, turns 58.
TWEET OF THE DAY:
Vote Puma! #FaceOfTheMLBPressBox @NYPost_Mets pic.twitter.com/v0cQ3KL3k4

— Marc Carig (@MarcCarig) February 24, 2014
YOU'RE UP: Should the Mets trade Ike Davis?
December, 2, 2013
12/02/13
12:00
PM ET
The Hall of Fame will announce the 2014 class of inductees on Jan. 8.
Eligible voters who have been members of the Baseball Writers' Association of America for 10 years may select from zero to 10 candidates.
Those candidates appearing on 75 percent of the submitted ballots are elected. Candidates may remain on the ballot for as many as 15 years, provided they continue to appear on 5 percent of the ballots cast.
Here is my Hall of Fame ballot.
Second-year candidates
Mike Piazza
,
Barry Bonds
and
Roger Clemens
appear on my ballot for the first time. I also voted for
Greg Maddux
,
Tom Glavine
and
Frank Thomas
in their first year of eligibility. Because 10 candidates is the maximum for which to vote, I could not fit Tim Raines or Lee Smith this time after voting for them a year ago.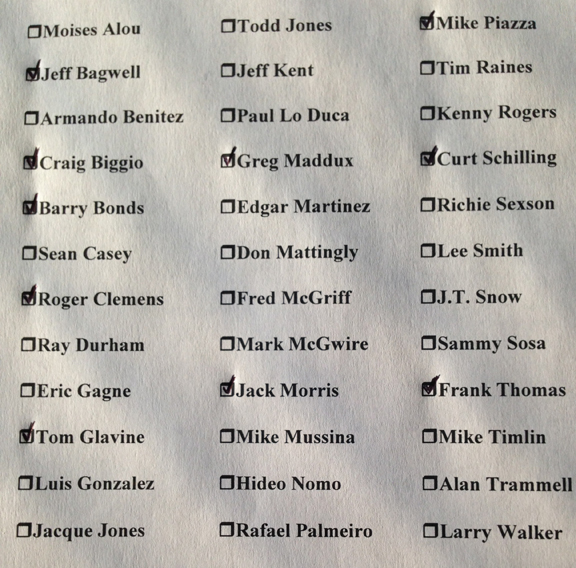 February, 17, 2013
2/17/13
10:52
AM ET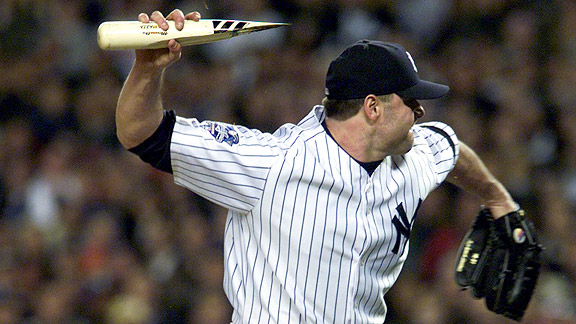 Matt Campbell/AFP/Getty ImagesRoger Clemens, shown here in 2000, spoke about Mike Piazza's autobiography on Sunday.
PORT ST. LUCIE, Fla. --
Roger Clemens
on Sunday morning at Astros camp offered his take on
Mike Piazza
's autobiography -- specifically the pair of run-ins in which he threw a fastball and then a bat in Piazza's direction. Clemens said,
via the Houston Chronicle
:
"I just got a couple of texts that weren't too pleasant about [the book]. But, yeah, that's great if he's taking karate to protect himself. I don't know. The only thing I remember is, didn't he chase -- he needs to go get with Jesse Owens or somebody on his speed, I think. He chased some dude [Guillermo Mota] around the spring training site one time, didn't he, or something?
"... I think there was about three guys on the Yankees that wanted a piece of me more than [Piazza] did. He'd probably have to get in line. But in all seriousness, he's a -- I've gotten to know him at golf events. Todd Zeile, another good guy, and Robin Ventura -- I've been friends with him. Some of these guys, once you get to know some of them, they're fine.
"But, like I said, there was no intent there. And Mike's a good hitter and I think he hit every breaking ball I threw to him and he hit them hard. But he's not the first power hitter who's got me. So, we had some good times. But, yeah, somebody just texted me the Cliff's Notes of it, so we thought that was pretty good."
Here's the Post recap of Piazza's book:
The 98-mph fastball to his helmet could have been deadly.

"I truly believe that if I hadn't gotten my head down at the last instant, Clemens' two-seamer would have struck me in the eye and possibly killed me," he recalls.

The Yankees hurler called the Mets dugout to apologize during the game, but Piazza wasn't hearing it.

"I grabbed [the phone], threw it and said, 'Tell him to go f--- himself,'" Piazza said.

"Roger Clemens had near-perfect control. I wouldn't have batted an eye if he had just brushed me off the plate -- of course that's what he said he was trying to do ... But to stick it in my forehead, that's another story altogether."

Piazza tells how he mapped out a plan for revenge -- taking karate lessons and visualizing the next time they would go at it.

"I would approach with my fist pulled back. I figured he'd throw his glove out for protection. I'd parry the glove and then get after it," Piazza writes.
February, 17, 2013
2/17/13
7:54
AM ET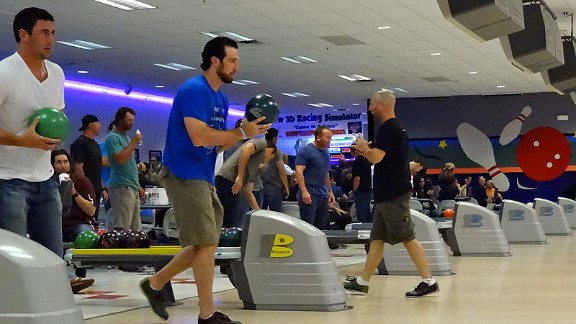 Adam Rubin
Ike Davis, Matt Harvey and the rest of the Mets crew hit the bowling alley tonight.
PORT ST. LUCIE, Fla.
FIRST PITCH:
Mets pitchers and catchers get a late start Sunday, trying to avoid frigid morning temperatures -- at least by Florida standards -- by heading outdoors at noon.
The position players had an early wakeup call, though, with physicals scheduled for the wee hours of the morning.
Johan Santana
is scheduled to proceed with his first bullpen session since getting shut down last August, according to pitching coach Dan Warthen.
The Mets then kick off their team-camaraderie-building weekly bowling events on Sunday night.
The first full-squad workout is Monday, and should include batting practice. We'll be watching for an
Ike Davis
-
Pedro Feliciano
matchup.
Sunday's news reports:
• Columnist Ken Davidoff
in the Post
asserts Fred Wilpon and family should demonstrate there are no financial restraints on Sandy Alderson by signing still-free-agent
Jose Valverde
. The Mets were willing to sign Valverde to a deal with an approximate $4 million base salary and incentives before they inked
Brandon Lyon
, sources told ESPNNewYork.com.
But Alderson said Wednesday that even with the uncertainty involving
Frank Francisco
, the organization is done adding free agents. Davidoff nonetheless suggests from an industry source the door is "slightly ajar" to Valverde.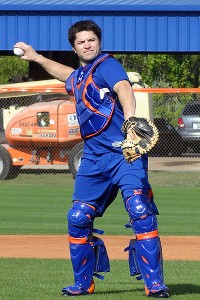 Adam Rubin
Travis d'Arnaud

• Anthony Rieber
in Newsday
and Mike Kerwick
in the Record
profile catching prospect Travis d'Arnaud.
"What separates Travis is his hands,"
Sal Fasano
, who managed d'Arnaud in Double-A, told Rieber. "They're so unique, both offensively and defensively. Catching, he's got great hands, and he can really hit. I don't like to compare people, but
Mike Piazza
was one of the strongest human beings with his hands that I've ever seen. Travis is quick with his hands. He's loose but he's powerful at contact. He was able to snap his wrists like not too many people can. That's why he has power to all fields."
• Steve Serby
in the Post
has a Q&A with
Bobby Parnell
, the closer assuming Francisco is unavailable … and maybe the closer anyway. It includes this exchange:
Q: Who was your boyhood idol?
A: I always idolized Roger Clemens as a pitcher. I've met him. I played with his son Koby in Hawaii. He hung out with us like he's a normal person.
•
Jordany Valdespin
indicated the offseason photo of him wearing a Marlins cap was tweeted from his account
without permission by a relative
. Terry Collins said Valdespin
mostly will play infield
during spring training. Read more in the
Post
,
Daily News
,
Star-Ledger
,
Record
,
MLB.com
and
Newsday
.
•
Jeurys Familia
will be used as a reliever during spring training, Mike Puma notes
in the Post
.
"This guy has a chance to be a closer," Collins told Puma. "When he gets command of that secondary pitch, where he can throw it when he wants to, with that sinker, I think he's got a chance to be devastating. He's a big, strong guy, durable, can pitch every day, so I just think he's got the makings of a guy that can pitch late in the game."
•
Jenrry Mejia
remains absent as MLB conducts an age and identity check on behalf of the U.S. consulate in the Dominican Republic, notes Marc Carig
in Newsday
.
• Cody Derespina
in Newsday
makes a statistical argument for
David Wright
to lead off. Based on descending career on-base percentages, Derespina writes, the batting order would be: Wright,
Mike Baxter
,
Daniel Murphy
,
Lucas Duda
, Davis,
Ruben Tejada
,
Kirk Nieuwenhuis
,
John Buck
. (After the first time through the lineup, Wright probably would not see many pitches with Baxter protecting him.)
• David Lennon
in Newsday
visits
Mike Pelfrey
in
Minnesota Twins
camp. Pelfrey, who is returning from Tommy John surgery, visited Port St. Lucie last week to dine with former teammates
Dillon Gee
, Parnell, Wright and Davis. Pelfrey joked he came to beat Wright in golf and win some money, but Wright topped him.
As for the end of his Mets tenure, the former first-round pick told Lennon: "I'll never forget last year when I got booed on Opening Day.
Jason Bay
and I got booed on Opening Day, and I'm thinking, 'Man, this is what it's come to, I guess.' You're not human if it doesn't bother you."
• Rick Peterson taught reliever
Greg Burke
a submarine delivery
at the end of last spring training in camp with the
Baltimore Orioles
. Now he may make the Mets' Opening Day roster, especially if Francisco ends up on the DL to open the season. Read more
at MLB.com
.
•
Marlon Byrd
is the distinct favorite to claim an outfield spot. If not, fellow righty hitters
Andrew Brown
and
Jamie Hoffmann
are among the competitors
. Read more on the outfield, with historical perspective, from Marty Noble
at MLB.com
. Writes Noble:
The '73 team reached the seventh game of the World Series with merely one legitimate offensive force among its outfielders -- Rusty Staub, who drove in 76 runs and hit 15 home runs. Even the heralded '86 Mets lacked power at the traditional run-production positions by the time they reached the postseason. [George] Foster (13 home runs, 38 RBIs) had been released in August, so the outfield had [Darryl] Strawberry (27, 93), [Lenny] Dykstra (8, 45) and [Mookie] Wilson (9, 45).
Not until 1987, after the club had obtained [Kevin] McReynolds, did the franchise deploy teams with sets of outfielders with genuine power at two positions. In the four seasons they played in the same outfield, Strawberry (144 and 390) and McReynolds (102 and 361) averaged 61 home runs and 188 RBIs as a tandem.
The current Mets would be delighted if their entire outfield produced at that rate this year.
• Bill Madden
in the Daily News
reviews the potential free-agent outfielders next offseason:
Jacoby Ellsbury
,
Curtis Granderson
,
Chris Young
,
Hunter Pence
,
Corey Hart
,
Shin-Soo Choo
,
Carlos Gomez
,
Michael Morse
and
Jeff Francoeur
.
• Jorge Castillo
in the Star-Ledger
looks at the advanced age of the Mets' bullpen, which may include
LaTroy Hawkins
,
Scott Atchison
and Feliciano. In a
Q&A with Hawkins
, the 40-year-old reliever talks about his godson Elijah Johnson, who stars for the Kansas basketball team.
•
From the bloggers
... Shannon
from MetsPolice.com
sees a sea of fourth outfielders. …
Faith and Fear in Flushing
reflects on eight years of blogging about Mets team that hasn't always stayed aloft. …
Mets Merized
reflects on the one-year anniversary of Gary Carter's passing.
BIRTHDAYS:
Roger Craig, who lost a combined 46 games for the Mets over the first two years of the club's existence, was born on this date in 1930. … Former reliever
Juan Padilla
turns 36.
TWEET OF THE DAY:
@adamrubinespn Murph's card is the best one yet...

— Vince Gagliardi (@VinceGagliardi) February 16, 2013
YOU'RE UP: Should the Mets still pursue Jose Valverde?
Please use the comments section to weigh in
January, 3, 2013
1/03/13
8:14
PM ET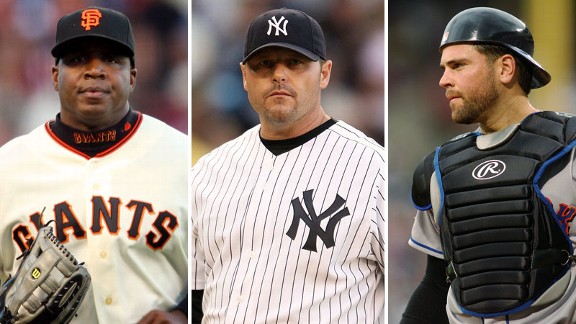 USA TODAY Sports, Getty Images
Barry Bonds, Roger Clemens and Mike Piazza all have been scrutinized by Hall of Fame voters.
Here are the players appearing on my ballot for the Hall of Fame:
1.
Jeff Bagwell
2.
Craig Biggio
3. Jack Morris
4. Dale Murphy
5. Tim Raines
6.
Curt Schilling
7. Lee Smith
The overall voting results will be announced Wednesday at 2 p.m., with a player needing to appear on 75 percent of submitted ballots to be enshrined in Cooperstown and on 5 percent to remain on the ballot for the following year.
I plan to wait a year on
Roger Clemens
,
Barry Bonds
and
Mike Piazza
before placing them on my ballot.
August, 24, 2012
8/24/12
10:29
AM ET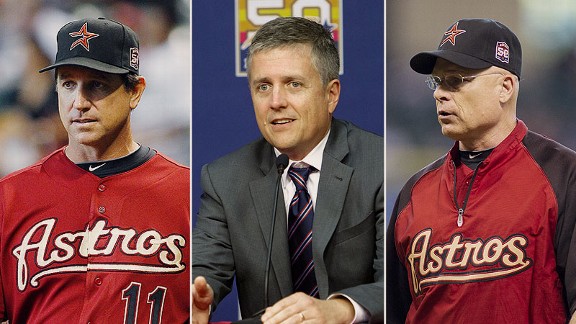 Getty Images
Tony DeFrancesco (left) was named interim manager by first-year GM Jeff Luhnow (center), replacing fired Brad Mills (right).
METS (57-68, fourth place/NL East) vs. HOUSTON ASTROS (39-86, sixth place/NL West)
Friday:
LHP
Jon Niese
(10-6, 3.82) vs. RHP
Jordan Lyles
(2-10, 5.70), 7:10 p.m. ET
Saturday:
RHP
R.A. Dickey
(15-4, 2.82) vs. TBA, 1:10 p.m. ET
Sunday:
RHP
Jeremy Hefner
(2-5, 5.11) vs. RHP
Lucas Harrell
(10-9, 4.04), 1:10 p.m. ET
Astros short hops
•
Tony DeFrancesco
became interim manager Sunday, replacing fired
Brad Mills
. DeFrancesco had been managing Triple-A Oklahoma City. First-year GM
Jeff Luhnow
also replaced hitting coach
Mike Barnett
with
Ty Van Burkleo
and first base coach
Bobby Meacham
with
Dan Radison
.
• This series marks the last meeting before the Astros move to the American League West in 2013. Houston is 307-256 against the Mets all time in the regular season.
The Mets beat the Astros, 4-2, in the 1986 NLCS -- taking the clinching Game 6 in 16 innings. The Mets trailed, 3-0, entering the ninth, with the prospect of facing ace Mike Scott in Game 7 looming. But the Amazin's scored three runs in the ninth on RBIs from
Mookie Wilson
,
Keith Hernandez
and
Ray Knight
. After trading runs in the 14
th
, the Mets produced three runs in the 16
th
and held on, 7-6, when
Jesse Orosco
struck out
Kevin Bass
.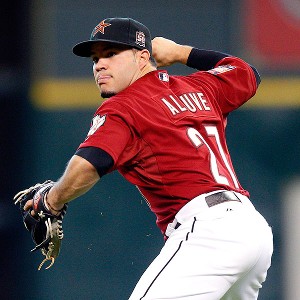 Bob Levey/Getty Images
All-Star second baseman Jose Altuve remains on an otherwise dismantled Astros roster.

• The Mets and Astros own the two worst second-half records in the National League. Houston is 6-33 since the All-Star break. The Mets are 11-28. Next: The Cubs are 14-24, followed by the Marlins at 16-25 and the Rockies and Brewers, each at 17-21.
• The Astros' pre-trading deadline dismantling included:
July 4: Sent first baseman
Carlos Lee
to Miami for third baseman
Matt Dominguez
and left-hander
Rob Rasmussen
.
July 20: Traded right-handers
Brandon Lyon
and
David Carpenter
and left-hander
J.A. Happ
to Toronto for right-hander
Francisco Cordero
, outfielder
Ben Francisco
, right-hander
Joe Musgrove
, right-hander
Asher Wojciechowski
, left-hander
David Rollins
, catcher
Carlos Perez
and a player to be named.
July 21: Traded
Brett Myers
to the
Chicago White Sox
for right-hander
Matt Heidenreich
and left-hander
Blair Walters
.
July 24: Traded left-hander
Wandy Rodriguez
to Pittsburgh for left-hander
Rudy Owens
, outfielder
Robbie Grossman
and left-hander
Colton Cain
.
July 27: Claimed right-hander
Chuckie Fick
off waivers from St. Louis.
July 28: Claimed outfielder/first baseman
Steve Pearce
off waivers from Baltimore.
July 29: Sent third baseman
Chris Johnson
to Arizona for infielder
Bobby Borchering
and outfielder
Marc Krauss
.
• All-Star
Jose Altuve
leads NL second baseman in average at .304, two points ahead of Arizona's
Aaron Hill
.
• Outfielder
Fernando Martinez
, who was claimed off waivers from the Mets on Jan. 11, was promoted from Triple-A on Aug. 10. During a June stint with the major league club, he landed on the disabled list for 18 days with a concussion. Martinez is 7-for-44 with the Astros this season, but he produced a .314 average with 13 homers and 62 RBIs in 341 at-bats for Oklahoma City.
•
Jordan Lyles
is the youngest active starting pitcher in the majors. He was born Oct. 19, 1990. Toronto's
Henderson Alvarez
(April 18, 1990) ranks second. Miami's
Nate Eovaldi
(Feb.13, 1990) is third. The Astros have the youngest active roster overall, at an average age of 26.4. Kansas City (26.5) and Colorado (26.8) are next.
•
Lucas Harrell
(10-9) has logged more innings than any NL rookie and ranks second in wins to Arizona's
Wade Miley
(14-8).
• With 50-year-old
Roger Clemens
pitching for the independent Sugar Land Skeeters on Saturday, there is speculation he could appear with the Astros before the end of the season.
• Reliever
Rhiner Cruz
(1-1, 6.90 ERA), a Rule 5 selection from the Mets, appears poised to last the season with the Astros and become Houston's property.
Last series results
Houston won, 3-0, at Minute Maid Park, April 30-May 2 (AP game recaps)
Astros 4, Mets 3:
Jordan Schafer had two hits and scored twice, including the go-ahead run on a single by Jed Lowie in the eighth inning.
More
Astros 6, Mets 3:
Chris Snyder hit a three-run home run and Jed Lowrie had a two-run shot. Lowrie's homer, off Jon Niese, which hit the inside of the foul pole in left field in the first inning, got things going for the Astros.
More
Astros 8, Mets 1:
Chris Johnson homered in consecutive at-bats among his four hits and drove in a career-high six runs to back up another solid outing by Wandy Rodriguez. Johnson's first homer of the season, off Chris Schwinden (0-1), was a three-run shot to the Crawford Boxes in left field that put Houston up 3-0 in the second inning.
More
November, 30, 2011
11/30/11
4:01
PM ET
The Hall of Fame released its ballot for next summer's induction eligibility, and
Bernie Williams
probably is the player with the best credentials on the underwhelming list, which also includes ex-Met
Jeromy Burnitz
. (See full list/news story
here
.)
Things get far more interesting a year from now, when players who last appeared in the majors in 2007 are eligible.
That group includes
Mike Piazza
,
Roger Clemens
,
Sammy Sosa
,
Curt Schilling
and
Craig Biggio
.
October, 25, 2011
10/25/11
12:01
AM ET
By
Mark Simon, ESPN Stats & Information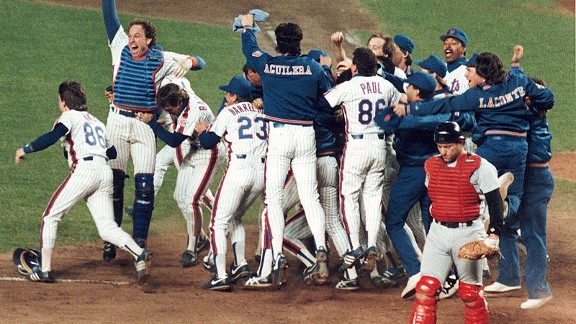 Focus on Sports/Getty Images Rich Gedman (front right) is the picture of Red Sox despair as the Mets celebrate the most improbable win in team history, a 6-5 triumph over the Red Sox in Game 6 of the World Series.
Over the last three weeks, Mark Simon has reminisced here about the 1986 postseason. The 1986 Mets won the World Series in an exhilarating fashion. Here's a look at Game 6 of the 1986 World Series, played on October 25, 25 years ago.
"I'm sitting here and I still don't believe it."
That's what Hall of Fame-honored sportswriter
Bus Saidt
wrote to open his story for my former employer, the
Trenton Times
, and it still holds true 25 years to the day after the most remarkable, unbelievable and amazing of the Mets' 3,854 regular-season and postseason wins. Let's review all that went into the greatest game of the greatest season in Mets history.
Game 6, Shea Stadium: Mets 6, Red Sox 5
Game 6 of the 1986 World Series began as Game 6 of the 1986 NLCS did, with Mets starting pitcher
Bob Ojeda
on the ropes early.
He allowed a run in the first inning on a two-out double by
Dwight Evans
that hit the top of the fence in left center and a run in the second on a two-out RBI single to left field by
Marty Barrett
just in front of
Mookie Wilson
.
The lead could have been bigger. Evans' ball hit the top of the fence. Had it gone over, it would have been a three-run homer instead of a single-run double. In the second inning, a catch by backpedaling right fielder
Darryl Strawberry
on
Bill Buckner's
fly ball to right field saved two more runs from scoring.
As
Vin Scully
pointed out on NBC's telecast, there had not been a come-from-behind win in the World Series yet. With AL MVP
Roger Clemens
on the mound for the Red Sox, that stat hung over the Mets through the first four innings, in which they were hitless.
But Ojeda settled down, as he did in Game 6 of the NLCS, and that kept the Mets in the game.
They would rally to tie in the fifth inning. Strawberry walked, then stole second and
Ray Knight's
single past Clemens into center field on a 2-2 breaking ball brought Strawberry home.
Wilson then had a great at-bat after falling behind 0-2. He took two balls well out of the strike zone to even the count, than fouled two off before hitting a breaking ball into right field for a hit. When Evans bobbled the ball, Knight went to third base.
That turned out to be huge, because it meant he could score to tie the game rather than just advance to third when pinch-hitter
Danny Heep
grounded into a double play
Hernandez made a nice play on a Clemens bunt to get a force play that thwarted a Red Sox threat in the sixth. The Mets then left runners at the corners in the home sixth when Clemens struck out Mets catcher
Gary Carter
with a nasty fastball on the outside corner and got Strawberry to ground out.
In the seventh, the Red Sox took the lead partly thanks to Knight's throwing error at third base, which put runners at first and third with one out (instead of having a man on second with two outs). On a 3-2 pitch, with
Jim Rice
running on reliever
Roger McDowell's
delivery, Evans grounded out. The Mets were unable to get a double play, allowing a run to score and Boston to take a 3-2 lead.
The Red Sox had a chance for another run, but Wilson threw Rice out at the plate on
Rich Gedman's
hit to end the inning.
Clemens got through the seventh, but was pinch-hit for in the eighth inning with the Red Sox threatening (he'd exceeded 130 pitches by this point and there is controversy over whether Clemens asked out due to a blister, or was removed by manager
John McNamara
). The Red Sox had another chance to add to the lead, but
Jesse Orosco
got Buckner to fly out to end the eighth.
Trailing by a run with six outs left in their season, the Mets rallied.
Lee Mazzilli
got a two-strike single and was safe at second when Red Sox reliever
Calvin Schiraldi
's throw on
Lenny Dykstra's
bunt couldn't be handled cleanly by Red Sox shortstop
Spike Owen
.
Wally Backman
advanced the runners to second and third with a sacrifice bunt.
An intentional walk to
Keith Hernandez
loaded the bases for Carter, who took three balls, then lined to deep enough left to plate Mazzilli with the tying run. Strawberry flied out to leave the teams tied heading to the ninth.
After Gedman's double play ended the Boston ninth, the Mets had a great chance to win in the home frame, putting the first two men on base (after Boston botched another bunt). But
Howard Johnson
failed on his first bunt attempt, then struck out. Mazzilli and Dykstra both flied out to send the game to extra innings.
Red Sox center fielder
Dave Henderson
, whose home run in Game 5 of the ALCS helped the Red Sox overcome a 3-1 deficit against the Angels, got a low fastball to his liking from reliever
Rick Aguilera
and pounced on it, crushing it for a home runjust below the loge seats in left field.
The Red Sox tacked another run on at the end of the inning when Wilson misjudged
Wade Boggs'
two-strike liner to left, which turned into a double, and Boggs scored on Barrett's full-count single (Barrett was 10-for-14 in the series with men on base). That made it 5-3 and put the Red Sox within half-an-inning of their first championship since 1918.
The only solace a Mets fan could take at this point, with the season three outs from devastating completion, was that the team had the 2-3-4 hitters up in the bottom of the 10th. But when Backman popped to left and Hernandez skied to center, it looked like the Mets were done for the year.
"Everybody sitting very quietly in that New York Mets dugout," said Mets radio announcer
Bob Murphy
, "hoping against hope that something will start to happen."
The public address system played "Charge!" as Carter came to the plate and, perhaps overeager, Carter popped the first pitch foul, but it went out of play behind home plate. Schiraldi then missed up-and-in with one fastball and down and away with another. On his 2-1 offering, Carter slammed the pitch into left field for a hit.
Kevin Mitchell
came up as a pinch-hitter representing the tying run. He started to swing at an inside fastball checked it and fouled it off. Schiraldi then went to a curveball away and Mitchell whacked it to center for another hit.
With two men on, the Mets had some life, and had one of their best clutch hitters up in Knight, who took a fastball down the middle for a strike, then hit a slow roller down the third base line that Boggs let roll foul.
The next pitch is an oft-forgotten one in the grand scheme of what happened, but the results were impressive. Schiraldi threw a tailing fastball, that came inside but Knight adjusted, curled his back foot, and got just enough of the good part of the bat on the ball to muscle it into shallow center for a hit, allowing Carter to score and Mitchell to advance to third base.
With the Red Sox lead now a run but still just an out from victory, McNamara pulled Schiraldi for
Bob Stanley
, with Wilson at the plate.
Wilson fouled off the first pitch solidly, than took a fastball wide for ball one and another high for ball two. Wilson fouled the next pitch off his foot, to put Boston within a strike of the title. He fouled the next pitch straight down into the dirt, and another foul behind the plate on a pitch away.
Stanley reversed course on the next pitch and tried to come inside, but came too far inside. Gedman, the catcher, reached for the ball, but never moved his body to block it as Wilson leapt to avoid it, and the ball went to the backstop. Mitchell came racing home with the tying run.
Wilson fouled the next two pitches off and the Mets were fortunate on the last of those, because according to TV analyst
Joe Garagiola
, had Stanley tried for a pickoff at second base, he'd have had Knight out easily.
Instead came the 10th pitch of the at-bat, one that Wilson was able to roll along the first base line. The ball trickled to Buckner at first base, but then bounced right through his legs for the most infamous miscue in sports history. Knight leapt on the plate with the winning run.
As Scully noted they were "not only alive, they are well" and they would be playing the Red Sox in a Game 7 for the championship.
Turning Point
There were so many turning points in this game, and we were able to document most of them above, but there were also a couple of bad karma moments of which you may not have been fully aware.
The more well known of them is that McNamara didn't bring
Dave Stapleton
in to play first base in the bottom of the 10th inning. Stapleton, a far better and far healthier defender than Buckner, had relieved Buckner at first base in all seven of the Red Sox postseason wins.
McNamara had the perfect opportunity to do so after Buckner grimaced when hit just below the belt buckle by a pitch in the top of the 10th, but chose not to make the switch.
Interestingly, Buckner was left in to play first base in the ninth inning of Game 4 of the ALCS, with the Red Sox leading the Angels, 3-0. The Red Sox blew that game too, losing 4-3 in 11 innings.
Also, someone saw fit to vandalize the visitors bullpen with spray-paint graffiti, as the initials R.C. can be seen in the background of a couple of NBC's pre-celebration shots of Red Sox players in the 10th inning. We don't know who committed the "crime," but one of the shots did feature Clemens exchanging high-fives with his teammates.
What They Wrote
"Bill Buckner has just limped off the field, carrying the weight of the world on his back. He can ice those aching ankles all night so he can play in Game Seven of the World Series tonight, but there isn't enough ice to freeze the pain in his heart."
-- Ray Sons, Chicago Sun-Times
"The ghosts of World Series past, of seven-game losses in 1946 and 1967 and 1975, wrapped their cold fingers around the Red Sox' throats Saturday night and choked the life out of what the people of Boston had been calling 'The Possible Dream.'
"If the Red Sox couldn't win their first World Series in 68 years after leading ... by two runs ... with two out ... and the bases empty in the bottom of the 10th inning of Saturday's sixth game, well, maybe it's impossible after all."
-- Kevin Modesti, L.A. Daily News
"Their history has been one of pathos and heartbreak, of lofty dreams and crushing disappointments. But no night in the 68-year-old losing legacy of the Boston Red Sox could match what befell them last night."
- Peter Pascarelli, Philadelphia Inquirer
"It was enough to make you believe there are curses that haunt this team. It was enough to make you believe that the Mets are on some highway toward destiny."
-- Jayson Stark, Philadelphia Inquirer
"From 200 miles away, you could practically feel New England quaking with fear, grief and disbelief. The Boston Red Sox were one out away from their first World Series championship since 1918 early this morning, and the New York Mets rose up like the ghosts of Denied Christmases past and extended big-league baseball's most extraordinary postseason by one more game.
"The denouement of this stirring October drama is scheduled tonight at Shea Stadium, but the forecast is for rain, possibly lasting two days. But 48 hours of steady showers would likely not produce more moisture than the tears shed by the Red Sox's long-suffering fans last night."
- Barry Lorge, San Diego Union
"I can only imagine what the good citizens of Boston are doing now. Are the blindfolds in place? Are they out on the window ledges? Have they wrapped up the sharp instruments?"
- Tony Kornheiser, Washington Post
"If the World Series had been a pleasure cruise to the fans of most teams, it has been to two generations of Bostonians, a stateroom on the Titanic, a deck chair on the Lusitania, first class passage on the Hindenburg."
-- Bruce Lowitt, St. Petersburg Times
"It would not happen this time, the Boston Red Sox had promised. Not in this World Series. Their failures belong to the past. That was then, this is now. Alas, the team that lived by the last strike in the American League playoffs died by the last strike when the World Series was in hand against the New York Mets in Game 6."
-- Hal Bock, Associated Press
Quote of the Day
"My legs didn't have any effect. I felt good out there. It just shows you anything can happen. I feel lousy. Tomorrow, hopefully, will be a different story. We don't have a day or two to forget about it. You can't get down about it.
"Hey, we outhit them tonight. We hit good out there. We just made some big mistakes. I hate to say I missed a ground ball. I did concentrate on that ball. I saw it well. It bounced and bounced and then it didn't bounce. It just skipped. I can't remember the last time I missed a ball like that, but I'll remember that one."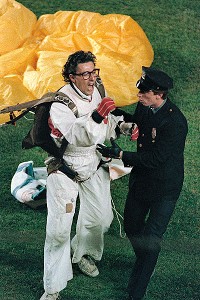 Amy Sancetta/A.P. PhotoMichael Sergio chanted "Let's Go Mets" as police escorted him off the field.
"It was a slow roller with a lot of spin on it. I thought I watched it good. I was playing deeply Than I normally do because I didn't want it to get through the infield.
"If Mookie didn't run so fast I'd get down on a knee to block it. It bounced and bounced And then skidded right under my glove. I was waiting for it to bounce. It didn't."
-- Bill Buckner
Further Reading
Perhaps foreshadowing a bizarre night, with Buckner at the plate in the first inning, a Mets fan,
Michael Sergio
, parachuted onto the playing field. He would be escorted away by police, but not before getting some laughs and a high-five from Mets pitcher Ron Darling.
Earlier this year, New York attorney
Eric Turkewitz
interviewed Sergio for his blog. His story can be found
here
.
Stats/Notes To Remember
1-- There have only been three instances in World Series history in which a game ended on a play that was ruled as an error.
The Mets have been involved in two of them- this one and Game 4 of the 1969 World Series, in which the Mets won when Orioles pitcher Pete Richert hit
J.C. Martin
in the back with his throw on Martin's bunt attempt, allowing
Rod Gaspar
to score the winning run.
2-- Baseball Info Solutions, a Pennsylvania-based company, does video review of every play from every major-league game. Their video tracking found that in 2011, there were 20 balls hit to the same area, and at the same approximate speed that Wilson's ball was hit to Buckner. All 20 of those were turned into outs.
3--
Bill Buckner
made his major league debut for the Dodgers on September 21, 1969. He pinch-hit in the ninth inning and popped out.
What was prominent about that game? The Giants beat the Dodgers that day, 4-3 in walk-off fashion.
The game ended on a ground ball to Dodgers shortstop
Maury Wills
.
It went through his legs for a game-ending error.
October, 19, 2011
10/19/11
9:00
AM ET
By
Mark Simon, ESPN Stats & Information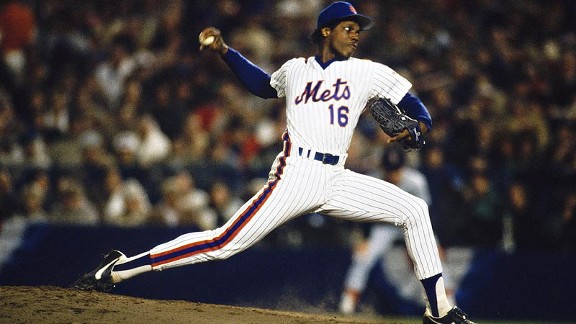 Focus On Sport/Getty ImagesDwight Gooden's performance in Game 2 of the 1986 World series did not live up to expectations.
Over the next week, Mark Simon will reminisce here about the 1986 postseason. The 1986 Mets won the World Series in an exhilarating fashion. Here's a capsule look at Game 2 of the 1986 World Series, played on this date, 25 years ago.
Game 2, Shea Stadium: Red Sox 9, Mets 3
There was great anticipation of the matchup in Game 2 of the 1986 World Series between
Dwight Gooden
and
Roger Clemens
, with baseball experts labeling it a once-in-a-generation meeting of the two best young pitchers in baseball (Gooden won the NL Cy Young in 1985, Clemens won the AL MVP in 1986). But the game itself was a dud, an easy Red Sox win that put them up 2-0 in the World Series.
After not allowing a hit through the first two innings, Gooden ran into trouble, partly due to an error by Gold Glove first baseman
Keith Hernandez
. The top three hitters in the Red Sox lineup --
Wade Boggs
,
Marty Barrett
and
Bill Buckner
-- each followed with RBI hits to give the Red Sox a 3-0 lead.
Gooden tried to make up for matters with a bunt hit in the bottom of the third, and the Mets scored twice that inning, on RBIs by
Wally Backman
and Hernandez to make it a one-run game. But Boston countered with a home run by
Dave Henderson
in the top of the fourth and a two-run blast by
Dwight Evans
in the top of the fifth, giving them a 6-2 lead.
Though Clemens was pulled after getting into a fifth-inning jam, the Mets could not mount enough of a comeback. Meanwhile, the Red Sox kept pounding Mets pitching. They had what was then a postseason single-game record (since broken by the 1993 Blue Jays) 22 at-bats with runners in scoring position. They cashed in for three more runs, then used reliever
Bob Stanley
to close out the last three innings of their 9-3 triumph.
Turning Point
In the bottom of the fourth, with two on and two outs, Gooden grounded out, keeping the Mets' deficit at 4-2. Two batters into the top of the fifth inning, after Evans homered, it was 6-2 and the Mets were all but done.
What They Wrote
"Gooden vs. Clemens, the dream matchup of the '80s, left something to be desired in its execution.
"And speaking of executions, the Mets are on the verge of using up all of their appeals. They are coming perilously close to discovering that their only alternative is whether or not they want blindfolds."
-- Sheldon Ocker, Akron Beacon-Journal
"Now, maybe only a classic Red Sox collapse can keep Boston from winning the World Series."
-- Ben Walker, Associated Press
Quote of the Day
"Someone asked me if we would have been happy with a split in New York. The answer is no. After we won the first game, we wanted to fight and scratch and kick and punch to win the second."
-- Red Sox rightfielder Dwight Evans
Further Reading/Viewing
Let's remember the Mets' better times, and what better way to do that with a bizarre rap song created in the 1980s to honor the Mets team --
Get Metsmerized
.
Stats To Remember
1-- Only once in postseason history prior to 1986, had a team come from behind to win a series after losing the first two games at home. That happened the year prior in the 1985 World Series, when the Royals rallied from a 2-0 series deficit to beat the Cardinals in seven games.
2-- Gooden's six runs allowed match the most allowed by a Mets pitcher in a postseason game, tying some pretty good Mets--
Jerry Koosman
(1969 NLCS Game 2),
Sid Fernandez
(1988 NLCS Game 5),
Ron Darling
(1988 NLCS Game 7), and
Bobby Jones
(2000 NLCS Game 4).
3-- The 18 hits allowed are tied for the sixth-most allowed in a World Series game. That Mets pitchers struck out 12 is unusual. In postseason history, they're the only team to allow at least 18 hits and record at least 12 strikeouts in a game.
It's a combination done only once in a nine-inning game in the Mets 50-year regular season history, against the Reds on April 29, 1978.
The Red Sox could easily have whiffed more. Mets pitchers gave up five hits on 0-2 counts in this game.
February, 12, 2011
2/12/11
9:40
AM ET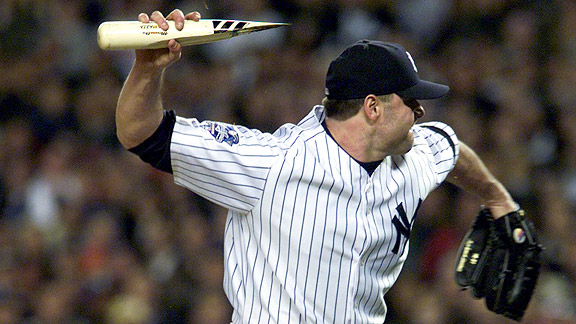 Matt Campbell/AFP/Getty Images
Roger Clemens joked Friday night that his batting-throwing form "was impeccable."
Friday night, at a charity event in Uncasville, Conn.,
Roger Clemens
had to say this about throwing a bat in the direction of
Mike Piazza
during the 2000 Subway Series: "I just remember my form being really good when I threw the bat. My form was impeccable. I fielded it perfectly. My arm angle when I whistled it on-deck was a little low."
Andrew Marchand
, who covered the event for ESPNNewYork.com, writes:
During the banquet, Clemens reiterated that after he hit Piazza, he called over to the Mets' clubhouse to check on him. Clemens didn't finish the story, but it's been reported previously that Piazza did not accept Clemens' call."I think I pitched 24 years in the major leagues and I think I missed up above the shoulders three times," Clemens said. "Just like I tell any kids or any professional or anytime I get to talk in public, you don't pitch inside to hit people."
Read Marchand's full story
here
.
June, 22, 2010
6/22/10
9:00
AM ET
By
Mark Simon
| ESPNNewYork.com
Tuesday will mark the first time that the Mets see Tigers righthander,
Justin Verlander
, who may break the Citi Field radar guns with his sometimes-overpowering fastball.
Verlander threw 15 pitches in 2009 that the Pitch F/X system tracked at 100 miles-per-hour, peaking at 100.8. That was the most such pitches of any major league starter last year. He's thrown eight so far in 2010, including one in his last start that resulted in a strikeout of
Ryan Zimmerman.
Verlander's teammate,
Joel Zumaya
, led the majors with 135, and is averaging 99.3 miles-per-hour per pitch in 2010, but there are no guarantees the Mets will see him, and they won't see him for nearly as many innings as they'll see Verlander.
Verlander is averaging almost 96 miles-per-hour on his fastball, the fastest velocity among American League starters. There are two pitchers the Mets could see later this season --
Ubaldo Jimenez
and
Stephen Strasburg
-- who throw harder, but Verlander's first up, so he's our topic of the day.
The Mets have had varying degrees of success against starting pitchers whose fastball challenged triple digits on the radar gun. Recent opponents have included
Randy Johnson
and
Roger Clemens
, both of whom the Mets handled well in the latter stages of their career (they also had modest success, albeit without great numbers against
Nolan Ryan
after he joined the Astros in 1980).
The Mets saw a
Kerry Wood
in Cleveland last week who was a shell of the pitcher who gave them a lot of trouble in the prime of his career from 1998 to 2003.
The oldest of Mets fans may remember
Jim Maloney
, a flamethrowing righty of similar ilk to Verlander whose prime years were from 1963 to 1966, ages 23 to 26.
Maloney threw four shutouts against the Mets in that stretch, a one-hitter, a two-hitter, a three-hitter, and a five-hitter. He also had another start in which he took a one-hit shutout into the ninth and his last start against the Mets was a 1-0 win in 1969 in which he allowed two hits in 8 2/3 innings.
But the game for which Maloney is best known was actually a loss to the Mets. On June 14, 1965, Maloney struck out 18 batters and took a no-hitter into the 11th inning, but a lack of run support kept the game even until
Johnny Lewis
homered leading off the frame. Maloney, whose career would end early due to arm issues and a torn Achilles, would finish a hard-luck 1-0 loser, despite pitching an 18-strikeout two-hitter.
The Mets won't be complaining if they get a similar result.
---
Speaking of near no-nos, Thursday, the Mets will see a softer Tigers tosser:
Armando Galarraga
who shares something in common with them. He's never thrown a no-hitter, though he's come about as close as close can be.
The fate Galarraga suffered against the Indians on June 2 was very Metsian in nature, losing a perfect game against the Indians on a missed call by first base umpire
Jim Joyce
.
Mets fans may have a particular sympathy for this or they may say "Try walkng in our shoes!" After all, their team has now gone more than 7,700 games without one.
---
One thing to watch on Tuesday: Whether
Austin Jackson
starts for the Tigers in center field, not just because he can can hit, but because of his defensive ability.
Baseball Info Solutions, which has a +/- system that charts every ball hit based on how often it's turned into an out, has Jackson rated at +13/+22, the best in the majors.
What does this mean?
If you took Jackson and an average centerfielder positioned at normal depth, and hit them the same balls that were hit Jackson's way, Jackson would turn 13 more of them into outs than the average player, and those 13 balls would have accounted for 22 bases (combining potential singles, doubles, triples). That could be attributable both to Jackson's skill and where he's positioned by the Tigers coaching staff.
Translation: Jackson steals would-be hits frequently, and if he's healthy (he's missed time with back spasms), that could play a role in these next three games.
---
Twitter Trivia:
Monday, we posted the question at (
@msimonespn
): Name the only pitcher to accumulate 20 career wins with both the Mets and the Tigers.
The teams have shared some pretty good pitchers, though not necessarily at the height of their careers. But the answer is not
Mickey Lolich
,
Frank Tanana
,
Kenny Rogers
, or Yankee-killer
Frank Lary
. It's
Dave Mlicki
, who won 24 games for the Mets from 1995 to 1998 and another 24 for the Tigers from 1999 to 2001. Walt Terrell (coincidentally another Tiger who once lost a no-hitter in the ninth inning) came close, but mustered only 19 Mets wins.
Mark Simon is a researcher for Baseball Tonight. Follow him on Twitter at @msimonespn or e-mail him at webgemscoreboard@gmail.com.