New York Mets:

Roger McDowell
July, 7, 2014
Jul 7
4:35
PM ET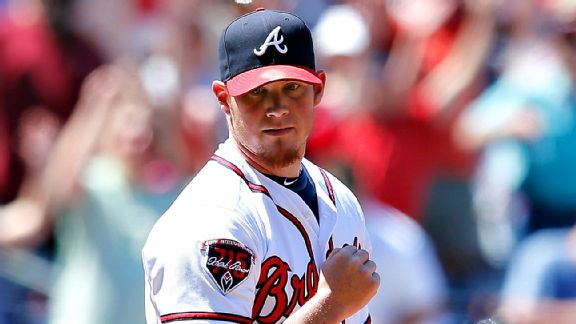 Kevin C. Cox/Getty ImagesTerry Collins has no issue with the discoloration on the brim of Craig Kimbrel's cap.
NEW YORK -- Although some Mets fans watching on SNY went ballistic during last week's series over the discoloration on the brim of
Atlanta Braves
closer
Craig Kimbrel
's cap, Terry Collins told ESPNNewYork.com he has no issue with the substance.
"He's had the same hat for four years," Collins said. "It's not pine tar. It's rosin."
As in rosin from touching the legal rosin bag behind the mound, then touching his brim.
Collins continued by saying that 20 teams have faced Kimbrel. The manager added that he asked Braves pitching coach Roger McDowell if any team had complained about the visible discoloration.
"Never," McDowell replied, according to Collins.
Kimbrel has struck out 43 percent of the batters he has faced in his career, the highest percentage in major league history among relievers with at least 150 saves.
Billy Wagner
ranks second at 33 percent.
June, 18, 2012
6/18/12
8:12
AM ET
After sweeping the Rays at the Trop, the Mets returned home and found themselves swept by the NL Central-leading Reds.
Chris Young
surrendered three fifth-inning runs (two earned) and
Cincinnati won Sunday's finale, 3-1
, at Citi Field. Reds starter
Johnny Cueto
, shaking off in-game dizziness, limited the Mets to a bases-loaded walk to Young in seven innings. The Mets went 3-for-18 with runners in scoring position during the series.
The last time Cincinnati swept the Mets: April 4-7, 2005 at Great American Ball Park, in the first series of the "New Mets," with
Willie Randolph
as manager as
Pedro Martinez
and
Carlos Beltran
also debuting.
Monday's news reports:
• Read game recaps in the
Times
,
Record
,
Newsday
,
Star-Ledger
,
Post
,
Daily News
and
Journal
.
•
Eli Manning
, with 14-month-old daughter
Ava
cradled in his left arm,
tossed the ceremonial first pitch
to
David Wright
before Sunday's game. Read more in the
Daily News
and
Times
.
•
R.A. Dickey
opposes Baltimore right-hander
Jake Arrieta
in the opener to an interleague series Monday night at Citi Field. Perhaps the better matchup is Dickey versus
Matt Cain
, who is starting for San Francisco tonight against the Los Angeles Angels. After all, both are strong candidates to start for the NL in the July 10 All-Star Game at Kansas City.
ESPN Stats & Information guru
Mark Simon
notes Dickey enters the start with an eight-game winning streak, 2.20 ERA and a streak of four straight starts without allowing an earned run. The knuckleballer's franchise-record 32 2/3-inning scoreless streak ended in the ninth inning at the Trop last Wednesday when
Wright committed an error,
Mike Nickeas
had a pair of passed balls and a groundout plated an unearned run. Cain, meanwhile, has a 2.18 ERA -- 0.59 in his past four starts -- as well as a seven-game winning streak.
Writes Simon in comparing the duo:
We'll use Bill James Game Score, which is a scale that rates starts usually on a 0-100 scoring, based on a pitcher's innings pitched, runs, hits, strikeouts and walks. Cain's perfecto is one of the rare starts in baseball history that surpassed 100. (He finished with a 101.) Dickey's one-hitter last Wednesday was a 95.
Dickey's average Game Score this season is a 64.7. He's had five straight starts with a Game Score of 74 or better, the first pitcher to do that since Chris Carpenter had six straight in 2005. The only other Mets pitchers to run off five straight starts of that nature were Tom Seaver in 1975 and Dwight Gooden in 1985. Of Dickey's 13 starts, 11 have rated above MLB average. (Average historically has been a Game Score of 49.)
Cain has Dickey beat in this area. His average game score thus far is a 66.8. He posted a Game Score of 96 in a start earlier this season and is the first pitcher with two starts in a season of 96 or better since Randy Johnson in 2002. (The only pitcher with three in the Live Ball Era was Nolan Ryan in 1990.) Cain has 10 starts out of 13 with a Game Score of 50 or higher, one fewer than Dickey.
The highest average game scores among NL starters:
Cain 66.8
Dickey 64.7
Gio Gonzalez
63.0
Ryan Dempster
62.4
Brandon Beachy
62.0
•
Jason Bay
, who stayed away from Citi Field during the weekend as he deals with concussion symptoms, may be
examined by doctors Monday
. After a July 23 concussion two years ago, which Bay suffered at Dodger Stadium, the left fielder missed the remainder of the season.
Terry Collins
said "anything's possible" when asked if Bay might miss the remainder of this season now too.
"We are going to follow the doctor's lead,''
Sandy Alderson
told
Kevin Kernan
in the Post
. "We certainly are not going to push to get him back if it is not medically indicated at this point, particularly with the fact that he has a history. We have to be cautious and make sure from a medical standpoint. It's a tough situation because he plays all out. He gives it everything he's got. The results have not been what he would like, what Mets fans would like, but it's really unfortunate that some people can't separate the effort from the results."
A fresh reminder of the gravity of concussions will be in the visitors' dugout during the upcoming series.
Brian Roberts
returned last week after missing nearly 13 months with the effects of concussions.
Eduardo A. Encina
in the Baltimore Sun
writes:
[Dr. Michael] Collins said Roberts' return is a major success story when it comes to concussions. When he first began working with Roberts, the goal wasn't a return to big leagues. It was making sure Roberts could live out his daily life without suffering from concussion symptoms -- among them the headaches, dizziness, nausea and fatigue that Roberts overcame during his recovery. "I think anybody who knows Brian knows how badly he wanted to get back to playing," said Collins, who played college baseball at Southern Maine. "But we didn't even think about that until months into it. It's a hard injury for someone to go through. Everyone thinks, well 13 months is a long time, but actually I've got to tell you, it's a good outcome. To get him back to playing, not every athlete that goes through what Brian went through gets back to playing. A lot of players who've gone through what he's gone through have had to hang them up. He persevered through it."
Read more on Bay in the
Daily News
,
Newsday
,
Record
and
Star-Ledger
.
•
Ruben Tejada
is scheduled to make a second attempt at a rehab assignment with Triple-A Buffalo on Monday night. His first try two weeks ago was abandoned when Tejada had a recurrence of trouble with the right quadriceps, which originally sent him to the DL.
Ronny Cedeño
(calf) has now played three rehab games with the Bisons, all manning shortstop. He went 1-for-4 Sunday and is now 2-for-11 with a walk and two strikeouts with the Triple-A club. Collins has estimated a midweek activation from the DL for Cedeño.
• Collins
had an easy explanation
for sending
Scott Hairston
to pinch hit for
Ike Davis
in the eighth inning Sunday against left-hander
Sean Marshall
with two men on base, even though Davis -- whose average has climbed to .194 thanks to an eight-game hitting streak -- has started to heat up. Hairston grounded out, but there is no question he mashes left-handed pitching. He is hitting .338 with seven homers in 74 at-bats against southpaws even after Sunday's unsuccessful matchup against Marshall. Davis similarly had been replaced for a pinch-hitter Friday, against nasty southpaw
Aroldis Chapman
. Read more in
Newsday
.
• Columnist
Mike Vaccaro
in the Post
reviews the all-time Mets team selected for SNY by a panel of experts, which included him. The winners:
Mike Piazza
, c
Keith Hernandez
, 1b
Edgardo Alfonzo
, 2b
Wright, 3b
Jose Reyes
, ss
Cleon Jones,
lf
Beltran, cf
Darryl Strawberry
, rf
Tom Seaver
, rhs
Jerry Koosman
, lhs
Roger McDowell
, rhr
Tug McGraw
, lhr
Davey Johnson
, manager
On Beltran, Vaccaro writes:
Oh, this is surely where we'll hear some backlash from backers of Mookie Wilson, Lenny Dykstra and Tommie Agee, but Beltran was the most complete everyday player the Mets ever had, his seven-year stats dwarf Dykstra's and Mookie's, and though Agee should be remembered fondly as a core member of the '69 Miracle boys, he had just three average to above-average seasons with the Mets.
The show will be televised Thursday night on SNY. Read more in the
Daily News
.
• Young, who has returned from surgery to repair a torn anterior capsule in his right shoulder, was pleased with exceeding 100 pitches in back-to-back starts while working on standard rest in Sunday's outing. Young actually was tagged with his first loss since June 14, 2009. Of course, he has made only 11 major league starts over the past three seasons. Read more in the
Star-Ledger
and
Post
.
• Right-hander
Collin McHugh
, a sleeper but legitimate prospect scouts compare with
Dillon Gee
, was promoted from Double-A Binghamton to Buffalo and will make his Triple-A debut Monday for the Bisons at Norfolk. In 30 Double-A appearances (28 starts) over roughly a calendar year, McHugh went 13-7 with a 2.68 ERA. He takes the rotation spot of
now-reliever
Jenrry Mejia
. "He was legitimately our best starter, most consistent starter in the second half of the season last year,"
Wally Backman
, who managed McHugh in Double-A last season, told
Mike Harrington
in the Buffalo News
. "And that was with a couple other big boys there too [
Matt Harvey
and
Jeurys Familia
]. He knows how to pitch. He's not a power guy, but he can sink it, he can cut it, make the ball do things."
• Mejia had a rough second appearance since a move to the bullpen as Pawtucket beat Buffalo, 6-1. He faced five batters and allowed two hits, a walk and hit a batter. Mejia also had a wild pitch. "Command was definitely an issue," Backman told Harrington. Read Sunday's full minor league recap
here
.
• The Brooklyn Cyclones open their season tonight at Coney Island against the Staten Island Yankees. The roster includes 2011 first-round pick
Brandon Nimmo
, a high school outfielder from Wyoming, as well as this month's supplemental first-round pick, Purdue catcher
Kevin Plawecki
. Read more in the
Daily News
.
• Seaver discussed
Johan Santana's
no-hitter with
Stephen Hayes
in
Newsday
.
•
Mark Hale
in the Post
notes
Daniel Murphy's
power has been absent all season as well as the second baseman's recent overall production. Murphy is hitting .148 since June 4 with no walks and two extra-base hits in 50 plate appearances. His average has slipped to .274 as well. Writes Hale:
Murphy's last homer was back on last July 16 -- he has gone 338 at-bats and 364 plate appearances since going deep, which is absolutely staggering. "Just not centering the ball enough," Murphy said.
TRIVIA:
Who were the Game 1 starters when the Mets faced the Orioles in the 1969 World Series?
Sunday's answer: The last Met to start an All-Star Game:
Dwight Gooden
, in 1988. Gooden started opposite the AL's
Frank Viola
at Riverfront Stadium in Cincinnati.
April, 24, 2012
4/24/12
12:55
AM ET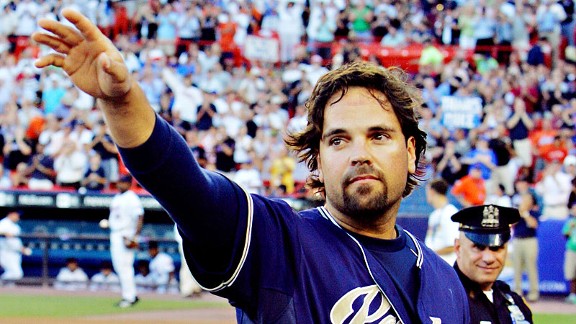 Linda Cataffo/Getty Images
Mike Piazza received a warm reception when he return to Shea Stadium with the San Diego Padres.
Five days after
Lenny Dykstra
and
Roger McDowell
were traded from the Mets to the Philadelphia Phillies for
Juan Samuel
, they returned to Shea Stadium as division rivals in 1989.
"I was excited to see them, but it obviously was a different mindset," recalled Mets third base coach
Tim Teufel
, who started at second base for the Mets in Dykstra and McDowell's reunion game. "It was all good hellos early, and then it was war after that. The reception was great for Lenny. Lenny especially got a big ovation. He's a fan favorite here. And Roger, with the job he did with [
Jesse
]
Orosco
in the bullpen, both of them got great ovations. It was a little bit different, knowing it was so quick a turnaround. But the fans reacted well."
Just has Dykstra stepped into the batter's box as the leadoff hitter on June 23, 1989 for the opposition, so too will
Jose Reyes
do so for the Miami Marlins on Tuesday night, facing
Johan Santana
-- albeit with Reyes having departed as a free agent rather than via a trade.
In fact, other than
Darryl Strawberry
and Reyes, most reunions occurred without the returnee willingly having chosen to leave New York. (And in Reyes' case, it's debatable if he actually had a choice, since the Mets never made an offer.)
"I'm sure Jose's going to get a mixed reaction," Teufel said.
Here's a roundup of notable returns to Flushing by ex-Mets:
•
Mike Piazza, Padres, Aug. 8, 2006
: Piazza got royal treatment in his first game back in Flushing, after being forced to leave as a free agent. "Just from start to finish, it was one of those things that I didn't want to end," Piazza said that day, after going 1-for-4. "I just can't explain how honored I am, because you just don't see that a lot." Said manager
Willie Randolph
at the time: "
That's
how you treat heroes."
Piazza drew wild cheers the second he emerged for batting practice. He placed a finger to his lips, as if his "shhhh" would silence the Shea faithful. Later, when the crowd rhythmically chanted "Mike Pi-azz-zza," Piazza lifted his cap while shaking his head.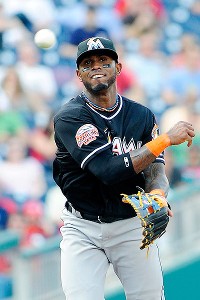 Brad Mills/US Presswire
Jose Reyes' reunion at Citi Field on Tuesday should be the latest in a memorable line.

When Piazza settled into the batter's box to lead off the second inning, the public-address system blared the familiar guitar riff he used during his Shea heyday. A 23-year-old
David Wright
turned to third base ump
Chuck Meriwether
and told him, "This is pretty cool."
"We both agreed," Wright said that day, adding: "All the former Mets that come back usually don't get too warm a reception."
The following day, Piazza homered twice, both off
Pedro Martinez
.
•
Al Leiter, Marlins, April 16, 2005:
Leiter had denied reports that he badmouthed New York while successfully courting
Carlos Delgado
to join him with the Marlins. He also differed with
Omar Minaya
and the new Mets regime about whose fault it was that he did not return. Then the southpaw, who was roughly treated by the crowd in his return, allowed one run and three hits in seven innings, but got a no-decision in the Mets' 4-3 win while starting opposite Martinez.
"I don't know what they were booing at," Leiter said that day. "One guy in the bullpen said, 'Al, we love you and I think you're great, but I'm still going to boo you.' You have fans that root for the marks and logos of their teams. You root for the fabric and I understand that. That's probably what it is."
Paul Lo Duca
, Leiter's batterymate with the Marlins that day, told Newsday after the game: "When I went back to L.A., it was emotional. I asked him yesterday. He didn't want to pitch. For him to do what he did, I don't think people realize how hard it is. You have that anxiety and you want to do too much. You want to hit a ball eight miles. You want to throw a ball 100 miles an hour, because there's part of you that sort of wants to shove it up you-know-what."
•
John Franco, Astros, April 11, 2005:
Yes, the Mets displayed a tribute video on the Shea scoreboard before the start of the second inning. And, yes, Franco was warmly cheered by the Flushing crowd pregame, after being forced to leave as a free agent the previous offseason.
Franco actually surrendered a key two-run single to
Cliff Floyd
that accounted for the final runs in the Mets' 8-4 win. He was booed upon entering as a reliever. "The crowd treated me nice," Franco said after that game. "[The boos] don't bother me. That's just part of it. I played 15 years here and probably heard a lot of that. There are people who like you and people who don't like you."
•
Darryl Strawberry, Dodgers, May 7, 1991:
Unlike many of the other departures via trade or free agency, Strawberry left mostly of his own volition, to sign a five-year, $20.25 million deal with L.A. And he often has said of late he regretted the decision.
Strawberry, mired in a 1-for-23 slump and prolonged long ball drought, belted a two-run homer against
Frank Viola
in his return. But Straw also grounded out to end the game while facing Franco with the potential tying run on third base. The Mets won, 6-5.
Fans lustily jeered and chanted
"Dary-llll, Dary-lll."
According to the Associated Press report, extra security was positioned in right field, but the only issue was some strawberrys being chucked at the slugger in the on-deck circle. Said Franco, according to the Times: "Everybody says they hate him. But then why do they come out to the ballpark? It's because they admire him. Hey, they got their money's worth."
•
Gary Carter, Giants, May 8, 1990:
The aging Carter hit .183 in 50 games with the Mets in 1989, so the organization decided to go with
Barry Lyons
and
Mackey Sasser
behind the plate the following season. The Mets also parted with
Keith Hernandez
that same offseason. That prompted Carter to sign with the Giants to platoon with
Terry Kennedy
. San Francisco manager
Roger Craig
sent Carter out to exchange lineup cards with
Davey Johnson
, and Kid was given a prolonged standing ovation by the Shea faithful. He started the game and went 1-for-2 with a single and walk in seven innings.
June, 17, 2011
6/17/11
3:35
AM ET
Francisco Rodriguez
had a
streak of 19 straight successful save conversions snapped
when he allowed a two-run homer to
Brooks Conrad
in the ninth and
D.J. Carrasco
balked home the winning run an inning later
as the Mets lost to the Braves, 9-8, in 10 innings at Turner Field on Thursday. The Mets missed a chance to move above .500 for the first time since five games into the season. The last time the Mets lost on a walk-off balk? That was at Dodger Stadium in 1989, when
Roger McDowell
-- now the Braves' pitching coach -- issued it in the 12th inning.
Friday's news reports:
•
Ray Bartoszek
, who said he was informed by the Mets he came in second to
David Einhorn
for a minority share of the Mets,
spoke with the Times about the process
. Bartoszek said a counteroffer from the Mets to his original proposal did call for him to get a small share of SportsNet New York and also have a path to majority ownership of the team. As for what he has read of Einhorn's winning bid -- which contains an ability to increase his percentage to a majority share unless
Fred Wilpon
and family return his original investment and allow Einhorn to keep one-sixth of the team -- Bartoszek said: "Einhorn is a very successful guy and it seems to me that he must be smarter than all the rest of us because he figured out how to basically short this team as he's shorted a lot of stocks in the past. I wouldn't bet against him. It's just that I feel like it's awkward, a trader taking on a position where he is rooting for the team to fail? I don't like that. I would not do that deal because I would not feel right about having that attitude every day I went to work." In essence, Einhorn benefits in the near future if the Wilpons' financial instability prevents them from blocking his option to up his stake.
•
Terry Collins
acknowledged first baseman
Lucas Duda
, who had just entered the game on a double-switch, should have returned to the bag rather than dart in front of second baseman
Ruben Tejada
on
Jordan Schafer's
10th-inning grounder. That allowed Schafer to have an infield hit and advanced
Diory Hernandez
to third base with two out, where Hernandez would score on Carrasco's balk. Read game stories from the loss in the
Record
,
Star-Ledger
,
Post
,
Daily News
and
Newsday
.
•
David Waldstein
of the Times noted
Chipper Jones
, who had five RBIs before leaving the game with a muscle injury near his groin, was also in a Braves uniform when
Kenny Rogers
issued the walk-off walk
in Atlanta in Game 6 of the 1999 NLCS, eliminating the Mets. Writes Waldstein:
The difference between October and June is obvious, but the scene was striking. "Yeah, I could see that," Jones said. "A walk and a balk. The difference is that one ended a season."
•
Collin McHugh
, who pitches for Double-A Binghamton, contributes to ESPNNewYork.com's Mets blog with
a look at the minor league lifestyle
, which is reprinted from his personal blog. Writes McHugh:
My second outing I nibbled on the corners and got burned. Ball one. Ball two. Whereas in Low or High A I could usually get away with one of those pitches if I was consistently hitting that spot, here I was getting what I deserved...behind in the count. When I get behind in the count (as i mentioned earlier) the hitters get that much better. I gave up 4 er in 4.1 innings on 90 pitches.
•
R.A. Dickey
had two earned runs subtracted before he took the mound Thursday. A scoring change after the Mets complained to MLB resulted in
Daniel Murphy
being charged with an error and Pittsburgh's
Andrew McCutchen
losing two RBIs. Read more on the scoring change in
Newsday
. Dickey, meanwhile, served up a three-run homer to Jones on Thursday on a get-me-over 3-0 pitch. It caught the knuckleballer by surprise, he said, because in past encounters Jones has normally taken pitches in that count.
•
Sandy Alderson
offered this statement to ESPNNewYork.com on the possibility of signing newly released
Scott Kazmir
, who would cost the minimum: "We will consider him like any other player available on waivers or as a free agent." Aside from that GM speak, there was no indication Mets staff was reviewing video of Kazmir. Read more in
Newsday
.
• Alderson tells
Dan Martin
in the Post that the team's sudden wild-card contention
plays a role in whether to sell pieces
at the trading deadline. "Certainly, what's going on now affects our thinking over the next several weeks," Alderson told Martin. "It definitely matters."
•
Jose Reyes
reached 100 hits faster than any player in franchise history. (See the details in Thursday night's
Rapid Reaction
.) Collins told reporters pregame that there's no way he's giving Reyes a day off anytime soon, and that it's not coming at the All-Star break, either. Said Collins: "I could be dead wrong, but if he's not playing in the All-Star break, there might be an investigation. He's not going to get the days off that other guys are going to have." Read more in the
Post
.
• Newsday's
David Lennon
writes about the Mets staff widely
adding cut fastballs to their repertoires
. The latest adoptee has been 7-0
Dillon Gee
. Writes Lennon:
The key is the grip, and in most cases, there is no need to alter the mechanics of the pitcher's delivery to throw it. No worrying about arm speeds like the changeup, no additional torque on the elbow like the slider. Just start with the standard grip for a four-seam fastball, with two fingers straight across the seam. Then angle those fingers slightly so they run diagonally -- or cut -- over that seam. From there, just throw it like a fastball. Same velocity. The lopsided grip causes the ball to spin slightly off axis, which results in that tiny curl at the end, the one responsible for cracking bat handles or getting weak grounders.
• Collins said facing the Angels in interleague play this weekend doesn't mean anything extra, since he is so far removed from managing that club from 1997-99. Said Collins: "You're talking 12 years ago. It's a long time. Their uniforms have changed, the team has changed." Read more in the
Times
.
• With Brooklyn set to begin its New York-Penn League season Friday at Staten Island,
Amara Grautski
of The Wall Street Journal speaks with ex-Met
Frank Viola
, who has
rejoined the organization
as the Cyclones' pitching coach. "I couldn't have asked for a better situation to be put into for my first year back in professional baseball," Viola told Grautski. "And what organization came through? The New York Mets."
• Post columnist
Mike Vaccaro
said he will never tell a fan how to spend his or her money, but
perhaps the Mets are worth checking out
. Writes Vaccaro:
They may not yet be a truly good baseball team. But they're playing awfully good baseball.
BIRTHDAY:
Former No. 1 overall pick
Shawn Abner
turns 45. Abner was drafted by the Mets in 1984, but never played for them. After the 1986 season, he was packaged in a trade to the Padres for outfielder
Kevin McReynolds
. He would go on to hit .227 with 11 homers in six big league seasons.
-Mark Simon
May, 14, 2011
5/14/11
9:35
AM ET
A day after
Carlos Beltran
had three homers in Colorado, the Mets spread out their deep shots, with
Jason Bay
,
Fernando Martinez
and
David Wright
all homering in a come-from-behind 6-4 win against the Houston Astros.
Saturday's news reports:
• Post columnist
Mike Vaccaro
wonders if the Mets and Yankees could do business, with Beltran
winding up in the Bronx
. Writes Vaccaro:
If it feels like the Yankees and the Mets never do any business together . . . well, that's not really true. Since November 1964, when the Yankees drafted the immortal Duke Carmel off the roster of the Mets' Triple-A affiliate in Buffalo, the teams have engaged in 14 deals (nine of them trades, the others purchases or Rule V drafts) involving one another. Most of them are forgotten, and with reason, because most of them involve the likes of Hal Reniff (1967) and Roy Staiger (1977) and Steve Ray (1983) and Mike Draper (1992). Some involve players whose baseball cards you no doubt have in a shoebox somewhere: Ray Burris (bought by the Mets, 1979); Frank Tanana (traded from the Mets to the Yankees for the unforgettable Kenny Greer, 1993); Tim Burke and Lee Guetterman (traded for each other on June 9, 1992).
How did
Armando Benitez
work out for the Yankees? I remember
Jim Duquette
joking once at a charity event with
Brian Cashman
that it took the Yankees only a few weeks to figure out what it took the Mets a few years.
• Texan
Dillon Gee
struggled in his home state
with his control. Read more in the
Post
.
• Read game stories from Friday's 6-4 win in the
Post
,
Daily News
,
Times
,
Newsday
,
Record
and
Star-Ledger
.
•
Bobby Parnell
is
remaining on a rehab assignment
with Triple-A Buffalo until he again makes back-to-back relief appearances. Read more in the
Star-Ledger
.
•
Roger McDowell
returned to the Braves
after his suspension for his inappropriate interaction with fans in San Francisco. "I've always said this is the best office in the world," McDowell said. "When I put the uniform back on I felt how fortunate I am to be able to put this uniform on and represent the organization. ... I am not proud of the way I acted and I know that it will not happen again."
•
Terry Collins
managed a game in Houston for the first time since his tenure as Astros manager came to a close after the 1996 season. "There's really nothing the same," Collins said. "The uniforms have changed, the ballpark's changed. I don't know anybody. There's really nothing similar to when I was here. I've certainly followed them over the years because I was a part of it once, but it's a whole different atmosphere now." Collins said his 1994 team with
Jeff Bagwe
ll and
Craig Biggio
would have made the postseason if not for the strike. They were a half-game behind first-place Cincinnati in the NL Central when the season prematurely ended. Read more in the
Record
and
Newsday
.
• Don't look now, but the Mets are on track to win their third straight series after taking Friday's opener in Houston. Still,
Brian Costa
of The Wall Street Journal uses the overall slow start to
discuss those awful 1962 Mets
. Writes Costa:
The phone calls come once every several years. Somewhere, a team will be losing baseball games at an astonishing rate. And invariably, the living members of the 1962 New York Mets will be asked for their opinion. Nearly half a century after they set a modern record by losing 120 games, they remain the nation's foremost authorities on prolonged ineptitude. "I kind of hate the phone calls about it," said Al Jackson, a starting pitcher on the '62 Mets. "People make fun of it, sure, but they didn't live through it. I lived through this. I could have had a heart attack. That's how bad I felt."
BIRTHDAY:
Ex-Met
Dick Tidrow
turns 64. Most forget that Tidrow, a former Yankee, closed his career with a dreadful 11-game stint in 1984 as a Met, in which he finished with a 9.19 ERA. Tidrow has since gone on to become a major success as an executive with the San Francisco Giants, and is credited by GM
Brian Sabean
as being the key decision-maker with regards to the drafting of their young pitching talent.
-Mark Simon
April, 29, 2011
4/29/11
9:30
AM ET
After having their six-game winning streak snapped Thursday, the Mets bused to Philadelphia, where they draw call-up
Vance Worley
in Game 1 in place of
Joe Blanton
(elbow), then
Roy Halladay
and
Cliff Lee
.
Mike Pelfrey
starts the opener despite dealing with an illness that has dropped him 11 pounds in the past week-plus.
Ronny Paulino
joins the team, and should get his first catching assignment Sunday against the southpaw Lee as
Terry Collins
mostly uses a platoon, except for
Josh Thole
catching
R.A. Dickey
regardless of the opposing pitcher.
Friday's news reports:
• The Mets are willling to
give up some control to a minority owner
, the Post reports. A winning bid is expected to be picked by the May 12 owners' meetings. The article states:
Within the last several days, the team has told some suitors it will give a new investor veto power over a limited number of financial decisions, two sources close to the situation said. The budgetary items covered by the proposed veto power include overall payroll levels as well as larger player contracts, a source said. ... Under the veto plan proposed, the Mets would form a board of directors and each person on the board would have the right to veto decisions on team payroll. This would prevent the Mets from gutting payroll to boost the bottom line, though the Wilpons and Katz have said that is not their intent. The veto plan, whether or not it is included in the final deal, can be seen as a sweetener of sorts for the Mets in order to attract a $200 million bid because it offers potential buyers an added sense of financial security.

There are two groups seen as leaders among the suitors. They are hedge-fund titan Steven Cohen, and the team of former Glencore International commodity trader Ray Bartoszek and private investor Anthony Lanza, sources said. A third bidding group led by Steve Starker and Ken Dichter has dropped back.
• Newsday's
David Lennon
looks at the
rash of rib-cage injuries
, including
Jason Bay
at the end of spring training and
Angel Pagan
in-season that landed him on the disabled list. Switch-hitting
Jose Reyes
injured a right oblique muscle last summer in San Juan during batting practice before a game against the Marlins, and then sat only a short period of time before batting righty against right-handed pitchers, never allowing it time to heal. Still, Lennon explains, Collins' suspicion that the injury is more frequent now than in his playing days may be off-base. Writes Lennon:
Reyes and Pagan are two of the Mets' more highly tuned athletes, but [orthopedic surgeon Bal] Raj disagreed with the notion the oblique injuries are related to the greater focus on conditioning the core these days. In fact, he said it's the best defense against oblique injuries -- for a sport that's prone to them -- and Reyes' proactive approach seems to be working. Or at least it seems to be a better strategy than what Collins believes protected the players of the past. He said with a smile, "We were too fat before."

• Reyes and
Marvin Hudson
exchanged apologies Thursday
, a day after the third base ump incorrectly ruled Reyes out on a would-be eighth-inning triple and Reyes went ballistic.
• Turns out
Livan Hernandez
, who beat the Mets on Thursday, was the
subject of a federal investigation while a member of the Mets
in the summer of 2009. The money-laundering suspicions reportedly partly involve a drug trafficker having fancy cars registered in Hernandez's name. Writes
David Waldstein
in the Times:
Evidence presented in court connects Hernandez, at least indirectly, to a convicted drug trafficker in Puerto Rico, and the news broke Wednesday, the day before his fifth start of the season. ... In the summer of 2009, when he was a member of the Mets, Hernandez was questioned by the authorities, apparently regarding the same case, according to three people in baseball with direct knowledge of the situation who did not want to be identified discussing a matter under investigation. But Dan Warthen, the Mets' pitching coach then and now, said Hernandez never allowed the issue to interfere with his pitching. "That came up two years ago, when he was in New York," Warthen said. "It didn't affect him then and I doubt that it's going to affect him now. These three hours during the game are what Livo lives for."
•
Ike Davis
ranks ninth in the National League with 19 RBIs, four behind leader
Prince Fielder
of Milwaukee. Davis is on pace for 123 RBIs, one shy of matching the franchise single-season record, which is shared by
David Wright
(2008) and
Mike Piazza
(1999). "He's a big reason why we're doing what we're doing," hitting coach
Dave Hudgens
tells
Brian Costa
of The Wall Street Journal. "You can get a lot of RBIs in the No. 6 spot because all your best hitters are in the middle of the order and you can get on base a lot. It's a good spot for him."
Writes Costa
:
Could he drive in 125 runs? His high batting average on balls in play (.403 entering Thursday) suggests he'll cool down somewhat. And if the Mets trade Jose Reyes and Carlos Beltran in July, it will hurt his chances. But for now, the Mets can dream. "That would be nice," Hudgens said. "We'd be happy about that. RBIs to me are a team stat, so it's hard to project that. If Jose Reyes gets on at a .350 clip and Jason [Bay], David [Wright], all those guys are getting on base, then he's going to get a bunch of RBIs, because he figures out ways to get hits. He takes his walks, too." If nothing else, Davis will have more than his share of chances to drive in runs. Entering Thursday, he had a team-high 25 at-bats with runners in scoring position and a team-high 42 at-bats with runners on base.
• Pelfrey had been tested for an ulcer because he got a burning sensation whenever he ate, but tests revealed he only had a blockage in is system, the right-hander said. Watch Pelfrey talk about his illness in
this video
. "They told me they're going to watch," Pelfrey said about being closely monitored during Friday's start. "Terry told me all he can do is go off what I tell him. I told him I'd be honest with him. I told him I was fine and I was ready to go. He said they were going to watch me. I don't see any restrictions." Read more in the
Star-Ledger
,
Newsday
and
Record
.
• Read Thursday's game stories in the
Record
,
Star-Ledger
,
Newsday
,
Post
and
Daily News
.
•
Sandy Alderson
downplays his swift roster moves
with underperforming players, including dropping
Blaine Boyer
and
Brad Emaus
and demoting
D.J. Carrasco
."I think you have to be careful about that," Alderson tells the Daily News'
Andy Martino
. "I don't really see it that way. If we have been proactive, we have been proactive at the margins. ... Where we have been proactive, it has been towards trying to see what else we have. You try not to make irrevocable decisions. We lost Boyer, but it wasn't really on purpose. We didn't know it would be irrevocable until he decided not to come back."
• Braves pitching coach/ex-Met
Roger McDowell
allegedly had an incident with a fan last year as well, the
Daily News reports
.
• ESPN analyst
John Kruk
has this commentary about Pelfrey and the Mets
in the Post
: "The Mets are counting on a guy who would be the fifth starter in the Phillies' rotation, if that. He has the stuff to be a No. 1 starter, but he doesn't have the consistency. Pelfrey has to be the guy who wins games for them, otherwise they would be sunk. He is their best pitcher, so he has to perform like he is a No. 1 guy. ... Offensively, they can be as good on anyone in the division. Getting Jason Bay back adds some credibility to the middle of their lineup. [
Carlos
]
Beltran
hit a triple the other night and looks like he's running well. Reyes keeps getting on base."
• Thole
had a three-hit game Thursday
, and earlier in the series against the Nats had a career-high three RBIs. "He's not a power guy," Hudgens tells the Post's
Dan Martin
. "We've gotta make sure he still focuses on hitting to the left side and the middle. Sometimes, I think he's starting to come too much off the ball and that might have led to a few strikeouts."
BIRTHDAYS:
Former Mets catcher
Omir Santos
, who hit a replay-reviewed homer off
Jonathan Papelbon
at Fenway Park in 2009, turns 30. ...
Ed Charles
, a third baseman with the Mets from 1967 to 1969, was born on this date in 1933. ... Reliever
Wes Gardner
, who was traded to Boston in the
Bobby Ojeda
deal before the '86 season, was born in 1961.
April, 28, 2011
4/28/11
9:02
AM ET
Losers of seven straight at one point in April, the Mets now look to extend a winning streak to seven games and sweep Washington when
Chris Capuano
take the mound in the series finale against
Livan Hernandez
.
R.A. Dickey
, asked after Wednesday's game if his commentary after his previous start about everyone being accountable for improving his own performance was taken to heart, said: "I think guys are doing what they do best. You can see that manifested on the field in the way they're playing. When I spoke about that, I was speaking from my point of view, which is to try to take ownership of what I can bring -- to try not to walk many guys and keep us in ballgames late and things like that. I feel like I've been able to step it up too. Yeah, I don't know if anybody read into it. But I do feel like it might be a little more than coincidence that everybody in here kind of kicked it up a notch."
Thursday's news reports:
• Newsday's
David Lennon
explores the Mets
acting swiftly to remove underperforming players
, from releasing
Oliver Perez
and
Luis Castillo
during spring training, to dropping
Blaine Boyer
and
Brad Emaus
early, to Sunday's optioning of
D.J. Carrasco
to Triple-A Buffalo. Carrasco is in the first season of a two-year, $2.4 million deal. "We brought in 12 new people over the winter -- all of whom had some real upside but no real certainty about it,"
Sandy Alderson
tells Lennon. "Even in that situation, you give people a chance to do what they can do, but you can't wait forever." As for whether
Dillon Gee
really might have stayed in the rotation,
Terry Collins
said the goal is not to have players looking over their shoulder, but: "Everybody was pitching for their job."
• Collins believes the Mets showed two years' worth of pent-up frustration in twice rallying in the final innings to beat the Nationals, 6-3, on Wednesday. "I know there's fight in this team," Collins said. "We talked all spring training long, you can't keep getting kicked around for two years and not have some anger. Hopefully games like tonight bring that out and show we're not going to give up."
As for
Jose Reyes'
spunk, Collins said: "This may come back to bite us, but his passion to play, his energy, I think it's contagious. He's an excitable guy, and I think that's why fans love him. He plays the game with fun but with great passion, and I think the rest of the guys bought into it tonight."
Read game stories in
The Washington Post
,
Newsday
, the
Daily News
,
Times
,
Star-Ledger
,
Post
and
Record
.
•
Mike Pelfrey
plans to make Friday's start
in Philly despite losing 11 pounds because of a virus. Gee is on standby. Read more in the
Times
,
Daily News
,
Newsday
,
Post
,
Journal
and
Star-Ledger
.
•
Daniel Murphy
has lofty goals for the Mets. "We're trying to get to a hundred," Murphy said after Wednesday's win. "We're a step closer."
David Waldstein
of the Times notes 100 wins requires the Mets
going 89-49 the rest of the way
.
• Daily News columnist
Filip Bondy
said Braves pitching coach and ex-Met
Roger McDowell
went too far in his
alleged non-PG-rated interaction
with fans in San Francisco. Writes Bondy:
The fans get to say things, ask for things, even heckle reasonably. The players get to ignore them. But then pitching coach Roger McDowell comes along Saturday at AT&T Park and apparently breaks through that wall with the worst sort of behavior imaginable -- even for McDowell.
BIRTHDAY:
Gee turns 25. He was born in the midst of the Mets' 11-game winning streak during the 1986 season, although April 28 was an off-day that year after the Mets completed a four-game sweep in St. Louis.
-Mark Simon
From the Associated Press ...

A California man claims Atlanta pitching coach and ex-Mets reliever Roger McDowell made homophobic comments and crude sexual gestures toward fans and threatened him with a bat before the Braves played the San Francisco Giants on April 23.

Thirty-three-year-old Justin Quinn, of Fresno, made the allegations Wednesday during a press conference organized by prominent Los Angeles attorney Gloria Allred. Quinn says he was attending the game with his wife and 9-year-old twin daughters at AT&T Park in San Francisco.

Quinn alleges that when McDowell was told there were children present, McDowell replied that kids don't belong at a baseball park, picked up a bat, walked up to Quinn and asked him how much his teeth were worth.

Quinn says McDowell and the Braves should be fined and should issue an apology.
May, 26, 2010
5/26/10
12:49
PM ET
By
Mark Simon
| ESPNNewYork.com
Raul Valdes'
performance on Tuesday was a rarity, a save (albeit a "cheap" one in an 8-0 win), requiring a whopping 57 pitches.
Pitch data hasn't been tracked full-time throughout baseball history, but
Baseball-Reference.com
has enough information on its site that we can string together some interesting nuggets.
It was the first save of that length in nearly three years, the last coming from Angels reliever
Marcus Gwyn
(his only career save in three appearances) in an 18-9 win over the Yankees on August 21, 2007.
That game illustrates common thread involving most 57-pitch saves. The score of the game, for the most part, wasn't close, and the reliever who got it was either not used often, or had the durability of a starter.
Or in the case of the Mets, he was a pitching freak, like recent Citi Field visitor
Turk Wendell
, in town for the 2000 team reunion last weekend. Wendell got a 57-pitch effort against the Blue Jays on September 2, 1997. That save was lengthened by his pitching four innings, while allowing three runs in an 8-5 win, in which
Juan Acevedo
beat
Roger Clemens
.
Two other Mets are documented as having saves of 57+ pitches --
Toby Borland
had a 64-pitch save against the Dodgers on April 15, 1997 (Jackie Robinson night), and
Doug Henry
had a 57-pitch one on August 30, 1995.
Inspired by a colleague who wants to coin the term "Ryan Start" for starts of 7+ innings, allowing three earned runs or fewer, we wanted to come up with a catchy name to define a save necessitating 57+ pitches.
In Mets annals, there would seem to fit two pitchers for whom the 57-pitch save would be a badge of honor,
Roger McDowell
, the Mets all-time leader with 24 saves of 3+ innings, and
Tug McGraw
, who ranks second with 13 such saves. Surely, knowing how both worked, they must have had a couple of lengthy pitch-count saves.
Since the term "McDowell-McGraw save" doesn't exactly roll of the tongue, we came up with a better option that would seem to fit the personality of these two pitchers (as well as Wendell) a little better. Hence, the next time we see a Mets pitcher record a save of 57+ pitches, we're gonna call it a "Goofball Save."
Mark Simon is a researcher for Baseball Tonight. Follow him on Twitter at @msimonespn or e-mail him at WebGemScoreboard@gmail.com