July, 14, 2013
7/14/13
5:48
AM ET
PITTSBURGH
FIRST PITCH:
The Mets soon will have a chance to recharge their batteries -- well, with the exception of
David Wright
and
Matt Harvey
, who should be plenty busy over the next few days.
Dillon Gee
(6-7, 4.60 ERA) opposes rookie right-hander
Gerrit Cole
(4-2, 3.68) in today's 1:35 p.m. first-half finale at PNC Park as the Mets look to avoid getting swept. All-Star southpaw
Jeff Locke
was
scratched from the start
by the Pirates.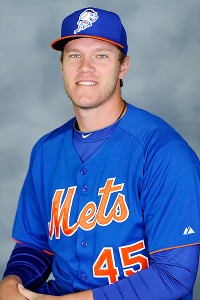 Courtesy of New York MetsNoah Syndergaard is the starter for Team USA in today's Futures Game.
Less than a half-hour after the Mets-Pirates game gets under way, the All-Star events at Citi Field begin with the 2 p.m. Futures Game, which will be televised live on ESPN2.
Mets farmhands Noah Syndergaard (Team USA) and Rafael Montero (World) will start opposite each other on the mound. The squads will be managed by Mookie Wilson and
Edgardo Alfonzo
. 2011 first-round pick Brandon Nimmo will come off the bench for Team USA.
Mets special assistant J.P. Ricciardi,
in a radio interview Saturday
, projected Montero as a No. 4 starter in the majors and raved about Syndergaard's electric fastball and power sinker.
The celebrity softball game featuring
Mike Piazza
,
John Franco
, Darryl Strawberry, Dwight Gooden and
Rickey Henderson
will be played today at Citi Field after the Futures Game. It will be televised by ESPN on Monday, after the 8 p.m. Home Run Derby, at approximately 10:30 p.m.
Sunday's news reports:
• After Saturday's game,
Jordany Valdespin
was
demoted to Triple-A Las Vegas
.
Scott Atchison
will return from the disabled list to give the Mets an extra relief arm for the first-half finale. Valdespin was 2-for-his-last-36. Read more in the
Star-Ledger
and
Post
.
• Despite
Carlos Torres
contributing five solid innings
in his first major league start in three years, the Mets lost to the Pirates, 4-2, Saturday at PNC Park.
Ike Davis
was
unable to make a pair of fielding plays
in Pittsburgh's two-run seventh inning.
Read game recaps in the
Post
,
Daily News
,
Newsday
,
Star-Ledger
,
Record
,
Times
and
MLB.com
.
• Sandy Alderson
told ESPNNewYork.com
he does not foresee the roster "looking substantially different" after the July 31 trade deadline.
Alderson, in a separate interview
in Newsday
, said about
Marlon Byrd
: "We're not looking to move Marlon. Obviously, we have our eye on the future, but we want to be as good as we can be this year as well. Now, if what we can get for the future exceeds the value of the present, we'd have to look at that. But we're not anxious to do it."
Regarding
Bobby Parnell
, the GM added: "We've been looking for a closer for two years. Looks like we've found one. Why would we want to give him away immediately? This is not a guy we're looking to move, either."
Ricciardi, matching Alderson's comments, said the Mets are
not eager to trade
Byrd.
Read more in the
Post
.
• Alderson told Kristie Ackert
in the Daily News
that Harvey skipping Saturday's start primarily was to curtail his innings and was not about the All-Star Game. "He would pitch in the All-Star Game whether he pitched today or not," Alderson told Ackert on Saturday. "That wasn't the reason we made the decision. We made the decision on his projected workload over the course of the season. His blister was a factor."
• John Harper and Anthony McCarron
in the Daily News
catch up with Tom Seaver, Jerry Koosman, Jon Matlack, Gooden, Ron Darling and
Al Leiter
about their first All-Star Game experiences. Ken Davidoff
in the Post
talks with 72-year-old Ron Hunt, the last Met to start an All-Star Game in Queens, back in 1964 at Shea Stadium.
• Seaver will serve as the grand marshal of Tuesday's 1 p.m. All-Star parade, which will travel across 42nd St., beginning at Sixth Ave. and continuing to Third Ave.
• Regarding his first All-Star Game, Harvey tells Kevin Kernan
in the Post
: "This is a huge honor for me, and to be able to put that uniform on is really awesome, especially being there with David. David told me to keep my eyes open, keep my ears open and really just enjoy it. All of this is new, and I'm taking it in stride. But when it comes to
Cliff Lee
and guys who have done it multiple times, it's really something I'm looking forward to. And, hopefully, it's not my last All-Star Game."
• Anthony Rieber
in Newsday
talks with Wright on the eve of another All-Star appearance, while colleague Marc Carig
in Newsday
talks with Harvey about his first-half success.
•
Jeremy Hefner
will start the second-half opener for the Mets against the
Philadelphia Phillies
on Friday at Citi Field.
Zack Wheeler
starts on Saturday, followed by Harvey on Sunday. Gee then gets next Monday's series opener against the
Atlanta Braves
, followed by Torres.
• Terry Collins identifies outfield production as one reason for the Mets' improved team performance,
the Times writes
.
• Wright's
pitcher in Monday's Home Run Derby
is bullpen catcher Dave Racaniello. Read more in the
Star-Ledger
.
•
Justin Turner
began a rehab assignment
for a strained intercostal muscle on his left side on Saturday as the DH in the Gulf Coast League. He is expected to play for Class A St. Lucie on Sunday, signaling a return right after the All-Star break.
•
Jenrry Mejia
, on a rehab assignment, tossed five scoreless innings as Binghamton completed a doubleheader sweep of Portland. Wilmer Flores, who had been due to play in the Triple-A All-Star Game on Wednesday, departed Sunday's Las Vegas game after one inning with a hamstring injury. Anthony Chavez's RBI double in the top of the ninth lifted Brooklyn to a 2-1 win against Connecticut. Read the full minor league recap
here
.
• Ken Belson
in the Times
discusses the benefit to the host team of putting on an All-Star Game. Writes Belson:
The main financial lift for the host club is to use the All-Star Game to help push ticket sales to every other game on the schedule.
"For us, the big plus is you expand your season-ticket base going into that year," said Kevin Uhlich, the senior vice president for business operations for the Kansas City Royals, who were the hosts for the All-Star Game in 2012. "While our play on the field didn't change, our season tickets were up 25 percent because the only way to guarantee All-Star tickets was to buy a ticket plan."
• Jorge Castillo
in the Star-Ledger
discusses
Kirk Nieuwenhuis
' improved performance with the center fielder.
• Cody Derespina
in Newsday
suggests Harvey has pitched better than his 7-2 record indicates.
• Jordan Lauterbach
in Newsday
profiles Brooklyn second baseman LJ Mazzilli, son of Lee Mazzilli.
• Steven Marcus
in Newsday
writes that All-Star venue Citi Field evokes memories of Ebbets Field, as Fred Wilpon intended.
BIRTHDAYS:
White Sox manager/ex-Met Robin Ventura turns 46. He will be one of the AL coaches at Tuesday's All-Star Game, along with Blue Jays manager John Gibbons. The NL coaches also have Mets ties: Collins and Davey Johnson. ... Las Vegas reliever Jack Leathersich is 23.
TWEET OF THE DAY:
RT @SFGiants: July 13, 2013 – Tim Lincecum throws his 1st Career No-Hitter #SFGiants pic.twitter.com/h1qvXpg2SE

— Baseball Tonight (@BBTN) July 14, 2013
YOU'RE UP: Should Terry Collins use Josh Satin at first base on Sunday, even though the Pirates now are using a right-hander?
July, 7, 2013
7/07/13
8:39
AM ET
MILWAUKEE
FIRST PITCH:
After two days on the bench,
Josh Satin
is
due to be back in the starting lineup today
, according to Terry Collins.
Satin, who has a 10-game hitting streak, benefited from the
Milwaukee Brewers
making a late switch in pitching assignment. Left-hander
Tom Gorzelanny
replaces right-hander
Wily Peralta
, to allow Peralta a couple of extra days to rest a strained hamstring.
Collins would not reveal where Satin will start. First base would not seem the best bet, since
Ike Davis
just returned and now has reached base in seven of 11 plate appearances. Perhaps it will be second base, where Satin worked pregame Saturday -- although
Daniel Murphy
's bat seemed to wake up with a three-hit game after going 0-for-11 the previous two days. Or might it be in left field, where Satin has only appeared in one minor league game, plus a brief and ill-fated stint in winter ball in Venezuela in October 2011?
Stay tuned.
Meanwhile,
Anthony Recker
should find himself at catcher. Recker was in Saturday's original lineup, but
Shaun Marcum
preferred to throw to
John Buck
, and Collins obliged and made the switch.
Jeremy Hefner
(3-6, 3.54 ERA) pitches for the Mets. Hefner has a 1.70 ERA and has struck out 29 in 37 innings over his past six starts.
Sunday's news reports:
• After trailing 5-0, the Mets rallied to within a run three different times, only to
lose 7-6 to the Brewers
on Saturday night. Marcum dropped to 1-10, becoming the quickest Met to double-digit losses since
Steve Trachsel
in 2001. Afterward, Marcum acknowledged he
again dealt with numbness, tingling and coldness
in his pitching hand.
Read game recaps in the
Post
,
Daily News
,
Newsday
,
Star-Ledger
,
Record
,
Times
and
MLB.com
.
•
David Wright
and
Matt Harvey
will
represent the Mets in the July 16 All-Star Game
at Citi Field. Wright topped San Francisco's
Pablo Sandoval
by more than 1.9 million votes for the NL starting assignment at third base. Harvey
received the most votes among starting pitchers
on the players' ballot.
Read more in the
Post
,
Daily News
,
Newsday
,
Star-Ledger
,
Record
,
Times
and
MLB.com
.
• See more photos from Harvey's ESPN The Magazine "Body Issue" shoot
in the Daily News
.
•
Ruben Tejada
no longer is on the disabled list
. Instead, he officially is a minor leaguer, having been removed from his rehab assignment and optioned to Triple-A Las Vegas. Read more in the
Post
,
Star-Ledger
and
Record
.
• Davis
told Newsday
he appreciated Jeff Wilpon dropping by Las Vegas two days before the first baseman's promotion to assure him he still was part of the future. "It's nice to hear that the guy that I'm working for has confidence in me," Davis said. "If they didn't have confidence in me and they didn't want me here, [it] would have been a little tougher."
• Steve Serby
in the Post
has a Q&A with Hefner. Hefner revealed he tries to pattern his delivery after
Adam Wainwright
. Among the other exchanges:
Q: What is it like watching Matt Harvey?

A: "We played together in Buffalo last year, we both started the year in Triple-A together, and to see where he was then, to where he is now, is not even the same person. If you would have told me last year at the beginning of the year that he would be doing what he is now, I would have told you no way. Not that he didn't have it in him, but I didn't see it on the field in Buffalo, as far as that killer instinct, the stuff. ... The stuff was there, but not what it is right now, as far as velocity, location, the delivery being repeated, the ability to throw strikes with all of his pitches -- his changeup was nonexistent at the beginning of the year last year."
•
Kirk Nieuwenhuis
banged his right knee
getting tangled with
Eric Young Jr.
on an eighth-inning-ending catch by Young on the track in left-center, but did not suffer serious damage.
• Mookie Wilson will have an autobiography coming out next year. "People know me, but they only know me because of that groundball," Wilson
tells the Daily News
, referring to Bill Buckner's World Series gaffe. "Basically [the book] is going to provide a little more light on who I am, how I came to be who I am and where I'm headed."
• Binghamton launched five homers and Darrell Ceciliani had a career-high five RBIs as Binghamton routed New Hampshire, 14-3. Charley Thurber, Jayce Boyd and Dustin Lawley homered in St. Lucie's 6-3 win against Fort Myers. Steven Matz had a seven-inning shutout as Savannah split a doubleheader. Patrick Biondi had three hits and scored three runs in Brooklyn's 5-3 win at Aberdeen. Read the full minor league recap
here
.
• Wayne Coffey
in the Daily News
profiles lefty reliever
Scott Rice
, who spent 14 seasons in the minors before making his major league debut this year.
• Ken Belson
in the Times
reports how technology has allowed players to scout rivals on their iPads at their lockers or on planes.
•
Zack Wheeler
is looking forward to facing the
San Francisco Giants
, his former organization, on Wednesday,
notes the Daily News
.
• Anthony McCarron
in the Daily News
catches up with 72-year-old Ron Hunt, who represented the Mets as a starter in the 1964 All-Star Game at Shea Stadium.
•
BIRTHDAYS:
John Buck turns 33. … Third-base coach Tim Teufel is 55. … Infielder
Andy Green
, now the manager of Double-A Mobile for the
Arizona Diamondbacks
, is 36.
TWEET OF THE DAY:
Wow! What an honor it truly is to be selected to the @AllStarGame! Best of all, it is at home with all you mets fans. Thank you all...

— Matt Harvey (@MattHarvey33) July 7, 2013
YOU'RE UP: Should the Mets let Shaun Marcum continue in the rotation, put him on the disabled list or designate him for assignment?
April, 19, 2012
4/19/12
11:00
AM ET
By
Mark Simon, ESPN Stats & Information
Eric Hartline/US PresswireDavid Wright has performed in a manner worthy of smiling about in 2012.
Welcome to the second edition of "The Week in 'Met'rics," where we celebrate all that is amazin' and some of what is not about Mets statistical and historical accomplishments.
Our biggest resource in this search is the
Baseball-Reference.com Play Index
, a source of much entertainment and amusement.
Stat of the Week
It was a great week of accomplishments for
David Wright
, who matched
Darryl Strawberry's
career RBI mark on Wednesday. The two each have 733 RBI.
Wright became the first player in franchise history to reach base twice (via hit or walk) in each of his first nine games of a season. The last player to do so for any team is former Met
Mike Cameron
, who had such a streak for the 2002 Mariners.
The Mets record for consecutive games reaching base at least twice at any point during the season is 12, set by
John Stearns
in 1977.
Ron Hunt
(1964),
Derek Bell
(2000) and Wright (2009) each had 11-game streaks.
First Things First
The Mets hit a first-inning home run in each of the three games in their series against the Phillies.
Wright had one of those on Saturday, in his first game back from his finger injury, and in hitting one tied an obscure Mets record in the process.
Wright now has 36 career
first-inning home runs
, tied with Strawberry for the most in Mets history.
Wright's five first-inning home runs are the most by any Met at Citizens Bank Park. The only other Met with more than one is
Jose Reyes
, with two.
Also in that game, the Mets recorded their first stolen base of the season (
Mike Baxter
). The Elias Sports Bureau notes that the Mets' first steal coming in their eighth game was the third-longest drought to start a season in franchise history. It took 17 games to nab a steal in 1963 and 12 games in 1962.
Oh, So Niese … Again
Jonathon Niese
pitched scoreless ball over 6 2/3 innings. The Elias Sports Bureau noted that Niese became only the second Mets pitcher in the last 30 seasons to start and win his first two appearances in a season, shutting out the opposition through six innings in each. The other was
Frank Viola
in 1990.
Manny Unhappy Returns
The bizarre pitching line of the week belonged to
Manny Acosta
, who allowed four runs and one hit in relief in the Mets loss to the Phillies on Sunday.
The Mets have had
19 instances of a pitcher allowing four or more runs on one hit or no hits
. This was the third such occurrence in the last 12 months.
Dillon Gee
and
Jason Isringhausen
each had such a line last season, but prior to that, no Mets pitcher had such a line for nearly 10 years!
The last to do so was
Armando Benitez
against the Braves in June, 2001.
Bay (Doesn't Just) Watch
Jason Bay
hit a home run in his first game after missing time due to a finger injury. Bay also robbed Braves shortstop Jack Wilson of a home run, with a leaping catch. It was the second straight year he robbed a Braves shortstop of a home run. He snatched one from
Alex Gonzalez
last season.
Also of note was that for the first time in his Mets career, reliever
Jon Rauch
allowed a hit. Rauch's streak of hitless appearances to start his Mets career ended at five. That matched
Jaime Cerda
(2002) and
Roberto Hernandez
(2005) for the best such Mets career-starting streaks.
Monday's win raised the Mets record to 7-3. We noted that the Mets have started 7-3 on seven previous occasions, and on each of those, they've finished the season at least 10 games over .500.
Some other 10-game milestones:
• The Mets 2.33 ERA through 10 games was sixth-best in team history, the best since the team had a 2.12 ERA through 10 games in 2002. The franchise best was in 1968, the Year of the Pitcher, when the Mets staff posted a 1.67 ERA through 10 games.
• The 83 strikeouts by Mets pitchers tied the 2005 Mets for second-most strikeouts in the first 10 games of the season. The club mark is 88, set in the first 10 games in 1990.
• On the downside, the 85 whiffs by Mets hitters is the most the Mets have ever had in their first 10 games.
Johan gets Chopped
Johan Santana
allowed six runs in 1 1/3 innings in a 9-3 loss to the Braves on Tuesday. It was the shortest start of Santana's career.
Santana is the fourth starting pitcher in Mets history
to give up at least six runs while recording four or fewer outs against the Braves
. The other three are
Mike Scott
(1982),
Bobby Jones
(1997) and
Pat Misch
(2009).
Unhappy ending
The Mets gave up 14 runs to the Braves in their series-finale loss on Wednesday. It's the fourth time in Mets history that they allowed that many runs in a game in Atlanta, the first since 2004, when they yielded 18.
Vintage Metric of the Week
The Mets beat the Braves four times in a row this season, prior to losing to them in the final two games of their series.
When was the first time the Mets beat a team four times in a row?
That would be the inaugural season of 1962. The Mets won the first four games the franchise ever played against the Cubs, with three of those games being decided by one run. They would finish 9-9 against the Cubs that season, 31-111 vs everyone else.
March, 13, 2011
3/13/11
5:43
PM ET
By
Mark Simon
| ESPNNewYork.com
David Wright's close call at a rare "reached and scored on four-base error," on Sunday afternoon, denied only by his being thrown out at the plate, got us to thinking about similar such plays in Mets history. So we looked for successful attempts at such a sprint in games that actually counted.

Thanks to the Elias Sports Bureau and some newspaper lookups, we uncovered three examples in which a Met hitter circled the bases without the benefit of a base hit.

The most recent example was two years ago –- Aug. 24, 2009 against the Phillies –- when Angel Pagan's leadoff popup against Cliff Lee was dropped by second baseman Chase Utley. Utley then tried to throw Pagan out at second base and threw the ball away, allowing Pagan to scamper all the way around and score a run. In the end, such a break against Lee wasn't enough, as the Phillies won anyway, 6-2.

You'd have to be a true Mets aficianado to recall the other two instances.

On July 14, 1964, the Cubs made five errors in an inning against the Mets. Two of them came on a safety squeeze bunt by Ron Hunt in which the Cubs sandwiched two errant throws around one good one, which nailed baserunner Charlie Smith trying to score. Hunt, continuing to run, drew a wild throw, and was able to circle the bases himself. Here too, the hapless Mets couldn't take advantage of all the miscues. They lost to the Cubs, 4-2.

The Mets did win on Sept. 10, 1978, against the Pirates, thanks in part to a misplay similar to Utley's. In this case, second baseman Phil Garner dropped Willie Montanez's popup, then threw the ball away trying to get Montanez (best known during his Mets tenure for his hot-dog home run trot) at second base. The two runs that scored proved to be significant in an 11-9 Mets triumph.