New York Mets:

Ross Detwiler
March, 13, 2014
Mar 13
3:29
PM ET
VIERA, Fla. --
Ruben Tejada
's performance Thursday only exacerbated the Mets' shortstop "situation," although Terry Collins nonetheless gave Tejada a vote of confidence.
Tejada committed his third error in six Grapefruit League games, falling to handle a routine grounder from
Zach Walters
that would have ended the fourth inning.
Tejada also went 0-for-3 at the plate, including grounding into a 5-4-3 double play to end the top of the third against
Ross Detwiler
with two on base. Tejada is now 1-for-15 in Grapefruit League play. He had been sidelined for a week early in camp with a hamstring issue, too.
Said Collins: "I talked to him today about trying to relax a little bit, quit worrying about things. I said, 'Listen, you're the shortstop here. Your name and your number are going to be in the lineup. So you've just got to go be the player we know you can be and quit worrying about trying to impress everybody. We've seen you in the past. Two years ago you were the talk of the town. You had a bad year. Big deal. Forget it. It's over.'"
Despite Sandy Alderson's play-it-cool statement that Tejada is not under a microscope and insistence there is no "situation," the pressure has to be mounting for the Mets to find an alternative at shortstop.
The
Seattle Mariners
have
Nick Franklin
available, and former Mets GM Joe McIlvaine continues to scout the Mets for that organization. McIlvaine attended the Mets-Nats game Thursday.
Tejada insisted he is not overthinking things with the spotlight focused on him.
"Errors happen. Everybody makes them," Tejada said. "I have a couple this week. I'll keep working and keep staying mentally positive and keep playing hard."
As for the error, Tejada said: "I tried to catch it with two hands. To the glove side, it's better to play it with one hand, especially with two outs and a man on first. The next one I'll try to catch it with one hand and make sure of the out at second."
Tejada said he actually felt "much better" at the plate Thursday.
"I took a couple of pitches and stayed in my zone and didn't try to do too much," Tejada said.
July, 25, 2013
7/25/13
11:21
PM ET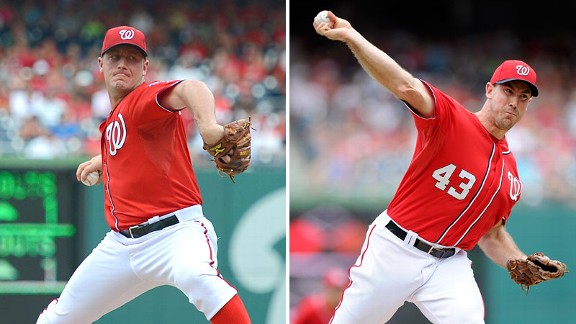 Getty ImagesThe Mets face Jordan Zimmermann (left) and Ross Ohlendorf (right) in Friday's doubleheader in D.C.
METS (45-53, fourth place/NL East) vs. WASHINGTON NATIONALS (49-53, second place/NL East)
Friday:
RHP
Jenrry Mejia
(0-0, -.--) and RHP
Matt Harvey
(8-2, 2.23) vs. RHP
Jordan Zimmermann
(12-5, 3.01) and RHP
Ross Ohlendorf
(2-0, 2.03), 1:35/7:05 p.m. ET
Saturday:
RHP
Dillon Gee
(7-7, 4.07) vs. RHP
Dan Haren
(4-11, 5.79), 3:05 p.m. ET
Sunday:
RHP
Carlos Torres
(1-1, 0.94) vs. RHP
Taylor Jordan
(0-3, 3.68), 1:35 p.m. ET
Nationals short hops
• The Nats fired hitting coach Rick Eckstein this week and replaced him with Rick Schu. The 51-year-old Schu had been a minor league hitting instructor for the Nats for the past four seasons. He played in the majors for parts of nine seasons, primarily with the
Philadelphia Phillies
. He previously had served as hitting coach with the
Arizona Diamondbacks
. Washington ranks 28th in the majors in runs (370), 27th in batting average (.239), 28th in on-base percentage (.299) and 24th in slugging percentage (.382).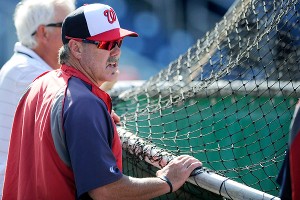 Nick Wass/Associated PressRick Schu took over as hitting coach this week.
• The exception to the Nats' struggles at the plate has been right fielder
Jayson Werth
. His gaudy production over the past month included consecutive two-homer games this week. Since June 23, Werth is hitting .354 (34-for-96) with eight homers and 22 RBIs in 28 games.
•
Bryce Harper
produced his first career walk-off homer as the Nats snapped a six-game losing streak to open the second half with a 9-7 win against the
Pittsburgh Pirates
on Thursday afternoon. Washington nonetheless is 8-13 in July.
Rafael Soriano
and
Ian Krol
had combined to surrender four runs in the top of the ninth as Pittsburgh had evened the score at 7. Until Thursday's long ball, Harper had been having a quiet month at the plate since returning from the DL on July 1. He missed five weeks with a left knee injury.
• The Nats acquired ex-Met
Scott Hairston
from the
Chicago Cubs
on July 8 for minor leaguer Ivan Pineyro, a player to be named and cash. Hairston hit .172 with eight homers in 99 at-bats in part-time use with the Cubs.
• Left-hander
Ross Detwiler
is due to spend another month on the DL with a pinched nerve in his lower back. Rookie
Taylor Jordan
, who faces the Mets on Sunday, has stepped into the rotation. But not too far removed from Tommy John surgery, Jordan is due to reach a season innings cap in 20-30 innings and be shut down.
Ross Ohlendorf
, who has started for Triple-A Syracuse and primarily relieved at the major league level this season, could bridge the rotation gap between Jordan's shutdown and Detwiler's return. The Princeton-educated Ohlendorf gets a spot start Friday against the Mets with the need for an extra starter created by the doubleheader.
Jordan has a 76.2 percent rate of groundballs.
• Catcher
Wilson Ramos
returned July 4 after missing nearly two months. During two stints on the DL for a balky left hamstring this season, Ramos has missed a combined 58 games. Ramos missed most of 2012 recovering from right knee surgery.
• Rookie second baseman
Anthony Rendon
is hitting .182 in his past 23 games after hitting .354 in his first 26 major league games.
• Reliever
Tyler Clippard
has produced 13 consecutive scoreless innings.
•
Jordan Zimmermann
has allowed two earned runs or fewer in 11 of his 13 career starts against the Mets.
•
Stephen Strasburg
on Wednesday became the second pitcher in modern major league history to lose a start in which he recorded at least 12 strikeouts, allowed two or fewer hits and surrendered no walks, according to the Elias Sports Bureau. The other:
James Shields
in 2012, for the
Tampa Bay Rays
against the
Baltimore Orioles
. Strasburg has a major league-high four losses this season in which he allowed one earned run of fewer.
June, 28, 2013
6/28/13
2:04
AM ET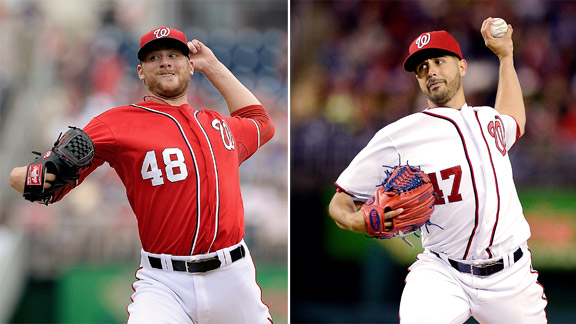 Patrick McDermott/Getty ImagesThe Mets face left-handers Ross Detwiler and Gio Gonzalez during a weekend series at Citi Field.
METS (32-43, fourth place/NL East) vs. WASHINGTON NATIONALS (39-39, second place/NL East)
Friday:
RHP
Matt Harvey
(7-1, 2.05) vs. LHP
Ross Detwiler
(2-6, 4.18), 7:10 p.m. ET
Saturday:
RHP
Dillon Gee
(5-7, 4.82) vs. RHP Taylor Jordan (9-1, 1.00 at Class A Potomac/Double-A Harrisburg), 1:10 p.m. ET
Sunday:
RHP
Zack Wheeler
(1-0, 3.18) vs. LHP
Gio Gonzalez
(4-3, 3.31), 1:10 p.m. ET
Nationals short hops
• Taylor Jordan is due to make his major league debut against the Mets on Saturday. Jordan, 24, is a ninth-round pick in 2009 who hails from Merritt Island, Fla.
After beginning the season in Class A, he posted a 7-0 record and 0.83 ERA in nine appearances (eight starts) with Double-A Harrisburg. In 54 innings, he allowed 37 hits and nine walks while striking out 43. He tossed four scoreless innings in his Eastern League debut against the B-Mets on May 12.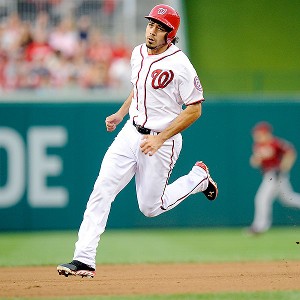 Greg Fiume/Getty ImagesSecond baseman Anthony Rendon is hitting .367 in June.
Jordan should be on a conservative innings limit this season. He pitched only 54 1/3 innings in 2012 after recovering from Tommy John surgery. He takes the rotation spot of
Dan Haren
, who landed on the disabled list with shoulder inflammation.
•
Bryce Harper
is expected to return from the disabled list Monday, after the weekend series in Queens. He has been sidelined since May 27 with bursitis in his left knee.
• Rookie
Anthony Rendon
, who returned to the majors during a Mets series at the beginning of June, is on a tear. He is hitting .367 in 19 games since the promotion, which coincided with him transitioning to second base.
With 35 hits in his first 100 career at-bats, Rendon equaled the franchise record for most hits in that span. He shares that mark with Coco Laboy, who went 35-for-his-first-100 during the Montreal Expos' inaugural season, in 1969.
Incumbent second baseman
Danny Espinosa
, who was optioned to Triple-A Syracuse on June 19 after completing a rehab assignment for a fractured right wrist, is hitting .106 (5-for-47) with 29 strikeouts in the International League.
• Top catcher
Wilson Ramos
may return to the Nats in a week. He has been absent since tweaking an already strained left hamstring on May 15.
• In his most recent outing,
Gio Gonzalez
earned his first win since May 5. He had posted a 2.18 ERA during an eight-start winless stretch, during which he had seven no-decisions.
• Third baseman
Ryan Zimmerman
recently dealt with discomfort in his surgically repaired shoulder and sat Tuesday, even after a team off-day. After gutting through last season with a sprained AC joint in his right shoulder with the aid of cortisone shots, Zimmerman had the shoulder surgically repaired during the offseason. Zimmerman has experienced significant throwing woes, but the rate has slowed after he committed eight errors in his first 27 games this season.
•
Ross Detwiler
has a 1.48 WHIP, which would rank sixth-worst in the NL if he had enough innings to qualify.
• Shortstop
Ian Desmond
has 59 straight error-free games. His last error: April 21 at Citi Field.
•
Rafael Soriano
has converted nine straight save chances. His 21 saves rank third in the NL, tied with St. Louis
Edward Mujica
and trailing Pittsburgh's
Jason Grilli
(26) and Atlanta's
Craig Kimbrel
(22).
June, 3, 2013
6/03/13
11:23
AM ET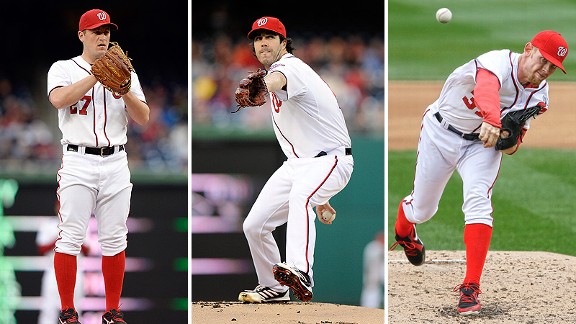 Getty ImagesThe Mets face (left to right) Jordan Zimmermann, Dan Haren and -- at least officially, for now -- Stephen Strasburg in D.C. this week.
METS (22-32, fourth place/NL East) vs. WASHINGTON NATIONALS (28-29, second place/NL East)
Tuesday:
RHP
Jeremy Hefner
(1-5, 4.74) vs. RHP
Jordan Zimmermann
(8-3, 2.37), 7:05 p.m. ET
Wednesday:
RHP
Dillon Gee
(3-6, 5.68) vs. RHP
Dan Haren
(4-6, 5.09), 7:05 p.m. ET
Thursday:
RHP
Shaun Marcum
(0-6, 5.71) vs. RHP
Stephen Strasburg
(3-5, 2.54), 7:05 p.m. ET
Nationals short hops
•
Stephen Strasburg
departed Friday's game after two innings with a Grade 1 strain of a lat muscle -- the least-severe level. He has not yet been placed on the disabled list, and is not officially ruled out of Thursday's Mets start, even if it seems improbable. Because of Monday's team off day, Strasburg's outing can be pushed back without disrupting the rotation. So left-hander
Gio Gonzalez
(3-3, 3.64 ERA) could step in on regular rest in the series finale for the banged-up Nats. Starter
Ross Detwiler
has been on the disabled list since May 27 with an oblique strain.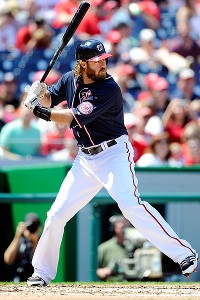 G Fiume/Getty ImagesJayson Werth is due to be activated from the disabled list for the series.
• Phenom
Bryce Harper
landed on the DL on Saturday with left knee bursitis, which he suffered when he aggressively slammed into the right-field wall May 13 at Dodger Stadium. Harper already had been banged up from an encounter with the outfield wall in Atlanta two weeks earlier.
• After a five-game rehab assignment,
Jayson Werth
is scheduled to return from the DL on Tuesday to face the Mets. Werth missed 28 games with a right hamstring injury. He hit two three-run homers in his final tune-up with Class A Potomac. With Werth and Harper sidelined, Washington rotated
Roger Bernadina
, Steve Lombardozzi and
Tyler Moore
in the corner outfield positions.
• Lombardozzi also has handled significant second-base duty since
Danny Espinosa
is banged up but active. Espinosa (.158, 3 HRs) has dealt with a right wrist injury all season but has started five straight games at the position. Top prospect
Anthony Rendon
, a natural third baseman, was promoted to Triple-A Syracuse over the weekend. Rendon has moved full time to second base with the promotion, signaling he is the heir apparent at the position.
• Since returning from the DL on May 3, third baseman
Ryan Zimmerman
is hitting .308 with five homers and 17 RBIs in 28 games. He had a three-homer game last Wednesday against the Orioles -- becoming the third National to accomplish that feat.
Alfonso Soriano
did it in 2006 and
Adam Dunn
in 2010. However, Zimmerman's 10 errors lead major league third baseman, one ahead of Pittsburgh's
Pedro Alvarez
.
• Right-hander
Jordan Zimmermann
has not lost at Nationals Park since May 17, 2012. He has won his last eight starts in D.C. Zimmermann, who has tossed three complete games this season, did have a hiccup in his last start. He allowed season highs with seven runs and 10 hits in six innings at Baltimore as his ERA rose from 1.71 to 2.37.
• No. 1 catcher
Wilson Ramos
has missed 17 games with a left hamstring injury.
Kurt Suzuki
has been filling in.
• The Nats have matched a season low at one game under .500. They have an MLB-worst .287 team on-base percentage. The Mets rank fourth-worst at .295.
August, 17, 2012
8/17/12
9:30
AM ET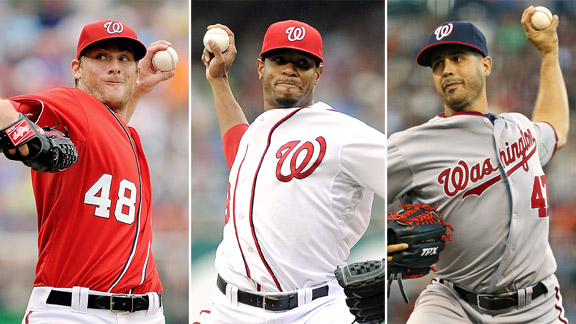 Getty Images
The Mets face (l to r) Ross Detwiler, Edwin Jackson and Gio Gonzalez this weekend in D.C.
METS (56-62, third place/NL East) vs. WASHINGTON NATIONALS (73-45, first place/NL East)
Friday:
LHP
Johan Santana
(6-8, 4.58) vs. LHP
Ross Detwiler
(6-5, 3.18), 7:05 p.m. ET
Saturday:
LHP
Jon Niese
(9-6, 3.67) vs. RHP
Edwin Jackson
(7-7, 3.74), 7:05 p.m. ET
Sunday:
RHP
Jeremy Hefner
(2-4, 4.76) vs. LHP
Gio Gonzalez
(15-6, 3.29), 1:35 p.m. ET
Nats short hops
•
Jayson Werth
returned to the outfield Aug. 2, nearly three months after fracturing his left wrist on a catch attempt against the Phillies. His return was interrupted for one game with a sore ankle, and he has hobbled a little bit since reentering the lineup Tuesday. Manager
Davey Johnson
primarily has used Werth in right field and
Bryce Harper
in center field, but flips them on occasion to try to get Harper a semi-breather.
• The slumping Harper is hitting .141 (9-for-64) with one homer and three RBIs in his past 17 games (16 starts). Teams are throwing a lot of breaking balls down and away.
• Shortstop
Ian Desmond
, who has missed four weeks with torn oblique, should be activated from the disabled list for Friday's series opener. Desmond hit in a simulated game Thursday and will not require a minor league rehab assignment.
Danny Espinosa
has been capably filling in for Desmond at shortstop, and will now slide back to second base.
Steve Lombardozzi
(15-for-30 in his past seven games) should head from second base to the bench. Johnson will try to find ways to get Lombardozzi in the lineup. The 23-year-old rookie learned how to play left field this season.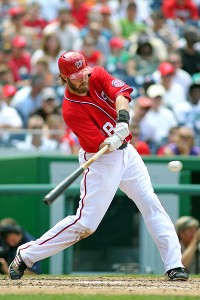 Rob Leiter/Getty Images
Jayson Werth returned from a fractured wrist Aug. 2.

• The Mets do not face
Stephen Strasburg
this weekend, but his innings limit -- set at 180 -- has been a hot topic. Strasburg (14-5, 2.91 ERA) currently sits at 139 1/3 innings. After former Braves and Orioles pitching coach
Leo Mazzone
criticized the decision to shut down Strasburg later this season, citing how the Braves had success despite heavy workloads for pitchers, agent
Scott Boras
called in to ESPN's "Mike & Mike" show to counter that argument. Boras noted that
Steve Avery
, whom he also represented, had faded from the majors before his 30
th
birthday after logging 667 1/3 innings over his first three full major league seasons, with the Braves under Mazzone.
•
Tyler Clippard
remains the Nats' primary closer, even with
Drew Storen
having returned after missing the first 3½ months of season following elbow surgery. Storen (5.79 ERA) has been erratic. He allowed four runs while recording only one out in a 6-1 loss at San Francisco on Tuesday. Johnson may try to find an occasional closing opportunity for Storen, but with an important game on the line, it will remain Clippard's responsibility.
• Former Mets farmhand
Jesus Flores
wilted in a starting role behind the plate and has thrown out only six of 51 would-be base stealers this season. So the Nats acquired catcher
Kurt Suzuki
from the Athletics for minor league catcher
David Freitas
on Aug. 3 and optioned
Sandy Leon
to Triple-A Syracuse. Suzuki starts roughly two of every three games. Washington needed the veteran help because none of Flores' sidekicks, including
Jhonathan Solano
and Leon, had major league experience.
• Three days after Suzuki's acquisition, infielder
Cesar Izturis
was claimed off waivers from the Brewers, with
Mark DeRosa
landing on the DL with an abdominal strain. Izturis, acquired primarily for depth with Desmond out, is in at least slight danger of being a roster casualty Friday with Desmond expected to be activated. Still, with rosters expanding Sept. 1, Izturis appears more likely to survive, with rookie first baseman/outfielder
Tyler Moore
(.281, 6 HR, 19 RBIs) instead optioned to Syracuse until rosters expand.
• Third baseman
Ryan Zimmerman
has been on a prolonged hot streak since receiving a cortisone shot in his right shoulder. Zimmerman is hitting .346 with 13 homers and 44 RBIs and has a .417 on-base percentage in 48 games since June 24.
•
Michael Morse
(.300, 11 HR, 40 RBIs) returned to lineup Wednesday after missing one game with a thumb injury. Morse officially has a 12-game hitting streak, during which he is hitting .320 with three homers and eight RBIs, although it just as easily could have been 23 games. The Phillies successfully appealed to MLB to have an Aug. 2 play, which initially was ruled a hit, switched to an error on shortstop
Jimmy Rollins
.
• Left-hander
Ross Detwiler
, the sixth overall pick in the 2007 draft, out of high school in Missouri, is beginning to justify that selection after the Nats early this season vacillated between using him and
Chien-Ming Wang
in a starting role. Wang made a rehab appearance for Double-A Harrisburg on Thursday, but is unlikely to regain a rotation spot, or return before rosters expand.
• The Nats released
Rick Ankiel
and
Xavier Nady
in a three-day span at the end of July. Ankiel remains a free agent, while Nady has signed with the Giants and is playing at Triple-A Fresno.
Last series results
Washington won, 3-0, at Citi Field, July 23-25 (AP game recaps)
Nats 8, Mets 2 (10 innings):
Bryce Harper homered his first time up in New York, then hit a tiebreaking single to key a six-run burst in the 10
th
. Shortstop Ruben Tejada's error on a potential double-play ball set up the big 10th. Ryan Zimmerman hit a three-run double and Michael Morse added a two-run homer as the Nationals broke away. The six runs tied the most the Mets had ever allowed in an extra inning. Never before had they lost consecutive extra-inning games by at least five runs.
More
Nats 5, Mets 2:
Adam LaRoche hit a tiebreaking homer and the Nationals handed R.A. Dickey his first loss in three months behind Gio Gonzalez's seven crisp innings. Gonzalez (13-5) gave up only two singles in a rematch of All-Star pitchers, five days after New York hit him hard to back Dickey during his 13th win. Dickey (13-2) allowed five consecutive hits in the sixth, ending his 11-game winning streak.
More
Nats 5, Mets 2:
Stephen Strasburg struck out 11 in seven innings, Michael Morse and Danny Espinosa hit consecutive homers and the Nats completed a sweep. Adam LaRoche hit a two-run homer for a second straight day, and Espinosa doubled and scored on one of the Mets' two errors in the Nationals' fifth win in a row. Other than allowing Ike Davis' blistering line drive into the right-field stands on the first pitch of the second inning and Daniel Murphy's single in the next at-bat, Strasburg allowed only Josh Thole's ground-rule double in the fifth and Jordany Valdespin's single in the sixth. Strasburg reached double digits in strikeouts for the fourth time this season and seventh of his young career, striking out David Wright three times.
More
July, 17, 2012
7/17/12
10:22
PM ET
Recap
|
Box score
|
Photos
WHAT IT MEANS:
Jordany Valdespin
did it again. Only this time, the script turned out more like a repeat of a June 5 loss to the Nats than a reprise of the rookie's Philadelphia heroics.
For the second time this season, Valdespin delivered a pinch-hit, three-run homer in the ninth off a top NL East closer.
Valdespin -- who beat
Jonathan Papelbon
in Philly on May 7 -- batted as a pinch hitter for
Jason Bay
in the ninth (more on that later) and deposited a pitch over the right-center wall against
Tyler Clippard
with one out to give the Mets a 3-2 lead.
Bobby Parnell
then blew his second straight save opportunity in
Frank Francisco's
absence, failing to protect the one-run lead in the bottom half.
Danny Espinosa
delivered a game-tying RBI single with the Nats down to their last strike to force extra innings.
Josh Thole
restored a one-run lead in the top of the 10th on an RBI double. But
Tim Byrdak
also failed to close it out. He surrendered a game-tying triple to
Bryce Harper
. Byrdak departed with two outs and the bases loaded.
Pedro Beato
then uncorked a game-ending wild pitch as the Mets lost 5-4 in 10 innings.
It mirrored a loss to the Nats in the opener to a series here last month, when the Mets squandered leads in the eighth, 10th and 12th innings and lost 7-6.
So it turned out to be the Mets' fourth consecutive loss to open the second half, and fifth straight overall.
The Mets (46-44) dropped a season-high seven games behind the first-place Nats in the division standings. They slipped to two games over .500 for the first time since they were 22-20 on May 21.
Last season, the Mets lost on a walk-off balk in Atlanta by
D.J. Carrasco
on June 16.
OFF THE HOOK:
Before the ninth,
Jon Niese
looked like he was headed for a tough-luck loss.
Niese had retired 12 straight Nationals before a one-out homer in the fifth by southpaw-slayer
Tyler Moore
broke a scoreless tie.
Josh Edgin
then surrendered an eighth-inning run as Washington took a 2-0 lead into the final inning.
Niese departed for a pinch hitter in the bottom of the seventh, having allowed one run on three hits. He received a no-decision once Valdespin went deep.
BAY WATCH:
Bay went 0-for-3 in his return from the disabled list and was front and center in the offensive frustrations. His at-bats were so futile
Terry Collins
lifted him for Valdespin in the ninth, and it's hard to force the manager justifying regular playing time going forward.
Bay grounded into a 6-4-3 double play in his first at-bat, as the Mets failed to score despite three singles in the second inning.
Two innings later, Bay was retired on a comebacker to opposing starter
Ross Detwiler
.
In the seventh, Bay flied out to center fielder
Bryce Harper
-- too shallow for
David Wright
to tag up from third base.
Bay was not the only one to let the Mets down in the seventh.
Wright, who had flied out to the right-field wall in his previous at-bat, this time opened the seventh with a double beyond the reach of right fielder
Michael Morse
. Wright advanced to third on a wild pitch, but was stranded there when
Scott Hairston
struck out, Bay had the shallow flyout and
Ike Davis
grounded out to second base.
The Mets fell to 12-21 this season in games in which the opposition starts a left-handed pitcher. That is particularly alarming considering GM
Sandy Alderson
reiterated pregame that Bay is likely the Mets' trading-deadline righty-bat addition.
Alderson said his priority is acquiring bullpen help.
Of course, unless help arrives imminently, the Mets' swoon to open the second half may make it illogical to acquire a reliever, since the season could be lost.
It will be interesting to see whether Collins uses Bay against right-handed starter
Jordan Zimmermann
on Wednesday. (The bet is no.)
With
Kirk Nieuwenhuis
and
Lucas Duda
likely starting at two outfield positions now that Duda has received a cortisone shot in his left hamstring, Collins logically could relegate Bay to platoon player and wait until Thursday's matchup with southpaw
Gio Gonzalez
to start him again. Valdespin or
Andres Torres
could fill the third outfield spot Wednesday.
Even former hitting coach
Howard Johnson
, watching elsewhere on TV, tweeted: "With one swing Valdespin might have just saved the Mets season and signaled the end of Jason Bay in NY."
WHAT'S NEXT: Chris Young
(2-3, 4.28 ERA), who started the second-half opener in Atlanta, opposes Zimmermann (6-6, 2.48) at 7:05 p.m. ET Wednesday.
July, 17, 2012
7/17/12
10:01
AM ET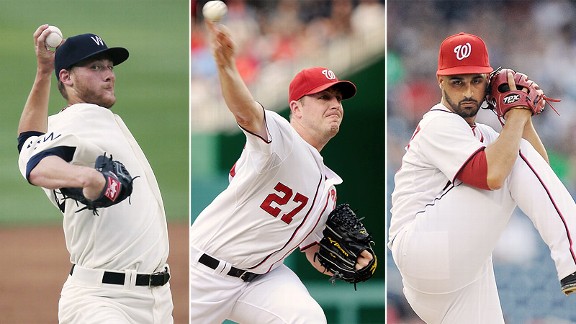 Getty Images
The Mets face (l to r) Ross Detwiler, Jordan Zimmermann and Gio Gonzalez during the midweek series.
METS (46-43, third place/NL East) vs. WASHINGTON NATIONALS (51-36, first place/NL East)
Tuesday:
LHP
Jon Niese
(7-4, 3.73) vs. LHP
Ross Detwiler
(4-3, 3.43), 7:05 p.m. ET
Wednesday:
RHP
Chris Young
(2-3, 4.28) vs. RHP
Jordan Zimmermann
(6-6, 2.48), 7:05 p.m. ET
Thursday:
RHP
R.A. Dickey
(12-1, 2.66) vs. LHP
Gio Gonzalez
(12-4, 2.93), 12:35 p.m. ET
Nationals short hops
• Shortstop
Ian Desmond
, who has a nagging left oblique strain that prompted him to skip the All-Star Game, aims to return for Tuesday's series opener. Desmond started the Nats' first two second-half games in Miami, but was forced to bunt because it was uncomfortable to swing in the ninth inning Saturday. He since has missed consecutive games.
Desmond's absence has prompted second baseman
Danny Espinosa
(an 85-point better hitter against left-handed pitching) to start at shortstop, with
Steve Lombardozzi
manning Espinosa's position. Before the absence, Desmond was hitting .418 with six homers and 16 RBIs in a three-week span. Desmond's 17 homers are tied for the Washington/Montreal franchise record for a shortstop with
Orlando Cabrera
, who reached that total in 2003.
•
Bryce Harper
had an eventful weekend in Miami. He took advantage of napping infielders
Hanley Ramirez
and
Jose Reyes
as well as
Josh Johnson
to take third base uncontested Friday. Harper then drew taunts from Marlins skipper
Ozzie Guillen
on Sunday. Guillen had informed umpires that Harper had too much pine tar on his bat. After swapping out his lumber for his next plate appearances, Harper pointed his new bat in Guillen's direction. When Guillen called Nats manager
Davey Johnson
postgame to explain, Johnson told him, "Get the [expletive] away from me," according to media reports. Harper, only 19 years old, joined teammates
Stephen Strasburg
and
Gio Gonzalez
on the NL All-Star squad.
• Third baseman
Ryan Zimmerman
has seven homers and 21 RBIs in his past 18 games, including a 3-for-3 performance Monday in Miami with a long ball. The surge coincides with receiving a cortisone shot three weeks ago in his ailing shoulder.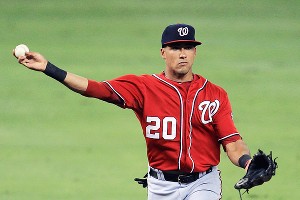 Chris Trotman/Getty Images
Ian Desmond has 17 homers, tied for the most by a shortstop in Washington/Montreal history.

• Closer
Drew Storen
has yet to appear this year following a 43-save season in 2011. He had surgery to remove a bone spur from his right elbow and has started a rehab assignment. The intention was for Storen to be activated to open the second half, but he developed arm fatigue in the minors. Interim closer
Tyler Clippard
has been so effective, though, Storen may not immediately take over closing.
Clippard did have an adventurous appearance Sunday. Trying to protect a 4-0 lead in the ninth, he loaded the bases on a single and two walks before getting out of the jam without surrendering a run. Clippard has been far more effective in save situations. In those 25 games, he has a 0.74 ERA and .120 opponent batting average, versus a 3.60 ERA and .208 opponent batting average in 15 non-save situations. Since Clippard took over the closer role in late May, he is 14-for-14 in save chances.
• Left-hander
Sean Burnett
, who has handled eighth innings as the primary setup man, is pitching through elbow tightness.
•
Jordan Zimmermann
blanked the Marlins for six innings in the second-half opener. He and
Justin Verlander
are the lone major leaguers to make 18 starts this season and complete six innings each time. Zimmermann has allowed one earned run or fewer in 10 of his starts. Meager run support is the lone reason Zimmermann has a .500 record.
• Nats GM
Mike Rizzo
continues to maintain Strasburg will be shut down at roughly 160 innings. Strasburg's previous high for a professional season is 123 innings, in 2010. Strasburg is currently at 105.
•
Jayson Werth
, who fractured his left wrist on an attempted May 6 catch, is aiming for an Aug. 1 return.
• Left-hander
John Lannan
, who has spent the entire season at Triple-A Syracuse despite a $5 million salary, is expected to be promoted Saturday for a spot start in a doubleheader against the Braves. The new collective bargaining agreement allows a 26
th
active player for doubleheaders.
•
Ross Detwiler
is firmly entrenched in the rotation with struggling
Chien-Ming Wang
now on the DL with a right hip strain.
• Ex-Met
Xavier Nady
is on a rehab assignment for a wrist injury.
•
Brad Lidge
was designated for assignment June 17.
• Former Mets farmhand
Jesus Flores
took over the primary catcher responsibilities in mid-May with
Wilson Ramos
out for the season with a knee injury. Nationals catchers have thrown out only 10 of 59 would-be base stealers this season.
• First baseman
Adam LaRoche
is hitting .201 in 48 games since May 17.
Last series results
Washington won, 2-1, at Nationals Park, June 5-7 (AP game recaps)
Nats 7, Mets 6 (12 innings):
Bryce Harper's single ended a back-and-forth game that saw the Mets rally from a 3-0 early deficit to take leads in the top of the eighth, 10th and 12th innings -- only to have the Nationals tie the game in the bottom of the frame each time. Scott Hairston hit a solo homer in the top of the 12th to give New York a 6-5 lead, but the Nationals rallied when Michael Morse led off with his second double of the game. Ian Desmond followed with another double for his third RBI. Reliever Elvin Ramirez (0-1) walked two batters to load the bases, and a fielder's choice by Xavier Nady left the bases loaded with two outs for Harper, who lined an 0-2 pitch to left field. The ball fell just in front of a diving Vinny Rottino.
More
Nats 5, Mets 3:
Edwin Jackson hadn't won a game in nearly eight weeks, and Adam LaRoche was in an 0-for-13 rut. Both came through. Jackson pitched seven effective innings, and LaRoche hit a three-run homer. LaRoche got the first-place Nationals off to a fast start, belting his ninth homer of the season in the first inning against Jeremy Hefner (1-3). Bryce Harper reached on an error by second baseman Daniel Murphy, and Ryan Zimmerman walked before LaRoche hit a drive into the right-field bullpen.
More
Mets 3, Nats 1:
R.A. Dickey baffled the Nationals, limiting them to four singles over 7 1/3 scoreless innings. Dickey (9-1) extended the longest shutout string of his career to 24 2/3 innings -- a span that began against Pittsburgh and continued against San Diego, St. Louis and the Nats. Lucas Duda hit his 10th homer, a two-run shot in the fifth against Chien-Ming Wang (1-2). Daniel Murphy, who earlier bounced into an inning-ending double play that left him in a 0-for-19 rut, added an RBI single.
More
June, 5, 2012
6/05/12
11:20
PM ET
WHAT IT MEANS: Face it: The New York Mets didn't deserve to take first place Tuesday night.

Three different relievers -- Frank Francisco, Bobby Parnell and Elvin Ramirez -- failed to close out leads and the Mets suffered an all-time ugly defeat, 7-6 in 12 innings to the Washington Nationals.

Ramirez, in his second major league appearance, could not protect a one-run lead in his second inning of relief and instead suffered his first big league loss. After walking opposing pitcher Ross Detwiler with first base open to load the bases in the 12th, 19-year-old phenom Bryce Harper finished off the Amazin's with a two-out RBI single. Ramirez had walked only one batter in 14 2/3 scoreless innings with Triple-A Buffalo before his promotion.

A Mets win would have moved them into sole possession of first place, the first time they would have been atop the standings at this late a date since Sept. 19, 2008.

Earlier in the game, David Wright established a franchise record for runs scored in a Mets uniform, although that's zero consolation.

Scott Hairston's 12th-inning homer against Detwiler had staked the Mets to a 6-5 lead and looked as though it would help the Mets overcome atrocious fielding.

Ramirez was thrust in the role because the Mets were playing short two men in the bullpen.

Jon Rauch was active but in New York because of debris in his elbow. And the Mets were down a reliever anyway because they're using a six-man rotation this turn to ensure Johan Santana gets two days of extra rest and R.A. Dickey doesn't have to pitch early.

UGGGGLY: Jordany Valdespin committed two errors in the 10th inning while manning shortstop, the second of which allowed the tying run to score and dealt Parnell a blown save. Ike Davis also fumbled a grounder and failed to initiate a double play and Parnell uncorked a wild pitch during that ignominious frame.

In the top half of the 10th, Hairston singled, swiped second and eventually scored for a 5-4 lead with one out on a wild pitch by Henry Rodriguez with Wright batting. (Why Davey Johnson was even pitching to Wright is a question, since the pitcher's spot was up next. Terry Collins likely would have been forced to use Mike Nickeas as a pinch-hitter if Wright had been intentionally walked with first base open to set up the double play.)

THE BRIGHT SPOT: Although he departed trailing by three runs, Chris Young's first major league action since May 1, 2011 indisputably was a success. Returning from the same surgery to repair a torn anterior capsule in his pitching shoulder that Santana underwent eight months earlier, Young retired the first six Nationals batters he faced, until Danny Espinosa opened the bottom of the third with a bunt single.

The Mets -- who entered the night a half-game behind first-place Washington and Miami -- actually rallied to take a late, 4-3 lead on solo homers by Valdespin and Wright and a two-run double by Andres Torres. But Francisco, asked to produce a five-out save for the second time in his career, could not get through the eighth inning with that lead intact.

FRANK TALK: The Mets held a one-run lead in the bottom of the eighth, when Collins summoned Tim Byrdak to face righty-hitting Ryan Zimmerman to open the half-inning. Byrdak surrendered a single to Zimmerman, bringing up lefty-hitting Adam LaRoche.

LaRoche hit an apparent double-play grounder, but second baseman Daniel Murphy fumbled it and had to settle for only the out at first base. Zimmerman ultimately scored to make it 4-all when Desmond produced a two-out single.

Francisco's only five-out save remains April 21, 2009 with Texas.

MORE YOUNG: Working on standard rest -- which he had not done in any of his four minor league starts -- Young was charged with three runs (two earned) on six hits while striking out two and walking one in a 75-pitch effort (52 strikes).

In the fifth, Zimmerman delivered a two-out RBI single to make it 2-0.

On the play, Zimmerman rounded first base aggressively and got caught in a rundown. Steve Lombardozzi, who intended to stop at third base, noticed Zimmerman caught and sprinted for home. Shortstop Omar Quintanilla then halted his pursuit of Zimmerman and fired toward the plate. But Quintanilla overthrew Josh Thole and the Nats had a third run.


April, 10, 2012
4/10/12
6:12
PM ET
Terry Collins said he will not have a straight platoon at catcher -- as opposed to center field, where the manager will employ a platoon in Andres Torres' absence.

So while Scott Hairston and Kirk Nieuwenhuis' playing time will be based on the opposing starting pitcher being a righty or lefty, Josh Thole will start against some southpaws behind the plate over Mike Nickeas.

That situation should come up this weekend, when the Philadelphia Phillies will use two left-handers in the three-game series -- Cliff Lee and Cole Hamels. Thole, a .173 career hitter at the major league level against left-handers, should start against one of those pitchers.

• Ike Davis, who was due to get a followup exam for his suspected but latent case of valley fever on Tuesday morning, took part in early batting practice. Collins said he was unaware Davis even was scheduled for a hospital visit. But, the manager added, he has not been informed of anything alarming regarding Davis.

Davis was given Tuesday night off against left-hander Ross Detwiler to avoid overtaxing the first baseman and potentially triggering a flare-up of the suspected valley fever, which can lead to debilitating exhaustion.

"No. 1, the valley fever is not an issue with Ike," Collins said. "He feels fine. Obviously the weather has really helped, being nice and cool and fresh. The one thing we have to monitor, we were told in spring training to make sure this guy gets some rest. So regardless of the temperatures, regardless of how nice the weather has been, when I was looking at the schedule and I saw a day game after a night game, a tough lefty on the mound, he's not swinging real good right now, maybe this was the perfect time just to let him have that one extra day. But he's fine, he's healthy."

• Arguably, the Mets' best defensive alignment would have been Justin Turner at second base and Daniel Murphy at first base, not vice versa, in Davis' absence. But Collins said that was not a remote consideration. Murphy will be stable at second base and Lucas Duda stable in right field so that their acclimation to relatively unfamiliar positions is not interrupted.

Turner is making his first regular-season professional start, and second regular-season appearance, at first base.

"He played enough games in spring training to feel comfortable," Collins said. "He's one of those guys, no matter where you put him, you feel good about him being able to play the spot. When we came into this, we felt it was very important that Dan Murphy stay at second base. We didn't want to bounce him around. When you've got Ronny Cedeno, he's a middle infielder, who if you have to can play some third base. When you look at the outfield, again, we wanted Lucas Duda to sit in right field. So our options started to get pretty thin. You can put Mike Baxter over there. You can put Justin Turner over there."

• Collins said Johan Santana likely will be capped at 95 pitches when he opposes Stephen Strasburg in Wednesday's series finale. At least six of Santana's first seven starts, including Wednesday's, will come on an extra day of rest because of the way team days off fall.

"It will still be monitored very closely," Collins said about Santana's pitch count.

The manager added that the extra days of rest will benefit Santana in terms of bouncing back, not in terms of getting him to higher pitch counts.

"He threw, what, 82 or 83 the other day?" Collins said. "We'll probably aim 95 -- somewhere in there."
April, 9, 2012
4/09/12
4:52
PM ET
Terry Collins plans to give Ike Davis strategic rest during the season, to avoid overtaxing him and triggering his latent-but-suspected case of valley fever to flare up.

The first break is expected to be Tuesday night, with Justin Turner starting at first base, according to the manager. Collins reasoned that a night game before a day game is a good time to rest Davis, especially when the Mets are facing southpaw Ross Detwiler on Tuesday night. Lefty batters are hitting a career .259 against Detwiler, versus .281 for righty batters.

Turner will be making his first major league appearance, and second appearance including the minors, at first base.

• Who will be the closer on the days Frank Francisco and Jon Rauch are unavailable?

Surprise, surprise. Not Bobby Parnell. Not Manny Acosta. Not Ramon Ramirez.

According to Collins, 41-year-old long man Miguel Batista should get the assignment. Batista had five saves in six chances for Aguilas in the Dominican Republic during the winter league season.

Francisco has saves in each of the Mets' first three games. Because of a Friday team off-day, he has only worked two straight days, though, entering Monday.

Still, Collins was unsure three hours before the first pitch whether Francisco would be available Monday night. The manager acknowledged there remains swelling on Francisco's left knee, despite the closer receiving a cortisone shot eight days ago.

"It's down, but he can feel it," Collins said about the inflammation. "... We've got to err on the side of caution a little bit early."

• With Ruben Tejada coming off a four-hit game and the Mets 3-0, Collins is not adjusting his lineup. So Tejada will remain atop the order. And Jason Bay will remain No. 5 with Lucas Duda No. 6, at least for now.

• The Kirk Nieuwenhuis-Scott Hairston playing time arrangement will remain a strict platoon, Collins said. So Hairston will start Tuesday against Detwiler, with Nieuwenhuis getting Wednesday's assignment in center field against right-hander Stephen Strasburg.

• Andres Torres is likely to miss more than the minimum 15 days on the DL with a strained left calf, perhaps significantly longer.
April, 9, 2012
4/09/12
7:30
AM ET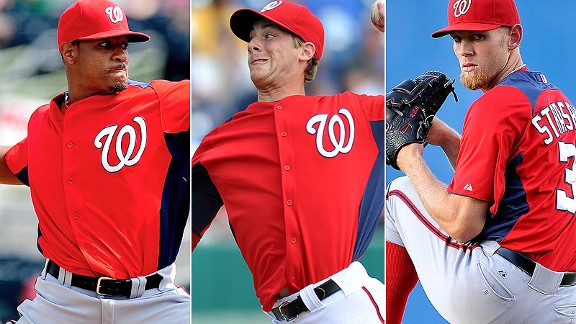 US Presswire
Edwin Jackson makes his Nats debut Monday against the Mets, followed by Ross Detwiler on Tuesday and Stephen Strasburg on Wednesday.
METS (3-0, first place/NL East) vs. WASHINGTON NATIONALS (2-1, second place/NL East)
Monday:
RHP Mike Pelfrey vs. RHP Edwin Jackson, 7:10 p.m. ET
Tuesday:
RHP Dillon Gee vs. LHP Ross Detwiler, 7:10 p.m. ET
Wednesday:
LHP Johan Santana (0-0, 0.00) vs. RHP Stephen Strasburg (0-0, 1.29), 1:10 p.m. ET
Nationals short hops
•
Ross Detwiler
claimed the fifth-starter's job over fellow southpaw
John Lannan
, in the spot available because
Chien-Ming Wang
strained his left hamstring March 15. Lannan, assigned to Triple-A Syracuse, asked GM
Mike Rizzo
for a trade after the decision, then sent an email to beat reporters the following day acknowledging the request. After Wang suffered the injury, manager
Davey Johnson
had said Lannan would be the fifth starter. Lannan is due to earn $5 million this season. The Nats are only expected to trade Lannan if they get something of consequence in return, since they will need starting pitching depth during the season. Detwiler's spring-training ERA was 3.06, to Lannan's 5.14. The Nats did not think Lannan would be comfortable in the bullpen, so they sent him to Syracuse and instead carried
Craig Stammen
in a major league relief role.
• Cleanup hitter
Michael Morse
is expected to be activated from the disabled list as soon as Tuesday. He homered Friday, during a rehab assignment with Double-A Harrisburg, as he returns from a right lat muscle tear. After coming to New York on Saturday for preplanned treatment, Morse returned to the Eastern League club Sunday to continue a rehab assignment. Bergen Catholic product
Mark DeRosa
started in left field the first two games of the season, while ex-Met
Xavier Nady
manned the position Sunday. DeRosa was signed at winter meetings to fill the void after
Chris Marrero
suffered a hamstring injury in winter ball in November that will sideline him the first half of the season. DeRosa has undergone three wrist surgeries in past two years, but appears healthy now. Nady signed in mid-March after being jobless.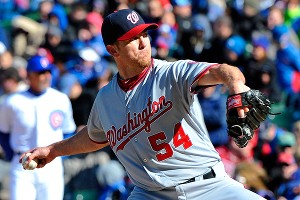 Rob Grabowski/US Presswire
With Drew Storen on the DL, ex-Phillie Brad Lidge picked up the save on Opening Day at Wrigley Field.

•
Jayson Werth
is expected to play center field against left-handed pitchers, with Nady manning right field. Primarily the right fielder, Werth is due to make $13 million in 2012, in the second season of a seven-year, $126 million deal. He hit .232 with 20 homers, 58 RBIs and 19 steals in his first season with the Nats.
•
Roger Bernadina
has started in center field the first three games against right-handers, while fellow lefty-hitting outfielder
Rick Ankiel
opens the season on the disabled list with quadriceps tightness. Ankiel, who originally re-signed with the Nats on a minor league deal, will earn $1.25 million this season. He has started a rehab assignment, but is not eligible to be activated until Saturday.
•
Chad Tracy
spent last season in Japan, where he hit only .235 with one homer and 19 RBIs in 149 at-bats with Hiroshima. Tracy has been big off the bench so far. After making the Opening Day roster because of Ankiel's quadriceps injury, Tracy already twice has delivered successful pinch hits -- including a two-run, go-ahead single in the eighth Saturday against
Carlos Marmol
, who was attempting a four-out save.
•
Stephen Strasburg
started Opening Day and limited the Cubs to one run and five hits while striking out five and walking one in seven innings. Strasburg breezed through the first two innings, requiring only 14 pitches. He ultimately received a no-decision. The Nats have pledged to cap Strasburg's innings at 160 this season after he missed most of last season rehabbing from Tommy John surgery, although playoff contention would test that commitment.
•
Drew Storen
, who recorded 43 saves last year, opened the season on the disabled list with right elbow inflammation.
Brad Lidge
, who signed a one-year, $1 million deal, and flame-throwing
Henry Rodriguez
will close in Storen's absence. Lidge, 35, picked up the save on Opening Day at Wrigley Field -- only the ex-Phillie's second save since Sept. 27, 2010. The Nats have an ultra-deep bullpen. Rodriguez has been clocked at 101 mph, with a 94 mph
changeup
. Set-up man
Tyler Clippard
(3-0, 1.83 ERA in 2011) earned an All-Star invitation last season.
• Third baseman
Ryan Zimmerman
agreed to a six-year, $100 million extension Feb. 26. The deal is on top of the combined $26 million he was due to earn between this season and 2013. The Nats have a team option for 2020.
NBA
NHL
COLLEGE BASKETBALL
MLB
MLS