New York Mets:

Ruben Amaro
April, 25, 2013
4/25/13
7:13
PM ET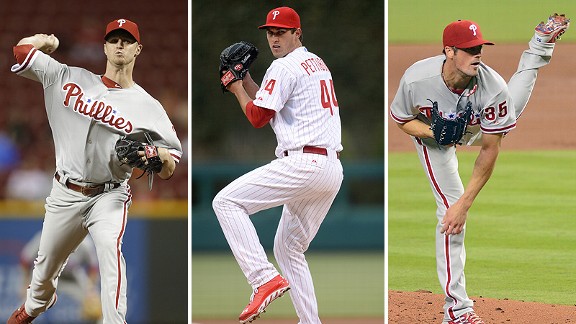 Associated Press/USA TODAY Sports
The Mets face (l to r) Kyle Kendrick, Jonathon Pettibone and Cole Hamels this weekend at Citi Field.
METS (10-10, second place/NL East) vs. PHILADELPHIA PHILLIES (9-14, fourth place/NL East)
Friday:
RHP
Dillon Gee
(1-3, 5.95) vs. RHP
Kyle Kendrick
(1-1, 3.28), 7:10 p.m. ET
Saturday:
RHP
Shaun Marcum
(0-0, -.--) vs. RHP
Jonathan Pettibone
(0-0, 3.38), 1:05 p.m. ET
Sunday:
LHP
Jonathon Niese
(2-1, 3.81) vs. LHP
Cole Hamels
(0-3, 5.40), 1:10 p.m. ET
Phillies short hops
•
Jonathan Pettibone
is making his second major league start Saturday. He is the son of right-hander Jay Pettibone, who started four games -- all losses -- for the
Minnesota Twins
in 1983, on a team that included Tim Teufel and Frank Viola. The younger Pettibone debuted Monday against the
Pittsburgh Pirates
and accomplished something his father failed to do: participate in a win. Pettibone, 22, limited the Pirates to a pair of solo homers and four other hits in 5 1/3 innings while striking out six and walking none. The Phillies won, 3-2.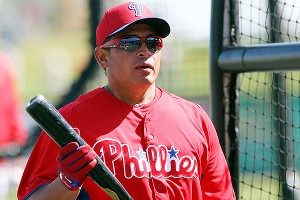 Kim Klement/USA TODAY Sports
Carlos Ruiz is due to be activated Sunday after serving a season-opening 25-game suspension.

•
Carlos Ruiz
is eligible to be activated Sunday after completing a 25-game suspension for testing positive for a banned amphetamine. Ruiz's tune-up for activation was slowed because he was hit on his left wrist with a pitch in an extended spring training game last Friday. X-rays were negative.
Erik Kratz
and
Humberto Quintero
have handled the catching in Ruiz's absence.
•
Delmon Young
, who signed for a guaranteed $750,000 and incentives on Jan. 22, has started a rehab assignment and is due to join the Phillies within weeks -- although not for this Mets series. He underwent right ankle surgery during the offseason. Young is the projected right fielder, although he must get acclimated. He had not played in a game there since 2007 until rehab games this week.
John Mayberry Jr
. has produced with Young out.
• The Phillies, who are struggling on offense, went four full games without a walk until
Chase Utley
got a free pass on April 19. How rare is that? In the NL, the last teams to have gone four straight games without a walk were the 2009
Arizona Diamondbacks
, 1976 Montreal Expos, 1952 New York Giants and 1935
Chicago Cubs
.
• Utley already has four errors.
•
Ryan Howard
homered for only the second time this season on Wednesday, against
Wandy Rodriguez
. In that game, Charlie Manuel split up Utley and Howard in the lineup so opposing managers could not insert one lefty specialist to face both without seeing a righty batter in between.
• This is the deepest Cole Hamels has gone into a season without a win since 2009, when it took the southpaw until his fifth start on May 8 for a victory.
• Manuel is in the final year of a contract. He told ESPN's Jayson Stark: "I plan to keep managing -- unless I decide all of a sudden I don't want to do it."
Said GM Ruben Amaro about the subject: "Honestly, I don't think about his situation at all. I don't think the players give two craps about it. I don't think it's even a factor, not with our guys … I don't know if a contract for the manager should be a motivating factor for any player. They should be motivated by winning. That's it."
• Center fielder
Ben Revere
is battling a nagging quadriceps injury. After Revere started every previous game this season, ex-Mets farmhand
Ezequiel Carrera
instead was inserted in the lineup Thursday afternoon.
• The Phillies have lost three in a row (with Hamels,
Roy Halladay
and
Cliff Lee
pitching) and eight of 11.
• Since surrendering seven runs in four innings against the Mets on April 8, Halladay is 2-0 with a 1.71 ERA in three starts. He has allowed eight hits in 21 innings over that span.
• At 9-14, the Phillies are in the midst of their worst start since 2006.
May, 8, 2012
5/08/12
3:00
AM ET
Jordany Valdespin
delivered a pinch-hit three-run homer
in the ninth off
Jonathan Papelbon
and the
Mets beat the Phillies, 5-2
, in Monday's series opener at Citizens Bank Park. The Mets also had received a big contribution from
Tim Byrdak
, who struck out
Erik Kratz
to strand the go-ahead run at third base in the bottom of the eighth.
Roy Halladay
was working on a one-hit shutout entering the sixth, when
David Wright
delivered a two-run double to even the score at 2. Halladay departed after seven innings with his pitch count at 107.
Papelbon, who served up the infamous 2009 pinch-hit homer to
Omir Santos
at Fenway Park, had held opponents hitless in the past 20 at-bats against him before
Mike Nickeas'
two-out double in the ninth advanced
Ike Davis
, who had walked, to third base and set up Valdespin's heroics.
It was Valdespin's first major league hit. Nickeas had replaced
Josh Thole
behind the plate a half-inning earlier, after Thole received a jolt to the head from ex-Met
Ty Wigginton
on a play at the plate.
"He had that feel like he was going to finish this one out," Wright said about Halladay, whose streak of wins in eight straight starts against the Mets was snapped. "We weren't able to do much against him. ... He was really dominant tonight. We were fortunate to get those two and then get him out of the game. And then to get a few off Pap, you're going from one of the best starters in the game to one of the best closers in the game. Any time you can win a game like that, that's special."
Said
Terry Collins
about a jubilant clubhouse that cheered SportsCenter highlights of the game afterward: "They are fired up. These guys, they realize no one expects anything from us. To come back against Roy and tie the game up, and then to finish the game with two guys that weren't even in the game at the beginning with huge hits (Valdespin and Nickeas), it was a great win for us."
Tuesday's news reports:
• Wigginton, who has a reputation dating to his Mets days for taking out catchers on plate collisions, nailed Thole with his left shoulder in the bottom of the eighth. Thole held onto the ball for the second out to preserve a 2-all score, but was
forced to leave the game complaining of dizziness
. The Mets did not firmly announce postgame that Thole had a concussion, but that seemed the likelihood. Thole appears headed for a newly created seven-day DL available for concussed players. The Mets planned to bring
Rob Johnson
or
Lucas May
from Triple-A Buffalo to Philadelphia, according to assistant GM
John Ricco
.
Vinny Rottino
has catching experience, but he exclusively played left field with the Bisons this season before a promotion and is viewed more as an emergency third catcher than a potential starter behind the plate. Read more in the
Star-Ledger
,
Post
and
Newsday
.
• Before Monday's opener, shortstop
Ruben Tejada
landed on the disabled list
with a right quadriceps strain. That paved the way for Valdespin to be activated for Monday's long ball.
Justin Turner
made his first major league start at shortstop Monday, but Valdespin will be assigned there Tuesday. Valdespin, a middle infielder, only appeared at shortstop in one game at Buffalo this season because he was getting a crash course in center field. Overall, though, he has played 146 minor league games at shortstop, trailing only second base (210 games) for most duty. Read more in the
Post
,
Journal
,
Star-Ledger
,
Times
and
Newsday
.
• Valdespin became the first player with a pinch-hit homer for his first major league hit since Cincinnati's
Juan Francisco
in the ninth inning on Sept. 18, 2009 against the Marlins. Writes columnist
Jeff Bradley
in the Star-Ledger
:
All around the Mets clubhouse, his teammates' eyes were on Valdespin. There were smiles everywhere. A comeback against Halladay. A two-out rally against Papelbon. And a game-winning bomb from a kid who'd never hit safely in a big league uniform. "You've got to battle," said Collins. "You've got to scratch. I came into this organization two years ago, and we were being criticized for not having a very good minor league system. When we put out a lineup last week with all homegrown players we didn't do it for publicity. We did it because we think they're good enough to be up here. And Jordany Valdespin is another sign. He's done his time. It's time for him to play in the big leagues." Who knows where it goes from here. But on a night like this, could you blame Collins for believing maybe his team had done something more than just win Game 29 of 162?
•
Jon Niese
allowed two runs and was pulled with his pitch count at 101 after five innings. He walked four Phillies. "It was just one of those things where they worked the count real well and made me throw a lot of pitches," Niese said. "All of my pitches were moving a lot more than really normal. I don't know the reason for it. But I had a tougher time with my control today."
• Read game recaps in the
Record
,
Newsday
,
Times
,
Journal
,
Daily News
,
Post
and
Philadelphia Inquirer
.
• Phillies left-hander
Cole Hamels
was
suspended five games by Major League Baseball
for plunking Nats rookie
Bryce Harper
on Sunday night. The suspension won't affect the Phillies since Halladay can pitch on standard rest Saturday while Hamels waits until the following day. Philadelphia had an eventful 24-hour news cycle, with Nats GM
Mike Rizzo
taking aim and Hamels and the Phillies, calling the southpaw "gutless," "classless," and "fake tough"
in The Washington Post
. Said Rizzo to the newspaper: "I've never seen a more classless, gutless chicken [bleep] act in my 30 years in baseball. Cole Hamels says he's old school? He's the polar opposite of old school. He's fake tough. He thinks he's going to intimidate us after hitting our 19-year-old rookie who's eight games into the big leagues? He doesn't know who he's dealing with."
"Things that happen in the game happen in the game," Phillies GM
Ruben Amaro
told the Philadelphia Daily News
on Monday. "That's part of the game. But as far as how the Phillies want to conduct themselves, we like to try to take the high road on things like this. By no means are we condoning trying to be injurious."
Hamels' admission of intentionally hitting Harper came shortly after
Chipper Jones
took verbal aim at
Jamie Moyer
and his former club, the Phillies, for allegedly stealing signs -- in response to Moyer accusing Jones and the Braves of that activity.
Said Collins on Monday: "No. 1, things aren't very secretive anymore. There's so many different manners of the way news is spread today that it's tough to keep a secret. I was surprised Cole said what he said. I was a little taken aback that Chipper said what he said publicly."
Collins acknowledged, though, that initiating rookies routinely happened back in the day.
"No doubt," Collins said. "For years, the young players, one of the things those veteran pitchers used to do is knock you on your butt to find out how you were going to respond. Veteran umpires used to ring you up on pitches off the plate to see how you were going to respond, what kind of reaction they're going to get out of you. Are you going to be a pro and walk away? Are you going to raise hell? Everybody wants to feel you out a little bit. And if that was Cole's thing, that is what they did years ago. But I haven't seen it in a while. It may have happened. I just haven't noticed it."
The Phillies-Nats rivalry is getting heated on multiple fronts. Nats outfielder/ex-Phil
Jayson Werth
, who broke a wrist in Sunday night's game, said Phillies fans taunted him as he left the field. Werth sent an email
to The Washington Post
that read: "After walking off the field feeling nauseous knowing my wrist was broke and hearing Philly fans yelling 'You deserve it,' and, 'That's what you get,' I am motivated to get back quickly and see to it personally those people never walk down Broad Street in celebration again."
• Right-hander
Jacob deGrom
, a ninth-round pick in 2010 out of Stetson University, retired 20 of 21 batters he faced in his debut with Class A Savannah as the Gnats beat Lakewood, 5-0. Read Monday's full minor league rehab
here
.
•
Guillermo Mota
, who tossed 2 2/3 scoreless innings against the Mets last month in two appearances with the San Francisco Giants at Citi Field, was suspended 100 games by MLB for another positive test for a performance-enhancing substance -- this time Clenbuterol, according to MLB. Mota had a 50-game suspension imposed for a positive test while with the Mets, yet the organization signed him to a two-year, $5 million deal at the time anyway that was backloaded to minimize the amount of dollars Mota had to forfeit while serving the ban. Read more
in the San Francisco Chronicle
.
•
Johan Santana
offers a positive review of his season performance thus far to
Wayne Coffey
in the Daily News
. "On a scale of 1 to 10, I'd give myself a 7," Santana told Coffey. "I still have some way to go, things to work on. That's okay. For me the biggest thing is staying healthy, because I know if I'm healthy, I can compete, because that's what I've done my whole career."
TRIVIA:
Miguel Batista
, 41, starts Tuesday for the Mets. Who is the oldest player to ever throw a regular-season pitch for the organization?
Monday's answer:
Brett Myers
was the first Phillies pitcher to allow a homer to Wright in the third baseman's career. Actually, Myers served up the first two homers Wright hit against Philadelphia -- five days apart in September 2004. Myers is now the closer for the Houston Astros.
April, 13, 2012
4/13/12
7:56
AM ET
David Wright
visited a hand specialist at the Hospital for Special Surgery on Thursday, who reiterated that Wright could
test his broken pinkie swinging Friday
and play if pain tolerance allows. Wright suffered the fracture Monday, diving back into first base on a pickoff throw from Washington's
Edwin Jackson
.
If Wright remains unavailable,
Ronny Cedeno
could start at third base in tonight's series opener in Philadelphia, which features
R.A. Dickey
against
Cliff Lee
. If
Terry Collins
thought Wright would miss any length of time -- which the manager now does not --
Daniel Murphy
would shift to third base. Read the series preview
here
.
Friday's news reports:
•
Andy McCullough
in the Star-Ledger
retells the story of why rookie center fielder
Kirk Nieuwenhuis
picked playing baseball at Azusa Pacific University rather than football at the University of Colorado. On a recruiting trip to Boulder, Nieuwenhuis spotted an intimidatingly sized player working out. It turned out to be the
kicker
,
Mason Crosby
, now of the Green Bay Packers. "I was like, 'If this guy's the kicker, what am I getting myself into?'" Nieuwenhuis told McCullough. Nieuwenhuis also was recruited by Colorado State and Air Force for football.
•
Tyler Kepner
in the Times
notes the Phillies, despite a 3-3 record, are having difficulty scoring runs. In fact, minus
Ryan Howard
and
Chase Utley
, the Phillies have scored 18 runs through six games -- with seven of those coming in one game. Yet Philadelphia is stocked at pitching with
Roy Halladay
, Lee and
Cole Hamels
atop its rotation, and able to compensate. "Runs are down, they continue to be down, and it's going to get worse, probably, as far as offense is concerned, because pitching is the most important part of the game," Phillies GM
Ruben Amaro
tells Kepner about baseball's current landscape."I believe in it." Adds Kepner:
As the Phillies' general manager, Amaro has built teams that increasingly reflect that belief. As the team has collected aces, the offense has slipped by comparison. The 2009 Phillies scored the most runs in the National League and allowed the sixth fewest. The 2010 team was fairly balanced, and by 2011, the rankings had virtually flipped. The Phillies ranked only seventh in runs scored but allowed the fewest runs in the league. When their pitchers were not at their sharpest in the playoffs against St. Louis, a feeble offense doomed them to defeat. Now the disparity seems to be growing.
• Wright is under the Mets' control through 2013, including a team option. And
Andy Martino
i
n the Daily News
notes the Mets are holding off conducting extension talks now. The reason: It makes sense to see if Wright will be the player who can produce like he was in the season's first four games, or whether as a player who turns 30 in December he is at a stage where his production may irreversibly slip. Read more on Wright's pinkie/status in
Newsday
, the
Record
,
Post
and
Times
.
•
Collin McHugh
limited Portland to one run in 6 2/3 innings and
Jefry Marte
had three RBIs in Binghamton's 5-1 win. Read the full minor league report
here
.
• After
Justin Turner
shoved a shaving-cream pie in Murphy's face following Monday's walk-off win, rather than the preferred whipped-cream pie,
Brian Costa
in the Journal
investigated the origins of the pie-to-the-face tradition. Writes Costa:
There are newspaper references to players being doused with shaving cream after wins as early as the 1960s. But pieing is a more recent phenomenon. Ron Darling, who pitched for the Mets from 1983 to 1991, said it was unheard of when he played. "If somebody had thrown a pie in my face, I would've hit them," Darling said. Dave Racaniello, the Mets' longtime bullpen catcher, recalled former closer John Franco lobbing a few pies in the early 2000s, but only occasionally.
•
Ken Belson
in the Times
profiles
Ralph Kiner
, who turns 90 on Oct. 27. Writes Belson:
Ralph Kiner's 50-year career as a Mets announcer started with a bang in 1962. During his first postgame show, Kiner's guest was Casey Stengel, the omnipresent manager of the fledgling Mets who could fill an entire show with tales tall and small. They sat in a makeshift studio beneath the stands at the Polo Grounds. The interview went smoothly until Kiner thanked Stengel, who got up to leave even though they were still on air. Stengel also forgot to take off the microphone around his neck and, in his haste, pulled down the entire set as he exited.
Belson also recalled Kiner charmingly once saying on air: "It's Father's Day today at Shea, so to all you fathers out there, happy birthday."
Gary Cohen
told Belson: "He is as comfortable in his skin as anyone I know. While he never played for the Mets or another New York team, he embodies the history of the Mets."
TRIVIA: C
ole Hamels
lost consecutive 1-0 starts to the Mets in August 2010. Which starting pitchers did he face in those two games?
Thursday's answer:
A.J. Burnett
is the current major leaguer who had the most career starts against the Mets before finally picking up a win. Burnett was 0-5 with six no-decisions in his first 11 starts against the Mets before finally notching a victory as a Marlin on Sept. 7, 2004.
November, 30, 2011
11/30/11
11:22
AM ET
ESPN.com's Jayson Stark got to the bottom of the Jose Reyes sighting in Philly, including comment from Phillies GM Ruben Amaro, who unequivocally suggested Reyes is not a priority.

Writes Stark:

Fact: Everybody's favorite marquee free-agent shortstop, Jose Reyes, was spotted in Philadelphia on Tuesday, eating at the popular Olde City restaurant, the Continental.

Fact: The Phillies are currently looking for a shortstop, since their longtime incumbent, Jimmy Rollins, is a free agent.

And now the fiction: So clearly, the Phillies were wining, dining and dangling many dollar bills at Reyes in an attempt to make him their next shortstop, right?

Uh, wrong, according to numerous sources. Here's just a sampling of the reaction from assorted Phillies officials to rampant rumors Tuesday linking the Phillies to Reyes:

"That is such bull." . . . "Absolutely nuts." . . . "I haven't heard that guy's name mentioned in our offices in two months." . . . "People can make what they want of it, but this is not a guy for us."

Get the picture?

When ESPN.com tracked down Phillies general manager Ruben Amaro Jr. on Wednesday morning and ran this scenario by him, he replied: "I never talk about free agents, but you can quote me on this. If he was in the Continental in Philly, I have no knowledge of it. I don't even know if he was there. But if he was, I have no knowledge of it."

Amaro reiterated that his team's preference is to re-sign Rollins. But if Rollins goes elsewhere, they're strongly considering giving their minor-league player of the year, 22-year-old shortstop prospect Freddy Galvis, an opportunity either to win the job or share it with a veteran such as Wilson Valdez.

What they're not considering, according to multiple sources, is doing a $100-million deal -- or anything close to it -- to any free agent. And that includes Jose Reyes, no matter where he was spotted eating lunch Tuesday.

So what WAS Reyes doing there? Philadelphia Daily News gossip columnist Dan Gross tweeted Tuesday night that he was simply visiting his daughter.