New York Mets:

Rusty Staub
April, 1, 2013
4/01/13
6:18
AM ET
FIRST PITCH:
Opening Day usually treats the Mets well. Very well. In fact, better than any other major league club.
The Mets are 33-18 on Opening Day, even though they lost the first eight openers in franchise history. The .647 winning percentage is best in the majors.
Today,
Jonathon Niese
makes his first Opening Day start, opposite
San Diego Padres
right-hander
Edinson Volquez
at 1:10 p.m.
Game 2 on Wednesday features
Matt Harvey
against left-hander
Clayton Richard
.
Dillon Gee
opposes left-hander
Eric Stults
in Thursday's matinee series finale.
Read the series preview
here
.
The Mets and Yankees playing simultaneous Opening Days at home will mark the first time two New York teams do so since 1956. That year, the New York Giants opened at the Polo Grounds, while the Brooklyn Dodgers opened at Ebbets Field.
Monday's news reports:
•
Justin Turner
(calf strain)
will avoid the disabled list
, which meant
Zach Lutz
was dispatched to Triple-A Las Vegas. Read more in the
Star-Ledger
and
Post
.
•
David Wright
, who signed an eight-year deal in December, will be
introduced on Opening Day as captain
for the first time today. Writes columnist Ken Davidoff
in the Post
:
You have to be blinded by optimism to think the 2013 Mets have a legitimate chance at a playoff run. So you buckle in for the longer trip, the multi-year climb toward respectability that will mark progress this year with the anticipated big-league debuts of Travis d'Arnaud and Zack Wheeler, Matt Harvey's first full big-league season and Jon Niese's continuing maturation -- commencing today with his first Opening Day start.
And you find hope in Wright, the homegrown star who decided in December to forego a potentially lucrative free agency this coming winter to sign an agreement keeping him around through 2020.
Read more on Wright in the
Star-Ledger
and
Newsday
.
• The Mets
recorded the "Harlem Shake" Sunday
.
• Mike Kerwick
in the Record
writes a feature on Niese. Read more on Niese in the
Daily News
and
Post
.
• Marc Carig
in Newsday
gets players to talk about the special meaning of Opening Day, but colleague Anthony Rieber writes
in the paper
that low expectations have cast a pall among fans.
• David M. Schwartz
in Newsday
writes that Eastern Long Island supplies the sod for Citi Field and Yankee Stadium.
• Kristie Ackert
in the Daily News
gives a position-by-position overview.
• Columnist John Harper
in the Daily News
likens the current state of the Mets with 1983.
•
From the bloggers
… Shannon at
Mets Police
offers a reminder not to confuse the passion of Mets fans with the business agenda of the New York Metropolitan Baseball Club Inc. …
Mestmerized Online
compiles its projected rotations for Mets minor league affiliates.
BIRTHDAYS:
Rusty Staub, who throws out today's ceremonial first pitch, turns 69. ...
Daniel Murphy
turns 28.
TWEET OF THE DAY:
@adamrubinespn Hope he sucks- Hope BAY-Perez stink too Hope DICKEY REYEs rock Beat YANKS-Hope All r wrong On METs # of Wins

— Laurie Glick (@CRAZEDMETS) March 31, 2013
YOU'RE UP: What's your favorite Opening Day memory?
March, 31, 2013
3/31/13
5:49
AM ET
SARASOTA, Fla.
FIRST PITCH:
The Mets have landed in New York.
They will hold a player workout today at Citi Field from noon to 2 p.m.
Tomorrow: Opening Day, with
Jonathon Niese
opposing
San Diego Padres
right-hander
Edinson Volquez
at 1:10 p.m.
Monday's forecast calls for a high of 58 degrees and 10 percent chance of rain.
Sunday's news reports:
• Terry Collins has decided he will not be employing platoons. His
Opening Day, and fairly stable, lineup
: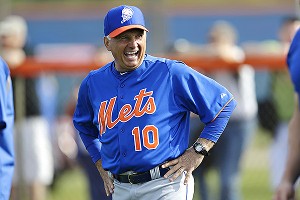 Julio Cortez/Associated Press
Terry Collins says he'll go with starters Marlon Byrd and Collin Cowgill and not platoon in the outfield.

Collin Cowgill
, cf
Daniel Murphy
, 2b
David Wright
, 3b
Ike Davis
, 1b
Marlon Byrd
, rf
Lucas Duda
, lf
John Buck
, c
Ruben Tejada
, ss
Niese, lhp
Cowgill
won the center-field job outright
, although
Kirk Nieuwenhuis
still will be on the major league roster for a role that includes serving as a defensive replacement for Duda.
Jordany Valdespin
will be a bat for the bench, with strategic starts against some right-handers.
The Mets have
one roster decision remaining
.
Zach Lutz
's Opening Day roster fate depends upon whether the Mets place
Justin Turner
(calf) on the DL.
Read more on the roster in
Newsday
and the
Times
.
•
Johan Santana
has
decided to undergo surgery Tuesday
to again repair the torn anterior capsule in his left shoulder. Team doctor David Altchek will perform the procedure. Read more in the
Star-Ledger
,
Times
,
Daily News
,
Post
,
Newsday
and
MLB.com
.
•
Dillon Gee
and
Jeremy Hefner
combined to surrender four homers and the Mets were one-hit in their spring-training finale,
a 7-1 loss to the Orioles
on Saturday. The Mets finished Grapefruit League play 15-15-3.
• Zack Wheeler is
the Opening Day starter
for Triple-A Las Vegas, on April 4 at Sacramento.
• Columnist David Lennon
in Newsday
suggests the Mets ought to have Wheeler start with the major league club and even consider a long-term deal now. Writes Lennon:
If a pitcher of his caliber can be a difference-maker now and help the Mets win immediately and give the impression that Sandy Alderson is not mailing it in this season, there is a compelling argument to start him in Flushing. If Wheeler indeed proves to be the second coming of Dwight Gooden, Alderson can get to work in the not-too-distant future on a long-term contract that makes sense for both sides.
When the Mets first signed David Wright to an extension in August 2006, they bought out three years of arbitration and four years of potential free agency with what became (with the option) a seven-year, $71 million contract. Last April, the Mets gave Jon Niese, who still was a season away from arbitration, a five-year, $25 million extension with two option years that could push the total guaranteed value to $46 million.
• Rusty Staub, who played for the NL pennant-winning '73 Mets, will
throw out the ceremonial first pitch
on Opening Day at Citi Field. Staub turns 69 Monday.
• Left-hander Scott Rice, who was cut at Dodger Stadium on the eve of L.A.'s Opening Day a year ago, will
make his major league debut this week
with the Mets. "It's kind of funny," Rice told Marc Carig
in Newsday
. "Full circle. I flew into Sarasota to start my career in the minor leagues. Now, I'm flying out of Sarasota to go to the big leagues … 14 years later." Read more in the
Daily News
and
Star-Ledger
.
• In minor league camp, the
Mets released major league veterans
Corey Patterson
, Daniel Herrera,
Mike Wilson
and
Craig Hansen
as well as former supplemental first-round pick Brad Holt, Pedro Zapata and Brandon Brown.
• On the outfield, which was mocked this offseason by everyone including the GM, Byrd
told Newsday
: "Embrace it. We have no reason for anyone to believe different. We have to produce to make everyone believe differently."
• Andy Martino
in the Daily News
chats with SNY's Gary Cohen, Keith Hernandez and Ron Darling.
•
From the bloggers
…
Mets Police
asks if you can tell "Game of Thrones" apart from the
New York Mets
.
BIRTHDAYS:
Right-hander Tom Hausman turns 60.
TWEET OF THE DAY:
Home sweet home!!!! Feels good to be back in NYC, #LGM twitter.com/redturn2/statu…

— Justin Turner (@redturn2) March 30, 2013
YOU'RE UP: Which Met deserves the biggest cheer and bigger jeer during pregame introductions Monday?
March, 30, 2013
3/30/13
9:38
AM ET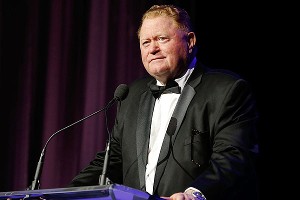 J. Countess/Getty Images
Rusty Staub will throw out the ceremonial first pitch at Citi Field on Monday.

SARASOTA, Fla. -- Rusty Staub will throw out the ceremonial first pitch on Opening Day at Citi Field.
Staub will be celebrating his 69th birthday Monday.
The Mets previously announced that "Shameless" star Emma Rossum would sing the national anthem.
August, 20, 2012
8/20/12
10:57
AM ET
By
Mark Simon, ESPN Stats & Information
A most improbable victory
The Mets won Saturday's game in one of the most unusual manners possible. They whiffed 15 times and managed just three hits.
The Mets are now 2-2 all-time when they manage that combination. The other win came in a game against the Reds in 1965, in which they were no-hit for 10 innings by Jim Maloney (who struck out 18), but scored in the 11th on a Johnny Lewiss homer to win 1-0.

One of the losses actually came earlier this season, also against the Nationals. That makes the Mets the second team since 1920 to win such a game and lose such a game in the same season. That was also done by the 1986 Mariners, whose loss came in the game in which Roger Clemens struck out 20.

Here's the capper to all of this. The Mets 2-2 record when whiffing at least 15 times and managing three or fewer hits looks a lot better when you look at how other teams have fared in such games.

Those other franchises: a combined 3-88 since 1920.

How Niese Won
My Stats & Information colleague, Lee Singer offers this recap of how Jonathon Niese looked so good in his win on Saturday.

Seventeen of the 22 outs Niese recorded came on his cutter (10) and curveball (7), tied for his most outs on those pitches in a game in his career.
Niese had three strikeouts on his cutter and three on his curveball, the first start of his career he had at least three with each.

Niese threw 39 percent cutters, his highest percentage in his last nine starts. Nationals hitters were 1-for-11 in at-bats ending with Niese's cutter.

Niese threw 18 of his 21 curveballs for strikes, a season-high 86 percent. He threw 12 in the zone for strikes, got the Nationals to chase another five and got a called strike on one that Pitch F/X deemed to be out of the strike zone.

Niese missed bats to get to two strikes and then kept the Nationals' bats on their shoulders to put them away. He tied a season high with nine swings and misses before two strikes and tied a career high with five called strikeouts.

Johan's not so grand start
The grand slam allowed by Johan Santana to Mike Morse was the fifth grand slam Santana has allowed with the Mets, setting a club record. He previously shared the mark with Al Leiter, Armando Benitez, Tug McGraw and Ron Taylor.

The Mets have now allowed 30 grand slams in the last five seasons, tied with the Cubs for most in the majors. The Nationals have the most against them with five.

Santana is the first pitcher to allow six earned runs or more in five straight appearances since Mike Hampton in 2001-2002 and the first to do so in a single-season since Willie Blair in 1999.

Santana has allowed at least six earned runs six times this season. The only pitchers to have more such games in a season in Mets history are Al Jackson (1962, 7) and Tom Glavine (2007, 7)

Santana currently has a 4.85 ERA. The highest single-season ERA by a Mets pitcher who threw multiple shutouts that season (remember: Santana's no-hitter was his second straight shutout) is 4.40 by Jackson in 1962.

Tejada a road warrior
Ruben Tejada had his 16-game road hitting streak snapped on Saturday.

Only three Mets whose primary position was middle infield have had longer road hitting streaks than that – Jose Reyes (24 games in 2010, 17 in 2008), Jose Vizcaino (21 games spanning 1995 and 1996), and Ken Boswell (17 games in 1971). Edgardo Alfonzo had a 17-gamer as well, split between third base in 1998 and second base in 1999. Rey Ordonez matched Tejada's streak in 1999.

July, 25, 2012
7/25/12
4:59
PM ET
By
Mark Simon, ESPN Stats & Information
The worst of times continued for the Mets, with this 1-11 start out of the All-Star break marking their worst such stretch in franchise history. They've now lost 12 of 13 overall.

Here's a recap of the latest downward turn, a sweep by the Nationals that closed the team's first winless homestand of six or more games since 2002.

Putting a Positive Spin on It
Jordany Valdespin broke the Mets record for pinch-hit home runs in a season.

His 5 pinch-hit homers are two shy of the major-league record of seven, set by Dave Hansen for the 2000 Dodgers and matched by Craig Wilson for the 2001 Pirates.

Valdespin is well short of the Mets mark for pinch-hit RBI in a season. Rusty Staub set that (and tied the major league mark held by Joe Cronin and Jerry Lynch with 25 in 1983.)

Extra, Extra, Read All About It
Monday's bizarre extra-inning loss had a few notable aspects to it.

Elias noted that the Mets became the third team since 1900 to lose consecutive games, each in extra innings, each by at least five runs. They joined the 1973 Astros and 1994 Angels.

This is the third time in Mets history that they've had two extra-inning losses by at least five in the same season. This also happened in 1980 and 1985. The only team since 1901 with three such losses is the 2002 Royals.

It marked the seventh time that the Mets lost consecutive extra-inning home games, the first since 2009. The other instances were in 1976 (twice), 1979, 1980, and the World Series-winning season of 1986.

Bryce Not Nice to Mets
With three RBI in Monday's game, Bryce Harper became the second teenager with a pair of multi-RBI games against the Mets.

The other was future Met great Rusty Staub for the 1963 Astros (then known as the Colt .45's).

Harper tied the "record" for most RBI in a game by a teenager against the Mets with three. That mark is shared with one-game wonder John Paciorek (1963 Colt 45's) and Cesar Cedeno (1970 Astros).

Later in the series Harper would strike out three times against R.A. Dickey. He's Dickey's most frequent strikeout victim this season, with six whiffs.

Harper is hitting .238 (10-for-42) against the Mets this season He is 0-for-10 against Dickey, with his 27 swings resulting in 19 foul balls, five swings and misses, and three balls put into play.

He's only hit the ball to the outfield once against Dickey and that was a harmless flyout.

Murphy chasing a .400 month
Daniel Murphy went 1-for-7 in the final two games of the series, dropping his batting average for the month to .415.

Only two Mets have hit .400 in a July in which they had 50 plate appearances- Mackey Sasser in 1990 and Paul Lo Duca in 2006. The last Met to hit .400 or better in a calendar month from April to September is David Wright in June, 2010.

Minor League Metric of the Week
Zack Wheeler and the Binghamton Mets had a rough go on Wednesday, losing to the New Britain Rock Cats, 11-2. In that game, Rock Cats prospect Aaron Hicks outhit the B-Mets, 5-4.

For those wondering how often the parent club has had such a thing happen (allowed a five-hit game and managed fewer than five hits themselves), the parent Mets have been victim to that three times in the last 15 seasons.

The most recent instance was on June 26, 2009, by Yankees outfielder Brett Gardner, who outhit the Mets, 5-3.

May, 28, 2012
5/28/12
7:16
AM ET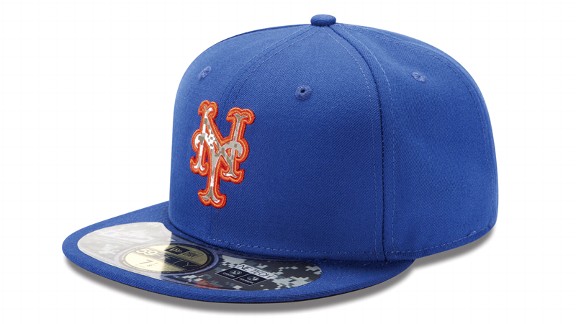 Courtesy of New Era
The Mets, along with the rest of baseball, will wear special caps on Memorial Day. This time, the team colors will remain and camouflage will fill the logo.
R.A. Dickey
,
Tim Byrdak
and
Frank Francisco
combined on the shutout as the Mets upped their scoreless streak to 26 innings and moved six games over .500 for the first time since July 18, 2010 with a
2-0 win Sunday against San Diego
. The Padres, who were shut out by
Johan Santana
the previous day, did not score after
Jesus Guzman's
first-inning sacrifice fly against
Dillon Gee
on Friday.
The scoreless streak is the longest by a Mets staff since going 35 innings from May 25-28, 2010 -- which came primarily during three straight shutouts of the Phillies. The franchise record, if you want to get greedy, is 42 straight scoreless innings from Sept. 23-28, 1969.
After consecutively facing the Pirates and Padres, the Mets now see a
major upgrade in competition
. The next eight series all come against teams with winning records: Philadelphia (25-24), St. Louis (26-22), at Washington (29-18), at the Yankees (26-21), at Tampa Bay (29-19), Cincinnati (27-20), Baltimore (29-19) and the Yankees again, at Citi Field. Then, finally, comes a reprieve at Wrigley Field against the Cubs, who currently own a 15-32 record, tied with Minnesota for worst in the majors.
Cole Hamels
(7-1, 2.17 ERA), who is tied with Dickey, St. Louis'
Lance Lynn
and Los Angeles'
Chris Capuano
for the National League lead in victories, opposes
Jon Niese
(3-2, 4.29) in Monday's 1:10 p.m. series opener against Philadelphia.
The Mets, along with the rest of Major League Baseball, will wear special Memorial Day caps today. In a departure from the previous four seasons, though, the caps will remain in Mets colors. Instead, the logo will be filled with camouflage.
Monday's news reports:
• The Mets' revival of Banner Day, which had been shelved after 1996, appeared a success.
Olivia Nuzzo
and
Stephanie Giangrande
, cousins from Brooklyn, were declared winners by a celebrity panel of
Dwight Gooden
,
Rusty Staub
,
Howie Rose
and
Evan Roberts
. They won a trip to next year's spring training for capturing
Mike Piazza's
homer in the first game in New York after 9/11. More than 300 banners were entered. Gooden then threw out the ceremonial first pitch and shook hands with Dickey before departing the field. View a photo gallery in the
Times
. Read more in
Newsday
and the
Daily News
.
• Dickey
fanned 10 Padres on Sunday
, becoming the first Met with consecutive double-digit strikeout games since
Pedro Martinez
from May 9-14, 2006. Umpire
Tim Tschida
, who has called major league games since 1986, including 13 of retired knuckleballer
Tim Wakefield's
appearances, told
Terry Collins
he had never seen a baseball move like Dickey's did Sunday, according to the manager. Byrdak, now on pace for 95 appearances, had another major contribution -- stranding a pair of runners inherited from Dickey in the eighth by retiring lefty hitters
Alexi Amarista
and
Will Venable
. Francisco had a 1-2-3 ninth and has now retired 12 straight batters. Lefty batters are now hitting .103 (3-for-29) against Byrdak this season. The players sang "Happy Birthday" to Collins in the clubhouse postgame. He turned 63 Sunday. Read game recaps in the
Times
,
Record
,
Star-Ledger
,
Newsday
,
Post
and
Daily News
.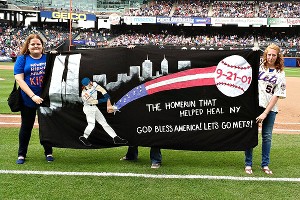 Courtesy of New York Mets
Cousins Olivia Nuzzo and Stephanie Giangrande show off the winning entry in the revival of Banner Day.

•
David Wright
was hitless for a third straight game as his average, which had climbed to .415 in Pittsburgh last week, slipped to .382. Columnist
Bill Madden
in the Daily News
, by the way, thinks it's going to take 10 years to get Wright signed -- although
Ryan Zimmerman's
six-year, $100 million extension on top of the $26 million that remained for two seasons when the Nats third baseman agreed to the new deal seems like the actual baseline. Madden also asserts Wright will need to be convinced the Mets are building a sustained winner. Writes Madden:
That's what's going to take -- a 10-year, Derek Jeter/Joey Votto-like contract. And, if Wright does decide go into free agency after the 2013 season, the Mets can probably kiss him goodbye. That's why this season is so imperative for them.
Wright, in case you missed it, is bending on his one-time claim to hold off on marriage and children until after his playing career. Wright told
Steve Serby
in the Post
in a Sunday Q&A: "You see the guys bring their kids into the clubhouse and kinda hang out with them in the clubhouse and stuff, and that's really cool. So, hopefully that's in the cards for me."
As for Wright's 0-for-10 "slump," read more in the
Post
,
Record
and
Daily News
.
•
Bob Ojeda
writes about the pain he went through as a major league pitcher
in the Times
. In a lengthy piece, Ojeda writes this about this medical intervention leading up to his start in Game 6 of the 1986 NLCS:
The team doctor was in Washington. I was in New York. The game was in Houston. So the team trainer called and told me to meet him at Shea Stadium. I went into the trainer's room, and he gave me two needles and two vials: one with a numbing agent and the other with cortisone. I stuffed them in my leather jacket, grabbed a cab over to La Guardia Airport and hopped the shuttle down to Washington. I met the doctor at the hotel, where he was attending a conference. He probed my elbow because, for the best result, he needed to hit the spot where it hurt most. ...
On Oct. 15, I went to the bullpen and started to throw. It was not going well. It felt like I had two sandbags stuffed in my elbow. I was in trouble, I remember thinking, but I figured I had to try. I gave up three runs in the first inning. Davey Johnson, the manager, stayed with me. A big deal. For him. For me. For my elbow, from which the sand had started, grain by grain, to run out. I went five innings. We won in 16. My left arm and I were going to the World Series.
•
Chris Young
will
move to Triple-A Buffalo
for his fourth minor league appearance since May 16, 2011 surgery to repair a torn anterior capsule in his right shoulder. Young is due to pitch on an extra day of rest Thursday, following starts by
Matt Harvey
on Tuesday and
Jenrry Mejia
on Wednesday and preceding a start by
Jeurys Familia
on Friday. Young's start will come in a 10:35 a.m. game against Columbus (Indians) and will be televised by MLB Network.
In three starts with Class A St. Lucie, Young went 1-0 with a 3.18 ERA. He allowed 17 hits and two walks while striking out seven in 17 innings. He did require nine days before his final Florida State League start, because of "dead arm" as well as the birth of a child, but apparently feels well enough to move to the higher level. Young has an opt-out in his contract on Friday. He has another opt-out on July 1 if he is not in the majors by then and wishes to declare free agency.
Chris Schwinden
,
Miguel Batista
and
Jeremy Hefner
have combined to go 1-2 with a 6.23 ERA in six starts in the rotation slot initially owned by
Mike Pelfrey
.
• Columnist
John Harper
in the Daily News
writes about the upcoming schedule:
Beating up on inferior opponents is a vital first step for any team that wants to be a contender. The Mets just won five of seven against the Pirates and the Padres to raise their record to 27-21, the first time they've been six games over .500 since July of 2010. But now we're about to find out if they can take the next crucial step in the evolution, as the schedule dares the Mets to prove they're for real over the next few weeks.
Columnist
Kevin Kernan
in the Post
also addresses the games ahead.
•
Ruben Tejada's
return from a right quadriceps strain is not going as smoothly as desired. Tejada experienced tenderness trying to run the bases in Port St. Lucie, Fla. Instead of a rehab game today, Tejada may be limited to grounders. Tejada's replacement at shortstop,
Ronny Cedeno
, sat Sunday with the same left calf issue -- officially labeled a cramp -- that forced him to depart Saturday's game.
Justin Turner
started at shortstop in the series finale against the Padres.
Josh Thole
(concussion) should play for the first time in an extended spring training game Monday. Batista (oblique/lower-back strain) is due for a rehab start Tuesday.
Pedro Beato
, on a rehab assignment after opening the season on the DL with a shoulder issue, made his first appearance for Triple-A Buffalo on Sunday after moving from St. Lucie. He retired two batters and issued a walk. Read more injury coverage in the
Star-Ledger
and
Daily News
.
Incidentally, when Thole returns, the Mets likely will have a
Mike Nickeas
or
Rob Johnson
issue to sort out in terms of whom to demote. Johnson does have a minor league option remaining though, so he -- like Nickeas -- does not need to be exposed to waivers if the Mets decide to go that route and retain Nickeas at the major league level as Thole's complement.
May, 13, 2012
5/13/12
8:09
AM ET
David Wright
lifted his average to .402 with a 4-for-6 performance that included a homer and three RBIs. And the Mets rebounded from a series-opening late-inning meltdown to
beat Miami, 9-3, on Saturday
at Marlins Park.
Sunday's news reports:
•
R.A. Dickey
was
drilled on the inside of the right wrist
on a pitch from
Ricky Nolasco
while the knuckleballer batted in the fifth inning. Dickey said he did not believe X-rays would be necessary, but he noted he was curious how the wrist would feel this morning. Read more in
Newsday
, the
Star-Ledger
,
Daily News
,
Post
and
Record
.
• Read game recaps, including coverage of Wright's big game, in the
Record
,
Post
,
Daily News
,
Newsday
,
Star-Ledger
and
Times
.
• My take on Wright: It's becoming increasing clear he will remain a Met long term:
After this season, once Chipper Jones has retired, you will be able to count on Antonio Alfonseca's right hand the number of active players who have appeared in more major league games than David Wright and done so in only one uniform. Derek Jeter. Todd Helton. Ichiro Suzuki. Michael Young. Jimmy Rollins. Brian Roberts. And it is difficult to envision Wright, who has logged 1,136 games as a New York Met, moving elsewhere and getting sidetracked from ascending that list.
Read the full column
here
.
•
Jose Reyes
went 4-for-5 -- all singles -- in the loss. He is now hitting .256. "I got four hits today, but I'm still not quite where I want to be," Reyes said, according to
Mark Herrmann
in Newsday
. "But it's getting close."
•
Mike Kerwick
in the Record
offers a reminder that the next wave of pitching --
Matt Harvey
,
Jeurys Familia
and
Zack Wheeler
-- will be given time to develop in the minors and not rushed soon to the big leagues. Writes Kerwick:
What the Mets pluck from this season is a bonus, a tribute to Mets manager Terry Collins' ability to coax the most out of three dominant starters (Johan Santana, R.A. Dickey, Jon Niese) and the top of his lineup (Is David Wright having a nice season or what?). Next season that changes. Expectations inflate. If at least one of those kids is not on the opening day roster, something will have gone wrong. For now: Patience, young Skywalker. The kids will get here, maybe even by season's end. Until then, put up with these short-term rental agreements. More-promising tenants will be here before you know it.
•
Charley Thurber
,
Albert Cordero
and
Travis Taijeron
all homered in Savannah's 8-4 win at Hickory. Read Sunday's full minor league recap
here
.
•
Anthony McCarron
in the Daily News
profiles
Octavio Dotel
, who has played for 13 teams, including the Mets, his original organization. Dotel's April 7 appearance for the Detroit Tigers allowed him to pass
Matt Stairs
,
Mike Morgan
and
Ron Villone
for the major league record for most uniforms donned, according to the Daily News. Writes McCarron:
He chuckles when someone suggests he pursue an endorsement deal with Samsonite, the luggage company. "It's easy for me," Dotel says of the record, which he embraces and even admits he looked forward to holding. "Some guys, it might be difficult, but for me, going from one city to another city, one stadium to another stadium, one team to another team, it's normal."
•
Dwight Gooden
,
Rusty Staub
,
Howie Rose
and
Evan Roberts
will serve as judges, along with one later addition, for the May 27 revival of Banner Day,
according to the Daily News
.
•
Daniel Murphy
discusses his relationship with God, his engagement and dealing with the pressures of baseball with
Andy McCullough
in the Star-Ledger
.
TRIVIA:
Who produced the first Mets hit at Marlins Park?
Saturday's answer:
Mike Marshall
has the single-season major league record for relief appearances. Marshall appeared in 106 games with the Los Angeles Dodgers in 1974.
May, 3, 2012
5/03/12
7:38
AM ET
Chris Schwinden
lasted only four innings and served up two homers in a game for the second time on the six-game road trip. Meanwhile,
Manny Acosta
, who combined with Schwinden to surrender an 11-run inning in Denver, also again struggled. As a result, the
Mets lost to the Astros, 8-1
, Wednesday and were swept in the three-game series. The Mets finished their trip 2-4. It marked the Mets' final visit to Houston before the Astros relocate to the American League West.
"I think that series in Colorado -- and it's not an excuse, because there's a lot of teams that have to play in Colorado -- but I think that series took a lot out of us," said
David Wright
, who went 4-for-10 with two walks in Houston. "And then, coming here, I don't want to say we weren't prepared, because we were prepared. We just didn't match the energy and the execution that we had in Colorado. You know, we knew we were going to have some ups and downs, especially with a lot of the young guys that we have on this roster playing right now. But this is what we need to fix if we want to become the team that we think we are capable of becoming. There are way too many inconsistencies right now. It seems like we play great for a series and then poorly for a series. And we're going to have to straighten that out."
Thursday's news report:
•
Terry Collins
offered no assurance Schwinden
would remain in the rotatio
n after a second straight underwhelming appearance in the spot vacated by
Mike Pelfrey
, who underwent season-ending Tommy John surgery Tuesday. Mets officials have an off-day Thursday to sort through the options. In Schwinden's two starts in Pelfrey's absence, the Rockies and Astros combined to score 26 runs in those games. Wright did say that Schwinden was sick.
Jeremy Hefner
, who tossed three scoreless innings during the doubleheader against the San Francisco Giants on the last homestand, would be one logical alternative.
Miguel Batista
is in the bullpen as a long reliever/spot starter and could always take over the role, especially since the Mets are going to soon need to open a bullpen spot for
D.J. Carrasco
anyway. Heck, Carrasco did log three innings for Class A St. Lucie in one rehab appearance last week.
Read Wednesday game recaps in the
Times
,
Journal
,
Newsday
,
Star-Ledger
,
Record
,
Post
and
Daily News
.
•
Chris Young
may be ready in a month, but he is
not scheduled to proceed to a minor league game
for his next outing. Young threw a 75-pitch simulated game Monday. His fastball velocity was about 85 mph, according to one Mets official.
• Collins adamantly said last week that
Matt Harvey
and
Jeurys Familia
are staying put at Triple-A for the majority of the season, not considerations to plug Pelfrey's rotation spot. And that's the proper call. Read my take
here
.
• Harvey's latest outing at Triple-A was cut short Wednesday because of a 23-minute rain delay. He tossed four innings, too short to qualify for the win in Buffalo's 5-2 victory against Syracuse. Harvey allowed two runs on three hits, two walks and three strikeouts. He threw 68 pitches (36 strikes). Newly installed Mets rules prevent a minor league starter from returning to the mound after a rain delay if he already has logged two innings. Writes
Mike Harrington
in the Buffalo News
about the hoopla surrounding Harvey:
Harvey said he's trying to keep an even keel in preparing for each outing but is aware there's a lot more external noise in Triple-A. "You really do everything you can to not pay attention to it," Harvey said. "It's there so I'm not going to completely try to avoid it. You can bring it in a little and use it as fire to succeed and do the best I can."
"Matt just needs to throw quality start after quality start," [Wally] Backman said. "If he goes out there and does that eight or nine times in a row, it's going to make people wonder and think. But I don't think [a callup] is going to happen right now. It's still a learning process."
Read Wednesday's full minor league recap
here
.
•
Tim Byrdak
and Astros slugger
Carlos Lee
jawed during Wednesday's game
.
• Arizona Diamondbacks left-hander
Wade Miley
topped
Kirk Nieuwenhuis
for NL Rookie of the Month
. Miley faces the Mets on Friday at Citi Field.
•
Lucas Duda
was due to return for the series finale in Houston after a two-game absence because of the flu, but the right fielder was
pulled from the starting lineup
shortly before the first pitch. Duda was limited to a pair of pinch-hitting appearances in the series. He walked on Monday and struck out Tuesday. Read more in the
Star-Ledger
and
Record
.
• Before his ties to the Mets,
Rusty Staub
originally played in Houston. Actually, the Astros first were known as the Colt .45s when Staub arrived in the majors in 1963. Staub actually will throw out the ceremonial first pitch before Friday's Astros home game, as Houston -- like the Mets -- celebrates 50 years of baseball existence.
Here's Staub's observation as the Astros move to the American League, severing the annual home-and-home series with the Mets: "In the early years the teams were always compared -- which city was going to be better in the long run," Staub told
Roger Rubin
in the Daily News
about the Astros and the Mets. "The Mets went for credibility with names, but Houston looked better with a group of young players like
Joe Morgan
, me,
Sonny Jackson
and
Dave Giusti
. We changed owners and all of us ended up getting traded. Then the Mets changed philosophies and went young with
Tom Seaver
and
Jerry Koosman
, and it sent them to that incredible 1969 World Series."
•
Mark Winegardner
in ESPN The Magazine
tells the story of how
Bobby Bonilla
and the Mets came to strike that deal that now pays the former outfielder $1,193,248.20 per year for 25 years. He also discusses how Bonilla wondered about the security of future payments as
Fred Wilpon
and family went through the
Bernard Madoff
trials and tribulations. Writes Winegardner:
Last July, in her New York office, a financial planner by the exquisitely apt name of Jennifer Prosperino received her weekly call from a longtime client. He was a semiretired man in Florida who'd grown up evading gunfire in the South Bronx, where he'd lived in firetrap apartment buildings with junkies in the hallways. He slept with a baseball bat in his bed, dreaming of a better life. His first question for Prosperino was the one he always asked: "Am I going to be okay?" Days earlier, the client, employed part time by his former union, had received a check from the New York Mets for $1,193,248.20 -- the first of 25 annual, identical payments he is guaranteed from a club he last played for in 1999. That means Bobby Bonilla, 49, will make more money than 17 players on the Mets' Opening Day roster.
TRIVIA:
Which player has the most homers in Citi Field's three seasons as a Diamondback?
Wednesday's answer:
Art Howe's
hitting coach with the Mets in 2003 was
Denny Walling
.
Vern Ruhle
served as the pitching coach.
February, 15, 2012
2/15/12
6:34
AM ET
Five days before Mets pitchers and catchers officially report on Monday, the Mets' spring-training complex already is abuzz with activity. Among the most prominent players already making appearances in Port St. Lucie:
Johan Santana
,
David Wright
,
Ike Davis
,
Daniel Murphy
,
Lucas Duda
,
Josh Thole
,
Mike Nickeas
,
Dillon Gee
and
Bobby Parnell
.
Wednesday's news reports:
•
Fred Wilpon
is on the ownership committee that is vetting prospective Los Angeles Dodgers owners,
Ron Blum
of the Associated Press reports. The committee chairman is
Bill Bartholomay
, former chairman of the Atlanta Braves. Other committee members include Baltimore Orioles chairman
Peter Angelos
, St. Louis Cardinals chairman
Bill DeWitt
, Seattle Mariners chairman emeritus
John Ellis
, Detroit Tigers owner
Mike Ilitch
and Yankees managing general partner
Hal Steinbrenner
.
The Wilpon family has no intention of willingly selling the Mets, it has appeared, but obviously this affords them insights on deep-pocketed individuals should they ever need to relinquish the team. No more bailouts are expected from MLB if the Wilpons cannot meet their debt obligations, such as any potential inability to repay or rework their $40 million bridge loan with Bank of America.
Writes Blum:
Bartholomay said the committee will investigate "very deep" into not just the lead individuals of the groups, but also the proposed limited partners and corporations that plan to invest. The process was agreed to by Major League Baseball and Dodgers owner Frank McCourt in a deal filed with the U.S. Bankruptcy Court in Delaware. MLB agreed to process up to 10 bidders. Normally, Bartholomay's committee processes only the finalist to purchase a franchise. "Let's face it, when you have the United States government involved, it takes a different profile," he said.
Meanwhile,
Ken Rosenthal
assesses the Wilpons' long-term viability
.
• GM
Sandy Alderson
-- of Twitter fame (@MetsGM) -- appeared on WFAN on Tuesday afternoon (
listen here
).
Alderson noted the Mets had no high-profile offseason acquisitions except for in the bullpen, which added
Frank Francisco
and
Jon Rauch
, but he maintained the team has the potential to be better than 2011, when the Mets went 77-85. He acknowledged the payroll decline is more precipitous than he expected, but also spun the $52 million freefall as being not as catastrophic when you consider
Oliver Perez
and
Luis Castillo's
contracts were on the books as dead weight last year since they were released in spring training. "I didn't come here to operate the Oakland A's, and I don't expect to have to do that on a long-term basis," Alderson said. He quickly added: "And am not doing that currently."
According to Alderson, Santana is scheduled to return to the mound Friday. Santana took a winter hiatus from mound work to have a semi-typical type of offseason and allow his body to recuperate after rehabbing a year from Sept. 14, 2010 surgery to repair a torn anterior capsule in his left shoulder. "It's going to be hard for us to fully predict what's going to happen once he gets on the mound, throws his bullpen, throws his first two or three innings in a game," the GM said. "But as we stand here today, we expect him to be ready to go [for the season]."
Of course, Santana already pitched in minor league games last year. The biggest question is whether he can sustain a pitching workload that would require him to get on the mound in a game every fifth or sixth day. And that won't be known until Grapefruit League games, or even into the regular season.
Meanwhile, Alderson also acknowledged in his radio interview that there is very little actual competition for starting position-player roles. Pressed about whether even
Justin Turner
might give Murphy a battle at second base, Alderson stood by his original comment that things are straightforward. According to
Terry Collins
, the projected lineup likely is:
Andres Torres
cf, Murphy 2b, Wright 3b, Davis 1b,
Jason Bay
lf, Duda rf, Thole c,
Ruben Tejada
ss.
Alderson does not dismiss Murphy or Tejada getting the leadoff nod instead, if only because the Mets might as well try to maximize on-base percentage if they don't have a speedster atop the order. Torres had a .343 OBP in 2010 vs. .312 in 2011. "You can't be the leadoff guy with a .310 on-base percentage," Alderson said. Still, the GM acknowledged Murphy is "not the first choice" to bat No. 1.
As for Turner, Alderson correctly noted that even if he's not a true second-base challenger to Murphy for Opeing Day, last year Turner ultimately emerged as a regular at second base. That came after a progression of people planned for the position, including Rule 5 pick
Brad Emaus
, had issues that disqualified them.
Regardless, Alderson projected Torres as a defensive upgrade over
Angel Pagan
, but noted there's a big discrepancy in Torres' offensive production between 2010 and 2011.
"Subject to health in Johan's case," Alderson said, the rotation is similarly pretty much set with Santana,
R.A. Dickey
,
Jon Niese
,
Mike Pelfrey
and Gee. Alderson noted the depth behind those five is thin, because the prospect quartet of
Zack Wheeler
,
Matt Harvey
,
Jeurys Familia
and
Jenrry Mejia
(who had May 2011 Tommy John surgery) is not ready for early season contributions. (Alderson called those four critical for 2013 and 2014.) The GM cited
Chris Schwinden
and
Miguel Batista
as the rotation safety net. The Mets also claimed
Jeremy Hefner
off waivers and signed
Garrett Olson
during the offseason.
Alderson added that he expects a lot of back-end-of-the-rotation-type pitchers to become available late in spring training. That's because the new collective-bargaining agreement requires teams to pay major league-experienced players who came to camp as free agents on minor league contracts a $100,000 lump sum if they continue on with that organization into the season but don't make the Opening Day roster. Those players also have the right to opt out June 1. To avoid the lump-sum payment, the player must be released five days before Opening Day. Alderson predicted lefty-hitting backup outfielders will become available before Opening Day for the same reason and the Mets won't necessarily have to rely on
Mike Baxter
or
Adam Loewen
for that role. The Mets watched
Kosuke Fukudome
sign with the Chicago White Sox on Tuesday.
Overall, Alderson acknowledged 22 to 23 roster spots are pretty much set, barring injury. That lefty-hitting outfield bench spot as well as the final spot in the bullpen behind Francisco, Rauch,
Tim Byrdak
, ex-Giant
Ramon Ramirez
,
Manny Acosta
and Parnell would be the obvious competitive roles. Alderson also was not ready to anoint Nickeas as the backup catcher, even though that is the likely direction.
Read more coverage of Alderson's radio interview in articles from
Peter Botte
in the Daily News
as well as
in the Times
.
• Former major league catcher
Bob Geren
, now the Mets' bench coach, will work with Thole. Meanwhile, Murphy is getting his tutorial at second base from new third base coach
Tim Teufel
, which included work Tuesday in Port St. Lucie, according to
Andrew Keh
in the Times
. (You may recall
Keith Hernandez
gave Murphy a tutorial at first base under similar circumstances a couple of years ago when Murphy was learning first base.) One Teufel tip is for Murphy to start plays a couple of feet closer to second base, Keh writes, which should provide more time to make the play and then get out of the way around the bag. Murphy's last two seasons have ended with MCL injuries suffered on opponents' slides into second base. "Dan is a good offensive player who's got some things to work on defensively, and that's kind of where I was, too," Teufel told Keh while reflecting on his own career. "I wasn't the best double play-turner, but I worked on it, and I became efficient, and that's what we want out of Dan."
Alderson, in his radio interview, said Murphy will wear a brace on the right knee, which he injured in 2010, but not on the left knee he injured last season. Read more on Murphy and Teufel in
Newsday
.
•
Josh Lewin
officially has been named
Howie Rose's
radio partner for the 2012 season. Lewin replaces
Wayne Hagin
, whose contract was not renewed. Lewin, 43, most recently called Texas Rangers games on TV from 2002-2010. He can be found on Twitter at
@joshlewinstuff
. Lewin tweeted that he will continue to call San Diego Chargers games next NFL season. Lewin grew up a Mets fan in Rochester, according to
Ken Belson
in the Times
. Read more in
Newsday
.
• Santana joked Tuesday to
Andy McCullough
in the Star-Ledger
that Friday's upcoming session off a mound, his first of 2012, should be on pay-per-view. Collins told
Dan Martin
in the Post
that the upcoming session will only be at 75 to 80 percent.
• The Mets plan to have five bobblehead days this season -- tied to this being the 50th anniversary of the team's inaugural season in 1962. The ex-Mets included:
Tom Seaver
on April 22 vs. San Francisco,
Rusty Staub
on May 26 vs. San Diego, Hernandez on June 17 vs. Cincinnati,
Edgardo Alfonzo
on July 21 vs. Los Angeles and
Mike Piazza
on Aug. 25 vs. Houston.
David Lennon
of Newsday tweeted that the Mets will wait to retire Piazza's No. 31 until he is selected to the Hall of Fame in Cooperstown, by the way. Lennon also predicted Piazza will get in on the first ballot, and that the plaque will include a Mets cap. (I'm not sure Piazza will be voted in Year 1 -- he needs 75 percent of ballots submitted -- but I agree the Hall very likely will put him in as a Met.)
• Duda
told the Post
he got a lot out of a conversation with the fellow Southern Cal alum Seaver late last season. "He told me to not worry about doing too much and to take a deep breath, basically," Duda told the newspaper. Said hitting coach
Dave Hudgens
about Duda: "He has to try and tone down his movement at the plate. He gets so geared up and tries to do too much. But he reminds me of [
Jason
]
Giambi
a little bit. He uses the whole field and has good discipline that will get better."
• Davis maintains his left ankle, which he injured May 10 in Denver, is OK. "I feel normal," he
told the Star-Ledger
. "If it was still bothering me, I'd be nervous. But I'm good to go. If I play horrible, it's not my ankle's fault. It's just because I'm not very good." Collins told McCullough he will give Davis extra at-bats, potentially as a DH, in Grapefruit League games because he has been away from seeing live pitching for so long.
TRIVIA:
Since the Mets' inception in 1962, which Canadian-born player has appeared in the most major league games with the team? (Give it a shot answering in the comments section. Answer coming tomorrow.)