September, 24, 2012
9/24/12
8:00
AM ET
After an intentional walk to
Fred Lewis
with with first base open loaded the bases,
Ruben Tejada
delivered a game-ending RBI single against
Ryan Webb
as the Mets completed a sweep of the
Miami Marlins
with a 3-2 win Sunday at Citi Field. It became the second walk-off hit of Tejada's career, joining a Sept. 28, 2010 two-run double against
John Axford
that beat the
Milwaukee Brewers
.
David Wright
opened the scoring Sunday with a two-run homer in the first inning against
Ricky Nolasco
. Wright now has 1,415 career hits, within three of matching
Ed Kranepool's
franchise record.
The Mets now welcome the plummeting
Pittsburgh Pirates
to Flushing for the last home series of the season. The four-game series begins with
Jenrry Mejia
(0-1, 9.00 ERA) making his second major league start this season, opposite right-hander
Kyle McPherson
(0-1, 2.25).
Collin McHugh
faces left-hander
Wandy Rodriguez
on Tuesday and
Jeremy Hefner
faces left-hander
Jeff Locke
on Wednesday. The home finale Thursday features
R.A. Dickey
bidding for his 20th victory. He opposes right-hander
Kevin Correia
at 1:10 p.m.
Pittsburgh (75-77), which has faded to 6½ games back and irrelevancy in the wild-card race, is bidding for its first winning season since 1992. The Pirates have won only five of their past 22 games.
Monday's news reports:
• Closer
Frank Francisco
, who last appeared Sept. 16, continues to be unavailable because of right elbow woes.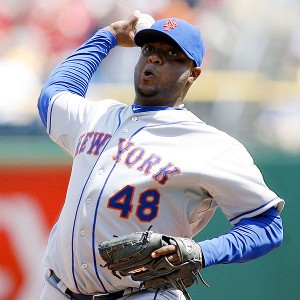 Charles LeClaire/US Presswire
Frank Francisco may not reappear this season.

Francisco underwent an MRI a week ago, and the team continues to label the injury tendinitis. With the season concluding in nine days and Francisco under contract for next season at $6.5 million, it may be most wise to shut the closer down for the season. Read more in the
Star-Ledger
and
Record
.
• Wright's first and second halves have been dramatically different. In fact, the third baseman is struggling to stay above .300 for the season. After a 1-for-4 game Sunday that included the long ball, he is only four points above the mark. Writes
Roderick Boone
in Newsday
:
After an impressive first half in which he hit .351, Wright's hitting has tailed off significantly these past three months. Sure, he's three hits shy of tying Ed Kranepool for the franchise's all-time hits mark at 1,418. But he's batting just .253 since July 1. So something as simple as drilling his second home run since Aug. 24 can certainly be seen as a positive development for Wright, whose manager wants to see him end the season on a high note. "I think it's really important for David to finish strong. I really do," Terry Collins said. "For what he did the first 2½ months of the season, I don't think you're going to see that very often. I want him to finish strong. I want him to break the hit record at home." ...
Wright, who entered Sunday's action batting .225 this month, seemed like he was just glad to have something tangible to hang his fitted cap on after all his struggles at the plate. "I felt like recently I've had some good at bats and not much to show for it," he said. "That's kind of the way it happens sometimes, the law of averages kicks in at some point. [Hitting] .350 is tough to keep up the entire year. I've felt good with where I've been at. As far as the at-bats I've been having, I'm disappointed in the results lately. I haven't been seeing exactly the results that I've wanted to. But I'm happy with the process and hopefully can finish up strong."
• Read game recaps in the
Times
,
Post
,
Star-Ledger
,
Daily News
and
Record
.
• Israel failed to qualify for the World Baseball Classic, which will be held during spring training. The squad lost 9-7 to Spain in 10 innings in the finals of a qualifier in Jupiter, Fla. Mets farmhand
Josh Satin
went 1-for-6 with one RBI in the defeat. Fellow Mets minor leaguer
Jeff Kaplan
allowed one run in 1 1/3 innings in middle relief. Check the box score
here
.
TRIVIA:
Which pitcher led the Pirates in victories during their last winning season?
Sunday's answer: Dickey joined
Tom Seaver
(five times),
Dwight Gooden
(twice),
Jerry Koosman
and
David Cone
as the only pitchers in franchise history to notch 19 wins and 200 strikeouts while logging 220 innings.
May, 11, 2012
5/11/12
10:17
PM ET
WHAT IT MEANS: The Miami Marlins turned the tables on Frank Francisco and the comeback kids.

Charged with protecting a one-run lead in the ninth, Francisco suffered a blown save after Giancarlo Stanton produced a leadoff double and Emilio Bonifacio plated him with a one-out single.

Bonifacio then swiped second -- his franchise-record 18th straight successful steal to open the season -- and scored the winning run in Miami's 6-5 victory when Greg Dobbs singled with two out.

Francisco (1-2) suffered his second blown save in 10 chances.

To that point, the Mets had been poised for their MLB-high 12th comeback win of the season.

Pinch hitter Mike Baxter delivered a tiebreaking two-run double with the bases loaded against reliever Ryan Webb in a three-run eighth to give the Mets a 5-3 lead.

Instead, the loss snapped the Mets' five-game winning streak.

RALLY RECAP: Ike Davis began the rally from an early 3-0 deficit, delivering a solo homer in the fifth against Mark Buehrle. It was Davis' second straight game with a homer. He belted a mammoth three-run shot off the second-deck façade against Jose Contreras in the eighth inning Wednesday at Philadelphia.

In the seventh, Mike Nickeas' one-out RBI double against Buehrle pulled the Mets within a run, prompting Terry Collins to pinch hit for Johan Santana. But Justin Turner flied out. And after a walk to Andres Torres prompted Ozzie Guillen to go to his bullpen, southpaw Randy Choate struck out Daniel Murphy and the Mets headed to the bottom of the seventh trailing 3-2.

In the eighth, David Wright (3-for-5) dropped a leadoff double inside the right-field line against Edward Mujica. Wright moved to third on Lucas Duda's groundout. Kirk Nieuwenhuis pinch hit for Scott Hairston and delivered a game-tying double. After an intentional walk to Davis and unintentional walk to Ronny Cedeno loaded the bases, Baxter pinch hit for Nickeas against Webb and improved to 6-for-15 with five RBIs as a pinch hitter this season. Baxter's two-run double gave the Mets a 5-3 lead.

THE NEW FELICIANO: Tim Byrdak appeared to save the day for the Mets yet again. In each of the first two games in Philly, the southpaw stranded an inherited runner at third base in the eighth inning. After Bobby Parnell surrendered a run in the eighth inning on Friday night as the Marlins pulled within 5-4, Byrdak entered with two out and Omar Infante on second base and struck out Logan Morrison to end the threat.

Byrdak is on pace for 96 appearances, which would break the single-season relief record set by Feliciano in his final three seasons as a Met (86, 88 and 92).

NO WAY, COURTESY JOSE: Jose Reyes quickly ensured game No. 8,000 would be the Mets' 8,000th game without a no-hitter. Reyes, who went only 1-for-12 in New York last month, opened the bottom of the first inning against Santana with a triple narrowly beyond the reach of Torres, who awkwardly played the shot to center field.

Reyes (1-for-4) scored when the newly installed No. 2 hitter Infante dropped a single into shallow left field. Austin Kearns delivered a two-run homer later in the frame. Kearns had been a late replacement in left field for the scratched Morrison, after Guillen decided he liked Kearns matching up better against Santana.

Santana's final line: 6 IP, 6 H, 3 R, 3 ER, 0 BB, 7 K.

SHORT STORY: In his first action since April 20, Cedeno returned from the disabled list and went 1-for-2 with two walks. Cedeno will be in the regular shortstop until Ruben Tejada returns from the DL, Collins said.

FIELDING OF DREAMS: Santana and Wright, both former Gold Glove recipients, turned in fielding gems on consecutive plays in the fifth. Santana lunged to catch a bunt attempt from Buehrle in the air. Then, Wright barehanded a grounder from Reyes and threw to first in time to retire his former teammate. An inning earlier, Santana caught Stanton stealing with a pickoff move.

WHAT'S NEXT: Other than a postgame LL Cool J concert after Friday's game at Marlins Park? R.A. Dickey (4-1, 3.76) opposes Ricky Nolasco (4-0, 2.72 ERA) on Saturday at 1:05 p.m.
May, 21, 2011
5/21/11
9:38
AM ET
Mike O'Connor
,
Jason Isringhausen
and
Francisco Rodriguez
backed
R.A. Dickey
with three scoreless relief innings as the Mets moved to .500 for the first time since April 9 with a 2-1 victory in the Bronx.
Saturday's news reports:
• Read game stories in the
Times
,
Star-Ledger
,
Newsday
,
Daily News
,
Post
and
Record
.
•
Justin Turner
has an RBI in six straight games, tying the rookie franchise record originally set by
Ron Swoboda
in August 1965. Turner, it turns out, was a 29th-round pick of the Yankees after his junior year of college at Cal State Fullerton. Read a full profile
here
.
The Post's
Joel Sherman
talks to the Yankees'
Damon Oppenheimer
about drafting Turner that year
. Oppenheimer tells Sherman: "You know how he will play and prepare and you will know his determination. He will not beat himself on or off the field. He is a self-starter. You are not going to have to tell him to work. ... I really liked 'Red' Turner. He was a good baseball player. He did not have the standard tools you look for, but you always thought he was a kid who would find his way to the big leagues."
•
Jose Reyes
had the play of the game, diving up the middle to stop
Alex Rodriguez's
grounder and throwing to first base to strand two runners. "That's the difference in the game," Yankees skipper
Joe Girardi
said. Read more in the
Star-Ledger
and the
Post
.
•
Pedro Feliciano
, who signed a two-year, $8 million deal with the Yankees, is trying blood-spinning -- where doctors remove blood, spin it to isolate the platelets, then reinject it into a troublesome spot -- rather than surgery for a partially torn capsule in his left shoulder. You may recall Feliciano vowed to strike out
Ike Davis
as revenge for
Dan Warthen's
defense of
Brian Cashman's
claim the Mets abused Feliciano. Now, Davis (ankle) and Feliciano are missing the series because of injuries. Read more in the
Star-Ledger
.
• The Star-Ledger's
Jeff Bradley
catches up with
Dave Mlicki
, who shut out
Andy Pettitte
and the Yankees on June 16, 1997, in the inaugural interleague game between the teams. Writes Bradley:
From his home in Dublin, Ohio, Mlicki seemed surprised that the Subway Series is no longer such a big deal, "Back in 1997, the atmosphere was World Series-like. For me, I'd never even been in Yankee Stadium. We took a bus from Shea to the game, which was odd, and when we pulled up there was a huge crowd of people screaming at us." Mlicki remembered strolling out to Monument Park before batting practice, reading the plaques, taking it all in.
• Idled
David Wright
(stress fracture in back) hopes to be out the minimum 15 days. He had an imaging test Thursday, and believes doctors are now prepared to map out a plan for his return. "It's tough watching the game in general," Wright told reporters pregame Friday. "I think you grow accustomed to getting up and going through a routine, preparing to play. And when you wake up and you just kind of have that void, it's not the same. It's definitely not enjoyable and not fun. It's frustrating. It's disappointing. I really enjoy the Subway Series. I enjoy participating in that. It's just disappointing waking up knowing that I'm going to watch from the bench." Read more in the
Record
and
Newsday
.
• Record columnist
Bob Klapisch's
take on the Mets reaching .500
:
Since April 21, the Mets have the fourth-best record in the majors, behind only the Braves, Red Sox and Cardinals. This run won't change the Mets' 2011 profile – they're not playoff-bound – but it's nevertheless erased some of the pre-existing notions about Terry Collins and life without some of their stars. Remember, this is a team that doesn't have David Wright and Ike Davis. There's no Johan Santana, and is too poor to even contemplate a monster trade in July. Yet, after a 5-13 start, the Mets are back to .500, which says something about their manager and his fiery, non-corny brand of intensity.
• While
Willie Harris
may be struggling, hitting .205 for the season,
David Waldstein
of the Times
offers one alibi
. Since
Jason Bay
returned from the disabled list, Harris' starts have come against
Livan Hernandez
,
Tim Lincecum
,
Ubaldo Jimenez
and
Josh Johnson
. He also was asked to pinch-hit against
Roy Halladay
. He went 1-for-14 in those five games. "It's not an easy job, but I have to perform," Harris tells Waldstein.
•
Vicent M. Mallozzi
of the Times profiles the creator of the site
nonohitters.com
, which chronicles
50 years of the Mets' failing to produce a no-hitter
. Writes Mallozzi:
[Dirk] Lammers, who grew up in Manalapan, N.J., "rooting for players like Bruce Boisclair," now lives in Sioux Falls, S.D., working as a reporter for The Associated Press. He created nonohitters.com at the suggestion of a friend who remembered that Lammers, a die-hard Tampa Bay Buccaneers fan, ran a site in 2006 called
Pointofnoreturns.com
that discussed and lamented the fact that the Buccaneers had not returned a kickoff for a touchdown since their inaugural season in 1976. Eleven days after Lammers created the site, Tampa Bay's Micheal Spurlock returned a kickoff 90 yards for a touchdown against the Atlanta Falcons. "I thought a site like this would bring the Mets some luck," he said.
• The Times' Waldstein also looks at the success of Saturday starter
Chris Capuano
in preventing steals
. Writes Waldstein:
Capuano is by far the active leader in rate of stolen bases against, according to the Elias Sports Bureau. In 821 career innings, Capuano has allowed only 15 stolen bases, one every 54.7 innings. The next closest is Mark Buehrle with 48 steals against in 2,331 innings, one every 48.6 innings.
• Newsday columnist
Ken Davidoff
contrasts
Bobby Valentine
and
Terry Collins
.
Writes Davidoff
:
They're really quite different. "I think they're totally different," said Jason Isringhausen , the only person at this Subway Series to play for both Bobby Valentine and Terry Collins. Bobby V. probably is the better strategist. Terry C., at least this incarnation of him, might be superior at communicating with his players. Valentine went to Japan with ambitions of elevating Pacific Rim baseball to new heights. "I just went there to manage," Collins said, smiling.
• Daily News columnist
John Harper
notes just how critical continued performances like Friday's from Dickey are for the Mets to succeed.
Writes Harper
:
On the big Yankee Stadium stage Friday night, Dickey found a way to make his signature pitch dance again, going six gutsy innings to pave the way for a 2-1 win in this first Subway Series game of 2011. For Dickey it was his first win since April 3 and he sounded perhaps more relieved than overjoyed in describing the return of an old friend. "Tonight," he said, "that's the [knuckler] I remember from last year."
• The Post's
Fred Kerber
reports Subway Series
tickets can be had at a depressed price
. Writes Kerber:
Using prices listed on StubHub, TicketNetwork, TicketsNow and eBay, the average price to see the Yankees and Mets at the Stadium this weekend is $112.22, down nearly 40 percent from last season's Stadium cost of $186.04.
•
A.J. Burnett
once was a Mets farmhand. Read more in the
Post
.
BIRTHDAY:
Hank Webb
, father of current Florida Marlins reliever
Ryan Webb
, turns 61. Webb went 7-9 in parts of seasons with the team from 1972 to 1976. Webb's most prominent season was '75, when he went 7-6 and pitched his only career shutout. He averaged only 2.97 strikeouts per nine innings that season, second-fewest in franchise history in a season for a Mets starter who threw at least 100 innings (
Ed Lynch
, 2.27 in 1983).
-Mark Simon