New York Mets:

Sam Levinson
September, 23, 2013
9/23/13
6:55
AM ET
NEW YORK
FIRST PITCH:
There is a cost of the Mets' weekend success.
The surge may help them get an unprotected draft pick (outside of the top 10, which must be forfeited if they sign a premium free agent).
After sweeping Philadelphia, the Mets now are in a three-way tie with the
Toronto Blue Jays
and Phillies for MLB's ninth-worst record. Only a half-game better is San Francisco.
So maybe it is a good thing the Mets face a motivated opponent the next three days in Cincinnati.
The Reds and
Pittsburgh Pirates
are tied at 89-67, two games behind the NL Central-leading
St. Louis Cardinals
. Even if Cincinnati does not catch the Cards, finishing ahead of Pittsburgh would allow the Reds to host the winner-take-all wild-card game.
Ex-Red
Aaron Harang
opposes right-hander
Johnny Cueto
(5-2, 3.02 ERA) in tonight's 7:10 opener.
Monday's news reports:
•
LaTroy Hawkins
notched save No. 100 and
Wilfredo Tovar
drove in the game-tying run and had two hits in his major league debut as the Mets completed a sweep of the Phillies
with a 4-3 win Sunday
at Citizens Bank Park. Afterward, the 40-year-old Hawkins said he
definitely wants to pitch next season
. Tovar reiterated the
call-up was completely unexpected
.
Read recaps in the
Post
,
Daily News
,
Star-Ledger
,
Times
,
Newsday
and
MLB.com
.
• After Sunday's victory, Mets rookies
dressed as members of a bridal party
in the annual hazing ritual.
Zack Wheeler
was the bride.
• Terry Collins is due to meet with Sandy Alderson in Cincinnati, a source told ESPNNewYork.com. Collins is
highly likely to be invited to remain manager
, but the Mets are not expected to announce anything official until after the season.
• Read more on Hawkins in the
Post
.
•
David Wright
discussed
with MLB Trade Rumors
why he stuck with his agents despite so many ACES clients getting suspended as a result of MLB's Biogenesis investigation.
"I think, for me, I wanted to hear it from Sam and Seth [Levinson]'s mouth exactly what was going on before I even talked to the union or anybody else," Wright said. "I called those guys up and asked them point blank what was going on, and they've always been open and honest to me.
"It's easy to make assumptions or believe everything you read in the paper, but I've known these guys for 12, 13 years now. And the only thing I can go on is the track record for how they've treated me, and what they've done for me. And there's been no complaints on my end and no blemishes on their end. I'm very appreciative of everything they've done for me, and I think they've done a terrific job."
• Mike Kerwick
in the Record
chats with
Daniel Murphy
about his season. Murphy said his biggest statistical accomplishment is games played, not his 20 steals. "It's luck," Murphy told Kerwick. "I like to think I take care of myself, but no more than David or some of the guys who got hurt."
• Jared Diamond
in the Journal
notes the more wins the Mets get, the worse draft pick they get.
• Anthony Rieber
in Newsday
profiles
Wilmer Flores
-- a man lacking a defined position.
•
From the bloggers …
John Delcos at
Mets Report
writes that while finishing third may make them feel good, the Mets have plenty of offseason work to do.
BIRTHDAYS:
Reliever
Gonzalez Germen
turns 26. … Long Island native
Pete Harnisch
is 47.
TWEET OF THE DAY:
For those who were wondering what happens when you sweep a series.... Here ya go pic.twitter.com/jR4nHHArVP

— Victor Black (@Vic_Black_2) September 22, 2013
YOU'RE UP: Do you think the Mets' rookie dress-up is funny? Or in poor taste?
August, 6, 2013
8/06/13
6:30
PM ET
NEW YORK -- Mets player representative
Daniel Murphy
offered this analysis of Monday's Biogenesis-related suspensions:
"We live in a broken world -- that nothing's perfect," Murphy said. "And we're, unfortunately, seeing that right now. We're trying to clean it up. That's all you can say. I think that's what the suspensions speak more volumes to: we're trying to clean the game up. The penalties were doled out and the game is trying to get cleaned up. It's something that maybe going forward you're always looking to better something. And maybe the drug agreement needs to be addressed. But as of right now this is the system we have in place. And we're trying to clean the game up."
Murphy suggested stiffer penalties may be forthcoming for offenders.
"That's something that will probably be discussed at the Players' Association meetings in December," Murphy said. "For me, the biggest thing is we want a clean game. ... We're trying to be in the forefront of catching banned substances that are performance-enhancing. We are working with people to try to be at the cutting edge of catching substances that are going to give you an unfair advantage."
As for his agents, who represent a bevy of Monday's suspended players, Murphy said he is sticking with the firm ACES and agents Sam and Seth Levinson.
"No chance," Murphy said about leaving them. "I get the good fortune of knowing exactly what is going on. And Sam and Seth Levinson have been nothing but good to me. I trust them fully with my career. They speak for me. And I'm honored to be a part of ACES."
September, 13, 2012
9/13/12
8:08
AM ET
Matt Harvey
struck out 10 and limited the
Washington Nationals
to one run after
Robert Carson
bailed him out of a bases-loaded, no-out jam in the sixth. But Harvey suffered a hard-luck defeat in his second-to-last start of 2012 as the
Mets lost to the Nats, 2-0
, Wednesday night.
The Mets were swept in a six-game homestand for the second time in the second half and are now 4-21 at Citi Field since the All-Star break.
They have a day off before opening a weekend series in Milwaukee.
Jon Niese
(10-9, 3.47 ERA) opposes right-hander
Mike Fiers
(9-7, 3.05) in Friday's opener, followed by
Jenrry Mejia
's first major league start in two years on Saturday opposite right-hander
Shaun Marcum
(5-4, 3.71).
Chris Young
(4-7, 4.39) opposes right-hander
Wily Peralta
(1-0, 3.46) in Sunday's finale.
Thursday's news reports: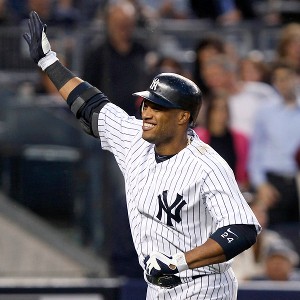 Seth Wenig/Associated Press
Robinson Cano and Yankees only face the Mets four times in 2013.

• Major League Baseball
released the Mets' full schedule
Wednesday. The Subway Series is down to four games -- two games in each ballpark -- on four straight days, beginning Memorial Day at Citi Field. (Yankees manager
Joe Girardi
told the Post
he thought the Subway Series should be an odd number, so a winner could be determined each year.) The Mets will travel to Minnesota, Chicago and Cleveland in interleague play while also hosting the White Sox, Royals and Tigers at Citi Field. Read more in the
Times
,
Newsday
and
Record
.
•
Terry Collins
said he met, along with
David Wright
, with
Ryan Braun
at the All-Star Game to try to
ensure there would be no retaliation
for
D.J. Carrasco
plunking Braun during a May series at Citi Field. Collins had pulled Wright from that game to ensure Milwaukee could not get a reprisal against him before leaving Queens.
• Wright
told the Daily News
he supported his agents, whom he has employed since he was a teenager, despite a reported MLB/MLBPA investigation into whether they were involved in helping procure performance-enhancing drugs for players. Former client
Paul Lo Duca
reportedly has made that allegation. "I have known these guys since I was 18," Wright said about agents
Seth
and
Sam Levinson
. "The only thing I have to go off of is the way they have represented me the last 12 years [and] the integrity that I have seen firsthand that they have for the game. ... I talked to a few different people from the union and I have to talked to the guys over there [the Levinsons] plenty of times, just to hear their side of the story. They have been great to me. So I think they've been going through a rough time and I've made my decision that I'm going to be loyal to them."
•
Daniel Murphy
was
scratched from Wednesday's game
with a stiff lower back, but pinch hit and flied out to end the game. His replacement as the starter at second base,
Ronny Cedeno
, was pulled in the sixth inning with a tight right hamstring. Read more in the
Star-Ledger
.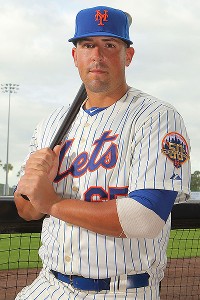 Marc Serota/Getty Images
Zach Lutz will undergo surgery Monday to remove a broken hamate bone at the base of his left hand.

• Harvey said he
needed to be more efficient with his pitches
and go deeper into games. Read Wednesday game recaps in the
Post
,
Star-Ledger
,
Newsday
,
Record
,
Daily News
and
Times
.
• September call-up
Zach Lutz
will undergo surgery Monday
to repair a broken hamate bone in the base of his left hand. Lutz also fractured the bone earlier this season with Triple-A Buffalo. This time he will have surgery to remove the bone.
• Collins believes
Jason Bay
's struggles may be
related to slowed reaction times
caused by a pair of serious concussions suffered during the past three seasons.
•
Lucas Duda
started at first base last night, and will
continue to see playing time at the position
during the season's final three weeks, presumably against southpaws at the expense of
Ike Davis
.
• Low-A Savannah and the Mets
renewed their player-development agreement
through the 2014 season.
TRIVIA:
Who has served as pitching coach for the Mets and Brewers?
Wednesday's answer:
Ed Kranepool
(1,418) and Wright (1,409) rank Nos. 1 and 2 on the franchise's all-time hits list. No. 3 on the Mets' career list is
Jose Reyes
, with 1,300.
May, 15, 2012
5/15/12
6:14
PM ET
A year ago, Jose Reyes' agents indicated they did not want to discuss an extension in-season. Instead, they wanted Reyes to be able to focus on baseball, and they wanted the opportunity to test the free-agent waters.

Would David Wright take a similar tact -- no discussions whatsoever in-season -- if the Mets tried to initiate extension talks this summer?

Wright said he had not even thought about that scenario and was neither enthusiastic nor dismissive. It would be a somewhat different scenario than Reyes, in that the Mets approached the shortstop the summer before his free agency. Wright is under the team's control through 2013, with a team option for next season at $16 million.

Wright said the topic has not come up among him and his agents Sam and Seth Levinson and ex-Met Keith Miller.

"Honest to goodness, I haven't thought about it," Wright said. "I haven't talked to Sam or Seth or Keith about anything. That's something I've yet to think about or approach with anybody, because it hasn't been brought up. There's no answer to that because it hasn't been approached yet. I'd have to discuss that with Sam and Seth and come up with a plan first. But, like I said, there's nothing going on."