New York Mets:

Savannah Sand Gnats
September, 18, 2014
Sep 18
5:30
AM ET
NEW YORK
FIRST PITCH:
It's down to single digits remaining in the regular season for the Mets.
Nine games are all that remain.
The Mets (73-80) have three series to go -- at Atlanta and Washington and home versus Houston -- to conclude the season.
The team flew down to Atlanta on Wednesday night and will spend at off-day in the city Thursday, with some players planning to attend the Falcons-Bucs game.
Zack Wheeler
(10-10, 3.61 ERA) opposes right-hander
Julio Teheran
(13-12, 2.89) in the series opener at 7:35 p.m. Friday at Turner Field.
The Mets trail the
Pittsburgh Pirates
by nine games for the second wild card spot. The tragic number for postseason elimination is two.
Thursday's news reports:
• In his second-to-last start of the season,
Dillon Gee
was charged with four runs in 6 2/3 innings and the
Mets lost to the Marlins, 4-3
, at Citi Field. Gee suffered his first career loss against Miami. He had been 3-0 with a 2.30 ERA in five previous starts. The game featured a scoreboard tribute to departing SNY fielding reporter Kevin Burkhardt.
Read game recaps in the
Post
,
Daily News
,
Newsday
,
Star-Ledger
,
Record
,
Journal
and at
MLB.com
.
•
Juan Lagares
was
diagnosed with a right elbow sprain
after undergoing an MRI on Wednesday. It is unclear when he will return to the lineup -- or if he will play again this season. Read more in the
Star-Ledger
and
Newsday
.
• Jared Diamond
in the Journal
assesses
Wilmer Flores
' candidacy for 2015 shortstop. Michael Salfino
in the Journal
takes a statistical-based look at Flores.
Sandy Alderson told Mike Puma
in the Post
about Flores starting at shortstop next season: "We're getting a lot more comfortable. One of the reasons for giving [Flores] as much playing time as we have is to build up his number of plate appearances to get him more comfortable to try to establish sort of a baseline. … There are a lot of things to take into account. The more recent at-bats I think are probably, one would hope, more reflective of his ability. At the same time, it is September and there may be a certain discount there. I'm not sure how much."
• Columnist Joel Sherman
in the Post
suggests
Jacob deGrom
will win the NL Rookie of the Year Award "by deFault" because of a weak field as compared with the AL.
• The Mets are expected to remain with Savannah as their low-A affiliate. The major league club already has announced extensions with Triple-A Las Vegas and Double-A Binghamton and owns high-A St. Lucie and short-season Kingsport and Brooklyn.
•
From the bloggers …
John Delcos at
NY Mets Report
asserts that the 2015 shortstop job is Flores' to lose.
BIRTHDAYS:
Former Mets first-round pick
Billy Traber
turns 35.
TWEET OF THE DAY:
The bridge is PACKED! #KevinBurkhardtNight pic.twitter.com/K44mmvqAwl

— Jason Bornstein (@DyHrdMET) September 18, 2014
YOU'RE UP: Who should be the odd-man out of the Mets' rotation next season with Matt Harvey due to return?
September, 7, 2014
Sep 7
5:45
AM ET
NEW YORK
FIRST PITCH:
M-E-T-S.
Mets! Mets! Mets!
It may now be football season in New York, but the Mets nonetheless will play a rubber game against the
Cincinnati Reds
on Sunday at Great American Ball Park.
Zack Wheeler
(9-9, 3.45 ERA) opposes right-hander
Mat Latos
(5-4, 3.46) at 1:10 p.m.
Travis d'Arnaud
is due for Sunday off.
Sunday's news reports:
•
Dillon Gee
surrendered a pair of solo homers
and
Eric Young Jr.
, initially ruled safe on a steal of third base in the ninth, was
ruled out after a replay review
as the
Reds beat the Mets, 2-1
, Saturday. Read game recaps in the
Post
,
Daily News
,
Star-Ledger
,
Record
and at
MLB.com
.
• Columnist Bill Madden
in the Daily News
suggests the Mets would be smart to acquire
Yoenis Cespedes
, whom Madden expects will be placed on the trading block by the
Boston Red Sox
this offseason. Writes Madden:
Considering Cespedes' "lame duck" status for next year, the Red Sox cannot expect to get a huge return for him, and with [Rusney] Castillo, trading deadline acquisition Allen Craig and promising rookie Mookie Betts creating a sudden glut of outfielders, their biggest need would appear to be pitching, of which the Mets have a surplus -- of both starters and even closers with Bobby Parnell expected back to compete with Jenrry Mejia. The Mets are definitely positioned to deal for Cespedes (who, at the Home Run Derby two years ago, proved he had no trouble hitting home runs at Citi Field) and they should not concern themselves with his sign-ability.
• With
Daniel Murphy
(calf) seemingly poised to return from the DL as soon as Tuesday, Terry Collins offered no inclination to
give time at shortstop
to
Dilson Herrera
. "I'm not here to run a tryout camp," Collins said. "I'm here to win some games." Read more on Herrera in the
Post
,
Star-Ledger
and
Newsday
.
•
Rafael Montero
, expected to join the Mets on Sunday, will
mostly work in relief
to judge his aptitude for that role in 2015. Only one start is penciled in right now. Read more in the
Star-Ledger
.
• Jim Baumbach
in Newsday
notes
Curtis Granderson
could have an interesting distinction soon. Already the single-season record holder for strikeouts as a Yankee (195 in 2012), Granderson (128 Ks) may soon claim that "honor" with the Mets, too. He needs 34 more Ks in the final 20 games to pass
David Wright
, who had a franchise-record 161 strikeouts in 2010.
For the record: Granderson does
not
hold the
Detroit Tigers
record, although he's close. He had 174 Ks in 2006. Cecil Fielder had 182 in 1990.
• Las Vegas' season ended with a 7-3 loss at Reno in Game 4 of the best-of-five series. Binghamton forced a winner-take-all Game 5 on Sunday in its opening-round series by beating Portland, 11-4. Savannah left the bases loaded in the eighth inning and was eliminated with a 2-1 loss against Asheville on Saturday, in the resumption of a suspended game. Read the full minor-league recap
here
.
•
From the bloggers ...
Faith and Fear
noticed another baserunning play at third that didn't go the Mets way.
BIRTHDAYS:
Jason Isringhausen
turns 42. ...
David Newhan
is 41. ...
Brian Stokes
is 35. ...
Darren Bragg
is 45.
TWEET OF THE DAY:
So pumped football is finally here! Is it spring training yet? #Jets #Mets

— Jerseyfresh (@hankof76) September 7, 2014
YOU'RE UP: Will you be watching Mets-Reds or Jets-Raiders at 1 p.m.?
March, 21, 2014
Mar 21
5:34
AM ET
Steve Mitchell/USA TODAY SportsDillon Gee, who faces the Twins on Friday, also is scheduled to pitch on Opening Day.
PORT ST. LUCIE, Fla.
FIRST PITCH:
The Mets take a three-hour drive to Fort Myers on Friday to face the
Minnesota Twins
, with the buses scheduled to roll out of the Port St. Lucie complex at 7:15 a.m.
Dillon Gee
opposes
Ricky Nolasco
in the 1:05 p.m. game (no Mets TV or radio).
Lucas Duda
is scheduled to start at first base in his first Grapefruit League action since injuring his left hamstring March 3.
Ike Davis
-- who returned to action Thursday, going 0-for-3 and logging six innings at first base -- is due to DH against the Twins.
Friday's news reports:
• Gee is slated to become the 23rd different Opening Day starter in Mets history. He is due to oppose
Washington Nationals
ace
Stephen Strasburg
on March 31 at Citi Field.
After
ESPNNewYork.com reported the Mets' intent
to give Gee the honor, Terry Collins
all but confirmed it Thursday afternoon
. The manager cited Gee's success against the Nats (4-2, 2.72 ERA in 2013) and Gee's 31 overall wins spanning the past three seasons, which rank second only to
Jonathon Niese
(32) with the club during that span.
The Mets
plan to place Niese on the disabled list
to open the season, ESPNNewYork.com has learned. Niese, who received a cortisone shot in his left elbow Monday to address inflammation, should come off the DL on the seventh day of the season, to face the
Cincinnati Reds
in the April 6 homestand finale.
The expectation is
Bartolo Colon
will start Game 2 and
Zack Wheeler
will start Game 3 against Washington.
Daisuke Matsuzaka
should handle the opener against Cincinnati on April 4. Gee then would get the second game against the Reds before Niese's first start arrives.
Read more in the
Post
,
Newsday
,
Star-Ledger
and
MLB.com
.
Thearon W. Henderson/Getty ImagesA calf injury has slowed Daniel Murphy.
•
Daniel Murphy
jammed his right calf
stepping on second base while doubling Sunday and has been out for four straight days. Collins believes Murphy, who missed time earlier in camp with a right-shin issue, should be back in the Grapefruit League lineup Saturday. Read more in the
Star-Ledger
.
• Sandy Alderson offered mostly predictable responses while speaking with media members late Thursday.
The GM expects both Davis and Duda to be on the Opening Day roster. Still, ESPNNewYork.com has reported that Alderson is checking in with GMs with whom he had trade discussions regarding Davis during the winter.
"I think you have to be a little more cautious and maybe not do something that has forever implications," Alderson told reporters, downplaying expectations of a trade.
Alderson added that he has not spoken with Scott Boras recently about
Stephen Drew
. He also noted that
Juan Lagares
and
Eric Young Jr.
both should get playing time in the outfield, as ESPNNewYork.com previously has reported.
"We haven't had a problem with too many good players over the last couple of years, so if we have that problem over the next week or so, it's a good thing -- somewhat unique for us," Alderson told reporters.
Read more in the
Record
.
• The likelihood seems to be that Davis and
Josh Satin
platoon to start the season. In that scenario, Duda would be on the roster as a lefty threat for the bench, with strategic starts at first base and possibly the outfield, although his hamstring injury has prevented the Mets from giving Duda reps out there. The Mets also will need a DH the second week of the season for an interleague series in Anaheim. Officially, Collins says the first-base winner may be the one who is most healthy.
Read more on Davis and Duda in the
Post
,
Daily News
,
Times
,
Journal
,
Newsday
and
Star-Ledger
.
• Columnist Kevin Kernan
in the Post
advocates signing Drew. Writes Kernan:
Life could be made a lot easier if the Mets went out and signed free agent Stephen Drew, but there appears to be no play in that direction in their frugal neighborhood. Five of the six shortstops who played on division-winning teams last season had a WAR of 3.0 or better. Drew was one of those players, with a 3.4 WAR.
The Mets have stated 90 wins as their goal this season, which should make a World Series championship shortstop even that much more enticing.
• On the likelihood of the
Arizona Diamondbacks
trading
Didi Gregorius
and the
Seattle Mariners
trading
Nick Franklin
, columnist Joel Sherman writes
in the Post
:
The price tags still are high for Franklin and Gregorius -- the Royals, for example, tried to land Franklin in the offseason, thought the cost in prospects was too high and instead gave a four-year, $32 million pact to Omar Infante. Both Franklin, who is expected to lose a Seattle shortstop battle to Brad Miller, and Gregorius, who is expected to lose to Chris Owings, can be optioned to the minors.
And executives from both teams have told me they can wait to see what needs arise during the regular season and use their bullets then. However, an official from an interested club said once players lose a positional battle and are sent to the minors, it is harder to sell them having extravagant value. So there could be some pressure on those clubs -- beyond their win-now status -- to make moves sooner than later
.
•
Anthony Recker
belted a walk-off three-run homer against
Atlanta Braves
left-hander Eric Pfisterer as the
Mets won, 7-6, Thursday
at Tradition Field. Wheeler allowed a pair of first-inning runs, but eventually tossed 75 pitches over 5 1/3 quality innings and departed with a 4-2 lead. Lagares had a stellar catch at the wall to deprive
Justin Upton
of an extra-base hit. Lagares later was drilled in the left shoulder with a pitch while squaring to bunt and departed the game. Read more at
MLB.com
.
• Collins
batted the pitcher eighth Thursday
, which he may also do in-season if the Nos. 1 and 2 hitters are not successfully getting on base enough ahead of
David Wright
.
•
Matt Harvey
, who has been throwing on flat ground at 60 feet since getting cleared to pick up a baseball, plans to
increase the distance to 75 feet Friday
.
• Wheeler wants to be the Opening Day starter in 2015, Kristie Ackert writes
in the Daily News
.
• Richard Justice
at MLB.com
speaks with Wright.
• Las Vegas 51s owners are having trouble getting public financing for a proposed new stadium in the area,
the Las Vegas Review-Journal reports
. The Mets' player-development agreement with the 51s expires after this season, but the sides may have to remain in a shotgun marriage for at least two more seasons after that because no other Triple-A cities may become available for the Mets.
• The low-A Savannah Sand Gnats received their 2013 South Atlantic League championship rings during a morning ceremony Thursday at Tradition Field.
•
From the bloggers …
Faith and Fear in Flushing
gives more thought to Harvey and the media. …
Rising Apple
contributors pick their most likely Mets to disappoint in 2014.
BIRTHDAYS:
Former Mets shortstop Shawon Dunston, a first-round pick by the Chicago Cubs out of Brooklyn in 1982, turns 51.
TWEET OF THE DAY:
@PeterBotte Listen, they are going to let Wheeler live in New York. Baby steps.

— Andrew Marchand (@AndrewMarchand) March 20, 2014
YOU'RE UP: Is Dillon Gee the best choice for Opening Day starter?
March, 20, 2014
Mar 20
6:57
PM ET
PORT ST. LUCIE, Fla. -- The low-A Savannah Sand Gnats, who won the South Atlantic League championship in 2013, received rings during a morning ceremony Thursday at Tradition Field. Pictured, Jeff Reynolds, Brandon Nimmo and Stefan Sabol display their rings.


January, 15, 2014
Jan 15
6:42
PM ET
Rich Donnelly, who has managed the Brooklyn Cyclones for the past three seasons, has been named manager of Triple-A Tacoma in the
Seattle Mariners
organization.
Meanwhile,
Valentino Pascucci
has returned to the Mets organization as hitting coach for low-A Savannah. Pascucci will be on manager Luis Rojas' staff.
Marc Valdes
again will serve as pitching coach for the Gnats.
Pascucci, 35, appeared in 10 games for the Mets in 2011. He played independent ball with Camden as well as in Mexico last season.
September, 14, 2013
9/14/13
7:52
AM ET
FIRST PITCH:
Get ready for a long day at Citi Field … and, no, that is not a slam at
Daisuke Matsuzaka
.
The Mets and
Miami Marlins
play a single-admission doubleheader beginning at 4:10 p.m.
Matsuzaka (0-3, 8.00 ERA), coming off a solid performance against the
Cleveland Indians
, faces right-hander
Henderson Alvarez
(3-4, 4.34) in Game 1.
Carlos Torres
(3-4, 3.53) opposes right-hander
Jacob Turner
(3-6, 3.43) in the second game.
Saturday's news reports:
•
Lucas Duda
produced a three-run homer
and
Andrew Brown
also went deep to
lift the Mets to a 4-3 win
against the Marlins on Friday night.
Giancarlo Stanton
homered twice for Miami.
Jonathon Niese
improved to 7- 7. The southpaw allowed three runs on six hits in 6 1/3 innings.
LaTroy Hawkins
earned his ninth save.
Read game recaps in the
Post
,
Daily News
,
Newsday
,
Star-Ledger
and
MLB.com
.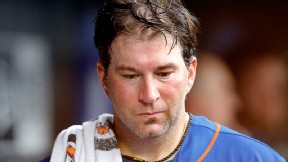 Paul J. Bereswill/Associated PressShaun Marcum won't go away just yet.
•
Shaun Marcum
, dumped by the Mets earlier this season, did not like SNY's highly regarded Mets team calling out
Frank Francisco
for hitting
Jayson Werth
with a pitch Thursday. In a
series of tweets
(and with just a few typos and other gaffes), Marcum wrote:
Yes Jason werth got hit by a pitch today, and no I wasn't there to see if anything happened before... But the guys in the New York booth are beyond clueless when it comes to knowing what goes thru the heads of the guys in that dugout!!! I even heard one of the idiots talking about Hefner, after he made a great pitch and have up a hit, talking about not knowing about Alfonso soriano's bat size. Last time I checked pitchers don't go thru th opposing teams dugout checking bat sizes. #getAclue
Let's just say Marcum, who was released on July 23, collected more than $5 million from the Mets for a disgusting season … and wasn't well-liked, to boot.
If Keith Hernandez had no class, he could borrow a line once directed at him and respond: "Voice from the grave."
• Savannah won the South Atlantic League title with a 2-0 victory over Hagerstown in Game 4 of the best-of-five series. Stefan Sabol provided the offense with a two-run double. Long Island native Steven Matz tossed 5 2/3 scoreless innings.
Jeurys Familia
, in his fourth minor league appearance since returning from surgery to clean out his elbow, contributed a 1-2-3 eighth. Gnats pitchers did not allow a run in 27 innings at home during the postseason.
•
David Wright
plans to run the bases full throttle today, in advance of trying to return from a Grade 2 right hamstring strain by the middle of next week. Read more in the
Post
,
Star-Ledger
and
Record
.
•
Justin Turner
(Grade 1 right hamstring strain) is not expected to return to the lineup at least until Tuesday.
• Mike Kerwick
in the Record
features
Juan Lagares
.
• Bob Raissman
in the Daily News
sees a match between the Mets and ESPN New York 98.7.
•
From the bloggers …
Faith and Fear in Flushing
has a story about why gloating is never a good idea. ... John Delcos at
Mets Report
did not like Terry Collins' candor after Thursday's loss.
BIRTHDAYS:
Submarine-style reliever
Chad Bradford
turns 39. He last pitched in the majors in 2009 with the
Tampa Bay Rays
.
TWEET OF THE DAY:
2013 SAL CHAMPS!! pic.twitter.com/ejhA22KedE

— Brandon Nimmo (@You_Found_Nimmo) September 14, 2013
YOU'RE UP: Should Shaun Marcum just shut up and go away?
September, 13, 2013
9/13/13
11:39
PM ET
SAVANNAH 2, HAGERSTOWN 0:
Savannah won its first South Atlantic League title in 17 years by shutting out Hagerstown on Friday night. Savannah won the best-of-five series, 3-1. Savannah scored both its runs on
Stefan Sabol's
two-run double in the fourth inning, as he plated
Brandon Nimmo
and
Dilson Herrera
. Those runs were all the support the Savannah pitching staff needed.
Steven Matz
picked up the win with 5 2/3 innings of scoreless ball and struck out nine, and the bullpen threw 3 1/3 scoreless innings of relief.
Beck Wheeler
picked up the save and recorded two strikeouts.
Box
September, 11, 2013
9/11/13
8:29
AM ET
FIRST PITCH:
Zack Wheeler
's season has about 20 innings remaining, Mets personnel tell ESPNNewYork.com.
That total further declines when Wheeler (7-4, 3.38 ERA) opposes
Washington Nationals
right-hander
Dan Haren
(8-13, 5.23) at 7:10 tonight at Citi Field.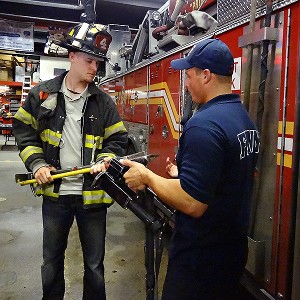 Adam RubinZack Wheeler, who visited a Manhattan firehouse on Tuesday, has about 20 innings remaining in his season.
The rookie has logged 156 2/3 innings this season between the majors and minors. He tossed 149 innings in 2012. Teams generally are comfortable with 30-inning jumps over the previous season for young pitchers.
Wheeler's next outing would come against his former employer, the
San Francisco Giants
, likely next Tuesday. It looks like Wheeler would get one more start beyond that before skipping one turn at the very end of the season.
For the record: The Mets' tragic number for postseason elimination stands at two. A loss tonight would drop them a season-worst 16 games under .500.
Wednesday's news reports:
• Chief operating officer Jeff Wilpon confirmed he
expects the Mets to be changing radio affiliates
for next season. The team has partnered with WFAN since 1987. The Yankees reportedly will move to that spot on the dial. Read more in
Newsday
, the
Times
,
Post
,
Daily News
,
Journal
,
Star-Ledger
and
Record
.
• Dr. Robert Watkins performed surgery on
Bobby Parnell
on Tuesday in California to repair a herniated disk in the closer's back. Sandy Alderson said he expected Parnell
to be unaffected during spring training
. Lefty reliever
Scott Rice
also underwent surgery
, in Philadelphia to repair bilateral sports hernias.
•
Matt Harvey
said he feels great and remains
hopeful he will avoid Tommy John surgery
, but conceded he will lean on doctors' advice, including James Andrews. Harvey is due to visit Andrews on Monday for a second opinion regarding the ace's partially torn ulnar collateral ligament in his pitching elbow. Harvey's comments came as he joined
David Wright
, Wheeler and Wilpon for a
visit to a midtown firehouse
. Read more in the
Post
,
Daily News
,
Newsday
,
Star-Ledger
,
Record
,
Times
and
MLB.com
.
•
Justin Turner
plans to
get an MRI of his right hamstring
this morning after an issue arose as he rounded third base last night.
• With his free-agency eligibility delayed until after the 2017 season,
Ruben Tejada
joined the Mets on Tuesday.
In response to Alderson's recent criticism
of his work ethic, Tejada said he is a hard worker. Read more in the
Post
,
Daily News
,
Journal
,
Newsday
,
Star-Ledger
and
Record
.
•
Dillon Gee
allowed solo homers to
Jayson Werth
and
Adam LaRoche
and
Nats beat the Mets, 6-3
, Tuesday. Read game recaps in the
Post
and
MLB.com
.
• The Mets
released their 2014 schedule
. They open at home on March 31 against the Nats. There are four separate West Coast trips. The Mets play in the Bronx on May 12 and 13, then at Citi Field against the Yankees the following two days. Interleague series include trips to the L.A. Angels (April 11-13), Seattle (July 21-23) and Oakland (Aug. 19-20). The A's (June 24-25), Rangers (July 4-6) and Astros (Sept. 26-28, to close the season) visit Citi Field. The last time the Mets visited Anaheim, back in June 2008, there was a 3 a.m. ET firing. Read more in the
Star-Ledger
.
• The
Toronto Blue Jays
confirmed they will face the Mets in exhibition games
at Olympic Stadium in Montreal
on March 28 and 29, 2014.
• In remembrance of the 9/11 terrorist attacks, the Mets
will wear caps tonight
representing different New York City first-responder organizations during batting practice -- but not in-game.
• Seth Lugo tossed six scoreless innings and Jeff Glenn went 3-for-4 with two doubles and three RBIs as Savannah beat Hagerstown, 6-2. The Gnats evened their best-of-five South Atlantic League championship series at a game apiece. Gabriel Ynoa gets Game 3 on Thursday in Savannah, with Long Island native Steven Matz set for Game 4. Read the full recap
here
.
• Read more on the Mets' firehouse visit in the
Daily News
.
•
From the bloggers …
John Delcos at
Mets Report
considers what still drives people to watch the Mets. …
Faith and Fear
tunes in to the Mets' impending departure from WFAN.
BIRTHDAYS:
Frank Francisco
turns 34.
TWEET OF THE DAY:
@AdamRubinESPN Mayeb you should just post a surgery schedule instead of a game schedule.

— Drew Kerr (@DrewKerr) September 10, 2013
YOU'RE UP: Is there a particular must-see Mets series in 2014?
September, 9, 2013
9/09/13
8:19
AM ET
FIRST PITCH:
The Mets return home for 11 games, beginning with a series against the
Washington Nationals
.
Carlos Torres
(3-3, 2.89 ERA) opposes left-hander
Gio Gonzalez
(9-6, 3.49) in tonight's 7:10 opener.
The Nats (73-69) are on the precipice of being KO'd from postseason contention. They trail the
Atlanta Braves
by 12 games in the division and the
Cincinnati Reds
by eight games for the second wild-card spot with only 20 games remaining.
Monday's news reports: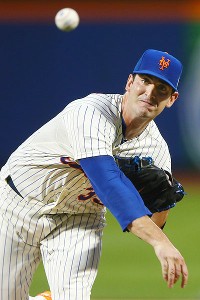 Elsa/Associated PressMatt Harvey is headed to see Dr. James Andrews.
•
Matt Harvey
is due to see Dr. James Andrews this week for a second opinion regarding
whether he will require Tommy John surgery
. Sandy Alderson stated as early as the initial press conference that Harvey likely would seek a second opinion, and likely with Andrews. The second opinion signals Harvey already has been reexamined by Mets doctors. Alderson's tone consistently has suggested that he expects Tommy John surgery will be required for the torn ulnar collateral ligament. Read more in the
Star-Ledger
,
Daily News
and
Record
.
•
Frank Francisco
, who coaxed a double play and earned the win in his first major league action this season on Sunday, says he
legitimately was injured
. Francisco pointed to receiving Platelet Rich Plasma Therapy and cited a flexor pronator muscle tear in his elbow as an indication he had a real issue.
"I got nothing to be ashamed of because I know how hard I've worked," Francisco told reporters. "I'm a fighter. I never stopped, and I don't do it just to make everybody happy. I do it for myself, and to be satisfied with me -- because besides baseball and everything, I've got three children, a wife, I have my family back in the Dominican and all those people depend on me."
Read more in the
Post
,
Star-Ledger
,
Daily News
and
Newsday
.
• Outfielder
Mike Baxter
, right-hander
Aaron Harang
and catcher
Juan Centeno
officially were
promoted for today's series opener
.
Ruben Tejada
's promotion apparently will wait. If the Mets stall promoting Tejada, they will delay his free-agency eligibility from after the 2016 season until after the 2017 season. A Tuesday call-up would give Tejada two years, 171 days of service time at the end of the season. Credit for a full MLB season comes at 172 days.
Harang, 35 , went 5-11 with a 5.76 ERA in 22 starts with the
Seattle Mariners
this season. He made two appearances for Triple-A Las Vegas, including allowing three runs on six hits and two walks in six innings against Salt Lake on Saturday as the
Los Angeles Angels
affiliate eliminated the 51s in Game 4 of their Pacific Coast League series. Harang's services are needed with the Mets having a doubleheader on Saturday against the
Miami Marlins
, and with
Zack Wheeler
facing an innings limit.
Centeno, 23, hit .305 with no homers and 28 RBIs in 213 at-bats with the 51s this season. He was a 32nd-round pick out of high school in Puerto Rico back in 2007 and needed to be added to the 40-man roster or he would have become a minor league free agent this offseason. (That free-agency eligibility if he is not added to the 40 also is true for fellow Triple-A catcher Francisco Pena, the son of five-time All-Star
Tony Pena
, who has not been called up.)
•
David Wright
should be with the Mets today, although he is not game-ready. Wright was due to return to New York because activity had all but ceased at the Mets' Port St. Lucie, Fla., complex.
•
Eric Young Jr.
's ninth-inning double against
Chris Perez
plated
Matt den Dekker
with the tiebreaking run and the Mets avoided getting swept in Cleveland
with a 2-1 win against the Indians
on Sunday.
Daisuke Matsuzaka
took a scoreless effort into the sixth and ultimately was charged with one run in 5 2/3 innings.
Read game recaps in the
Post
,
Times
,
Star-Ledger
and
MLB.com
.
• Low-A Savannah, the lone Mets affiliate still in the postseason, opens its best-of-five South Atlantic League championship series tonight at Hagerstown, a Nationals affiliate.
BIRTHDAYS:
Player-turned-producer
Todd Zeile
is 48. …
Mike Hampton
, who loves the schools in Colorado, and whose defection from the Mets provided the draft pick used for Wright, turns 41. …
Kazuhisa Ishii
is 40.
TWEET OF THE DAY:
Pic from winning the South division last night! Little too much shaving cream used on me haha pic.twitter.com/37d1Bdv1sa

— Brandon Nimmo (@You_Found_Nimmo) September 8, 2013
YOU'RE UP: Should David Wright still be trying to return this season? Or should he just shut it down?
September, 13, 2012
9/13/12
8:08
AM ET
Matt Harvey
struck out 10 and limited the
Washington Nationals
to one run after
Robert Carson
bailed him out of a bases-loaded, no-out jam in the sixth. But Harvey suffered a hard-luck defeat in his second-to-last start of 2012 as the
Mets lost to the Nats, 2-0
, Wednesday night.
The Mets were swept in a six-game homestand for the second time in the second half and are now 4-21 at Citi Field since the All-Star break.
They have a day off before opening a weekend series in Milwaukee.
Jon Niese
(10-9, 3.47 ERA) opposes right-hander
Mike Fiers
(9-7, 3.05) in Friday's opener, followed by
Jenrry Mejia
's first major league start in two years on Saturday opposite right-hander
Shaun Marcum
(5-4, 3.71).
Chris Young
(4-7, 4.39) opposes right-hander
Wily Peralta
(1-0, 3.46) in Sunday's finale.
Thursday's news reports: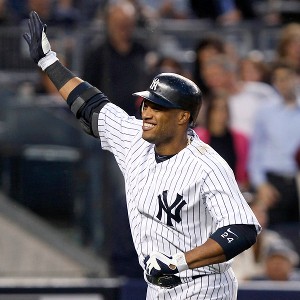 Seth Wenig/Associated Press
Robinson Cano and Yankees only face the Mets four times in 2013.

• Major League Baseball
released the Mets' full schedule
Wednesday. The Subway Series is down to four games -- two games in each ballpark -- on four straight days, beginning Memorial Day at Citi Field. (Yankees manager
Joe Girardi
told the Post
he thought the Subway Series should be an odd number, so a winner could be determined each year.) The Mets will travel to Minnesota, Chicago and Cleveland in interleague play while also hosting the White Sox, Royals and Tigers at Citi Field. Read more in the
Times
,
Newsday
and
Record
.
•
Terry Collins
said he met, along with
David Wright
, with
Ryan Braun
at the All-Star Game to try to
ensure there would be no retaliation
for
D.J. Carrasco
plunking Braun during a May series at Citi Field. Collins had pulled Wright from that game to ensure Milwaukee could not get a reprisal against him before leaving Queens.
• Wright
told the Daily News
he supported his agents, whom he has employed since he was a teenager, despite a reported MLB/MLBPA investigation into whether they were involved in helping procure performance-enhancing drugs for players. Former client
Paul Lo Duca
reportedly has made that allegation. "I have known these guys since I was 18," Wright said about agents
Seth
and
Sam Levinson
. "The only thing I have to go off of is the way they have represented me the last 12 years [and] the integrity that I have seen firsthand that they have for the game. ... I talked to a few different people from the union and I have to talked to the guys over there [the Levinsons] plenty of times, just to hear their side of the story. They have been great to me. So I think they've been going through a rough time and I've made my decision that I'm going to be loyal to them."
•
Daniel Murphy
was
scratched from Wednesday's game
with a stiff lower back, but pinch hit and flied out to end the game. His replacement as the starter at second base,
Ronny Cedeno
, was pulled in the sixth inning with a tight right hamstring. Read more in the
Star-Ledger
.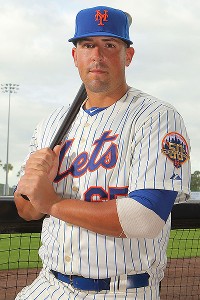 Marc Serota/Getty Images
Zach Lutz will undergo surgery Monday to remove a broken hamate bone at the base of his left hand.

• Harvey said he
needed to be more efficient with his pitches
and go deeper into games. Read Wednesday game recaps in the
Post
,
Star-Ledger
,
Newsday
,
Record
,
Daily News
and
Times
.
• September call-up
Zach Lutz
will undergo surgery Monday
to repair a broken hamate bone in the base of his left hand. Lutz also fractured the bone earlier this season with Triple-A Buffalo. This time he will have surgery to remove the bone.
• Collins believes
Jason Bay
's struggles may be
related to slowed reaction times
caused by a pair of serious concussions suffered during the past three seasons.
•
Lucas Duda
started at first base last night, and will
continue to see playing time at the position
during the season's final three weeks, presumably against southpaws at the expense of
Ike Davis
.
• Low-A Savannah and the Mets
renewed their player-development agreement
through the 2014 season.
TRIVIA:
Who has served as pitching coach for the Mets and Brewers?
Wednesday's answer:
Ed Kranepool
(1,418) and Wright (1,409) rank Nos. 1 and 2 on the franchise's all-time hits list. No. 3 on the Mets' career list is
Jose Reyes
, with 1,300.
September, 12, 2012
9/12/12
3:03
PM ET
The Mets and low-A Savannah have extended their working agreement through the 2014 season.

The Mets already had renewed their agreement with Double-A Binghamton through 2016. The major league club owns St. Lucie and Brooklyn, so neither of those affiliations come up every two or four years.

Las Vegas widely is expected to be the Mets' new Triple-A affiliate. Buffalo is expected to sign with the Blue Jays. Toronto's current Triple-A home is Las Vegas. The Mets and Triple-A cities officially can begin talking Sunday.
September, 18, 2011
9/18/11
9:15
AM ET
Longtime nemesis
Chipper Jones
delivered a two-out RBI single in the eighth against
R.A. Dickey
and the Mets lost to the Braves, 1-0, on Saturday at Turner Field. With Philadelphia's subsequent 9-2 win against St. Louis, the Phillies
clinched their fifth straight NL East title
and the Cardinals fell 4½ games behind wild-card-leading Atlanta. The Braves' magic number is seven to clinch.
Sunday's news reports:
•
Terry Collins
says it would be difficult to envision the Mets without
Jose Reyes
and
David Wright
. "No, I cannot imagine it," Collins said. "I mean, not just with their skill, but the kind of people they are. You've got to have those guys."
The manager went on to wonder what the season might have been like with more health, which might have led to retaining
Carlos Beltran
and
Francisco Rodriguez
at the trading deadline.
"There's a lot of things that happened that we would have had to really play through," Collins said. "No doubt about it. But you know, I allow myself the freedom once in a while to be disappointed that we didn't get to put this team on the field the way it came out of spring training. Had we been able to do that, I think you have looked at a while different package -- completely different package. And I know every team says that that has injuries. But we have not put our team on the field one time, and this was a team that could have made some noise, no doubt."
Read more in the
Star-Ledger
,
Record
and
Newsday
.
•
Steve Popper
in the Record
notes there really was no quibbling by players publicly or privately with Collins' assessment of the team after the manager's candid and critcial assessment of the team Thursday. Writes Popper:
It has nearly been a year since Terry Collins was introduced as the Mets manager and declared, "I'm not the evil devil that a lot of people have made me out to be." And his words have rung true as he has been a non-stop whirlwind of energy and enthusiasm, cherishing the days on the field after an 11-year absence from a spot on the bench. He has shed the reputation as a too-intense explosion waiting to happen. At least he had until Thursday when he blew up publicly, ripping his team for appearing to have folded up. But when he finally erupted, his team didn't turn on him. There was no anonymous sniping and really little disagreement with his words. Even Chicago White Sox manager Ozzie Guillen took to Twitter to back up Collins. But there was really nothing to defend him from.
"I don't think there is any question," Collins said of his players. "That's a fact. I've got their back and they've got mine. I know that."
• Wright, discussing his string of eight errors in 10 games with
Andy Martino
in the Daily News
, says: "You can kind of beat yourself up too much, and I think I'm in that category. I guess it's just in my nature to focus on the negatives, and what I could have done, instead of the positive. Having a short-term memory and being able to forget about it -- it would probably be the ideal situation, but I just don't know if that's in my DNA. I wish I could."
• Behind a 3-for-5 game,
Ryan Braun
(.333) now leads Reyes (.332) in the
race for the National League batting title
. Cincinnati's
Joey Votto
ranks third at .320.
• Savannah, which had been one strike from winning the South Atlantic League championship on Friday night,
lost a winner-take-all Game 5
on Saturday, 7-3 to Greensboro.
Angel Cuan
, who had been at Citi Field on Wednesday to be honored as the Gnats' top player, allowed five runs (three earned) in 3 2/3 innings. Shortstop
Wilfredo Tovar
had two errors.
• Read more on the Mets' Saturday loss in the
Times
,
Newsday
and
Record
.
•
Johan Santana
is due to throw a simulated game on Sunday in his Fort Myers, Fla., hometown. The Mets' instructional league is now beginning in that city because there are few teams within proximity of the organization's Florida complex in Port St. Lucie.
•
Jason Isringhausen
, despite an epidural, still has modest numbness in his right leg, preventing him from returning to the mound. The issue stems from a herniated disc in his lower back.
•
Josh Thole
pledges an offseason dedicated to improvement behind the plate. Writes
Mike Puma
in the Post
:
Thole says his priorities were not in the right place last winter. "Last year I spent way too much time in the gym," Thole said. "At this point in my career it's not all about coming into camp all shredded and jacked up, strong, it's about being ready to play baseball the right way. I've always caught bullpen (sessions) in the offseason starting in January, but it's not about the repetition of catching the ball. It's beneficial for me to block balls. That is stuff I can do on my own, but it's something I really have to take focus on more than my weight training this year."
BIRTHDAY:
Scott Holman
, who pitched 43 games for the Mets in the early '80s, was born on this date in 1958.
September, 17, 2011
9/17/11
9:43
AM ET
The Mets scored their most runs in a game at Turner Field since the stadium opened to baseball after the 1996 Olympics as
David Wright
homered twice and drove in five runs in a
12-2 victory against the Braves
. Atlanta's loss allowed St. Louis to pull within 3½ games of the wild-card lead.
Saturday's news reports:
• Wright smirked as he
downplayed the impact
of
Terry Collins'
passionate Thursday rebuke of the team causing Friday's 20-hit night, which matched the season-high output. "I give him a lot of credit, but I'm not quite ready to give him credit for 20 hits," Wright said. Watch Wright video
here
.
• Collins said pregame Friday that his quibble was not with the team's level of caring, but
with its execution
. The manager tinkered with the lineup Friday, moving
Angel Pagan
to second and restoring Wright to third. That was the order he planned out of spring training.
•
Jose Reyes
went 3-for-5 with a walk and his second steal since returning from the DL. He is now hitting .334, four points better than runner-up
Ryan Braun
of Milwaukee, who nonetheless joined the 30-homer, 30-steal club Friday. Collins said similar exertion by Reyes on Saturday would prompt the manager to sit Reyes in the series finale out of caution.
Meanwhile, in San Francisco,
Carlos Beltran
told reporters he believes
Reyes is a perfect fit for the top of the Giants lineup
. Beltran even suggested adding a weapon like Reyes might be a prerequisite to the outfielder re-signing with San Francisco. Reyes, for his part,
laughed it off
. "No way. He said that?" Reyes asked. "I'm going to call him, 'What are you talking about?'"
• ESPN's
Jayson Stark
says the Mets
will not patiently wait for Reyes to decide where he will sign
this offseason. Writes Stark:
If Reyes' preference is to test the market, collect offers and then ask the Mets to counter, there are indications that the Mets don't want to play by that script. And Reyes' lackluster second half (.277/.316/.378, with only six stolen-base ATTEMPTS) only figures to reinforce their reluctance to do anything crazy right out of the chute to keep him from exploring the market.
• Double-A right-hander
Brandon Moore
, a sinker/slider pitcher who was due to represent the organization in the Arizona Fall League, was
suspended 50 games
for testing positive for the second time for a "drug of abuse," Major League Baseball announced. An MLB official said Moore is now ineligible for the Fall League, but the 50-game suspension clock will not start until the beginning of the 2012 regular season.
• Savannah was one strike away from capturing the South Atlantic League title, but instead
lost a one-run lead in the ninth for the second time
in the championship series. An 11-inning defeat sets up a winner-take-all Game 5 on Saturday night in Savannah with
Angel Cuan
on the mound for the Gnats.
•
Jason Bay
robbed
Alex Gonzalez
of a home run by
leaping at the left-field wall
, and later was deprived of an RBI when Gonzalez gunned him out at first base with the bases loaded. Bay, despite the highlight-reel play at the wall, said
Endy Chavez
did it better. Read more in the
Star-Ledger
.
•
Chris Schwinden
will get
two more starts for the Mets
this season. The staff could have delayed Schwinden's next start until next Saturday because of an upcoming off-day, but will keep the rookie on turn to get a better gauge of his major league readiness.
•
Rick Tomlin
is
out as minor league pitching coordinator
, sources told ESPNNewYork.com. It's the second straight year there has been a change at that position.
• Read more on the Mets' 12-2 win Friday/response to Collins' remarks in the
Star-Ledger
,
Newsday
,
Daily News
,
Post
and
Record
.
• Newsday's
Neil Best
reports
ratings for the Mets are down
on SNY. Writes Best:
SNY is averaging 2.23 percent of area homes for its Mets games this season, down from 2.75 at this time last season and headed for the lowest full-season Mets ratings in the network's history. (SNY's best full-season ratings were 3.3 in both 2007 and '08, when the team was locked in close playoff races to the bitter end.) Yankees games on YES are averaging 4.31 percent of area homes, down from 4.47 at a similar point in 2010.
• Wright had a clean game at third base on Friday. Collins said pregame there was no thought of even bringing up the third baseman's eight errors in the previous 10 games to Wright, or to provide more instruction. "He's so aggressive in the way he plays the game, I don't even want to put it in his head that there's something wrong," Collins said. "Like the yips. I don't even want to bring it up." Read more in the
Star-Ledger
.
• Third base coach
Chip Hale
aspires to be a manager, and was a finalist for the position that went to Collins. Hale told
Mike Puma
in the Post
that the team's lack of success this year and the relatively few projected openings make it an uphill battle to secure a managerial gig this offseason. On the flip side, Hale noted, working for
Sandy Alderson
deputies
J.P. Ricciardi
and
Paul DePodesta
with the Mets could pay dividends at some point, since they both are capable of returning to GM roles. "The more people you work for, the more people you know," Hale told Puma.
•
D.J. Carrasco
talks with
Mike Sielski
in the Journal
about throwing exclusively sidearm his past three relief appearances trying to find success. Carrasco is under contract for next season at $1.2 million, but has struggled this year, and even found himself at Triple-A Buffalo for a prolonged stretch of this season. Writes Sielski:
With nothing left to lose, and with the blessing of Mets pitching coach Dan Warthen, Carrasco has set to tinkering again. In his last three appearances, he's thrown exclusively sidearm. "I've done it strictly just to see what that's like because I've struggled so bad here," he said. "If it's something where I can help the team out more and throw more often and come into more situations to help out or give that different look, then shoot, I'm all for it." So far, the results haven't been spectacular. As a sidearm pitcher, Carrasco has surrendered five hits and one earned run in three innings.
• Braves starter
Derek Lowe
lasted only 2 1/3 innings on Friday night. Lowe is 3-8 with a 6.12 ERA in his past 11 starts. (Remember, the Mets flirted with Lowe three winters ago, before signing
Oliver Perez
to a three-year, $36 million deal instead. Lowe went to Atlanta for four years, $60 million.) "This was terrible," Lowe said
in the Atlanta Journal-Constitution
about Friday's start. "It was non-competitive pitching from the first pitch. ... Honestly, what can you say? They did anything they wanted. You tried to make competitive pitches, and it just didn't happen. Again, bad game at the wrong time."
BIRTHDAY:
John Franco
, who has volunteered to mentor
Bobby Parnell
, turns 51.