New York Mets:

Sergio Romo
August, 1, 2014
8/01/14
12:36
AM ET
Associated PressRecently acquired Jake Peavy made his Giants debut Sunday against the Dodgers.
METS (52-56, fourth place/NL East) vs. SAN FRANCISCO GIANTS (58-50, second place/NL West)
Friday:
LHP
Jonathon Niese
(5-6, 3.23) vs. RHP
Ryan Vogelsong
(5-8, 4.45), 7:10 p.m. ET
Saturday:
RHP
Jacob deGrom
(5-5, 2.79) vs. RHP
Jake Peavy
(1-10, 4.71), 7:10 p.m. ET
Sunday:
RHP
Bartolo Colon
(10-8, 3.88) vs. LHP
Madison Bumgarner
(12-8, 3.41), 1:10 p.m. ET
Monday:
RHP
Dillon Gee
(4-4, 3.77) vs. RHP
Tim Hudson
(8-8, 2.71), 12:10 p.m. ET
Giants short hops
•
Jake Peavy
was acquired from the
Boston Red Sox
on Saturday for right-hander
Heath Hembree
and minor-league left-hander Edwin Escobar. Peavy allowed three runs (two earned) in six innings in an eventual 4-3 loss to the rival
Los Angeles Dodgers
on Sunday in his Giants debut. Since a win on April 25 with Boston, Peavy has lost 10 straight decisions. Boston scored two runs or fewer in each of his final eight starts with the club. The Giants and Red Sox agreed to split the $5 million remaining on the 33-year-old Peavy's contract.
Peavy's acquisition gives the Giants an upgrade over former Mets farmhand
Yusmeiro Petit
with
Matt Cain
on the disabled list. Cain (2-7, 4.18 ERA) sought a second opinion this week on his balky right elbow and could be in line for Tommy John surgery that forces him to miss next season as well.
• First baseman
Brandon Belt
is expected to return this weekend from the concussion DL. He had persistent symptoms after being struck in the face with a baseball while fielding during batting practice.
Thearon W. Henderson/Getty ImagesGregor Blanco has handled center field with Angel Pagan on the disabled list.
•
Angel Pagan
is expected to remain on the disabled list through the Mets series, but should be activated next week. He last appeared for the Giants on June 14. The ex-Met has a bulging disk that pinched a nerve and caused leg pain.
Gregor Blanco
has manned center field with Pagan sidelined.
• Dissatisfied at second base, the Giants took a chance on
Dan Uggla
, who was released by the
Atlanta Braves
. Uggla, however, went 0-for-11 with six strikeouts and committed three errors in four games. He reportedly did not travel with the Giants to New York and is mulling an offer to join the Giants' Triple-A Fresno affiliate. Overall, Uggla has only one hit in his past 32 major league at-bats.
San Francisco searched for a second baseman via trade, but let Thursday's deadline pass with no activity.
St. John's University product
Joe Panik
, who graduated from John Jay High School in East Fishkill, N.Y., started Wednesday at second base. The rookie Panik was selected in the first round (29th overall) in 2011. He made his major league debut June 29, but is hitting only .214. There is speculation Double-A prospect Matt Duffy could take over the position.
Marco Scutaro
(back) is on the DL.
Brandon Hicks
, who started at second base when the Mets played in San Francisco in early June, has been in Triple-A for the past two weeks after hitting only .162 with eight homers in 71 games with the Giants.
• San Francisco snapped a season-high-matching six-game losing streak with a win in Wednesday's homestand finale against the
Pittsburgh Pirates
. The Giants averaged one run per game during that skid. According to the Elias Sports Bureau, only one other time in the past 99 seasons did the Giants produced six runs or fewer in a six-game span -- back in 1992. The Giants have lost 29 of their last 45 games. They once owned a 42-21 record.
•
Ryan Vogelsong
has received
no
run support while on the mound in five of his last six outings. San Francisco ultimately was shut out in four of those games.
• The lone Giants active starting pitcher the Mets miss in the four-game series is
Tim Lincecum
. He tossed a no-hitter against the
San Diego Padres
on June 25, becoming the second pitcher in major league history to produce the feat twice against the same opponent. Lincecum joined Hall of Famer Addie Joss, who accomplished it in the early 20th century.
•
Sergio Romo
was displaced as Giants closer on June 29 after blowing three saves in a five-chance span. He has allowed a career-high eight homers this season.
Santiago Casilla
has notched seven of the Giants' last eight saves.
• Shortstop
Brandon Crawford
is 4-for-his-last-23.
• Right fielder
Hunter Pence
is 4-for-his-last-33. Pence has appeared in 330 straight games and started 280 straight games. Both are the longest active streaks in the majors.
•
Buster Posey
is hitting .386 as a first baseman and .255 as a catcher this season.
June, 6, 2014
6/06/14
9:30
AM ET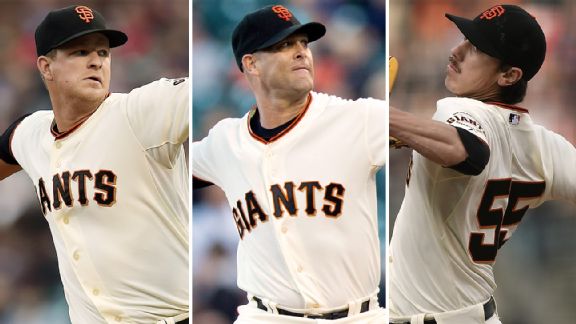 Getty ImagesThe Mets face Matt Cain, Tim Hudson and Tim Lincecum this weekend in San Francisco.
METS (28-32, fourth place/NL East) vs. SAN FRANCISCO GIANTS (39-21, first place/NL West)
Friday:
LHP
Jonathon Niese
(3-3, 2.69) vs. RHP
Matt Cain
(1-3, 3.66), 10:15 p.m. ET
Saturday:
RHP
Bartolo Colon
(5-5, 4.52) vs. RHP
Tim Hudson
(6-2, 1.75), 10:05 p.m. ET
Sunday:
RHP
Zack Wheeler
(2-5, 3.89) vs. RHP
Tim Lincecum
(4-4, 5.01), 4:05 p.m. ET
Giants short hops
• Three-time All-Star
Matt Cain
will be activated from the disabled list to face the Mets. He departed a May 21 start after three scoreless innings with a strained right hamstring. Former Mets farmhand
Yusmeiro Petit
, who was traded to the
Miami Marlins
to acquire
Carlos Delgado
on the eve of Thanksgiving in 2005, had stepped into the rotation in Cain's absence. Petit has returned to the bullpen.
• In the same May 21 game against the
Colorado Rockies
that Cain became injured, reliever
Santiago Casilla
also strained his right hamstring. His remains on the disabled list and is at least two weeks away from being activated.
• After nine seasons with the
Atlanta Braves
, 38-year-old
Tim Hudson
signed a two-year, $23 million contract with San Francisco during the offseason. Hudson's 1.75 ERA ranks second in the majors, trailing only Cincinnati's
Johnny Cueto
(1.68). Hudson has tossed seven scoreless innings in each of his past two starts.
Thearon W. Henderson/Getty ImagesEx-Met Angel Pagan is hitting .321 this season.
•
Sergio Romo
's 18 saves are tied with San Diego's
Huston Street
for the major league lead. Romo has converted 90 percent (18-for-20).
• Right fielder
Hunter Pence
(.290, 8 HR) signed a five-year, $90 million extension with the Giants on Sept. 29. Pence has started 232 straight games, the longest active streak in the majors.
• San Francisco has won 11 of its past 14 games to move a season-high 18 games over .500. The Giants' 39-21 record is the best in the majors. They play 20 of their next 25 games at AT&T Park.
• The Giants have scored an MLB-best 47 runs in the first inning.
•
Tim Lincecum
, who appeared last season like he may be headed elsewhere, re-signed with the Giants for two years, $35 million on Oct. 23. Linecum allowed eight runs in 4 1/3 innings at Cincinnati in his last start as his ERA swelled to 5.01. He left his previous start with a blister on his right middle finger after tossing five no-hit innings against the Cubs, albeit with four walks and 96 pitches thrown. Lincecum turns 30 on June 15.
• Reliever
Jean Machi
has a 21 2/3-inning scoreless streak, trailing only Atlanta's
David Hale
(22 2/3) on the active leaderboard. Miami's
Henderson Alvarez
ranks third at 21 innings.
• Outfielder
Tyler Colvin
was promoted from Triple-A Fresno on May 10 after first baseman
Brandon Belt
suffered a broken left thumb. Belt is scheduled to get two pins removed on Friday. The fracture occurred when he was struck by a fastball from
Paul Maholm
.
Belt's injury prompted
Michael Morse
to move from left field to first base. Morse is 14-for-his-last-36 (.389), with 11 extra-base hits and 12 RBIs during that span. He signed with the Giants on Dec. 12 for one year at $6 million.
• Shortstop
Brandon Crawford
had been 4-for-his-last-32 before producing a three-run homer in the fourth inning Thursday afternoon against Cincinnati's
Mike Leake
.
• With
Marco Scutaro
having missed the season's first 60 games with a lower-back strain,
Brandon Hicks
has emerged as the regular second baseman. Brandon Hicks? Yes, the same player who looked challenged defensively in spring training with the Mets in 2013 and went on to hit .283 with 11 homers and 49 RBIs in 318 at-bats with Triple-A Las Vegas. Hicks is in the midst of a 4-for-37 slump over his past 13 games that has dropped his average to .182, albeit with a .303 on-base percentage. Scutaro recently received platelet-rich plasma therapy.
• Ex-Met
Angel Pagan
is hitting .321 and has a .370 on-base percentage as San Francisco's leadoff hitter and center fielder.
•
Buster Posey
, whose gruesome left leg fracture in 2011 prompted MLB to institute the new blocking-the-plate rule, is 11-for-his-last-63. He has missed five games since May 20 with lower-back tightness related to a nerve issue. Posey has started 40 games at catcher and nine games at first base this season.
•
Madison Bumgarner
, whom the Mets do not face, is the reigning NL Pitcher of the Month. He was the first Giant to win the award since Lincecum in June 2009. Bumgarner went 5-0 with a 2.08 and MLB-best 48 strikeouts in six starts in May.
September, 19, 2013
9/19/13
7:08
AM ET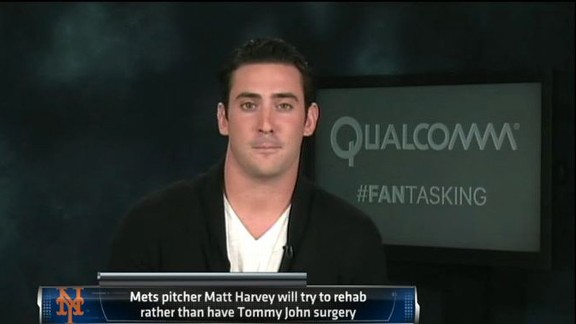 ESPNMatt Harvey appeared on ESPN as a pitchman for Qualcomm. An appearance earlier in the day did not go very well.
NEW YORK
FIRST PITCH:
Ruben Tejada
, quite literally, suffered a bad break.
Given a limited opportunity to prove he merits being the 2014 shortstop, Tejada's audition of sorts is now over. He
suffered a broken fibula in his right leg
colliding with left fielder
Andrew Brown
while catching a pop fly in the top of the ninth during Wednesday's 5-4 come-from-behind win against the
San Francisco Giants
.
Tejada, who turns 24 next month, hit .143 (3-for-21) in seven September starts after returning from a banishment to Triple-A Las Vegas. He finished the season hitting .203 overall in 208 at-bats. Sandy Alderson said it was "like pulling teeth" to get Tejada to do extra work.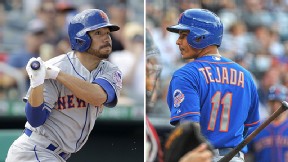 Associated PressWith Ruben Tejada done for the season, Omar Quintanilla is back to being the regular shortstop.
The Mets delayed Tejada's call-up until Sept. 10, which will leave him one day shy of three full years of major league service at season's end. Tejada still will be first-time arbitration-eligible as a Super 2, but his salary -- if the Mets choose to retain him -- should not be that far north of the $500,000 major league minimum in 2014.
By delaying Tejada's free agency until after the 2017 season, the Mets do make Tejada marginally more marketable in a trade.
It would be no great surprise if the Mets' Opening Day shortstop is not currently with the organization, since
Omar Quintanilla
is widely considered in baseball as a backup. All-Star
Jhonny Peralta
, currently serving a 50-game suspension related to Biogenesis, headlines the list of free agents at the position. (
Nelson Cruz
, another All-Star serving a 50-game suspension, also is a pending free agent, if the Mets are not averse to the Biogenesis route for adding outfield bats.)
Meanwhile,
Jonathon Niese
(7-7, 3.88 ERA) opposes fellow southpaw
Madison Bumgarner
(12-9, 2.83) in today's 1:10 p.m. rubber game at Citi Field.
Thursday's news reports:
•
Josh Satin
's two-run single against All-Star
Sergio Romo
capped a four-run ninth as the Mets rallied to beat the Giants. In his major league debut, catcher
Juan Centeno
had two hits, including a run-scoring infield single earlier in the ninth-inning rally. The Mets, who entered the frame trailing 4-1, overcame their largest ninth-inning deficit since June 16. That day, they also had a four-run ninth, and beat the
Chicago Cubs
, 4-3, on
Kirk Nieuwenhuis
' three-run homer.
Read game recaps in the
Post
,
Star-Ledger
and
MLB.com
.
•
Matt Harvey
publicly apologized to The Dan Patrick Show and Qualcomm on Wednesday afternoon, after his appearance that morning irked the host. Companies often pay for athletes to appear on shows, with the understanding the athlete will be given a brief opportunity to promote a product while otherwise answering topical sports questions.
When Harvey appeared with Patrick, he only wanted to talk about the wireless technology company, not his decision to forgo -- at least for now -- Tommy John surgery.
Asked about the scariness of the Tommy John surgery decision, Harvey said: "Every pitcher can relate to what's going on. I did all of those answers yesterday. Maybe at the appropriate time we can talk about that. But obviously today's about Qualcomm."
Asked by an incredulous Patrick if he really did not want to talk about his elbow, Harvey added: "We can set up another call, if you'd like to, about that subject, but today we're honoring and supporting Qualcomm." (Watch on YouTube
here
.)
Presumably after getting some P.R. advice, Harvey did discuss with ESPN his decision to rehab rather than immediately undergo Tommy John surgery. Watch
here
.
Harvey eventually tweeted: "I've had a few rough outings on the mound, that was a rough outing on the radio this morning... Been an exhausting couple of days. Apologies to @DanPatrick and @Qualcomm"
The Daily News reported Harvey fired a publicist earlier this year after an ill-fated Men's Journal article, and that this was his first time doing interviews as a paid spokesman for a company.
Read more in the
Daily News
,
Post
,
Record
and
Newsday
.
•
Billy Wagner
, who had Tommy John surgery while with the Mets, tells Mike Puma
in the Post
that Harvey is delaying the inevitable. "You can get it done now and be done with it, and the rehab is not a hard rehab," Wagner told Puma. "… When I was rehabbing at 80 or 85 percent, I couldn't tell anything was wrong. But as soon as I let it go a little bit, there's a big difference."
• Richard Sandomir
in the Times
writes that Tommy John surgery first is paid by workers' compensation, with the difference covered by the team.
• Terry Collins, appearing on WFAN, cited Harvey's determination as a reason why he may very well avoid Tommy John surgery. Said Collins: "I told one of the coaches today: I would not be afraid to have someone bet me that Matt Harvey will be the Opening Day pitcher, because I think he will be."
Collins expects
David Wright
(hamstring strain) to return from the disabled list this weekend in Philly. The manager also predicted
Wilmer Flores
would open next season in the minors if there is no defined position for him, whereas Brown and Satin could be righty-hitting major league bench pieces in 2014.
As for
Daniel Murphy
, Collins said he again would expect to see him at second base next season -- "not at this moment" at first base next year. The manager did allow, though, for a scenario not currently foreseeable in which
Eric Young Jr.
mans second base and Murphy slides over to first base. "I don't know what the winter is going to hold," Collins said. Of course, that latter scenario would logically involve the departures of
Ike Davis
and
Lucas Duda
.
Collins noted the Mets will need to bring a veteran starting pitching hedge to camp, even if Harvey is OK in a rotation alongside
Zack Wheeler
, Niese and
Dillon Gee
. That veteran would compete with Jacob deGrom and Rafael Montero among others and also serve as a safety net in case of an injury. Asked if it could be a re-signed
Aaron Harang
, Collins said: "We've got to have one of those [veteran-type] guys coming into camp. Who that is I don't know yet."
(Alderson, who not too long ago said he would look to sign a major starting pitcher, did a 180-degree turn Tuesday on that topic.)
Listen to Collins' full interview
here
.
• Read more on Tejada's fractured fibula in the
Star-Ledger
,
Daily News
and
Newsday
.
• Missed Jerry Seinfeld appearing on Tuesday's Mets telecast? You can watch the highlights
here
.
At one point, Seinfeld -- a Mets fan -- mocks the publicity Dr. James Andrews is getting for examining Harvey on Monday in Gulf Breeze, Fla.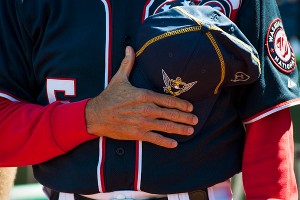 by Katherine Frey/The Washington PostDavey Johnson, as well as his Nats, wore Navy hats pregame only.
"I want to know why these doctors are getting billing now. Who the hell is this guy? He's a big star now --
Dr. Andrews?
" Seinfeld said. "Why do I got to hear about him for? … I mean, do we get free treatment out of this guy for all of these plugs? 'I'm Dr. Andrews. I talked to Matt Harvey. I didn't do a damn thing. Did you hear me on the broadcast? They said my name four times. I'm Dr. Andrews.'"
• Keith Olbermann scolded Major League Baseball and, to a lesser extent, the
Washington Nationals
over wearing "Navy" hats during batting practice, but not in-game after the shooting at the Navy Yard, blocks from the team's ballpark.
The issue is nearly identical to the Mets -- during games on the anniversary of 9/11 -- no longer wearing the caps of New York City first-responder agencies.
MLB has licensing agreements and does not grant in-game waivers for unauthorized caps it cannot market. The Nats did not even bother to ask about wearing the Navy caps in-game this time, Olbermann suggested, because MLB's policy is clearly established and inflexible.
Nats manager Davey Johnson responded about Olbermann (via
@JamesWagnerWP
): "He's not high on my list."
• Wheeler is at 168 2/3 innings between the majors and minors this season, and the Mets likely want to cap the rookie at no more than 180 innings. So Collins said Wednesday it is unresolved whether Wheeler's final start will be Monday in Cincinnati, or he also will appear in the regular-season finale the following Sunday at Citi Field against the
Milwaukee Brewers
as part of a continued six-man rotation.
Mike Piazza
will be inducted into the Mets Hall of Fame that day. Read more in the
Star-Ledger
.
•
Travis d'Arnaud
could return to the lineup today after missing a game. D'Arnaud was struck by a foul ball in the right shoulder off the bat of
Hunter Pence
on Tuesday. D'Arnaud has repeatedly gotten hit in the head of late as well, primarily from backswings.
"It's more than I've ever seen, and it's a little bit concerning," Mets bench coach Bob Geren told Jorge Castillo
in the Star-Ledger
about the beating d'Arnaud is taking.
Geren told Marc Carig
in Newsday
there is a "conundrum" because typically you move closer to the plate when getting hit by too many foul balls and farther away from the plate if you're getting by backswings. And d'Arnaud is a victim of both.
Read more in the
Record
.
•
Justin Turner
(hamstring) is not ready to do baseball activities.
Frank Francisco
(hand) also is not ready to return.
• Howard Megdal
at Capital New York
finds Alderson's unwillingness to speak about the team's 2014 payroll troubling.
•
From the bloggers …
Faith and Fear in Flushing
would like Howie Rose to reunite with Gary Cohen on the season's final day.
BIRTHDAYS:
Left-hander Randall K. Myers turns 51.
TWEET OF THE DAY:
I like when money makes a difference but don't make you different

— Dominic Smith (@TheRealSmith22) September 19, 2013
YOU'RE UP: Does Ruben Tejada deserve to be a part of the 2014 Mets?
September, 17, 2013
9/17/13
11:07
PM ET
NEW YORK -- Let's just say the
San Francisco Giants
got the better end of the trade in which they acquired
Angel Pagan
for
Andres Torres
and
Ramon Ramirez
.
The ex-Met Pagan delivered a tiebreaking solo homer against
Sean Henn
in the seventh inning, then produced a run-scoring triple an inning later against
Gonzalez Germen
.
The Giants ultimately beat the Mets
8-5
on Tuesday at Citi Field.
Pagan finished 3-for-3 with two walks and two runs scored. He fell a double shy of the cycle.
Trailing by four runs, the Mets loaded the bases in the ninth and
Daniel Murphy
delivered an RBI single with one out against
Sergio Romo
. But
Lucas Duda
popped out, and
Andrew Brown
flied out to end it.
Wild thing:
Zack Wheeler
experienced a fit of wildness in what was likely his second-to-last start of the season.
Facing his former organization, Wheeler departed after five innings with the score tied at 4 and his pitch count at 107. He allowed only three hits but walked a career-high six, matching the most bases on balls by a Mets starter this season.
Mets pitchers combined to walk a season-high 10 batters.
Wheeler now has logged 168 2/3 innings this season between the majors and minors.
On July 10 in San Francisco, in his first-ever meeting against the team that traded him for
Carlos Beltran
two years ago, Wheeler had limited the Giants to one run on three hits and three walks in seven innings.
Ouch:
Travis d'Arnaud
departed the game after three innings with what the Mets labeled a sore right shoulder. D'Arnaud had taken a foul tip off the shoulder.
Welcome back:
Jeurys Familia
handled the ninth inning in his first major league action since May 8, before surgery to clean out his right elbow. Familia allowed the first three baserunners to reach. He eventually surrendered two hits and two walks while recording only one out. He surrendered one run and departed with the bases loaded but suffered no additional damage to his ERA.
Welcome back 2:
Making his second career appearance and first start against his original organization, ex-Mets farmhand
Yusmeiro Petit
allowed four runs in six innings and earned the victory.
Petit was traded by the Mets to the Marlins during the 2005-06 offseason with
Mike Jacobs
for
Carlos Delgado
.
What's next:
Aaron Harang
, who allowed three solo homers but no other damage in six innings against the
Washington Nationals
in his Mets debut, makes his second start with the ballclub. Harang (5-12, 5.70 ERA overall) opposes right-hander
Matt Cain
(8-9, 4.24) at 7:10 p.m. ET Wednesday.
July, 8, 2013
7/08/13
1:54
AM ET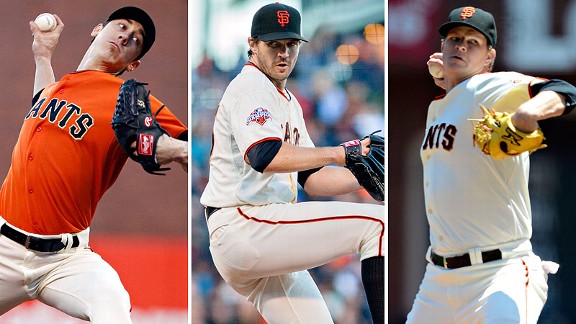 USA TODAY SportsThe Mets face (l to r) Tim Lincecum, Barry Zito and Matt Cain during a three-game series in San Francisco.
METS (37-48, fourth place/NL East) vs. SAN FRANCISCO GIANTS (40-47, fourth place/NL West)
Monday:
RHP
Matt Harvey
(7-2, 2.27) vs. RHP
Tim Lincecum
(4-9, 4.66), 10:15 p.m. ET
Tuesday:
RHP
Dillon Gee
(6-7, 4.45) vs. LHP
Barry Zito
(4-6, 4.44), 10:15 p.m. ET
Wednesday:
RHP
Zack Wheeler
(2-1, 4.29) vs. RHP
Matt Cain
(5-5, 4.85), 3:45 p.m. ET
Giants short hops
• The Giants placed catcher
Buster Posey
, second baseman
Marco Scutaro
and pitcher
Madison Bumgarner
on the NL All-Star team, which will be managed by San Francisco skipper Bruce Bochy.
Hunter Pence
is on the five-man NL ballot for additional fan voting. A year after having four starters selected to the game, including
Pablo Sandoval
over
David Wright
, the Giants will have none in the opening lineup at Citi Field on July 16.
•
Angel Pagan
is likely out for the season after undergoing left hamstring surgery in late June. The ex-Met signed a four-year, $40 million deal in September. Pagan originally was injured on May 25, when his inside-the-park homer lifted the Giants past Colorado. He aggravated the tear during a rehab game. Fellow ex-Met
Andres Torres
primarily has played center field in Pagan's absence. Torres was forced to leave Friday's game with a right calf cramp, but since has returned.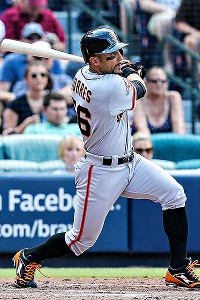 Daniel Shirey/USA TODAY SportsAndres Torres has taken over for injured fellow ex-Met Angel Pagan in center field.
• Posey has been starting at first base more frequently of late because of leg tightness.
• San Francisco was no-hit by Cincinnati's
Homer Bailey
last Tuesday. The Giants last had been no-hit in 2003, by
Kevin Millwood
of the
Philadelphia Phillies
. Since the move to San Francisco, the Giants have been no-hit 11 times. The others to accomplish the feat against them: Warren Spahn (1961), Sandy Koufax (1963), Ryan Washburn (1968), Jerry Reuss (1980), Charlie Lea (1981), Mike Scott (1986),
Terry Mulholland
(1990), Kevin Gross (1992) and
Kevin Brown
(1997).
• San Francisco has lost 11 of 13 and 16 of 21. The Giants have scored two runs or fewer in 12 of their past 16 games. They are 2-for-their-last-36 with runners in scoring position.
• Scutaro, in a 5-for-34 slump, recently has dealt with back problems. Also slumping: Pence is 0-for-his-last-22. Sandoval is 5-for-45 since returning from the DL for a foot injury. The Big Panda is homerless in his last 24 games.
Brandon Crawford
is 7-for-his-last-58 with no extra-base hits or RBIs in his past 18 games.
• The Giants got caught batting out of order Saturday. After the third hitter, Posey, delivered an RBI double in the first inning, Dodgers manager Don Mattingly informed umpires Posey was listed as the cleanup hitter, so it really had been Sandoval's turn to bat. Sandoval was ruled out, the runner returned to third and Posey had to bat again. He flied out.
•
Tim Lincecum
is winless since June 4. He is 0-for-4 with a 4.45 ERA in his past five starts.
•
Matt Cain
enters the series off an outing against the Dodgers in which he allowed eight runs while recording only seven outs. Cain had produced a 1.82 ERA in his previous five starts and had been unbeaten in his past 11 starts against the Dodgers. Cain had retired the final 20 batters he faced against the
Colorado Rockies
in his previous start.
•
Santiago Casilla
should return to the bullpen this week, after two more rehab appearances. Casilla had mid-May surgery to remove a bone cyst near his knee.
• Closer
Sergio Romo
allowed a three-run double in the ninth inning Sunday as San Francisco lost its rubber game to Los Angeles. Romo had mocked
Hanley Ramirez
after earning a save Saturday.
•
Mike Kickham
was demoted Sunday, after going 0-3 and surrendering 16 earned runs in 10 1/3 innings as a starter. His 13.94 ERA is the highest ever by a Giants starter in his first three outings. The decision coincided with
Chad Gaudin
's return from the disabled list.
• The Giants had scout Lee Elder watching
Minnesota Twins
relievers, the San Francisco Chronicle reported.
•
Ryan Vogelsong
suffered a broken right hand getting hit by a pitch May 20. He may resume throwing next week.
• Outfielder
Gregor Blanco
snapped an 0-for-25 drought Saturday with a three-hit game.
February, 12, 2013
2/12/13
6:48
AM ET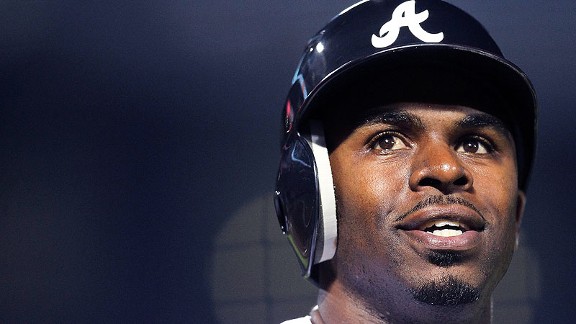 Daniel Shirey/USA TODAY Sports
Michael Bourn is headed to the Cleveland Indians.
PORT ST. LUCIE, Fla.
FIRST PITCH:
The amazing thing about the
Michael Bourn
saga?
The Mets (74-88) would have had a protected pick at No. 10 -- even with the
Pittsburgh Pirates
getting that extra pick -- and seemingly would have landed Bourn had the Mets finished the 2012 season with one more loss. Instead, Toronto (73-89) would have been bumped from the top 10 and lost the protection of its top pick.
Chalk up another reason why the Mets should have traded
Scott Hairston
at last year's trading deadline.
The bottom line: The prolonged debate about whether the Mets should have surrendered the 11
th
overall pick in the draft to sign the free-agent center fielder is over. They won't. Nor will they land Bourn.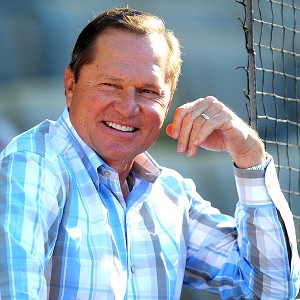 Kirby Lee/Image of Sport/US Presswire
Scott Boras landed Michael Bourn a four-year, $48 million deal with Cleveland.

Although the
Mets had a four-year, $48 million offer
on the table, Bourn opted for a comparable deal with the
Cleveland Indians
.
Agent Scott Boras was unwilling to wait for the draft-pick grievance process to take an estimated two weeks. Boras feared other offers would be off the table at that point. And if the Mets did not get the pick protected through that process and walked away, Boras would be left with little leverage anywhere.
So now, as the Mets arrive at the complex today for physicals in advance of Wednesday's first official pitchers and catchers workout, it is becoming abundantly clear their outfield in April may be:
Lucas Duda
in left field,
Kirk Nieuwenhuis
and
Collin Cowgill
platooning in center field, and
Mike Baxter
with
Marlon Byrd
,
Andrew Brown
,
Brian Bixler
,
Zach Lutz
or
Justin Turner
in right field.
Jon Heyman
tweets
the Mets now ought to try to acquire
Drew Stubbs
, a trade candidate in the Indians' overcrowded outfield. Of course, Stubbs had a .213 average and .277 on base-percentage with the
Cincinnati Reds
last season.
Columnist Ken Davidoff offers his opinion on the Bourn saga in the Post
here
. Read more in the
Post
,
Daily News
and
Newsday
.
Meanwhile, Terry Collins addresses the media at 12:30 p.m. today.
Johan Santana
, who reported Monday but did not speak with reporters, also could field questions Tuesday.
Tuesday's news reports:
• Turner will
get reps in the outfield
as the Mets search for capable options.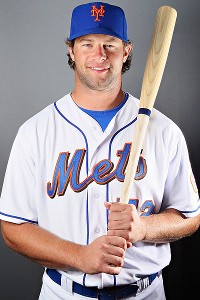 Elsa/Getty Images
Kirk Nieuwenhuis keeps his center field job with Michael Bourn heading to Cleveland.

As for Sandy Alderson's quip -- when the GM was asked about his outfield during the offseason and replied
, "What outfield?"
-- Duda told Jared Diamond
in the Wall Street Journal
: "What are you going to do? Do you guys want me to go yell at Sandy?" Said Nieuwenhuis: "If you let that stuff get to you, you're in the wrong sport and you're in the wrong town."
Jorge Castillo
in the Star-Ledger
also looks at the state of the outfield. "I feel like all the guys we have here are major league caliber players," Turner told Castillo. "Just because the numbers aren't there from years past doesn't mean they can't play the game and play the game hard. So I wouldn't discredit them at all for anything they've done because they haven't had the opportunity."
Read more on the outfield in the
Times
and at
MLB.com
.
•
Tim Byrdak
is eyeing July 1
for a return to the majors following surgery to repair a torn anterior capsule in his pitching shoulder. Read more in the
Star-Ledger
and
Post
.
•
Ruben Tejada
, aware of the impending snow storm, shifted his scheduled flight last Saturday from New York to Florida to Friday at 5 a.m. He worked out at the complex Monday -- a full week ahead of the position-player report date. "It's my work, you know?" Tejada told Marc Carig
in Newsday
. "You have to stay doing it the right way. That's why I came here early to work with my teammates."
•
Jenrry Mejia
had a visa issue
and is not at Mets camp.
•
R.A. Dickey
reported to Blue Jays camp in Dunedin, Fla., writes Anthony Rieber in
Newsday
.
•
Shaun Marcum
, who replaces Dickey in the rotation, is
eyeing 200 innings
.
"I've always been a big fan of his," J.P. Ricciardi told Mike Puma
in the Post
. "We drafted him in the third round in Toronto -- he was a shortstop/closer in college. We ended up making him a starter and he got to the big leagues. You don't forget the guys that compete and do well for you, and he's been one of them. …
"You look back at [Marcum's] numbers and he's pitched in two hitters' parks, Milwaukee and Toronto, plus he pitched in the American League East for a long time. So he's got a track record behind him on top of me being able to vouch for him, so those all go hand and hand.
"He's also a great fielder -- the guy should have won a Gold Glove. He's going to be able to help himself with the bat. If Shaun is healthy through the year, I expect good things from him."
Read more on Marcum at
TCPalm.com
.
•
Mike Piazza
mostly avoided media during a book signing at Barnes & Noble on 5
th
Ave. in Manhattan on Monday. He did
tell the Post
regarding the Hall of Fame vote: "Definitely a little disappointed, but I was really honored [by] a lot of support, too." Read more in the
Daily News
.
• Terry Collins is marveling at the early turnout at camp. "Twenty major league hitters a week early," he noted to Andy Martino
in the Daily News
.
• Elena Gustines
in the Times
chronicles memorable Opening Days in Mets history, including April 9, 1985, when Gary Carter belted a game-winning homer in the 10
th
in his Mets debut.
• Lefty reliever Daniel Herrera cut his long hair and donated it to the charity Locks for Love, which provides hair to children with medical issues, Mike Kerwick writes
in the Record
. Herrera is rehabbing from Tommy John surgery in minor league camp.
• Kerwick also profiles
Zack Wheeler
in the Record
. Wheeler talks about his time with the
San Francisco Giants
, when he would quiz
Sergio Romo
during camps. "Me and him would sit down for 30, 45 minutes, and talk about baseball -- like the mental side of it," Wheeler told Kerwick. "He was a great guy."
•
From the bloggers
… In light of Monday night's developments,
Faith and Fear in Flushing
concludes Bourn was just an urban myth. … Shannon from
MetsPolice.com
scoured YouTube and located a 1969-themed Mets calypso song that would make a good addition to the Citi Field music rotation.
BIRTHDAYS:
Ex-Mets right-hander
Tim Redding
turns 35. … Lenny Randle, who played two seasons for the Mets in the '70s, was born in 1949.
TWEET OF THE DAY:
Who else wants Francoeur, Nady and Church in the outfield for 2013? Lol #Mets

— Genaj (@Supgeex0) February 12, 2013
YOU'RE UP: Are you upset or relieved the Mets failed to sign Michael Bourn?
Please use the comments section to weigh in
July, 31, 2012
7/31/12
2:12
AM ET
WHAT IT MEANS:
Scott Hairston
may remain a Met beyond the 4 p.m. ET trade deadline. That's undoubtedly fine with his teammates.
Hairston tied the score with a two-run homer in the eighth against
Sergio Romo
. Then, a half-inning after the Mets blew a two-run lead in the ninth, Hairston went deep again. His tiebreaking solo homer against
Santiago Casilla
in what became a two-run 10
th
lifted the Mets to
an 8-7 win against the Giants
on Monday night at AT&T Park.
It was Hairston's sixth career two-homer game, and his second as a Met. He also homered twice last July 31 in a 3-2 loss at Washington.
A day after
Terry Collins
suggested teams in playoff contention undoubtedly ought to covet Hairston and
Justin Turner
, it was precisely that duo who rallied the Mets.
After Hairston's two-run homer against Romo evened the score at 4, the lightly used Turner followed with his first hit in 11 days -- a pinch-hit RBI double -- as the Mets scored four runs in the eighth to take a 6-4 lead.
The Mets ultimately won for only the third time in 45 games when trailing after seven innings.
HELP WANTED:
Won't you save them
Frank Francisco
?
Asked to protect a two-run lead after a late rally by his teammates,
Bobby Parnell
again failed to close the door in the ninth.
Parnell surrendered a run and was pulled by Collins with the tying run at third base. Rookie
Josh Edgin
then entered the high-pressure situation with one out and coaxed
Nate Schierholtz
into a grounder to first.
However,
Ike Davis
couldn't handle it and the tying run scored. (It was very generously ruled a double, although Davis appeared poised to field it, freeze the runner at third and get an out at first.)
Edgin escaped a loss. Ultimately confronted with the bases loaded, two outs and a full count, he got a called third strike on
Marco Scutaro
on a backdoor cutter to force extra innings.
It officially was the first blown save of Edgin's career, although that's not exactly fair. It actually was a testament to the manager's faith in Edgin that the rookie remained in for the duration of the ninth, since
Manny Acosta
had warmed in the bullpen.
Acosta did protect a two-run lead in the 10
th
, despite issuing two walks and surrendering a run. He notched his ninth career major league save and first since last Sept. 24, with the Mets against the Phillies. Edgin notched his first major league win.
Francisco, by the way, is due to pitch for Double-A Binghamton on Tuesday and Wednesday before the Mets consider activating him from the DL.
E-4:
Filling in for
Daniel Murphy
at second base,
Ronny Cedeño
delivered a two-run double in the fourth inning that staked the Mets to a 2-1 lead. Two innings later, however, Cedeño muffed a would-be inning-ending double-play grounder, allowing the tiebreaking run to score.
Ryan Theriot
followed with a seeing-eye RBI single that chased
Jeremy Hefner
as the Giants took a 4-2 lead in the sixth.
There's little doubt Hefner will continue in the rotation until
Johan Santana
returns from the disabled list. Had Cedeño successfully initiated the double play, rather than muffing
Aubrey Huff's
grounder and having to settle for only the out at second, Hefner would have completed the sixth inning with the score tied at 2.
The worst part: Huff injured himself and had to deliberately limp up the first-base line on his grounder to Cedeño, so any sort of clean play would have resulted in a double play.
Matt Cain
had to pinch-run for Huff.
OUCH: Andres Torres
appeared to jam his right hand/wrist falling to the ground after getting tangled with Giants pitcher
Madison Bumgarner
on an infield single in the fifth inning, during a bang-bang play at first base. Trainer
Ray Ramirez
visited Torres, and the ex-Giant remained in the game at that point. He departed later amid the defensive maneuverings, so it was unclear if the injury was an issue.
Angel Pagan
, for whom Torres was traded, also departed midgame without immediate explanation.
BAY WATCH: Jason Bay
snapped an 0-for-23 drought with a two-out single off the right-field wall in the sixth. Bay ended his hitless streak one shy of matching his career high, produced last season with the Mets.
WELCOME BACK: Mike Baxter
singled against Casilla as a pinch hitter in the 10
th
, in his first major league at-bat since separating his right shoulder on the June 1 catch that preserved Santana's no-hit bid.
NOT AGAIN:
The same umpiring crew that gave the Mets fits in Atlanta again had Collins on the field disputing a call.
In the fourth,
David Wright
singled. Hairston then sent a grounder to third base. Theriot, covering second, dropped Scutaro's throw, but ump
Dale Scott
ruled he held the ball long enough and lost the ball on the transfer -- a debatable call.
That's the inning Cedeño followed with the two-run double, so arguably it could have been a bigger inning.
It was Scott who gave
Jordany Valdespin
credit for a catch in left field, which was then overruled by his crewmates, during a game at Turner Field that opened the second half. A day later in Atlanta,
Dan Warthen
erupted at plate umpire
C.B. Bucknor
over the strike zone afforded Santana. Bucknor again was behind the plate Monday night.
WHAT'S NEXT: Matt Harvey
, coming off a major league debut in Phoenix in which he tossed 5 1/3 scoreless innings, opposes
Tim Lincecum
(4-11, 5.88 ERA) Tuesday at 10:15 p.m. ET.