New York Mets:

Seth Everett
March, 8, 2014
Mar 8
6:03
AM ET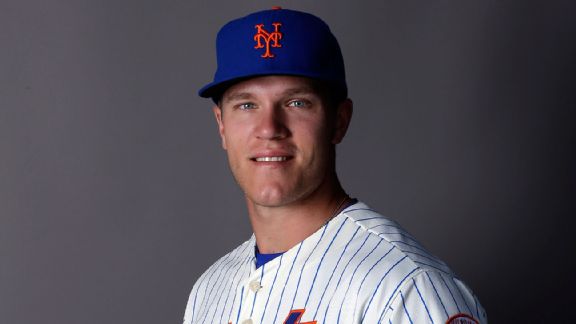 Jeff Roberson/Associated PressNoah Syndergaard faces the Detroit Tigers on Saturday in Lakeland, Fla.
PORT ST. LUCIE, Fla.
FIRST PITCH:
It's Noah Syndergaard Day!
Coming off a performance against the
Atlanta Braves
in which he tossed two scoreless innings and blew three straight fastballs by
Evan Gattis
, Syndergaard gets on the early bus to Lakeland, Fla., to face the
Detroit Tigers
on Saturday at 1:05 p.m.
Also scheduled to pitch for the Mets: Joel Carrreño, John Church,
Jacob deGrom
,
Gonzalez Germen
, Adam Kolarek and
Jeff Walters
. (See the full travel list
here
.)
Left-hander
Drew Smyly
is due to start for the Tigers.
Saturday's news reports:
•
David Wright
made his 2014 Grapefruit League debut Friday, going 0-for-3 and grounding into a double play against the
St. Louis Cardinals
.
Wilmer Flores
and Eric Campbell had consecutive two-out RBI singles in the bottom of the ninth to pull the Mets even in
what ended in a 5-all tie
.
Daniel Murphy
initially appeared to injure himself on an aggressive slide into second base, but indicated afterward he merely suffered a scraped right shin.
Ruben Tejada
, in his first game since returning from a hamstring injury, looked shaky in the field with three misplays, including one charged as an error. Murphy and
Andrew Brown
also committed errors.
Read recaps of Wright's exhibition debut and Friday's Grapefruit League result in the
Journal
,
Star
-
Ledger
,
Record
,
Newsday
and
MLB.com
.
• Columnist Kevin Kernan
in the Post
was not impressed with the Mets' fielding Friday. Writes Kernan:
Tejada, who has had a hamstring issue cost him a week of playing time, did not move well on Friday and continues to be a major problem for the Mets. Stephen Drew's value appears to be rising, but the Mets seemingly are not going to go there as Scott Boras' shortstop remains on ice.
• The Mets got their first taste of instant replay Friday. Terry Collins said he would be
aggressive challenging during the season
because the media scrutiny would be intense if a big inning occurred after a close call went unchallenged. Read more in the
Times
,
Post
,
Daily News
,
Newsday
,
Record
and
Star-Ledger
.
• Terry Collins affirmed postgame that
Flores will get a start at shortstop
early next week.
•
Bobby Parnell
and
Bartolo Colon
both officially are listed to
make their 2014 Grapefruit League debuts
Monday.
•
Mike Piazza
completed his week as a guest instructor.
Travis d'Arnaud
tells Mike Puma
in the Post
the message from Piazza to him mostly was about mental approach at the plate. "Just taking your hits -- not trying to pull off and hit a home run every time," d'Arnaud said about what Piazza imparted. "When things go bad, just go back to the basics, wait for your pitch and just make good contact."
• Seth Everett officially has been named the pregame and postgame host for Mets radio broadcasts on WOR.
• Marty Noble
at MLB.com
writes about Triple-A pitching coach Frank Viola advocating the changeup as a weapon in a pitching arsenal.
• Wright
tells the Daily News
he is pleased
Curtis Granderson
will hit behind him.
The Cardinals, incidentally, played a pronounced shift on Granderson on Friday. Asked if he had seen that defensive alignment much in recent years, Granderson said: "It's a mix. Some teams do. Some won't."
•
From the bloggers …
Faith and Fear
reflects on the fleeting moment in 2012 when the Mets rotation included
R.A. Dickey
,
Matt Harvey
and
Johan Santana
, and how none of them is part of the team's 2014 plans. … John Delcos at
Mets Report
writes about the easing in of Wright into games this spring training.
BIRTHDAYS:
Willard Hunter, who pitched for the original '62 Mets, was born on this date in 1934 in Newark, N.J.
TWEET OF THE DAY:
Carmen Berra, wife of former #Mets Manager Yogi Berra passed away today. Our deepest condolences to the Berra family. pic.twitter.com/PgYmT7pu0Q

— New York Mets (@Mets) March 8, 2014
YOU'RE UP: Will Noah Syndergaard dominate the Tigers like he did the Braves?
March, 7, 2014
Mar 7
6:31
AM ET
Jeff Roberson/Associated PressDavid Wright is due to play in his first 2014 Grapefruit League game Friday.
PORT ST. LUCIE, Fla.
FIRST PITCH:
It's time for
David Wright
to
enter Grapefruit League play
.
Wright and
Daniel Murphy
, held out the first week of exhibition play to attempt to reduce their risk of becoming injured during spring training, are expected to start on Friday as the Mets host the
St. Louis Cardinals
at 1:10 p.m. at Tradition Field (SNY).
John Lannan
, originally scheduled to start Thursday's rained-out game against the
Houston Astros
, pitches Friday in relief as part of a
revised pitching schedule
.
Daisuke Matsuzaka
, Rafael Montero and
Steven Matz
also are due to pitch.
Right-hander
Carlos Martinez
starts for St. Louis.
Friday's news reports:
• Several Mets pitchers
made progress in their returns
from injuries Thursday, during a three-inning simulated game at Tradition Field.
Bobby Parnell
pitched in a game-like setting
for the first time since last July 30. Expected Opening Day starter
Jonathon Niese
had his first game-like action since being sent to New York for an MRI of his pitching shoulder and
called it a "great step forward."
And
Bartolo Colon
tossed three innings after nursing a calf injury early in camp. Colon
pronounced himself ready to pitch Monday
in an actual exhibition game.
Read more on Niese, Parnell and Colon and the intrasquad game in the
Post
,
Daily News
,
Times
,
Star
-
Ledger
,
Record
,
Journal
and
Newsday
.
• The banged-up position players are healing more slowly.
Ike Davis
batted during the simulated game but did not run. Davis, who believes he originally injured himself in the weightroom, suggested his
cranky calves need more time
to recover.
Ruben Tejada
(hamstring) also batted but did not run Thursday, but suggested afterward he was ready to appear in Friday's game against St. Louis.
Lucas Duda
did
not participate Thursday
. He also is suffering from a hamstring issue. Read more in the
Star-Ledger
.
• Read more on Wright's impending 2014 Grapefruit League debut in the
Post
,
Daily News
,
Star-Ledger
,
Record
,
Newsday
and
MLB.com
.
• Seth Everett will be
named the pregame and postgame host
for Mets radio broadcasts on WOR, a source told ESPNNewYork.com.
• The man charged with two misdemeanors for allegedly threatening the Mets via Twitter has applied for a program that may
result in the charges being dismissed
.
• New Fox Sports analyst Harold Reynolds
tells the Post
the Mets aren't winning 90 games this season.
• Mookie Wilson's "bromance" with Bill Buckner is covered
in the Post
.
• Michael Salfino
in the Journal
has a statistical comparison of Noah Syndergaard and Dwight Gooden entering their rookie seasons (Gooden entering 1984).
•
From the bloggers …
Rising Apple
advocates trading a young pitcher – the big three excluded – for a shortstop. …
NY Mets Life
discusses instant replay.
BIRTHDAYS:
Joel Carreño, a reliever in Mets camp who has 22 career appearances with the
Toronto Blue Jays
, turns 27. ...
Jeff Kent
, who received 15.2 percent of the vote in his initial year on the Hall of Fame ballot, is 46.
TWEET OF THE DAY:
Nice sunset tonight pic.twitter.com/VoT4XqgSzd

— Zack Wheeler (@Wheelerpro45) March 6, 2014
@MattHarvey33 the ladies love it

— Zack Wheeler (@Wheelerpro45) March 7, 2014
YOU'RE UP: Was it wise to have David Wright and Daniel Murphy skip the first week of Grapefruit League play?
March, 6, 2014
Mar 6
8:17
PM ET
PORT ST. LUCIE, Fla. -- Seth Everett will be named WOR's pregame and postgame host, a source told ESPNNewYork.com.
Everett has significant experience in the market. His
Fox Sports bio reads
...
Seth Everett currently hosts a FOX Sports Radio Saturday morning show, in addition to serving as the FOX Sports Radio Baseball Insider, appearing on several programs throughout the week. Heard nationally on FOX Sports Radio stations during local programs, Everett gives cities around the country the latest news in baseball. Everett joined FOX Sports Radio in 2001, and previously covered the NFL, NHL and NBA while simultaneously working with Major League Baseball. He met his wife in the press box of Giants Stadium during a Jets game while working for FOX Sports Radio. While he tries to not be biased when it comes to sports topics, he can't help but publicly support his alma mater, Syracuse, & his hometown New Jersey Devils. Everett currently lives in New Jersey with his wife and two daughters.
Everett could not be reached for comment.
Below, Seth Everett (center) interviews Tommy Lasorda.
#tbt 1st time Tommy Lasorda had an argument.He said players owed it 2 their country to play #WBC. I disagreed @dham18 pic.twitter.com/Z5qld3L9bh

— Seth Everett (@Seth_Everett) February 27, 2014
February, 23, 2014
Feb 23
6:47
AM ET
Above, Matt Harvey compares work-related scars with Mets clubhouse chef Theresa Corderi.
PORT ST. LUCIE, Fla.
FIRST PITCH:
It's Game Week in Port St. Lucie.
The Mets stage their second full-squad workout Sunday, but it is later in the week when baseball really returns.
The Mets have an intrasquad game Thursday, then open their Grapefruit League schedule Friday against the
Washington Nationals
at 1:10 p.m. at Tradition Field.
SNY (
full TV schedule
) and debuting WOR (
full radio schedule
) will carry Friday's opener.
Sunday's news reports:
•
Matt Harvey
tossed a baseball Saturday
for the first time since undergoing Tommy John surgery on Oct. 22. After making 20 throws at 60 feet, Harvey said he feels "brand new." Although Harvey wants to rehab in New York this season, Mets officials prefer he do so in Port St. Lucie. Sandy Alderson said the
final determination is unresolved
.
Columnist Kevin Kernan
in the Post
suggests the Mets loosen the reins on Harvey and let him come back in August or September if he is capable.
Read more on Harvey's first throwing session in the
Times
,
Post
,
Daily News
,
Star-Ledger
,
Record
,
Newsday
and
MLB.com
.
•
Nelson Cruz
just signed with the
Baltimore Orioles
for $8 million, with the potential to earn $750,000 in incentives. Alderson
insisted Saturday he had no regrets
about signing
Chris Young
for $7.25 million in November, given Cruz's ultimate price tag.
Matthew Emmons/USA TODAY SportsNelson Cruz has signed with the Orioles.
Writes columnist John Harper
in the Daily News
:
However, that doesn't mean [Cruz] would have signed the same deal with the Mets. Almost certainly they would have had to pay more to get him to play in their ballpark rather than Camden Yards in Baltimore, a home run haven for right-hand hitters, where Cruz no doubt is hoping to put up splashy numbers and then go looking for a big score again next winter.
So it's overstating the case to call this a screw-up by Alderson. Signing outfielders was too much of a need to wait around all winter, hoping something like this would happen with someone like Cruz.
Other baseball people, in fact, say the consensus around the game was that some team would give Cruz a multiyear deal, especially after shortstop Jhonny Peralta, another player suspended in the Biogenesis scandal, gave teams -- including the Mets -- sticker shock by signing early with the Cardinals for four years, $53 million.
Regarding
Stephen Drew
, Alderson's handicapping of the free-agent shortstop landing with the Mets remains unchanged. The GM said Saturday,
via the Star-Ledger
: "I think it's just unlikely based on all the circumstances. It's not necessarily just from our point of view -- just with all the circumstances, our other options in camp." He described the likelihood of Drew landing with the Mets as "slim"
in Newsday
.
Read more on Cruz and Drew in the
Post
.
• Terry Collins plans for
David Wright
,
Daniel Murphy
and
Curtis Granderson
to
not play the first week
of the Grapefruit League schedule. Wright is
content to proceed slowly
after ramping up quickly for the World Baseball Classic last spring training.
• Mike Vorkunov
in the Star-Ledger
profiles Anthony Seratelli, who is trying to be a rookie in the majors at age 31 this season -- a similar storyline to
Scott Rice
last year. The Mets made a strong push to sign Seratelli for a backup infield role the minute minor-league free agency began during the offseason.
• Right-hander
Erik Goeddel
, who served as a reliever at UCLA, is
permanently moving to the bullpen
. All but five of Goeddel's 66 professional appearances have been as a starter since he was drafted in 2010.
•
Bobby Parnell
threw a standard bullpen session Saturday, a day after being held out with left quadriceps tightness. Parnell did not participate in fielding drills, however. Read more in the
Star-Ledger
.
• An industry source says Andy Masur has not been offered the WOR pregame/postgame job just yet, although one source told ESPNNewYork.com on Friday they expected the former
San Diego Padres
play-by-play man to land the gig. Bob Raissman
in the Daily News
also lists Seth Everett and MLB.com host Pete McCarthy as candidates. ESPNNewYork.com has heard those names as well.
• Marc Carig
in Newsday
chats with
Ruben Tejada
. Writes Carig:
First came the whispers about his physical conditioning, followed by an error-filled April that served as a preview of his cursed season. By midsummer, Tejada had been injured and marooned in the minors, and the team's discontent had seeped on to the airwaves.
In a radio interview, general manager Sandy Alderson griped that getting the shortstop to do extra work was "like pulling teeth."' The Mets appeared to be finished with the 24-year-old, who had been seen as a critical piece of the team's rebuilding project.
"You want to do everything good,"' Tejada said this past week as he looked back at the most tumultuous season of his career. "But it's impossible."'
•
Eric Young Jr.
and Chris Young could become the first Mets with the same surname to start on Opening Day since 1978,
according to the Post
. That year, Ken Henderson started in left field and Steve Henderson started in right field.
• Commissioner Bud Selig told The Michael Kay Show on Thursday he has no concerns about the Mets. "I'm very comfortable with the Mets' situation," Selig said,
as quoted by the Star-Ledger
. "I have a lot of faith in the Wilpons and a lot of faith in Sandy Alderson. [I have] absolutely no concerns or trepidations about the Mets' situation. They're a solid franchise in my mind and on paper." Listen to Selig's full interview
here
.
• The Mets bought EY Jr. a WWE-style championship belt and presented it to him at the end of their introductory meeting Saturday as a tribute to him claiming the 2013 NL steals crown, Carig notes
in Newsday
.
•
From the bloggers …
John Delcos at
Mets Report
notes the Rolling Stones and Mets are the same age.
BIRTHDAYS:
Bobby Bonilla
, who is on the Mets' payroll through 2035, turns 51. ... Ron Hunt was born on this date in 1941.
TWEET OF THE DAY:
The champ is here! Coach Tom Goodwin presented @EYJr w/the NL Stolen Base Championship Belt. #Mets #SpringTraining pic.twitter.com/GfNiRwK0M7

— New York Mets (@Mets) February 22, 2014
YOU'RE UP: Should the Mets nix Matt Harvey pitching in the majors in 2014 under any circumstance?