New York Mets:

Shane Spencer
August, 14, 2013
8/14/13
5:48
AM ET
LOS ANGELES
FIRST PITCH:
Now
Dillon Gee
is charged with stopping the bleeding against the juggernaut
Los Angeles Dodgers
.
Gee (8-8, 3.82 ERA) opposes ex-Met
Chris Capuano
(4-6, 4.50) at 10:10 p.m. ET as the Mets try to avoid getting swept at Dodger Stadium.
With
Wilmer Flores
nursing a right ankle injury
that has the potential to land him on the disabled list, Terry Collins indicated
Josh Satin
should start the series finale at third base against the southpaw Capuano.
Collins has pledged to use
Ike Davis
against a lefty for the first time since the first baseman returned from the minors on July 5.
The Mets will bus to San Diego after the game.
Also today,
Jeremy Hefner
is due for further examination of his right elbow at the Hospital for Special Surgery in Manhattan. That should determine whether Hefner is demoted to Triple-A Las Vegas or headed to the major league disabled list.
Wednesday's news reports:
•
Matt Harvey
proved mortal against the Dodgers
. Harvey surrendered four runs in six innings and the
Mets lost to L.A., 4-2
, Tuesday might. The Dodgers are 22-3 since the All-Star break and 39-8 since June 22. That is the best 47-game record in the majors since the New York Giants had the same record from Aug. 12-Oct. 3, 1951, according to the Elias Sports Bureau.
Read game recaps in the
Post
,
Daily News
,
Times
,
Star-Ledger
,
Newsday
and
MLB.com
.
•
LaTroy Hawkins
once presumed this would be his final major league season. Based on his success, the 40-year-old free-agent-to-be now plans to pitch again next season, he told Anthony DiComo
at MLB.com
.
•
Bobby Parnell
remains idle, but the closer did
get a favorable medical review
of the herniated disk in his neck.
•
Jenrry Mejia
will
not face an innings limit
this season, whereas Harvey and
Zack Wheeler
may need to be cut short a start or so at the end of the season.
On shaving innings with those pitchers, Collins said: "That's obviously the hottest part about sitting in this chair -- taking them out of the game when they're pitching good. They're mad. Fans are mad. You guys are mad. It's a big story. Everybody's angry. And in four years, when they're still pitching, and they haven't had an injury, nobody says, 'Geez, nice going.'"
Read more in the
Times
and
Newsday
.
•
Frank Francisco
--
remember him?
--
threw off a mound Tuesday
for the first time since receiving cortisone injections in his right elbow in mid-July.
Jeurys Familia
is due to step on a mound Friday for the first time since June 5 surgery to clean out his right elbow.
• Read more on Flores' ankle injury in
Newsday
, the
Post
and
Daily News
.
• Jared Diamond
in the Journal
looks at Davis turning around his season. Writes Diamond:
Since the All-Star break, Davis has swung at just 18.1 percent of balls outside the strike zone, which is the second-lowest mark in all of baseball, only behind Matt Carpenter of the St. Louis Cardinals. Davis is swinging at just 35 percent of pitches overall, the fewest in the sport. He is swinging and missing at just 5.3 percent of pitches, down from 12.9 percent before the break.
The result? Davis has put up a ridiculous .537 on-base percentage, the best in baseball, while walking in an MLB-high 28 percent of his plate appearances. He tied John Olerud's franchise record by reaching base at least twice in each of his previous 12 starts. He has reemerged as a completely different hitter.
• Eric Campbell had a tiebreaking RBI double in the eighth and starting pitcher Jacob deGrom produced his first professional homer as Las Vegas beat New Orleans, 4-3. Kevin Plawecki's two-run homer in the seventh lifted St. Lucie over Fort Myers, 5-4. Read the full minor league recap
here
.
• Ex-Met/Yankee
Shane Spencer
said
an impersonator, not him
, called an Albany radio station to discuss steroids. Read more in
Newsday
.
•
From the bloggers ...
Faith and Fear
has a special report from this past weekend's Citi Field Sleepover.
BIRTHDAYS:
McKay Christensen
, a waiver claim by the Mets in 2002 whom Bobby Valentine barely used because Steve Phillips had not consulted him about the pickup, turns 38.
TWEET OF THE DAY:
I give up ... pic.twitter.com/UeuYUerYlj

— Adam Rubin (@AdamRubinESPN) August 14, 2013
YOU'RE UP: Are you shocked Matt Harvey did not pitch better against the Dodgers?
August, 13, 2013
8/13/13
5:37
AM ET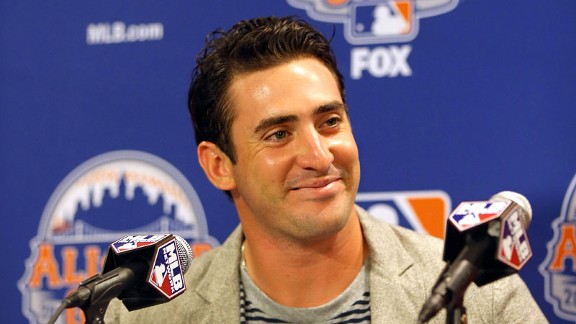 Mike Ehrmann/Getty ImagesMatt Harvey has a stern challenge against the Dodgers tonight.
LOS ANGELES
FIRST PITCH:
Matt Harvey
is not opposing
Clayton Kershaw
. But Harvey is facing Kershaw's Dodgers at 10:10 p.m. ET today. And Kershaw is the primary competition for the NL Cy Young Award. And the Dodgers have won 38 of their past 46 games.
So isn't tonight a statement game for the Mets ace?
"No, no," insisted Harvey, who is coming off a four-hit shutout against the
Colorado Rockies
. "I look at it more as the way we're playing as a team now. We're playing really good baseball. I take pride in going out there every fifth day and trying to win. It's an important game. It's an important series for us. Obviously the intensity has picked up a little bit as a whole, for all of us. We want to make a good run here. Having a good August is something at the break that we wanted to do. Every start from now on is real important."
Harvey said he briefly chatted with Kershaw during the All-Star Game and "he seemed like a great guy."
As for Kershaw being the competition for the Cy Young, Harvey added: "That's something I haven't even thought about. We've got a lot of games left."
Meanwhile, Harvey is happy the Mets are back to a five-man rotation. Even though his ERA is a sterling 0.91 this season when pitching on extra rest, Harvey strongly prefers the routine of pitching every fifth day.
Of course, the Mets reverting to the five-man rotation means Harvey might need to be shut down with a week or so left in the season because he has reached his team-imposed innings cap.
Harvey currently is at 159 2/3 innings. He tossed 169 1/3 last year before the organization shut him down following a Sept. 19 start. So he probably has no more than 50 innings remaining. And that may be generous, considering it would mean a 40-inning jump from 2012.
"I try to go nine [innings] every start," Harvey said. "If they start adding up, and they decide it's time to shut it down, then that's their call. I'm never going to want to give up the ball or not go out there. I like the five-day rotation. It's been like that forever for a reason. If they decide I've had enough, then I've had enough."
Harvey begrudgingly sounded like shaving one start off the end of his season would not send him into a rage.
"Maybe one start or a week, I think at that point I'll feel like I finished a full season," Harvey said. "But if it was two weeks or three weeks, kind of like it was last year, that's a different story. Obviously I'm not going to be happy to miss any starts."
Harvey (9-3, 2.09 ERA) opposes left-hander
Hyun-Jin Ryu
(11-3, 2.99) tonight.
"He'll be pitching in front of 40,000, against a team that's red hot," Terry Collins said. "We know Matt Harvey gets fired up for challenges like that."
Tuesday's news reports:
•
Daniel Murphy
had a
couple of near-misses fielding
in what became a three-run sixth for the Dodgers and
Juan Lagares
struck out on a controversial call
a half-inning later with the bases loaded as
L.A. beat the Mets, 4-2
, Monday night.
Wilmer Flores
twisted his right ankle
during the second inning and is questionable for tonight.
Jenrry Mejia
took a scoreless effort into the sixth in what became a hard-luck loss.
Read game recaps in the
Post
,
Daily News
,
Times
,
Newsday
,
Star-Ledger
and
MLB.com
.
•
Lucas Duda
and
Ruben Tejada
spoke with Jared Diamond
in the Journal
about getting demoted to Las Vegas at this stage of their careers. "Guys sometimes get hurt, and they never get their spot back," Wally Backman told Diamond.
• Collins said he has
no intention of using Flores in the outfield
, but does plan to get him a limited look at second base.
A team evaluator told Mike Puma
in the Post
about using Flores at second: "He has got pretty good hands and he turns the double play fine, but his range is not good at all. Murphy has definitely got more range, and that's not saying a whole lot. I really don't think on a championship team [Flores] can play second. He's an RBI guy. He can drive in runs. But can he drive in enough to overshadow it?
"There are going to be so many times over the course of a season at second base you're going to go, 'Oh, my God.' Is it going to get any better? I don't think so."
Read more on Flores in the
Times
and
Star-Ledger
.
• Read more on Harvey's matchup against the Dodgers in the
Daily News
.
• Eight Mets visited the set of "Modern Family" on Monday,
Justin Turner
's girlfriend
tweeted
. Kershaw and
Jerry Hariston Jr.
from the Dodgers also attended.
•
Ike Davis
should
get a start against a lefty
today or tomorrow. Davis has been an on-base machine, writes Benjamin Hoffman
in the Times
. Read more in the
Star-Ledger
and
Newsday
.
•
David Wright
remains in New York
getting treatment on his strained right hamstring.
• Whether
Jeremy Hefner
is demoted to Las Vegas or lands on the major league disabled list will
not be resolved until after another exam
of his right elbow on Wednesday with team doctors, a Mets spokesman said.
• T.J. Rivera had a three-run homer and finished with four RBIs as St. Lucie beat Palm Beach, 8-4. Read the full minor league recap
here
.
From the bloggers ...
Mark Berman at
Blogging Mets
says there is only room for
Eric Young Jr.
or Lagares in the Mets outfield in 2014 -- not both.
BIRTHDAYS:
Vinegar Bend Mizell, who pitched for the '62 Mets, was born on this date in 1930. Mizell's actual name: Wilmer David Mizell.
TWEET OF THE DAY:
I need a good book to read. Preferably something with a lot of pictures. Any suggestions?

— Noah Syndergaard (@Noahsyndergaard) August 12, 2013
YOU'RE UP: Who deserves to win the NL Cy Young?