New York Mets:

Shaun Alexander
April, 26, 2014
4/26/14
5:16
PM ET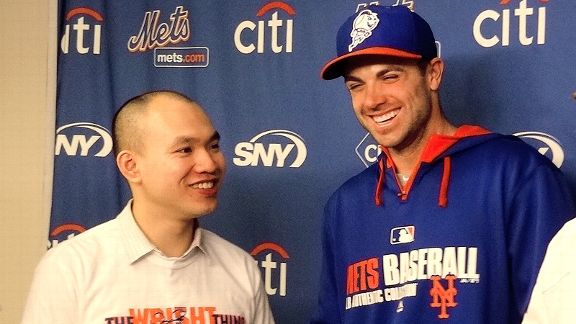 Adam RubinDavid Wright meets pregame Saturday with NYPD officer James Li, who was shot in each leg in February attempting an arrest. Wright's father Rhon retired in January as assistant police chief in Norfolk, Va. Wright also met with Li's partner Randy Chow and FDNY EMTs Khadijah Hall and Shaun Alexander.
ABOUT THIS BLOG
Adam Rubin

Adam Rubin has covered the Mets since 2003. He's a graduate of Mepham High School on Long Island and the Wharton School of the University of Pennsylvania. He joined ESPNNewYork after spending 10 years at the New York Daily News.
Mark Simon

Mark Simon is ESPN Stats & Information's Baseball Research Specialist. One of several Mets historians working at ESPN, he joined the Worldwide Leader in 2002 after 6 1/2 years as a sports writer at the Trenton Times.
Email Mark » Follow Mark on Twitter »
UPCOMING GAMES
| | W-L | HM | AW | STK | L10 |
| --- | --- | --- | --- | --- | --- |
| NYM | 0-0 | 0-0 | 0-0 | W0 | |
| ATL | 0-0 | 0-0 | 0-0 | W0 | |
| | W-L | HM | AW | STK | L10 |
| --- | --- | --- | --- | --- | --- |
| NYM | 0-0 | 0-0 | 0-0 | W0 | |
| WAS | 0-0 | 0-0 | 0-0 | W0 | |
| | W-L | HM | AW | STK | L10 |
| --- | --- | --- | --- | --- | --- |
| DET | 0-0 | 0-0 | 0-0 | W0 | |
| NYM | 0-0 | 0-0 | 0-0 | W0 | |
BLOG ARCHIVE:
CATEGORIES:
FEBRUARY 2015
MARCH 2015
APRIL 2015
| Sun | Mon | Tue | Wed | Thu | Fri | Sat |
| --- | --- | --- | --- | --- | --- | --- |
| 1 | 2 | 3 | 4 | 5 | 6 | 7 |
| 8 | 9 | 10 | 11 | 12 | 13 | 14 |
| 15 | 16 | 17 | 18 | 19 | 20 | 21 |
| 22 | 23 | 24 | 25 | 26 | 27 | 28 |
| | | | | | | |

Sun
Mon
Tue
Wed
Thu
Fri
Sat

1

2

3

4

@ATL
1:05 PM ET

5

@WSH
5:05 PM ET

6

DET
1:10 PM ET

7

ATL
1:10 PM ET

8

BOS
1:10 PM ET

9

MIA
1:10 PM ET

10

@ATL
1:05 PM ET

11

@MIA
1:05 PM ET

12

WSH
1:10 PM ET

13

ATL
1:10 PM ET

14

WSH
1:10 PM ET

15

@TB
1:05 PM ET

16

@BOS
1:05 PM ET

17

MIA
1:10 PM ET

18

19

HOU
1:10 PM ET

20

STL
1:10 PM ET

21

@DET
1:05 PM ET

22

NYY
1:10 PM ET

23

@MIA
1:05 PM ET

24

HOU
1:10 PM ET

25

@NYY
1:05 PM ET

26

@WSH
5:05 PM ET

27

@STL
1:05 PM ET

28

WSH
1:10 PM ET

29

@STL
1:05 PM ET

30

MIA
1:10 PM ET

31

@WSH
1:05 PM ET

Sun
Mon
Tue
Wed
Thu
Fri
Sat

1

STL
1:10 PM ET

2

@STL
12:05 PM ET

3

@TEX
8:05 PM ET

4

@TEX
2:05 PM ET

5

6

7

8

9

10

11

12

13

14

15

16

17

18

19

20

21

22

23

24

25

26

27

28

29

30
2015 GRAPEFRUIT LEAGUE STANDINGS