New York Mets:

Shea Jones
September, 28, 2012
9/28/12
10:16
PM ET
WHAT IT MEANS:
The Braves honored
Chipper Jones
with a pregame ceremony as he opened his final regular-season home series before retiring.
Lucas Duda
spoiled the night.
With
Tim Hudson
breezing through a scoreless effort in the seventh inning, Duda fouled off three two-strike pitches while working the count full. He then launched a three-run homer that ultimately lifted the Mets to
a 3-1 win
on Friday night at Turner Field.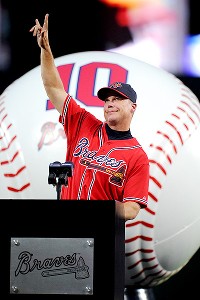 Kevin Liles/US Presswire
Chipper Jones recognizes the sellout crowd during a pregame ceremony honoring him.

Hudson had appeared poised to work around a leadoff double by
Daniel Murphy
that inning. Murphy tagged to third when right fielder
Jason Heyward
dove to rob
David Wright
of a hit on a sinking liner. After Hudson intentionally walked
Ike Davis
,
Scott Hairston
then struck out and Duda fell behind in the count, 1-2.
The ensuing long ball gave
Jon Niese
his career-high 13
th
win in his final 2012 start.
The victory also ensured the Mets (73-84) will not finish in last place in the NL East.
Niese surrendered a one-out solo homer to
Freddie Freeman
in the fourth but no other damage in seven innings. He closed his season with eight straight quality starts.
After signing a five-year, $25.5 million contract on the eve of the season, Niese made 30 starts, matching a career high. He finished 13-9 with a 3.40 ERA while logging a career-high 190 1/3 innings.
Manny Acosta
,
Justin Hampson
and
Bobby Parnell
closed out the victory. Parnell earned his sixth save this season.
Chipper, by the way, had a quiet night with a spirited sellout crowd of 51,910 on hand. With Hank Aaron and family members including father Larry Sr. and son Shea on hand, he grounded out in each of his four at-bats. The attendance was the seventh-largest in the history of Turner Field, which opened for baseball in 1997, after hosting the Olympics.
Georgia governor Nathan Deal had declared it Chipper Jones Day in the state. The Braves presented Chipper with several gifts, including a promise to install his Turner Field locker at his home and a trip to Hawaii.
WHAT'S NEXT:
Chris Young
(4-8, 4.21 ERA) concludes his 2012 season Saturday at 7:10 p.m. He opposes Braves left-hander
Mike Minor
(10-10, 4.27).
September, 8, 2012
9/08/12
8:02
AM ET
Chipper Jones
went hitless and committed an error in the first game of his final series in Flushing, but
Jon Niese
received no run support and the
Mets lost to the
Atlanta Braves
, 3-0, Friday night at Citi Field.
The Mets send
Jeremy Hefner
(2-5, 4.52 ERA) to the mound at 4:05 p.m. today. He opposes reigning NL Pitcher of the Month
Kris Medlen
(7-1, 1.56). The Braves have won Medlen's past 18 starts, the longest streak in the majors since the Yankees won 20 straight starts by
Roger Clemens
in 2000.
The Mets will honor infielder
Wilmer Flores
and right-hander
Rafael Montero
as the Sterling organizational player and pitcher of the year in a ceremony before the game. Also due to be honored are each affiliate's player of the year:
Matt Harvey
(Buffalo),
Zack Wheeler
(Binghamton), outfielder/second baseman
Alonzo Harris Jr.
(St. Lucie), right-hander
Michael Fulmer
(Savannah), right-hander
Hansel Robles
(Brooklyn), right-hander
Miller Diaz
(Kingsport), right-hander
Yoryi Nuez
(Dominican Summer League 1) and outfielder
Vincente Lupo
(Dominican Summer League 2).
Saturday's news reports:
• At an afternoon press conference Friday, Jones was presented with framed artwork depicting his memorable moments in New York, which was prepared by artist
Charles Fazzino
. Jones
spoke eloquently about his affinity for Shea Stadium
and playing in the city. He also discussed his 8-year-old son
Shea's
orange-and-blue painted bedroom and, in the context of
David Wright
's future, the importance to him of playing with one team for his entire career.
Kathy Kmonicek/Associated Press
Chipper Jones' reception at Citi Field was not entirely negative on Friday night.

Although he identified his first major league homer, which came against
Josias Manzanillo
at Shea Stadium on May 9, 1995, as a career highlight, he identified his favorite New York moment as the first game back in the city after 9/11. Jones noted that even the ultra-competitive
Bobby Cox
did not mind losing that game. "Even he admitted after the game it was as it should be," Jones said.
As for how he would view himself if he were a Mets fan, he summed it up pretty well.
"I would respect the body of work, but I would hate his guts," Jones said.
The Atlanta view of the Mets' presentation? Writes Braves beat writer
David O'Brien
in the Atlanta Journal-Constitution
:
There was a mix of boos and cheers when a congratulatory message was played on the Citi Field video board minutes before Friday's game, the first time Jones has been booed at any of his farewell-tour tributes this year. The Mets presented him with an elaborate 3-D pop-art painting that highlighted Jones' career at Shea.

Unlike other teams, however, they had the presentation hours before the game and out of public view, during the press conference. Mets officials were concerned about how some of their fans might react to an on-field presentation honoring a player who'd done so much damage against them in games over the years. Not to mention a player who, in September 1999, after doing all he could with his bat to wreck the Mets' playoff chances, famously commented that he guessed it was time for Mets fans to go change into their Yankees garb.
Read more in the
Journal
,
Post
,
Record
,
Newsday
,
Daily News
and
Star-Ledger
.
• Foley's Pub and Restaurant in Midtown changed its name to Chipper's for the weekend. Read more in the
Post
.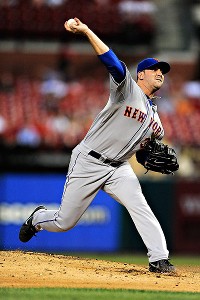 Jeff Curry/Getty Images
Matt Harvey has two more starts remaining in 2012.

• Harvey next lines up to face
Stephen Strasburg
on Wednesday at Citi Field.
Terry Collins
said Harvey
will be allowed one additional start
beyond the matchup with the Nats phenom. The appearance in Flushing was supposed to be Strasburg's final 2012 outing, also because of an innings limit. But after Strasburg lasted only three innings last night against the
Miami Marlins
,
Davey Johnson
suggested it is possible the plan will change and Strasburg gets another start beyond the Citi Field appearance. "It might," Johnson said, according to
Adam Kilgore
in The Washington Post
.
• The only damage allowed by Niese in six innings came on a solo homer by
Jason Heyward
, but the
Mets' offensive woes continued
. The Mets went 0-for-10 with runners in scoring position and are hitting .205 (83-for-405) in those situations since the All-Star break. Their record during that span: 19-33. The Mets hit .269 (199-for-739) with runners in scoring position before the All-Star break and were six games over .500 during that period. Read game recaps in the
Atlanta Journal-Constitution
,
Star-Ledger
and
Times
.
•
Andres Torres
left the game in the second inning after twisting his left knee on a catch. He downplayed the severity of the injury.
•
Jenrry Mejia
surrendered a solo homer to
Dan Uggla
with two outs in the ninth, but otherwise recorded six outs in his first major league appearance since Sept. 15, 2010. Mejia mostly spent last season rehabbing from Tommy John surgery. Collins said Mejia will be used as a starter later in the month, roughly coinciding with Harvey being shut down for the season. Read more in the
Record
and
Post
.
• The Brooklyn Cyclones won Game 1 of their first-round playoff series, 4-0 against Hudson Valley on Friday night. Robles tossed the third nine-inning complete game in Cyclones history. The 22-year-old Dominican right-hander has now tossed 45 consecutive innings without allowing an earned run. The best-of-three-game series continues tonight at Hudson Valley. Read the full recap
here
.
• Collins gave
Ruben Tejada
off on Friday night, with the manager sensing Tejada was wilting late in the season. The manager planned to also sit Tejada this afternoon, citing an unfavorable matchup with Medlen -- which would make it a three-day break including Thursday's team day off, assuming today's intention materializes. Tejada struck out four times and committed an error Wednesday afternoon in St. Louis. "I might give him a couple of days to really get his legs underneath him again and find some energy," Collins said. "I thought the other day it really stuck out that he may be more tired than what I even anticipated him to be."
•
Robert Carson
plans to pitch in winter ball
as a reliever for a month in the Dominican Republic, with Estrellas Orientales.
TRIVIA:
Which team did
Fredi Gonzalez
manage before the Braves?
Friday's answer: Jones actually has 49 homers apiece against the Mets and
Philadelphia Phillies
, tied for the most against any opponent.
April, 24, 2012
4/24/12
8:54
AM ET
Jose Reyes
returns to Citi Field for the first time as a visitor this evening. He encounters a reeling Mets team that was swept in a doubleheader by the San Francisco Giants on Monday, 6-1 and 7-2, to fall to .500 for the first time this season.
The Mets being involved in doubleheader sweeps actually has become the norm. They were 2-3-0 in twinbills last season -- splitting none. The last split: June 10, 2010, against the San Diego Padres.
Read the Mets-Marlins series preview
here
.
Meanwhile,
Larry Wayne Jones
-- father of
Shea Jones
-- turned 40 today.
Tuesday's news reports:
• ESPN.com's
Jorge Arangure Jr.
visited Reyes during the shortstop's weekend series at Nationals Park. Reyes
opened up about his time in New York
and just how emotional he is about his return to Flushing. Writes Arangure:
This particular conversation with Reyes seemed different from all the others. When Reyes tells you that he's genuinely excited about something, you take notice because you always assume that he's excited about everything.
"I'm going crazy thinking about going there," he said prior to the Miami Marlins' game against the Washington Nationals on Friday. He paused, then repeated, "I'm going crazy thinking about going there."
On Sunday night, Reyes arrived in New York with his Marlins teammates and for the first time in months he slept in his own bed at his house on Long Island. He spent his off day on Monday hanging out with his New York friends and family. Then on Tuesday night, the reunion that Reyes has awaited for months will arrive. Shortly before game time, Mets fans' love affair with their former shortstop will officially come to an end, if it hasn't already. Reyes, wearing the Marlins' fluorescent colors, will step into the batter's box and face the team with whom he spent almost half his life.
"I know he's excited about coming back and seeing how he's received," said Peter Greenberg, Reyes' agent. "I know he's had the date circled since he saw the schedule. I don't think honestly he can say it's another game. It's going to be emotional for him."
•
David Wright
says it will be
strange to see Reyes in a Marlins uniform
. Because Wright was dealing with an abdominal issue during spring training, he did not see Reyes during any Mets-Marlins Grapefruit League games. So this will be the third baseman's first in-person glimpse at Reyes in garish Marlins colors.
•
Brian Costa
in the Journal
notes that minus Reyes, the Mets rank last in the National League in steals with three. Reyes' Marlins lead with 18. Writes Costa:
Baseball Prospectus keeps a statistic called base running runs, which measures the number of runs contributed by a player's advancement on the bases above what would be expected, based on the number and quality of opportunities to advance. Entering Monday, the Mets ranked 29th in the majors with -3.6 base running runs. "I think we have guys who can steal some bases and take some extra bases," said Mets first-base coach Tom Goodwin, who oversees baserunning. "It's just a comfort level we have to get to as a team. We need to get comfortable taking that chance and taking that extra base."
• Read more on Reyes' impending return in the
Miami Herald
,
Palm Beach Post
,
Star-Ledger
,
Post
,
Times
,
Daily News
and
Newsday
.
•
Jason Bay
injured his left rib cage
attempting a catch on
Gregor Blanco's
fourth-inning shot to left field in Game 2. X-rays were negative, but Bay was not fully comfortable postgame and may undergo an MRI on Tuesday morning. Read more in
Newsday
, the
Daily News
,
Record
and
Post
.
• Backup middle infielder
Ronny Cedeno
landed on the disabled list
with a strained left intercostal muscle on his left side.
Jeremy Hefner
was activated for Game 1 of Monday's doubleheader and tossed three scoreless innings in relief of
Miguel Batista
. Hefner then was optioned back to Triple-A Buffalo, and
Jordany Valdespin
was activated to serve as a backup middle infielder.
•
Mike Puma
in the Post
had this lead to his game story about the doubleheader defeat:
If a baseball team creates a stench and nobody shows up to smell it, is an odor emitted?
Read other game recaps from a miserable Monday at damp, frigid and desolate Citi Field in the
Times
,
Record
,
Star-Ledger
,
Daily News
and
Newsday
.
• Columnist
Kevin Kernan
in the Post
links Monday's stinker to Reyes' return. Writes Kernan:
These are the nights when Jose Reyes' free-agent flight can be felt throughout a dead ballpark. This has nothing to do with Ruben Tejada, who is proving to be a competent replacement for the Mets, but Reyes always brought a large amount of energy to the team. On this cold night when Citi Field was nearly empty, energy was desperately needed against the Giants.
• Columnist
Tim Smith
in the Daily News
says who needs Reyes when the Mets have
Ruben Tejada
? (Our take? There's a wee bit of a drop-off.) Writes Smith:
If the early results are any indication of what the future holds, the Mets aren't going to miss Reyes at all. They're better off without him. All that hand-wringing over whether to let him leave was wasted. The Mets can live without him. Tejada has softened that blow.
• Columnist
Jeff Bradley
in the Star-Ledger
says the Reyes recognition video should include him bunting for a base hit and departing the final game of last season to preserve the batting title, because Bradley asserts that was a selfish play. Writes Bradley:
But now that Reyes is gone, and there doesn't appear to be another player like him about to blow through the doors of the clubhouse, why not remember how it ended? Showing Reyes walking off again would symbolize, without saying a word, that the Mets have moved in a new direction. Reyes was a special player, an exciting player, a guy who played hard. But show that moment, and let Mets fans decide if it was a defining one. Walking the parking lots outside Citi Field last night were a few who believed it was. "Looking back, I'm kind of glad we might not have players like Jose Reyes anymore," said Brad Jasper, a Mets fan from Manhattan who was one of the few to attend the first game of last night's doubleheader with the Giants. "That was a 'me' move and we've got to be more of a team to be successful in the future."
•
Ike Davis
left the bases loaded three times
and stranded 11 runners Monday, although the last called third strike, as a pinch hitter in Game 2, was a rough call by plate ump
Dana DeMuth
on a low pitch. Read more in the
Post
.
• If you thought, for sure, that former Mets first-round draft pick
Philip Humber's
appearance to read the Top 10 list on the "Late Show" with
David Letterman
would include a dig at the Mets, you were incorrect. Or, more precisely, the show's writers whiffed. The Amazin's escaped unscathed. The only dig at the expense of another team was directed at the Boston Red Sox. Said Humber for No. 3: "I see the Red Sox are up 9-0 on the Yankees -- that's an easy win."
•
Andres Torres
and
D.J. Carrasco
began rehab assignments Monday
with Class A St. Lucie. Carrasco pitched a scoreless inning. Torres went 3-for-4 with an RBI and two steals. Torres' return from a left calf strain will create an interesting situation about whether
Kirk Nieuwenhuis
merits sticking around -- and can get enough playing time to justify it. Interestingly,
Terry Collins
twice in the four-game San Francisco series started Nieuwenhuis and
Scott Hairston
against a southpaw and had
Lucas Duda
on the bench.
•
Dylan Owen
, making a spot start with Hefner promoted to the majors, allowed one run in 4 2/3 innings and also homered as Triple-A Buffalo beat Lehigh Valley, 5-1. Read the full minor league recap
here
.
TRIVIA:
Which city hosted the All-Star Game the year Reyes
and Wright
were
selected to play for the first time? (Hint: Reyes was inactive because he had sliced his left pinkie on
Mike Jacobs'
cleat while sliding back into first base a week earlier in a game against the Marlins.)
Monday's answer:
Tom Seaver
pitched for only one minor league team in his career -- the Jacksonville (Fla.) Suns, in 1966. Seaver went 12-12 with a 3.13 ERA in 34 appearances (32 starts) spanning 210 innings. He became an All-Star the following season.