New York Mets:

Shelby Miller
March, 25, 2014
3/25/14
6:28
AM ET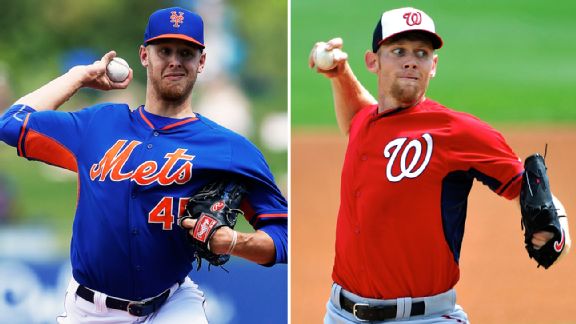 Getty ImagesZack Wheeler and Stephen Strasburg face off on Tuesday in Grapefruit League action ... not on Opening Day.
PORT ST. LUCIE, Fla.
FIRST PITCH:
Mets fans will not get
Stephen Strasburg
versus
Zack Wheeler
on Opening Day, but they will get the matchup six days earlier in Viera, Fla.
Strasburg, Washington's Opening Day starter at Citi Field, is scheduled to oppose Wheeler at 1:05 p.m. Tuesday at Space Coast Stadium. The game is not on television or radio in New York, but will be on the Nats' MASN network.
Tuesday's news reports:
•
Daisuke Matsuzaka
is
expected to get word Tuesday
that he has made the Opening Day roster. Noon is the deadline for the Mets to inform him he has made the club. Otherwise, the Mets would have to release him, or give him $100,000 for the right to send him to the minors. Matsuzaka appeared to seal the deal by blanking the
St. Louis Cardinals
through six innings Monday. Read more in the
Post
,
Daily News
,
Times
,
Star-Ledger
,
Newsday
and
MLB.com
.
• The Mets
made it official Monday
, naming
Dillon Gee
the 23rd different Opening Day starter in franchise history. He will oppose Strasburg. Read more in the
Post
,
Star-Ledger
,
Record
,
Newsday
,
Journal
and
MLB.com
.
•
Matt Harvey
will mostly get his wish. The ace primarily will rehab in New York this season, a source
confirmed to ESPNNewYork.com
.
Writes columnist David Lennon
in Newsday
on the topic:
Just a reminder for those who tuned in late: Harvey is the guy who had Tommy John surgery last October and is not likely to throw a pitch for the Mets this season. Where Harvey will do his stretching exercises and long toss -- either New York or Port St. Lucie -- apparently has become a thing.
My take? This is nuts.
To paraphrase Allen Iverson, another franchise player from another psycho sports town: We're talking about rehab, man. We're not even talking about the game. We're talking about rehab.
Columnist John Harper
in the Daily News
suggests the Mets, not Harvey, need the attitude adjustment. Writes Harper:
It's just that Harvey clearly isn't going to bow to authority or conventional behavior just to please people. For a team like the Mets that has accepted losing much too easily, Harvey provides a harder edge to their collective personality.
That's not a knock on David Wright. He's a team-first star who cares about all the right things, on the field and in the clubhouse, and every team needs that behavior as well.
Harvey just adds an I'm-good-and-know-it presence that can help change a losing culture, even if he doesn't pitch at all this season.
Read more in the
Post
,
Daily News
, and
Star-Ledger
.
•
Jonathon Niese
threw off a mound Monday
for the first time since receiving a cortisone shot in his left elbow one week earlier. He pronounced the bullpen session a success. The southpaw aims to be activated from the disabled list for an April 6 start against the
Cincinnati Reds
. His next step is a minor-league game Thursday. Read more in the
Post
,
Star-Ledger
and
Record
.
•
Wilmer Flores
was arguably the
highest-profile demotion Monday
. Also sent to minor-league camp:
Matt den Dekker
,
Zach Lutz
and
Kirk Nieuwenhuis
. Thirty-three players, including the rehabbing Harvey and
Jeremy Hefner
as well as the DL-bound Niese, remain in big-league camp. Flores will play shortstop and second base at Triple-A Las Vegas, which will give the Mets an internal option to unseat
Ruben Tejada
in-season if the incumbent shortstop flops in April. Read more in the
Post
,
Star-Ledger
and
MLB.com
.
• The Mets' official account made an unfortunate tweet after Matsuzaka struck out the side in the first inning Monday, writing: "Dice-KKK off to a quick start. He strikes out the side in the 1st inning. #NYMvsSTL"
The tweet subsequently was deleted,
with an apology
. Read more in the
Post
and
Daily News
.
• The Mets have
created the position of assistant hitting coach
. Luis Natera, who has long served as Double-A Binghamton's hitting coach, was named to the new role as Dave Hudgens' deputy. Read more in the
Star-Ledger
.
•
Kyle Farnsworth
, who was released by the Mets on Sunday, is
expected to re-sign on a minor-league deal
Tuesday. The maneuver will save the Mets a $100,000 retention bonus. Read more in the
Star-Ledger
and
Record
.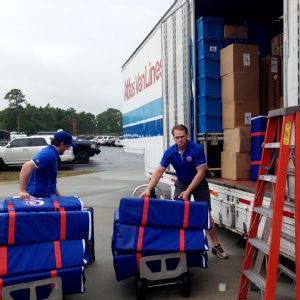 Adam RubinThe moving truck carrying Mets equipment back to Citi Field was fully loaded and departed Monday at noon.
• The
Pittsburgh Pirates
will honor the late Ralph Kiner
with a No. 4 patch on their jerseys
this season. The Mets previously announced their intention to wear a patch as a tribute to their longtime broadcaster.
• The
Mets beat the Cardinals, 5-3,
Monday behind a three-run third inning against
Shelby Miller
that included a two-run double by
Daniel Murphy
.
Vic Black
flopped again, perhaps
imperiling his seemingly locked up roster spot
. He now has allowed 22 baserunners in eight Grapefruit League innings.
John Lannan
shined in a relief role
for the second straight day. Lannan is a perfect 6-for-6 in retiring batters in a two-day span out of the bullpen.
• Read more on Lannan's relief transition in the
Journal
.
•
Chris Schwinden
and eight other players were
released from minor-league camp
.
•
Curtis Granderson
taught baseball to Port St. Lucie-area YMCA children after playing in Monday's Grapefruit League game. See photo
here
.
•
From the bloggers …
Faith and Fear
tries to reconcile Ike Davis' continued Mets presence with the expectation he was considered on his way out during the offseason. …
NY Mets Life
hopes Sandy's plan is worth the wait.
BIRTHDAYS:
Soon-to-be Hall of Fame inductee
Tom Glavine
turns 48. ... Lee Mazzilli, whose son L.J. is now a Mets farmhand, is 59.
TWEET OF THE DAY:
Throughout the 2014 season we will wear this commemorative No. 4 patch to honor #Pirates Hall of Famer Ralph Kiner. pic.twitter.com/9rx2kccaGD

— Pittsburgh Pirates (@Pirates) March 24, 2014
YOU'RE UP: Should Vic Black, Gonzalez Germen, Jenrry Mejia or Daisuke Matsuzaka receive a bullpen spot if there is only room for one in that role?
March, 24, 2014
3/24/14
7:42
PM ET
June, 13, 2013
6/13/13
7:16
AM ET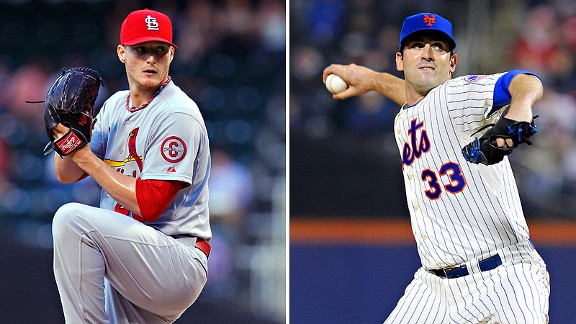 USA TODAY SportsShelby Miller faced the Mets on Wednesday. Now, weather-permitting, it's Matt Harvey's turn to face St. Louis.
ESPN Stats & Information's Mark Simon kicks off Thursday's discussion by delivering the First Pitch …
FIRST PITCH:
Last week, ESPN.com held its third annual
"Franchise Player Draft,"
in which writers and analysts selected the player with whom they would start a team with for the next 10 years.
The first pitcher taken was
Clayton Kershaw
, fifth overall by ESPN The Magazine writer Molly Knight.
Matt Harvey
was the next, to senior writer Tim Kurkjian with the No. 8 pick.
"Risky move given that he has only made 22 starts,"
Kurkjian wrote explaining his pick,
"but he just turned 24, and in 142 1/3 innings, he already has over 100 more strikeouts than walks. He's a maniacal competitor, and will win more than one Cy Young before he is done."
The next two pitchers taken were American Leaguers: (
Yu Darvish
at No. 13 and
Justin Verlander
at No. 16). The next National League pitcher was selected by
Curt Schilling
at the No. 23 spot (one pick after this writer took
David Wright
). Schilling went with Wednesday's Cardinals starter,
Shelby Miller
.
"Regardless of your position in the standings, you need 'that guy.' That guy you can count on every fifth day to give your team a far better than even shot at winning," Schilling said. "Matt Harvey would be the guy in a perfect world, but I am not so sure Miller is far behind. He won't turn 23 until October. He's younger than the other options I considered (
Matt Moore
,
Chris Sale
and
Felix Hernandez
) with better command of ace stuff than the lefties."
The gap between the two was 15 picks, and the difference between the two is notable -- Harvey is a four-pitch pitcher, Miller seems to be fastball-curveball -- but the overall gap between them is
very
small.
It was trendy to look at this a month ago, as a number of writers (including Joe Posnanski and Dayn Perry) did. Jim Bowden
touched on this at about that time
for Insider, giving Harvey the edge by a hair.
We thought it was cool to run through about a dozen pertinent numbers for each in the chart on the right. The two have been virtually identical in their brief, ultra-impressive stints and could be dueling not just for who will start this year's All-Star Game, but for hardware (and maybe someday) pennants down the road.
Miller got his turn to show what he could do against the Mets once earlier this season with 5 2/3 scoreless innings, and then again last night in a start that featured some good (10 strikeouts, no walks) and some bad (four runs, two homers). Harvey gets his crack at the Cardinals (and another pretty good pitcher in
Adam Wainwright
) today.
Thursday's news reports:
• Sandy Alderson affirmed publicly on Sunday that Terry Collins and his staff were not the issue, implying no jobs were in jeopardy and the Mets' issues were player-performance related. David Lennon
in Newsday
reports that more emphatically. Lennon also asserts Wally Backman is definitely not the manager in waiting. Writes Lennon:
The Mets have assured Terry Collins that his job is not in danger and his future with the team will be discussed when his contract expires at the end of this season, two sources told Newsday. Not only is Collins safe, there have been no conversations about Wally Backman as a potential replacement, either for this year or beyond. In fact, Backman's bold guarantees this week about fixing Ike Davis have rubbed some in the organization the wrong way after so much time and effort trying to help Davis at the major league level.
When asked about the possibility of Backman eventually taking over for Collins, one person familiar with the situation replied, "There's zero chance of that happening. Zero."
•
Dillon Gee
continued to signal Zack Wheeler's promotion will not affect his rotation standing. Gee limited the
St. Louis Cardinals
to one run and six hits in 6 2/3 innings as the Mets won, 5-1, Wednesday night at Citi Field. Gee acknowledged afterward that he had been battling elbow tendinitis and cramping and was concerned he would not have been able to make the start without rainout-induced extra rest.
Meanwhile, the Mets do not need to immediately decide which pitcher to bounce from the rotation, because they have a doubleheader in Atlanta next Tuesday and need an extra starter. Collins suggested the Mets even will go a turn through the rotation afterward with six starters.
Gee has a 1.29 ERA and has averaged seven innings per start over his past three outings.
Lucas Duda
, Wright and
Marlon Byrd
homered Tuesday. The rookie phenom Miller surrendered a career-high four runs.
Read game recaps in the
Post
,
Daily News
,
Newsday
,
Times
,
Star-Ledger
,
Record
and
MLB.com
.
• Inclement weather is expected today, which may very well again rain out Harvey Day. If so, that also would disrupt Harvey being able to be the other half of a day-night doubleheader with Wheeler on Tuesday in Atlanta. Wheeler appears more likely to make his major league debut in the nightcap at Turner Field either way. The Mets already have had an MLB-high six rainouts. Read more in the
Post
and
Newsday
.
• Las Vegas pitching coach Randy St. Claire, who previously held that role in the NL East with Washington and Miami, likens Wheeler to
Josh Johnson
.
"He kind of has the same power fastball and slider," St. Claire told Dan Martin
in the Post
. "Josh didn't throw a curveball, though, until last year. Zack has the curveball. His changeup is a work in progress. …
"His ceiling is being a No. 1 starter," St. Claire added about Wheeler. "But he's not a No. 1 starter right now. As he progresses, it'll be up to him whether he takes that No. 1 spot. No one can predict that. That's for him to answer."
• Tyler Kepner
in the Times
looks at the disparity in success between the Mets and Cardinals organizations. Writes Kepner:
The Cardinals reached the N.L. Championship Series in 1996, also the first season for their former manager Tony La Russa, and have returned seven times since. The more they have won, [GM John] Mozeliak said, the more empowered they have been to adhere to their principles.
"The key is remaining disciplined enough to that process where you don't start deviating because it just doesn't feel right," Mozeliak said, adding later, "Once you start doing an exception, you're going to start making multiple exceptions. One irrational decision can lead to multiple irrational decisions. So don't do it."
What, exactly, do the Mets believe in? For years after that 2000 pennant, they mostly believed in overspending for veterans. A few, like Beltran, helped out for a while. Most have been major disappointments.
• The Mets are nearing the announcement of an agreement with first-round pick Dominic Smith. Smith, 17, is expected to begin his pro career playing first base in the Gulf Coast League in Port St. Lucie, Fla.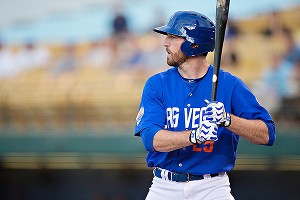 Julie Jacobson/Associated PressIke Davis had two hits last night for Las Vegas.
• Davis went 2-for-5 with a double and a strikeout in his second game with Triple-A Las Vegas. Andrew Keh, in Vegas, writes
in the Times
:
On Wednesday, Davis for a second straight day took extra batting practice, more than five hours before the Las Vegas 51s' game against the Tacoma Rainiers at Cashman Field. It was the same foursome as Tuesday afternoon -- Davis, outfielder Mike Baxter, 51s Manager Wally Backman and the hitting coach George Greer -- and it was the same scene, too, the four maintaining an animated conversation through the session, more and more baseballs dotting the outfield grass.
Opinions have seemed mixed, even within the organization, on the extent to which Davis needs to revamp his swing.
Columnist Joel Sherman
in the Post
says it's too early to write off Davis. One NL personnel chief compares Davis to
Carlos Pena
.
"Pena was a solid contributor to Tampa Bay during an impressive run for the Rays in the AL East, and that's what I think Ike can be -- a contributing piece to a winning team," the personnel chief told Sherman. "Winning and contributing pieces aren't falling out of trees. The Mets have had major problems adding any long-term winning pieces in any of the three years under the Alderson administration, so they can't give up on guys like Ike because even if he is Carlos Pena, that is OK and still valuable and can help you win.
"The problem with Ike is that he can't be the guy, but he can be a winning piece if used properly like Carlos Pena. Davis is Pena: He is going to strike out and hit some balls out, but if you expect him to change or adjust at this point in his career, it is not likely to happen. The Mets cannot simply flush him away because he is not a superstar, but they also need to realize that he can only be a contributing piece and find a way to surround him with better talent. And I am not sure if Sandy Alderson & Co. can do that."
Read more on Davis in the
Journal
.
• Wright speaks with columnist Kevin Kernan
in the Post
about losing and trailing
Pablo Sandoval
in NL All-Star balloting at third base.
• Dave Caldwell
in the Journal
profiles Double-A lefty reliever Jack Leathersich, who has struck out 194 batters in 114 innings since turning pro.
• Reliever
Scott Atchison
's rehab assignment has shifted to Double-A Binghamton, where he tossed a scoreless inning with two strikeouts at Trenton on Tuesday night. Atchison had experienced numbness in his fingers related to inflammation in his pitching elbow.
Read Wednesday's full minor league recap
here
.
• Dwight Gooden joined 540 AM WLIE for a half-hour. Listen
here
.
BIRTHDAYS:
No one to play for the Mets was born on June 13, but Ashley and Mary-Kate Olsen turn 27. Chris Evans and Steve-O also celebrate birthdays today.
TWEET OF THE DAY:
APPLE UP!!!!!!!!!!!!!!!!!!! The #Mets third blast of the night as Marlon Byrd goes downtown!! 5-1 Mets!!!

— New York Mets (@Mets) June 13, 2013
YOU'RE UP: Are you upset with the report that Wally Backman is not a consideration to one day succeed Terry Collins?
June, 10, 2013
6/10/13
4:39
PM ET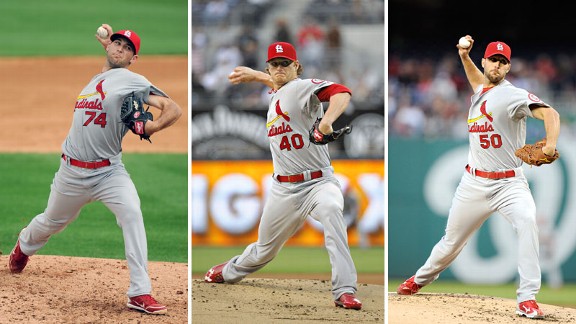 Getty ImagesThe Mets face (l to r) Michael Wacha, Shelby Miller and Adam Wainwright during a midweek series at Citi Field.
METS (23-35, fourth place/NL East) vs. ST. LOUIS CARDINALS (41-22, first place/NL Central)
Tuesday:
RHP
Jeremy Hefner
(1-5, 4.36) vs. RHP
Michael Wacha
(0-0, 5.40), 7:10 p.m. ET
Wednesday:
RHP
Dillon Gee
(4-6, 5.20) vs. RHP
Shelby Miller
(7-3, 1.91), 7:10 p.m. ET
Thursday:
RHP
Matt Harvey
(5-0, 2.10) vs. RHP
Adam Wainwright
(9-3, 2.34), 1:10 p.m. ET
Cardinals short hops
• Rookie phenom
Michael Wacha
makes his third major league start when he faces the Mets in the series opener. Wacha, 21, was the 19th overall pick in last year's draft out of Texas A&M. He was selected with a pick obtained from the
Los Angeles Angels
after
Albert Pujols
defected in free agency. (The Mets took high school shortstop Gavin Cecchini 12th overall last year. He is slated to play at Brooklyn beginning later this month.)
The Cardinals did not show the same Super 2 hesitancy in promoting Wacha as the Mets have with Zack Wheeler. In reality, St. Louis usually locks up its young players as they approach arbitration eligibility. So Wacha might end up a little more expensive, but St. Louis does not care. Past examples of Cardinals who were locked up as their arbitration years began:
Adam Wainwright
,
Jaime Garcia
and
Allen Craig
.
Lance Lynn
may be next in line.
The 6-foot-6 Wacha throws overhand with a steep downward plane and has the best changeup in the organization.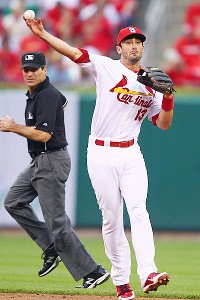 Dilip Vishwanat/Getty ImagesMatt Carpenter has hit .418 during an 18-game hitting streak.
• Three Cardinals enter the series with double-digit hitting streaks: third baseman
David Freese
(19 games, during which he is hitting .375 with 16 RBIs), second baseman
Matt Carpenter
(18 games, .418) and old friend
Carlos Beltran
(10 games, .362).
• Beltran -- who has moved into third in NL All-Star balloting in the outfield, passing Milwaukee's
Ryan Braun
-- had a proud moment today. He attended the first graduation ceremony at the Carlos Beltran Baseball Academy, which he founded in his native Puerto Rico. Of the 44 graduating students, all have college baseball offers. Two were drafted, including shortstop Jan Hernandez in the third round (96th overall) to the
Philadelphia Phillies
.
•
Yadier Molina
(.354) leads the National League in batting average, three points ahead of Colorado's
Troy Tulowitzki
. Since getting a rare day off against the Mets on May 15 at Busch Stadium, Molina has started all but three games. The last one backup
Tony Cruz
started came last Wednesday, when Molina served a one-game suspension for bumping umpire Mike Everitt. Molina had been called out on a close play at first base by fellow ump Clint Fagan.
• Rookie
Shelby Miller
leads the National League with a 1.91 ERA, narrowly ahead of L.A.'s
Clayton Kershaw
(1.93) and Arizona's
Patrick Corbin
(1.98). Miller sports a deceptive power fastball that he elevates in the zone. He recently has started tinkering with a sinker.
• Wainwright is tied with Corbin and Washington's
Jordan Zimmermann
for the NL wins lead at nine. How bored has Wainwright become? In addition to sporting arguably the game's best curveball, Wainwright has started changing his mechanics during games to toy with opponents. He sometimes will add a pause in his delivery like
Dan Haren
does, and sometimes with quick pitch. He also will change his spot on the rubber between hitters. Sometimes he will start his delivery with his hands upward, and sometimes at the belt.
•
Jake Westbrook
(elbow) is due to return from the DL and reenter the rotation Friday.
• The Cardinals are hitting an MLB-best .341 with runners in scoring position, a full 34 points better than runner-up Tampa Bay.
May, 15, 2013
5/15/13
11:23
PM ET
WHAT IT MEANS:
Oops, they did it again.
Inheriting runners on the corners from
Shaun Marcum
with two outs in the seventh inning and the score tied,
Scott Rice
tossed a wild pitch that allowed
Daniel Descalso
to race home from third with the go-ahead run.
The Mets ultimately lost to the
St. Louis Cardinals
4-2 Wednesday night at Busch Stadium, spoiling Marcum's first solid outing as a Met and
Rick Ankiel
's game-tying two-run homer.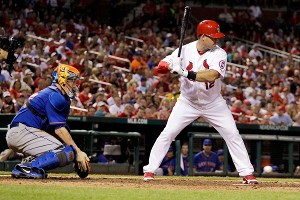 Jeff Roberson/Associated Press
With Ty Wigginton batting, the second pitch from Scott Rice skipped by John Buck for a run-scoring wild pitch that gave St. Louis a 3-2 lead.

Rice was making his 23rd appearance, tied for the major league lead.
It marked the second time this season a Mets game was decided by a run-scoring wild pitch.
Brandon Lyon
did the honors in Miami for a walk-off loss on April 30.
The Mets (14-23) now have a season-high six-game losing streak for the second time in 2013. They have lost 14 of 18 to drop nine games under .500 this early in a season for the first time since May 13, 2001, under Bobby Valentine (also 14-23).
Marcum (6.2 IP, 3 R, 2 ER) completed five innings for the first time as a Met -- he actually had his longest outing since last June 14 with the
Milwaukee Brewers
-- but nonetheless dropped to 0-4.
Ankiel had belted his first homer as a Met, a two-run shot in the top half of the seventh against
Seth Maness
, to even the score at 2. In 70 at-bats this season between the Mets and
Houston Astros
, Ankiel has six homers and 37 strikeouts.
OOPS, THE PREQUEL:
Jon Jay
's two-out double to right-center in the fourth plated
Matt Holliday
with the game's opening run.
Jay, apparently concerned about a potential play at the plate with Holliday, essentially gave himself up between second and third to deter the Mets from throwing home. That worked ... better than he could have expected.
David Wright
dropped the ball while applying a tag on Jay, and he successfully proceeded to third. After Wright's error, Jay scored an unearned run and gave St. Louis a 2-0 lead when
Tony Cruz
, getting a rare start over
Yadier Molina
, delivered a single.
Molina was heard from before the game ended. His pinch-hit RBI single in the eighth against
LaTroy Hawkins
gave St. Louis a two-run cushion.
WOE IS IKE:
The Mets were shut down by
Shelby Miller
for 5 2/3 innings and
Ike Davis
twice failed to come through with runners in scoring position as the Mets were blanked until Ankiel's blast.
Davis' first-inning strikeout against Miller stranded Wright at second base. An inning later,
John Buck
was doubled off second base on Ruben Tejada's lineout to center to end the half-inning. In the sixth, after
Daniel Murphy
doubled with one out and stole third, Wright struck out. Cardinals manager
Mike Matheny
then lifted Miller for left-hander
Randy Choate
, who coaxed an inning-ending groundout from Davis to preserve a 2-0 lead.
Miller tossed 5 2/3 scoreless innings to shave his ERA to 1.40, tied with
Clayton Kershaw
and narrowly ahead of
Matt Harvey
(1.44) for tops in the National League.
WHAT'S NEXT:
Jonathon Niese
(2-4, 5.93 ERA) opposes right-hander
Adam Wainwright
(5-2, 2.30) in the 1:45 p.m. ET series finale Thursday as the Mets look to avoid a four-game sweep. The Cardinals last swept a series of four or more games from the Mets in September 1982 at Shea Stadium, when Keith Hernandez played for St. Louis.
May, 15, 2013
5/15/13
6:43
PM ET
ST. LOUIS --
Ruben Tejada
returns to the lineup after a day off. Terry Collins said the message to Tejada during early batting practice Tuesday was simple: Stop hitting fly balls.
Tejada is hitting .186 (8-for-43) in May.
"You've got to get out of that. Fly balls aren't going to help you," Collins told Tejada.
Said the manager: "He's a line-drive hitter who stays above the baseball."
SHIPMENT ARRIVES:
Rick Ankiel
, who dropped a critical sinking liner that allowed the eventual go-ahead run to reach base in his Mets debut while borrowing
Jonathon Niese
's glove, finally has his own equipment.
"Now those balls will stick in that glove," Collins said.
HE'S AVAILABLE:
Collins would not be eager to use
Collin McHugh
tonight, but the call-up probably would be available for an inning, with 30 or 35 pitches maximum. McHugh threw 100 pitches over seven innings with Triple-A Las Vegas on Sunday.
FORMIDABLE FOE:
Collins said he watched the tape of
Shelby Miller
mowing down 27 straight
Colorado Rockies
after allowing a leadoff hit in his most recent outing.
Said Collins: "I took a big, big gulp and said, 'OK, we've got a little challenge ahead of us tonight. Let's see if we can rise up.'"
EXTRA HELP:
In response to a lighthearted question about whether he would ever use Ankiel to pitch, Collins more seriously said backup catcher
Anthony Recker
might be the emergency guy. Recker recently registered 93 mph while throwing in the bullpen.
"
Ike Davis
is also on that list," Collins said, half-seriously. "If we keep wearing out our bullpen, they may be in there pretty soon."
May, 15, 2013
5/15/13
5:56
AM ET
ST. LOUIS
FIRST PITCH:
The task does not get any easier for the struggling Mets, who try to snap a five-game losing streak tonight at Busch Stadium.
Winless
Shaun Marcum
(0-3, 8.59 ERA) opposes right-hander
Shelby Miller
at 8:15 p.m. ET. All Miller did in his last start was allow a leadoff hit, then retire 27 straight
Colorado Rockies
.
Then, looming in Thursday's matinee series finale, is
Adam Wainwright
of curveball-to-
Carlos Beltran
fame, from which the Mets seemingly still have not recovered.
Wednesday's news reports: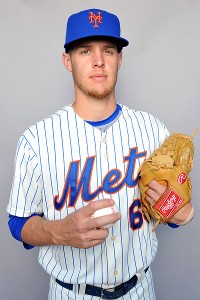 Steve Mitchell/USA TODAY Sports
Zack Wheeler's New York trip is for a medical exam, not his major league debut.

• Top pitching prospect Zack Wheeler
experienced soreness in the clavicle
in the front of his right shoulder and informed the Triple-A training staff Monday. He will be examined by team doctors in New York today and is likely to miss one start with Las Vegas. The interruption, which is being labeled extreme caution by the Mets, should further ensure Wheeler is not called up until after the deadline for receiving an extra year of arbitration.
Wheeler's agent, Al Goetz, Marc Carig
in Newsday
that the issue has "been more of an annoyance than anything else for the last couple of starts."
Read more in the
Star-Ledger
,
Times
,
Journal
,
Post
,
Record
and
MLB.com
.
•
Jordany Valdespin
continues to create headlines
, even when he does not play.
Responding to a tabloid report, Terry Collins insisted Valdespin did not try to get out of pinch-hitting Saturday in the plate appearance in which he was plunked in the arm by the
Pittsburgh Pirates
. Collins said Valdespin actually tried to get out of his
next
at-bat that game because of swelling in the arm.
Collins was adamant Valdespin should bat the second time and not beg out and show weakness to Pittsburgh -- even if it meant just taking pitches.
The manager, agitated by the continued discussion of Valdespin, did open himself up for some public backlash by saying he did not care what the fans thought about how it was handled. Collins should have said he did not care what
anybody outside the clubhouse
thought about how it was handled. That would have been far more benign.
Valdespin
tweeted during the afternoon
Tuesday about critics: "They criticize me to lower my self-esteem, but I'm going directly to the top. I wasn't born to lose."
Writes columnist Mike Vaccaro
in the Post
regarding Collins' fan reference:
Collins probably knew, as soon as he said this, he shouldn't have said this. He knows the fastest way to be packing your belongings in boxes -- faster than losing games in bunches -- is to take on fans. Fans are undefeated. Fans are a franchise's lifeblood. Fans ...
Well, fans allow you to stay relevant, long past your expiration date. I've believed, and written, that Collins deserves a full and fair accounting before his time is done here. But Collins has also found trouble in Houston and Anaheim when the losing became too much for him. In both cities, he lost the players, and that's bad enough (and judging from the listless way the Mets mailed in another game with the Cards last night, 10-4, that may be happening again).
Read more in the
Star-Ledger
,
Post
,
Daily News
,
Journal
,
Record
and
Newsday
.
•
Scott Atchison
landed on the disabled list
, although assistant GM John Ricco suggested that Tuesday's diagnosis was relatively good news. Ricco said inflammation from a bone spur is irritating a nerve. Atchison will take anti-inflammatory medication and be idle for a week.
Collin McHugh
, a starter with Las Vegas who tossed 100 pitches over seven innings Sunday, will enter the bullpen as a long reliever. Read more in the
Star-Ledger
.
•
Dillon Gee
confessed he was
lost for answers
after allowing six runs in five innings Tuesday,
in a 10-4 loss to the Cardinals
. Read game recaps in the
Post
,
Times
,
Star-Ledger
,
Daily News
,
St. Louis Post-Dispatch
and
MLB.com
.
•
Landon Powell
's emotional story about the death of his infant daughter Izzy on the eve of spring training as well as his own liver issues were
profiled on E:60
.
•
Matt Harvey
appears on the cover
of this week's Sports Illustrated.
• Dwight Gooden
is a "big fan" of Harvey
, writes ESPNNewYork.com's Ohm Youngmisuk. Read more in
Newsday
.
•
Jason Bay
is in the Bronx this week with the
Seattle Mariners
. The Mets bought out Bay's contract last offseason. The $21 million owed to him this season by the Mets includes $16 million deferred into 2014 and 2015. Read more in the
Star-Ledger
.
• Matt Bowman and T.J. Chism combined on one-hit shutout as St. Lucie beat Brevard County, 4-0. Infielder
Brandon Hicks
, who was in major league camp before being designated for assignment, appeared in that game -- his first official minor league game with the organization. He had been dealing with a calf injury. Read the full minor league recap
here
.
•
Josh Edgin
has been promoted
from Double-A Binghamton to Las Vegas.
• The Mets signed right-hander
Matt Fox
out of York in the independent Atlantic League
to use in Las Vegas' rotation.
•
From the bloggers …
John Delcos at
Mets Report
suggests hitting coach Dave Hudgens is being made a scapegoat for the Mets' hitting woes.
BIRTHDAYS:
Right-hander
Tyler Walker
, who made his major league debut with the Mets in 2002, turns 37.
TWEET OF THE DAY:
If NYM operate cautiously with Wheeler situation, allows them to push back call-up until after enough time passes to push back arb. clock.

— Buster Olney (@Buster_ESPN) May 15, 2013
YOU'RE UP: Are the Mets snake-bit?
May, 13, 2013
5/13/13
8:45
AM ET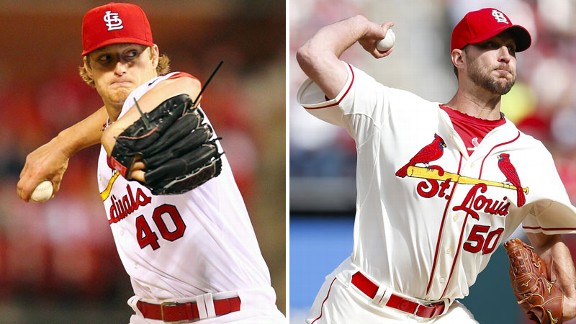 Getty Images
The Mets face Shelby Miller and Adam Wainwright consecutively to close this week's series.
METS (14-20, fourth place/NL East) vs. ST. LOUIS CARDINALS (23-13, first place/NL Central)
Monday:
RHP
Jeremy Hefner
(0-4, 4.63) vs. RHP
Lance Lynn
(5-1, 2.72), 7:05 p.m. ET
Tuesday:
RHP
Dillon Gee
(2-4, 5.55) vs. LHP John Gast (0-0, -.--), 8:15 p.m. ET
Wednesday:
RHP
Shaun Marcum
(0-3, 8.59) vs. RHP
Shelby Miller
(5-2, 1.58), 8:15 p.m. ET
Thursday:
LHP
Jonathon Niese
(2-4, 5.93) vs. RHP
Adam Wainwright
(5-2, 2.30), 1:45 p.m. ET
Cardinals short hops
•
Shelby Miller
and
Adam Wainwright
combined to retire 40 straight
Colorado Rockies
from the second batter of Friday's game through the 13th batter Saturday. That matched the major league record for most consecutive batters retired in a series, initially set by the
Texas Rangers
against the
Detroit Tigers
on May 3-4, 1996.
The 22-year-old Miller, the 19th overall pick in the 2009 draft, allowed a game-opening single to
Eric Young Jr.
, then retired 27 straight. The following day, Wainwright had a no-hit bid end after 7 1/3 innings on a
Nolan Arenado
single.
Despite missing an entire season, Wainwright is tied for the second-most shutouts in the majors since 2010 (six), trailing only
Cliff Lee
(seven). Miller, 22, made his major league debut last Sept. 5 against the Mets with two scoreless innings.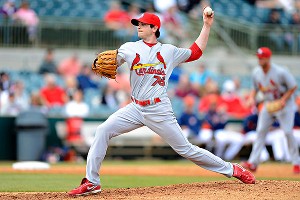 Mike Janes/Four Seam Images/AP Images
John Gast makes his major league debut Tuesday in place of Jake Westbrook.

St. Louis starting pitchers had a 21-7 record and MLB-leading 2.11 ERA until
Jaime Garcia
modestly tarnished that by allowing five runs in six innings in a loss Sunday.
•
Jake Westbrook
(2-1, 1.62 ERA), who had been scheduled to face the Mets, instead landed on the disabled list with right-elbow inflammation. Left-hander John Gast has been promoted from Triple-A Memphis and will start Tuesday in his major league debut in Westbrook's place. Although not a top prospect like Michael Wacha (who is 4-0 with a 1.99 ERA in seven starts with Memphis), Gast is 3-1 with a 1.16 ERA in six starts for that Pacific Coast League club this season.
•
Lance Lynn
had a personal 10-game winning streak dating to last Sept. 9 snapped with a 2-1 loss to the
Chicago Cubs
on Tuesday. It had been the longest active winning streak in the majors. Lynn (24-9 in his career) has never lost consecutive games.
•
Yadier Molina
, who ranks fourth in the NL in batting at .343, lost an 11-game hitting streak Sunday. He has started all but one game this season. However, backup
Tony Cruz
is expected to get one start against the Mets. Cruz's only start so far came April 19 at Philadelphia.
•
Pete Kozma
showed enough during spring training to beat out ex-Met
Ronny Cedeno
for the shortstop job in place of the injured
Rafael Furcal
. Kozma, a 2012 postseason hero, provides steady defense (one error so far), albeit with unexceptional range or flair.
Furcal strained an elbow ligament near the end of the 2012 regular season and missed the postseason. After visiting James Andrews during spring training, Furcal concluded he would need Tommy John surgery and miss the entire season.
Kozma had the tiebreaking two-run single in the ninth inning of Game 5 of the Cards' division series, which knocked the
Washington Nationals
out last October.
• Second baseman
Matt Carpenter
never played that position in the minors. He is a natural third baseman who also played first base and the outfield with St. Louis in 2012. Fellow lefty hitter
Daniel Descalso
, who competed for the job in spring training, also sees some action at the position when Carpenter slides over to third base in place of
David Freese
.
• Left fielder
Matt Holliday
left Saturday's game with an ankle injury after tripping at first base, but returned to action Sunday.
•
Carlos Beltran
went 0-for-4 Sunday as his average dipped to .298. Despite reduced mobility in right field at this stage of his career, Beltran entered the series finale against Colorado hitting .345 since April 15.
•
Jason Motte
, who had an NL-leading 42 saves last season, underwent Tommy John surgery on Tuesday after initially hoping to rehab and avoid the procedure.
Edward Mujica
is 9-for-9 in save chances.
The Cards' bullpen still has the worst ERA in the NL, but it has dramatically improved with a shakeup that involved demoting left-hander
Marc Rzepczynski
on April 27 and right-hander
Mitchell Boggs
on May 3. Entering Sunday, when rookie
Carlos Martinez
surrendered three runs in relief, the Cards' bullpen had a 0.73 ERA in 12 1/3 innings since May 3.
Martinez's fastball has averaged 96.4 mph since a promotion from Double-A Springfield 10 days ago. He is the No. 3-rated prospect in the St. Louis organization, according to Baseball America. He nearly exclusively started in the minors but is getting introduced to the majors as a reliever, which is tradition with the Cards. Pitching prospect
Seth Maness
, like Martinez, was promoted for bullpen use after primarily starting in the minors.
•
Chris Carpenter
, whose career appeared in jeopardy because of nerve damage in his arm, may return this season. He threw a 75-pitch bullpen session Friday.
May, 13, 2013
5/13/13
6:00
AM ET
FIRST PITCH:
The Mets need to face the
St. Louis Cardinals
pitching staff right now like Jay Horwitz needs encouragement about his tweeting.
(Pause and process that.)
Yet, ready or not, the struggling Mets hitters face the top rotation in the majors in a four-game series beginning tonight at Busch Stadium. That includes facing
Shelby Miller
and
Adam Wainwright
the final two games. That duo combined to retire an MLB-record-tying 40 straight batters this weekend against the
Colorado Rockies
.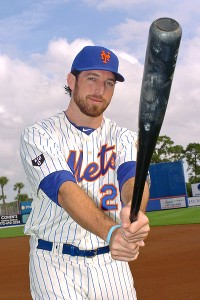 Steve Moore/Associated Press
Terry Collins has committed to Ike Davis batting cleanup.

Worse:
Matt Harvey
is not scheduled to pitch against the Cardinals. He next takes the mound Friday at Wrigley Field.
Jeremy Hefner
(0-4, 4.63 ERA) and right-hander
Lance Lynn
(5-1, 2.72) face off in the series opener at 7:05 p.m. ET.
One issue to monitor: How patient will Terry Collins be with
Ike Davis
?
Collins stuck with his promise and moved Davis to the cleanup spot Sunday.
Did the manager box himself into a corner by pledging the lineup would be stable with Ike in that spot? Davis went 0-for-4 with two strikeouts as the
Mets lost to Pittsburgh, 3-2
, Sunday. He has 24 Ks in his last 59 at-bats, yet Collins now would appear committed to keeping Davis batting cleanup for a while.
Monday's news reports:
• Although he did not possess his best stuff, Harvey limited the Pirates to two runs in seven innings Sunday. Harvey
suffered his fourth straight no-decision
, even though he has a 1.98 ERA during that span. The Mets have scored six total runs with Harvey in the game during that four-game stretch.
Closer
Bobby Parnell
entered in an unusual spot -- a tie game with two outs in the eighth and two baserunners aboard -- and surrendered a game-deciding RBI single to Manhattan-raised
Pedro Alvarez
.
Daniel Murphy
snapped an 0-for-17 skid with a one-out double in the bottom half of that frame, but he was stranded at third base when Collins' revised lineup flopped. Davis struck out and
Lucas Duda
grounded out against
Mark Melancon
to strand Murphy at third base. Duda was flat-out unlucky. His grounder up the first-base line hit the bag and ricocheted to second baseman
Brandon Inge
, who threw to Melancon covering first to end the threat.
The Mets (14-20) dropped six games under .500 for the first time this season and lost for only the second time in a Harvey start this year. The Pirates had been 3-12 since the opening of Citi Field before taking three of four during the weekend.
Read game recaps in the
Post
,
Daily News
,
Star-Ledger
,
Newsday
,
Record
,
Times
,
Journal
and
MLB.com
.
• Davis acknowledged he "
let the team down
." Columnist Kevin Kernan
in the Post
writes Davis may need a ticket to Vegas to correct himself. Read more in the
Star-Ledger
.
• Writes columnist Bill Madden
in the Daily News
:
I am here to report Matt Harvey is human -- which made for a doubly aggravating Mother's Day experience for Met fans.
For even when Harvey is inhuman, as he was in his previous start when he nearly perfect-gamed the Chicago White Sox Tuesday at Citi Field, the bumbling Mets were unable to muster enough runs to get him a win. And such was the case again Sunday when Harvey battled with his command most of the afternoon but still was able to hold the Pittsburgh Pirates to just two runs over seven innings and put the Mets in position for a much-needed "W."
Writes columnist David Lennon
in Newsday
:
Matt Harvey is a potentially great pitcher on an undeniably bad team, which is why he walked away empty-handed yet again Sunday despite a performance that was merely good in the Mets' 3-2 loss to the Pirates.
Get used to it, because without significant upgrades to this roster, Harvey is going to feel pretty lonely out there this season. While he didn't have his A-plus stuff against Pittsburgh, Harvey still allowed only two runs over seven innings, which normally is more than adequate for a win.
But not in Flushing, where Harvey was left to explain everything he couldn't do Sunday. Despite a lack of his usual pinpoint control, Harvey's biggest problem wasn't throwing the baseball. The issue was the Mets' chronic inability to make contact with it that doomed him.
Read more on Harvey in the
Times
and
Daily News
.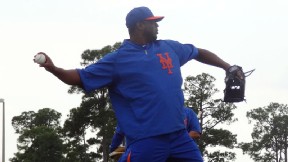 Adam Rubin
Frank Francisco needs to see a doctor for elbow discomfort.

•
Frank Francisco
, who was poised to move from St. Lucie to Binghamton in advance of being activated from the disabled list, instead
experienced renewed elbow discomfort
and is due to be examined by a doctor this week. With Francisco yet to appear at the major league level, three of the team's four highest-salaried players have contributed nothing this season:
Johan Santana
at $31 million (including 2014 buyout),
Jason Bay
at $21 million (although $16 million is deferred for one to two years), and Francisco at $6.5 million.
The Mets officially promoted sidearmer
Greg Burke
from Triple-A Las Vegas to try to spell an overused bullpen, although Burke went unused Sunday. The team placed
Jeurys Familia
on the DL with biceps tendinitis. Read more in the
Star-Ledger
.
•
Collin McHugh
(3-2, 2.74 ERA) limited Albuquerque to one run in seven innings. 51s reliever
Sean Henn
then allowed a pair of ninth-inning runs but stranded
Tony Gwynn
Jr. in scoring position by striking out
Jeremy Moore
as Las Vegas won, 4-3. In his second start since returning from the DL, Cory Mazzoni allowed one run in 5 2/3 innings as Binghamton split a doubleheader with a 9-3 win in Game 2 against Harrisburg. Stefan Sabol's solo homer accounted for the only Savannah run in a 4-1 loss to Rome. Read the minor league recap
here
.
•
Mets instructors had praise
for Zack Wheeler's 7 1/3-inning outing Sunday with Vegas. Read more in
Newsday
.
•
In the Record
,
John Buck
pays a Mother's Day tribute to his wife Brooke -- "the steadying force" as they dealt with the early days following the premature birth of twins.
•
From the bloggers …
After seeing a photo of Mr. Met getting flowers for his mom --
his mom?
--
Mets Police
worked out the Met Family Tree.
BIRTHDAYS:
Manager-turned-TV analyst Bobby Valentine turns 63.
TWEET OF THE DAY:
Leaving NYC from the air. #Greatness twitter.com/Mark_Melancon_…

— Mark Melancon (@Mark_Melancon_) May 12, 2013
YOU'RE UP: What should the Mets do with Ike Davis? 1. Keep the faith and leave him at cleanup. 2. Drop him in the order. 3. Bench him. 4. Demote him.
May, 11, 2013
5/11/13
11:34
AM ET
Terry Collins could see the Pirates retaliating against
Jordany Valdespin
for his admiration of his ninth-inning homer Friday, but the manager doesn't think Pittsburgh would go after
David Wright
.
"I think every situation is different. I don't think you retaliate on David Wright," Collins said. "You don't take it out on David Wright. Now will they throw at [Valdespin]? I have no idea. Fifteen years ago the answer would have been yes. I can't say that's going to happen in today's game. They won the game. I'm sure it's over with. But, you know, a lot of teams have long memories."
Asked if Valdespin should have been encouraged in the minors to keep antics that antagonize the other team in check, Collins said: "Believe me, we've talked to Jordany about a lot of things. Players who have -- I call it flair, players who play with flair, once in a while they're going to do something that annoys you. And if it bothers you enough and you're on the opposing team, you might do something. But, you know what? We addressed it. We addressed it again.
"And I tell some players once in a while, or coaches: 'You don't like it? Don't watch it. Watch somebody else.'"
WRIGHT STUFF:
On Wright being in the lineup a day after fouling a ball off the inside of his left knee and departing on a double-switch for the final inning Friday, Collins said: "I'm sure he's stiff today. You don't foul it off like that off the inside of your knee without being stiff today. When I took him out last night, I told him, 'Just get some ice on it.' But he said, 'Look, I can finish.' So I'm sure he'll be stiff, but he plays through a lot. So he'll be OK."
ONE-HIT WONDERS:
Matt Harvey
recently tossed nine scoreless innings, allowing only an infield single against the
Chicago White Sox
. And on Friday night, St. Louis'
Shelby Miller
and Boston's
Jon Lester
each tossed walk-free one-hit shutouts.
"I just know you don't have a lot of the guys who really walk up with a definite two-strike approach anymore," Collins said about the pitchers' dominance. "... The power is so dominant now that everybody has got longer swings. So you can see, when you're locating, that's when the strikeouts are going to come. But I'm not surprised at what I'm seeing. The arms today are so much better. There's so many more guys that throw hard and have 'plus' stuff today than there was 15 years ago. I think that's why you're seeing such a dominance in some strikeouts and pitching."
Miller opposes
Shaun Marcum
on Wednesday at Busch Stadium.
DOUBLE TROUBLE?
While the tarp is on the field 90 minutes before Saturday's first pitch at Citi Field, it is not currently raining. If the game were rained out, Collins said a doubleheader would be scheduled for Sunday.
VIEWING PARTY:
Among the extra eyes watching Zack Wheeler's start tonight in Las Vegas: roving Mets instructor Guy Conti, who will provide feedback on the performance to the major league staff.
September, 3, 2012
9/03/12
10:56
AM ET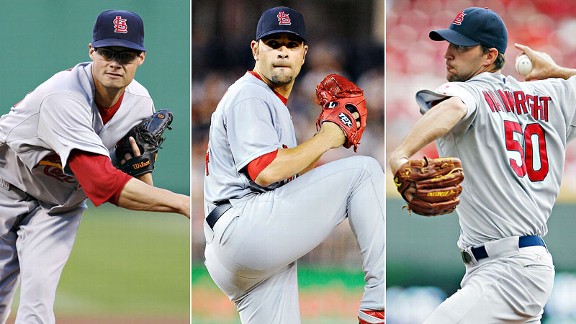 US Presswire
The Mets face (l to r) Joe Kelly, Jaime Garcia and Adam Wainwright at Busch Stadium.
METS (64-70, third place/NL East) vs. ST. LOUIS CARDINALS (72-62, second place/NL Central)
Monday:
RHP
Collin McHugh
(0-0, 0.00) vs. RHP
Joe Kelly
(4-6, 3.61), 2:15 p.m. ET
Tuesday:
RHP
Matt Harvey
(3-3, 2.76) vs. LHP
Jaime Garcia
(3-6, 4.52), 8:15 p.m. ET
Wednesday:
RHP
R.A. Dickey
(17-4, 2.63) vs. RHP
Adam Wainwright
(13-11, 3.90), 1:45 p.m. ET
Cardinals short hops
• St. Louis returns from a disappointing 4-6 trip despite opening the three-city excursion by taking two of three from division-leading Cincinnati. Cardinals batters went 40 straight innings without producing an RBI and were shut out three times, including consecutively in Pittsburgh in games started by
James McDonald
and
Wandy Rodriguez
.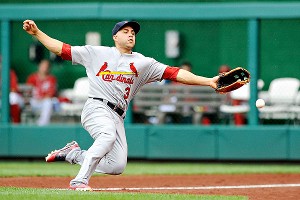 Patrick McDermott/Getty Images
Carlos Beltran departed Sunday's game with a knee injury.

St. Louis nonetheless occupies the second wild-card slot in the National League, a half-game ahead of the
Los Angeles Dodgers
and 1½ ahead of the Pirates. Yet despite leading the league in runs scored (646) and on-base percentage (.338), the Cards have been inconsistent. They hit for power and explode some games, but struggle with runners in scoring position and fail to score in others.
•
Rafael Furcal
has been sidelined since Aug. 30 with a ligament tear in his right elbow. He is attempting to rehab rather than undergo Tommy John surgery.
Daniel Descalso
is manning shortstop in Furcal's absence.
•
Carlos Beltran
suffered a left-knee injury on a slide Sunday. He took the field the following half-inning hoping a ball was not hit to him, but ultimately left the game. Since July 2, Beltran is hitting only .206 with eight homers and 25 RBIs in 199 at-bats.
• Top pitching prospect
Shelby Miller
is due to join the Cardinals with rosters expanded and may see action in the bullpen -- although it's conceivable he could end up in the rotation given St. Louis starting pitchers' recent collective struggles. Miller, 21, was the 19
th
overall pick in the 2009 draft out of high school in Texas.
•
Yadier Molina
absorbed a wicked plate collision that involved
Josh Harrison
delivering his shoulder into the catcher's head last Tuesday in Pittsburgh. But Molina returned to the lineup two days later, in Washington.
Molina is putting up career-high offensive numbers: .322 with 17 homers and 62 RBIs. His average ranks fourth in the National League, trailing suspended leader
Melky Cabrera
(.346), Pittsburgh's
Andrew McCutchen
(.344) and San Francisco's
Buster Posey
(.329) and leading No. 5
David Wright
(.314).
• First baseman
Allen Craig
(92 games) and third baseman
David Freese
(117 games) already have logged career-high game totals, so their production in September bears watching.
Last series results
Mets won, 3-1, at Citi Field, June 1-4 (AP game recaps)
Mets 8, Cardinals 0:
Johan Santana pitched the first no-hitter in team history, helped by an umpire's missed call and an outstanding catch in left field by Mike Baxter.
More
Mets 5, Cardinals 0:
R.A. Dickey (8-1) gave up seven hits, struck out nine and walked none in his third career shutout and first since 2010. David Wright homered.
More
Mets 6, Cardinals 1:
Jon Niese struck out a career-high 10 in six scoreless innings before he was pulled as a precaution with an elevated heart rate. Kirk Nieuwenhuis contributed a homer and three RBIs.
More
Cardinals 5, Mets 4:
Allen Craig hit a tiebreaking, two-run homer in the eighth inning against Jon Rauch.
More