New York Mets:

SportsNet New York
July, 8, 2012
7/08/12
6:00
AM ET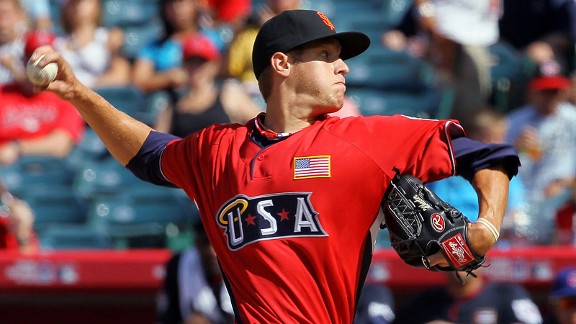 Stephen Dunn/Getty Images
Zack Wheeler will participate in his second Futures Game today. He was a participant in 2010 as well, while with the San Francisco Giants.
Jordany Valdespin
and
Ike Davis
homered,
Dillon Gee
matched a career high by
tossing eight innings
and
Ruben Tejada's
over-the-shoulder catch
aided
Bobby Parnell's
second save as the
Mets beat the Cubs, 3-1
, Saturday.
The Mets now send
Jon Niese
(7-3, 3.35 ERA) to the mound in the first-half finale against right-hander
Ryan Dempster
(3-3, 2.11). The Amazin's are looking to match their season high at eight games over .500.
Sunday's news reports: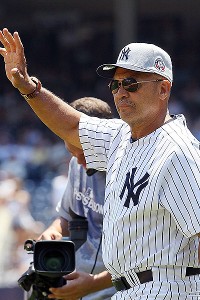 Jim McIsaac/Getty Images
Reggie Jackson (pictured) irked Wally Backman by questioning late '86 teammate Gary Carter's Hall of Fame credentials.

• Buffalo manager
Wally Backman
called Record columnist
Bob Klapisch
to complain about
Reggie Jackson's
comments regarding '86 teammate
Gary Carter
. "Who is he to question?" Klapisch,
on Twitter
, quoted Backman about Jackson. "At least Gary was a complete player. It's unbelievable Reggie would criticize a great guy and great player who's passed away. Show some respect."
Among other derogatory statements, Jackson had told Sports Illustrated: "I didn't see
Kirby Puckett
as a Hall of Famer. I didn't see Gary Carter as a Hall of Famer. I didn't see
Don Sutton
as a Hall of Famer. I didn't see
Phil Niekro
as a Hall of Famer. As much as I like
Jim Rice
, I'm not so sure he's a Hall of Famer."
• In a Q&A with
Steve Serby
in the Post
,
Sandy Alderson
offers these tidbits:
On whether the Mets are serious buyers before the July 31 trade deadline: "Well, we're serious lookers right now. We'll see where we are as we get closer to the deadline. Right now the market for players is not quite as defined as it will be in the next couple of weeks." Still, Alderson added: "Right now we're in a somewhat different mode than we were last year at this time."
On acquiring a right-handed bat via trade: "Well, I hope the right-handed bat we have [is]
Jason Bay
. I know that doesn't inspire confidence on the part of most Mets fans, but I think Jason has an opportunity to play a big part for us the second half. ... I think we have to keep in mind that Jason could be the biggest addition we could hope to get. No guarantees that he'll make a big contribution, but he certainly has that potential."
On whether he believes the Mets are a playoff team: "Yeah, I do. There are two things about our rotation -- No. 1, it's deep. We match up pretty well, regardless of the opposition, with all five of our guys. And, the other thing is that right now we have some real quality at the top end, which can have a very big impact in a short series."
On
David Wright's
future as a Met: "I think it will be a long one, and hopefully very bright."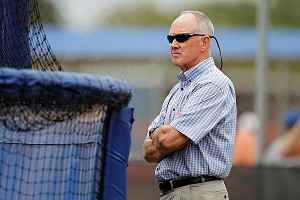 Jeff Roberson/Associated Press
Sandy Alderson says Jason Bay may be the best righty bat the Mets add after the All-Star break.

On
Matt Harvey
reaching the big leagues in 2012: "It's conceivable. I think it's unlikely, but I think it's conceivable."
On
Zack Wheeler
: "It's very possible that he'll be moved to Triple-A sometime in the near future. I'd be surprised if he ends up in New York by the end of this season, but he is someone who would have to be protected on the major league roster going into next year, so at the very worst, he'll be in major league camp next year, and I'm sure he'll be competing for a rotation spot."
• Columnist
John Harper
in the Daily News
discusses Wright's MVP-caliber season with the third baseman. Writes Harper:
Only two seasons ago, in fact, Wright racked up a whopping 161 strikeouts. Entering the final game before the All-Star break he has only 46 Ks, a reduction that is as astonishing as it is revealing. "It's funny how it works," Wright said at his locker on Saturday. "You have some success and all of a sudden your mentality is different. You're aggressive but also confident that if they pitch you out of the strike zone you're going to take those pitches. Whereas, there were times the last few seasons I felt I was swinging before the ball was even thrown. I had those at-bats when no matter what the pitcher threw, I knew I was swinging at it."
Wright acknowledges the revised Citi Field dimensions have helped. He tells Harper: "It's a huge difference. It allows you to relax and know you don't have to try to hit the ball a mile to see results. And, at the same time, if you do hit the ball well and you see results, instead of a 400-foot flyout, you're 1-for-1 and feeling good about yourself. There were times the last couple of years I tried to muscle up and hit the ball a mile, and that had something to do with my strikeouts going up, too.''
• The Mets
used an all-homegrown starting lineup
Saturday for the second time this season and fourth time in franchise history. Read more in
Newsday
.
• Read game recaps in
Newsday
, the
Record
,
Star-Ledger
,
Times
,
Daily News
and
Post
.
• Third baseman
Wilmer Flores
and Wheeler will represent the Mets in the Futures Game in Kansas City at 5 p.m. ET today. The prospect showcase will be televised by ESPN2. Wheeler tossed a scoreless inning in the 2010 Futures Game while a Giants farmhand. Flores actually started at second base and went 0-for-2 in the 2009 Futures Game while a month shy of his 18th birthday.
Flores is hitting .390 with two homers and 11 RBIs in 59 at-bats since a promotion to Double-A Binghamton. With third base also occupied by
Jefry Marte
with the B-Mets, Flores has appeared at three games at second base and two games at first base in addition to hot-corner duty in Double-A. Flores exclusively was a shortstop in the Mets system until this year, although he had played other infield positions in winter ball.
"He's never been extremely fast. He's never been your typical shortstop," B-Mets manager
Pedro Lopez
told
Lynn Worthy
in the Binghamton Press & Sun-Bulletin
. "He probably has that type of body -- what you look for from a shortstop, a body like that. But his first step wasn't fit for a shortstop. We all knew that eventually he was going to end up moving. But I had him his first year, in 2008. Watching him in 2008 and watching him play last year every day at short was night and day. He learned how to play that position. He played it well.
"Right now, there are a lot of guys in the big leagues that, No. 1, don't have the arm that he has. They don't have the glove that he has. They're playing second base because of the bat. His bat definitely profiles at second, but he's also a good third baseman. He's got good hands. His arm definitely plays there, if you played at short. I think as a third baseman you don't have as much ground to cover as short. I think he's done a good job."
•
Johan Santana
, whose ankle was cranky but likely a non-issue a day after twisting it, is scheduled to start the second-half opener in Atlanta on Friday.
R.A. Dickey
and Niese will round out that series. Gee then starts next Tuesday in Washington, in the series opener against the first-place Nationals, followed by
Chris Young
. Placing Santana at the start of the rotation to begin the second half is an expression of confidence there are no lingering questions about his shoulder's health since his return from Sept. 14, 2010 surgery to repair a torn anterior capsule. Read more in the
Star-Ledger
.
•
Frank Francisco
threw off a mound Saturday
for the first time since landing on the DL during the Subway Series with a strained left oblique. He is due to pitch in a rehab game for the first time Wednesday,
Terry Collins
said.
• Collins said he needs to find a way to
get Valdespin into Sunday's game
after he homered for the second straight day Saturday. Read more in the
Daily News
and
Newsday
.
• Davis' homer tied him with
Scott Hairston
and
Lucas Duda
for the team lead at 12. Read more in
Newsday
and the
Post
.
• Columnist
David Lennon
in Newsday
has some early thoughts about Tuesday's All-Star Game, in which neither Wright nor Dickey may start. Writes Lennon:
What complicates things now is that the fan balloting, which used to involve folksy punch cards distributed at ballparks, has evolved into a powerful online gateway for advertising revenue and website hits for MLB.com, a huge money-making enterprise. Not that there's anything wrong with that. This is, after all, an entertainment business. But as a result, there will be some inequities -- [Pablo] Sandoval starting over Wright, for instance -- and that tends to hurt the integrity of the overall message. It also puts a burden on the All-Star Game managers to balance that showcase element with some sort of competitive mindset.
• Dickey tells
Mike Puma
in the Post
it would be unfortunate if he is disqualified from starting the All-Star Game because he is a knuckleballer. "I feel like [the decision] is probably being over-thought on a lot of different fronts," Dickey told Puma. "Anybody would love to start the game, so if you're asking me, of course I would like to start it. That doesn't mean I'll be insulted if I don't. There are plenty of candidates that are worthy. But I do think the knuckleball angle, as far as that being a deterrent, is a little bit blown out of proportion. Simply because I've worked with so many guys who have been able to get it, basically. And I've gotten one wild pitch this year and I think my strikeout-to-walk [ratio] probably speaks for itself -- as far as the control aspect goes -- so I don't see the real issue with that."
• Buffalo right-hander
Collin McHugh
, whose blog entries periodically are reprinted at ESPNNewYork.com, discusses the
transition from Double-A to Triple-A
in his latest entry. McHugh is an under-the-radar prospect who is starting to get attention. He has drawn comparisons to Gee.
• SNY is advertising in the Bronx, at the subway stop by Yankee Stadium, according to
Richard Sandomir
in the Times
. "This isn't about the Mets' network trying to co-opt Yankee fans," SNY president
Steve Raab
told Sandomir. "This is a regional sports network that has always positioned itself as the home of all things New York sports taking the program that is most representative of that positioning and going for sports fans."
Yankees president
Randy Levine
offered this reply to the Times: "There's no such thing as any kind of turf. But I give SNY credit. When you're a consistent No. 3 network, you shoot for No. 1."
•
Matt den Dekker
had a three-run homer and
Justin Hampson
resurfaced for the save with Buffalo.
Cory Mazzoni
tossed seven scoreless innings for Binghamton.
Jimmy Fuller
tossed five no-hit innings for Savannah. Read the full minor league recap
here
.
TRIVIA:
Who was the last Met to play second base in the All-Star Game?
Saturday's answer: Dempster pitched for the Marlins and Reds before being released by Cincinnati in November 2003 and signing later that offseason with the Cubs.
March, 20, 2012
3/20/12
12:42
AM ET
After an eventful off-day, much of the narrative about the Mets' looming financial ruin is due to take a backseat for the near future.
First, at the U.S. District Courthouse in lower Manhattan on Monday morning, the parties in the
Bernard Madoff
-related lawsuit against
Fred Wilpon
and family announced they had
settled the case for $162 million
. In reality, the Wilpons ultimately will be responsible for repaying far less than that sum, since trustee
Irving Picard
will allow the family to claim losses of $178 million from other Madoff investments. The Wilpons won't be reimbursed that entire $178 million sum, but the fraction to which they are entitled to recoup after Picard collects money from net winners in the Ponzi scheme will be deducted from the $162 million they owe in the settlement. Also relevant: The Wilpons will not have to pay Picard whatever they ultimately owe until 2016 and 2017.
Secondly, word came that the Wilpons
successfully had received a $240 million equity infusion
from minority investors, allowing them to pay off a $25 million emergency loan from Major League Baseball and a $40 million bridge loan from Bank of America. The investment -- albeit with at least half coming from SportsNet New York,
Jeff Wilpon
and
Saul Katz
-- should allow the Wilpons to withstand any 2012 operating losses and meet immediate debt obligations without jeopardizing their ownership of the team in the near term.
Still, this does
not mean the days of payroll austerity have ended
for the Mets.
More may come Tuesday when the Wilpons are expected to be at Mets camp in Port St. Lucie, Fla.
Tuesday's news reports:
• Although the consensus is the Wilpons fared very well with the settlement, both sides had compelling reasons to reach a compromise, which was brokered by former New York Governor
Mario Cuomo
. Even if the Wilpons felt they did not act in bad faith in their investments with Madoff, a jury could have found otherwise and awarded Picard an additional $303 million aside from the up to $83.3 million to which Judge
Jed S. Rakoff
already had decided the trustee would be entitled. On the other side, by settling for $162 million -- the Wilpons' profits from certain funds in the six years before Madoff's arrest -- Picard restored that six-year clawback period as the appropriate standard. Rakoff had ruled that Picard could only go back two years, which would have capped the amount Picard could have recovered at $83.3 million -- unless the trustee could have demonstrated to a jury that the Wilpons acted "willfully blind" to Madoff's Ponzi scheme. The Wilpons, as part of the settlement, are free and clear of any bad-faith accusations.
Wrote
Anthony M. Destefano
and
Steven Marcus
in Newsday
regarding Cuomo's role as mediator:
About 10 days ago, he called Wilpon and Katz again into his office at Willkie Farr & Gallagher in Manhattan for a frank talk. "They came. I spoke to them, I simply made the pitch. 'This is your last chance,' " recalled Cuomo. Then, in the past week lawyers for Picard, Wilpon and [Saul] Katz started to hunker down for some serious deal making. Each knew a trial had risks. "Number one, they may lose. Number two, they may win and then face an appeal. Number three, in either case it's going to cost a fortune," Cuomo said. Lawyers for Picard and the Mets owners swapped proposals and counterproposals through Cuomo, his partner Brian E. O'Connor and firm associate Emma J. James. At times, opposing lawyers talked directly by phone. What solidified the deal for Wilpon and Katz was Picard's willingness to drop his claim they were willfully blind to Madoff's fraud, an allegation that stung them deeply -- and could have cost them $303 million in damages if it stuck.
Read more settlement coverage in the
Journal
,
Times
,
Daily News
,
Post
,
Star-Ledger
and
Newsday
.
• The $240 million equity infusion -- which comes in $20 million blocks each worth 4 percent of the team -- averts any short-term danger of the Wilpons being unable to meet their debt obligations. The only known investor without existing ties to the Mets is
Steve Cohen
, who is a finalist to purchase the majority share of the Los Angeles Dodgers, which would force him to divest his new share of the Mets.
In addition to paying back the $25 million to MLB and $40 million to Bank of America with the newly infused funds,
Josh Kosman
in the Post
reports, $100 million of the money immediately went to pay down roughly $430 million in team debt. Kosman wrote:
The Mets have not refinanced their remaining loans, but have bought the team goodwill. Last year, team lender JPMorgan wrote a letter warning that the team had breached its debt covenants. The owners first must prove they can come close to hitting their budget after missing it badly the last two years, one source said. In 2011, the Mets lost roughly $70 million. After big payroll cuts in the off-season, the team could break even this year.
Marc Ganis
, the president of a prominent sports consulting firm,
told Newsday
: "This is a good day for the Wilpons, but their financial troubles with the Mets are still very significant. It's really a situation that needs a lot of work before Mets fans can start feeling like a corner has turned."
Read more on the minority ownership sale in the
Journal
and
Daily News
.
• Columnist
Bob Klapsich
believes
Mets fans are losers in the settlement
. Writes Klapisch:
So it's fair for Mets fans to ask the Wilpons what's in store, other than years and years of debt pay-down. The family owes $430 million in principal of a loan against the team, due in 2014. They owe $450 million in principal of a loan against SNY, back in 2015. They owe an estimated $600 million, due in $25 million increments every six months, on the ballpark. These are the fiscal realities that figure to keep the Mets locked in a nasty catch-22. They haven't had enough extra cash to upgrade the roster, but without enough on-field talent to compete with, say, the Phillies and Marlins, let alone the Braves and Nationals, how are the Wilpons going to generate ticket-sales that would fund a renaissance?
ESPNNewYork.com columnist
Ian O'Connor
has similar
concerns about the Wilpons as owners
. Writes O'Connor:
The Mets are a big-market joke with small-market bottom lines, and Wilpon's dreadful decisions in business and baseball are to blame. His fan base wants him out, and even the Mets' loyal, good-natured customers were hoping for some outcome before a judge and jury that left them with a new rich guy in charge. So when Mario Cuomo, the Kissinger of this case, told reporters outside federal court in Manhattan that this resolution would allow Mets owners to "return to normalcy," no season-ticket holder was seen popping open a bottle of chilled champagne. For Mets fans, normalcy is a team in the world's biggest, noisiest marketplace that slashes payroll by more than $50 million.
•
Anthony McCarron
in the Daily News
got brief reaction to the settlement. "As players, we've never been preoccupied with Madoff, but we understand it's a huge burden lifted off the shoulders of Fred Wilpon and
Saul Katz
,"
R. A. Dickey
told McCarron. Said
Terry Collins
: "I'm glad this episode is in the past now."
• The Mets return to action Tuesday at 6 p.m. against the Washington Nationals after a team day off. They are winless in their past nine Grapefruit League games and have the worst exhibition record in baseball at 3-11-1. On a positive note,
Daniel Murphy
and
Ruben Tejada
are expected to start against the Nats in the middle infield. The two have logged only six innings together in Grapefruit League play because Tejada has nursed a groin injury for the past week. Read more in
Newsday
.
•
Andrew Keh
in the Times
wonders what the settlement means for the future of
David Wright
. Writes Keh:
The theory was that the Mets, if they found themselves buried in the standings this summer, would be tempted to trade Wright to a contender before the July 31 trading deadline and receive prospects in exchange. But that was before Monday's settlement did away with the financial threat the trustee posed. Whether Wilpon might now feel more tempted to try to keep Wright for the long term remains to be seen. But he might, if for no other reason than to send a signal to the team's discontented fan base that he is willing to make at least one investment in the team's future at some point this season. Jose Reyes was let go this winter without a fight; letting fans know that Wright might be staying put might soothe some wounds.
TRIVIA:
Who led the Triple-A Buffalo Bisons in steals last season?
(Monday's answer: The trial was due to begin Monday in the
Daniel Patrick Moynihan
U.S. Courthouse on Pearl Street in lower Manhattan, which was named for the late U.S. Senator from New York.)
April, 2, 2011
4/02/11
8:38
AM ET
After
Josh Johnson
took a no-hit bid into the seventh inning and
Mike Pelfrey
served up a grand slam to
John Buck
in
Terry Collins'
first game managed since 1999, the Mets try to regroup with
Jon Niese
opposing
Ricky Nolasco
.
Saturday's news reports:
•
Steven Marcus
of Newsday reports that principal owner
Fred Wilpon
wants to select a minority parnter
by the end of April
. Writes Marcus:
There is a sense of urgency about the timetable because the team has mounting financial obligations due to the startup of its players' payroll and a loan coming due from Major League Baseball. The Mets took out a $25-million loan from Major League Baseball last November because the team had used up its $75-million line of credit. ... Several minority ownership candidates have met with Wilpon and will do so again, said a person close to the discussions. After the winning bidder is selected, Major League Baseball will conduct a full vetting process, delaying the transaction another four to six weeks. The interested parties have been given access to the Mets' financial records.
• Newsday columnist
Ken Davidoff
notes about the Opening Day loss
:
You'd be an absolute fool to take the first of 162 games and try to extrapolate any serious conclusions from it. The Mets won't be the last team to get shut down by Johnson, and once they broke up his no-hitter with Willie Harris' seventh-inning double, they put a slight scare into the home team, bringing the tying run to the plate and prompting Florida manager Edwin Rodriguez to go to his bullpen. Yet the reality is that, even with the more patient and intelligent [Sandy] Alderson at the helm, the Mets' 2011 campaign trudges forward carrying an unwanted gravity.
• SNY has been pulled from the Dish Network, which no longer is carrying any New York regional sports channels. Read more in the
Times
and
Newsday
. YES and DirecTV also were negotiating with the sides facing a deadline.
•
Lou Gorman
, the general manager of the '86 Boston Red Sox team that lost to the Mets in the World Series, died Friday in Boston at age 82. Gorman served earlier as
Frank Cashen's
assistant general manager with the Mets. Read Gorman's obituary in the
Times
. It reads in part:
The Mets were in bad shape -- they were 67-95 in 1980 -- but Cashen and Gorman constructed a team that by midseason 1983 had players like the young pitcher Ron Darling, the young slugger Darryl Strawberry, the veteran first baseman Keith Hernandez and outfielder Mookie Wilson. In the wings was the future star Dwight Gooden, who was just about ready for the big leagues. The next year, Gorman left for the Red Sox, and the Mets he left behind won 90 games, finishing second in the National League East. Gorman was returning to the team he loved as a boy in Providence, R.I.
• Read game stories in
Newsday
, the
Times
,
Star-Ledger
,
Record
,
Daily News
,
Post
and
Journal
. "It's the first game. There's 161 more,"
David Wright
said. "It is what it is. It's a loss and let's move on."
•
Clark Spencer
in
The Miami Herald game recap
quotes Marlins manager
Edwin Rodriguez
dryly saying: "Two home runs. That's pretty good for a team with no power." It was a reference to the trade of
Dan Uggla
to the Braves supposedly taking away Florida's long ball potential.
•
David Waldstein
in the Times also wonders if this is
Jose Reyes'
final season as a Met
-- or final months if he is dealt by the July 31 trading deadline. "The biggest compliment I can give him is that we are a completely different team with him as opposed to him not being in the lineup," Wright tells Waldstein. "He's a difference-maker, a game-changer. As far as being one of the most dynamic players in the game, I put him up there with pretty much anybody, just as far as his ability to get the crowd excited, his ability to get the teammates excited and really change the game in a number of ways."
•
Andy Martino
of the Daily News talks to
Ike Davis
and
Josh Thole
about the
different comfort level
now that they're sophomores. "It took me awhile to get to bed [Thursday] night, but at least once I got to bed, I slept, unlike last year," Thole tells Martino. "Especially when I got called up and
Rod
[
Barajas
] got sent out, I was sitting there going, 'Wow, this is my job to lose.' Not sleeping, tossing and turning, anxiety all the time -- and now I'm just excited."
• The Daily News
objects to the amount of money
trustee
Irving Picard
is making while attempting to recover funds for the victims of
Bernard Madoff's
Ponzi scheme. A report from the inspector general of the Securities and Exchange Commission reveals some lawyers associated with the case are billing up to $742 an hour, according to the newspaper.
• Daily News columnist
Filip Bondy
notes about Collins
after the Opening Day loss:
What was Collins going to do? Resign? He grinned and bore it, as many of his predecessors have done before him. He sounded like Jerry Manuel, Willie Randolph and Art Howe, only a bit peppier. It was probably good practice for what comes next, and next, and next. "I thought the guys hung in there, played hard, I wasn't deflated at all," Collins said. "It was one of those nights. We just ran into a really, really good pitcher. I've done this for a lot of years. We'll forget all about this if we win our share of games."
•
Lucas Duda
should be
stationed in left field for Game 2
. "Obviously you want
Jason Bay
in left field, you don't want me," Duda tells the Post's
Mike Puma
. "But all the guys, it's a great group of guys here, have come up to me and offered congratulations. It's a little better than being called up in September, because I know the guys a little better. I know what to expect, in a sense."
• Post columnist
Mike Vaccaro
writes
:
In so many ways, Pelfrey's quagmire reflected something the Mets are going to encounter time and again this season. They have good players; other teams have better players, and more of them. They have tried to eliminate the slapstick from their workday existence, have injected more professionalism, and that will put them in position to win more games than normal. It's just that actually winning them isn't quite that simple.
• The Miami Herald
looks at the hero Buck
, who came from Toronto on a three-year, $18 million deal. Writes
Adam H. Beasley
:
After last year's nightmare season of catcher-by-committee -- with John Baker and Brett Hayes sustaining year-ending injuries and Ronny Paulino suspended for the last 42 games for a positive PED test -- stability at the position is a must. Of course, that part of Buck, who has never appeared in more than 118 games in a season, remains a mystery. But this much seems clear: Buck will not be a liability in the seventh spot of Florida's lineup. Buck added a sixth-inning double to finish the night with a gaudy stat line – 2-for-4 with the run scored and four RBI. Naturally, his grand slam was the night's highlight, an opposite-field shot on a 2-2 fastball that sent the 41,237 in attendance -- the largest Marlins home crowd in two years -- into a frenzy. … "I felt like I was up there forever," Buck said. "[And then] I thought I missed it, thought it would be a deep fly ball."
• The Herald's
Clark Spencer
notes about Nolasco
:
For his career, Nolasco is 15-16 with a 5.53 ERA in April and May. But, in the other months, he is 39-23 with a 3.92 ERA. "I don't want that to be something that happens every year,'' he said.
BIRTHDAYS:
Hisanori Takahashi
, who already has served up a homer to Kansas City's
Jeff Francoeur
this season after leaving for a two-year, $8 million deal with the Angels, turns 36. ...
Al Weis
, an infielder for the Mets from 1968 to '71, was born on this date in 1938 in Franklin Square, N.Y. ... Outfielder
Mike Howard
, who appeared in 48 games as a Met in the early '80s, was born in 1958.