New York Mets:

Starling Marte
October, 25, 2013
10/25/13
10:39
AM ET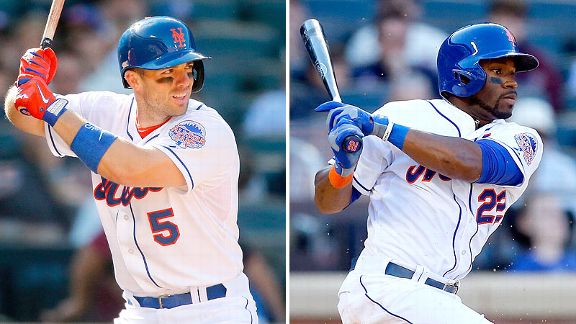 Getty ImagesDavid Wright and Eric Young Jr. are Gold Glove finalists.
David Wright
and
Eric Young Jr.
have been nominated for Gold Glove awards.
The other National League finalists at third base are Colorado's
Nolan Arenado
and Los Angeles'
Juan Uribe
.
The other finalists in left field are Colorado's
Carlos Gonzalez
and Pittsburgh's
Starling Marte
.
The winners will be announced at 8 p.m. ET Tuesday on ESPN2.
Despite producing a franchise rookie record with 14 outfield assists,
Juan Lagares
was not among the finalists in center field. The finalists are Milwaukee's
Carlos Gomez
, Pittsburgh's
Andrew McCutchen
and Washington's
Denard Span
.
Wright has won two previous Gold Gloves -- in 2007 and 2008. San Diego's
Chase Headley
won the award in 2012.
September, 26, 2013
9/26/13
6:43
PM ET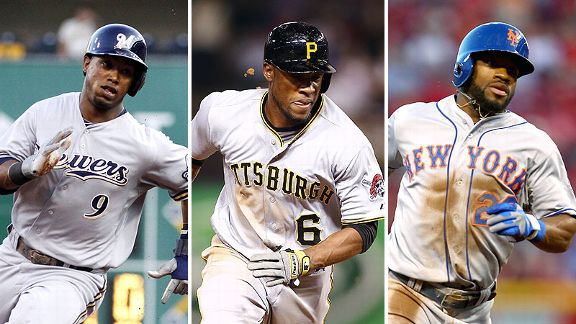 USA TODAY Sports, Getty ImagesJean Segura, Starling Marte and Eric Young Jr. all have a shot at the NL stolen-base title.
NEW YORK -- The National League's two stolen-base leaders are at Citi Field for this weekend's series.
The only problem? Milwaukee's
Jean Segura
, who has a league-leading 44 steals, has a hamstring injury and may not play again this season. And even if does play, it is unlikely he would attempt to steal given the hammy whammy.
So
Eric Young Jr.
, who has 42 steals with four games remaining, has a strong chance to catch Segura for the steals lead.
No. 3 is
Starling Marte
of the
Pittsburgh Pirates
with 40. Marte had three steals Wednesday to surge into contention.
The Mets' last steals leader was
Jose Reyes
with 78 in 2007.
Eight of Young's steals this season came with the
Colorado Rockies
.
August, 28, 2013
8/28/13
8:32
AM ET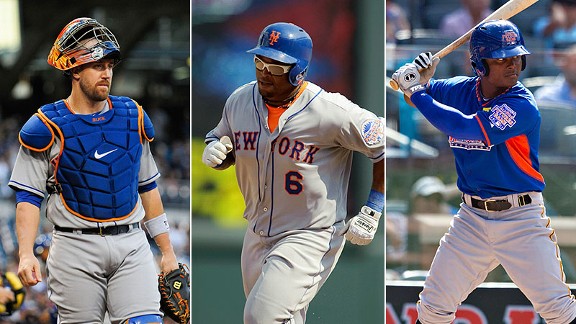 Getty ImagesJohn Buck and Marlon Byrd are now Pirates, while second baseman Dilson Herrera joins the Mets organization.
NEW YORK
FIRST PITCH:
Where have you gone Mets-Phillies rivalry?
From the Mets finally unseating the
Atlanta Braves
in 2006, to the following year's "team-to-beat" proclamation by
Jimmy Rollins
, the NL East seemed to revolve around New York and Philadelphia.
Now? The teams are a collective 24 games under .500 and merely jockeying for third place in the division.
And we're left tonight with
Daisuke Matsuzaka
Night at Citi Field against an eight-games-under-.500
Cole Hamels
(5-13, 3.62 ERA).
Matsuzaka (0-1, 9.00 ERA) makes his second Mets start at 7:10 p.m.
Wednesday's news reports:
• The Mets traded
Marlon Byrd
,
John Buck
and cash to the
Pittsburgh Pirates
for Class A second baseman Dilson Herrera and a player to be named. Herrera, a Futures Game participant from Colombia, will be assigned to low-A Savannah for the remainder of the season.
"Marlon Byrd is an impactful bat with significant numbers against left-handed pitching and John Buck is a strong receiver who works well with a pitching staff," Pirates manager Clint Hurdle
told reporters in Pittsburgh
. "Those were areas we were looking to improve upon and strengthen, and the trade also adds a couple of layers of experience to our club."
Writes ESPN's Keith Law on Herrera:
Playing full time at age 19 in the low-Class A Sally League, Herrera has shown somewhat surprising pop, with a .156 isolated power and 41 extra-base hits in 109 games. He's got a simple, quiet approach, just loading his hands a little higher than he should, with adequate hip rotation for 15-20 homer power at his peak.
He's an above-average runner whose speed hasn't translated into baserunning value, and is presently a fringy defender at second, but should develop into an above-average glove given time and instruction. I'd call him a future everyday second baseman, a solid regular with a chance to be an above-average one.
I'm told by multiple sources that the Mets will receive another player-to-be-named who is a "solid" piece, enough to make this deal even better for New York.
(Insiders can read Law's full trade write-up
here
.)
Writes columnist Dejan Kovacevic
in the Pittsburgh Tribune-Review
:
I got to know Herrera a bit during the All-Star Futures Game in New York last month and loved his backstory: Orlando Covo, the Pirates' lead scout in Colombia, works by day as, of all things, the president of a bank. He moonlights because of a passion for baseball and for the Pirates, who hired him under Latin American scouting director Rene Gayo a half-decade ago.
Colombia is no baseball hotbed, but Covo and Gayo invest disproportionate energy into making it work. In the case of the prized Herrera, Covo pushed so hard that, as the kid told me, "I was wearing a Pirates cap when I was 12."
Herrera's a quality second baseman with a live bat. As [GM Neal] Huntington put it, "The Mets did well" to get him. But the Pirates also did well to have him.
With
Matt Harvey
landing on the DL and the two departures via trade, the Mets promoted Matt den Dekker,
Anthony Recker
and
Robert Carson
from Triple-A Las Vegas. The lefty-hitting Den Dekker and righty-hitting
Andrew Brown
should combine to fill the void left by Byrd's departure -- although den Dekker's starts may
primarily come in center field
, pushing
Juan Lagares
to right field on those days.
Sandy Alderson indicated the Mets' trade activity likely was completed. The GM also reiterated that Terry Collins will be
judged by more criteria
than simply wins and losses.
In a humorous twist, the trade occurred
hours before a Byrd T-shirt promotion
at Citi Field.
With Pittsburgh, Buck will back up
Russell Martin
. Backup catcher
Michael McKenry
underwent season-ending surgery for a torn meniscus. As for Byrd, he particularly will help with outfielder
Starling Marte
out for a few weeks with a sprained ligament in his right hand.
Read columnist Larry Brooks' take on the trade
in the Post
and news stories in the
Pittsburgh Tribune-Review
,
Pittsburgh Post-Gazette
,
Post
,
Daily News
,
Newsday
,
Star-Ledger
,
Record
,
Journal
and
MLB.com
. Read more on Herrera in
Newsday
.
• Columnist Mike Vaccaro
in the Post
suggests the Wilpons must show Mets fans the money this offseason. Writes Vaccaro:
Does Harvey's absence allow another mailed-in offseason?
It had better not. And the men who own the Mets had better be prepared to keep to whatever plans they had about strengthening this team, and not allowing the abyss to run to six full seasons of non-competitive baseball. The tough talk of February had better be able to stay intact by November, regardless of whether Harvey is a part of 2014 or not.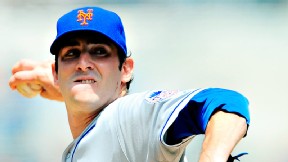 Christopher Hanewinckel/USA TODAY SportsMatt Harvey tweeted that he will be pitching next April 1.
Their credibility was at stake anyway, their show-me fan base eager to see if the Wilpons' claim of financial freedom was legitimate. It should be even more so now. The Mets have crowed about their pitching depth. But even if Harvey pitched to a 0.01 ERA next year, he already knew -- and [Zack] Wheeler learned Monday -- it hardly matters if the Mets offense remains somewhere between inept and impotent.
• Harvey
tweeted he will be pitching next April 1
, but Alderson responded there is no new information on which to base that conclusion. Harvey will get another MRI in two to three weeks, once swelling in his pitching elbow subsides, in order to determine the extent of his UCL tear and whether Tommy John surgery will be required. Read more in the
Post
,
Newsday
and
Record
.
•
Jeremy Hefner
is
due to undergo Tommy John surgery today
. Mets doctor David Altchek is due to perform the procedure at the Hospital for Special Surgery in Manhattan. Hefner will miss most, if not all, of the 2014 season.
•
Jonathon Niese
tossed a three-hit shutout
and also produced a three-run double as the
Mets blanked the Phillies, 5-0
, Tuesday at Citi Field. The teams are again even for third place in the NL East. Read game recaps in the
Post
,
Daily News
,
Star-Ledger
, and
MLB.com
.
•
David Wright
should be hitting in games
-- but probably not fielding -- in Port St. Lucie as soon as Sunday or Monday, Collins said. Read more in the
Post
.
• The Mets named right-handers Chasen Bradford and Hansel Robles, catcher Cam Maron, infielder Aderlin Rodriguez and outfielder Cory Vaughn
to their Arizona Fall League contingent
. Two more pitching spots will be filled later.
• Las Vegas' rally from a four-run deficit in the ninth fell a run short in a 13-12 loss at Colorado Springs. Jeff Walters set a new Binghamton career saves record with No. 37 as the B-Mets beat Bowie, 3-2. Read the full minor league recap
here
.
•
From the bloggers:
Faith and Fear in Flushing
contemplates how rosters turn over and over. … Mark Berman from
Blogging Mets
wonders if the Mets are partly to blame for Harvey's injury.
BIRTHDAYS:
Joel Youngblood turns 62. … Mike Torrez is 67.
TWEET OF THE DAY:
Mets fans I loved every minute of it! Thanks for all the love and support. #mets #livingthedream

— John Buck (@johnbuck44) August 27, 2013
YOU'RE UP: Do you believe Matt Harvey will bypass undergoing Tommy John surgery?
July, 14, 2013
7/14/13
4:40
PM ET
PITTSBURGH -- The Mets head into the All-Star break with a 41-50 record.
John Buck
's two-run single highlighted a three-run first and the Mets avoided a sweep with a 4-2 win Sunday against the
Pittsburgh Pirates
at PNC Park.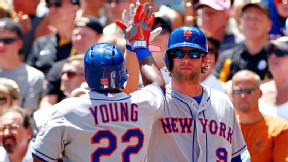 Justin K. Aller/Getty ImagesKirk Nieuwenhuis greets Eric Young Jr. at the plate after a first-inning run.
Dillon Gee
(7-7) limited the Pirates to one run, unearned, on five hits and one walk in 6 2/3 innings.
Gee departed with two runners on base and two outs in the seventh and the Mets holding a 4-1 lead. In his return from the disabled list,
Scott Atchison
entered and struck out
Starling Marte
looking on a full-count offering to preserve the three-run cushion.
LaTroy Hawkins
, who had battled a triceps issue the past week, surrendered an eighth-inning run, but stranded
Andrew McCutchen
at third base by coaxing a flyout from
Garrett Jones
.
"You look at the games we've played here, we've had a chance to win them," Terry Collins said. "It's not like we're getting blown out. So you've got to take that and say, 'Listen, let's take this break. Let's rebound. Let's come out in the second half strong.'
"That's what we haven't done the last two years. We've come out in the second half after having great first halves and been flat. I think we've got to realize that the way we played in the last two weeks, or two and a half weeks, is a positive.
"We're moving this way," the manager continued, motioning upward, "and not any other direction. Let's just get some energy back, get your legs strong again, and let's get after it. But certainly you don't want to get swept going into the break."
Satin streaks:
Josh Satin
, starting over
Ike Davis
at first base, went 1-for-3 with a walk. Davis pinch-hit in the ninth and grounded into a double play.
What's next:
Some rest, except for
David Wright
and
Matt Harvey
. Harvey is widely expected to be named the NL All-Star starter at a 1:30 p.m. press conference Monday in the Caesars Club at Citi Field. Wright will compete in the 8 p.m. Home Run Derby, which will be televised by ESPN.
The Mets regroup Thursday with a late-afternoon workout at Citi Field.
Jeremy Hefner
is slated to face right-hander
Kyle Kendrick
on Friday as the Mets open the second half against the
Philadelphia Phillies
.
July, 13, 2013
7/13/13
10:21
PM ET
PITTSBURGH --
Ike Davis
may be playing himself into watching from the bench Sunday, even with the
Pittsburgh Pirates
having switched from left-hander
Jeff Locke
to right-hander
Gerrit Cole
for the series finale.
Davis, who continues to bat cleanup, went hitless in four at-bats Saturday. He originally was charged with a costly seventh-inning error that later was reversed and scored a hit. Either way, it led to two runs scoring as the Pirates beat the Mets, 4-2, Saturday night at sold-out PNC Park.
The Mets had been 5-0-2 in their last seven road series, their longest unbeaten streak since winning eight straight series in 1999. But that has been snapped with consecutive losses to the Pirates.
Davis is 2-for-20 with five walks in his past five games, including a fifth-inning strikeout Saturday with two in scoring position.
On a tough but makeable play, Davis had a one-out grounder in the seventh off the bat of pinch-hitter
Travis Snider
scoot by him on the glove side.
Snider ultimately scored with two outs for a 3-2 lead when
Andrew McCutchen
delivered an RBI single against
Greg Burke
.
In between, Snider could have been doubled off first base. But on
Starling Marte
's lineout to third base, Davis could not hold a low throw across the diamond from
David Wright
.
Later in the seventh,
Josh Edgin
issued a bases-loaded walk to
Russell Martin
to force in a run.
Gonzalez Germen
finally ended the inning and stranded the bases loaded by entering and coaxing a foul pop-out in his second major league appearance.
Collins for days had planned to start
Josh Satin
on Sunday, but that was before Cole unexpectedly replaced Locke, who had lower-back tightness.
Start of something:
Carlos Torres
Day proved a suitable alternative while it lasted.
Given the start in place of
Matt Harvey
with the Mets seeking to limit their ace's innings and allow a blister to heal (and,
shhhh
, start the All-Star Game), Torres took a scoreless effort into the fifth inning. Torres had not started, or exceeded three innings, since a complete game with Triple-A Las Vegas on June 9 and undoubtedly ran out of gas in his final frame.
He departed with a 2-1 lead after escaping a bases-loaded, one-out jam in the fifth by coaxing a double-play groundout from
Jose Tabata
. Torres' final line in a no-decision: 5 IP, 5 H, 1 R, 1 ER, 0 BB, 5 K. He threw 80 pitches (50 strikes).
Torres, who last had started a major league game with the
Chicago White Sox
in 2010, now has a 0.79 ERA in 22 2/3 innings as a Met.
At least until
Jonathon Niese
returns from the disabled list, Torres is due to remain in the rotation after the All-Star break in the spot formerly held by
Shaun Marcum
. Marcum is due to undergo season-ending surgery Monday in St. Louis to address thoracic outlet syndrome, which led to hand numbness. Niese just started long-tossing this week in Port St. Lucie, Fla., and will need to pitch in rehab games before rejoining the Mets.
Torres had been staked to a 2-0 lead.
Kirk Nieuwenhuis
opened the scoring with an RBI double against
A.J. Burnett
in the fourth that plated
Marlon Byrd
, who had walked. An inning later, after the Mets appeared poised to waste an opportunity with two runners in scoring position, Byrd beat out a two-out infield single and
Daniel Murphy
scored.
Aargh!
David Aardsma
surrendered a leadoff homer to McCutchen in the sixth as Pittsburgh evened the score at 2.
Boo hoo?
Wright was booed for a second straight day at PNC Park for not originally picking
Pedro Alvarez
for the Home Run Derby. Wright tabbed Alvarez as the replacement for
Carlos Gonzalez
on the eve of the Mets-Pirates series.
What's next:
The Mets and Pirates conclude the first half as
Dillon Gee
(6-7, 4.60 ERA) opposes the former first overall pick Cole (4-2, 3.68) at 1:35 p.m. Sunday.
July, 11, 2013
7/11/13
8:20
AM ET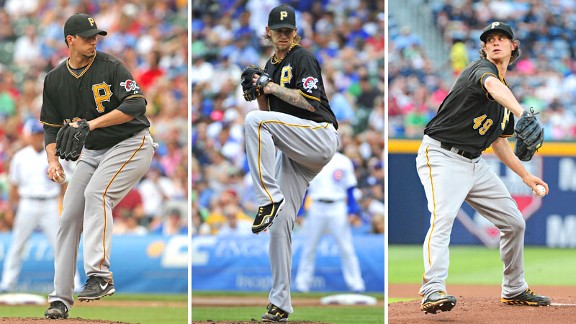 Getty ImagesThe Mets face (l to r) Charlie Morton, A.J. Burnett and Jeff Locke this weekend at PNC Park.
METS (40-48, fourth place/NL East) vs. PITTSBURGH PIRATES (54-36, second place/NL Central)
Friday:
RHP
Jeremy Hefner
(4-6, 3.39) vs. RHP
Charlie Morton
(1-2, 3.38), 7:05 p.m. ET
Saturday:
RHP
Carlos Torres
(0-1, 0.51) vs. RHP
A.J. Burnett
(4-6, 3.05), 7:15 p.m. ET
Sunday:
RHP
Dillon Gee
(6-7, 4.60) vs. LHP
Jeff Locke
(8-2, 2.15), 1:35 p.m. ET
Pirates short hops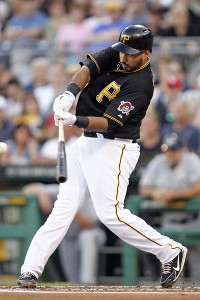 Charles LeClaire/USA TODAY SportsPedro Alvarez is one shy of the NL home run lead.
• New York City-raised third baseman
Pedro Alvarez
has 23 homers, one shy of NL leader
Carlos Gonzalez
and tied with Philadelphia's
Domonic Brown
. Only two other players in franchise history have reached that long ball total before the All-Star break: Willie Stargell (30 apiece in 1971 and '73) and Ralph Kiner (24 in 1950 and 23 apiece in 1948 and '49). Alvarez has the most homers in the NL since June 1. He also has an eight-game hitting streak.
David Wright
will not be a fan favorite in Pittsburgh after omitting Alvarez from the Home Run Derby.
• The Pirates have four All-Stars:
Andrew McCutchen
, Alvarez,
Jason Grilli
and
Jeff Locke
. Pittsburgh last had that many All-Star representatives in 1981.
• Second baseman
Neil Walker
landed on the disabled list Tuesday with a right oblique injury.
Jordy Mercer
has started both games at second base since Walker was deactivated.
Josh Harrison
, promoted from Triple-A, as well as
Brandon Inge
are capable of starting at second base.
• Grilli's 28 saves lead the National League. The total is a franchise record before the All-Star break, and the most in the NL before the Mid-Summer Classic since
Chad Cordero
had 31 in 2005 with the
Washington Nationals
. Grilli, 36, had declared an out in his contract while pitching with the Phillies' Triple-A affiliate in July 2011 and has taken off since subsequently signing with Pittsburgh.
• Outfielder
Jose Tabata
is hitting .423 (11-for-26) with four doubles and a triple in his last seven games. He returned July 3 after missing six weeks with a left oblique strain.
• The Pirates had a combined .291 on-base percentage from their leadoff hitters last season. This year,
Starling Marte
had an MLB-leading 59 runs scored out of the leadoff spot. Marte also has 27 steals, already the most by a Pirate since
Tony Womack
had 31 in 1998.
• McCutchen is hitting .350 at PNC Park this season.
• Free-agent addition
Russell Martin
has thrown out 50 percent of would-be base stealers this season. His 21 runners caught are the most in the majors. Martin defected from the Yankees for a two-year, $17 million deal last Nov. 29. He batted cleanup Wednesday for the first time since 2009, after the Pirates scored only six total runs during their previous four games -- all losses.
• Pittsburgh produced its 13th shutout Wednesday, in a 5-0 win against Oakland. The staff ERA is an MLB-best 3.12.
• Although they are only 3-6 in July, causing hesitation, this looks like the year the Pirates may produce their first winning record since going 96-66 in 1992, with a squad that included Barry Bonds, Andy Van Slyke, Doug Drabek … and Terry Collins as bullpen coach. It was Collins' first year on a major league staff.
Pittsburgh was 16 games over .500 last Aug. 8, but finished 79-83 in 2012.
The 20 consecutive losing seasons is a North American professional sports record. The NBA's Kansas City/Sacramento Kings (1983-98) and NHL's Vancouver Canucks (1976-91) each suffered 15 straight losing seasons. The NFL's Tampa Bay Buccaneers (1983-96) had 14 straight losing seasons.
The reason for hesitation: a recent history of second-half swoons. Pittsburgh was 41-39 at the end of June in 2011, but went 31-51 the rest of the season. Then, last year, they were 42-35 at that point, only to go 37-48 the rest of the way.
• Locke had a personal eight-game winning streak snapped Monday, although he allowed only two runs in seven innings in a 2-1 loss against Oakland. The 25-year-old southpaw entered 2013 with a career 1-6 record in 12 appearances (10 starts) over two seasons.
May, 10, 2013
5/10/13
10:19
PM ET
WHAT IT MEANS:
The only real dilemma ought to be which pitcher Zack Wheeler replaces in the rotation.
Shaun Marcum
became the first pitcher in franchise history to fail to complete five innings in each of his first three starts as a Met as the Amazin's lost to the
Pittsburgh Pirates
, 7-3, Friday night at Citi Field.
Marcum (0-3) watched his ERA rise to 8.59 after surrendering six earned runs in 4 2/3 innings.
He allowed five straight Pirates to reach base to open a three-run second inning. He then allowed a replay-awarded three-run homer to
Garrett Jones
in the fifth that gave the Pirates a 6-0 lead. Marcum surrendered nine hits and plunked two batters before being replaced by
Robert Carson
.
Marcum took a line drive off his left wrist off the bat of
Wandy Rodriguez
in the second inning, and twice was visited by trainer Ray Ramirez during the frame.
Later in the second, shortstop
Ruben Tejada
's double-clutch on a makeable play on
Starling Marte
's grounder resulted in a late throw to first base. Instead of the final out, the infield single plated Pittsburgh's third run.
SILENT NIGHT:
The Mets had another quiet night at the plate, with the lone damage through eight innings coming on
Anthony Recker
's solo homer in the fifth against Rodriguez. It was Recker's first homer as a Met.
In the fourth,
David Wright
had produced a leadoff double. He was stranded as
Lucas Duda
grounded out to first base,
Marlon Byrd
popped out to first base and
Ike Davis
popped out to third base.
Wright again was stranded in scoring position in the sixth after a leadoff single.
The Mets finally scored a pair of runs in the ninth against
Jose Contreras
, prompting manager Clint Hurdle to insert closer
Jason Grilli
with two on and two out in the ninth.
WHAT'S NEXT:
On Banner Day at Citi Field, the Mets send
Jonathon Niese
(2-3, 4.66 ERA) to the mound opposite left-hander
Francisco Liriano
. Liriano will be making his Pirates debut after opening the season on the DL with a broken humerus bone in his non-throwing arm.
Wheeler, by the way, starts for Triple-A Las Vegas on Saturday night opposite ex-Met
Aaron Laffey
of the Albuquerque Isotopes (Dodgers).
May, 9, 2013
5/09/13
9:42
AM ET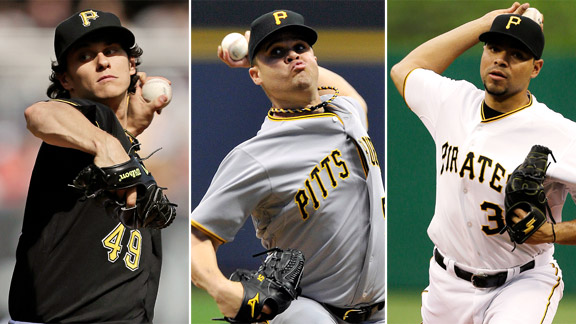 Associated Press
The Mets face (l to r) Jeff Locke, Wandy Rodriguez and Jeanmar Gomez during a four-game weekend series, plus Francisco Liriano making his Pirates debut.
METS (13-17, fourth place/NL East) vs. PITTSBURGH PIRATES (18-15, second place/NL Central)
Thursday:
RHP
Dillon Gee
(2-4, 6.16) vs. LHP
Jeff Locke
(3-1, 3.21), 7:10 p.m. ET
Friday:
RHP
Shaun Marcum
(0-2, 7.20) vs. LHP
Wandy Rodriguez
(2-2, 4.02), 7:10 p.m. ET
Saturday:
LHP
Jonathon Niese
(2-3, 4.66) vs. LHP
Francisco Liriano
(0-0, -.--), 1:10 p.m. ET
Sunday:
RHP
Matt Harvey
(4-0, 1.28) vs. RHP
Jeanmar Gomez
(2-0, 2.38), 1:10 p.m. ET
Pirates short hops
• Left-hander
Francisco Liriano
is expected to be activated from the disabled list to make his Pirates debut Saturday. Liriano originally agreed to a two-year, $12.75 million deal with Pittsburgh. Before he had taken a physical, he suffered a broken humerus bone in his non-throwing arm. Officially, Liriano suffered the injury slamming his arm on a door to scare his children, although multiple other stories have floated around. Liriano's substitute deal calls for only a guarantee of $1 million, although he has a vesting option for next season and can earn roughly the same amount as the original deal if he produces.
Liriano, 29, went a combined 6-12 with a 5.34 ERA in 34 appearances (28 starts) for the
Minnesota Twins
and
Chicago White Sox
last season. Bounced from Pittsburgh's rotation is
Jonathan Sanchez
(0-3, 11.85 ERA), who was designated for assignment by the club.
• Leadoff hitter/left fielder
Starling Marte
led off Wednesday's game against the
Seattle Mariners
with a double -- his 17th leadoff hit of the season (whether top or bottom of the first inning). Nobody else in the majors has more than 10. Marte, who made his major league debut last July 26, has displayed a phenomenal blend of reaching base (.396 OBP), speed (10 steals) and power (five homers). He particularly jumps on fastballs.
• Right-hander
Jeanmar Gomez
will stick in the rotation and make his third start of the season Sunday. Gomez -- previously the long man in the bullpen -- stepped in for James MacDonald, who now has landed on the disabled list with shoulder soreness after experiencing a pronounced velocity drop.
Gomez, who was acquired from the
Cleveland Indians
in January, limited the Mariners to two hits and two walks in a 66-pitch effort over five scoreless innings Wednesday. His season-high pitch count was 79, in a May 1 start at Milwaukee.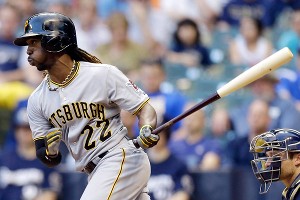 Jeffrey Phelps/Associated Press
Two-time All-Star Andrew McCutchen has heated up the past week.

• The back end of the Pirates' bullpen is particularly formidable. Pittsburgh is 14-0 when leading after seven innings. Set-up man
Mark Melancon
-- originally a Yankee before being traded away in the
Lance Berkman
deal with the
Houston Astros
in 2010 -- has surrendered only one run in 17 innings this season. Closer
Jason Grilli
, a Seton Hall product, is tied for the major league lead with 13 saves and has converted every chance.
• The Yankees let catcher
Russell Martin
depart as a free agent to Pittsburgh for a two-year, $17 million deal on Nov. 29. Martin, who was scratched from Tuesday's start with neck stiffness and did not play Wednesday, leads the Pirates with six homers. After opening his Pirates career in a 2-for-31 rut over his first 10 games, Martin since is hitting .377 (23-for-61). His next homer will be the 100th of his career. Martin has thrown out an MLB-leading 223 runners since his debut in 2006, according to the Elias Sports Bureau.
• Two-time All-Star center fielder
Andrew McCutchen
has two four-hit performances in his past seven games. McCutchen is signed through 2017, with a team option at $14.5 million for the following season.
• Third baseman
Pedro Alvarez
, a former second overall pick in the draft and a product of Horace Mann School in Riverdale, is hitting .168 with 38 strikeouts in 107 at-bats.
• This could be the year the Pirates produce their first winning record since going 96-66 in 1992, with a squad that included
Barry Bonds
, Andy Van Slyke, Doug Drabek … and Terry Collins as bullpen coach. It was Collins' first year on a major league staff.
Pittsburgh was 16 games over .500 on Aug. 8, but finished 79-83 in 2012.
The 20 consecutive losing seasons is a North American professional sports record. The NBA's Kansas City/Sacramento Kings (1983-98) and NHL's Vancouver Canucks (1976-91) each suffered 15 straight losing seasons. The NFL's Tampa Bay Buccaneers (1983-96) had 14 straight losing seasons.
May, 22, 2012
5/22/12
11:24
PM ET
INDIANAPOLIS 6, BUFFALO 3:
Buffalo committed three costly errors in the finale and 12 in the four-game series. With
Jeff Clement
batting in the first inning,
Chris Schwinden
threw a wild pitch to score ex-Met
Anderson Hernandez
. In an attempt to throw out Hernandez, catcher
Jean Luc Blaquiere's
throw was offline to Schwinden at the plate, allowing
Alex Presley
also to score. With the Bisons behind 3-0 in the third,
Starling Marte
led off with a single. With Hernandez at the plate, Marte stole second and Blaquiere's throw sailed into center. The error would set up Hernandez to single home Marte and make it 4-0. "I'm hoping this off-day tomorrow will help us get it together mentally and physically," manager
Wally Backman
said. "A couple of our guys have been banged up so they need the rest." With the bases loaded an none out in the fourth, the Herd plated a pair with RBI groundouts by
Omar Quintanilla
and Blaquiere. With the bases loaded in the seventh,
Matt Tuiasosopo
hit an infield single to score
Corey Wimberly
and cut the Indians' lead to 4-3. But
Brad Emaus
grounded into a forceout to end the inning.
Box
NEW BRITAIN 3, BINGHAMTON 0:
The Rock Cats packed all of their offense into the seventh inning while handing Binghamton its sixth shutout loss. The starters -- Binghamton's
Collin McHugh
and
Logan Darnell
-- matched zeroes through the first six innings. McHugh's start took a turn for the worse in the seventh. The righty had his stretch of 13 straight scoreless innings snapped on his first pitch of the inning, when Rock Cats right fielder
Evan Bigley
ripped a homer. McHugh then hit
Nate Hanson
with his next pitch. Plate umpire
Joey Amaral
ejected McHugh and the B-Mets were forced to summon
Brad Holt
from the bullpen. The Rock Cats greeted Holt with two bunt singles to load the bases.
Chris Herrmann
extended New Britain's lead with a two-run double -- his fourth hit of the game and eighth of the series. The Rock Cats appeared to score their fourth run of the inning on sac fly by
Deibinson Romero
, but runner
Estarlin De Los Santos
was ruled out on appeal for leaving third early. Trailing 3-0, the B-Mets threatened in the eighth against reliever
Luis Perdomo
. Singles by
Josh Rodriguez
and
Eric Campbell
and a walk to
Jefry Marte
loaded the bases. The veteran righty escaped harm by inducing
Raul Reyes
to fly out to end the inning.
Bobby Lanigan
pitched the ninth and navigated around a one-out walk to collect his third save. McHugh (4-3) was saddled with the loss. The B-Mets (21-22) continue their series against the Rock Cats on Wednesday at 12:05 p.m.
Zack Wheeler
opposes right-hander
David Bromberg
.
Box
DAYTONA 6, ST. LUCIE 5 (10 innings): John Church
issued a leadoff walk to
Matthew Szczur
, who ultimately scored the winning run in the bottom of the 10th on
Richard Jones'
single. Starter
Cory Mazzoni
allowed three runs in five innings. Left-hander
Jack Leathersich
was charged with two runs in 2 2/3 in his Florida State League debut.
Richard Lucas
had two RBIs.
Box
SAVANNAH 5, CHARLESTON 3:
Trailing 3-2 heading to the bottom of the eighth,
T.J. Rivera
and
Aderlin Rodriguez
drew walks, placing the tying and go-ahead runs on base. With two outs,
Brian Harrison
, who has hit safely in 13 of his last 14 games, roped a single to drive in Rivera with the tying run.
Charley Thurber
followed by ripping a triple to score Rodriguez and Harrison for the decisive two-run margin. Thurber, who finished 2-for-3 with a double, triple and walk, also was responsible for the first Gnats run of the night. In the second, he doubled, advanced to third on center fielder
Mason Williams'
fielding error and scored on a wild pitch to put the Gnats in front 1-0. In the fourth, Rodriguez lined an RBI single to drive in Rivera for a 2-0 lead. The RiverDogs bounced back to take the lead with a three-run sixth against Savannah reliever
Randy Fontanez
. Savannah reliever
Chasen Bradford
worked scoreless seventh and eighth innings with two strikeouts for his first Savannah win.
T.J. Chism
set down the 'Dogs 1-2-3 in the ninth to earn his sixth save. Savannah starter
Alex Panteliodis
fought his way through four innings and allowed five hits and three walks, but no runs.
Box
Compiled from team reports
May, 22, 2012
5/22/12
12:42
AM ET
INDIANAPOLIS 8, BUFFALO 6:
Two ninth-inning errors were the deciding factor.
Oswaldo Navarro
, who replaced starting shortstop
Omar Quintanilla
in the ninth, attempted to retire
Starling Marte
at first base, but the throw was wide left. The error put Marte at second with no outs. After a perfectly placed sacrifice bunt by
Alex Presley
, catcher
Lucas May
fired a throw to first to try to get Presley, but the throw was offline.
Josh Edgin
then hit
Matt Hague
with a pitch, setting up
Jordy Mercer
to line the decisive two-run single. The Bisons have committed nine errors in the past three games. Trailing 6-3 in the seventh,
Corey Wimberly
and
Fred Lewis
had back-to-back singles with one out. After
Josh Satin
walked, Wimberly scored on
Jose Morales'
passed ball to cut the deficit to 6-4.
Valentino Pascucci's
sacrifice fly then pulled Buffalo within a run. Navarro doubled in the eighth to bring in
Dustin Martin
to tie the score at 6. Satin is 6-for-11 in his past four games, with six walks.
Box
NEW BRITAIN 10, BINGHAMTON 7:
The B-Mets scored five runs in the ninth inning, but could not overcome an early deficit. After waiting through a 74-minute rain delay to start the game, the Rock Cats grabbed an early lead with two unearned runs in the first. New Britain took advantage of a throwing error from shortstop
Sean Kazmar
. Binghamton answered against New Britain starter
Steve Hirschfeld
in the fourth. After three consecutive singles loaded the bases,
Juan Centeno
got the B-Mets on the board with a sac fly. It was the only run they scratched out against Hirschfeld (3-4). The righty went five innings in his first win since mid-April. The Rock Cats tagged B-Mets starter
Mark Cohoon
for seven runs on eight hits, plating two in the fourth and three more in the fifth.
Evan Bigley's
two-run single gave the Rock Cats a 7-1 lead and chased the southpaw from the game. Cohoon (2-5) walked two and struck out two. After the B-Mets plated a run in the eighth on a sac fly from
Juan Lagares
, the Rock Cats stretched their lead to eight runs with a three-run frame. New Britain pounded out five hits, including three doubles against
Armando Rodriguez
. The inning proved vital as the B-Mets put up five runs in the ninth against reliever
Daniel Turpen
.
Josh Rodriguez
tripled two runs home and scored on a groundout. After
Jefry Marte
singled,
Raul Reyes
crushed a two-run homer to cut the deficit to three. Turpen ended the game by inducing Lagares to ground out.
Box
DAYTONA 4, ST. LUCIE 3:
Daytona scored three-runs in the bottom of the ninth for the walk-off win, spoiling five scoreless innings from starter
Erik Goeddel
. Working a second inning of relief,
Adam Kolarek
started the final frame and surrendered two singles and a walk.
Taylor Whitenton
entered and surrendered a single and hit a batter before allowing a game-ending sacrifice fly to
Greg Rohan
.
Box
CHARLESTON 5, SAVANNAH 3 (11 innings):
In the 11th, the Dogs scored the go-ahead run on an RBI double from DH
Kelvin De Leon
off Gnats reliever
Jeffrey Walters
. Immediately thereafter, Gnats pitching coach
Frank Viola
was ejected by plate umpire
Junior Valentine
for arguing balls and strikes. Charleston added the fifth run on a sacrifice fly by
Mason Williams
. The earned runs allowed by Walters were his first of 2012. The Gnats had taken a 2-1 lead with two runs in the bottom of the first.
T.J. Rivera
singled and scored on
Dustin Lawley's
double to deep right-center. Lawley scored on an RBI single by
Brian Harrison
. The Gnats added a run for a 3-1 lead in the second on a Rivera sacrifice fly. Savannah starter
Jacob deGrom
allowed his first earned run of the year, in his third start. He was charged with three runs (two earned) in 5 2/3 innings, striking out six and walking one.
Box
Compiled from team reports
NBA
NHL
COLLEGE BASKETBALL
MLB
NBA
NHL
COLLEGE BASKETBALL
MLB
MLS
NBA
NHL
COLLEGE BASKETBALL
MLB