New York Mets:

Stephen Keener
April, 18, 2012
4/18/12
8:03
AM ET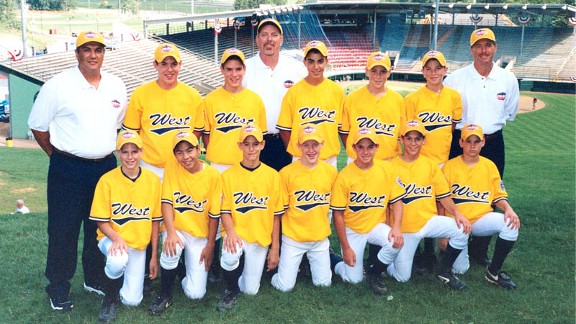 Courtesy of Little League International, South Williamsport, Pa.
Binghamton Mets right-hander Greg Peavey (front row, third from left) participated in the 2000 Little League World Series. His father Tom (back right) served as coach.
Right-hander
Greg Peavey's
transition to Double-A pitching has been near spotless.
Two starts.
No runs.
And the Eastern League's pitcher of the week award.
The 23-year-old Peavey -- a sixth-round pick out of Oregon State two years ago -- has displayed solid control, too. He has walked only one batter in 10 2/3 innings. In fact, he has walked only 27 in 147 2/3 professional innings.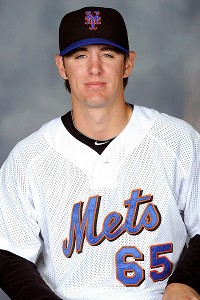 Courtesy of New York Mets
Greg Peavey

"Throwing strikes has always been emphasized throughout my career," said Peavey, who possesses a low-90s fastball, changeup, curveball and slider. "Especially with my pitching repertoire, it's built around throwing strikes. So trying to get ahead of hitters has always been very important to me."
Peavey has been in the spotlight for a while.
Growing up in Vancouver, Wash., he was part of a Hazel Dell Little League program that reached the 2000 Little League World Series in Williamsport, Pa.
"The best part of it was the very first day," Peavey recalled. "I remember it to this day. During the opening ceremonies, we got to meet
Kevin Costner
and
George Brett
. Getting to shake those guys' hands, I was like, 'Wow.' I thought I made it, you know? I was 12."
Peavey's father
Tom
-- who once was selected by the Montreal Expos in the 68
th
round of the 1969 draft as a right-handed pitcher, but who did not sign -- was praised for his sportsmanship during the Little League World Series.
Entering the final game of pool play, Peavey's Hazel Dell squad could have advanced even with a loss against Iowa because of tiebreaker rules, as long as they scored two runs or fewer. The elder Peavey would not accept advancing by throwing a game. They were beaten by the Iowa squad, 6-4. Hazel Dell instead was eliminated.
Said Peavey: "A lot of people were confused as to why we would want to do that, but that was the type of guy my dad was and the coaching staff was -- 'This is Little League baseball. We're going to play it straight up. We didn't just come here to roll over. We came here to win.' Iowa beat us, and they got to go unfortunately."
Little League President
Stephen Keener
said after Hazel Dell's elimination, according to the local Vancouver (Wash.) Columbian: "I don't think there has ever been a Little League manager in the history of the World Series who has more clearly demonstrated the ideals of Little League Baseball than Tom Peavey."
Peavey, only 12 at the time, said he didn't fully understand what his father had chosen to do until a couple of years later.
"We actually had no idea," Peavey said. "I remember them telling us after we had lost and everything. But it didn't really hit me until I was about 14. I didn't really understand how the whole thing worked."
Several thousand community members greeted the team at the Portland International Airport upon the team's return home. They had a parade in the team's honor the following day, with an estimated crowd exceeding 5,000.
"That was when you could come to the actual gate and could wait outside for people," Peavey said. "There were thousands of people waiting outside for us. We rode in a limo. It was pretty incredible. It was just amazing the support that came from that city."
Those same players went on to win the Babe Ruth World Series as 13 and 14 year olds. The latter tournament was held in Albany, N.Y.
Peavey's father, a retired police officer, now works a desk job for the gang task force for the city of Portland. After bypassing the Expos out of high school, the elder Peavey played at Washington State University, where he suffered a shoulder injury that scuttled any second chance at a professional career.
Peavey visited Washington State during his college recruiting process, but ultimately chose Oregon State, which was coming off its second national championship. Eligible for the draft after his sophomore college season because of his age, Peavey was selected in the 32
nd
round by the Houston Astros but did not sign. The Mets took him the following year in the sixth round and inked him for $200,000.
Now with Double-A Binghamton, Peavey to this day signs autographs will the middle initial "S." That's because he liked how it looked when he practiced while being asked to sign at the Little League World Series.
"I added the middle initial," said Peavey, whose actual full name is Gregory Scott Thomas Peavey. "And then I realized it looked kind of cool. So I stuck with it. The middle initial is still there to this day."
Organization leaders (through Monday)
Average:
Bobby Scales, Buffalo, .438; T.J. Rivera, Savannah, .419; Jefry Marte, Binghamton, .360; Travis Taijeron, Savannah, .350; Zach Lutz, Buffalo, .341; Cory Vaughn, St. Lucie, .339; Vinny Rottino, Buffalo, .311; Matt den Dekker, Binghamton, .308; Dustin Lawley, Savannah, .295.
Homers:
Valentino Pascucci, Buffalo, 4; Adam Loewen, Buffalo, 3; Aderlin Rodriguez, Savannah, 3; Travis Taijeron, Savannah, 3.
RBI:
Aderlin Rodriguez, Savannah, 12; Adam Loewen, Buffalo, 9; Valentino Pascucci, Buffalo, 8.