New York Mets:

Stephen Shapiro
February, 26, 2013
2/26/13
6:45
AM ET
PORT ST. LUCIE, Fla.
FIRST PITCH:
Right-hander
Jenrry Mejia
, delayed in the Dominican Republic while his identity and age were scrutinized and eventually confirmed, makes his first 2013 Grapefruit League appearance this afternoon as the Mets visit the
Miami Marlins
in Jupiter, Fla.
Mejia already had pitched 1 2/3 innings in an outing at the Mets' complex in the Dominican Republic, so he should be prepared for the spring-training start.
Although
Johan Santana
is
"making strides,"
Mejia and
Jeremy Hefner
likely would receive the most consideration to be part of the initial rotation if Santana were to open the season on the DL.
Mejia only will work as a starting pitcher, at least in camp and early this season. With Triple-A Buffalo in 2012, Mejia had a 2.75 ERA as a starter and 5.48 ERA in the bullpen.
Also due to face the Marlins this afternoon:
Scott Atchison
,
Jeurys Familia
, Cory Mazzoni,
Hansel Robles
and
Carlos Torres
. See the full travel roster
here
.
Right-hander
Ricky Nolasco
is scheduled to start for Miami, which underwent a fire sale during the offseason.
Tuesday's news reports: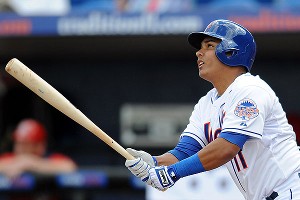 Steve Mitchell/USA TODAY Sports
Ruben Tejada has a right quadriceps injury.

•
Ruben Tejada
has a
"little strain" of his right quadriceps
, Terry Collins said. While the injury was downplayed by the shortstop, it is worth noting that Tejada strained the same muscle last May 6 against the
Arizona Diamondbacks
and did not return until June 24. Read more in
Newsday
and the
Daily News
.
•
Frank Francisco
played catch with Collins
on flat ground, making 25 tosses at 60 feet. That marked Francisco's first time tossing a baseball since he reported to camp with right elbow inflammation. Read more in the
Star-Ledger
and
Post
.
•
Lucas Duda
will be
held out of Grapefruit League games
for at least a couple of days. Duda insisted his surgically repaired wrist is fine, and that he just needs more time in a batting cage in order to be ready for spring-training games. Duda has been working to adjust his stance. He is 0-for-7 with six strikeouts early in Grapefruit League play. Read more in the
Journal
,
Newsday
,
Post
,
Times
,
Star-Ledger
,
Record
and
MLB.com
.
• Assistant professors Stephen Shapiro of Old Dominion University and Joris Drayer of Temple University analyzed Mets ticket pricing data for the 2012 season. Read the results, which compare the Mets' dynamically priced tickets to StubHub prices,
here
.
• Howard Megdal
at Capital New York
finds Amway's new storefront at Citi Field unsavory. Writes Richard Sandomir
in the Times
:
Amway is something of a strange partner for a baseball team. It is a multi-billion-dollar direct seller, which deploys millions of independent sales agents worldwide to sell mostly vitamins, dietary supplements, energy drinks and home cleaning products.
It would also appear to be a strange choice for the Mets, whose ownership last year settled a lawsuit brought against them by the trustee for the victims of the Ponzi scheme perpetrated by Bernard L. Madoff. In 2011, Amway, which has been accused of being a pyramid scheme, settled a class-action suit for $56 million over allegations that it had misled its distributors about how they would make money.
•
R.A. Dickey
made his Grapefruit League debut
with the
Toronto Blue Jays
on Monday. He allowed two runs on four hits and a walk in two innings against the
Boston Red Sox
. The opposing starting pitcher: another knuckleballer,
Steven Wright
.
• Mike Puma
in the Post
profiles 40-year-old
LaTroy Hawkins
, who was converted to relief by manager Tom Kelly with the
Minnesota Twins
in 2000. Hawkins recalls a young Santana "just rotting" in the Twins bullpen. As for Hawkins' subpar performance in the Bronx, which included upsetting Yankees fans by wearing Paul O'Neill's No. 21, the reliever says: "Everything that could go wrong went wrong."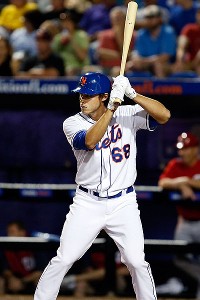 Chris Trotman/Getty Images
Center field prospect Matt den Dekker robbed a home run on Monday night.

•
Ike Davis
homered against
Ross Ohlendorf
and Matt den Dekker robbed Washington prospect
Anthony Rendon
of a homer, but the
Mets lost to the Nationals, 6-4
, Monday night at Tradition Field.
• Collins is considering having the diminutive-but-aggressive
Collin Cowgill
platoon in the leadoff spot
with
Kirk Nieuwenhuis
in addition to platooning them in center field. In two spring-training games against the Nats, Cowgill already has scored from second on a ball booted in the infield and tagged up to third base on a fly ball to left field. Read more in the
Star-Ledger
,
Daily News
and
Record
.
• Columnist David Lennon
in Newsday
notes the Mets and Yankees both have outfield woes, especially now that
Curtis Granderson
is sidelined 10 weeks with a fractured forearm.
• Anthony DiComo
at MLB.com
profiles lefty relief candidate Scott Rice, who has never appeared in the majors. Writes DiComo:
Scott Rice was stuck in independent ball again. It was 2011 and, with no other options, Rice hooked on with the York (Pa.) Revolution as a 29-year-old journeyman reliever. He did not want to be there. So each Monday, he flipped open a phone-book-thick baseball directory and dialed the office number for every minor league executive he could find.
Rice went in ascending order, from those with few lefties at the high levels of their organizations to those with many, cold-calling 20 to 30 farm directors per week. All he wanted was an opportunity.
But "nine times out of 10," Rice said, "you don't get a call back."
• Less than 10 months after Tommy John surgery,
Mike Pelfrey
is thriving in Minnesota Twins camp, writes Tyler Kepner
in the Times
.
• Former '86 Mets manager Davey Johnson, in his final season with the Nats as a skipper, has a World Series-contending team. "He's perfect for that club," Bobby Ojeda tells columnist John Harper
in the Daily News
. "They're loaded and he knows it. But with all the expectations, if you don't handle it the right way it could blow up on him. But that's where Davey is so good -- he's a genius at handling men."
•
In the Post
, Darryl Strawberry and
John Franco
weigh in on the 2013 Mets.
•
From the bloggers
…
The Eddie Kranepool Society
wonders if someone can steal Daniel Murphy's second-base job. …
At Mets Police
, Dan Twohig wonders if we have forgotten about the 1973 Mets? …
Amazin' Avenue
chats with Paul DePodesta.
BIRTHDAYS:
Nobody to ever appear in a regular-season game for the Mets celebrates a birthday today. Michael Bolton, Johnny Cash and Fats Domino all were born on this date, though.
TWEET OF THE DAY:
One scout who saw Wheeler spring debut: "Same stuff as Strasburg. That will go down as best trade Sandy Alderson will make in his life."

— DKnobler (@DKnobler) February 25, 2013
YOU'RE UP: Should Jenrry Mejia be used as a starting pitcher … or as a reliever, where many scouts as well as pitching coach Dan Warthen ultimately project him?
Please use the comments section to weigh in
February, 25, 2013
2/25/13
11:23
AM ET
PORT ST. LUCIE, Fla. -- The
New York Mets
began a "dynamic ticket pricing" system in 2012, in which ticket prices set by the team fluctuated as the game approached based on demand.
With the help of Mets fans who volunteered to collect data, assistant professors Stephen Shapiro of Old Dominion University and Joris Drayer of Temple University analyzed the data from 31 of 81 scheduled home dates.
Here are some findings:
[+] Enlarge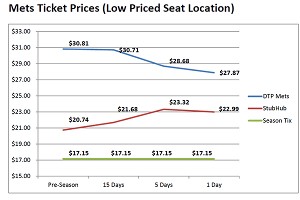 Courtesy of Stephen Shapiro and Joris DrayerA look at the average cost of low-priced seats at Mets games in 2012 purchased individually from the team and StubHub and as part of a season-ticket plan, depending on the date.

• Although dynamic pricing means the asking price for a ticket changes over time, the ticket-price fluctuation varied only modestly. In fact, the team price remained within 10 percent of the original asking price. For instance, for low-priced seats, the team's dynamic asking price went on average from $30.81 in the preseason, to $30.71 fifteen days before the event, to $28.68 five days before the event, and to $27.87 a day before the event.
• The average dynamically priced ticket for a Mets game in 2012 was $94.80. That was compared with $93.27 for the cheapest-offered comparable seat on StubHub and $74.19 if purchased as part of a season-ticket plan.
• With the exception of low-priced seats, StubHub tickets tumbled from preseason asking prices. For instance, moderately priced seats on StubHub were going for $85.82 in the preseason, but had fallen to $68.86 within 15 days of the game.
[+] Enlarge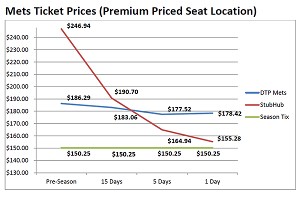 Courtesy of Stephen Shapiro and Joris DrayerA look at the average cost of premium-priced seats at Mets games in 2012 purchased individually from the team and StubHub and as part of a season-ticket plan, depending on the date.

• For lower-priced seats, the Mets' price was, on average, about $7 higher than StubHub ($29.52 vs. $22.15). The season ticket price was the best value, at $17.15.
For mid-priced seats, the Mets' average price was modestly higher than StubHub ($73.57 vs. $72.40). The per-game ticket for season ticket holders was $55.19.
In premium locations, dynamic ticket pricing offered through the Mets, on average, was less expensive than StubHub ($181.32 vs. $191.66). But, closer to the event, StubHub became the better value ($155.28 vs. $178.42 one day from the game). The season ticket remained the best value, at $150.25.
• In all three price levels, StubHub tickets were cheaper than via the team in the days closest to the event.
• Tickets offered before the season started were priced higher on StubHub than by the Mets for premium and moderate ticket levels. The team prices were higher for lower-priced seating in the preseason.
• Low and premium level seats offered through the team dropped slightly in price as the game approached, likely a reflection of the Mets' subpar performance during the latter half of the season.
NOTE:
The pricing data does not include fees charged by either StubHub or the Mets.
As part of the new StubHub-MLB agreement, StubHub agreed to add its fees into the price of the ticket up front. So starting this season, fans will see the total cost of the ticket initially. This was not done previously.
February, 1, 2013
2/01/13
11:30
AM ET
The
New York Mets
have finished in fourth place in each of their first four seasons at Citi Field, failing to produce a winning record in any of those campaigns.
They went 70-92 in the inaugural season at Citi Field in 2009, then 79-83, 77-85 and 74-88.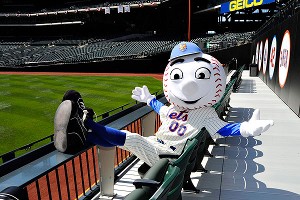 Courtesy of New York MetsHow many people will join Mr. Met at Citi Field in 2013?
Attendance has steadily declined during that span as well. After drawing 4,042,045 in their final season at larger-capacity Shea Stadium in 2008, the attendance figures since:
2009: 3,168,571
2010: 2,559,738
2011: 2,352,596
2012: 2,242,803
That's declines of 21.6 percent, 19.2 percent, 8.1 percent and 4.7 percent.
The Mets ranked 17th in the 30-team majors last season in attendance.
How low will it go in 2013 if the losing persists?
"My thoughts are that Citi Field is still in the honeymoon period of a new facility that can last anywhere from three to eight years," says Old Dominion University assistant professor of sports management Stephen Shapiro, who soon will release a study of the Mets' dynamic ticket pricing in 2012. "Attendance has not dropped below 2.2 million since the ballpark opened, despite slight drops in winning percentage over the past three seasons. This is probably due to strong fan support in a large market.
"Assuming a similar trend in on-field success and the novelty of a new ballpark wearing off, my best guess would be another 5 to 8 percent attendance drop, similar to the last two years -- around or slightly below 2 million."
The Mets should benefit this season from the All-Star Game carrot. Fans needed to purchase season tickets in order to be assured the right to purchase All-Star Game strips that include the Futures Game, Home Run Derby and Mid-Summer Classic.
The Mets seemed to slow the recently steep declines in ticket sales last year by offering several late-season promotions, including one adult ticket entitling the spectator to get three youth seats for free. (All the tickets are counted as sold, presumably, at a fraction of their actual value -- meaning the ticket-sales decline likely is exacerbated by a revenue decline.)
The Mets have not had a sub-2 million attendance since 1997, when they drew 1,766,174.
This much is clear: The Mets are not in danger of setting any franchise records.
The 1979 Mets hold that distinction. They drew 788,905 while Joe Torre led them to a 63-99 record.
October, 5, 2011
10/05/11
2:59
PM ET
In 2009, the San Francisco Giants experimented with "dynamic pricing" for certain seats -- in essence, continuously adjusting ticket prices based on demand. The following season, en route to a World Series title, the club went full bore with that pricing model, becoming the first Major League Baseball team to do so.
The Mets will adopt that ticket model for next season once single-game tickets go on sale in March. Prices will fluctuate based on how much demand there is for a certain game. The cue will be taken from what resellers are asking for tickets in the so-called "secondary marketplace" as well as the forecasted demand based on pitching matchups, attractiveness of opponent and even weather.
Read the news story
here
explaining "dynamic pricing" with respect to the Mets.
Stephen Shapiro
of Old Dominion University and
Joris Drayer
of Temple University studied how dynamic pricing affected the cost of Giants tickets in 2010. Here are their thoughts on that topic and how dynamic pricing might impact the Mets and their fans.
Tell me about the method of studying the impact of dynamic ticket pricing on Giants tickets.
Shapiro:
"We looked at the 2010 season and essentially what we wanted to do was look at two things. One was to compare ticket prices in the primary and secondary market for comparable seats and try to do it throughout the season. We didn't have the capacity to do every game and collect it because we essentially were having me and a researcher at Temple and a couple of GAs doing this. So we decided to pick 12 games that covered a little bit of everything. We covered each day of the week, each month of the season, every divisional opponent, an interleague game, promotional games, national television game. We tried to cover all that within the dozen games. And then we collected ticket prices in the primary and secondary market for all 14 sections of the stadium 30 days out, 20 days out, 10 days out, five days out and then game day to try to examine the trends of them changing -- to look at the differences of the prices and see how they're trending over time. We decided to add at a later date season-ticket prices that they had, which were set before the season, so they weren't changing, and tried to look at what an individual price would be for a comparable seat in all of those sections. So in the end we ended up with three prices: a fixed season-ticket price, a dynamic price and a secondary-market price.
"And then we had a secondary goal. We knew what the Giants said the factors were that would affect dynamic ticket prices, but we wanted to see what our data would show both in the primary and secondary markets."
In terms of conclusions, from the Giants' perspective, they were able to increase revenue while limiting alienation of fans?
Shapiro:
"That was kind of the conclusion we had. We didn't come up with an exact number. They actually reported that they made, I think, $7 million in additional revenue. One of the things that is challenging is determining what their price may have been if you kept it fixed versus dynamically changing. But they definitely made additional revenue.
"What we found in our research is there were definitely differences between all three levels of prices. The dynamic price pretty consistently throughout the season with the 12 games was higher than the season-ticket price, which brings up the idea of a floor. But yet the secondary market price was higher in almost every case than the dynamic ticket price. And, of course, that could change based on the environment. If a team is performing poorly and at the end of the season doesn't have much of an impact, you're going to see season ticket holders or individual ticket holders trying to sell their tickets on the secondary market for whatever they can get below the value that they paid for it.
"It just happened to be that year the Giants really picked it up. They were middle range in the middle of the season and then really picked it up at the end of the season and made that great run to the playoffs to win the World Series. Obviously ticket demand was higher in that situation. That showed in our data. The secondary market prices were significantly higher than the dynamic prices. And we concluded that we think there's probably a ceiling going on, not just a floor, where teams are not going to let those tickets go to obscene prices that you would see on the secondary market -- most likely from a public-relations standpoint to not look like they're price gouging, even though they could get in a certain situation really high prices in high-demand situations."
As we noted, the Giants won the World Series that year and played to a high percentage of capacity. How might what you studied be applicable to a team that does not sell out its stadium, that is projected to be in the lower half of its division?
Shapiro:
"It's interesting. I do see potential benefits even if there is low demand. You would think in general ticket prices would be elastic -- that as the price goes up, demand is going to fall off significantly. An increasing price, people aren't going to pay for it. But it seems like prices aren't set that way. And some researchers have concluded that's because there's so much complementary potential income after a person gets into the stadium. … That's where dynamic ticket pricing can help. Even if the ticket prices are lower than what was potentially anticipated at the beginning of the season, it may entice fans to still come out to a game, in which they would spend more. You would have all the advantages of a more-filled stadium, which could help the team. It just looks better to have more fans at the game, even if they paid a little bit lower price. And then hopefully they're spending additional money on parking, concessions, merchandise, which you wouldn't get if the person didn't show up because they thought the ticket was too expensive. So in a situation like the Mets or the A's or the Marlins or another team that's underperforming, lower-priced tickets may entice fans to come."
Drayer:
"The secondary market is fundamentally different in that you do have a large presence of brokers, who are trying to make profit, and who are pretty well versed in what is a hot ticket and what is not so much a hot ticket. So they take chances and take positions on it. But the other part of the secondary market is just people who have to get rid of their tickets. Tickets fundamentally will remain transferable because there are people who buy season tickets or mini-plans or what have you and just can't make it to all the games. Or maybe they buy a set of four and two of their friends can't make it to the game. So the secondary market isn't littered with people trying to make a profit.
"As far as some of the high-demand seats, I would argue even for an underperforming team, or a low-demand event if you will, there are demand for some seats in the house. I mean, there will always be an opportunity where somebody feels like, 'Hey, this might be my one chance to sit down third base for the Mets game' where obviously if you go across town for the Yankees you can't get that seat. I think we saw that a little bit -- that the premium seats act a little bit differently than your average seat in the upper deck or mezzanine or what have you."
I know you concluded that fan alienation was limited, but when I stay at a hotel or buy plane ticket, and I learn a colleague paid less, I get disappointed. The people you sit next to in a stadium, you just don't know what they paid? What happens if I look online and see the price is now lower than I paid?
Shapiro:
"I think there's a potential issue there, but there's been some research done in both the hotel and airline industry that says that when they first started doing real-time pricing in those industries that people were upset with it. They would be sitting next to someone on an airliner or have a hotel and may have paid more for it. But as they became more knowledgeable about what was going on, they became more accepting of it. I would imagine that same thing could happen in sport. I think people certainly are going to be upset initially if they feel like a person paid a lot less for the ticket right next to them. But over time, if it's set up in the right way -- as the Mets did, they were open in terms of saying what dynamic pricing is and that they were going to use it -- fans, understanding what it is, they can do one of two things: They can decide to go to lower-demand games and get a savings, which is a benefit to them. Or if they want to go to a higher-demand game, they understand there's a premium for going to that."
So if I'm a fan, it's almost like playing the stock market. If I want to go to a game in August and I'm making the decision in April, I have to decide if the team is going to tail off and whether I can wait and pay less for the same ticket? Or is the fluctuation in prices so minimal anyway that it really doesn't matter much when I purchase it?
Shapiro:
"Ultimately it's not large swings in prices that we saw. Certainly when you go to extremes you're going to see a bigger swing -- the major, high-demand games and the premium seats specifically -- and then your low-demand games where the team isn't successful, especially in baseball where you have so many games and a team can be out of it so early where someone might be selling off tickets just to get some money back. But I think the vast majority of tickets would fall in that middle range where there might not be a huge difference in price. But I certainly think it will bring out that similar stock-market mentality where you are looking and shopping for when the best time is.
"We did a study prior to this that looked at some secondary market tickets and it showed that generally, as the game draws near, you would think intuitively demand would go up, similar to hotels and airlines. But in general ticket prices tend to go down in the secondary market as the game approaches, unless, of course, it's a high-demand game. But your typical game the prices actually go down. Somebody that's shopping in the secondary market may have the opportunity, if they wait it out, to get a better price."
What was the fluctuation in ticket prices in 2010 with the Giants from the originally set price?
Shapiro:
"These are averages throughout the 12 games. In the primary market we saw a price of about $40-$42 at 20 days out jump up to $47. Within that 20 days there was an increase on average of $5. But then we broke it down into lower-tier, mid-tier and premium seats. And you saw a bigger jump. Tickets went in the mid-tier anywhere from about $35 to $45, so a $10 increase. Actually in the premium it wasn't as big. It was $75 to about $82. So I would say it wasn't huge. From 20 days out to game day, the dynamic pricing with the Giants it was no more than a $10 increase in prices."
The Mets said ultimately a person will decide the price adjustment, with assistance from computer models. So this isn't like the stock market precisely where the second someone buys a ticket, the price of remaining seats are instantly affected and the ticket prices are down to the penny? You don't see prices like $53.62?
Shapiro:
"There are a couple of companies doing it. Qcue is the one the Mets partnered with. They're doing about a dozen different teams. They have a pricing modeling system that they're changing prices daily. I would imagine the factors they have are more real time in terms of determining demand. But they're not changing prices like the stock market. With the Giants, the prices we collected, they didn't do crazy numbers. It was either the dollar or every 25 cents. Obviously they're doing some sort of rounding."
If the Mets don't do particularly well on the field in 2012, obviously people are going to be enticed to dump the tickets they have on StubHub or wherever. If the Mets set the floor at what season ticket holders paid, they're not going to compete with StubHub at the lowest level, correct, because they don't want to devalue their ticket to that extent? So the benefit of dynamic pricing could be minimized for the team if the secondary market price is below the floor set by the Mets at the season ticket holder price? Or because the box office price moved closer to the secondary market price, people might be enticed to buy tickets from the team and bypass the secondary market and the people who dump tickets on StubHub could be out of luck?
Drayer:
"For that exact reason, you'll always have a secondary market. People when this dynamic pricing started hypothesized, 'Oh, this is going to devastate the secondary ticket market' because, all of a sudden, if there is a big drop in demand, well the team can do that (drop prices). It doesn't have to be the brokers anymore that are making those prices change. But it's not going to happen that way. It hasn't happened that way because of those artificial price floors and ceilings that are absolutely going to exist. I mean, no team is going to drop tickets to $5 relatively speaking. On the opposite side, no team is going to start charging $500, $600 for tickets, even if they can get it. They're incentivized to keep tickets fair to maintain the loyalty of their consumers and their fan base."
Shapiro:
"Having the floor, obviously you don't want to alienate season ticket holders. You would get to the point where if you didn't have a floor you could make the argument: If tickets are available, what would be the point of buying season tickets if you could just wait if the team is not going to do well and you can get them for cheaper? Once again, there's always a risk, you don't know how well the team is going to do.
"I think there's always going to be a secondary market regardless. One thing dynamic ticket pricing is doing is it's taking some of that potential revenue that would go to the secondary market and it's going to the team. Someone may look to purchase their tickets directly from the Mets at first. And then if they're not happy with that pricing or the game is sold out or whatever, they would go to the secondary market. They might be able to capture more of that revenue from a potential customer.
"You're always going to have tickets that are extremely high on secondary market sites such as StubHub -- beyond anything that the primary market would price their tickets at. And then you're always going to have the situation where someone just wants to get rid of tickets and it will be a really low price. And so I don't think the secondary market is going anywhere, even with dynamic pricing. But I do think there is the potential for additional revenue by giving some customers who traditionally would have gone directly to StubHub -- because they already know the ticket price when it's fixed from the Mets or another team and they know they can get it lower on StubHub -- they might actually go to the primary market and make that purchase.
"It still remains to be seen the trends as more teams do this, both teams that are doing well and teams that aren't doing well, to measure that. But I think there's benefits there of a person going directly to the primary market because they know the prices will fluctuate down if demand is low."
Conceivably, if the team is going to adjust prices downward, the secondary market price can be driven even lower in order to compete and entice people to buy from a source other than the team?
Shapiro:
"It's an interesting way to look at it. It's been brought up a couple of times where teams will say they're going to look at the secondary market as a factor in terms of determining their prices. But who's to say the secondary market -- the resellers out there, whether they're just fans wanting to get rid of their tickets or ticket brokers -- are not going to react to the changes in dynamically based tickets? I definitely think that's a factor that should be considered. If a team is doing poorly and the dynamic prices keep dropping, the secondary market prices would have to drop to be able to compete with that. Of course, that's where that floor comes into play. The team itself is not going to go below some threshold."