New York Mets:

Steve Phillips
May, 30, 2014
5/30/14
5:30
AM ET
Bill Streicher/USA TODAY SportsZack Wheeler retired 14 straight batters at one point en route to a win against the Phillies on Thursday.
PHILADELPHIA
FIRST PITCH:
Don't look now but the Mets are on a three-game winning streak, coinciding with the ascension of Lamar Johnson to hitting coach.
Rafael Montero
(0-2, 4.96 ERA) opposes
Philadelphia Phillies
right-hander
A.J. Burnett
(3-4, 3.51) on Friday at 7:05 p.m. at Citizens Bank Park.
Terry Collins indicated
Bobby Abreu
is expected to start in the outfield.
Friday's news reports:
•
Zack Wheeler
struck out nine and took a
scoreless effort into the seventh
as the Mets
won the opener of a five-game series
against the Phillies, 4-1, Thursday.
Jenrry Mejia
struck out the side in the ninth for his fifth save.
Vic Black
recorded four outs, three via strikeout, as the setup man as Collins finally seems to have some late-inning arms at his disposal. Wheeler had retired 14 straight until Marlon Byrd's solo homer in the seventh on pitch No. 108 chased him.
Chris Young
had a two-run homer and finished 2-for-4 to lift his average to .205.
Young, who thought his limited playing time in Oakland last season after getting off to a slow start further hindered his production, was out of the starting lineup for three straight games earlier this week. He essentially said he deserved it, though.
"I've been dealing with it," Young said. "It gets to a point where, as a player, you have to hold yourself accountable. You have to understand what's going on around you. And you have to understand we've got to win ballgames. I trust that when I start feeling better, I start driving the ball more, it will be more consistent [playing time]. At some point you have to take the responsibility upon yourself and go out there and have quality at-bats."
Read game recaps in the
Post
,
Daily News
,
Newsday
,
Times
,
Journal
,
Star-Ledger
and at
MLB.com
.
• Frank Viola, who underwent open-heart surgery on April 2, plans to assume his originally intended role
as Triple-A Las Vegas pitching coach
next Friday. Read more in
Newsday
.
• The Mets
continue to add vice presidents
to newly created positions to bulk up their marketing and sales efforts. The club announced Thursday the hiring of Wes Engram from the
Kansas City Royals
as vice president of corporate partnerships sales and service. Since Dave Howard left to run MSG in March 2013, the team also has hired Lou DePaoli as chief revenue officer, Will Carafello as director of social media and Harold Kaufman as executive director of communications.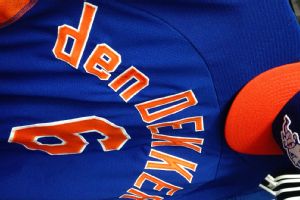 Adam RubinMatt den Dekker is one of three Mets with a lower-case "d" beginning his surname.
• With the Mets having set a major-league record for surnames beginning with a lower-case "d" -- with
Travis d'Arnaud
,
Jacob deGrom
and
Matt den Dekker
-- Paul Lukas
at ESPN.com
examines lettering on uniforms. Writes Lukas:
Three primary schools of thought have emerged from these discussions: one that believes player names on jerseys should always be all caps, period; one that loves the lowercase letters; and a compromise position that advocates for the use of small caps instead of lowercase letters.
• The Mets began a stretch on Thursday in which they play 25 of 33 games on the road. Jared Diamond
in the Journal
notes that no team has played more road games in a 33-game span since 1995 than the Mets will during this stretch. MLB senior VP Katy Feeney suggested the Yankees are partly responsible. Yankee Stadium needed to avoid baseball games for part of May because of NYU graduation ceremonies taking place there. That meant the Mets were home more than usual during that period, while the Yankees were away.
• D'Arnaud went 0-for-4 and grounded into a double play with the bases loaded in his first game since returning from a concussion. Collins said Mets catchers collectively need to
pick up their production at the plate
. Read more in the
Post
,
Star-Ledger
and at
MLB.com
.
• Hansel Robles allowed one run in 6 2/3 innings and Brian Burgamy had a two-run homer as Binghamton beat New Hampshire, 7-2. L.J. Mazzilli's RBI single in the 12th plated Patrick Biondi in Savannah's 3-2, walk-off win against Rome. Read the full minor-league recap
here
.
• Columnist Phil Mushnick
in the Post
is not a fan of 50 Cent performing at Citi Field.
• Justin Terranova
in the Post
asks former GM Steve Phillips about the Wilpons as owners.
"Fred and Jeff desperately want to win and that part was never a question for me," Phillips said. "There's always this perceived notion when George Steinbrenner was alive that he always wanted to win more, but the Mets run their team as a business and they want to win. They are kind of caught in between right now of still giving young guys opportunities, while adding those veteran pieces that are necessary, too. They don't blindly go after that without having a prudent business plan."
BIRTHDAYS:
Wheeler has another reason to celebrate besides his performance in the series opener. He turns 24.
TWEETS OF THE DAY:
The #Mets won 3 in a row and are 3 games back! #ThereIsHope

— Allan Proskin (@Aproskin) May 30, 2014
YOU'RE UP: Will Zack Wheeler end up being an ace after all?
March, 5, 2014
3/05/14
6:37
AM ET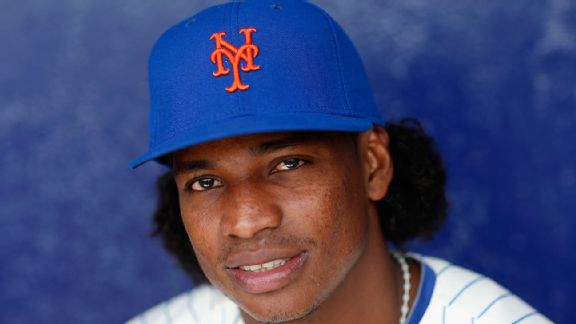 Chris Trotman/Getty ImagesIf Kyle Farnsworth or Jose Valverde flop, Jenrry Mejia could wind up back in the bullpen.
PORT ST. LUCIE, Fla.
FIRST PITCH:
The Mets play two Wednesday.
In Port St. Lucie at 1:10 p.m. (SNY),
Dillon Gee
opposes reigning National League Rookie of the Year
Jose Fernandez
and the
Miami Marlins
.
In Viera at 1:05 p.m. (WOR 710 AM),
Jenrry Mejia
starts against
Gio Gonzalez
and the
Washington Nationals
.
Mejia officially is in the fifth-starter's race, although a chance exists that he ends up in the bullpen to open the season.
A team official suggested the discussion would not take place until late March. But assuming
Daisuke Matsuzaka
(or, less likely,
John Lannan
) claims the rotation's final spot, a decision would need to be made about whether Mejia goes to Triple-A Las Vegas' rotation or the big-league pen.
If
Jose Valverde
and
Kyle Farnsworth
make the team -- no guarantee -- Mejia almost assuredly joins a stacked Triple-A rotation that would include Noah Syndergaard, Rafael Montero,
Jacob deGrom
and someone from the deserving group of Lannan, Cory Mazzoni and Logan Verrett.
If Valverde and/or Farnsworth flop, the discussion could become interesting.
Assuming everyone is healthy, the bullpen automatically will include
Bobby Parnell
,
Vic Black
,
Scott Rice
and
Carlos Torres
.
And that leaves three spots.
Jeurys Familia
, despite some wildness, looks in decent shape right now to be No. 5 in the bullpen. So let's say just Valverde makes the bullpen and not Farnsworth. That leaves one spot. And that is the precise scenario in which Mejia could shift to a bullpen role over, say, a potentially worthy
Gonzalez Germen
, second lefty
Josh Edgin
or another candidate.
Stay tuned.
Wednesday's news reports:
•
Curtis Granderson
homered twice in the opening two innings
and
Zack Wheeler
contributed three scoreless innings
as the Mets
won their second straight Grapefruit League game
, 6-2 against the
Houston Astros
on Tuesday at Tradition Field.
Read more on Granderson in the
Post
,
Newsday
,
Star-Ledger
,
Daily News
,
Record
and
MLB.com
.
Read more on Wheeler in the
Journal
,
Times
,
Post
,
Star-Ledger
,
Newsday
and
MLB.com
.
Tejada

Duda
Davis
•
Eric Young Jr.
made his 2014 Grapefruit League debut Tuesday after putting a side-muscle issue behind him. Still,
injuries linger for the Mets
. A day after
Lucas Duda
was pulled from a game against the
Atlanta Braves
, his left hamstring felt worse. Meanwhile,
Ike Davis
(calves) and
Ruben Tejada
(left hamstring) are out until Friday at the earliest. "To have it happen this early in camp was a little surprising," Terry Collins said, "because we planned on getting them some playing time, and that certainly is not something that has been able to come about." Read more in the
Star-Ledger
.
• New union chief
Tony Clark
visited Mets camp Tuesday and told media the
MLBPA is "paying attention"
to the Mets' un-New York-like payroll. Read more in the
Journal
,
Star-Ledger
,
Daily News
and
Newsday
.
• Torres is set to make the bullpen, a source
tells ESPNNewYork.com
.
•
Johan Santana
, trying to return from a second surgery to the anterior capsule in his left shoulder, has
signed a minor-league deal
with the
Baltimore Orioles
. Collins said the
Mets are rooting for him
. Read more in the
Post
,
Star-Ledger
and
Daily News
.
• Columnist Joel Sherman
in the Post
asserts that "it is time to stop stockpiling and start winning." Writes Sherman:
Perhaps it is instructive to note that in 1984, when his A's were not contenders, Alderson dealt Henderson to the Yankees for a boatload of prospects, and in 1989 -- when they were a powerhouse -- he reacquired Henderson and won a championship because of that.
"Patience is not a virtue unless you take advantage of it by exercising it well," [Sandy] Alderson said. "Patience is only part of a strategy."
• Collins discusses with columnist Bill Madden
in the Daily News
what players would need to produce to get to 90 wins:
-
Travis d'Arnaud
playing 125-130 games and hitting 15 homers.
- Twenty homers and 80 RBIs out of the first-base position, regardless whether it's Davis or Duda.
- A .350 on-base percentage and 145-150 games from Tejada.
-
Chris Young
reverting to the 32 homers he slugged in 2007 with the
Arizona Diamondbacks
.
- Twenty-five homers and 90 RBIs from Granderson.
- A .340-.350 OBP from EY Jr.
- Two hundred innings from at least two of his starting pitchers.
- Oh, and 40 or 50 saves from Parnell.
•
David Wright
tells columnist Bob Klapisch
in the Record
about signing that eight-year extension with the Mets in December 2012 rather than testing free agency during this past offseason: "I am not a mercenary." Writes Klapisch:
Wright won't take issue with the Wilpons' finances -- he never has, never will. He's either naïve or an optimist -- you choose -- when it comes to the Mets and the arc of his own career. Wright, in fact, won't even dismiss the ludicrous idea of winning 90 games this year, even if GM Sandy Alderson's proclamation is openly mocked by rival executives and scouts.
Wright thinks the rebirth is just around the corner, this summer, even, "if everyone does the things that we're capable of. I'm not saying I have to hit 45 or 50 home runs, or that everyone has to have career years," he said. "But if we go around the room and we get guys to just do their part, then I'd say [90 wins] is attainable."
•
Matt Harvey
tossed a baseball for the second straight day Tuesday, on flat ground at 60 feet. It
marked the first time since surgery
Harvey has thrown on consecutive days. Read more in the
Record
.
• After Steve Phillips works three games on WOR,
C.J. Nitkowski
will step into that seat for Sunday's Grapefruit League radio broadcast.
Tim Byrdak
also will get a shot, in the final exhibition tune-ups for the Mets, in Montreal, according to the Daily News.
HOPE Radio will simulcast WOR games on Eastern Long Island, Newsday reports. Neil Best lists the station as available at 107.1 FM on the East End as well as at 94.9, 96.5, 96.9 and 104.5 elsewhere in the region.
•
From the bloggers …
John Delcos at
Mets Report
suggests the Mets lost the Santana trade.
BIRTHDAYS:
Minor-league slugger
Mike Hessman
turns 36 today. He appeared in 32 games in 2010 with the Mets.
TWEET OF THE DAY:
Oh just hanging around at the fair with @JdeGrom19 and twitterless Steve! pic.twitter.com/LHEE8Ry0Ff

— Noah Syndergaard (@Noahsyndergaard) March 5, 2014
YOU'RE UP: Would you prefer Jenrry Mejia in the Triple-A rotation or big-league bullpen?
March, 2, 2014
3/02/14
6:39
AM ET
Jeff Roberson/Associated PressDaisuke Matsuzaka makes his first Grapefruit League start as a Met on Sunday against the Cardinals.
PORT ST. LUCIE, Fla.
FIRST PITCH:
After two home losses to open Grapefruit League play, the Mets head south on I-95 to Jupiter to face the
St. Louis Cardinals
.
Fifth-starter frontrunner
Daisuke Matsuzaka
opposes right-hander
Michael Wacha
in the 1:05 p.m. game.
WOR 710 AM will broadcast the game, with Josh Lewin joined by former Mets GM Steve Phillips on the call. Phillips will handle three WOR games this week.
Eric Young Jr.
, held out for the first two exhibition games with a side-muscle issue, took batting practice Saturday against
Bobby Parnell
and is scheduled to make the trip. Due to pitch for the Mets after Dice-K:
Jeurys Familia
,
Jose Valverde
,
Steven Matz
,
Carlos Torres
, Joel Carreño and Jack Leathersich. (See the full travel list
here
.)
Matz, from Stony Brook on Long Island, was electric in Thursday's intrasquad game. He flashed a 94-96 mph fastball and sharp slider that impressed the few scouts in attendance.
Sunday's news reports:
• Pitching for the first time since undergoing surgery on a muscle in his left leg last Aug. 28,
John Lannan
tossed two scoreless innings
in his Mets debut.
Lucas Duda
provided a solo homer
and committed an error at first base as the Mets
dropped their second straight game
, 9-1 to the
Miami Marlins
at Tradition Field.
Veteran reliever Kyle Farnsworth's fastball
sat at only 86-88 mph
and he allowed a solo homer to Austin Barnes.
Josh Edgin
's velocity also sagged and his arm angle was lower in than in past years, leading scouts to worry about him, too, as he allowed five runs (three earned).
Read more in the
Post
,
Daily News
,
Star-Ledger
,
Newsday
and
MLB.com
.
Jeff Roberson/Associated PressBobby Parnell faced batters Saturday for the first time since herniated-disk surgery.
• Parnell
threw batting practice Saturday
, marking his first time facing batters since undergoing surgery on Sept. 10 to repair a herniated disk in his neck. Parnell still has a lingering left quadriceps strain, but the Mets plan to have the closer as well as
Bartolo Colon
(calf) and
Jonathon Niese
(shoulder) pitch in a "B" game on Thursday against the
Houston Astros
in Kissimmee. Read more in the
Times
,
Daily News
,
Star-Ledger
,
Record
,
Newsday
and
MLB.com
.
• The Mets are
projected to have the seventh-lowest payroll
in the majors.
• Columnist Mike Vaccaro
in the Post
suggests Mets owner Fred Wilpon and Knicks owner James Dolan trade teams. Writes Vaccaro:
Imagine: James Dolan never has been shy about opening his checkbook. Many's the day when a Knicks fan has found himself saying, "If only there were no salary cap in the NBA." Well, there's no salary cap in MLB. Even the most fervent Dolanaphobe has to concede this much: The man will spend money. If Dolan owned the Mets they wouldn't have had to worry about Stephen Drew because he would've signed Jose Reyes to a 10-year contract.
The Wilpons? Put it this way: The first time they looked at the NBA's collective-bargaining agreement they would get good and giddy and look at each other with big smiles and say: "Wait, there's a limit to how much money you can spend? If you don't keep yourself under the salary cap you can be in trouble?"
• 2012 third-round pick Matt Koch
threw batting practice Saturday
on a back field -- his first time facing batters since getting struck with a line drive last August with low-A Savannah and getting hospitalized for three days.
• Here are Oscar predictions, courtesy of the Mets:
David Wright
: Wolf of Wall Street. "It's based on a true story. Jonah Hill and Leonardo DiCaprio were amazing."
Travis d'Arnaud
: Captain Phillips. "It reminded me of my grandfather, who also was a captain of cargo ships. Tom Hanks played a great role."
Ike Davis
: Gravity. "I saw it in an IMAX theater and it really felt like you were in space."
Curtis Granderson
: Captain Phillips "Any time you have Tom Hanks, you know it's going to be a great performance. It was based on a true story. You really felt like you were part of the action."
• Mike Vorkunov
in the Star-Ledger
profiles
Juan Lagares
, who grew up playing softball and still uses the larger ball during offseason training to strengthen his throwing arm. Lagares began in the Mets organization as a shortstop. But he committed 40 errors in 82 games at the position in 2007 with Savannah and two seasons later pretty much had fully transitioned to the outfield.
• David Lennon
in Newsday
addresses whether Granderson's transition from hitter-friendly Yankee Stadium to pitcher-friendly Citi Field will result in the same struggles
Jason Bay
endured coming to the Queens ballpark.
"Some of it kind of gets blown out of proportion. It's still a big park, and there are times when you feel like you should be rewarded, and it gets frustrating," Wright told Lennon. "But it's not like I think to myself, 'Oh, God, this is changing the type of player I am.'
"Were there times it stunk to hit there? Of course. But as far as saying it changed players' careers or didn't allow players to be the type of players they were before, that's nonsense. I think Jason would be the first one to tell you that it was some inconsistencies, some poor play, some injuries that just kind of spiraled out of control for him."
• Tyler Kepner
in the Times
catches up with
LaTroy Hawkins
, who left the Mets as a free agent for a $2.5 million offer from the
Colorado Rockies
. Kepner notes that with
Mariano Rivera
's retirement, Hawkins' 943 games pitched make him MLB's active leader. He debuted on April 29, 1995. Writes Kepner:
Only 15 pitchers have worked 1,000 games. It is a more exclusive club than 300 wins, 500 homers or 3,000 hits. Hawkins has never made an All-Star team, never led the league in any category except earned runs in 1999. But he is about to earn his way in.
• Triple-A Las Vegas manager Wally Backman tells Mike Puma
in the Post
that he spoke with two teams during the offseason about coaching in the majors but received no offers.
• A fan initiative to name three left-field sections at Citi Field "Kiner's Korner" is chronicled
in the Post
. The Mets have committed to wearing a patch this season and also will have the microphone-themed emblem displayed on the outfield wall, as they did two years ago after Gary Carter's passing.
• Columnist Joel Sherman
in the Post
notes the Mets are considerably behind the
Washington Nationals
and
Atlanta Braves
, and are more akin to the Miami Marlins. Writes Sherman:
Here is the real worrisome factor for the Mets: Does anyone see that condition changing any year soon? The Nationals and Braves already are what the Mets are trying to become.
• Steve Serby
in the Post
has a Q&A with
Chris Young
. Among the exchanges, Serby gets Young's reaction to the Mets signing him over
Nelson Cruz
.
"All I can do as a player is do the best that I can, and that's the only thing that I can focus on," Young said. "If I start focusing on what other players are out there, what other teams did, things like that can drive yourself crazy. There's a lot of great players out there. Everybody gets different contracts and different opportunities with different teams, and as a player all you can do is go with whatever situation you feel is best for you, and that's what I did.
"I'm excited to be here as a Met, and I'm gonna do everything that I can to the best of my abilities to help this team win."
•
Pittsburgh Pirates
infielder
Chase d'Arnaud
, the brother of Travis, cleared waivers and was outrighted to Triple-A Indianapolis with that organization.
•
From the bloggers …
Faith and Fear in Flushing
is impressed by how mellifluous the Mets sound this spring.
BIRTHDAYS:
Seattle Mariners
infielder
Nick Franklin
, who isn't a Met just yet, turns 23.
TWEET OF THE DAY:
Nice to finally face hitters again. It was too long of a wait.

— Matt Koch (@mattykoch20) March 1, 2014
YOU'RE UP: Would you prefer the Dolans or Wilpons as Mets owner?
September, 29, 2013
9/29/13
7:09
AM ET
Julie Jacobson/Associated PressMike Piazza acknowledges the crowd on May 5, 2004 after passing Carlton Fisk to become the greatest-hitting home run hitter among catchers in MLB history.
NEW YORK
FIRST PITCH:
Game No. 162 has arrived. So has the ceremony to induct
Mike Piazza
as the 27th member of the Mets Hall of Fame.
Fans are asked to be in their seats at 12:45 p.m. The game, officially listed for a 1:10 p.m. first pitch, is expected to start significantly later, with
Jonathon Niese
(8-8, 3.74 ERA) opposing right-hander
Marco Estrada
(7-4, 4.02).
The Mets compiled this list of memorable Piazza moments:
May 22, 1998:
Acquired from the Marlins for
Preston Wilson
, Ed Yarnall and Geoff Goetz.
May 23, 1998:
Goes 1-for-4 with an RBI double in his Mets debut, at Shea Stadium against the Brewers.
June 1, 1998:
Homers for the first time as a Met, against Pittsburgh's
Jason Schmidt
.
Sept. 14, 1998:
Hits the longest estimated homer in Astrodome history, against Houston's
Jose Lima
.
April 28, 1999:
Takes
Trevor Hoffman
deep for his first walk-off homer as a Met.
Oct. 2, 1999:
Hits his 40th homer of the season, against Pittsburgh's
Mike Williams
.
Oct. 19, 1999:
Belts two-run homer in Game 6 of the NLCS against
John Smoltz
to even the score at 6.
June 14-July 2, 2000:
Sets a franchise record with RBIs in 15 straight games, the second-longest streak in MLB history.
June 30, 2000:
Hits a three-run homer to cap a 10-run inning in a comeback win against Atlanta.
Sept. 21, 2001:
Homers against
Steve Karsay
in the first game back in New York after 9/11 to uplift the city's spirits.
May 17, 2002:
Belts a grand slam against San Diego's
Jason Boyd
to reach 1,000 career RBIs.
May 5, 2004:
Hits career homer No. 352 as a catcher, passing Carlton Fisk for the all-time lead at that position.
June 18, 2004:
Is joined by the four living Hall of Fame catchers -- Yogi Berra, Carlton Fisk, Gary Carter and Johnny Bench -- for Mike Piazza Night at Shea Stadium.
Sept. 29, 2005:
Hits his final homer as a Met, his 220th with the ballclub, in an 11-0 win against Colorado.
Sunday's news reports:
• Terry Collins is
closing in on a two-year contract extension
with a team option for 2016. The deal should be announced as soon as Monday.
Writes columnist Joel Sherman
in the Post
:
Yet, Collins already is on somewhat shaky ground. Because his deal calls for somewhere between $1 million to $1.5 million a season -- probably closer to the $1 million -- and even the Mets could swallow that 2015 amount if Collins guides a fourth straight loser next year.
So, in actuality, Collins has a two-year contract with a one-year mandate, he is pretty much a lame duck again. There is no way the Mets will try to sell to their fans yet again that a team with seventy-something wins in 2014 should bring back their manager for 2015.
But it is really up to [Sandy] Alderson, therefore, to save a manager he likes. The Mets have big needs, bigger if Matt Harvey is unable to avoid Tommy John surgery.
Read more in the
Daily News
,
Star-Ledger
,
Record
,
Newsday
and
MLB.com
.
•
David Wright
returned to the lineup Saturday
, a day after missing a game with a swollen right thumb. Wright had a pitch buzz behind his head.
•
Aaron Harang
allowed one run in six innings
in his final audition for 2014
, but the
Mets lost to the Brewers, 4-2
, in 10 innings Saturday at Citi Field. The Mets did lock up a top-10 draft pick, which means it is protected even if the team signs a premium free agent such as
Shin-Soo Choo
. The Mets did clinch their worst home record since 1993. Neither
Eric Young Jr.
nor Milwaukee's
Jean Segura
stole a base, so they enter the final day of the regular season tied for the NL lead at 44.
Read game recaps in the
Post
,
Star-Ledger
and
MLB.com
.
• Mets attendance
declined for the fifth straight season
in 2013.
•
Hunter Pence
re-signed with the
San Francisco Giants
for five years, $90 million
-- an early indication premium outfielders will be pricey this offseason.
•
LaTroy Hawkins
opens up to Jorge Castillo
in the Star-Ledger
about visiting his half-brother in a Michigan prison during off-days in-season as well as in the offseason.
• Mark Herrmann
in Newsday
speaks with
Al Leiter
,
John Franco
and Steve Phillips about Piazza. Andy Martino
in the Daily News
also discusses Piazza. One family deeply impacted by 9/11 would like to thank Piazza, Peter Botte writes
in the Daily News
. Read more on Piazza's induction in the
Post
.
• Marc Carig
in Newsday
begins to look ahead to the Mets' offseason needs.
• Tim Rohan
in the Times
profiles the "Mets' mailman."
•
From the bloggers …
Faith and Fear in Flushing
wonders if something akin to a cult of mediocrity prevails in the upper precincts of Metsdom.
BIRTHDAYS:
Ex-Mets reliever
Heath Bell
turns 36.
TWEET OF THE DAY:
Jajaja pic.twitter.com/0bDV6hcpCf

— juan lagares (@juanlagares2) September 25, 2013
YOU'RE UP: Aside from the home run in the first game back after 9/11, what is your favorite Mike Piazza moment as a Met?
August, 12, 2012
8/12/12
6:20
AM ET
Johan Santana
recorded only four outs, matching his shortest career start, which happened to be in Atlanta in April, and the
Braves beat the Mets, 9-3
, Saturday at Citi Field. The Mets (54-60) dropped a season-worst six games under .500. Santana was charged with eight runs, two shy of his career high, after
Jeremy Hefner
surrendered a 455-foot homer to dead-center to
Freddie Freeman
with two runners inherited from Santana on board.
Freeman's homer matched the sixth longest in Citi Field history:
Giancarlo Stanton
(465 feet, May 16, 2011),
Mark Reynolds
(462, Aug. 1, 2009),
Carlos Beltran
(459, June 18, 2011),
Ike Davis
(458, July 11, 2010), Davis (456, April 21, 2011) and
Neil Walker
(455, June 2, 2011).
Jon Niese
(8-6, 3.82 ERA) opposes right-hander
Ben Sheets
(4-1, 1.41) on ESPN at 8:05 tonight as the Mets try to avoid being swept by the Braves for the second time in a month.
Sunday's news reports:
• Santana insisted his
right ankle and pitching shoulder were healthy
. He assigned his control woes to having not faced major league hitters since July 20. He is now 3-6 with a 7.98 ERA in nine starts since tossing the historic June 1 no-hitter. He has allowed six or more runs in four straight starts, matching
Al Leiter
(1999) and
Pedro Astacio
(2002) for the longest such streak in franchise history. It also matches Atlanta's
Mike Minor
for the longest such streak in the majors this season.
Tim Farrell/US Presswire
Johan Santana has a 7.98 ERA since celebrating his no-hitter on June 1.

The only pitchers in Mets history to allow at least eight runs and eight hits while retiring four batters or fewer in a game?
Calvin Schiraldi
(in relief on June 11, 1985 at Philadelphia) and Santana, according to ESPN Stats & Information.
"He had trouble with his changeup tonight early, and we got into some counts and got some pitches in the middle of the plate to hit,"
Chipper Jones
said. "We bled a few in, but it was not typical Johan." (Read more from the Braves on Santana in the
Post
.)
Santana expressed hope he would finish the season continuing in the rotation, but acknowledged -- as did
Terry Collins
-- that the issue remains an open question. After all, the priority for the Mets is to ensure the southpaw has the best opportunity to succeed in 2013. Collins indicated another option to discuss is using a sixth starter next month to provide extra rest to Santana and
Chris Young
. That could be achieved through using Hefner, or by a prospect called up from Triple-A such as
Jenrry Mejia
or
Collin McHugh
.
Anthony McCarron
advocates shutting Santana down. McCarron opines
in the Daily News
:
It's all about 2013 now around Citi Field -- or at least it should be -- and the Mets need Santana to be a big part of next year, if they hope to be anything more than they are now. In fact, the Mets ought to think hard about shutting down Santana if that would enhance the chance he'd be back to the guy who was brilliant in the first two months of the season. Santana himself acknowledged the possibility. "I'm hoping to finish the season pitching, but I don't know what, later on, what's going to happen," Santana said. "We'll see."
Santana appears virtually unmovable in a trade. Combined with a 2014 buyout, the southpaw is owed $31 million next season. Former Mets GM
Steve Phillips
estimated to
Zach Schonbrun
in the Times
that an acquiring team might be willing to take on $10 million of Santana's salary, but that estimate seems high. Even if accurate, it is hard to fathom the Mets contributing $21 million to Santana playing elsewhere anyway and going with a rotation of
R.A. Dickey
,
Jon Niese
,
Matt Harvey
,
Dillon Gee
and a yet-to-be-identified fifth candidate. Santana has a no-trade clause anyway.
Read Saturday's game recaps in the
Post
,
Star-Ledger
,
Newsday
,
Record
and
Daily News
.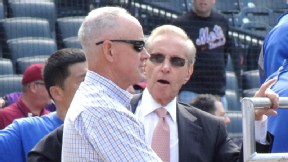 Adam Rubin
Fred Wilpon referred questions to Sandy Alderson before Satuday's game.

• Principal owner
Fred Wilpon
appeared on the field during batting practice and chatted with
Keith Hernandez
and
Tim Teufel
, but Wilpon declined a reporter's question about the state of the team, referring the issue to
Sandy Alderson
. Yet it's the Wilpon-set payroll, combined with existing contracts, that have suffocated the team. Santana and
Jason Bay
will combine to make $50 million next season, including 2014 buyouts. That is potentially crippling if the Mets' payroll will remain about $90 million next season. The only Mets' payroll commitment right now beyond 2013 is to Niese, who signed a five-year contract on the eve of the season. Writes columnist
David Lennon
in Newsday
:
But there are questions that eventually will need to be answered about the Mets -- ones that don't involve whether Mike Baxter can be an everyday outfielder. Questions such as: What kind of money can the Wilpons spend this winter? What is their projected payroll for 2013? Is the franchise on the rebound financially? Any idea when the Mets will be legitimate contenders, not just first-half flameouts? Maybe these questions didn't need to be answered Saturday, but that's not going to stop them from being asked -- and not just by reporters hanging around the dugout. They've come up in conversations with players in the Mets' clubhouse. And these questions definitely are on the minds of the team's paying customers. They need to be convinced to show up for the remaining 24 games at Citi Field -- and buy tickets for 2013.
• The Mets
cleared a roster spot for Santana's return
from the DL by designating left-hander
Garrett Olson
for assignment. Olson was charged with four runs while recording only one out in his lone relief appearance, Wednesday against the Marlins. Olson's departure leaves
Josh Edgin
as the lone lefty in the bullpen, which is now minus
Tim Byrdak
(torn anterior capsule in left shoulder). Read more in the
Star-Ledger
.
•
Zack Wheeler
allowed two first-inning hits, including an RBI double to
Eduardo Nunez
, in his second Triple-A start. But Wheeler followed with five no-hit innings and ended up with a no-decision in Buffalo's 5-1 loss to Scranton/Wilkes-Barre. Second baseman
Wilmer Flores
, who is being shuttled among different infield positions, had a game-ending throwing error in Binghamton's 5-4 loss at Harrisburg.
Jacob deGrom
limited Fort Myers to one hit in seven scoreless innings in his Florida State League debut, after a promotion from Savannah. Read Saturday's full minor league recap
here
.
•
Chris Young
phoned a Floral Park, L.I., Mets fan who has a blood disorder,
Adam Ronis
writes
in Newsday
.
TRIVIA:
Against which team has Santana suffered his most career losses?
Saturday's answer: Harvey fanned Arizona's
Gerardo Parra
for the 2010 first-round pick's first major league strikeout.
November, 23, 2011
11/23/11
5:18
PM ET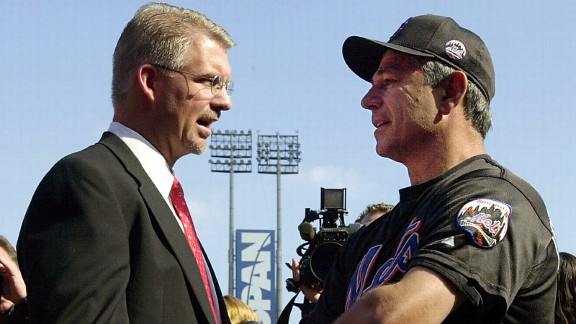 Henny Ray Abrams/Getty Images
Steve Phillips and Bobby Valentine, circa their tumultuous Mets days in 2000.
A gracious
Steve Phillips
took partial responsibility for his sometimes-stormy relationship with
Bobby Valentine
during their shared Mets days. Phillips added that Valentine would be a stellar choice as Boston Red Sox manager.
"He and I, people always want to point to our relationship," Phillips, now a morning host on Sirius/XM's Mad Dog Radio, told ESPNNewYork.com. "There were times when it was really good. We had a lot of success together. At times our relationship wasn't always the greatest, but I will say: Forever I kind of always blamed Bobby for that. And I recognize now that a big part of that relationship, I damaged with my stuff that got in the way of it. Forever I thought it was Bobby's stuff. He brought whatever he did to the relationship, but part of the reason it wasn't a good one all the time was my fault and I want to acknowledge that. I wasn't the best manager for him sometimes."
Read more of Phillips' comments, as well as comments on Valentine's candidacy from old friends
Jim Duquette
,
Joe McEwing
and
Steve Trachsel
, in the full story
here
.
June, 10, 2011
6/10/11
2:27
PM ET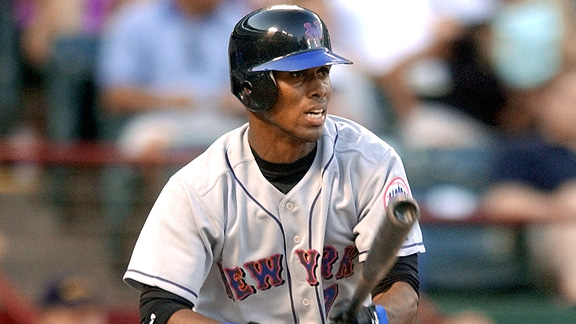 AP Photo/Tony Gutierrez
Jose Reyes runs toward first base after getting his first major league hit, at Texas on June 10, 2003, the day before his 20th birthday.
Eight years ago today, on his final day as a teenager,
Jose Reyes
arrived at The Ballpark in Arlington for his major league debut, wearing a gray Sean John T-shirt and jeans, and carrying a blue Norfolk Tides bag in his right hand. His unveiling came in a game against the Texas Rangers, during an eventful series for the organization that included Reyes turning 20 the next day and
Steve Phillips
being fired as general manager the day after that.
Reyes, batting ninth with the Mets using a DH on June 10, 2003, went 2-for-4. He singled off
John Thomson
in his first at-bat, then doubled in the seventh inning off reliever
Aaron Fultz
.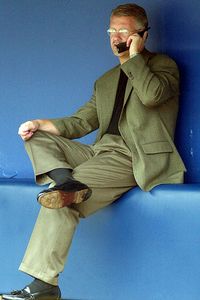 AP Photo/John Bazemore
Steve Phillips was fired as GM two days after Jose Reyes' debut, during the same series in Texas.

"I was kind of nervous a little bit, but after I saw a couple of pitches, it went away quick," Reyes recalled. "I was able to get a hit in my first AB."
Reyes said he was in awe of the size of the stadium, even though the announced crowd that day was a modest 20,581. The only other time he had played in a stadium that size came in the Futures Game in Milwaukee.
"It was kind of similar, but it's not the same," Reyes said. "The big leagues is the big leagues."
Reyes also was thrilled to meet the opposing shortstop that day --
Alex Rodriguez
.
"That's something I'm never going to forget, because Rodriguez was like the big star for every kid in the Dominican," Reyes said. "We had been following him for a long time. He said, 'Good luck' to me at second base when I hit a double."
The Mets dropped to 27-35 with the loss in Reyes' debut, and Phillips two days later was out the door, as
Bobby Valentine
had been at the end of the previous season.
Jim Duquette
took over as interim GM the remainder of that season, then held the full GM title for 2004 before
Omar Minaya's
arrival.
"I had no idea," Reyes said about the organization upheaval swirling around him at the time. "I was just excited to be in the big leagues."
Reyes' English was improving at the time, but he conducted his postgame interview in Spanish after the major league debut. The translation by coach
Juan Lopez
, while likely well-intentioned, was not entirely accurate. Lopez told reporters Reyes had said he would give the baseball from his first hit to his mother and father.
Rafael Hermoso
, a bilingual reporter for The New York Times, indicated afterward that those words never really came out of Reyes' mouth. Even novice Spanish practitioners never heard
madre
and
padre
uttered.
"I remember. Yeah. Yeah. Something like that," Reyes recalled about that eight-year-old mistranslation.
The baseball wound up finding its way to his parents nonetheless. Today it sits in the living room of Reyes' parents' house in the Dominican Republic.
Manager
Art Howe
, who batted Reyes ninth that day, said at the time: "He's fit for the top of the order with speed and his ability to switch-hit."
Nelson Silverio
, a Mets bullpen catcher/coach and then the general manager of Reyes' Dominican winter-league team, said then: "Every 10 years one guy is born that's like that, and we got him. The last one was Alex Rodriguez."
That day, Reyes became the first teenager to debut with the Mets since
Dwight Gooden
in 1984. There were no promises Reyes was going to stay with the major league club more than two weeks, after incumbent shortstop
Rey Sanchez's
thumb injury healed.
But Reyes never left. And now, it turns out, he is now the longest-tenured Met in terms of years of service. He also has played more games in the uniform (983) without wearing another team's colors than anyone except
Ed Kranepool
(1,853) and
David Wright
(1,043), who actually debuted 13 months later.
March, 11, 2011
3/11/11
6:49
AM ET
Lucas Duda
continues to rake,
Carlos Beltran
continues to rehab and the Marlins come to Port St. Lucie on Friday.
On to the day's news reports:
•
David Wright
tells the Post's
Joel Sherman
there's no way he would ever ask for a trade to
escape the perpetual soap operas
with the Mets. Remember, Wright even grew up rooting for the Mets' Triple-A players in Norfolk, Va. His favorite players were
Benny Agbayani
and
Randy Milligan
, the latter eventually signing him as a Mets scout.
"I can't imagine ever asking out," Wright tells Sherman. "It would feel like I was jumping ship. I want to be part of the solution. That [requesting a trade] seems like the easy way out. As much as I want to win, there has to be loyalty, too. It would be very easy to go in there and ask out when the going gets tough. ... I am a loyal person and I feel loyal to this ownership group because it has been good to me. You have the good, the bad and the ugly. We certainly have had the bad and the ugly. So now I want to be part of the good. I enjoy the challenge. I want to believe that I will endure the bad times for a prize at the end." ... Wright, by the way, is under the Mets' control through 2013. He will earn $14 million this season and $15 million next year. The Mets have a $16 million option for '13 with a $1 million buyout.
• The Daily News reports that
subpoenas were issued Thursday
to sports memorabilia auction houses compelling them to turn over information to the grand jury looking into fired clubhouse manager
Charlie Samuels'
allegedly unauthorized distribution of Mets memorabilia for personal gain. The article states:
Sports memorabilia sources say Samuels did not deal directly with auction houses but instead sold the items to collectors and dealers. The Queens investigators may be trying to track items that eventually wound up at auctions, the sources said. "We don't have any record of dealing with Samuels," one memorabilia source told the Daily News. "It looks like they are throwing out a net to see what kind of information they can find."
•
Jenrry Mejia
is ticketed for the Triple-A Buffalo rotation to work on his curveball and changeup, which pitching coach
Dan Warthen
currently labels "considerably below average" control-wise. That's a stark departure from last year, when
Jerry Manuel
and
Omar Minaya
rushed Mejia to the majors
as a reliever, writes
Brian Costa
of The Wall Street Journal. Notes Costa:
Baseball Prospectus published a study last month that found that, between 2005 and 2009, on average, Mets players had the fewest minor-league plate appearances and innings pitched prior to their major-league debuts of any team in baseball. "It's a careful balance between challenging the player while also giving him the opportunity to experience success," said Paul DePodesta, the Mets' head of player development. "The most difficult situations arise when someone has an advanced skill, say defense or a big fastball, while the rest of the skills are behind."
•
Fernando Martinez
, now 22, recalls to Newsday's
Anthony Rieber
his audition in Port St. Lucie
for the Mets in 2005 before signing with the organization for $1.3 million. "That day was very exciting for me," Martinez tells Rieber. "Very exciting. It was nice just to see
Jose Reyes
, Beltran,
Pedro Martinez
. I remember seeing those guys on TV." With Beltran's knees betraying him, Duda -- who homered in Viera on Thursday -- and Martinez are the prospects who may be the heir apparents in 2012, if not earlier. One major challenge for Martinez is proving he can stay healthy. He has his own arthritic right knee and has averaged only 77 games a professional regular season because of assorted injuries. "Sometimes I think in my mind, 'What happened to me? Why did I have so many injuries?'" Martinez tells Rieber. Says
Jose Reyes
: "He's still 22 years old. He's got a lot of baseball left. He's just got to stay out of the training room."
• Reyes tells the Post's
Dan Martin
he will get up to speed turning double plays
no matter who wins the second-base competition
. Martin then goes over a laundry list of second basemen with whom Reyes has worked in his career, writing:
There was Miguel Cairo and Kaz Matsui in 2005; Matsui, Jose Valentin and Chris Woodward in '06 and [Luis] Castillo, Damion Easley and Ruben Gotay the following season. Not much has improved in the ensuing years.
Says Reyes: "When you come to spring training, you always want to know who you're going to play with. But that hasn't happened this year. It doesn't happen very often for me. Right now, I'm ready to play with anybody because I've played with so many."
•
Oliver Perez's
first appearance as a lefty specialist is scheduled to take place against the Atlanta Braves on Saturday at ESPN's Wide World of Sports. "You never know. That can be a really good job for me, for now," Perez said. Perez tells The New York's Times
David Waldstein
he probably
would not be inclined to go to the minors
with the Mets. That's fine, Waldstein notes, because the Mets aren't inclined to ask him to go to Buffalo this year. Read more in
Newsday
and the
Post
.
•
Ronny Paulino
(visa issues) may arrive in camp by the end of the weekend. Or he might not. Read more in the
Star-Ledger
.
•
Zach Berman
in the Star-Ledger looks at
Taylor Buchholz
, who is removed 21 months from Tommy John surgery and with his fourth team since then (Rockies, Blue Jays, Red Sox -- although he was just offseason property of Boston -- and the Mets). On Thursday in Viera, the 29-year-old Buchholz forced in an inherited run charged to
Mike Pelfrey
with a bases-loaded walk, but he has yet to allow his own run in six spring-training innings. He feels like 18 months out is when a pitcher finally returns to his normal performance after Tommy John surgery, which for Buchholz was being perhaps
the National League's top set-up man in 2008
with the Colorado Rockies. "That's kind of the going rate," Buchholz tells Berman. "Last year was a struggle for me, but you go into that knowing it's going to be a struggle. You get that full offseason and really get back into my true workouts, and I'm feeling good about myself. Everything is starting to click back to where I used to be pre-surgery."
•
Mike Pelfrey
tells Daily News columnist
John Harper
he revels in lining up with
Josh Johnson
and likely
Roy Halladay
his
first two starts of 2011
. "I think it's great for me," Pelfrey tells Harper. "When you go against guys at that elite level, it brings the most out of you. You're always motivated, but against those type of guys, it even brings out more. I'm really looking forward to it."
•
Terry Collins
insists the Mets
have capable starting pitching
, although that's not exactly an opinion shared throughout the baseball community, especially considering the rotations of the Phillies, Braves and Marlins in the division. "We really have a lot of depth, and they're pretty much all pitching good so far," Collins tells the Daily News'
Andy Martino
.
• The Post catches up with former Mets GM
Steve Phillips
and
asks him five questions
. Those include his impressions of
Sandy Alderson
, whether Beltran and Reyes will be Mets in 2012, whether
Jason Bay
can have a bounceback year and about the Mets' owners
Bernard Madoff
troubles. On his own personal troubles, Phillips says: "At this point, I am very grateful just for companies like Sirius to stand by me and say this is a guy worth working with. I am just going through recovery and I just know that everything for me has to be one day at a time."
• The Record's
Arthur Stapleton
chats with
Mike Nickeas
about his dream of
being a major league catcher
. Nickeas was up with the Mets in September. And because Paulino must serve eight more games on his MLB suspension and Nickeas already is on the 40-man roster, he should break camp with the Mets. Fellow catcher
Dusty Ryan
has options, too. But adding Ryan to the 40-man roster, optioning him to Buffalo eight games later and then tying up that 40-man spot for the rest of the year doesn't seem to be prudent with Nickeas available.
Collins reveals that he almost had to release Nickeas at the end of spring training last year, while overseeing the minors. Writes Stapleton:
The team gave Nickeas an option of going on the disabled list to start the season -- the "phantom DL," a way to stash players who are not injured for a period of time. The Mets wanted Nickeas to remain in their organization; several team officials have him targeted for a possible role in instruction and coaching down the line. He was not optimistic a spot would open up, but gave it a shot. Not only did Nickeas eventually get back on the field -- he made his major league debut as a September call-up and collected two hits in 10 at-bats. "That's something that needs to be told to those guys over there [in minor league camp] because there are going to be some kids who break camp and we have no immediate spot for them," Collins said. "Right away they think, 'Oh man, I've got no future here.' Mike Nickeas is the perfect example of, 'Yes, you do have a future if you apply yourself; if you dedicate yourself, there is a future.' He was the story of 2010 for me."
BIRTHDAYS:
Reliever
Steve Reed
, who came in a July 31, 2002 trade from the San Diego Padres with
Jason Middlebrook
for Bay,
Bobby Jones
and
Josh Reynolds
, was born on this day in 1965. ...
Dock Ellis
, who had 14 starts for the '79 Mets, was born in 1945. He passed away in 2008.