Ex-Met Ty Wigginton produced six RBIs, including a three-run homer in the ninth inning against Manny Acosta, and the Mets opened a stretch of eight straight series against opponents with winning records with an 8-4 loss to the Phillies on Memorial Day at Citi Field.
Jeremy Hefner (0-2, 6.17 ERA) makes his second major league start in Tuesday's 7:10 p.m. game, opposite Philadelphia right-hander Joe Blanton (2-2, 4.55).
Tuesday's news reports:
• Justin Turner suffered what the team announced is a right-ankle sprain. Turner jammed the leg on the first base bag during a rundown that ended the third inning. Turner's departure, coupled with Ronny Cedeño's unavailability because of continued calf issues, prompted Terry Collins to use David Wright at shortstop for the second time in Wright's professional career.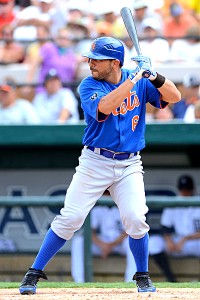 Mark Cunningham/MLB Photos/Getty Images
Omar Quintanilla should be the Mets' starting shortstop on Tuesday. He would be the fifth player to start at the position already this season, joining Ruben Tejada, Ronny Cedeño, Justin Turner and Jordany Valdespin. Only Jose Reyes and Tejada started for the Mets at shortstop last season.
The Mets will promote Omar Quintanilla and Chris Schwinden for Tuesday's game, with Quintanilla -- a former Rockie and Ranger -- expected to start at shortstop. To clear roster room, the Mets are expected to designate Acosta (11.86 ERA) for assignment and place Turner on the disabled list. Quintanilla fouled a ball off a foot Sunday, but played Monday for Triple-A Buffalo without issue. He was hitting .282 with six homers and 27 RBIs in 156 at-bats with the Bisons. Schwinden tossed 99 pitches for Buffalo on Sunday, but presumably would be asked to step in if Hefner has a short outing today in his second major league start. Collins noted the Mets sure can use Thursday's day off, which comes after a stretch of 20 games in 20 days. Read more on the injury front and roster maneuvers in the Post, Newsday and Star-Ledger.
• Josh Thole (concussion) caught five innings in an extended spring training game Monday in Port St. Lucie, Fla. Jason Bay (rib) and Ruben Tejada (quadriceps) only batted in that game. Miguel Batista (oblique/back), meanwhile, is scheduled for a rehab start Tuesday with Double-A Binghamton, at Reading. Thole could advance to Buffalo quickly and be activated as soon as this weekend.
• Jon Niese walked five batters, three of whom scored, in Monday's loss. The Mets twice rallied from deficits in the defeat, getting game-tying two-run homers in consecutive innings from Vinny Rottino and Scott Hairston. Wright capped an 0-for-4 day by stranding the tying run at third base in the eighth with a groundout. He is now 0-for-his-last-14 as his average has slipped to .383. Read game recaps in the Times, Post, Journal, Record, Star-Ledger, Newsday and Daily News.
• Niese called his five walks "pretty embarrassing." Collins said he sent Niese out for the sixth, when John Mayberry Jr. delivered a two-run homer, because the southpaw had a 1-2-3 fifth as well as because Rottino had already tied the score with a homer, making pinch-hitting for Niese with two out and none aboard in the bottom of the fifth unnecessary. Read more in the Post and Daily News.
• Columnist David Lennon in Newsday notes the Mets' depth continues to be tested with the depletion of shortstops. Writes Lennon:
We already knew depth would be an issue for the Mets. But it reached the crisis level Monday when David Wright was forced to play shortstop for six innings -- the most time he's spent there since his senior year at Hickory High. It's not often that teams run out of shortstops. But with Ruben Tejada still recovering in Port St. Lucie and Ronny Cedeño nursing a calf strain that initially was described as a more benign cramp, the Mets couldn't afford an injury to Justin Turner, who also happened to be their leadoff hitter on Memorial Day. So when Turner went down with what the Mets called an ankle sprain -- he looked to be in much more pain than that -- it was not the easiest blow to absorb, for Monday's game as well as the weeks ahead.
Columnist Joel Sherman in the Post is skeptical the Mets can sustain their current level of play. Writes Sherman:
Nevertheless, if forced to speculate, I would still say the Mets are not ready to be six-month contenders. They continue to lack depth, notably beyond the main cogs in the rotation, but really everywhere. Injuries forced them to start a lineup yesterday -- Justin Turner leading off, Scott Hairston at cleanup -- more befitting St. Lucie in March than Citi Field in May.
Columnist Kevin Kernan in the Post writes the Mets are "a team running on fumes." Bill Madden in the Daily News and Jeff Bradley in the Star-Ledger offer their takes as well.
• Mets statistical analyst Ben Baumer is leaving the organization to teach mathematics at Smith College in Massachusetts, Sandy Alderson confirmed to ESPNNewYork.com.
• Andres Torres' wife Soannie gave birth to the couple's second child, daughter Mia Carolina, at 6:30 a.m. Monday at a hospital near Central Park. Torres, working on an hour of sleep, made it to Citi Field and delivered a pinch-hit double in the eighth that put him in position to be the potential tying run.
• Jordany Valdespin produced a three-run homer and Dylan Owen limited Columbus to one run and two hits in six innings as Triple-A Buffalo won, 7-1. Read Monday's full minor league recap here.
• The Mets will recognize Carlos Beltran with the same type of understated video tribute Friday when the Cardinals come to town that the organization did for Jose Reyes when he visited as an opponent last month for the first time since departing.
• Right-hander Jack Egbert recorded the final two outs of the top of the ninth inning in his first major league action since 2009 with the White Sox -- on a liner by Freddy Galvis and fly ball by Brian Schneider. Egbert, who hails from Rutherford and played at Rutgers, was acquired by the Mets in a late-September waiver claim in '09. He decided to stick with the organization as a minor league free agent after a 2010 season in which he did not pitch while rehabbing from Tommy John surgery. "Obviously, I got a few days to settle in here, which helps, instead of kind of running out there the first day," Egbert told Mike Kerwick in the Record. "But after a while, you (want) to get out there. ... My last time up (with the White Sox) it seemed like everything was a hit. It was nice to catch somewhat of a break there on the first one, and then I kind of settled down, made a couple of better pitches to the second guy."
• The Mets conducted a late-day workout for prospective draft picks at Citi Field on Monday. Several Mets executives were on hand, including Paul DePodesta. The list of amateurs working out included Ole Miss signee Stryker Trahan, he tweeted. Trahan, from Lafayette, La., is considered the top catching prospect out of high school.
TRIVIA: How many ex-Mets appeared in the game for Philadelphia in Monday's series opener?
Monday's answer: Steve Carlton had the most career losses against the Mets -- 36. Of course, he also had 30 wins in his 76 starts, during which he compiled a 3.12 ERA.