New York Mets:

Tampa Bay Rays
March, 27, 2014
Mar 27
5:45
AM ET
PORT ST. LUCIE, Fla.
FIRST PITCH:
The Mets are set to bolt from Florida late Thursday afternoon.
After completing Grapefruit League play with a 12:05 p.m. game against the
Washington Nationals
at Tradition Field (ESPN/SNY), the Amazin's head to Montreal for a pair of weekend games against the
Toronto Blue Jays
at Olympic Stadium.
Plenty is going on at the Mets' complex as the team readies to depart.
Jonathon Niese
is scheduled to throw in a 1 p.m. minor-league game. The action comes 10 days after Niese received a cortisone injection in his left elbow in New York to address inflammation. Assuming Niese passes this test, plus another minor-league outing five days later, he will be activated from the disabled list to face the
Cincinnati Reds
on April 6 at Citi Field.
A setback means
Daisuke Matsuzaka
and
Jenrry Mejia
will be in the rotation.
Also on a minor-league field Thursday,
Bartolo Colon
pitches. The Mets prefer Colon pitch on the back field rather than face the Nats because Colon is scheduled to oppose Washington's
Gio Gonzalez
in Game 2 of the regular season in six days at Citi Field.
Prospect Cory Mazzoni will oppose
Jordan Zimmermann
in the Grapefruit League game.
Thursday's news reports:
•
Dillon Gee
tossed six no-hit innings
against the
Houston Astros
in his final tune-up for Opening Day. He finished Grapefruit League play with a 1.08 ERA and one walk allowed in 16 2/3 innings. The Mets actually lost the game, 9-6, thanks to a seventh-run seventh against
John Lannan
,
Gonzalez Germen
and
Carlos Torres
. Read more in the
Star-Ledger
,
Daily News
and
MLB.com
.
Adam RubinVic Black was demoted Wednesday.
• The Mets demoted
Vic Black
to Triple-A Las Vegas. Once a bullpen lock, Black
pitched himself off the roster
by allowing 23 baserunners in 9 1/3 innings.
Germen will make the roster with Black's demotion.
Jose Valverde
, who was informed midday Wednesday that he had made the club, will
serve as the primary setup man
to
Bobby Parnell
. Parnell may not work more than two straight days early in the season.
Read more on Black's demotion and the bullpen composition in the
Post
,
Journal
,
Star-Ledger
,
Newsday
and
MLB.com
.
•
Kyle Farnsworth
officially
re-signed with the Mets
and is expected to open the season with Las Vegas. He has an out a month into the season if he is not promoted to the majors by then.
• The Mets do
not expect to make any trades
before Opening Day.
• Before Friday's Mets-Blue Jays game in Montreal, there will be a pregame ceremony honoring the late Gary Carter, who starred for the Expos before arriving in Queens via trade. The Kid's family will be on hand.
"It is going to be hard. It hasn't been two years yet, but I knew we had to be there," widow Sandy Carter told Kristie Ackert
in the Daily News
. "I agreed when I heard there would be a game at the old park. And then when I heard it was the Mets, I knew it was right. It's like two pieces of our hearts joining together that night."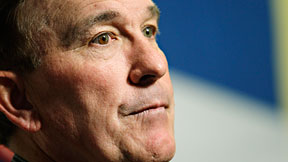 Frank Franklin II/Associated PressThe late Gary Carter will be honored before Friday's game at Olympic Stadium.
As for Sandy Carter's Montreal experience, she tells the newspaper: "We grew up there. We were 21 and 20 when we got married and moved there. He learned French to be more involved with the fans and the franchise. We were building a house there. And then we started hearing about the trade.
"At first we were shocked, and then we heard from the Mets how Gary was the missing piece of the puzzle there. It was a different challenge, but it was a wonderful one. And the 1986 World Series … well … that was just the best."
• Fifty-nine percent of New York City residents would root for the Yankees in an October Subway Series and 37 percent would root for the Mets, a
Quinnipiac University poll finds
. Of the NYC residents surveyed who identified themselves as "very" or "somewhat" interested in baseball, 61 percent said the Yankees were their favorite team and 27 percent said the Mets. The Yankees even have more fans than the Mets in Queens, by a 50-43 margin, the study found. Check out the full results
here
.
• Forbes appraised the Mets at $800 million, the ninth-most valuable MLB team. The Mets annually dispute the magazine's appraisal. The Yankees lead MLB with a $2.5 billion appraisal, followed by the Dodgers at $2 billion. The
Tampa Bay Rays
are worth the least, at $485 million. See Forbes' full valuation list
here
. Read more in the
Post
.
• Columnist Joel Sherman in the Post suggests Terry Collins has his work cut out for him finding playing time for
Ike Davis
and
Lucas Duda
. Writes Sherman:
One Mets official admitted, "It is not ideal." Which is currently the 2014 baseball season leader for understatement of the year. If it were just that the two bat from the same side of the plate and play the same position, and that neither has remained healthy enough or good enough to win the job outright, then it could all be chalked up as a simple problem of roster inflexibility, and deal with that Terry Collins.
But, come on, we see the real day-after-tomorrow problem coming as clearly as Knicks coach Mike Woodson's dismissal. Unless one of the duo seizes the job and doesn't let go -- and what in either's past suggests that likelihood -- then Collins is going to face the daily dilemma, disquiet and discussion about who is going to play first base.
• Mike Puma
in the Post
writes that
Ruben Tejada
has won the shortstop competition by default.
•
Juan Lagares
needs to concentrate on strike-zone discipline to be a regular with the Mets. Collins pointed to a game Tuesday in which Lagares chased a fastball way up and out of the zone and struck out. Read more in the
Star-Ledger
and
Newsday
.
• Anthony DiComo
at MLB.com
has a Q&A with broadcaster Kevin Burkhardt.
• Columnist David Lennon
in Newsday
asks
David Wright
if the Mets have kept the promises they made to him when he signed an eight-year extension.
• The
New York Observer
has a lengthy cover piece on Wright. Writes Rafi Kohan:
When I ask about his relationship with Fred Wilpon, the team's owner, who openly ripped Wright -- "A really good kid. A very good player. Not a superstar." -- in a 2011 New Yorker article that focused on the team's financial dealings with Bernie Madoff, Wright sighs and says the whole thing was blown out of proportion. "Did it sting a little bit? Of course," he says, "because you're talking about your owner saying these things. But our relationship is strong enough that he can say that and it's not going to break the loyalty that either one of us have for one another."
•
From the bloggers …
Rising Apple
staff gives its Mets record predictions.
BIRTHDAYS:
Matt Harvey
turns 25. ... 2011 first-round pick Brandon Nimmo is 21.
TWEET OF THE DAY:
HOFer Gary Carter #MLB #Mets #Expos pic.twitter.com/gbeulXKbWA

— Stormin Norman (@Stormin1Norman) March 26, 2014
YOU'RE UP: Are you surprised by Vic Black's demotion?
February, 19, 2014
Feb 19
6:34
AM ET
John Minchillo/Associated PressSandy Alderson wants to be general manager of the Mets for two or three more years, according to the Post.
PORT ST. LUCIE, Fla.
FIRST PITCH:
With position players due to report Thursday and the first full-squad workout scheduled for Saturday, the Mets have all but two of their players already in camp --
Omar Quintanilla
and
Wilfredo Tovar
.
Wednesday's news reports:
• Sandy Alderson wants to
remain Mets GM for two or three more years
, but "definitely not five," Mike Puma reports
in the Post
, quoting a source. Alderson is in the fourth year of his original four-year deal, which also includes a team option.
• Alderson confirmed to columnist Bill Madden
in the Daily News
that the Mets' offer to closer
Grant Balfour
exceeded the two-year, $12 million deal he accepted from the
Tampa Bay Rays
. Alderson told Madden he did not make a similar offer to
Fernando Rodney
(who ultimately signed for two years, $14 million with the
Seattle Mariners
) because Rodney's camp indicated it wanted $10 million-plus a season.
• The
Pittsburgh Pirates
will continue to monitor
Ike Davis
for a potential trade,
ESPN's Jayson Stark reports
.
Meanwhile, will getting Davis double the typical number of spring-training at-bats help guard against another slow start to the season? Collins said it worked for
Tim Salmon
while Collins managed the Angels in the late 1990s. Still, Mike Vorkunov
in the Star-Ledger
notes that the Phillies'
Domonic Brown
led the majors last spring training with 90 at-bats and then hit only .233 in April.
• A Mets official severely
downplayed a report the club is having dialogue
with free-agent
Nelson Cruz
.
• The Mets signed right-hander
Buddy Carlyle
to a minor-league contract
. Carlyle, 36, did not receive an invitation to big-league camp. Lefty
Dana Eveland
also received a minor-league contract with no invite.
• How excited can you really get about prospects, especially if you're familiar with the bust that was Generation K? Writes columnist Ken Davidoff
in the Post
:
There's only one proven method for the optimists to prevail, and that's with sheer numbers. These Mets hope they're building such a model for success.
"We know the history. Some guys don't make it. That's just what happens," Paul DePodesta, the Mets' vice president of player development and amateur scouting, said Monday. "They get hurt. They have a disappointing performance. They don't continue to develop at the same rate they had previously.
"But I think we've gotten to the point now, in terms of volume, where some of them are going to make it. Not every one of them will, but a good number of them should, based on what we have at this point."
• Terry Collins does not foresee
Wilmer Flores
on the big-league roster
if Flores is not a starter. Flores, meanwhile, is
confident he can play shortstop
on the limited occasions he gets exposure there during spring training. Read more in the
Journal
,
Star-Ledger
,
Record
and
Newsday
.
• Collins affirmed right-handed prospect Cory Mazzoni will get consideration for
the Opening Day roster as a reliever
, despite serving as a starter in the minors. Mazzoni actually breaking camp with the Mets would appear an uphill battle, though, unless there are injuries or
Jose Valverde
and
Kyle Farnsworth
are busts. Further complicating it: Mazzoni is not yet on the 40-man roster. John Rowe
in the Record
looks at the Mets' late-inning relief.
• How can
Eric Young Jr.
increase his on-base percentage
? By bunting more, Collins believes.
Regarding Young's capability to increase his OBP, Alderson tells Marc Carig
in Newsday
: "The question is whether he has the potential to improve on that if it becomes a priority. On-base percentage is often a function of approach as opposed to mechanics. If we were asking him to hit 30 home runs, that's not going to work. But guys can adjust." Read more in the
Star-Ledger
.
•
Juan Lagares
will start in center field in the Grapefruit League opener on Feb. 28, but will he be in the outfield on Opening Day at Citi Field? With
Curtis Granderson
and
Chris Young
now on board, that seems to depend upon whether EY Jr. is a starter. "I think I did good last year, but I know I can do a little better," Lagares
told the Post
. Read more in the
Daily News
.
• Hitting coach Dave Hudgens believes
Travis d'Arnaud
will
have more success at the plate
now that he is not trying to hit every pitch for a homer.
• Mets pitchers in 2013 had their most strikeouts and fewest sacrifices in the team's past five seasons, writes Marty Noble
at MLB.com
.
Bartolo Colon
, who has not played in the National League since 2002 with the Montreal Expos, has blisters from practicing hitting so much this offseason in the Dominican Republic, according to the report.
•
Kirk Nieuwenhuis
is not forgotten
, Collins told the outfielder Tuesday.
•
Zack Wheeler
does not mind
getting less attention
this spring training with Noah Syndergaard generating the buzz.
• Mets pitchers are
not keen on wearing the new protective hats
, although several pledged to try it once a shipment arrives.
• With three Mets players' surnames beginning with lower-case "D's -- d'Arnaud,
Matt den Dekker
and
Jacob deGrom
-- team equipment manager Kevin Kierst worked with Majestic to design lower-case uniform letters, writes Jared Diamond
in the Journal
.
• Unemployed reliever
Tim Byrdak
had a little fun tweeting
a job-wanted advertisement. Read more in the
Daily News
.
• Free-agent
Johan Santana
continues discussions with the
Minnesota Twins
, but no deal is imminent, Venezuelan journalist Efrain Ruiz
tweeted
.
• The
Houston Astros
may relocate their spring-training complex to the area, but there are
no active discussions with the Mets
about sharing the Port St. Lucie complex, according to a source. The Astros, who originally tried to pair with the
Toronto Blue Jays
to build a complex, now may partner with the
Washington Nationals
somewhere in Palm Beach County,
the Houston Chronicle reports
.
•
From the bloggers …
Faith and Fear in Flushing
is pleased WOR and the Mets have found 710 ways to please their listeners. …
Mets Police
asks if you would trade Syndergaard and d'Arnaud for
R.A. Dickey
. … John Delcos at
Mets Report
concludes the organization has future payroll flexibility. …
NY Mets Life
looks at the lost art of the complete game.
BIRTHDAYS:
Poet and former Mets pitcher
Miguel Batista
turns 43. … Alvaro Espinoza is 52. … Tim Burke turns 55.
TWEET OF THE DAY:
Offers have been slow so I thought I'd practice for 2018. I should have followed IKEAs directions on the sled ! pic.twitter.com/7o1LwkLdaf

— Tim Byrdak (@Givemethelefty) February 18, 2014
YOU'RE UP: Do you want Sandy Alderson to remain GM a few more years?
January, 23, 2014
Jan 23
3:16
PM ET
Grant Balfour
, who signed a
two-year, $12 million deal
with the
Tampa Bay Rays
to close games, had an identical offer on the table from the Mets, a source told ESPNNewYork.com.
A Mets official disputed to the New York Post a similar report by Fox's Ken Rosenthal.
Balfour chose the Rays because they were closer to his Clearwater, Fla., home, a source told ESPNNewYork.com.
Balfour went 1-3 with a 2.59 ERA and 38 saves in 65 relief appearances for the
Oakland Athletics
last season.
The Mets' offer suggests they do have payroll flexibility under the right circumstances. The payroll currently stands at about $87 million.
The offer also underscores how, despite the optimism, it is not fully known how
Bobby Parnell
will recover from herniated disk surgery.
December, 13, 2013
12/13/13
5:52
PM ET
Free-agent
James Loney
has agreed to a multiyear deal with the
Tampa Bay Rays
, further narrowing the potential destinations for
Ike Davis
in a trade.
Sending Davis to the
Milwaukee Brewers
would appear the most likely scenario. Sandy Alderson and Doug Melvin, his Milwaukee counterpart, continued to chat as the winter meetings concluded.
The
Pittsburgh Pirates
and
Houston Astros
also were searching for first basemen, but did not appear active in pursuing Davis this week.
December, 12, 2013
12/12/13
10:33
AM ET
LAKE BUENA VISTA, Fla. -- Mets executives departed the winter meetings midday Thursday, having enjoyed what could be labeled a productive week.
The Mets announced on Tuesday their four-year, $60 million deal with
Curtis Granderson
, which completes the overhaul of the outfield when coupled with
Chris Young
's previous signing. And they helped offset the sting of losing
Matt Harvey
for 2014 by agreeing to a two-year, $20 million contract with
Bartolo Colon
pending a physical.
A team official said the Colon pursuit increased during the winter meetings, and was not something the club had zeroed in on to accomplish when it arrived.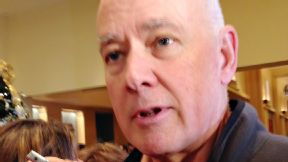 Adam RubinSandy Alderson dissects winter meetings.
"We have three established starters," Alderson said. "It's not quite enough. We have lots of young talent. But we don't want to rely on it entirely. And it also provides us the kind of depth that we're going to need through the course of the season. So adding experienced pitching, whether at the top end of a rotation or elsewhere, was an important factor for us."
Those manuevers lifted the payroll to roughly $87 million, when $4 million is factored in to account for players being on the DL and the Mets paying more than 25 active players at any given time.
The heavy lifting that remains centers on trading first baseman
Ike Davis
, signing a fifth starter, getting some veteran late-inning bullpen help and at least investigating an upgrade from
Ruben Tejada
at shortstop.
Milwaukee Brewers
GM Doug Melvin and Sandy Alderson were spotted chatting again Thursday morning, presumably about Davis, as the meetings were breaking up.
Alderson severely downplayed the chances of the Mets signing free-agent
Stephen Drew
. While the Mets are prepared to use Tejada, Alderson said upgrades via trade would still be investigated. The Mets also will listen on trade offers for
Daniel Murphy
, but it is appearing more likely he remains with the Mets.
"I think it's more likely if we come up with a 'high-end' shortstop or someone we like, it's more likely to come in a trade," Alderson said.
As for the progress on the shortstop front, Alderson added: "I wouldn't say we have traction. We have more knowledge today than we did before."
Davis was not traded during the winter meetings, but his days as a Met certainly appear numbered, with the
Tampa Bay Rays
and Brewers the two most likely destinations. Tampa Bay and Milwaukee both like free-agent
James Loney
, who is seeking a three-year deal, according to a source. Neither club is expected to bid beyond two years. And once Loney settles on a landing spot, Davis could end up with the club that does not prevail, although Texas'
Mitch Moreland
also is available. The
Pittsburgh Pirates
also are believed to be courting Loney.
An official from one team in pursuit of Davis said the Mets are not being unreasonable with trade demands. A trade could happen soon.
"The situation for players ebbs and flows," Alderson said. "In that regard, right now, it seems to be flowing. But, again, things are highly unpredictable."
If Murphy stays and the Mets do not upgrade at shortstop, one interesting lineup question will be: Do the Mets have to get
Eric Young Jr.
into the lineup and leadoff spot? That was a topic of conversation among club officials later in the winter meetings. There have been some rumblings
Juan Lagares
could end up on the bench or in Triple-A, despite his Gold Glove-caliber defense. The bottom line: The Mets have such little margin for error that it would be hard to carry an unproductive bat. And they really do not have a clear-cut alternative to Young as leadoff hitter, although they were chatting about alternatives that would allow Lagares to remain in the lineup.
As for what the lineup might look like without Lagares, it sounds like this is plausible based on Terry Collins' statements:
E. Young, lf
Murphy, 2b
David Wright
, 3b
Granderson, rf
Lucas Duda
, 1b
C. Young, cf
Travis d'Arnaud
, c
Tejada, ss
If Murphy gets traded, Young could slide over to second base, reopening center field for Lagares. Collins said he is undecided about his Nos. 5 and 6 hitters being Duda-Young or Young-Duda.
The rotation right now:
Jonathon Niese
, Colon,
Zack Wheeler
and
Dillon Gee
. The Mets likely will add an external fifth-starter candidate, probably on a major-league deal with a low base salary -- think a
Daisuke Matsuzaka
or
Aaron Harang
type. If it is an internal candidate, it could be
Jenrry Mejia
,
Jacob deGrom
or Rafael Montero. Either way, that would allow Noah Syndergaard to open the season at Triple-A Las Vegas and debut in June or July, as Harvey and Wheeler did the past two seasons.
In concluding business Thursday, the Mets selected right-hander Seth Rosin in the major-league phase of the Rule 5 draft. But that was done with the intention of trading him for cash to the Dodgers. He will not be in camp with the Mets.
"Who's on a $5 bill? That would be the player to be named later," Alderson quipped.
The club lost left-handers Jim Fuller and Carlos Vazquez and right-hander Martires Arias in the minor-league phase of the draft. The Mets added Jonathan Velasquez, a Double-A right-hander from the
Minnesota Twins
organization, in the minor-league phase.
"We're very happy," Alderson said. "And, I think, we're positioned to do perhaps some other things later on. But we're happy with the four days. ... I think what we're going to do is go home, reassess what's available to us. And as we get into the last part of December and even into January, I'm sure we'll do some things. They may not be spectacular -- but, we hope, additive to what we've already done."
June, 14, 2012
6/14/12
4:45
PM ET
WHAT IT MEANS: Kirk Nieuwenhuis
had a two-homer game for the first time in his career and the Mets rebounded from their Bronx tailspin by sweeping the Tampa Bay Rays
with a 9-6 win
Thursday afternoon.
Nieuwenhuis became the first Met to open a first inning with a homer this season.
His second long ball broke a 4-4 tie in the fourth.
Lucas Duda
followed with a two-run double that inning to give the Mets a four-run lead and chase Rays starter
Jeremy Hellickson
.
The Mets last produced a sweep in an AL ballpark two seasons ago, when they ran the table in consecutive interleague series at Baltimore and Cleveland.
The three-run margin of victory means the Mets now have finally scored more runs (291) than they have allowed (290) this season.
Tampa Bay produced two ninth-inning runs against
Miguel Batista
and
Frank Francisco
and brought the winning run to the plate. Francisco struck out
Ben Zobrist
with the bases loaded to end it.
STANDING TALL: Jon Rauch
had a big pick-me-up for
Johan Santana
.
With the Mets leading 8-4 in the sixth, Rauch inherited the bases loaded and none out from Santana. Rauch struck out
Sean Rodriguez
and
Jose Lobaton
, then retired
Elliot Johnson
on a groundout as the Rays squandered the comeback opportunity.
Demoted from late-inning work after serving up the game-ending homer to
Russell Martin
in the series finale at Yankee Stadium, Rauch now has stranded nine of 13 runners this season.
Santana's final line: 5+ IP, 6 H, 4 R, 4 ER, 4 BB, 6 K.
Rauch on Tuesday also entered in the sixth inning. That night against the Rays, he coaxed an inning-ending foul pop from
Desmond Jennings
.
BAY WATCH: Jason Bay
, 2-for-25 since returning from the DL, nonetheless delivered his first homer since April 20. The second-inning solo shot staked the Mets to a 2-0 lead.
IKE! Ike Davis
continues to work himself out of an offensive rut. Davis delivered an RBI single in the third that gave the Mets a 4-3 lead at the time. He then walked in his next plate appearance. He also drove in
David Wright
(three runs scored) in the ninth. Davis went 2-for-4 and is now hitting .188.
Davis hit .346 (9-for-26) on the three-city trip, which included the road series in the Bronx. That took him off the hot seat for potentially losing his first-base job with the Mets returning to NL play.
WHAT'S NEXT: Dillon Gee
(4-4, 4.42 ERA) opposes right-hander
Bronson Arroyo
(2-4, 3.79) in Friday's series opener against the NL Central-leading Cincinnati Reds. REO Speedwagon performs a postgame concert. The Mets' top two picks, Louisiana high school shortstop
Gavin Cecchini
and Purdue catcher
Kevin Plawecki
, will take batting practice pregame. Cecchini is ticketed for Kingsport, while Plawecki is expected to play for Brooklyn.
June, 13, 2012
6/13/12
9:48
PM ET
Recap
|
Box score
|
Photos
WHAT IT MEANS: R.A. Dickey
tossed a one-hitter and extended his scoreless streak to 32 2/3 innings to break
Jerry Koosman
's franchise record before the streak ended in hard-luck fashion. And the Mets got production from
Ike Davis
and
Mike Nickeas
to beat the Tampa Bay Rays, 9-1, Wednesday at Tropicana Field.
Dickey surpassed the 31 2/3 straight scoreless innings by Koosman that had stood as the Mets record since 1973.
Dickey lost the scoreless streak in the ninth, when
David Wright
's error, two passed balls and a groundout resulted in an unearned run.
The knuckleballer might have been bidding for the second no-hitter in franchise history, but Wright failed to barehand childhood friend
B.J. Upton
's slow chopper in the first inning and Upton was awarded a two-out infield single.
Dickey also owns the longest scoreless streak in the majors this season, topping the 24 2/3 innings tossed by Washington's
Gio Gonzalez
.
Dickey last had surrendered a run in the sixth inning at Pittsburgh on May 22, on a sacrifice fly by
Andrew McCutchen
.
He became MLB's first 10-game winner. The last time the Mets had a double-digit winner through the team's first 63 games:
Bobby Jones
in 1990. (St. Louis'
Lance Lynn
, who entered the day with nine wins, is facing the Chicago White Sox on Wednesday night.)
Dickey struck out 12, setting a career high.
IKE! Terry Collins
started Davis for only the second time in the last eight games the Mets faced a left-handed starter. And Davis continued to show signs he is breaking out of a season-long rut.
Facing
David Price
in his first plate appearance, Davis turned an 0-2 count into a walk. Davis then doubled and came home on Nickeas' single in the fifth to open the scoring. He also singled in a four-run sixth that chased Price. Davis, who went 2-for-3, has upped his average to .181.
NO SKIDDING: Jason Bay
snapped an 0-for-18 drought since returning from the DL with a sixth-inning single. Nickeas snapped 0-for-14 and 2-for-39 skids with the single that scored Davis. Meanwhile,
Andres Torres
halted an 0-for-11 skid with a game-opening single.
WHAT'S NEXT:
Johan Santana
(3-3, 2.96) tries to right himself after his letdown in the Bronx when the Mets go for the sweep in a 1:10 p.m. matinee Thursday. Santana opposes right-hander
Jeremy Hellickson
(4-2, 2.65). Collins continued to blame himself Wednesday afternoon for giving Santana two extra days of rest after the no-hitter and taking the southpaw out of his rhythm.
Daniel Murphy
is scheduled to get the series finale off, according to Collins.
June, 13, 2012
6/13/12
11:08
AM ET
By
Mark Simon, ESPN Stats & Information


Dickey's Going for History
R.A. Dickey enters with a 24-2/3 inning scoreless streak, seven innings shy of the Mets' record set by Jerry Koosman in August/September, 1973.

Dickey also enters with a seven-game winning streak. The two pitchers whom Dickey most credits as being influences on his knuckleball, Hall of Famer Phil Niekro and ex-Red Sox pitcher Tim Wakefield, each had longer streaks.

Niekro's longest was an eight-gamer in 1982. Wakefield had a 10-game winning streak with the Red Sox in 1995.

Get a Whiff of This
Dickey has struck out at least eight hitters in each of his last five appearances, the best such streak by any major league pitcher this season.

As my Stats & Info colleagues noted and you may have read elsewhere, the last Mets pitcher with a streak that long was Pedro Martinez, who had a run of six straight such starts in 2006.

Hitters have been able to put the ball in play against Dickey on just 31 percent of their swings during this stretch. The only pitcher with a lower rate can throw the ball about 25 mph harder than Dickey, Stephen Strasburg (29 percent).

This is particularly noteworthy for Dickey, because there is no starting pitcher getting hitters to swing more often than him. In the last five starts, hitters have swung at 55 percent of the pitches he's thrown.

Dickey's biggest improvement during this strikeout stretch is against left-handed hitters, as noted in the chart on the right. His approach has been one of working his pitches (particularly his knuckleball) to the outer third of the plate or further away more often, and it has worked.

It will be interesting to see how Rays manager Joe Maddon approaches his lineup and if he suggests any switch-hitters bat right-handed versus Dickey, as some in the NL have done.

The Other Guy's Been Pretty Good Too
Fellow Tennessean David Price provides a formidable foe for Dickey on Wednesday night. Price has a 1.98 ERA in his last nine starts, a 1.03 ERA in his last four starts, though he lasted only five innings against the Yankees his last time out.

Price did average almost 97 mph on his fastball in that start, with his 96.7 mph average being his second best in the last four seasons (he averaged 96.8 in a start in 2010).

Price's toughest matchup might be Scott Hairston, whose run of recent success started right around the time Dickey started amassing the strikeouts.

Hairston is 11-for-his-last 24 against left-handed pitching since May 18 (Dickey's five-start strikeout run started the day before). Hairston has more home runs against lefties in that span (five) than strikeouts (four).

The only Mets hitter with experience versus Price is Jason Bay, who is 2-for-5 with a home run against him, all done during the 2009 season.
June, 12, 2012
6/12/12
10:29
PM ET
Recap
|
Box score
|
Photos
WHAT IT MEANS:
Inserted at DH by
Terry Collins
,
Jordany Valdespin
had a career-high four RBIs, and the Mets bounced back from a Subway Series sweep. In their first regular-season visit to St. Petersburg since 2001, the Mets beat the Tampa Bay Rays, 11-2, Tuesday night at the Trop.
The scoring output was the Mets' season high.
Valdespin's two-run single in the fifth gave the Mets a 3-2 lead. Two innings later, he pushed the cushion to two runs with an RBI double down the first-base line against Rays starter
Alex Cobb
.
The Mets eventually produced six runs in the seventh -- their most in an inning this season -- as
Daniel Murphy
deposited a two-run single into shallow center field and
Ike Davis
belted a three-run homer against left-hander
J.P. Howell
.
Davis (2-for-4, BB) last homered May 11, against Miami's
Mark Buerhle
. He had his first multi-hit game since May 9, although the first hit was a bunt single.
Valdespin also an RBI groundout in the eighth. The four RBIs matched the third-most by a Mets DH in franchise history.
Carlos Delgado
had nine RBIs against the Yankees in 2008, while
Cliff Floyd
had five RBIs against Texas in 2003.
Bernard Gilkey
also had four RBIs, against Baltimore in 1997.
STANDING TALL: Chris Young
logged 5 2/3 innings in his second major league start since returning from May 16, 2011 surgery to repair a torn anterior capsule.
In a 106-pitch effort, Young limited Tampa Bay to a pair of first-inning runs, despite overall surrendering nine hits and two walks while striking out four.
Young departed with a 3-2 lead and runner on first base.
Jon Rauch
, in his return to the mound following serving up
Russell Martin's
game-ending homer Sunday in the Bronx, completed the frame by coaxing a foul popup from
Desmond Jennings
.
NO CEILING FANS: Lucas Duda
and
Kirk Niewenhuis
lost fly balls in consecutive early innings amid the white roof at Tropicana Field. Both were scored hits -- a double by
Sean Rodriguez
in the second and single by
Matt Joyce
in the third. Neither ultimately cost Young in terms of damage, but it did drive up his pitch count and cause an earlier-than-desired departure.
AT BAY: Jason Bay
went 0-for-5 and is now hitless in 16 at-bats since returning from the DL.
WHAT'S NEXT: R.A. Dickey
takes a 24 2/3-inning scoreless streak into Wednesday's matchup with
David Price
(8-3, 2.40 ERA). Dickey (9-1, 2.44) is one out shy of tying the longest streak in the majors this season, and seven scoreless innings shy of matching
Jerry Koosman's
franchise record, set in 1973. According to STATS, the Dickey-Price matchup will mark only the second time NL and AL win leaders have matched up. The other instance: Boston's
Josh Beckett
(then 10-1) opposing San Diego's
Jake Peavy
(9-1) on June 24, 2007.
May, 16, 2011
5/16/11
11:00
AM ET
By
Mark Simon
| ESPNNewYork.com
If you had a choice right now, which current major league teams would you take? The ones based in New York or the ones based in Florida?

The Marlins are coming to New York to face the Mets on Monday. The Rays host the Yankees at Tropicana Field. A couple of recent losses notwithstanding, the Florida teams are currently outperforming their New York counterparts.

Both the Marlins and Rays are on pace to win 90 games and both are enjoying success on a limited budget.

Meanwhile, both New York teams are currently struggling with on and off field issues (the Mets with the sale of the team and the potential trades of their stars; the Yankees with Jorge Posada).

The two New York teams are a combined 39-39 despite Opening Day payrolls that totaled nearly $322 million (the Yankees ranked first, the Mets seventh). The two Florida teams had Opening Day payrolls totaling $98.8 million, with neither ranking higher than 24th in the majors. The two are 46-33, with each ahead of their New York counterpart in the standings.

The primary reason for the success of the 2 Florida teams— their pitching. Both teams have had their top two returning starting pitchers from last season excel. The Mets and Yankees both have had injury issues at the top of their rotations, between Johan Santana and Phil Hughes.

And both have gotten great work from their bullpens, which are anchored by names of far lesser significance than Mariano Rivera and Francisco Rodriguez. The Rays bullpen is headed by former Yankee Kyle Farnsworth. We dare all but the most hard-core baseball fans to identify any other relievers on that team, or the Marlins.

But their bullpens have combined for a 2.91 ERA and allowed just 13 home runs in 219 1/3 innings pitched. The Mets and Yankees are a bit behind them (3.19 ERA, 20 home runs in 243 innings).

Lastly, if you look at the core players on each of these teams, though the Marlins and Rays may have fewer, they have two advantages-- their core players (Hanley Ramirez and Josh Johnson; Evan Longoria and David Price) are young and are under their control for an extended period of time. Both the Mets and Yankees are in periods of transition, with players who are either aging, closing in on free agency, or both (see Derek Jeter, Carlos Beltran, and Jose Reyes among them).

Longoria and Price are each 25. Johnson and Ramirez are each 27. They are entering what should be the best years of their career. The Mets best players are close to departure. The Yankees best players will soon be retiring.

So we again pose the question: Which teams would you rather be? The ones in New York or the ones in Florida?