New York Mets:

Teddy Stankiewicz
July, 18, 2012
7/18/12
4:00
PM ET
Mets VP of player development Paul DePodesta discussed the state of the farm system and recent signings with ESPNNewYork.com.
Here's Part II:
Q:
You identified
Josh Edgin
a year ago, when he was in Class A, as an under-the-radar prospect who could reach the majors fairly quickly. Are there any players in the lower levels of the minors, or unheralded, who might fall into that category this time?
DePodesta:
"I don't like making those predictions often, especially after they come true. Not necessarily. I do think there are some guys who are certainly under the radar for us that have a chance to come pretty quickly and that have done a really nice job this year in various roles. Predicting when they're going to come to the big leagues is incredibly difficult. And it's not always dependent just on their performance. But certainly guys like
Cory Mazzoni
,
Rafael Montero
. There are certainly some interesting bullpen arms that we have, too, that have had very nice years. Those are at least some arms that we have that haven't gotten quite the attention of some of our bigger names, but are guys who could continue to move closer next year. Not necessarily to the big leagues, but I think be closer and closer."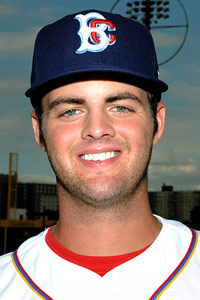 Courtesy of Brooklyn Cyclones
Cory Mazzoni

Q:
You gave 16-year-old shortstop
German Rosario
$1.7 million out of the Dominican Republic this month. That's the highest international bonus ever by the organization. What did you see?
DePodesta:
"It was really the total package. Certainly on the field he was extremely athletic. I think he has a chance to be a plus defender, almost no matter where he plays. Even if he outgrows shortstop, which is certainly a possibility, just his actions and instincts on the field are extraordinary. He has a chance to hit for enough power and do enough damage to probably play anywhere on the field. But I really think he has a chance to be sort of dynamic player that will contribute both offensively and defensively.
"The other part of the package, which really was just as important to us, is he's a very smart young man. He's highly educated. He just did graduate high school, which is pretty rare for players in that marketplace. His father is a judge. One of his sisters graduated from law school. The other one is in law school. His mother is a college graduate. I mean, it's a highly educated family.
"I think he's very well grounded. I think he's very mature. He's just different, quite frankly, than most kids in that marketplace. And I think it was all those qualities combined that really attracted us to him and made us feel like he was worth the gamble."
Q:
Broadly on the draft, how did the new rules that give you a pool of money to allocate to your picks fit for you? And, for lack of a better word, were you able to find ways to exploit the system and find avenues to accomplish what you sought?
July, 14, 2012
7/14/12
5:48
AM ET
ATLANTA --
Chris Young
surrendered five runs in three innings and the
Mets lost their second-half opener, 7-5
to the Braves on Friday night. The game -- played on the 35th anniversary of the New York City blackout, which halted a game at Shea Stadium -- included the lights going out at Turner Field,
forcing a 16-minute delay
in the second inning.
After posting a scoreless inning in the All-Star Game,
R.A. Dickey
bids for his 13th win Saturday when he opposes right-hander
Tommy Hanson
at 4:05 p.m. ET. The Braves handed Dickey his lone 2012 loss, albeit in the rain, which made the knuckleball difficult to grip.
Saturday's news reports:
•
Dillon Gee
underwent surgery Friday in St. Louis
to replace a portion of a damaged artery in his right shoulder. He is due to be discharged from Barnes-Jewish Hospital on Tuesday or Wednesday. The likelihood is Gee is done for the season, although there is an outside chance he could return in late September, or in October if the Mets are still playing. Read more in the
Record
and
Post
.
•
Frank Francisco's
return is on hold after the closer was shut down with
continued oblique discomfort
.
Jason Bay
, meanwhile,
went 0-for-3 with a walk
for the second straight day with Class A St. Lucie, this time as the DH.
Terry Collins
indicated Bay quickly would move to Triple-A Buffalo, paving the way for him to potentially be activated for next week's series in Washington. Read more in the
Star-Ledger
and
Daily News
.
•
Josh Edgin
described his major league debut as mixed. He inherited the bases loaded from
Miguel Batista
and recorded a pair of strikeouts to strand three in his first frame. Then, after recording a pair of outs in the sixth, Edgin surrendered a homer to
Chipper Jones
on a hanging slider and a double to
Freddie Freeman
on a fastball over the plate before being removed. Collins had
pledged that Edgin would be tested
. Read more in the
Post
,
Times
,
Record
,
Journal
and
Newsday
.
• Read game recaps in the
Times
,
Post
,
Newsday
,
Star-Ledger
,
Daily News
and
Record
.
• Writes columnist
Joel Sherman
in the Post
:
In the first half of the season, the Mets' rotation was akin to a good offensive line camouflaging a bad quarterback. Just in their case the bad quarterback was the majors' worst bullpen. The Mets were the only team that had four starters top 100 innings while pitching to an ERA of 4.10 or lower. The relief damage was overt. But imagine how much worse it would have been without consistent length and excellence from the rotation. Right now, though, the first half feels like the good old days. Day 1 of the second half had that Waterloo-ish feel for the Mets.
• Young threw only 71 pitches, which means he should be able to
return without issue on standard rest Wednesday
in D.C. That would delay the need for a fifth starter in Gee's slot until next Saturday against the Dodgers at Citi Field. Batista had the inside track, but he did himself no favors by walking four and surrendering a hit while recording four outs.
Matt Harvey
next pitches Monday for Buffalo, at least putting him on the proper rest for consideration to face the Dodgers, even if Collins has called the chance he gets that start "remote."
• Dickey could be seeing
regular action on short rest
if the Mets remain in the race after Aug. 1, Collins indicated. Read more in
Newsday
.
•
Johan Santana
, whose cranky right ankle prompted the Mets to delay his start, is
fine to face the Braves on Sunday
, he indicated. Santana threw a bullpen session Friday afternoon at Turner Field.
• The Mets will sign 39-year-old left-hander
C.J. Nitkowski
to a minor league deal
and assign him to Double-A Binghamton. Read more in
Newsday
.
• The draft deadline passed at 5 p.m. Friday and the Mets
did not sign one top pick
. Second-round selection
Teddy Stankiewicz
(75th overall) apparently is headed to the University of Arkansas. The Mets will pick up an extra pick at 76th overall in 2013.
• The Brooklyn Cyclones'
bus had a misadventure
en route from Connecticut to State College on Friday night.
•
Jeurys Familia
tossed 6 1/3 scoreless innings and
Josh Satin
and
Matt Tuiasosopo
had two-run homers in Buffalo's 6-2 win against Pawtucket. Read Friday's full minor league recap
here
.
•
Dave Cameron
in the Journal
examines how many wins it may take to reach the postseason now that there is an extra wild-card team in each league. Writes Cameron:
The two wild-card system lowers the barrier to entry to around 89 wins on average, giving additional hope to teams sitting on the bubble. Under the new postseason system, the 1997 Angels would have earned the second wild card with an 84-78 record. Three other teams in other years would have gotten the wild card with just 85 wins.
•
Lenny Dykstra
pleaded guilty Friday in Los Angeles
to bankruptcy fraud, concealment of assets and money laundering. He faces up 20 years in prison at a Dec. 3 sentencing.
• Braves catcher
Brian McCann
should be back Saturday. He missed Friday's game for the birth of his first child. Read more
in the Atlanta Journal-Constitution
. The Braves may imminently be acquiring a shortstop,
according to the newspaper
. That was the case even before
Jack Wilson
dislocated the middle joint of his right pinkie during Friday's game.
•
Cody Derespina
in Newsday
looks at more players who may be available at the trade deadline who could help the Mets.
•
Brian Costa
in the Journal
examines the issues facing the Mets in the second half.
TRIVIA:
Name the six players who finished ahead of
Ike Davis
in NL Rookie of the Year balloting in 2010.
Friday's answer: Entering the weekend, only
Willie Stargell
(60) and
Mike Schmidt
(49) had more homers against the Mets than Jones. But Jones then went deep in the series opener against Edgin, pulling even with Schmidt for second all time on that list.
July, 13, 2012
7/13/12
5:45
PM ET
ATLANTA -- The Mets did not come to terms with second-round pick
Teddy Stankiewicz
, the 75th overall selection in the draft. Stankiewicz is a high school right-hander from Fort Worth (Texas) Christian School and is not related to the ex-Yankee
Andy Stankiewicz
.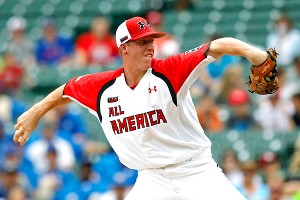 Mike Janes/Four Seam Images/AP Images
Second-round pick Teddy Stankiewicz did not sign with the Mets.

Overall, the Mets signed 21 players, including 15 of their top 16 selections.
VP
Paul DePodesta
indicated the organization did not have any offers out today to unsigned draftees, and that by passing on Stankiewicz, the organization will have an extra pick in next year's draft. The Mets will get the No. 76 pick next year for failing to sign Stankiewicz, according to DePodesta.
Stankiewicz has committed to the University of Arkansas.
The deadline was at 5 p.m. Friday. to sign players from last month's draft.
June, 6, 2012
6/06/12
12:00
PM ET
Organization leaders
Average:
T.J. Rivera, Savannah, .327; Wilmer Flores, St. Lucie, .314; Matt den Dekker, Binghamton, .310; Eric Campbell, Binghamton, .304; Wilfredo Tovar, St. Lucie, .294; Jefry Marte, Binghamton, .293; Matt Tuiasosopo, Buffalo, .284; Travis Taijeron, Savannah, .284; Danny Muno, St. Luice, .283; Omar Quintanilla, Buffalo, .282.
Homers:
Valentino Pascucci, Buffalo, 12; Travis Taijeron, Savannah, 11; Cory Vaughn, St. Lucie, 10; Wilmer Flores, St. Lucie, 10; Aderlin Rodriguez, Savannah, 10.
RBI:
Valentino Pascucci, Buffalo, 40; Aderlin Rodriguez, Savannah, 40; Travis Taijeron, Savannah, 37; Wilmer Flores, St. Lucie, 35; Matt Tuiasosopo, Buffalo, 31.
Steals:
Alonzo Harris Jr., St. Lucie, 12; Luis Nieves, Savannah, 11; Wilfredo Tovar, St. Lucie, 11; Fred Lewis, Buffalo, 10; Cesar Puello, St. Lucie, 10.
ERA:
Zack Wheeler, Binghamton, 1.88; Collin McHugh, Binghamton, 2.17; Angel Cuan, St. Lucie, 2.40; Rafael Montero, Savannah, 2.43; Chris Schwinden, Buffalo, 2.59; Tyler Pill, St. Lucie, 2.68; Chase Huchingson, St. Lucie, 3.02; Cory Mazzoni, St. Lucie, 3.09; Matt Harvey, Buffalo, 3.69; Mark Cohoon, Binghamton, 3.92.
Wins:
Hamilton Bennett, St. Lucie, 5; Matt Harvey, Buffalo, 5; Chase Huchingson, St. Lucie, 5; Collin McHugh, Binghamton, 5, Yohan Almonte, St. Lucie, 5.
Saves:
Adrian Rosario, Binghamton, 12; Fernando Cabrera, Buffalo, 12; T.J. Chism, Savannah, 9; Adam Kolarek, St. Lucie, 8.
Strikeouts:
Matt Harvey, Buffalo, 61; Zack Wheeler, Binghamton, 60; Garrett Olson, Buffalo, 57; Tyler Pill, Savannah, 56; Jack Leathersich, St. Lucie, 54.
Short hops
•
Zack Wheeler
has won five straight starts with Double-A Binghamton. In his past two outings, the ex-Giants farmhand combined to limit New Britain and Reading to two runs and five hits while striking out 15 and walking two in 15 innings. "That's probably the best-pitched game against us this year," Reading manager
Dusty Wathan
told
Mike Drago
in the Reading Eagle
. "Obviously he's got an overpowering fastball, and he can command the ball to both sides of the plate. Tonight he threw the ball where he wanted to, and he did what he was supposed to do against us. You've gotta give him a lot of credit. … He looks like a big leaguer to me. For sure."
• Right-hander
Rob Whalen
, drafted by the Mets in the 12
th
round Tuesday out of high school in Haines City, Fla., actually has serious Mets ties. His entire family hails from Queens and are big Mets fans. Whalen lived in Pennsylvania until moving south for high school to maximize his chance of becoming a professional ballplayer. Whalen won The
Tom Seaver
Most Outstanding Pitcher award as an 8-year-old at a Mets-sponsored camp at Long Neck, N.Y., and recalled playing catch with then-Mets reliever
Scott Strickland
during the event. (View visual proof
here
.)
•
Paul DePodesta
offered high praise for Princeton right-hander
Matt Bowman
, the organization's 13
th
-round pick, who had wowed team officials at a pre-draft Mets workout. "He has a
Tim Lincecum
delivery," DePodesta said. "He's also a position player for Princeton. He's very athletic, a very good strike thrower. At our workout he actually was up to 95 mph, but pitching mainly 93-94 with plus life on his fastball. We like the athletic package and think he has some upside there when he concentrates on pitching full time. … He was a guy ever since he came to our workout that we've targeted. We were just trying to figure out the best time to call his name. He's a guy we were pretty intent on taking somewhere."
• Amateur scouting director
Tommy Tanous
watched Hawaii prep shortstop
Branden Kaupe
(fourth round) hit an inside-the-park homer while scouting one game. Tanous praised Kaupe's speed and said he can play anywhere in the infield, including the left side because of a strong arm.
• The Mets have raided the University of Arkansas for four high-round selections the past two drafts. The Mets' top two picks last year,
Brandon Nimmo
and
Michael Fulmer
, were Arkansas commitments. Tuesday the Mets drafted Razorbacks third baseman
Matt Reynolds
in the second round and grabbed Hogs commitment
Teddy Stankiewicz
, a high school right-hander from Fort Worth, with their other pick in that round. "We're thinking about hiring their recruiting coordinator. We love their players," DePodesta quipped, before adding: "Purely coincidence."
• Reliever
Jack Egbert
officially was designated for assignment Tuesday by the Mets to clear a 40-man roster spot for
Chris Young
, forcing the Rutgers product to be exposed to waivers. Still,
Terry Collins
believes the organization has a valuable piece provided Egbert clears and is able to return to Triple-A Buffalo's bullpen. "Two years ago, this guy, he almost made this team," Collins said about Egbert, who hails from Rutherford, N.J. "Then he hurt his elbow. I'm very impressed with his sinker. His arm strength is continuing to get better [post 2009 Tommy John surgery]. And
Wally
[
Backman
] told me, he said, 'Look, this guy can get groundballs.' I know we didn't use him very much, but there's a good chance he's going to be back."
• Right-hander
Brandon Moore
, who returned from a 50-game suspension resulting from being flagged for a "drug of abuse," has settled into Binghamton's bullpen after working as a starter pre-ban. Likely rusty, Moore has walked five, hit a batter and thrown a wild pitch while being charged with four runs in two appearances spanning 1 1/3 innings. He has a sharp slider and quality sinker when on. There is no room for Moore at this point in the B-Mets' rotation, which already has six members. Fellow right-hander
Scott Moviel
, who also returned from a 50-game suspension, remains in extended spring training. Catcher
Dock Doyle
, the third player to receive that ban late last year, has been released, a team official said. Doyle was a fifth-round pick in 2008 from Coastal Carolina.
June, 5, 2012
6/05/12
7:10
PM ET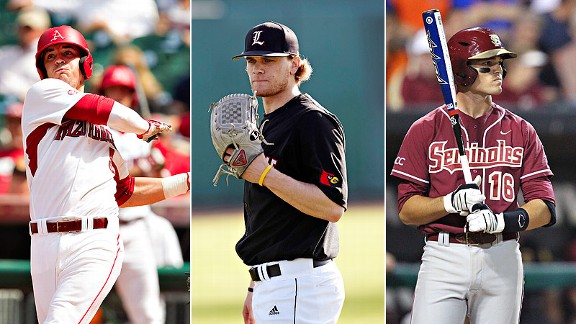 Associated PressArkansas third baseman Matt Reynolds, Louisville right-hander Matt Koch and Florida State first baseman Jayce Boyd were among the Day 2 selections by the Mets.
After taking Louisiana high school shortstop
Gavin Cecchini
12th overall and Purdue catcher
Kevin Plawecki
with the 35th pick on the opening night of the draft, the Mets continued their selections Tuesday.
The Mets' selections at Nos. 35 and 71 overall came as compensation for losing
Jose Reyes
to the Marlins.
Here are the complete results from Day 2:
Rd. 2 (71st overall),
Matt Reynolds
, 3B, Arkansas,
College Bio
Rd. 2 (75),
Teddy Stankiewicz
, RHP, Fort Worth (Texas) Christian School
Rd. 3 (107),
Matt Koch
, RHP, Louisville,
College Bio
Rd. 4 (140),
Branden Kaupe
, SS, Baldwin (Hawaii) HS
Rd. 5 (170),
Brandon Welch
, RHP, Palm Beach State,
College Bio
,
Video
Rd. 6 (200),
Jayce Boyd
, 1B, Florida State,
College Bio
Rd. 7 (230),
Corey Oswalt
, RHP, Madison (Calif.) HS
Rd. 8 (260),
Tomas Nido
, C, Orangewood Christian (Calif.) HS
Rd. 9 (290),
Richie Rodriguez
, 2B, Eastern Kentucky,
College Bio
Rd. 10 (320),
Paul Sewald
, RHP, San Diego,
College Bio
Rd. 11 (350),
Logan Taylor
, RHP, Eastern Oklahoma State JC,
College Bio
Rd. 12 (380),
Rob Whalen
, RHP, Haines City (Fla.) HS
Rd. 13 (410),
Matt Bowman
, RHP, Princeton,
College Bio
Rd. 14 (440),
Chris Flexen
, RHP, Newark Memorial (Calif.) HS
Rd. 15 (470),
Nick Grant
, RHP, Milford (Del.) HS
The draft will resume Wednesday with Rounds 16-40.
NBA
NHL
COLLEGE BASKETBALL
COLLEGE FOOTBALL
NBA
NHL
COLLEGE BASKETBALL
NFL