New York Mets:

Texas Rangers
February, 16, 2014
Feb 16
6:32
AM ET
PORT ST. LUCIE, Fla.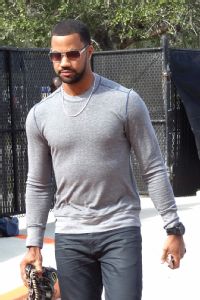 Adam RubinChris Young arrives at Mets camp Saturday for the first time.
FIRST PITCH:
Mets pitchers and catchers take physicals on Sunday. They then engage in the first official workout of spring training on Monday morning.
A team official did not expect any players to be delayed by visa issues or otherwise.
Outfielder
Chris Young
was among those who arrived at the complex for the first time Saturday.
Curtis Granderson
and
Matt Harvey
are likely to address the media Sunday.
Sunday's news reports:
•
Bartolo Colon
, who signed a two-year, $20 million deal with the Mets in early December, said the club was the
only organization to offer him a multiyear deal
.
Writes columnist Ken Davidoff
in the Post
, making reference to Colon's
50-game suspension in 2012
for testing positive for abnormal testosterone levels:
As he essentially tries to replace the injured Matt Harvey, Colon brings risk -- that his unorthodox physique finally will surrender to common sense, or he will get caught using illegal performance-enhancing drugs for a second time. Colon failed a drug test in 2012, and it turned out he acquired the offending testosterone from the renowned Anthony Bosch -- demerit to Colon for apparently not following Bosch's test-beating advice as diligently as did Alex Rodriguez.
He brings wisdom, too. The soft-spoken Colon won't be working as Dan Warthen's associate pitching coach. None of his new teammates will probably become great friends with him. Yet they can watch and learn from this master of movement, command and self-control.
Omar Minaya, meanwhile, reiterated to Tim Rohan
in the Times
he "of course" would make the June 27, 2002 trade with the
Cleveland Indians
again that dealt then-prospects
Cliff Lee
,
Brandon Phillips
and
Grady Sizemore
away and brought Colon to Minaya's Montreal Expos.
Read more in the
Daily News
,
Star-Ledger
,
Newsday
and
MLB.com
.
• Steve Serby in the Post has a Q&A with Noah Syndergaard. One exchange:
Q: You wrote the word "Lion" on your glove one time.
A: Yeah, I feel like just putting your name on a glove is kinda boring, so I just put random stuff on it, like I put Lion, just to be the lion on the mound, and then I have another glove that has "Drago" written on it [after "Rocky IV" villain Ivan Drago], and my two others have "Rick Grimes"and "Heisenberg" from two of my favorite shows, "Breaking Bad" and "Walking Dead."
• Mike Puma
in the Post
reports the Mets would be willing to offer
Stephen Drew
a one-year contract with an option, but Scott Boras' asking price "hasn't dropped enough recently for the Mets to consider themselves serious suitors." Sandy Alderson has been clear in saying
signing Drew is unlikely
.
•
Kyle Farnsworth
offered his thoughts
about joining the Mets. Read more in the
Post
,
Daily News
,
Star-Ledger
and
Newsday
.
• The Mets seriously discussed trading
Jose Reyes
to the
Texas Rangers
during the 2003-04 offseason for
Alfonso Soriano
, but the Rangers owner halted those talks, writes Joel Sherman
in the Post
. It came just after Soriano was acquired from the Yankees for Alex Rodriguez.
•
Aaron Harang
, who finished last season with the Mets,
joined the Indians
on a minor-league deal. Read more
in the Cleveland Plain Dealer
.
• Phil Mushnick
in the Post
is unimpressed with the Mets' $10 "UltiMet" offering.
• Marc Carig
in Newsday
suggests "the Mets did import some talent this offseason, but they also left several glaring holes unfilled."
• Danny Anderson, the St. Lucie Mets clubhouse staffer whom
David Wright
and other players had a Super Bowl party to rally around, died of cancer Thursday, writes
TCPalm.com
.
•
From the bloggers …
Faith and Fear in Flushing
sorts through a slew of responses to its question regarding which Mets postseason most merits cosmetic reconstructive surgery. … John Delcos at
Mets Report
lists five questions Terry Collins must answer this spring.
BIRTHDAYS:
Former Mets infielder Bill Pecota was born on this date in 1960.
TWEET OF THE DAY:
#TeamUSA Pic of the Day: TJ Oshie (@OSH74) gets ready to make magic in #USAvsRUS. #GoTeamUSA pic.twitter.com/qB3qgBQyJ1

— US Olympic Team (@USOlympic) February 15, 2014
YOU'RE UP: What will Bartolo Colon's record and ERA be in 2014?
July, 25, 2013
7/25/13
7:17
AM ET
NEW YORK
FIRST PITCH:
Zack Wheeler
, who tossed six scoreless innings in his major league debut at Turner Field in Atlanta, albeit with five walks, gets another crack at the Braves in an early start this afternoon.
Wheeler (3-1, 3.58 ERA) opposes rookie left-hander
Alex Wood
(0-2, 2.45) as the Mets look to salvage a split of the four-game series. First pitch: 12:10 p.m.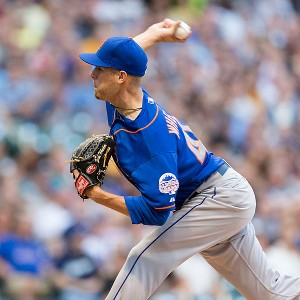 Tom Lynn/Getty ImagesZack Wheeler pitches on turn, despite recently dealing with a blister issue.
The Mets earlier this week debated delaying Wheeler's start a day to allow a blister to further heal, but ultimately decided it was a nonissue and kept him on regular rest. Wheeler has dealt with blister issues throughout his pro career -- both as a
San Francisco Giants
farmhand and with the Mets.
Wood steps in for fellow southpaw
Paul Maholm
, who landed on the disabled list on the eve of the series with a bruised wrist.
With the Mets facing a left-hander,
Josh Satin
should start at first base and
Juan Lagares
in center field.
Justin Turner
also is due for his first start since returning from the disabled list.
Terry Collins planned for Turner to be used at a middle-infield position, but Turner might start at third base if
David Wright
needs a day for a sore back/neck. Wright inadvertently
hit himself with the shattered bat during his own swing
in the fourth inning Wednesday night.
Thursday's news reports:
• The
Texas Rangers
are scouting
Marlon Byrd
among a bevy of outfield options, writes
CBSSports.com
.
Alex Rios
of the
Chicago White Sox
appears Texas' primary target, according to the report. Writes Jon Heyman:
Ideally, Texas would have loved to make a run at young Marlins superstar Giancarlo Stanton, Hunter Pence (a local, being a U-T Arlington product) or perhaps Michael Cuddyer, but with those three apparently unavailable at the moment, the Rangers are surveying a market that's heavy on far lesser talents. Pence would seem to have the best chance to be traded of those three, and Texas would target him if he becomes free. Nolan Ryan is said to be a fan.
Seattle, which has Raul Ibanez, Kendrys Morales and Michael Morse, isn't ready to trade anybody yet. And most believe they'll ultimately keep at least Ibanez and Morales now that they are showing decent signs of life. …
The Rangers reportedly have looked at Norichika Aoki, as well, and Danny Knobler reported they are scouting Marlon Byrd, their former player. Other outfielders who could go in trades include Justin Ruggiano, Chris Denorfia, Nate Schierholtz and Alejandro De Aza.
• Tim Hudson suffered a
gruesome fracture of his right ankle
when he was stepped on while covering first base by runner
Eric Young Jr
. on Wednesday night. Hudson had taken a scoreless effort into the eighth inning when the injury occurred.
"I saw them get tangled up,"
Dan Uggla
told the Atlanta Journal-Constitution
. "I was just hoping he Charley-horsed him or something. I didn't see the extent of it. Once I saw Huddy's reaction, I was like, 'Oh, no. This isn't good.' …
"He was kind of in disbelief, obviously in a lot of pain. You could see just the thoughts going through his head, 'This can't be happening. … This is unbelievable.' That sort of thing. I know he was in a lot of pain."
Young
expressed remorse for what happened
.
"I'm hustling down the line like I always do, going for the base," Young said. "I saw his foot, as I'm going for the base, right there in the middle, as I came down, I knew I didn't get any of the base. I know I got all of his foot. I pretty much knew it was probably broke right as I did it, and that's why I sprinted right back to him and tried to console him as much as I could and apologize.
"I was able to see Tim before they took him to the hospital. He told me it wasn't my fault, just one of those freak plays that happened."
Read more on the injury and reaction in the
Post
and
Daily News
.
•
Evan Gattis
, Uggla and
Andrelton Simmons
all homered against
Jeremy Hefner
as the
Braves beat the Mets, 8-2
at Citi Field. Hefner surrendered six runs (five earned) in 4 1/3 innings. He became the first Mets pitcher to allow three homers in a home game this season. Hefner
has allowed 13 earned runs in 6 1/3 innings
over his past two starts.
Daniel Murphy
had two doubles, but also committed two errors.
Columnist John Harper
in the Daily News
summarizes the night.
Read game recaps in the
Post
,
Newsday
,
Star-Ledger
,
Record
,
Times
and
MLB.com
.
• Read more on Wright's status after getting struck with his own bat in the
Star-Ledger
and
Daily News
.
•
Lucas Duda
and Travis d'Arnaud returned to game action for the first time Wednesday, in the same Gulf Coast League game. D'Arnaud went 1-for-3 and caught five innings in his first official action since fracturing the first metatarsal in his left foot on April 17 with Triple-A Las Vegas.
Duda, who landed on the DL with an intercostal muscle strain on his left side after a June 21 game, went 0-for-2 with a walk. He played five innings in left field. It would have been far more noteworthy because of the implications for
Ike Davis
if Duda had played first base, but that was not the case. Read more in the
Post
.
•
Jonathon Niese
, on the DL with a shoulder issue, is
ready to pitch in a Gulf Coast League game
this weekend or shortly thereafter. He likely will need multiple rehab starts before returning, so rejoining the Mets in mid-August is most likely. Read more in the
Star-Ledger
.
•
Jenrry Mejia
joined the Mets in advance of Friday's start opposite
Jordan Zimmermann
in Game 1 of a doubleheader at Nationals Park.
Matt Harvey
opposes
Ross Ohlendorf
in the nightcap that day. The other matchups that series:
Dillon Gee
versus
Dan Haren
on Saturday and
Carlos Torres
versus
Taylor Jordan
on Sunday.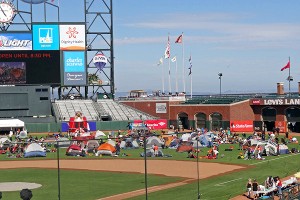 Adam RubinThe San Francisco Giants annually host a sleepover for fans on the night of a day game at AT&T Park.
Mejia told Jorge Castillo
in the Star-Ledger
that he has bone spurs in his right elbow that will need to be surgically removed during the offseason. Doctors proposed removing them during spring training when the issue first flared up, but Mejia preferred taking anti-inflammatory medication to get through the discomfort and to deal with it after the season. Read more in the
Journal
and
Record
.
• Matching an event annually staged at San Francisco's A&T Park, the Mets will host a sleepover for fans at Citi Field on Aug. 10. Unlike with the Giants, it will not occur the night of a home day game. Tickets, which range $175-$200 per person and include admission to the Sept. 28 game against the
Milwaukee Brewers
, go on sale at 10 a.m. today at
Mets.com/sleepover
. The Mets also announced PR man Jay Horwitz bobblehead day will be held Aug. 23. There's also a Third Eye Blind concert after that game against the
Detroit Tigers
.
• Columnist Larry Brooks
in the Post
suggests the Mets are laying the groundwork for a brighter future.
• Mark Cohoon became the all-time innings-pitched leader in Binghamton history and closer Jeff Walters matched Jerrod Riggan's B-Mets single-season record with save No. 28 in a 6-3 win against Reading. Read the minor league recap
here
.
BIRTHDAYS:
Billy Wagner, now spending time with his alpacas, turns 42. … Where's Mota? Guillermo Mota is celebrating his 40th birthday.
TWEET OF THE DAY:
Join me at Mets Social Media Night Aug. 23 @ Citi Field & receive my Bobblehead. For tix visit http://t.co/TcCIqXZaAZ http://t.co/x5n8fXXm65

— Jay Horwitz (@Jay_HorwitzPR) July 24, 2013
YOU'RE UP: Should the Mets hold onto Marlon Byrd unless overwhelmed by a trade offer?
December, 14, 2012
12/14/12
5:07
PM ET
November, 21, 2011
11/21/11
8:21
PM ET
Joe Nathan off the list of potential closers, although his price tag likely was outside of what the Mets intended to spend on that position from the get-go. ESPN.com's Jerry Crasnick confirms Nathan has signed a two-year deal with the Texas Rangers. SI.com suggested the salary is about $7 million annually.

Among closer candidates, Matt Capps and Frank Francisco appear to be possibilities.
Scratch
June, 25, 2011
6/25/11
7:56
PM ET
Recap
|
Box score
|
Photos
WHAT IT MEANS:
Jon Niese
was removed from the game with a rapid heartbeat.
The Mets set a season high for runs scored and evened the interleague series at a game apiece with a 14-5 win against the Rangers. The Mets produced an eight-run sixth inning, their largest output in a frame since putting up that same total against the Detroit Tigers in the third inning on June 22, 2010.
Angel Pagan
was the lone starter not to produce a hit, although he was robbed in the eighth inning by
Craig Gentry
in left-center. The Mets matched a season high with 17 hits.
HOT PLATE: Lucas Duda
went 4-for-5 with four RBIs and three doubles.
Carlos Beltran
, hitless in 14 at-bats entering the game, snapped out in a big way, going 3-for-5 with three RBIs and three runs scored.
Duda's three doubles matched the franchise record, done 25 other times, most recently by
Jose Reyes
on May 13, 2009 against the Braves.
THAT'S SUPPORT:
Niese carried a scoreless effort into the fourth inning, when the Rangers made their lone dent to claw within 6-2.
Adrian Beltre
and
Michael Young
produced consecutive solo homers against Niese.
Trainer
Ray Ramirez
visited Niese with two out in the sixth, but the southpaw remained in the game. When Niese then surrendered a double to
Nelson Cruz
,
Terry Collins
removed him. Niese's final line: 5.2 IP, 2 R, 6 H, 2 BB, 7 K. Niese threw 95 pitches (59 strikes).
LOST COUNT?
Cruz seemed to earn a walk in the second inning, but the plate appearance continued despite the apparent ball four. Niese then struck out Cruz.
K-ROD TRACKER: Francisco Rodriguez's
services were not required in the rout. He remained at 28 games finished, and is on pace for 59. That is four games finished beyond the threshold for his contract to vest at $17.5 million for 2012.
WHAT'S NEXT: Dillon Gee
, who went to college at Texas-Arlington and grew up in nearby Cleburne, Texas, faces the team he cheered as a child. Gee opposes left-hander
Derek Holland
(6-2, 4.69) in the rubber game. Gee (7-1, 3.21 ERA) is trying to rebound from his first loss of the season, during which he walked a career-high six batters.
June, 23, 2011
6/23/11
9:05
PM ET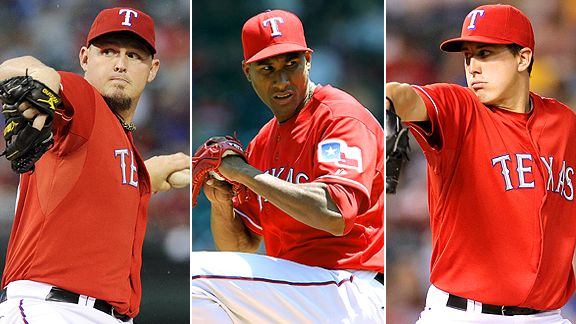 Getty Images/US Presswire
The Mets face (l to r) Matt Harrison, Alexi Ogando and Derek Holland this weekend in Arlington.
METS (37-38, fourth place/NL East) vs. TEXAS RANGERS (40-36, first place/AL West)
Friday:
RHP Mike Pelfrey (4-5, 4.70) vs. LHP Matt Harrison (5-6, 3.16), 8:05 p.m. ET
Saturday:
LHP Jon Niese (6-6, 3.70) vs. RHP Alexi Ogando (7-2, 2.66), 4:10 p.m. ET
Sunday:
RHP Dillon Gee (7-1, 3.21) vs. LHP Derek Holland (6-2, 4.69), 3:05 p.m. ET
Rangers short hops
• Left-hander
Matt Harrison
has experienced rotten luck. He simultaneously was dealing with a kidney stone he could not pass for 10 days, was struck with a liner that left a bruise on his left triceps and forced him from a strong performance, and dealt with a blister on his left index finger. All three issues are behind him, and Harrison has a 1.47 ERA over his past five starts.
• Third baseman
Adrian Beltre
(.259, 12 HR, team-high 53 RBI) is the lone Ranger to appear in all 76 games. He served as DH on Wednesday to get a half-day off before Thursday's team-wide off-day, and has been playing through a mild hamstring issue. Beltre is a phenomenal defensive third baseman, and had five highlight-reel-quality plays Tuesday alone against Houston. Beltre's long ball production has slowed since an early binge, with two homers in his past 36 games.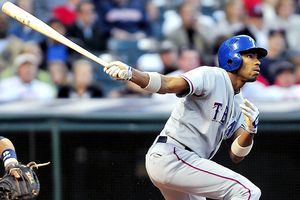 Jason Miller/Getty Images
A serious knee injury cost Endy Chavez much of the 2010 season, but the ex-Met has settled into center field for the Rangers.

• Left fielder
Josh Hamilton
is sitting on 99 career homers. He suffered a hairline fracture of the right humerus on a headfirst slide against Detroit on April 12 and remained on the disabled list through May 22.
• Catcher
Yorvit Torrealba
lost a grievance in February against the Mets over a three-year, $14.4 million deal that unraveled at a late stage during the 2007-08 offseason. He was pulled from Sunday's game in Atlanta in the fourth inning suffering from dehydration in the heat. It was clear Torrealba was worn down. The previous inning, a run scored on a wild pitch (that easily could have been ruled a passed ball), and Torrealba also was charged with catcher's interference and collided with
Michael Young
during the frame. Torrealba rested until pinch-hitting late Tuesday. He returned to full duty Wednesday. Regular backup
Mike Napoli
(oblique) is on the disabled list.
Taylor Teagarden
was promoted from Triple-A Round Rock on June 12. Teagarden may start Sunday's matinee, but with Monday an off-day for the Rangers, Torrealba may be capable of catching all three games in the series.
• Right-hander
Alexi Ogando
(7-2, 2.66 ERA) is having an all-star caliber season, except for his past two starts. At Yankee Stadium on June 14, Ogando was charged with six runs in 1 2/3 innings. Ogando has logged 88 innings this season, already more than the 72 1/3 innings he tossed last season between 44 relief appearances with the Rangers and in the minor leagues. So the curiosity is whether the last two starts are an aberration or whether Ogando has hit a wall.
•
Mitch Moreland
(.290, 10 HR, 22 RBI) gets the majority of the starts at first base, with Young moving to the position a couple of times a week to open the DH spot for a player needing a rest from fielding responsibilities. Moreland is capable of moving to right field in those instances. Moreland, who debuted in the majors last July 29, is a mature hitter for his experience level and will work a pitcher deep into the count. Like
Nelson Cruz
(team-high 17 homers) and Hamilton, Moreland is capable of changing a game with one swing by virtue of his power, which included a massive 11
th
-inning walk-off homer Tuesday against Houston's
Enerio Del Rosario
.
• Second baseman
Ian Kinsler's
.236 average is misleading, since he has walked 43 times, giving him a more-healthy .349 on-base percentage. Kinsler has steadily improved his defensive play during his career. He has a franchise-record 16 leadoff homers, including three this season.
• The Rangers have used five different starters in center field this season, but ex-Met
Endy Chavez
has started the past two games at the position and has emerged as the primary option at the moment, with
Craig Gentry
getting some playing time as well. Hamilton has started eight games in center field this season, but the preference is to use him in left field to lessen the wear and tear on his body. Chavez did not appear in the majors last season. He was dealing with a major right knee injury suffered in a collision with
Yuniesky Betancourt
in 2009 while with the Seattle Mariners. Chavez returned to the majors May 14 this season and hit .429 in his first 14 games (12 starts) through June 5. Since then, however, he is in a 3-for-27 rut. Texas signed Cuban defector
Leonys Martin
for $15.5 million in April. Martin has been dealing with a herniated disc in Double-A. He could be a factor in center field in September.
• Fellow ex-Mets
Darren O'Day
and
Darren Oliver
were keys to the Rangers' World Series run last season as bullpen cogs, but O'Day will not be around this weekend. O'Day required hip surgery earlier this season, is due to make weekend rehab appearances with Triple-A Round Rock and is about a week from being activated.
• Closer
Neftali Feliz
(0-1, 3.21 ERA, 14 saves in 18 chances) notched consecutive saves last weekend in Atlanta in dominating fashion, facing the minimum six batters and striking out four. He then tossed two scoreless innings and 35 pitches in a 10-inning win against Houston on Tuesday, but had run out of gas the following day when he was again summoned. The Astros scored four runs in the ninth Wednesday as Feliz was charged with a blown save and his first loss. Feliz had missed two weeks on the disabled list this season with shoulder inflammation.
• Young is hitting .314 with four homers and 47 RBIs and carried the offense during Hamilton's absence. He mainly has batted cleanup, but recently flipped with Beltre and has batted fifth.
•
Elvis Andrus
has been steady, although he has a tendency to occasionally lose focus on routine plays at shortstop. Manager
Ron Washington
has given Andrus more rest this season because team officials felt they overworked him in 2010. Andrus, for instance, sat Wednesday, with
Andres Blanco
making his ninth start at shortstop.
•
Brandon Webb
, who signed a one-year, $3 million deal in December, has started a rehab assignment. However, Webb allowed four runs on six hits and retired only two batters Sunday for Double-A Frisco City.
Matchups
Pelfrey vs. Rangers (career: never faced)

Andres Blanco .333, 3 PA
Yorvit Torrealba .167, 2 K, 7 PA
Niese vs. Rangers (career: never faced)
Yorvit Torrealba .200, 1 BB, 2 K, 6 PA
Gee vs. Rangers (career: never faced)
Harrison vs. Mets (career: never faced)

Ronny Paulino 1.000, 1 PA
Jason Bay .333, 3 PA
Ogando vs. Mets (career: never faced)

Ronny Paulino .000, 1 PA
Holland vs. Mets (career: never faced)

Jason Bay .333, 1 HR, 3 RBI, 1 K, 6 PA
Scott Hairston .000, 3 K, 6 PA
Last series results
Mets won, 2-1, at Shea Stadium, June 13-15, 2008 (AP game recaps)
Mets 7, Rangers 1:
Willie Randolph should be able to rest easy, at least for one night. Oliver Perez pitched seven stellar innings and the Mets beat the Rangers, giving their embattled manager a win and momentarily easing the tension in a clubhouse desperate for something good to happen. Perez also drove in two runs for the Mets, who played small ball to perfection in manufacturing all of their runs. Marlon Anderson snapped an 0-for-25 slump with a base hit and also had a pair of RBIs. Josh Hamilton homered and had two hits for the Rangers, but the best hitting club in the American League managed just one other hit in its first game against the Mets at Shea Stadium. New York had lost six of its last seven, including a four-game sweep at San Diego, and rumors were ramping up again that Randolph's job was on the line. Salvation came in the form of a pitcher who's been about as topsy-turvy as the Mets. A disaster one game and dazzling the next, Perez (5-4) gave up one run and three hits to win for the first time in nearly a month. He struck out eight, including David Murphy to leave the bases loaded in the sixth inning. After Hamilton lined an 0-1 pitch over the left-field wall with two out in the first, the hard-throwing left-hander didn't allow another hit until Rangers starter Scott Feldman delivered the first of his career to open the sixth. By then, Jose Reyes had scored twice and Carlos Beltran also had reached home on an error to give the Mets a 3-1 lead. New York's starting rotation has been the least of its problems lately. Along with Perez's strong outing, Mets starters have given up just 15 runs in the past 10 games and have kept the team in every one of them. But the bullpen has been another story, and a big reason why the Mets (32-34) began the night 7½ games back in the NL East and a season-worst three games below .500. There were fresh reports that Randolph might not make it through the weekend, a possibility that didn't appear to lose any traction when general manager Omar Minaya was noncommittal about the skipper's future before the game. "Bottom line is, I'm just not going to answer every report that's out there," Minaya said. "This is a game of performance and you have to do certain things."
Rangers 8, Mets 7
Mets 4, Rangers 2:
Here's the scenario: The bases are loaded in a tie game. Fans are chanting, "We want Pedro!" What does New York's beleaguered manager Willie Randolph do? He calls on a pinch-hitter who last played in the major leagues almost nine years ago. Talk about being on the hot seat. That pinch-hitter, Robinson Cancel, helped make Pedro Martinez a winner in his home season debut by delivering a two-run single to give the Mets a win over the Rangers for a doubleheader split. After the game, Mets general manager Omar Minaya would not commit to repeated questions about Randolph's job security saying, "These are our coaches today. They are our coaches. As the GM I leave myself room to evaluate things. I think we're not playing to our potential. I always leave room to evaluate things." In the opener, Kevin Millwood pitched six solid innings, and Ramon Vazquez, Ian Kinsler and Milton Bradley homered in the Rangers' victory. Billy Wagner ended his skid of three straight blown saves and David Wright had three hits for his first multi-hit game in two weeks. Carlos Beltran followed up a homer and two RBIs in the first game with a run-scoring single as New York took two of three from Texas before heading for California. The Mets are heading west for the second time in two weeks and Randolph said his bags were packed for the trip. But after returning from a 2-5 West Coast swing less than a week ago, including a four-game sweep by the lowly Padres, rumors intensified that Randolph could lose his job by the end of the series against Texas. Martinez was making his first start at Shea Stadium since Sept. 27, 2007 and the fans showed him their love with the chant when his turn came with the bases loaded in the sixth. But Martinez knew what the right decision was. Mets fans mercilessly booed the decision as Cancel walked to the plate for his second at-bat this season. But he quickly turned the crowd around by calmly grounding an 0-2 pitch up the middle for a two-run single and a 4-2 lead. The hit was Cancel's first since Sept 21, 1999, for Milwaukee against Philadelphia, during his only previous stint in the big leagues. Martinez (2-0) gave up six hits and two runs (one earned) in his third start since coming off the disabled list on June 3l. His four strikeouts all ended innings. He showed his intense side, arguing with Marlon Byrd after Byrd took exception to Martinez's deliberate pace after Byrd had called timeout on a pitch. The Mets bullpen had a turnaround from the first game, when they gave up three runs and helped turn a 3-2 game into an 8-2 deficit. Pedro Feliciano, who gave up a run and threw a crucial wild pitch in relief of John Maine in the opener, worked a clean seventh. Duaner Sanchez pitched a 1-2-3 eighth and Billy Wagner, after entering to tepid applause, was perfect in the ninth for his 14th save in 19 chances. New York went ahead 4-2 in the sixth against Kason Gabbard, who was recalled from Triple-A Oklahoma earlier in the day. Gabbard gave up a single to Beltran and a double to Damion Easley and intentionally walked Fernando Tatis to load the bases before Cancel got his hit. Gabbard (1-3) gave up eight hits and four runs in 5 2/3 innings. In the opener, Millwood (5-3) improved to 3-0 in four starts since returning from a groin injury May 29. Other than allowing long homers to Carlos Delgado and Beltran, he kept the ball mostly in the infield with meek grounders.
November, 10, 2010
11/10/10
4:02
PM ET
Jeff Francoeur
has been cut loose by the Texas Rangers, in a move that hardly comes as a surprise. Francoeur was arbitration-eligible and made $5 million this past season -- so Texas, just like the Mets would have -- had to let the right fielder go.
Francoeur batted .340 (18-for-53) with two homers and 11 RBIs in 15 games for the Rangers after the Aug. 31 trade for Joaquin Arias (who has been claimed off waivers by the Kansas City Royals). He then went 3-for-24 in the postseason.
The early speculation is that Francoeur could wind up with the Kansas City Royals, where GM
Dayton Moore
has an affinity for Francoeur.
Read ESPNDallas.com's take on Francoeur
here
.