New York Mets:

The 7 Line
March, 22, 2014
Mar 22
6:21
AM ET
PORT ST. LUCIE, Fla.
FIRST PITCH:
The Mets take a relatively short drive to Jupiter on Saturday to face the
Miami Marlins
.
Bartolo Colon
, who appears lining up for the second game of the season, opposes Marlins left-hander
Brad Hand
at 1:05 p.m. at Roger Dean Stadium (WOR 710 AM).
Terry Collins expects
Daniel Murphy
to play in his first Grapefruit League game since Sunday, when Murphy injured his right calf.
Saturday's news reports:
• A day after
Ike Davis
snapped an 18-day absence from Grapefruit League play,
Lucas Duda
snapped an absence of identical length
. Duda belted a two-run homer and logged five innings at first base Friday against the
Minnesota Twins
. Duda also demonstrated that the left hamstring issue that hampered him for more than two weeks may truly be behind him. He hustled to score from first base on a first-inning double by Davis with no apparent ill effect. Collins said early season appearances for Duda in the outfield are pretty much off the table because the hamstring injury prevented Duda from getting work out there. Read more in the
Post
,
Daily News
,
Star-Ledger
,
Record
,
Newsday
and
MLB.com
.
• Expected Opening Day starter
Dillon Gee
limited the Twins to one run in 5 1/3 innings
as the
Mets beat Minnesota, 9-1
, at Hammond Stadium. Gee still has yet to walk a batter this spring training. The Mets scored seven first-inning runs against ex-Marlin
Ricky Nolasco
, capped by a two-run homer from
Taylor Teagarden
. Read more in the
Post
,
Star-Ledger
,
Record
and
MLB.com
.
• Free-agent
Stephen Drew
is willing to sign a one-year, $14 million deal with the
Detroit Tigers
, who have lost shortstop
Jose Iglesias
to stress fractures in his shins, John Lowe writes
in the Detroit Free Press
. The Tigers nonetheless
helped address their shortstop deficiency
by acquiring
Andrew Romine
from the
Los Angeles Angels
on Friday. Romine is a former teammate of Ike Davis at Arizona State.
• The 7 Line, which produces Mets-themed T-shirts, is now an officially licensed MLB brand and will have a kiosk near Shake Shack at Citi Field,
the company announced
. Founder Darren Meenan launched the business in 2010 "printing T-shirts in my parents' basement," he wrote.
•
Bobby Parnell
skipped the three-hour trip to Fort Myers and instead allowed one hit in two scoreless innings in a minor-league game in Port St. Lucie. Parnell reportedly topped out at 94 mph, a good sign since his velocity has been down this spring training.
Jose Valverde
, who also is ticketed for the Opening Day bullpen, had a perfect frame against minor leaguers.
• Jared Diamond
in the Journal
studies the Mets' plan to bat the pitcher eighth on occasion. The conclusion: There may be a benefit, but it is negligible.
Diamond writes that teams averaged 4.51 runs per game when batting the pitcher eighth since 1980. Those same teams averaged 4.33 runs per game batting the pitcher ninth during that span.
"You just can't create runs -- or lose them -- by moving hitters around in the lineup," renowned statistician Bill James told Diamond. "… To the small extent that it may matter, I think it is extremely likely that you're better off with the pitcher batting eighth, rather than the pitcher batting ninth."
The Mets' logic in batting the pitcher eighth is that the No. 9 batter, likely
Juan Lagares
, essentially becomes a leadoff hitter, with No. 3
David Wright
batting cleanup, the second time through the order. That should give Wright more opportunities to drive in runs.
• Columnist Kevin Kernan writes
in the Post
that
Curtis Granderson
's positive disposition should help the Mets.
•
From the bloggers …
Blogging Mets
predicts more losing for the Amazin's in 2014.
BIRTHDAYS:
Ike Davis turns 27 today. ... Former Mets reliever
Joe Smith
, now with the Angels, is 30.
TWEET OF THE DAY:
An aerial view of the first pitch of the 2014 @MLB season. #OpeningSeries pic.twitter.com/NA8ZUPAKLo

— Arizona Diamondbacks (@Dbacks) March 22, 2014
YOU'RE UP: How should Terry Collins divide playing time between Ike Davis, Lucas Duda and Josh Satin in April?
June, 4, 2013
6/04/13
6:14
AM ET
PORT ST. LUCIE, Fla.
FIRST PITCH:
After a day off in D.C. to regroup from getting swept against the
Miami Marlins
, the Mets get back to work.
Jeremy Hefner
(1-5, 4.74 ERA) and right-hander
Jordan Zimmermann
(8-3, 2.37) meet in today's 7:05 p.m. opener at Nationals Park.
Read the Mets-Nats series preview
here
.
Tuesday's news reports: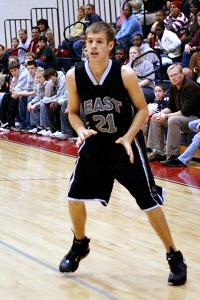 Courtesy of Wheeler familyCan you name this soon-to-be Met? It's Zack Wheeler, playing high school basketball for East Paulding (Ga.) High.
• ESPNNewYork.com
profiles Zack Wheeler
, with input from father Barry, brother Jacob and
Matt Harvey
. (Warning: A young Zack is seen wearing a Braves jersey and hat.)
• After being examined in New York, catching prospect Travis d'Arnaud will
remain in a protective boot
for another week, but can begin walking while wearing it. D'Arnaud originally fractured the first metatarsal in his left foot on April 17 with Triple-A Las Vegas. Read more in the
Post
and
Star-Ledger
.
•
David Wright
is trying to do too much and is chasing pitches outside the strike zone rather than taking walks, writes Marc Carig
in Newsday
. Wright's average has dipped to .277. He is hitting .174 (8-for-46) with one homer, two RBIs and 11 strikeouts in his past 12 starts.
• Pitching coach Dan Warthen believes
Bobby Parnell
should be an All-Star. "Because [Parnell] should have a below 1.00 ERA, because he's striking out a guy an inning, because he's done the job each and every time he's walked out to the mound," Warthen told Mike Puma
in the Post
. "I don't see anybody who has done any better than him, including [Braves closer Craig] Kimbrel." Read more
in the Record
.
• Dr. James Andrews agreed that
Scott Atchison
does
not need surgery now
to remove a bone spur from his right elbow.
• Columnist Joel Sherman
in the Post
suggests Mets fans were deceived by the Subway Series. Writes Sherman:
And there is no one quite as human as you, Met fans. Five straight wins, particularly those four against the Yankees, had you sweeping two months of dreadful baseball aside. Here came the Marlins for six of the next nine and soon after Zack Wheeler would arrive, and maybe Travis d'Arnaud before long and maybe -- just maybe -- Sandy Alderson could make a trade for an actual major league outfielder in July.
Amazin' what five good days could do for the soul of even a despondent fan. "Honey, where did I put my Mets cap?"
Except no fan base should know the devilish realities of small sample sizes better than those who root for the Mets. They should recognize just how deceptive even a dreadful team could be for a week, a month or even a couple of months.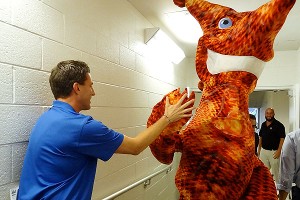 Adam RubinSNY field reporter Kevin Burkhardt has a new NFL gig to keep his fall active.
• SNY field reporter Kevin Burkhardt will be the newest NFL play-by-play man on Fox, according to
SI.com
.
• Hefner says he is unconcerned about his rotation spot being affected by Wheeler's looming arrival. "I don't worry about it anymore," Hefner told Kristie Ackert
in the Daily News
.
• Brian Costa
in the Journal
reviews how the Mets got to Las Vegas as their Triple-A affiliate. The short summary: Norfolk kicked the Mets out. So the Mets temporarily went to New Orleans. Buffalo then became available and the Mets went there. Then Buffalo booted the Mets, too. "They're undesirable," Dave Rosenfield, the longtime Norfolk Tides GM, told Costa. "Nobody wants them."
• ESPN's Keith Law
continues to project the Mets will select
Gardena, Calif., high school first baseman Dominic Smith with the 11th overall pick in the draft on Thursday.
"There are some guys obviously that we like more than others, but there are definitely 11 guys that we like a lot," Paul DePodesta told Anthony DiComo
at MLB.com
. "In fact, there are more than 11. So going into this year, I think we're very comfortable with what the outcome is likely to be on June 6. We don't know the name of the player or the position or anything like that, but we're going to have a good choice, and we're going to get someone we like an awful lot."
The Mets will have a $6.99 million bonus pool to spread over their first 10 rounds' selections.
•
Scott Rice
tells Jorge Castillo
in the Star-Ledger
that the development of a split-finger fastball last year finally helped him reach the majors in his 15th professional season.
• Kevin J. Ryan in
ESPN The Magazine
profiles The 7 Line merchandise founder Darren Meenan.
• Noah Syndergaard surrendered a two-run double in the fifth inning and no other damage, but was tagged with the loss as Lakeland beat St. Lucie, 2-1.
Carlos Torres
tossed a three-hit shutout for Las Vegas. Read the full minor league recap
here
.
•
BIRTHDAYS:
Catcher
Rick Wilkins
, who appeared in five games for the Mets in 1998, is 46.
TWEET OF THE DAY:
the #Mets are poised to have elite SP staff soon, headlined by @MattHarvey33, @Wheelerpro45 , and @Noahsyndergaard #CantWait #NYM

— Marissa Fried (@marissafriedcj) June 4, 2013
YOU'RE UP: When do you predict Zack Wheeler will make his major league debut?
June, 3, 2013
6/03/13
3:07
PM ET