PHOENIX -- When Terry Collins saw Pedro Feliciano registering only in the low-80s with his fastball and unable to work on consecutive days during spring training, the New York Mets' manager did not foresee outings like Saturday night's performance ever again.
Feliciano had not pitched in the majors the previous two seasons after defecting to the Yankees. He underwent surgery on Sept. 8, 2011 to repair a torn rotator cuff.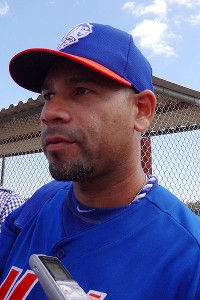 Adam Rubin
Pedro Feliciano has retired all seven lefty batters he has faced since returning to the majors.
Now, the 36-year-old Feliciano has retired all seven lefty batters he has faced since a promotion to the majors.
He bailed out Carlos Torres in the eighth inning Saturday night, entering with the bases loaded and two outs and striking out Gerardo Parra looking to preserve a three-run lead en route to a 4-1 win against the Arizona Diamondbacks at Chase Field.
"No question. You don't come out of what he's done for the last two years and expect to see him," Collins said. "I just didn't expect it. He was 80, 81 mph and couldn't pitch back-to-back [in spring training]. As a matter of fact, he couldn't pitch every three days. We just didn't know if his shoulder was going to hold up.
"He went down [to the minors]. And a guy with his background, with his experience, he did a lot of things that a lot of guys would not do. He stayed in extended spring. He was down there during all of the hot months. He pitched in rookie ball. He pitched in A-ball. He just stood his ground because he knew he was going to get back."
Once Josh Edgin landed on the DL on July 30 with a rib fracture and the Mets needed a left-handed reliever to pair with Scott Rice, Feliciano was selected over Tim Byrdak because he was deemed more ready. Byrdak underwent surgery to repair a torn anterior capsule in his left shoulder on Sept. 6, 2012. After making 14 appearances with Class A St. Lucie, Byrdak has now made two relief appearances with Triple-A Las Vegas.
"Tim just went to Triple-A, and he's still fighting," Collins said. "And he hasn't been back-to-back days either. We just thought 'Petey' was a little bit farther along, so we brought him."