New York Mets:

Tim Wakefield
September, 20, 2012
9/20/12
8:00
AM ET
Matt Harvey
allowed a game-opening homer to
Jimmy Rollins
and did not surrender another hit in seven innings against the
Philadelphia Phillies
on Wednesday night. But
Josh Edgin
surrendered a two-out, two-run homer in the ninth
to
Ryan Howard
and the
Mets lost, 3-2, in Harvey's final 2012 start
.
The Mets fell to 4-25 at home since the All-Star break and saw their tragic number sliced to two for postseason elimination with St. Louis' win against Houston. The Mets (66-82) also clinched their fourth consecutive losing season. They have scored three runs or fewer in 15 straight home games, three shy of matching the major league record, held by the 1915 Yankees, according to the Elias Sports Bureau.
Jeremy Hefner
takes the mound at 7:10 tonight trying to avoid the sweep. Hefner (2-6, 4.99 ERA) opposes Phillies rookie right-hander
Tyler Cloyd
(1-1, 4.95).
Thursday's news reports:
• Harvey is disappointed his season is ending two weeks before his teammates because of an innings limit, but
he ended on a solid note
. He will not be allowed to throw off a mound on the side during the remainder of the season to work on things -- it's a complete shutdown. Read game recaps in the
Post
,
Times
,
Newsday
,
Star-Ledger
,
Record
and
Daily News
.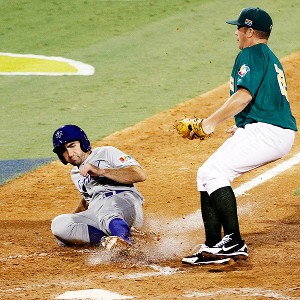 Alan Diaz/Associated Press
Mets farmhand Josh Satin scores in the seventh inning of Israel's 7-3 win against South Africa in a World Baseball Classic qualifier in Jupiter, Fla., Wednesday.

•
David Wright
had homered against
Cole Hamels
to give the Mets a 2-1 lead in the sixth. The long ball moved Wright within five hits of matching
Ed Kranepool's
franchise-record 1,418. Read Wright's thoughts on approaching Kranepool
here
.
• Reiterating previous comments, commissioner
Bud Selig
again
offered his staunch support
for
Fred Wilpon
and family. Read more in
Newsday
.
•
Frank Francisco
was unavailable Wednesday
because of what
Terry Collins
labeled elbow tendinitis. The closer had undergone an MRI this week. Read more in the
Record
.
•
Josh Satin
went 1-for-3 with two walks and two runs scored for Team Israel in a 7-3 win against South Africa in the opening game of World Baseball Classic qualifying on Wednesday in Jupiter, Fla. Fellow Mets farmhand
Jeff Kaplan
recorded the final two outs, walking one. Other Mets minor leaguers will be competing for Canada, Germany and Great Britain beginning today in WBC qualifying in Regensburg, Germany.
•
Phil Niekro
and
Tim Wakefield
visited
R.A. Dickey
at Citi Field and
held an informal press conference
pregame. The documentary "Knuckleball!" launches at IFC Center in New York City today. For more details on the movie screenings, click
here
. Read more
in the Daily News
.
• Dickey spoke to a Rutgers journalism class at Citi Field, telling them according to
Cody Derespina
in Newsday
: "When I have something that I want to share, I will find the [reporter] that I trust the most in the clubhouse. And the way that I gauge that is how the person has asked questions. How he has been curious. What has he been curious about? What has he done with some of my teammates? How has he presented an argument? The smarter players, the players you're going to want the stories from mostly, will pay attention to that kind of stuff."
•
Andy McCullough
in the Star-Ledger
found mixed reviews of the Pacific Coast League from those with experience in the Triple-A league. Hitters love it. Pitchers, not quite. The Mets will be relocating from Buffalo in the International League to Las Vegas in the hitter-friendly PCL for the next two seasons. "The PCL is a dream,"
Mike Baxter
told McCullough. Said Hefner: "That's a place that you don't want to be as a pitcher. That almost ruined my career."
TRIVIA:
Behind
Chipper Jones
, who is next among active players in career homers against the Mets?
Wednesday's answer:
Steve Trachsel
was the winning pitcher the day the Mets clinched the NL East title with a 4-0 victory against the Florida Marlins on Sept. 11, 2006.
September, 7, 2012
9/07/12
7:23
AM ET
After a day off, the Mets open a six-game homestand Friday night.
Chipper Jones
visits Queens for the final time as a player this weekend.
Jon Niese
(10-8, 3.55 ERA) opposes
Atlanta Braves
left-hander
Paul Maholm
(11-9, 3.79) in Friday's 7 p.m. series opener.
Read the series preview
here
.
Friday's news reports:
• The Mets have decided to
wear first-responder caps pregame but not in-game
on Tuesday, on the 11th anniversary of the Sept. 11 attacks. A team spokesman said the decision was made by the team and not Major League Baseball. MLB would not allow the in-game usage last year. Read more in the
Times
,
Newsday
and
Daily News
.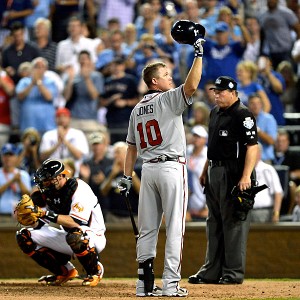 David Eulit/Getty Images
Chipper Jones has been saluted at each stop on his farewell tour, including in Kansas City for the All-Star Game.

• What to expect this weekend for Chipper's final visit? Well, it's not exactly like Citi Field will be packed. But the retiring third baseman figures to hear a couple of
"LAR-reee"
chants. Writes
Steve Hummer
in the Atlanta Journal-Constitution
:
Of all the road stops along this season's Farewell Chipper Tour, the three-day series that begins tonight at Citi Field figures to be the most emotionally confusing. Before departing, Jones didn't know quite what to expect from a crowd grown used to derisively chanting his given name -- "LAR-reee, LAR-reee, LAR-reee" -- while watching him dismantle the home team. "Trust me, if I was a New York fan I don't know how I'd feel," he said. "There would be a certain part of me that would appreciate the realm of the career. But man, that's a lot of heartache [through the years]." ...
Yet, Jones did so love the vibe there that he named one of his four sons Shea. The tenor of the name just pleased his ear. "A great name," he said. "Hey, my dad named me Larry. C'mon, give a kid something to work with." ...
There is reason to suspect New Yorkers will be kind to Jones as they wish him goodbye, giving him at least a grudging respect, along with an as-yet unknown parting gift. Jones has sensed an easing in relations. "For the first 10 years I was in the league, I never left my hotel room in New York," he said. "I went from the room to the bus to the park to the bus and back. Now, I can walk down the street and everybody's great. Those who recognize me, they're great. I get messages on Twitter from Mets fans all over saying: 'I admire what you've done;' 'You've been a great player for a long time;' 'You killed my Mets and I hate you for it, but I respect the player and the person that you've become.' That for me is an ultimate compliment."
Read more in the
Post
and
Times
.
•
Andy McCullough
in the Star-Ledger
notes Niese could be a valuable trade piece for the Mets this winter since the club is most deep in starting pitching and a stagnant payroll means the Mets may need to deal an established player such as the southpaw for multiple prospects in order to improve. Writes McCullough:
Baseball officials outside the organization believe Niese could elicit a quality return on the trade market. "People would be interested in [Niese] because he's a starter who some people see as a No. 3," one executive said. "Some people see him a little bit like where they saw Gio Gonzalez last year." ... [Sandy] Alderson can look to his protégé, Oakland general manager Billy Beane, for a blueprint. A survey of competing executives indicated Niese's value is comparable to Gonzalez and Trevor Cahill, the two starting pitchers the Athletics traded last winter. The executives requested anonymity in order to speak freely about the situation. "You're looking at about two or three prospects [for Niese]," one executive said. "At least."
•
Tim Byrdak
pronounced Wednesday's surgery
to repair a torn anterior capsule in his left shoulder as well as torn meniscus cartilage in his right knee a success. Byrdak hopes to return to the majors, but the shoulder surgery requires roughly a 12-month recovery time.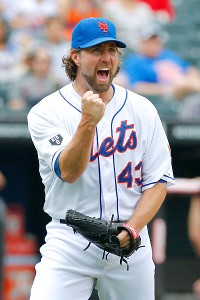 Paul J. Bereswill/Associated Press
R.A. Dickey has an agreement to write three children's books.

•
R.A. Dickey
will
author three children's books
.
•
Phil Niekro
and
Tim Wakefield
endorsed Dickey's Cy Young candidacy to
Andy Martino
in the Daily News
.
"I can tell you that every knuckleballer is rooting for him," Niekro said.
Said Wakefield: "He is doing our fraternity proud in proving to people that it is not a trick pitch. ... It would put a stamp of legitimacy on the pitch, and that is one thing that R.A. wants to do."
• Dickey also received an endorsement
on the New York Times' editorial page
.
• Tickets remain available for
Ike Davis
'
charity event on Sunday night
at City Winery in Manhattan. Country music performer
Lee Brice
is scheduled to perform. For more information, click
here
.
• St. Lucie was eliminated in the first round of the Florida State League playoffs, 11-7 by Jupiter in a winner-take-all Game 3 on Thursday night. Starter
Chase Huchingson
, who is scheduled to participate in the Arizona Fall League, surrendered six runs in 3 1/3 innings. St. Lucie rallied from a 6-1 deficit, evening the score with a five-run fifth, capped by a two-run double from
Richard Lucas
. The Mets surrendered the lead the following half-inning. "It was a great inning," St. Lucie manager
Ryan Ellis
told
Bill Whitehead
at TCPalm.com
about the five-run fifth."We put some key hits together, just were unfortunate not to go ahead or have a shutdown inning in the next inning. My guys battled like they did all year. It's good to see. I thought we had the team to win a championship, but we fell short of our goal."
The lone remaining Mets affiliate participating in the postseason is Brooklyn, which opens a best-of-three first-round series tonight at Coney Island against Hudson Valley. Read the Florida State League game recap
here
.
•
Dillon Gee
, who has resumed throwing after surgery to repair a damaged artery in his pitching shoulder, indicates he is feeling good. "I feel fine," Gee told
Mike Kerwick
in the Record
. "I played catch [Tuesday]. My arm felt great. Obviously, my release point is a little off and stuff. I had 2˝ months without throwing a baseball, so that's to be expected. Arm-wise, I feel great. Body-wise, I feel great. I'm really just looking forward to continue throwing this month and then going into the offseason with a clean slate and prepare like it's any other year."
• With
Jeurys Familia
striking out
Lance Berkman
to begin the right-hander's major league career in St. Louis,
Mark Herrmann
in Newsday
asked other Mets to recall their debuts. "Sunday night baseball at Yankee Stadium,"
Kelly Shoppach
told Herrmann about a May 29, 2005 game with the
Boston Red Sox
, which actually was his first start, but not his debut. "Jeter led off the bottom of the first with a homer and Sheffield hit a homer two batters later. I remember thinking to myself, 'Man, I am not doing a very good job of calling a game here.' I remember the magnitude of the moment for me, and how deafening the old Yankee Stadium was."
TRIVIA:
Against which opponent does Chipper have his most RBIs?
Thursday's answer: Davis did not hit any homers while playing 58 games for the Brooklyn Cyclones in 2008, after being drafted that June in the first round.
April, 12, 2012
4/12/12
4:09
PM ET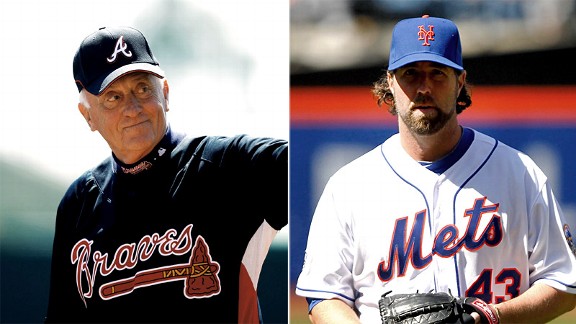 Getty Images/US Presswire
Phil Niekro and R.A. Dickey will be featured in the soon-to-be-screened documentary "Knuckleball."
On April 21, the documentary "Knuckleball," which features
R.A. Dickey
and past knuckleballers, will be available to
view at a free screening at Battery Park City
.
Tim Wakefield
,
Jim Bouton
and Dickey will be on hand for a pitching clinic beginning at 6 p.m. At 8:15 p.m., the Tribeca Film Festival-included movie will be screened.
Dickey -- who faces
Cliff Lee
in Friday's series opener in Philadelphia -- in November gathered with fellow knuckleballers
Phil Niekro
,
Charlie Hough
and Wakefield for camaraderie and to film part of the documentary at Lake Lanier resort outside of Atlanta.
"It was great. We got to know each other a little bit better, played a little golf. He can hit a golf ball a long way. I know that," Niekro said about Dickey. "I'm really looking forward to the documentary coming out, because we all got interviewed for about a half-hour or 45 minutes. And no one really knows what everybody else said. It will be interesting to see how we all have different ideas about the knuckleball, how we threw it and stuff like that."
The 73-year-old Niekro recalled Dickey driving from Nashville to visit him for an offseason knuckleball tutorial a few offseasons ago. They worked indoors at a local batting cage. The ex-Yankee Niekro, who still stops by Atlanta Braves spring training, said he particularly enjoys engaging those who already have a feel for the pitch, as opposed to novices.
"Especially those that have a pretty good idea what they're doing and they may just need a little polish on it, or something like that," he said. "The tough ones are the guys that just say, 'Teach me how to throw a knuckleball.' 'You've got a couple of years?' I really get interested in the guys that want to do it when they make a commitment."
Niekro came to watch Dickey pitch at Turner Field last season. Dickey lost 1-0 to
Tim Hudson
in that Sept. 17 game against the Braves.
February, 21, 2012
2/21/12
6:47
AM ET
The Mets undergo physicals today, with the first official workout Wednesday. Still, there will be plenty of activity at the Port St. Lucie complex today, including
Johan Santana
scheduled for his second mound session since resuming activity after a winter hiatus.
Terry Collins
also gives a state-of-the-team briefing.
Tuesday's news reports:
•
Francisco Rodriguez
is mulling filing a grievance or taking legal action against his former agents,
USA Today reported
. The issue stems from K-Rod's no-trade list not being properly submitted, which allowed the Mets to trade the reliever to the Brewers last July, despite Milwaukee being on the intended 10-team no-trade list. Rodriguez's side contends that the Brewers using him as a set-up man diminished his value as a closer during the offseason, and he was forced to accept arbitration and return to Milwaukee on a one-year, $8 million contract. Writes
Bob Nightengale
:
Attorney Richard Johnson said Rodriguez was pondering a malpractice and fraud suit after a 10-hour mediation hearing last week with his former agents, Paul Kinzer and Arn Tellem of the Wasserman Media Group, did not produce a settlement. He could file a grievance with the MLB Players Association. "They did something atrocious," Johnson said. "Their arrogance makes this so evil. It's like rear-ending somebody but instead of stopping your car and trading insurance information they blew up the car and ran away. They committed negligence and turned it into a fraud case."
An attorney for K-Rod's former agency told USA Today the issue is not really the no-trade clause. "This is a fee dispute," attorney
Bert Deixler
told the newspaper. "The no-trade-list issue is a red herring. We promised to keep confidential what has occurred, will occur in mediation, and we think it is proper for us to keep that promise."
• In advance of Thursday's scheduled court hearing on motions to dismiss and summary judgment in the clawback lawsuit against
Fred Wilpon
and family,
Richard Sandomir
in the Times
reviews last week's court filings
. The trustee suing the Wilpons uses the term "Saul's cookie jar" to refer to the consistently high returns
Bernard Madoff
delivered to the family and asserts the Mets purposely deferred players' contracts because the interest they had to pay out on those deferrals was dwarfed by the returns Madoff could produce with the additional available capital that wasn't immediately distributed as player salary. Writes Sandomir:
Who is in the end right on matters of the Madoff "vig" -- and much else -- could well be settled at a jury trial that is set to begin March 19 in federal court in Manhattan. The filings that included references to the Madoff "vig" were contained in the last big legal swings of the bat before a formal hearing Thursday. That is when both sides make a final argument to have all or part of the multimillion-dollar legal action dismissed or ruled on immediately. The vig was described by David Katz, one of Saul's sons, during a sworn deposition in late 2010 when he was questioned about one way that the family company, Sterling Equities, made money with Madoff. "You borrow money at 5 percent and you'd make 10 percent," David Katz said. "You'd make a 'vig,' as my father would say, on the Bernie investment."
•
Mike Kerwick
in the Record
profiles 6-foot-11
Jon Rauch
, who signed a one-year, $3.5 million deal to serve as the set-up man to former Toronto Blue Jays teammate
Frank Francisco
. Kerwick notes that despite his large frame, Rauch is no longer a flame-thrower, having undergone two shoulder surgeries. "I don't throw hard," Rauch told Kerwick. "Everybody expects me to throw 96, 97, 98 mph because of my size. But I'm not that kind of pitcher." Writes Kerwick:
The Mets reliever has ink running up and down both arms, ink canvassing his back, ink sneaking up the right side of his neck. For those keeping score, that's how many tattoos? "A lot," Rauch said. "And several more to come."
• Before
Carlos Beltran
was traded to the San Francisco Giants in July, he suggested to
Jon Niese
to get a nose job
, and told Niese he'd foot the bill. Well, Niese went through with it in October, and said a positive byproduct of his aesthetic decision is that he is now breathing easier. Niese said instead of his nasal passage being like a partially open door pre-surgery, it was like "somebody ripped the hinges off the door and smashed it sideways into the wall." The southpaw lightheartedly said he plans to send Beltran the medical bills. Read more in
Newsday
, the
Star-Ledger
,
Times
,
Post
and
Daily News
.
• Beltran's Sands Point home on Long Island is now for sale,
Newsday reports
. Asking price: $5.8 million. Writes
Valerie Kellogg
:
Apparently the stolid St. Louis Cardinals outfielder has a knack for music -- the more than 7,500-square-foot home includes a karaoke bar. Built in 2005, the seven-bedroom, six-bath house comes with a pool, a home theater, a gym and an outdoor stone bar and kitchen. The property is more than two acres. The home features a courtyard in front of the home as well as coffered ceilings, a great room with a barrel ceiling, French doors, a cedar roof and copper gutters, according to the listing.
• Top prospect
Zack Wheeler
is not in major league camp, but he
worked out with major leaguers Monday
, after arriving in Port St. Lucie a few days ahead of the step camp for top prospects, which opens next weekend. Wheeler is a profilic tweeter, which
Andy McCullough
notes
in the Star-Ledger
. Writes McCullough:
His public persona creates a contrast with fellow hard-throwing prospect Matt Harvey. "People have asked me that before," Harvey said. " 'Why aren't you on Twitter?' " He shrugged. "I don't really like people knowing what I'm doing all the time." Wheeler harbors none of those inhibitions. Each day he provides updates on his life. On Mondays, he likes to visit Moe's Southwest Grill for their $5 burritos. He shoots pictures of his offseason bullpen sessions and provides running commentary during the Grammys. He watches "Eastbound and Down" and "Swamp People."
Read more on Wheeler in
Newsday
.
•
R.A. Dickey
regrets that
Tim Wakefield's
retirement means he's the
lone active knuckleballer
in the majors. Read more in the
Post
.
• Columnist
Mike Vaccaro
in the Post
says there are an awful lot of "ifs" that have to break right for the Mets if they are to amount to anything this season. Writes Vaccaro:
If everything goes perfectly ... then Jason Bay and David Wright will press the rewind button on their careers, and Lucas Duda and Ike Davis will press fast forward, and Daniel Murphy will figure out a way to stay out of the way around second-base pileups, and Ruben Tejada's knack for getting on base will give you at least one substantive argument against the segment of your soul that already misses Jose Reyes. If everything goes perfectly ... then Santana will deliver 25 to 30 starts that resemble what he used to be, and Mike Pelfrey will -- all together now -- "finally figure it all out," and Jon Niese and Dillon Gee will patch together a six-month season, rather than the three-month fragments they have specialized in, and the bullpen will catch magic, and hey, why not, if the Giants can uncover a Victor Cruz and the Knicks can unearth a Jeremy Lin, maybe the Mets can find someone somewhere who we've never heard of this morning and will be all we can talk about four months from now.
•
Harvey Araton
in the Times
talks
Jeremy Lin
with
David Wright
. "It's a little different, basketball from baseball," Wright told Araton. "In basketball, one guy can make so much difference. At the same time, it should give every sport, every team, this refreshed look on what they have, what certain players can bring to the table. You never know. I'm sure now -- whether it's basketball, football, baseball or hockey -- people are going to think twice before they just waive a guy. Everybody is going to be looking for that next Jeremy Lin."
TRIVIA:
Who has the most career strikeouts as a Mets hitter?
(Monday's answer:
Miguel Batista
threw the final pitch of the 2011 season. In fact, Batista tossed a two-hit shutout in a 3-0 win against the Cincinnati Reds in the Mets' season finale. Batista, who turned 41 on Sunday, became the oldest pitcher in franchise history to toss a nine-inning shutout.)
February, 20, 2012
2/20/12
6:15
PM ET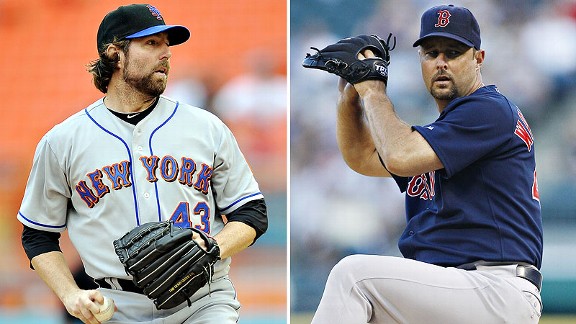 US Presswire
With the retirement of Tim Wakefield (right), R.A. Dickey (left) will be the lone knuckleballer in the majors in 2012.
R.A. Dickey
appreciated fellow knuckleballer
Tim Wakefield
mentioning him in the former Boston Red Sox pitcher's retirement speech. But now that Wakefield has hung up his cleats, Dickey is feeling, well, kind of isolated.
"For a period there were four, with [
Tom
]
Candiotti
, [
Phil
]
Niekro
, [
Charlie
]
Hough
and Wake," Dickey said about the major league knuckleballers clan. "It's fairly lonely I think. I feel a little bit of loneliness. I think you'd have to say, just by what we've all seen, that it's a dying art. One more died, what, two days ago? There's one left in the big leagues. My hope is that somebody is going to see the real value and want to keep doing it."
Dickey said he could not name another knuckleballer on the horizon for a major league career. The only other currently competing at a high level is
Charlie Haeger
, but he pitched last season in the minors and is poised to miss this season following elbow surgery. Haeger last pitched in the majors in 2010, with nine appearances for the Los Angeles Dodgers, including a start against the Mets that season.
"I don't know outside of him if there's anybody else even tinkering with it," Dickey said.
Dickey had a knuckleball convention with Wakefield, Niekro and Hough at a Lake Lanier resort outside Atlanta in November. He sensed then that Wakefield might retire, which became official in recent days.
"I sent him a message. I said, 'I don't know whether to congratulate you or be sad,'" Dickey said. "That's really how I felt. I'm sure he's torn, obviously. I had a feeling that if it wasn't going to be with Boston, that he was going to hang it up. We had that little thing where it was Phil, Charlie, myself and Tim down in Atlanta. And we kind of talked about it pretty candidly. I felt like that would be the way that it would end up. I'm sad because I want him around. It's fun to be able to watch somebody who does what you do. At least sometimes, in the past, it has leant me some things that I've needed to see. And now I've got to go to the film and watch him pitch instead of getting to see him throw a bullpen, which I used to do."
Dickey said he tutored one independent-ball pitcher who visited his Nashville hometown this offseason. He also had parents of a couple of high school pitchers contact him.
A documentary about knuckleballers, which includes super-slow-motion footage of Dickey's pitching, is scheduled to debut at the Tribeca Film Festival in mid-April, according to Dickey.
Said Dickey: "My thought has always been, 'Why don't you take a guy that you were going to release anyway and give him just a shot, right here?' … Let me stick you in extended spring [training] and see if something comes of it -- a guy that's got a good makeup, maybe. Of course that seems logical. Baseball doesn't always operate logically.
"It's usually a pitch born of desperation, you know? I mean, really. And a lot of times people's egos might get caught up in it, thinking they have more to offer than they really have. It's kind of your last-ditch effort to hold onto a dream. I certainly view it that way. And it's hard to do. It's taken me five years of really committing to it to just produce what you've seen the last two years. So there's a lot of adversity that comes with it."
February, 20, 2012
2/20/12
3:17
PM ET
R.A. Dickey discusses his offseason climb of Mount Kilimanjaro as well as the retirement of fellow knuckleballer Tim Wakefield.


November, 10, 2011
11/10/11
11:03
PM ET
R.A. Dickey just got the chance to spend time with three fellow knuckleballers -- Phil Niekro, Charlie Hough and Tim Wakefield -- at Lake Lanier Resort near Atlanta.

Tweeted Dickey: "Over 700 wins between them, when you add me in you have a few more. ... Four knuckleballers together telling knuckleball stories. It was incredible."
May, 13, 2011
5/13/11
7:43
PM ET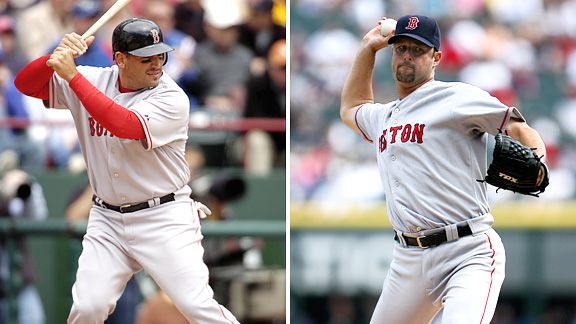 Getty Images
Doug Mirabelli (left) successfully caught knuckleballer Tim Wakefield (right) with the Red Sox, so R.A. Dickey put Mirabelli in touch with Josh Thole.
Doug Mirabelli
was paired with
Tim Wakefield
for 1,012 innings, more than double the duty of any other catcher in the knuckleballer's 19 major league seasons.
And
R.A. Dickey
honed his knuckleball with advice from Wakefield.
So Dickey decided to ask Wakefield if Mirabelli, who last appeared in the majors in 2007 with the Boston Red Sox, would be willing to speak with
Josh Thole
and offer pointers. Mirabelli was more than willing to assist, and recently spoke with Thole by phone.
"I called him and just chatted on the phone about different things," Thole said. "I told him what I feel back there and then what I can do to correct it -- make my hands softer. After I called him, I caught R.A.'s bullpen. He sent me a text, 'Hey, how did the bullpen go?' I have plans to stay in touch with him and let him know if things are good, bad.
"R.A. had brought it to my attention and said, 'Hey, if you want to call Doug, Doug would be more than happy to talk to you.'"
Dickey returns to the mound Saturday against the Astros, although
Ronny Paulino
is catching that game.
Terry Collins
indicated that's because Houston will start a left-handed pitcher,
J.A. Happ
.
June, 23, 2010
6/23/10
11:50
AM ET
The 5-0 record that R.A. Dickey takes into his start with the Tigers tonight is rarified air for a knuckleball-throwing starting pitcher.
With the help of
Baseball-Reference.com
and the "
Knuckleball Headquarters
" website, we checked win streaks to start a season for nine of the most prominent knuckleballers we knew.
That would be:
Tom Candiotti
,
Charlie Hough
,
Joe Niekro
,
Phil Niekro
,
Steve Sparks
,
Dennis Springer
,
Tim Wakefield
,
Hoyt Wilhelm
, and
Wilbur Wood
.
That's far from an encyclopedic list, but it's a good starting point for us.
Do you know how many of those pitchers ever had a season in which they began 5-0 as a starting pitcher?
Just one. That was Wilhelm in 1959, a run that the Yankee-hating Mets fan will be glad to know included three wins (and back-to-back shutouts) against the Bronx Bombers.
Hall of Famer Phil Niekro never did it. His best start was 4-0 in 1984, one matched by his brother Joe in 1986. Joe's knuckler is said to be the one that most resembles Dickey's because both threw the pitch at a speed of around 80-miles-per-hour.
The best start for Wakefield's knuckler was also 4-0 in his first season with the Red Sox, 1995. Wakefield actually ran off 10 straight wins in one stretch that season. His second-longest win streak at any point was six, done four times, but not since 2002.
Dickey can reach six both overall and to start the year, if he can find a way past a tough Tigers lineup tonight.
The way Dickey's season has gone bears a strong resemblance to that of Wakefield's first year, 1992, even though Dickey isn't making his major league debut this year.
Both pitchers started the season off well for their respective Triple-A affiliates in Buffalo (Dickey had a one-hitter) in which he retired 27 straight hitters, and then both arrived in the majors to provide a strong, significant impact.
In Wakefield's case, that included pitching two superb games against a reeling Mets team in August, to knock them into oblivion and propel the Pirates to a second straight NL East title and near-miss of a World Series berth.
In Dickey's case, he's hoping his impact is as significant
for
the Mets, instead of against them. And surely he'd take a level of success anything close to what Wakefield has done.
For more on tonight's game, check out
our TMI blog
on Jose Reyes recent efforts to spark the Mets.
Mark Simon is a researcher for Baseball Tonight. Follow him on Twitter at @msimonespn or e-mail him at webgemscoreboard@gmail.com.
NBA
NHL
COLLEGE BASKETBALL
MLB
NBA
NHL
COLLEGE BASKETBALL
MLB