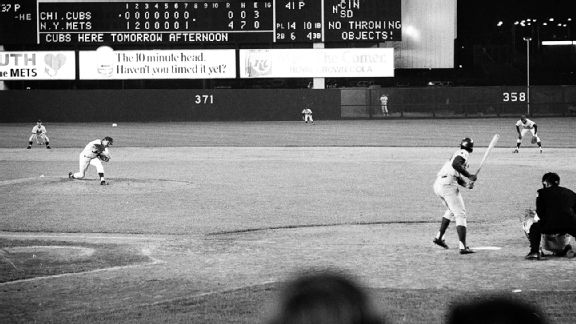 AP Photo
The best-pitched game in Mets history was this near-perfectoThis is the third in a series of top 10 lists we will be generating on the Mets this month. We've previously covered the Mets most notable home runs (part 1|part 2) and best defensive players (part 1|part 2). Next up: the 10 greatest pitching performances in Mets history. We've combined regular season and postseason for this one and we've spaced out the results over two days. No. 6 through 10 ran Tuesday. Here are the top five.
Feel free to share your thoughts in the comments.
5. Jon Matlack vs. Reds (Oct. 7, 1973)
With the Mets down 1-0 to the Reds and having suffered a crushing loss in Game 1 of the LCS (Tom Seaver allowed home runs in the eighth and ninth inning to blow a 1-0 lead), the Mets were in desperation mode in Game 2.
They got a brilliant performance from Jon Matlack, who grabbed hold of a 1-0 fourth-inning lead and didn't let go. Matlack pitched a two-hit shutout, allowing only a pair of harmless singles to Andy Kosco and the Mets added insurance runs late to win 4-0.
How good was Matlack? The first four hitters in the Reds lineup -- Pete Rose, Joe Morgan, Tony Perez and Johnny Bench -- were a combined 0-for-16.
This was the first of three brilliant starts that postseason by Matlack, in which he allowed three unearned runs in 23 innings. The fourth (unfortunately for Mets fans) was a loss to the Athletics in Game 7 of the World Series.
Stat to know: Sixteen pitchers have thrown at least 15 postseason innings for the Mets. The lowest ERA among those hurlers is Jon Matlack's 1.40.
4. Bobby Jones vs. Giants (Oct. 8, 2000)
A brief moment of personal reminiscence here: I can remember watching Jones from the upper deck of Shea Stadium as he threw his warmup pitches prior to Game 4 of the NLDS, thinking "this looks like a guy who is 100 percent ready to go."
Best Mets Pitching Performance
In an MLB Debut
Jones confirmed my intuition when I talked with him about it a few years ago. His wife had a similar feeling the day before, when she told Bobby Valentine that Jones would pitch "the game of his life."
"You can imagine the electricity and the atmosphere at Shea that day," Jones said. "I had no idea what it was like. I was so locked in. I didn't hear another person say anything. I was so focused."
Jones rewarded Valentine's decision to start him by indeed pitching the best game of his life. He retired the side in order in every inning, but the fifth, and the only hit he allowed was a Jeff Kent double just over third baseman Robin Ventura's glove.
The end result was a 5-0, one-hit shutout ("a masterpiece" as ESPN's Jon Miller would call it) that put the Mets into the NLCS against the Cardinals.
Stat to know: Jones is one of six pitchers to throw a no-hitter or one-hit shutout in postseason play. He was the first since Jim Lonborg did so for the Red Sox against the Cardinals in Game 2 of the 1967 World Series.
3. Johan Santana vs. Cardinals (June 1, 2012)
I'm guessing the younger fans would like to see this game No. 1, given the historical significance attached to the Mets finally getting their first no-hitter. But I think this is its rightful place when put into a broader perspective.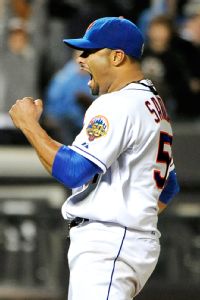 AP Photo/Kathy Kmonicek
Johan Santana had reason to celebrate.Johan Santana was really good on this night, but he was also a bit fortunate. This wasn't the dominant Santana of a few years back. It was the post-injuries version that walked five hitters.
The Mets caught a break, the kind they hadn't caught in previous no-hit bids when Carlos Beltran's chalk-hitting line drive was ruled foul, though replay showed otherwise.
The most angst-ridden moment of this game came when Yadier Molina made a bid for the Cardinals' first hit with one out in the seventh inning. Mike Baxter, who grew up in Whitestone, N.Y. and had a full understanding of the significance of the no-hit bid, made a reaching catch and then crashed into the left-field wall, breaking his collarbone.
The gain for the pain was a place in Mets history that will never be forgotten.
Santana had no really tough moments the rest of the way. He'd finish with his best pitch, a signature changeup that David Freese chased to end the 134-pitch game of glory.
Stat to know: The Mets went 8,019 games without a no-hitter. The Elias Sports Bureau reported that's the most by any team beforet recording its first no-hitter.
2. Tom Seaver vs. Padres (April 22, 1970)
Seaver tied a then-major-league record with his 19 strikeouts and set a record, still unbroken, by striking out 10 in a row to end the game. Seaver allowed only two hits, a home run by Al Ferrara in the second inning and a single by Dave Campbell in the fourth.
You could certainly make the case that this was the best pitching performance in Mets history. What hurts its case is that it came against a weak-hitting Padres team that finished 63-99.
Also considered: '69 World Series Game 4
Seaver acknowledged as much after the game. New York Newsday's reporter at the time described Seaver's reaction as 'blasé.'
Statistically speaking, according to the Bill James Game Score metric it actually ranked even with the No. 1 choice on the list.
Stat to know: This game was part of a streak spanning the 1969 and 1970 regular seasons in which Seaver went 16-0 with a 1.63 ERA over 18 starts. The 16 straight winning decisions is still a Mets record.
And the first start after the loss that ended the winning streak? How about a 15-strikeout, one-hitter against the Phillies that easily could have made this list as well.
1. Tom Seaver vs. Cubs (July 9, 1969)
The closest a Mets pitcher ever came to throwing a perfect game was this one against the Cubs in 1969 -- a game magnified by the Mets' sudden ascendancy to respectability and their chasing of the Cubs for the division lead.
Seaver noted in his 1970 book (co-authored by Dick Schaap, titled The Perfect Game) that he struggled warming up for this game and was dealing with a tight shoulder. Regardless, he retired the Cubs' first 25 hitters. But as often befell Mets pitchers in their quest for no-hit glory, a little-known player would be the spoiler. Centerfielder Jim Qualls would notch the 12th base hit of his major-league career, an uncatchable line-drive single to center field.
Seaver would finish with a one-hit shutout and the Mets' seventh win in a row. And they had the full attention of the Cubs and the baseball world after this game.
Stat to know: Six Mets have thrown multiple complete-game one-hitters (games lasting at least nine innings): They are Seaver (5), R.A. Dickey (3), Steve Trachsel, Matlack, Gary Gentry and David Cone (2 each).