New York Mets:

Tom Signore
July, 23, 2014
7/23/14
10:47
AM ET
NEW YORK -- Ninth-round pick
Michael Katz
out of William & Mary is off to a solid start to his professional career with the Brooklyn Cyclones.
Katz, who turns 22 on Aug. 6, is hitting .299 with 18 RBIs in 137 at-bats.
"Basically I feel like a freshman in college all over again, just being a rookie and getting accustomed to everything," the first baseman/left fielder said.
The 6-foot-3, 235-pound Katz certainly has an athletic pedigree. His father
Jim
played two seasons of baseball at George Washington University. His mother
Laurie
played two seasons of college basketball at UNC Charlotte. Both parents then transferred to Virginia Tech to complete their academic careers.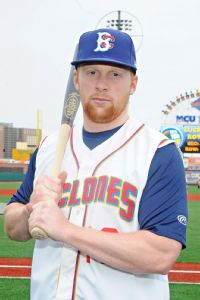 Courtesy of Brooklyn CyclonesMichael Katz
"My mom likes to brag about that," Katz said. "She usually says she played at UNC, but she went to UNC Charlotte. A little different."
Although he played defensive end and linebacker for his high school football team in Virginia, baseball was always first for Katz.
His sophomore season at William & Mary he helped lead the Tribe to its first-ever NCAA Tournament wins, a pair of regional victories against Ole Miss while playing at NC State. He was named Colonial Athletic Association Player of the Year as a junior and also was a semifinalist for the Dick Howser Trophy and Golden Spikes Award.
Katz hit .363 with 14 homers and a school-record 75 RBIs this past college season. He had a .445 on-base percentage and .646 slugging percentage.
He also developed a reputation for using the whole field and commanding the strike zone, which obviously is consistent with the Mets' preaching.
"I guess I've never really thought of myself as a guy that goes up there intentionally taking pitches or anything like that, trying to work the count," Katz said. "I pretty much just go up and see a ball that I can hit well and go for it. But I guess just usually being in the middle of the lineup, people will pitch around you, so I will find myself in a bunch of three-ball counts or 3-2 counts or stuff like that.
"When I look at my game, I like to see a lot of pitches. It kind of falls in with what the Mets like -- run producers and on-base percentage and seeing a lot of pitches. I guess it fits perfectly."
Katz is a natural first baseman. His first real introduction to the outfield came this past college season, when a couple of teammates had labrum issues in their shoulders and William & Mary used him in left field.
"I played first base my whole life, so that's always been natural," Katz said. "I played a little bit of right field in like showcase ball in high school. But, other than that, left field pretty much this past spring season was my first real taste of playing outfield in games. I started doing some more here [with Brooklyn]. I can definitely play in the corner outfield. It's just something I need to work on just to get better at it."
Katz predicted the final question of an interview with ESPNNewYork.com before it came. It is a question that seems to arise frequently these days, because he was drafted by a New York team and is playing in Brooklyn.
"Oh, I know what's coming" he lightheartedly said.
No, despite the last name Katz, he is not Jewish.
"I went to Catholic School, kindergarten all throughout high school," Katz said. "That's a common misconception. I got a lot of cheers during Jewish heritage night. The fans seem to love me. I'm sure that's 75 percent of the reason why."
Organization leaders
Average:
John Mora, GCL Mets, .352; Matt Reynolds, Vegas, .340; T.J. Rivera, Binghamton, .338; Oswald Caraballo, Kingsport, .333; Wuilmer Becerra, Kingsport, .325; Dilson Herrera, Binghamton, .323; Enmanuel Zabala, GCL Mets, .319; Matt den Dekker, Vegas, .318; Kevin Plawecki, Vegas, .310; Jhoan Urena, Brooklyn, .308.
Homers:
Brian Burgamy, Binghamton, 18; Dustin Lawley, Binghamton, 18; Andrew Brown, Vegas, 16.
RBIs:
Allan Dykstra, Vegas, 59; L.J. Mazzilli, St. Lucie, 59; Brian Burgamy, Binghamton, 58.
Steals:
Patrick Biondi, Savannah, 20; Dilson Herrera, Binghamton, 19; Jeff McNeil, St. Lucie, 16; Champ Stuart, Savannah, 14; Stefan Sabol, Savannah, 13.
ERA:
Marcos Molina, Brooklyn, 1.26; Octavio Acosta, Brooklyn, 1.46; Kevin McGowan, St. Lucie, 2.31; Steven Matz, Binghamton, 2.38; Corey Oswalt, Brooklyn, 2.48; Andrew Massie, Kingsport, 2.55; John Gant, Savannah, 2.76; Robert Gsellman, Savannah, 2.77; Darin Gorski, Vegas, 3.33; Matt Bowman, Binghamton, 3.41.
Wins:
Gabriel Ynoa, Binghamton, 10; John Gant, Savannah, 10.
Saves:
Chasen Bradford, Vegas, 12; Robert Coles, St. Lucie, 12; Randy Fontanez, Binghamton, 10; Akeel Morris, Savannah, 9; Cody Satterwhite, Binghamton, 8.
Strikeouts:
Darin Gorski, Vegas, 105; Noah Syndergaard, Vegas, 92; Steven Matz, Binghamton, 91; Dario Alvarez, Savannah, 90.
Short hops
• First-round pick
Michael Conforto
is off to a quick start at the plate since making his professional debut Saturday with the Cyclones. Conforto is hitting .375 (6-for-16) with two doubles and two RBIs so far in four games. After serving as the designated hitter in his debut, he has started three straight games in left field.
• After going 5-for-8 with a homer and four RBIs in a doubleheader Tuesday at Tacoma,
Matt den Dekker
is hitting .318/.382/.521 in Triple-A for the season.
•
Dave LaRoche
, a 14-year major league veteran and the father of
Adam
and
Andy LaRoche
, will fill in as Brooklyn Cyclones pitching coach.
Tom Signore
has been dealing with continued symptoms of a head injury suffered when he was struck with a baseball while in the dugout with Vegas. Signore was filling in for
Frank Viola
earlier this season when the incident occurred.
• Catching prospect
Kevin Plawecki
has been diagnosed with vertigo and has been out of Vegas' lineup since Thursday.
•
Wilmer Flores
lost a 22-game hitting streak Tuesday. The Las Vegas record remains 37 games by
Joey Cora
in 1989, when the Triple-A club was affiliated with San Diego. The longest hitting streak in the organization now belongs to Savannah DH/first baseman
Matt Oberste
. He has hit safely in 20 straight games.
• Right-hander
Chris Flexen
, a 14th-round pick in 2012 out of high school, underwent Tommy John surgery. Flexen, 20, had been 3-5 with a 4.83 ERA in 13 starts for Savannah this season.
• Right-hander
John Gant
, the Mets' 21st-round pick in 2011 out of high school, is the reigning South Atlantic League Pitcher of the Week. Gant took a no-hit bid into the sixth inning in his most recent start. He is now 10-5 with a 2.76 ERA in 17 starts for Savannah this season.
• Right-hander
Rob Whalen
has rejoined Savannah. Whalen began the season 4-0 with a 1.83 ERA in four appearances (three starts) with the Gnats. He then was diagnosed with an infection in his pitching hand that required surgery to clean out.
•
Andrew Brown
had an opportunity to go to Japan earlier this season, but the Mets did not want to lose him and never reached agreement with the Japanese club. Brown is hitting .291/.382/.571 with Vegas this season.
June, 11, 2014
6/11/14
8:05
AM ET
NEW YORK -- One year certainly has made a dramatic difference for 23-year-old middle infielder
Matt Reynolds
, the Mets' second-round pick in 2012 out of the University of Arkansas.
A year ago, in his first full professional season, Reynolds hit only .226 in 433 at-bats with Class A St. Lucie.
This season, he has a .361 average in 194 at-bats with Double-A Binghamton. Add in 27 walks and Reynolds has a .437 on-base percentage. The batting average is tied for second in all of minor league baseball.
Reynolds indicated his offseason work with
Rick Strickland
in St. Louis paid big dividends.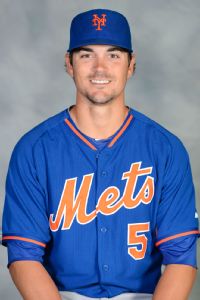 Courtesy of New York MetsMatt Reynolds
Reynolds' agent,
Jason Wood
, sent him to work with Strickland. Another client, the Phillies'
Cody Asche
, also had success working with the part-time Mets scout and former Yankees minor leaguer.
"Luis Rivera, our [Binghamton] hitting coach, has been huge with me, too," Reynolds added. "We've just been working on staying through the middle, having a confident approach at the plate, and really just getting a good pitch to drive. And if they don't give it to me, and I get to two strikes, just battle and find a way to get on base.
"I'm trying to keep a positive attitude, even when things are going bad. So far things really haven't gone too bad. So it's pretty easy to keep a positive mental state. But even when things start going bad, just to stay positive and keep working."
Reynolds missed six days last week with a back issue, but he has come back on fire. He is 11-for-24 in five games since returning.
"It was just muscle tightness," Reynolds said. "They never really said specifically what it was, but they said if I kept having pain to take time off until I was better. I think I took four days off and felt 100 percent. I feel a lot better now."
Reynolds "definitely" continues to aspire to be a shortstop, although deficiencies may result in him playing elsewhere. He also sees roughly two games a week at second base with the B-Mets.
"I only played a couple of games in college at second, but I worked there a lot and practiced and everything," Reynolds said. "I actually played summer ball at second. So I have a little background at second. I just had to get used to it again after playing third and short in college and everything. It's nothing different to me -- just another position to help my value and to get better."
Asked what he wanted to still polish in the minors, Reynolds added: "I really want to improve on being able to pull the ball a little bit better, and my defense, obviously. I want to stay at shortstop or even at second base. And I know there are a lot of things that I need to work on, like my hands and footwork, to be able to stay at that position. I know that may not come today or tomorrow, but eventually I feel like I'll be able to get everything I need to do to play at those positions."
Reynolds is athletic. A point guard in high school, he indicated he had invitations to walk on to basketball programs at Iowa State, Furman and Butler.
"After my sophomore year [of high school], I was almost for sure that I was going to play basketball in college," Reynolds said. "I was close to playing basketball in college. And then I had a good junior year. And in the summer of my junior year I was talking to some professional scouts and they said I really had a chance of being a good player in baseball. I sat down with my parents and decided that baseball was probably my best route to go -- better than basketball – because I was a 6-foot guy trying to make it in an NBA where the point guards are 6-8 now. So it would be have been tough for me."
Organization leaders
Average:
Matt Reynolds, Binghamton, .361; Jairo Perez, St. Lucie, .353; T.J. Rivera, St. Lucie, .351; Kevin Plawecki, Binghamton, .344; Jeff McNeil, Savannah, .341; Brandon Nimmo, St. Lucie, .327; Matt Clark, Binghamton, .313; L.J. Mazzilli, Savannah, .304; Dilson Herrera, St. Lucie, .302; Allan Dykstra, Vegas, .299.
Homers:
Andrew Brown, Vegas, 13; Matt Clark, Binghamton, 9; Allan Dykstra, Vegas, 9; Kirk Nieuwenhuis, Vegas, 9.
RBIs:
Allan Dykstra, Vegas, 46; T.J. Rivera, St. Lucie, 45; L.J. Mazzilli, Savannah, 43; Kevin Plawecki, Binghamton, 40; Aderlin Rodriguez, St. Lucie, 39.
Steals:
Dilson Herrera, St. Lucie, 14; Jeff McNeil, Savannah, 14; Patrick Biondi, Savannah, 13; L.J. Mazzilli, Savannah, 11; Brandon Nimmo, St. Lucie, 9.
ERA:
Steven Matz, St. Lucie, 2.13; Kevin McGowan, Savannah, 2.14; John Gant, Savannah, 2.36; Darin Gorski, Vegas, 2.81; Matt Koch, St. Lucie, 3.24; Gabriel Ynoa, St. Lucie, 3.45; Ricky Knapp, Savannah, 3.99; Luis Cessa, St. Lucie, 4.08; Matt Bowman, Binghamton, 4.44; Noah Syndergaard, Vegas, 4.47.
Wins:
Matt Koch, St. Lucie, 6; John Gant, Savannah, 6; Gabriel Ynoa, St. Lucie, 6.
Saves:
Chasen Bradford, Binghamton, 11; Robert Coles, Savannah, 11; Randy Fontanez, St. Lucie, 9; Vic Black, Vegas, 7; Jeff Walters, Vegas, 6; Beck Wheeler, St. Lucie, 6.
Strikeouts:
Darin Gorski, Vegas, 64; Miller Diaz, Savannah, 59; Dana Eveland, Vegas, 58; Dario Alvarez, Savannah, 58; Noah Syndergaard, Vegas, 57.
Short hops
•
Sandy Alderson
indicated the Mets are within days of signing first-round pick
Michael Conforto
, an outfielder from Oregon State. The GM added that third-round pick
Milton Ramos
, a prep shortstop from Florida, is even closer to being signed. Other picks already in or en route to Port St. Lucie include
Eudor Garcia
(fourth round),
Josh Prevost
(fifth),
Dash Winningham
(eighth),
Erik Manoah
(13th),
Darryl Knight
(14th),
David Roseboom
(17th),
Tyler Badamo
(24th) and
Matt Blackham
(29th).
• Discussing his rationale for the first time for demoting
Travis d'Arnaud
, Alderson said: "He needs to go down without the pressure of playing every day at the major league level, get his swing back, get his confidence back, and I would expect that he'll be back -- hopefully -- relatively soon. It's not unusual. Sometimes we expect that guys will come up and everything will click immediately with a young player and it's nothing but an upward trajectory. And that doesn't always happen. I think we have to recognize that and be a little patient. As far as we're concerned, there's no reason Travis can't come back and be a very productive player for us."
• After seven weeks mysteriously away from the organization,
John Lannan
threw roughly 45 pitches off a mound at the Mets' Florida complex on Tuesday morning. In a post-throwing-session interview with the St. Lucie News Tribune's
Jon Santucci
, Lannan declined to disclose his whereabouts during his absence. The Mets have labeled it a personal/family matter. Lannan will work as a starter in the minors. He will pitch in the Gulf Coast League or Florida State League to ramp up before being dispatched to Las Vegas.
"Let's call it a mini-spring training -- just stretch out and see how it goes," Lannan told Santucci. "I've been throwing, so now I'm just going to get back in the swing of things, face some batters and get my pitch count up. My arm feels good. I just have to get back on a five-day rotation and get my pitch count going."
• Shortstop
Amed Rosario
, temporarily with Savannah, is expected to highlight the roster of the Brooklyn Cyclones, who open play Friday at Staten Island. The 18-year-old Rosario signed two years ago for $1.75 million, a franchise record for an international teenager. The Cyclones also will include 2013 third-round pick
Casey Meisner
, a right-hander out of high school in Texas, as well as infielder
Jhoan Urena
, catcher
Tomas Nido
, outfielder
Joe Tuschak
and right-handers
Marcos Molina
,
Corey Oswalt
and
Brandon Welch
.
Kingsport opens play June 19, with the Gulf Coast League season beginning the following day.
• Vegas reliever
Jeff Walters
, a 40-man roster member, is debating whether to proceed with Tommy John surgery or to try to rehab after being diagnosed with an ulnar collateral ligament tear in his right elbow. Walters unwittingly had been pitching through the tear this season. He produced an 8.86 ERA in 23 Pacific Coast League relief appearances. He had 38 saves last season with Binghamton.
• 2011 first-round pick
Brandon Nimmo
remains sidelined since getting struck with a pitch in the right wrist Friday by Dunedin's
Matt Boyd
. X-rays were negative, but the wrist remains tender and Nimmo is unable to swing. Also injured with St. Lucie, reliever
Beck Wheeler
and shortstop
Phillip Evans
have landed on the DL with right-knee strains.
May, 7, 2014
5/07/14
8:44
AM ET
MIAMI -- When the Mets selected
Michael Fulmer
with the 44th overall pick in 2011,
Paul DePodesta
suggested the right-hander was the third big prep arm in that year's draft from the state of Oklahoma, along with
Dylan Bundy
(fourth overall/Orioles) and
Archie Bradley
(seventh overall/Diamondbacks).
Three years later, the 21-year-old Fulmer is 1-1 with a 6.00 ERA in five starts for Class A St. Lucie this season. The recent results have been encouraging, though.
After allowing 16 runs over his first three starts, Fulmer has produced consecutive scoreless efforts. In 11 innings over those two recent Florida State League starts, he has allowed seven hits and three walks and hit a batter while striking out five.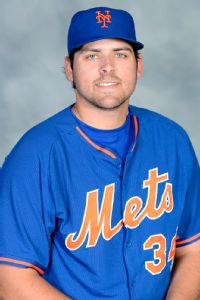 Courtesy of New York MetsMichael Fulmer
He throws a fastball (92-94 mph), slider, curveball and changeup.
Last year, Fulmer required March 12 surgery to repair a torn meniscus in his right knee and did not appear in a Gulf Coast League game until June 25. He ended up making only nine appearances between the GCL and Savannah before getting shut down with biceps tendinitis after an Aug. 18 appearance.
So this season's slow start might have been partly attributable to knocking off the rust after limited work a year ago.
"It's a little bit of that. Most importantly, it's the things me and [St. Lucie pitching coach]
Phil
[
Regan
] have been working on in between starts -- tweaking deliveries here and there," Fulmer said. "I think I just kind of put everything together at once and these past couple of starts kind of worked out."
The tweaks?
"It's staying back a little longer on my backside. And then really getting over on top of the ball and keeping my front side strong and keeping it closed," Fulmer said. "It's just little things. I think everything is going in the right direction."
As for 2013, between the meniscus surgery and biceps issue, Fulmer said: "I just never really got going. I tried to come back from the meniscus surgery and it felt fine, felt fine. And then I finally got back and just didn't feel right basically all year. But it's a new year. Everything is feeling 110 percent healthy. And I'm excited to get this year going. It was basically just inflammation of the biceps tendon. Nothing too big."
Early on in his Mets career, fellow Oklahoman
Jeremy Hefner
took Fulmer under his wing, including going to dinner a couple of times during spring training that year. Both are represented by agent
Jay Franklin
.
As for three years ago, Fulmer ended up meeting the big-league club shortly after the draft, because the Mets were playing an interleague series against the Texas Rangers in Arlington.
"I remember being speechless when I met
Jose Reyes
," Fulmer said. "You follow baseball, the entire MLB, and you know who guys are. I was just 18 at the time and never really met anybody in the major leagues. Just to meet all those guys on the team, it was basically a dream come true. They were all nice and welcomed me in and talked to me a little bit."
Organization leaders
Average:
T.J. Rivera, St. Lucie, .393; Wilfredo Tovar, Binghamton, .350; Brandon Nimmo, St. Lucie, .347; Matt Reynolds, Binghamton, .337; Eric Campbell, Vegas, .331; Matt Clark, Binghamton, .330; Allan Dykstra, Vegas, .329; Dilson Herrera, St. Lucie, .299; Zach Lutz, Vegas, .298; Jeff McNeil, Savannah, .297.
Homers:
Matt Clark, Binghamton, 7; Taylor Teagarden, Vegas, 7; Wilmer Flores, Vegas, 5; Stefan Sabol, Savannah, 5.
RBIs:
Aderlin Rodriguez, St. Lucie, 32; T.J. Rivera, St. Lucie, 29; Allan Dykstra, Vegas, 26; Stefan Sabol, Savannah, 25.
Steals:
Patrick Biondi, Savannah, 8; Jeff McNeil, Savannah, 7; Stefan Sabol, Savannah, 6.
ERA:
Robert Gsellman, Savannah, 1.48; Jacob deGrom, Vegas, 1.89; Steven Matz, St. Lucie, 2.14; Buddy Carlyle, Vegas, 2.16; Kevin McGowan, Savannah, 2.77; John Gant, Savannah, 2.79; Darin Gorski, Binghamton, 3.04; Hansel Robles, Binghamton, 3.51; Matt Koch, St. Lucie, 3.58; Noah Syndergaard, Vegas, 3.58.
Wins:
Jacob deGrom, Vegas, 4; Noah Syndergaard, Vegas, 4; Rob Whalen, Savannah, 4.
Saves:
Jeff Walters, Vegas, 6; Chasen Bradford, Binghamton, 5; Robert Coles, Savannah, 5; Randy Fontanez, St. Lucie, 4.
Strikeouts:
Rafael Montero, Vegas, 36; Noah Syndergaard, Vegas, 36; John Gant, Savannah, 30; Steven Matz, St. Lucie, 30; Darin Gorski, Binghamton, 29.
Short hops
•
Vic Black
has taken over closing duties from
Jeff Walters
with Vegas. Walters has a 9.82 ERA and was 6-for-9 in save chances. Walters suffered the blown save and loss Monday at Tacoma, when he entered with a one-run lead and surrendered a pair of ninth-inning runs. Black has walked 10 and hit a batter in 12 1/3 innings this season, but he also has a 0.73 ERA. He has not issued a walk in his past three appearances, although he did allow three hits before preserving Vegas' 7-6 win Tuesday night at Salt Lake.
• Right-hander
Rob Whalen
, who is 4-0 for Savannah, has been released from the hospital after having an infection on his throwing hand surgically cleaned. Whalen will need to wait a couple of weeks before resuming throwing. Teammate
Robert Gsellman
, who sports an organization-best 1.48 ERA, also landed on the disabled list, with a hamstring strain. Gsellman has resumed tossing a baseball and should get on a mound again soon.
• Former Mets reliever
Royce Ring
is back with the organization as Gulf Coast League pitching coach. Ring, 33, briefly pitched last season for the independent Long Island Ducks. The Mets may have one more minor-league pitching coach vacancy, but there is hope
Frank Viola
will be well enough to join Vegas in time for
Tom Signore
to return to his originally intended role as Brooklyn Cyclones pitching coach. Viola underwent open-heart surgery on April 5. Brooklyn's season opens June 13. Viola will be the Mets' ceremonial representative at the televised June 5 draft.
• Kansas State product
Jared King
proposed to his girlfriend
Maggie Watson
before Saturday's Savannah game. She accepted.
• Left-hander
John Lannan
has yet to report to Vegas because of an ongoing family issue, team officials said. Lannan last appeared in a game April 13, with the Mets.
• Former second-round pick
Cory Mazzoni
, who was forced to depart the final spring-training game in Port St. Lucie in the second inning with a lat issue, has started throwing and is moving closer to mound work. Mazzoni had been ticketed for the Triple-A rotation to open the season.
March, 28, 2014
3/28/14
5:37
AM ET
PORT ST. LUCIE, Fla.
FIRST PITCH:
Jenrry Mejia
makes his final pitch for a rotation spot when the Mets play their first game in Montreal in a decade.
Mejia is due to oppose
Toronto Blue Jays
left-hander
Mark Buehrle
at 7:05 p.m. at packed Olympic Stadium on Friday night, after a pregame tribute to the late Gary Carter.
David Boily/MLB Photos/Getty ImagesHere's a view of Olympic Stadium back on Sept. 29, 2004 -- before the final home game in the Expos' existence.
"We were talking, and he told me that he was competing," ex-Met
Jose Reyes
told ESPN's Marley Rivera in Spanish, referring to Mejia's fifth-starter's race with
Daisuke Matsuzaka
. "I told him, 'My brother, stay with your head high and continue to compete.'
"He told me that he was pitching one of the days in Montreal, and he told me, 'Careful what you're going to do to me.' And I told him that I was not yet sure if I was going to play [because of a hamstring injury], but now I think I'm going to be in the lineup. I told him, 'I would like to wish you the best, because the talent is there.' He has been strong despite having several injuries."
The Jays also have ex-Mets
R.A. Dickey
and
Josh Thole
.
Ten years ago,
David Wright
hit his first big-league homer at OIympic Stadium. It came in a 19-10 loss to the Montreal Expos in Wright's sixth carer game -- a solo shot in the second inning against
John Patterson
, on July 26, 2004.
The Mets
broke camp in Florida
on Thursday afternoon. Before departing, they officially placed
John Lannan
on the 40-man roster
to serve as a reliever
.
So the lone official decisions yet to be announced -- aside from Matsuzaka versus Mejia -- are
Andrew Brown
versus Eric Campbell for an extra bench spot and
Omar Quintanilla
versus Anthony Seratelli for the backup-shortstop role. Brown and Quintanilla appear likely to prevail.
Friday's news reports:
•
Jonathon Niese
tossed 4 1/3 scoreless innings against
St. Louis Cardinals
A-ball players Thursday and
said he felt "amazing."
The performance came nine days after the southpaw received a cortisone injection in his left elbow.
That allays some concern about whether Niese will be ready to come off the disabled list April 6 to face the
Cincinnati Reds
. So perhaps the Mets can just choose Mejia or Matsuzaka from the start of the season and not need serious roster maneuvering. The expectation continues to be Matsuzaka, who faces the Jays on Saturday, ultimately will settle into the big-league rotation.
Meanwhile, Mejia
has a bunion issue
on the side of his right big toe that Terry Collins suggested may be a factor in the fifth-starter selection.
Matsuzaka, reacting to being handed $100,000 on Tuesday to delay the decision, said he has
come to expect the unexpected
in his U.S. career.
Read more in the
Daily News
,
Star-Ledger
and
Newsday
.
• Collins says
Eric Young Jr.
and
Juan Lagares
both should get playing time
in the outfield. Read more in the
Post
and
Star-Ledger
.
• EY Jr.
played an inning at shortstop
Thursday.
• Richard Sandomir and Ken Belson
in the Times
delve into the Mets' finances.
• An engineer who prepares environmental-impact studies implores New York City's mayor to stop the eminent-domain proceedings of land around Citi Field in an op-ed
in the Daily News
.
• Olympic Stadium, which normally hosts Major League Soccer, needed some major tinkering to get ready to host baseball, Brenda Branswell writes
in the Montreal Gazette
. One concern: The roof isn't in perfect condition, so a few inches of snow would have resulted in cancellation of the event. A light snow/rain is expected Friday afternoon. There are 35,000 to 40,000 people expected per game.
• Tom Signore, who was ticketed for the Brooklyn Cyclones, will begin the season
as Triple-A Las Vegas' pitching coach
. He will fill in for Frank Viola, who is due to undergo open-heart surgery Wednesday.
• Prospect Cory Mazzoni departed Thursday's Grapefruit League finale
with a triceps injury
in the second inning.
• The Mets
finished 14-14-2 in Grapefruit League play
after a 4-0 loss to the
Washington Nationals
at Tradition Field.
• Tim Teufel's son Shawn, a left-handed pitcher, was among Thursday's
cuts from minor-league camp
. So was Alonzo Harris, who played for Double-A Binghamton last season. Harris quickly signed with the
Miami Marlins
.
• Mets executive VP Lou DePaoli tells Steven Marcus
in Newsday
that Opening Day will sell out at Citi Field.
"The game will definitely sell out," DePaoli told Marcus. "We are pacing significantly ahead of last year. As of right now, there are roughly less than a thousand seats available. We're going to be opening standing room only.
"Overall, our Opening Day sales are way ahead of what they were last year. You've got to think the fact that maybe people have been cooped up a little bit and want to get out, they're excited to get back outside."
• Columnist Ken Davidoff
in the Post
suggests Wright is poised to succeed
Derek Jeter
as the face of New York baseball.
• Brian Costa
in the Journal
is not bullish about the 2014 Mets. Writes Costa:
This feels like a sequel to a movie that didn't draw rave reviews to begin with. Harvey, who is expected to miss the entire season coming off elbow surgery, plays the role of last year's Johan Santana: the ace in rehab. Syndergaard becomes last year's Wheeler: the dynamic arm whose arrival will be delayed by baseball's self-defeating financial incentives to keep top prospects out of the majors until midseason.
Ike Davis, Lucas Duda and Ruben Tejada return as themselves, despite the Mets' best efforts. The questions about their ability to become part of the team's core group of position players are the same, if not louder, than they were before. Only now the three are a year older and the Mets' patience is wearing thinner.
• A Manhattan federal judge dismissed a lawsuit Wednesday by a man who claimed volunteers at the All-Star Game's FanFest ought to have been paid, writes Rich Calder
in the Post
.
• Columnist Joel Sherman
in the Post
predicts
Matt Harvey
could bolt for the Yankees once he is a free agent after the 2018 season if things don't change.
•
From the bloggers ...
Faith and Fear
contrasts big-leaguers' first games with the uncertainty attached to their last.
BIRTHDAYS:
Former Rule 5 pick
Brad Emaus
turns 28 today. … Former Generation K member
Paul Wilson
is 41.
TWEET OF THE DAY:
So I guess planes get flat tires too #delayed

— Anthony Seratelli (@ars1productions) March 27, 2014
YOU'RE UP: Should Montreal get another chance at an MLB team?
March, 27, 2014
3/27/14
4:27
PM ET
PORT ST. LUCIE, Fla. -- The Mets will name Tom Signore as the new pitching coach at Triple-A Las Vegas, multiple sources told ESPNNewYork.com.
Signore will step in for Frank Viola, who will require open-heart surgery next Wednesday.
Signore, 52, originally had been slated to serve as Brooklyn Cyclones pitching coach. He was hired this winter after previously working for the
Toronto Blue Jays
, including the past three seasons as pitching coach of Double-A New Hampshire.
Signore is a one-time minor-league teammate of Mets special assistant J.P. Ricciardi.
Ron Romanick's name originally had been floated as the potential replacement, but he will remain minor-league pitching coordinator.