New York Mets:

Tommy Tanous
June, 8, 2014
6/08/14
5:32
AM ET
SAN FRANCISCO
FIRST PITCH:
Former
San Francisco Giants
farmhand
Zack Wheeler
is charged on Sunday with trying to halt the Mets' losing streak at five games and help the Amazin's avoid getting swept.
Wheeler (2-5, 3.89 ERA) has contributed two straight solid efforts on the road trip. He has combined to limit the
Philadelphia Phillies
and
Chicago Cubs
to one run on six hits and two walks while striking out 16 in 13 innings.
Wheeler opposes right-hander
Tim Lincecum
(4-4, 5.01) at 4:05 p.m. ET.
The Mets have not been swept by the Giants since 2002, when San Francisco ran the table in three-game series at Shea Stadium and what was then known as Pac Bell Park.
Gregory Bull/Associated PressTravis d'Arnaud was demoted to the minors late Saturday.
The Mets (28-34) complete a stretch of 20 games in 20 days with the series finale at AT&T Park. They also wrap up a three-city trip in which they went 4-1 in Philly, then got swept at Wrigley Field.
Sunday's news reports:
•
Travis d'Arnaud
, expected to be a cornerstone of the Mets' rebuilding, again is a minor leaguer. Three-for-26 since returning from the disabled list for a concussion and hitting .180 for the season, d'Arnaud was
demoted to Triple-A Las Vegas
after Saturday's game. Ex-Oriole/Ranger
Taylor Teagarden
will join the Mets on Sunday. Read more in the
Post
,
Daily News
,
Newsday
,
Star-Ledger
and at
MLB.com
.
• Terry Collins and
David Wright
spoke to the players during a pregame team meeting
Saturday about staying positive, but the Mets went on to
lose to the Giants, 5-4
, in walk-off fashion.
Jenrry Mejia
suffered his first blown save. Wright committed a
critical sixth-inning throwing error
that led to two unearned runs.
The Mets have now lost 20 games this season in which they held a lead -- the most in the majors.
Read game recaps in the
Post
,
Daily News
,
Times
,
Newsday
,
Star-Ledger
,
Record
and at
MLB.com
.
• Wright will be
out of the starting lineup Sunday
for the first time this season. With the Mets on a five-game losing streak, he asked Collins to play, but was rebuffed by the manager. Read more in the
Star-Ledger
.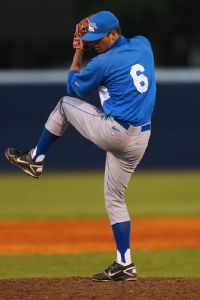 Courtesy of the University of MemphisThe Mets selected University of Memphis right-hander Bryce Beeler in the 19th round of the draft.
• Paul DePodesta and amateur scouting director Tommy Tanous completed the draft with
rounds 11 through 40
on Saturday. The Mets selected two right-handed pitchers
with New York ties
: Stonehill (Mass.) College's Jim Duff is from Garden City, Long Island. Tyler Badamo is a product of Oakdale's Dowling College and from Mount Sinai.
Connecticut prep right-hander Bradley Wilpon, the son of Jeff Wilpon and grandson of Fred Wilpon, was
selected in the 36th round
by the
Boston Red Sox
. He will not sign and instead is headed to the Wharton School of Business and to play for the Penn baseball team.
Read features on Badamo at
MLB.com
and
Baseball on the Island
. Read more the Mets' draft in the
Record
.
• Tim Rohan
in the Times
reviews the Mets' ill-fated trade of
Angel Pagan
to the Giants for
Andres Torres
and
Ramon Ramirez
. Read more in the
Star-Ledger
.
• Columnist Kevin Kernan
in the Post
discusses the state of the Mets.
•
Matt den Dekker
is hitting .192 this season, and Collins suggested
Ruben Tejada
may
get time in the leadoff spot
.
•
Juan Lagares
, on the disabled list with a strained intercostal muscle on his right side, is
not free of discomfort
and therefore is not yet permitted to do work that requires rotating his torso.
• X-rays of 2011 first-round pick Brandon Nimmo's right wrist
revealed no fracture
. Nimmo, who nonetheless was out of the lineup Saturday with St. Lucie, was hit by a pitch the previous day.
• John Gant, Tim Peterson and Robert Coles combined on the shutout as Savannah blanked Charleston, 4-0. Read the full minor-league recap
here
.
• Columnist Joel Sherman
in the Post
identifies five quality batters who should be available at the trading deadline:
Chase Utley
,
Matt Kemp
,
Carlos Gonzalez
,
Alexei Ramirez
and
Ben Zobrist
.
• Lenny Dykstra speaks with Mark Bowman
at MLB.com
about his son Luke being drafted in the seventh round by the
Atlanta Braves
.
• Read more on 50 Cent's woeful ceremonial first pitch
in the Post
.
• Matt Ehalt
in the Record
reviews
Jacob deGrom
's brief and so far successful major league career.
•
From the bloggers …
Faith and Fear
imagines Branden and Alexa going rogue.
BIRTHDAYS:
Toronto Blue Jays
manager and ex-Met John Gibbons turns 52. ...
Dave Mlicki
is 46.
TWEET OF THE DAY:
Apparently I was at the Giants game today. http://t.co/79n9mzLa3y

— bob saget (@bobsaget) June 8, 2014
YOU'RE UP: Did the Mets make the right call demoting Travis d'Arnaud?
June, 7, 2014
6/07/14
9:00
PM ET
SAN FRANCISCO -- The Mets took a pair of right-handed pitchers with Long Island ties on Day 3 of the draft: Jim Duff from Stonehill (Mass.) College, who hails from Garden City, in the 20th round and Tyler Badamo from Oakdale's Dowling College and Mount Sinai in the 24th round.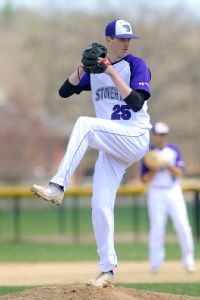 Courtesy of Stonehill CollegeThe Mets selected Garden City, Long Island, native Jim Duff in the 20th round.
On Duff, amateur scouting director Tommy Tanous said: "He pitched fairly close to my house. He's about 20 minutes from my house. He was just up at our workout recently. Our area supervisor Mike Pesce has been on Duff quite a bit this year. A big kid. A strike thrower. A lot of groundballs. Anywhere from 86-90 mph. A really reliable kid. A strike thrower at that size (6-foot-6). So kind of an interesting kid."
On Badamo, Tanous said: "A three-pitch mix -- actually, four at times -- with anywhere from 88 to 92 mph. A curveball, slider. Another strike thrower. Those are the guys we tend to like."
As for drafting players in late rounds who have since reiterated their intention to go to college, such as University of Arkansas-bound right-hander Keaton McKinney (28th round), Tanous said:
"Sometimes you take shots at guys in the lower rounds. Sometimes things change and we get a chance to watch them for the summer and evaluate them. Sometimes the players change their minds about professional baseball.
"You get a chance at getting a player, which will feel like we did several times, that really doesn't belong in the 11th round, the 12th round, and you take a shot."
June, 7, 2014
6/07/14
5:40
AM ET
Ben Margot/Associated PressBuster Posey strikes a pose after connecting on a game-deciding two-run homer against Carlos Torres on Friday.
SAN FRANCISCO
FIRST PITCH:
The Mets will need a win against the pitcher with the top ERA in the majors to prevent their dive from reaching five Saturday.
Bartolo Colon
(5-5, 4.52 ERA) opposes
San Francisco Giants
right-hander
Tim Hudson
(6-2, 1.75) at 10:05 p.m. ET at AT&T Park.
Saturday's news reports:
•
Carlos Torres
surrendered a tiebreaking two-run homer to
Buster Posey
in the eighth and the Mets lost to the Giants, 4-2, Friday night.
Matt Cain
no-hit the Mets into the sixth, but served up a go-ahead two-run homer to
Daniel Murphy
an inning later.
Jonathon Niese
allowed a game-tying RBI single to
Brandon Crawford
in the bottom of the seventh.
Travis d'Arnaud
went 0-for-3 and grounded into two double plays as his average dropped to .180.
"I got to be better than this," d'Arnaud told reporters. "This is unacceptable to me."
Read game recaps in the
Post
,
Daily News
,
Newsday
,
Times
,
Star-Ledger
,
Record
and at
MLB.com
.
• Read more on d'Arnaud in the
Star-Ledger
.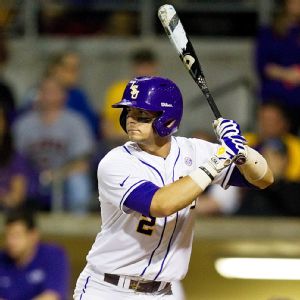 John Korduner/Icon SMIThe Mets selected LSU catcher Tyler Moore with their sixth-round pick.
• On Day 2 of the draft, the Mets selected defensive whiz Milton Ramos, a high school shortstop from Florida, in the third round. They then selected slugging third baseman Eudor Garcia out of El Paso Community College, Seton Hall right-hander Josh Prevost and LSU catcher Tyler Moore. Read the recap of rounds 3-10
here
and comments from amateur scouting director Tommy Tanous and VP Paul DePodesta
here
. The draft concludes Saturday with rounds 11 to 40.
Matt Ehalt
in the Record
profiles first-round pick Michael Conforto out of Oregon State. College coach Pat Casey compares Conforto favorably with fellow Beavers product
Jacoby Ellsbury
in terms of demeanor and bat.
Read more on the Mets draft in the
Post
,
Times
and
Star-Ledger
.
• Top prospect Noah Syndergaard again
dodged a serious injury bullet
. Syndergaard, who injured his left shoulder covering the plate after delivering a first-inning wild pitch Thursday with Las Vegas, was diagnosed with a sprained A/C joint in his left, non-throwing shoulder. An X-ray of the scapula was negative for a fracture. Syndergaard may resume tossing a baseball in five to seven days if he is comfortable. He watched Friday's Las Vegas game from the stands wearing a sling. Read more in the
Post
,
Daily News
,
Star-Ledger
,
Record
and at
MLB.com
.
• Former Mets catcher
Paul Lo Duca
ripped into ex-GM Omar Minaya and the organization's culture and mocked current the catchers, d'Arnaud and
Anthony Recker
,
during a WFAN radio appearance Friday
. On SNY, Lo Duca added: "The Mets need to go back to square one, go back to their roots, go to younger players. If that means to trade David [Wright], that means to trade David."
Read more in the
Post
and
Daily News
.
• Columnist Kevin Kernan
in the Post
suggests the Mets can learn a lot by observing the Giants.
•
Johan Santana
, who was nearing a return to the major leagues with the
Baltimore Orioles
after undergoing shoulder surgery for a second time, suffered a
serious blow to his comeback bid
. The 35-year-old Santana tore an Achilles tendon in an extended spring training game and will miss the remainder of the season. Read more
in the Baltimore Sun
.
•
Eric Young Jr.
suffered
tightness in his strained right hamstring
while attempting to run and will be backed off his rehab. As a result, he will not return from the DL on Tuesday when eligible.
•
Dillon Gee
(lat strain) has
resumed tossing a baseball
on flat ground, but will take a while to get back into game-ready shape.
• Gabriel Ynoa struck out 11 in seven scoreless innings as St. Lucie blanked Dunedin, 5-0. Brandon Nimmo left that game an inning after being struck in the right wrist/forearm by a pitch. Read the full minor-league recap
here
.
• Mets shortstops are outperforming Yankees shortstops, Cody Deraspina writes
in Newsday
.
•
From the bloggers …
Faith and Fear
offers a uniquely Metsian take on the legacy of Don Zimmer.
BIRTHDAYS:
Speedy outfielder
Esix Snead
, who appeared in 18 major league games with the club in 2002 and '04, turns 38.
TWEET OF THE DAY:
Two of my favorite men @FrankViola16 @FrankViola3 are back in uniform tonight doing what they love... So happy and proud!! #LetsPlayBall

— Kathy Viola (@MommaV16) June 7, 2014
YOU'RE UP: Should the Mets consider demoting Travis d'Arnaud?
June, 6, 2014
6/06/14
9:07
PM ET
SAN FRANCISCO -- Mets VP Paul DePodesta and amateur scouting director Tommy Tanous addressed their Day 2 draft picks on Friday. Here's what they had to say:
Milton Ramos
, SS, American Heritage (Fla.) HS, third round:
"Certainly he's known for defense. He's a lot stronger than people think. This is not a below-average bat by any means. I think sometimes when you talk about shortstops with superior gloves, people automatically think it's a non-offensive player. That's certainly not the case with Milton. Tremendous speed. Tremendous hands. He's going to be plenty strong enough to hit. So we're really excited about this type of player."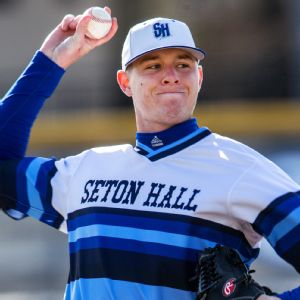 Courtesy of Seton Hall UniversityThe Mets selected Seton Hall right-hander Josh Prevost in the fifth round.
Eudor Garcia
, 3B, El Paso (Texas) CC, fourth round:
"We went and worked him out," Tanous said. "He has massive power. A left-handed hitter. Has absolutely destroyed the junior-college division that he's played in. Most valuable player. Player of the year. He's definitely an offensive player. We feel like he'll be fine at third base. But when you draft this type of guy, you take him for his bat."
Josh Prevost
, RHP, Seton Hall, fifth round:
"He's a really interesting player -- a 6-8 pitcher from Seton Hall," Tanous said. "The biggest surprise when you see him pitch is his actual command and control of his pitches. He's a fastball-slider-changeup pitcher. We've had him up to 94 mph. He probably pitches anywhere between 90-93 mph. Supreme strike-thrower. Tremendous competitor. He has a lot of the things that we look for and still, as a college player, has some upside."
Tyler Moore
, C, LSU , sixth round:
"A left-handed hitting catcher. He does a lot of things that we like offensively," Tanous said. "He has an advanced approach. He has power. Grinds out at-bats. So we're really excited we were able to get him at the spot we ended up getting him. He didn't play every game, and then down the stretch he played quite a bit. Tommy Jackson and Max Semler, our scouts in that region, really did a terrific job staying on him and staying with him. If it wasn't for that, we probably wouldn't have been able to land a prospect like that. He's a catcher (as opposed to other positions he's played). He's really an advanced guy behind the plate. They kind of have a rotation there at LSU. There's nothing we can do about that. But this is a catcher. We drafted him for the purpose of being a catcher."
Brad Wieck
, LHP, Oklahoma City U., seventh round, and
Kelly Secrest
, LHP, UNC Wilmington, 10th round:
DePodesta said it had been a "running joke" in the draft room that the Mets had avoided left-handed pitchers the three previous years.
"It really wasn't intentional," DePodesta added. "We always look for them throughout various drafts and just haven't had very many opportunities to take them, especially in the first 10 rounds. This year the opportunity presented itself twice in the top 10 rounds.
"The first one we took, Brad Wieck, from Oklahoma City ... he's a powerful left-hander. He's 6-foot-9. We had him at 94 mph with a good breaking ball. We do think he's got a chance to be a good one.
"And Kelly Secrest, our scout John Hendricks really liked him and was one of his target guys coming into the draft. We were happy to be able to get two left-handers we really like, and we felt we got them at good, value spots."
April, 7, 2013
4/07/13
6:40
AM ET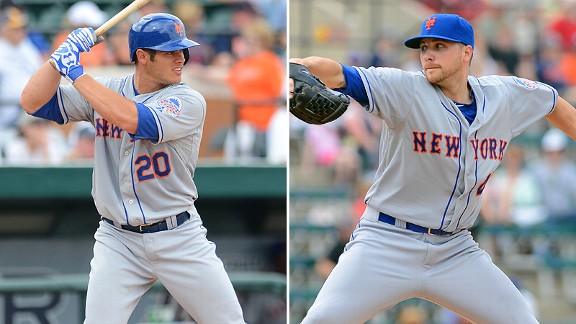 Mark Cunningham/MLB/Getty Images
Anthony Recker and Aaron Laffey are expected to make their Mets debuts as Sunday's battery.
FIRST PITCH:
Left-hander
Aaron Laffey
makes his Mets debut in Sunday's 1:10 p.m. rubber game as the Mets attempt to plug the rotation spot intended for
Shaun Marcum
.
Laffey, who turns 28 in eight days, went 4-6 with a 4.56 ERA in 22 appearances (16 starts) for the
Toronto Blue Jays
last season.
Terry Collins indicated
Anthony Recker
will serve as Laffey's batterymate, after
John Buck
caught the season's first five games and produced nine RBIs.
Marcum received injections in his neck for nerve inflammation on Thursday in New York. He has not pitched in a game since March 16, when he logged four Grapefruit League innings. So Laffey, or someone, will need to plug several turns in the rotation at least.
The Mets will be aiming to win consecutive series to open the season for only the second time in 11 years.
After the series finale, the Mets head to Philadelphia to open a three-city, 10-game trip that also takes them to Target Field in Minnesota for the first time, then to Coors Field in Denver.
Matt Harvey
faces
Roy Halladay
in Monday's series opener at Citizens Bank Park, followed by
Dillon Gee
and
Cliff Lee
on Tuesday, and
Jeremy Hefner
and
Kyle Kendrick
on Wednesday.
Sunday's news reports:
• Buck contributed four RBIs and
Daniel Murphy
produced a tiebreaking triple in the seventh that plated
Mike Baxter
as the Mets beat the Marlins, 7-3, Saturday.
Jonathon Niese
limited Miami to two runs (one earned) in six innings. The performance extended the southpaw's streak of consecutive starts logging six-plus innings to 22, the longest active mark in the majors.
David Wright
finished 3-for-4 with an RBI and upped his career average against Marlins starter
Ricky Nolasco
to .409 in the victory.
Ruben Tejada
committed his fourth error in five games.
Even though he is viewed as a placeholder -- heck, Travis d'Arnaud, not Buck was featured in the Mets' Citi Field calendar giveaway -- Buck nonetheless has an NL-leading nine RBIs. That's one ahead of Cincinnati's
Todd Frazier
, although not quite Chris Davis' gaudy total of 17 with the
Baltimore Orioles
. Mets catchers combined for 48 RBIs all of last season.
Read game recaps in the
Post
,
Times
,
Newsday
,
Record
,
Daily News
,
Star-Ledger
,
Miami Herald
and
Sun-Sentinel
.
•
Jeurys Familia
was demoted to Triple-A Las Vegas after Saturday's game to clear a roster spot for Laffey. Familia is expected to serve as a reliever. The Mets shifted
Johan Santana
to the 60-day DL to open a 40-man spot. Read more in
Newsday
and
MLB.com
.
• Cuban defector
Jose Fernandez
-- at 20 years old the youngest pitcher ever to debut for the Marlins -- makes his major league debut opposite Laffey. Clark Spencer
in the Miami Herald
reports only three pitchers since 1970 have made the jump from Class A to the majors and logged 100 innings as rookies: Dwight Gooden,
Jeremy Bonderman
and
Rick Porcello
. Fernandez should be unflappable notes Juan Rodriguez
in the Sun-Sentinel
. Writes Rodriguez: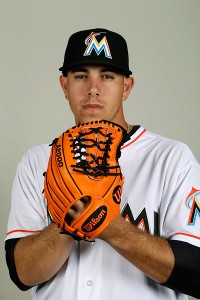 Julio Cortez/Associated Press
Cuban defector Jose Fernandez makes his major league debut today at Citi Field.

Fernandez knows what it's like to be scared. Getting caught trying to escape Cuba with his mother and sister as a 14-year-old was scary. Jumping into open water to rescue his mother when she felt out of the boat shuttling them to freedom was scary.
Making his major league debut for Fernandez is the fulfillment of a dream, considerably earlier than most expected.
"When she sees me throw the first pitch she's going to start crying like crazy," said Fernandez, whose parents and personal pitching coach were among those flying up from Tampa Saturday for the Sunday matinee. "[My mom] has been more emotional than me about this. She can't believe it. Every day it's the same text. 'I can't believe this is happening. You're ready. You're so young and you already have your dream. You had it in your mind. I'm proud of you.'"
As for making Fernandez eligible for free agency a year early by having him start the season with the team, which the Mets are unwilling to do with Zack Wheeler, Marlins owner Jeffrey Loria told Spencer: "So what? We'll deal with it. He's unique."
• Baseball America has a Q&A with Mets scouting director Tommy Tanous. Read
here
.
• Umpire Jim Joyce briefly halted Saturday's game in the eighth inning and conferred with security after fans were shouting the location Marlins catcher
Miguel Olivo
was setting up for pitches, Buck told Marc Carig in
Newsday
.
• Terry Collins said the outfield won't be as consistent as predicted only a week earlier. Baxter, who reached base three times and scored twice while batting in the leadoff spot, should start again Monday against Halladay in Philly, according to the manager.
Columnist Ken Davidoff
in the Post
wants more Baxter in the leadoff spot against right-handed pitching. Writes Davidoff:
We know the Mets' outfield is a collection of modestly compensated has-beens and could-bes. However, what stands out about Baxter is just how good he has been in his limited major-league chances. He now has a career on-base percentage of .363 in 270 plate appearances. It constitutes barely half a season, but doesn't that match favorably against Cowgill, Marlon Byrd, Jordany Valdespin and Kirk Nieuwenhuis, three of whom own virtually no big-league success and the fourth of whom (Byrd) hasn't been good for many years?
"He takes a base on balls," Collins said. "If he was a genuine base-stealer, he'd be dangerous. You look up, and he's got a .375 on-base. It seems like he's on first base all of the time."
Read more on the outfield in
Newsday
and the
Star-Ledger
.
•
Ike Davis
is hitting .158, but is unalarmed. "At least I know that I'll be all right," Davis said, according to
Newsday
. "Last year, I didn't."
• Niese is looking like an ace, writes columnist Tim Smith
in the Daily News
.
• Read more on Buck in the
Post
.
• Tejada's four errors are tied with Washington's
Ian Desmond
for the most in the majors among shortstops. Read more on Tejada's fielding woes in the
Daily News
and
Post
.
• Left-hander Steven Matz, who finished last season idle with a shoulder issue, took a scoreless effort into the fifth inning in Savannah's 6-3 loss to Rome on Saturday. Blake Forsythe had three hits and three RBIs in his Double-A debut with Binghamton.
Collin McHugh
pitched Las Vegas to a 3-0 record. The Mets' four full-season affiliates are a combined 10-2 -- with both losses suffered by low-A Savannah. Read the full minor league recap
here
.
•
From the bloggers
… Shannon from
MetsPolice.com
went to Saturday's game and wasn't happy with a Citi Field supervisor, nor the scoreboard operator. …
Faith and Fear in Flushing
basks in the glow of Buck's golden hour.
BIRTHDAYS:
Vinny Rottino
, whom the Mets lost off waivers last June while clearing a roster spot for left-handed reliever
Justin Hampson
, turns 33. After finishing last season with the
Cleveland Indians
, Rottino signed with the Orix Buffaloes in Japan in December. ... Mets bullpen coach Ricky Bones turns 44.
TWEET OF THE DAY:
Fantasy baseball: where you are mad that your team scored a run in the 8th because it means no save opportunity for Parnell. #Mets

— Whit Blanton (@Whitbone) April 6, 2013
YOU'RE UP: Do the Mets have enough of a safety net in starting pitching minus Johan Santana and Shaun Marcum as they await Zack Wheeler?
June, 6, 2012
6/06/12
12:00
PM ET
Organization leaders
Average:
T.J. Rivera, Savannah, .327; Wilmer Flores, St. Lucie, .314; Matt den Dekker, Binghamton, .310; Eric Campbell, Binghamton, .304; Wilfredo Tovar, St. Lucie, .294; Jefry Marte, Binghamton, .293; Matt Tuiasosopo, Buffalo, .284; Travis Taijeron, Savannah, .284; Danny Muno, St. Luice, .283; Omar Quintanilla, Buffalo, .282.
Homers:
Valentino Pascucci, Buffalo, 12; Travis Taijeron, Savannah, 11; Cory Vaughn, St. Lucie, 10; Wilmer Flores, St. Lucie, 10; Aderlin Rodriguez, Savannah, 10.
RBI:
Valentino Pascucci, Buffalo, 40; Aderlin Rodriguez, Savannah, 40; Travis Taijeron, Savannah, 37; Wilmer Flores, St. Lucie, 35; Matt Tuiasosopo, Buffalo, 31.
Steals:
Alonzo Harris Jr., St. Lucie, 12; Luis Nieves, Savannah, 11; Wilfredo Tovar, St. Lucie, 11; Fred Lewis, Buffalo, 10; Cesar Puello, St. Lucie, 10.
ERA:
Zack Wheeler, Binghamton, 1.88; Collin McHugh, Binghamton, 2.17; Angel Cuan, St. Lucie, 2.40; Rafael Montero, Savannah, 2.43; Chris Schwinden, Buffalo, 2.59; Tyler Pill, St. Lucie, 2.68; Chase Huchingson, St. Lucie, 3.02; Cory Mazzoni, St. Lucie, 3.09; Matt Harvey, Buffalo, 3.69; Mark Cohoon, Binghamton, 3.92.
Wins:
Hamilton Bennett, St. Lucie, 5; Matt Harvey, Buffalo, 5; Chase Huchingson, St. Lucie, 5; Collin McHugh, Binghamton, 5, Yohan Almonte, St. Lucie, 5.
Saves:
Adrian Rosario, Binghamton, 12; Fernando Cabrera, Buffalo, 12; T.J. Chism, Savannah, 9; Adam Kolarek, St. Lucie, 8.
Strikeouts:
Matt Harvey, Buffalo, 61; Zack Wheeler, Binghamton, 60; Garrett Olson, Buffalo, 57; Tyler Pill, Savannah, 56; Jack Leathersich, St. Lucie, 54.
Short hops
•
Zack Wheeler
has won five straight starts with Double-A Binghamton. In his past two outings, the ex-Giants farmhand combined to limit New Britain and Reading to two runs and five hits while striking out 15 and walking two in 15 innings. "That's probably the best-pitched game against us this year," Reading manager
Dusty Wathan
told
Mike Drago
in the Reading Eagle
. "Obviously he's got an overpowering fastball, and he can command the ball to both sides of the plate. Tonight he threw the ball where he wanted to, and he did what he was supposed to do against us. You've gotta give him a lot of credit. … He looks like a big leaguer to me. For sure."
• Right-hander
Rob Whalen
, drafted by the Mets in the 12
th
round Tuesday out of high school in Haines City, Fla., actually has serious Mets ties. His entire family hails from Queens and are big Mets fans. Whalen lived in Pennsylvania until moving south for high school to maximize his chance of becoming a professional ballplayer. Whalen won The
Tom Seaver
Most Outstanding Pitcher award as an 8-year-old at a Mets-sponsored camp at Long Neck, N.Y., and recalled playing catch with then-Mets reliever
Scott Strickland
during the event. (View visual proof
here
.)
•
Paul DePodesta
offered high praise for Princeton right-hander
Matt Bowman
, the organization's 13
th
-round pick, who had wowed team officials at a pre-draft Mets workout. "He has a
Tim Lincecum
delivery," DePodesta said. "He's also a position player for Princeton. He's very athletic, a very good strike thrower. At our workout he actually was up to 95 mph, but pitching mainly 93-94 with plus life on his fastball. We like the athletic package and think he has some upside there when he concentrates on pitching full time. … He was a guy ever since he came to our workout that we've targeted. We were just trying to figure out the best time to call his name. He's a guy we were pretty intent on taking somewhere."
• Amateur scouting director
Tommy Tanous
watched Hawaii prep shortstop
Branden Kaupe
(fourth round) hit an inside-the-park homer while scouting one game. Tanous praised Kaupe's speed and said he can play anywhere in the infield, including the left side because of a strong arm.
• The Mets have raided the University of Arkansas for four high-round selections the past two drafts. The Mets' top two picks last year,
Brandon Nimmo
and
Michael Fulmer
, were Arkansas commitments. Tuesday the Mets drafted Razorbacks third baseman
Matt Reynolds
in the second round and grabbed Hogs commitment
Teddy Stankiewicz
, a high school right-hander from Fort Worth, with their other pick in that round. "We're thinking about hiring their recruiting coordinator. We love their players," DePodesta quipped, before adding: "Purely coincidence."
• Reliever
Jack Egbert
officially was designated for assignment Tuesday by the Mets to clear a 40-man roster spot for
Chris Young
, forcing the Rutgers product to be exposed to waivers. Still,
Terry Collins
believes the organization has a valuable piece provided Egbert clears and is able to return to Triple-A Buffalo's bullpen. "Two years ago, this guy, he almost made this team," Collins said about Egbert, who hails from Rutherford, N.J. "Then he hurt his elbow. I'm very impressed with his sinker. His arm strength is continuing to get better [post 2009 Tommy John surgery]. And
Wally
[
Backman
] told me, he said, 'Look, this guy can get groundballs.' I know we didn't use him very much, but there's a good chance he's going to be back."
• Right-hander
Brandon Moore
, who returned from a 50-game suspension resulting from being flagged for a "drug of abuse," has settled into Binghamton's bullpen after working as a starter pre-ban. Likely rusty, Moore has walked five, hit a batter and thrown a wild pitch while being charged with four runs in two appearances spanning 1 1/3 innings. He has a sharp slider and quality sinker when on. There is no room for Moore at this point in the B-Mets' rotation, which already has six members. Fellow right-hander
Scott Moviel
, who also returned from a 50-game suspension, remains in extended spring training. Catcher
Dock Doyle
, the third player to receive that ban late last year, has been released, a team official said. Doyle was a fifth-round pick in 2008 from Coastal Carolina.
November, 3, 2011
11/03/11
2:45
PM ET
Chad MacDonald, who oversaw amateur scouting and the draft in conjunction with Paul DePodesta, only spent roughly 12 months with the Mets organization. So his legacy will be the 2011 draft that included taking high school outfielder Brandon Nimmo 13th overall, then prep right-hander Michael Fulmer out of Oklahoma with the 44th overall selection.

MacDonald is leaving the Mets to join his former Arizona boss, Josh Byrnes, with the San Diego Padres. MacDonald will be vice president and assistant GM.

The Mets will fill MacDonald's draft role with Tommy Tanous, a scout for the organization last season who has ties to J.P. Ricciardi from Toronto.

Speaking with ESPNNewYork.com on Thursday, MacDonald expressed satisfaction with his lone draft with the Mets.

"I felt good on two fronts," MacDonald said. "One, the players. And, two, the process. I think the process of being open to scouting all players -- geographically, high school, college -- and being able to take some risks in taking some high upside guys. We did that with Nimmo and Fulmer, and we took high school guys we liked and college guys we liked. And now I think our staff, which is geared up and ready for 2012 -- one of the better staffs in baseballs -- knows all (amateur) players are in play. So when you show up at the ballpark, if anything they know the Mets have a chance to draft and sign any of those players. I think that will bode well for the Mets organization for years to come."

Nimmo, 18, hit .211 with two homers and four RBIs in a combined 10 games between the Gulf Coast League and Kingsport.

What's the impression of Nimmo now compared to draft time?

"I said at the draft he's an impact player, impact person -- a center fielder with speed, who can hit and who is going to have power," MacDonald said. "Wherever the new walls are in New York, he's going to run through them for the Mets. The Mets fans are going to cheer for Brandon for a lot of years to come."

Several lower-tier picks had solid pro debuts, including right-hander Jack Leathersich (fifth round) and infielder Danny Muno (eighth round) with Brooklyn.

Asked if there was anyone who really stood out in the Mets system after signing, beyond the first few rounds, MacDonald said: "Those two guys, and then even the high school kid (shortstop Phillip) Evans (15th round), who we were able to give some money to, really improved in instructional league.

"We signed like seven young high school arms, which this organization hadn't done before. We hope we hit on all seven of them. Odds are that's not going to happen, but each one of those guys brings something to the table that says, 'This guy is going to be a major league starting pitcher.' They're all young. They all have the ingredients -- size, arm strength, arm action, delivery. Some of them you're just waiting for the velocity to come. Others you're waiting for the breaking ball to come. But (Matt) Budgell (10th), and (Craig) Missigman (37th), and (John) Gant (21st), and (Robert) Gsellman (13th), and (Christian) Montgomery (11th), I'm telling you what, that's the way to do it. And I think that's the way the Mets will continue to do it even after I'm gone."