New York Mets:

Tony Beasley
August, 4, 2012
8/04/12
6:30
PM ET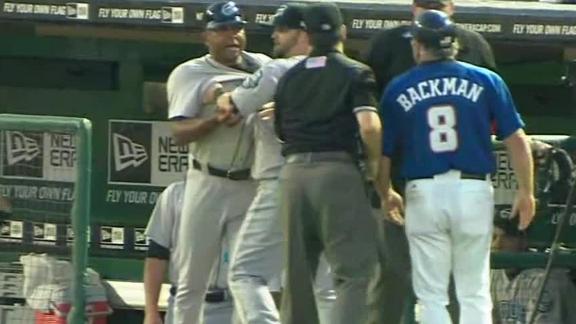 SAN DIEGO -- Buffalo manager
Wally Backman
has been suspended three games for his confrontation with Syracuse manager
Tony Beasley
over alleged sign stealing during Friday's Triple-A game.
The managers went toe-to-toe during an argument, and both were ejected. Beasley received a two-game suspension.
Hitting coach
George Greer
will manage the Bisons during Backman's suspension.
August, 4, 2012
8/04/12
12:15
AM ET
BUFFALO 13, SYRACUSE 7
:
Jeurys Familia
was roughed up,
Kirk Nieuwenhuis
suffered a right foot injury and
Wally Backman
was ejected, but
Pedro Beato
retired all eight batters he faced in relief and the Bisons had a season-high 19 hits in a win against their Thruway Series rival.
Josh Satin
had four hits, including his 12th homer.
Lucas Duda
added a two-run blast and
Zach Lutz
had three hits and three RBIs. Satin erased a 5-3 deficit in the third with a three-run shot.
Mike Nickeas
launched a two-run homer in the eighth. Satin also had two doubles to push his team-leading total to 20. Four Buffalo relievers combined to toss 6 1/3 innings.
Jeff Stevens
was credited with the win after contributing 1 1/3 scoreless innings. Nieuwenhuis left the game with a torn plantar fascia in his foot after grounding out in the first inning. Familia allowed five runs, including a pair of homers, in 2 2/3 innings. He walked three. The Bisons officially added
Zack Wheeler
to their roster.
Dylan Owen
was placed on the disabled list with a left ankle sprain. Backman and Chiefs manager
Tony Beasley
were ejected in the fourth inning for an argument that took place just outside the third-base coach's box.
Box
READING 4, BINGHAMTON 1:
Reading tagged B-Mets starter
Darin Gorski
for three homers. Binghamton used the longball to grab the lead in the first against
Ethan Martin
, who had been acquired four days earlier in a trade with the Dodgers.
Wilmer Flores
welcomed Martin to the Eastern League with a solo homer. It was Flores' fourth homer as a B-Met and 14th overall this season. But it was the only damage Binghamton produced against Martin (1-0), who tossed six innings. Martin allowed four hits, struck out six and issued one walk. Reading answered a half-inning after Flores' homer.
Darin Ruf
homered to even the score. In the fourth,
Leandro Castro
doubled and scored when
D'Arby Myers
homered. Reading extended its lead in the sixth, in Gorski's final inning. Ruf opened the frame by crushing a 1-1 pitch for his 20th homer of the season. Gorski was charged with four runs on five hits in six innings. He walked one and struck out a season-high eight. Gorski (6-6) allowed multiple homers for the sixth time this season. The southpaw has surrendered 10 in his past four games.
Box
ST. LUCIE 6, FORT MYERS 0: Tyler Pill
and
Hamilton Bennett
combined on the three-hit shutout. Pill (6-1) struck out 10, walked one and hit two batters while allowing three hits in 7 2/3 innings.
Aderlin Rodriguez
homered twice and
Cory Vaughn
and
Rafael Fernandez
also went deep.
Box
ASHEVILLE 3, SAVANNAH 2:
Chasen Bradford
allowed a runner inherited from starter
Domingo Tapia
to score as the Tourists posted two runs in the eighth inning in a come-from-behind win. Tapia was charged with three runs (two earned) on three hits while striking out five in 7 1/3 innings.
Box
GREENEVILLE 18, KINGSPORT 2: Corey Oswalt
was charged with six runs, while
Luis Rengel
was charged with nine runs in relief.
Box
BROOKLYN 3, CONNECTICUT 0: Stefan Sabol
drove in two of Brooklyn's three runs.
Brandon Nimmo
doubled to open the first. He was plated on a double by
Phillip Evans
that cleared left fielder
Danry Vasquez
. Sabol ultimately hit a two-out, two-run homer to give the Cyclones a 3-0 lead. Brooklyn starter
Luis Cessa
earned the win, holding the Tigers to two hits in five innings. Cessa retired the first five batters before allowing a single to
Tyler Hanover
. The Tigers managed their second hit in the following frame -- another single, this time from
Bennett Pickar
. Connecticut starter
Tim Kelley
allowed three earned runs on seven hits in four innings. The Cyclones loaded the bases in the fifth and seventh innings, but failed to capitalize on either chance while going 2-for-14 with runners in scoring position. After
Matt Bowman
threw three no-hit relief innings,
John Mincone
pitched a perfect ninth to pick up his fourth save.
Box
Compiled from team reports
May, 20, 2011
5/20/11
9:19
AM ET
Dillon Gee
took a
no-hit bid two outs into the sixth inning
, when
Livan Hernandez
broke it up with a clean single. The Mets nonetheless beat the Nationals, 1-0. A win Friday at Yankee Stadium would move the Mets to .500 for the first time since they were 4-4 on April 9.
Friday's news reports:
•
Terry Collins
indicated
Fernando Martinez
is due to DH the first two games of the Subway Series.
Carlos Beltran
will DH the series finale. Read more in
Newsday
.
• Newsday's
Anthony Rieber
wonders if you would want
Francisco Rodriguez
or
Mariano Rivera
to
close a game right now
. K-Rod converted his 14th straight save Thursday, benefitting from an out call by ump
Phil Cuzzi
at first base on
Jayson Werth
. The only longer save-conversion streak in K-Rod's Mets career came to open his first season with the club, when he converted 16 straight until
Luis Castillo
dropped that infamous pop fly in the Bronx. Writes Rieber:
A safe call on Werth's grounder would have left runners on first and third with one out, the very situation Rivera couldn't escape with a 1-0 lead against the Orioles on Wednesday. The Yankees went on to win in 15 innings, managing to overcome Rivera's blown save and the questionable decision by Joe Girardi to remove a dominant Bartolo Colon after 87 pitches because that's how it's done these days. Yes, yes, we know, Rivera is the greatest closer of all time, so you have to go to him whether you need to or not. If the Yankees have a suitable lead in Friday night's Subway Series opener, Rivera will be on the mound in the ninth inning. "He's the best," Rodriguez said, ending any notion of a Great New York Closer Debate.
• Third base use to be the position of instability for the Mets. Now,
it's second base
. Newsday's
David Lennon
notes that since 2003, the year
Jose Reyes
debuted, there have never been fewer than four second basemen in any season. That came in 2006, when
Jose Valentin
played 94 games,
Chris Woodward
39,
Kazuo Matsui
31 and
Anderson Hernandez
13. Writes Lennon:
Somewhat surprising is that the list includes three former All-Stars in addition to [Roberto] Alomar: Luis Castillo , Damion Easley and Reyes, who did it at shortstop. Of this group, four appeared in only one game: David Newhan , Andy Green , Wilson Valdez and Jose Offerman. Strangely, the forgotten Danny Garcia actually played 61 games (56 starts) during this turbulent stretch, and the Mets were forced to use as many as seven second basemen in three seasons: 2004, 2009 and 2010. "The guy I played with the longest was Luis Castillo ," said Reyes of Castillo's 342-game run. "Other than that, it's always changing. It's been like that my whole career, so it doesn't really matter to me."
• New Yorker
Pedro Beato
tells
Steve Popper
of the Record what the reliever
thinks about the Yankees
. "I hate the Yankees," Beato said. "My family -- I can tell there are no Yankees fans. I think I know more than those guys, not the older guys obviously because they've been in this situation. I've been to games. I know how crazy the fans can be. As a player you shouldn't let that get to you. I know it doesn't get to me. I'd rather play in these situations than play in a game where there's not that many fans. That's the whole excitement of the game, how the fans get into the game, how they cheer their team, the loudness and craziness of the crowd."
• Newsday's
Neil Best
looks at
the Mets' sagging attendance
, writing:
[Mets executive VP Dave] Howard said total tickets sold are comparable to this time last year. That suggests more tickets than last season were sold for the summer months, because through Wednesday average paid attendance was down an average of 3,031 per game to 27,288, according to baseball-reference.com. (The Yankees are down, too, by 2,699 per game to 42,265. But, like the Mets, they say sales for the entire season are roughly similar to last year.) Even if the Mets match last season's total paid attendance of 2.56 million -- down from 3.15 million in 2009 -- they will not generate as much revenue, thanks to a 14-percent average reduction in ticket prices.
•
Brian Costa
of The Wall Street Journal
reviews the list of almost no-hitters
for the Mets. It's been 7,849 games without producing one in franchise history. The San Diego Padres are the only other team without a no-hitter.
• Read game stories from Thursday's 1-0 win in the
Star-Ledger
,
Daily News
,
Times
,
Post
and
Newsday
.
• More paperwork was filed by trustee
Irving Picard
on Thursday in U.S. Bankruptcy Court regarding his
$1 billion-plus lawsuit against Mets owners
. Picard notes, as in a previous filing, that the Mets ownership group sought to purchase fraud insurance that would pay out if it turned out the
Bernard Madoff
investment was a Ponzi scheme. That, alone, may not exactly qualify as a gotcha, though. After all, wouldn't it be routinely prudent given the sum of money invested -- even without suspcision -- to have some sort of insurance?
Writes the Times
on that insurance topic
:
"The very fact" that Wilpon and Katz and their business partners "were in the market for this 'one of a kind' insurance policy" to protect their investments against a Ponzi scheme "establishes incontrovertibly" that they were on "notice" of Madoff's "possible fraud," Picard asserted in court papers filed Thursday.
The Daily News
provides the rebuttal
, writing:
Wilpon and Katz deny knowing anything of Madoff's schemes, and Greg Nero, general counsel for Sterling Equities, said the most sensational claim in Picard's new filing was "just wrong. "They didn't go shopping," Nero said. "A trusted colleague made a recommendation about looking at insurance, so they spoke to an insurance salesman, received some basic information and they ultimately decided not to purchase it because they trusted Mr. Madoff -- and believed that they did not need it."
Read more on the latest legal developments in
Newsday
.
• This is probabaly the last season of Subway Series for Beltran, unless he somehow winds up with the Yankees. Writes columnist
Tara Sullivan
in the Record
:
The end of Beltran's distinguished Mets career will come at season's end, if not before, and with him goes one of the last connections to the tantalizing mid-2000s, when the team was good enough to match the Yankees stride for stride, good enough to fall a cruel called third strike short of a 2006 World Series appearance. Now, the team feels barely recognizable.
• Major League Baseball confirmed it is investigating Nats GM
Mike Rizzo's
behavior after
umpires alleged inappropriate verbal conduct
after the game, which included the controversial ninth-inning call that went against Werth at first base. The Daily News reports
umpires did a visual lineup of sorts
, whipping out a media guide and looking at photos to figure out it was Rizzo who allegedly confronted them. The Nats had no comment on Thursday night about the incident.
• Daily News columnist
Bill Madden
weighs in on the Mets' recent success. Throw out a one-game series against the Florida Marlins (because of Tuesday's rainout) and the Mets actually have won four straight series.
Writes Madden
:
If you're Collins, you have to be pretty gratified with how the Mets have responded following the loss of two of their three middle-of-the-order hitters, David Wright and Ike Davis, and their most effective early-season starter, Chris Young, winning as they did yesterday for the sixth time in eight games to move to within one game of .500. A month ago they were 5-13 and seemingly headed for early oblivion.
•
Willie Randolph
tells
Tyler Kepner
of the Times he wants another chance to manage in the majors. Randolph is currently the bench coach for
Buck Showalter
in Baltimore, after serving in that capacity with
Ken Macha
in Milwaukee.
Randolph tells Kepner
: "You're loyal to the people you work for, but you still itch and burn. I've always been a competitor, and I talk to my guys about competition and how you want to be the best. For me, you want to get back to that, because I know I'm going to be better, and I know that I'll be able to get more out of my players than I did the first time because of the experience."
•
Oliver Perez
surrendered only one hit -- a triple -- and two walks in five scoreless innings in his debut Thursday with Double-A Harrisburg with the Nationals organization. However, his fastball only touched the mid-80s mph. "There's deception in his delivery," manager
Tony Beasley
tells the Harrisburg Patriot-News. "There's a funk to it. I'm guessing it's tough for a hitter to try to pick it up right away." Read more of that report
here
.
BIRTHDAY:
Better known as a Cardinal,
Ken Boyer
was born on this date in 1931. (He died in 1982.) Boyer hit .266 with 14 home runs in 1966, then was traded to the Chicago White Sox midway through the 1967 season. Boyer's career spanned 15 seasons and he was regarded as one of the top defensive third basemen of his time, winning five Gold Glove Awards.
-Mark Simon