New York Mets:

Tony Clark
March, 5, 2014
Mar 5
6:37
AM ET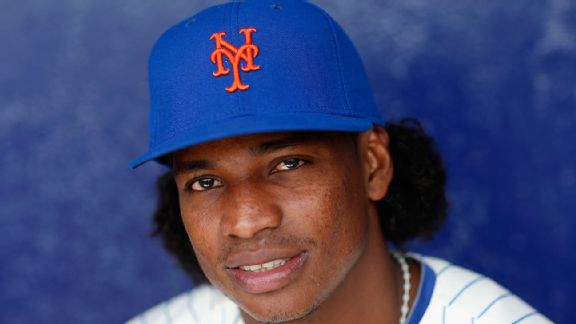 Chris Trotman/Getty ImagesIf Kyle Farnsworth or Jose Valverde flop, Jenrry Mejia could wind up back in the bullpen.
PORT ST. LUCIE, Fla.
FIRST PITCH:
The Mets play two Wednesday.
In Port St. Lucie at 1:10 p.m. (SNY),
Dillon Gee
opposes reigning National League Rookie of the Year
Jose Fernandez
and the
Miami Marlins
.
In Viera at 1:05 p.m. (WOR 710 AM),
Jenrry Mejia
starts against
Gio Gonzalez
and the
Washington Nationals
.
Mejia officially is in the fifth-starter's race, although a chance exists that he ends up in the bullpen to open the season.
A team official suggested the discussion would not take place until late March. But assuming
Daisuke Matsuzaka
(or, less likely,
John Lannan
) claims the rotation's final spot, a decision would need to be made about whether Mejia goes to Triple-A Las Vegas' rotation or the big-league pen.
If
Jose Valverde
and
Kyle Farnsworth
make the team -- no guarantee -- Mejia almost assuredly joins a stacked Triple-A rotation that would include Noah Syndergaard, Rafael Montero,
Jacob deGrom
and someone from the deserving group of Lannan, Cory Mazzoni and Logan Verrett.
If Valverde and/or Farnsworth flop, the discussion could become interesting.
Assuming everyone is healthy, the bullpen automatically will include
Bobby Parnell
,
Vic Black
,
Scott Rice
and
Carlos Torres
.
And that leaves three spots.
Jeurys Familia
, despite some wildness, looks in decent shape right now to be No. 5 in the bullpen. So let's say just Valverde makes the bullpen and not Farnsworth. That leaves one spot. And that is the precise scenario in which Mejia could shift to a bullpen role over, say, a potentially worthy
Gonzalez Germen
, second lefty
Josh Edgin
or another candidate.
Stay tuned.
Wednesday's news reports:
•
Curtis Granderson
homered twice in the opening two innings
and
Zack Wheeler
contributed three scoreless innings
as the Mets
won their second straight Grapefruit League game
, 6-2 against the
Houston Astros
on Tuesday at Tradition Field.
Read more on Granderson in the
Post
,
Newsday
,
Star-Ledger
,
Daily News
,
Record
and
MLB.com
.
Read more on Wheeler in the
Journal
,
Times
,
Post
,
Star-Ledger
,
Newsday
and
MLB.com
.
Tejada

Duda
Davis
•
Eric Young Jr.
made his 2014 Grapefruit League debut Tuesday after putting a side-muscle issue behind him. Still,
injuries linger for the Mets
. A day after
Lucas Duda
was pulled from a game against the
Atlanta Braves
, his left hamstring felt worse. Meanwhile,
Ike Davis
(calves) and
Ruben Tejada
(left hamstring) are out until Friday at the earliest. "To have it happen this early in camp was a little surprising," Terry Collins said, "because we planned on getting them some playing time, and that certainly is not something that has been able to come about." Read more in the
Star-Ledger
.
• New union chief
Tony Clark
visited Mets camp Tuesday and told media the
MLBPA is "paying attention"
to the Mets' un-New York-like payroll. Read more in the
Journal
,
Star-Ledger
,
Daily News
and
Newsday
.
• Torres is set to make the bullpen, a source
tells ESPNNewYork.com
.
•
Johan Santana
, trying to return from a second surgery to the anterior capsule in his left shoulder, has
signed a minor-league deal
with the
Baltimore Orioles
. Collins said the
Mets are rooting for him
. Read more in the
Post
,
Star-Ledger
and
Daily News
.
• Columnist Joel Sherman
in the Post
asserts that "it is time to stop stockpiling and start winning." Writes Sherman:
Perhaps it is instructive to note that in 1984, when his A's were not contenders, Alderson dealt Henderson to the Yankees for a boatload of prospects, and in 1989 -- when they were a powerhouse -- he reacquired Henderson and won a championship because of that.
"Patience is not a virtue unless you take advantage of it by exercising it well," [Sandy] Alderson said. "Patience is only part of a strategy."
• Collins discusses with columnist Bill Madden
in the Daily News
what players would need to produce to get to 90 wins:
-
Travis d'Arnaud
playing 125-130 games and hitting 15 homers.
- Twenty homers and 80 RBIs out of the first-base position, regardless whether it's Davis or Duda.
- A .350 on-base percentage and 145-150 games from Tejada.
-
Chris Young
reverting to the 32 homers he slugged in 2007 with the
Arizona Diamondbacks
.
- Twenty-five homers and 90 RBIs from Granderson.
- A .340-.350 OBP from EY Jr.
- Two hundred innings from at least two of his starting pitchers.
- Oh, and 40 or 50 saves from Parnell.
•
David Wright
tells columnist Bob Klapisch
in the Record
about signing that eight-year extension with the Mets in December 2012 rather than testing free agency during this past offseason: "I am not a mercenary." Writes Klapisch:
Wright won't take issue with the Wilpons' finances -- he never has, never will. He's either na´ve or an optimist -- you choose -- when it comes to the Mets and the arc of his own career. Wright, in fact, won't even dismiss the ludicrous idea of winning 90 games this year, even if GM Sandy Alderson's proclamation is openly mocked by rival executives and scouts.
Wright thinks the rebirth is just around the corner, this summer, even, "if everyone does the things that we're capable of. I'm not saying I have to hit 45 or 50 home runs, or that everyone has to have career years," he said. "But if we go around the room and we get guys to just do their part, then I'd say [90 wins] is attainable."
•
Matt Harvey
tossed a baseball for the second straight day Tuesday, on flat ground at 60 feet. It
marked the first time since surgery
Harvey has thrown on consecutive days. Read more in the
Record
.
• After Steve Phillips works three games on WOR,
C.J. Nitkowski
will step into that seat for Sunday's Grapefruit League radio broadcast.
Tim Byrdak
also will get a shot, in the final exhibition tune-ups for the Mets, in Montreal, according to the Daily News.
HOPE Radio will simulcast WOR games on Eastern Long Island, Newsday reports. Neil Best lists the station as available at 107.1 FM on the East End as well as at 94.9, 96.5, 96.9 and 104.5 elsewhere in the region.
•
From the bloggers …
John Delcos at
Mets Report
suggests the Mets lost the Santana trade.
BIRTHDAYS:
Minor-league slugger
Mike Hessman
turns 36 today. He appeared in 32 games in 2010 with the Mets.
TWEET OF THE DAY:
Oh just hanging around at the fair with @JdeGrom19 and twitterless Steve! pic.twitter.com/LHEE8Ry0Ff

— Noah Syndergaard (@Noahsyndergaard) March 5, 2014
YOU'RE UP: Would you prefer Jenrry Mejia in the Triple-A rotation or big-league bullpen?
April, 28, 2011
4/28/11
10:15
AM ET
By
Mark Simon
| ESPNNewYork.com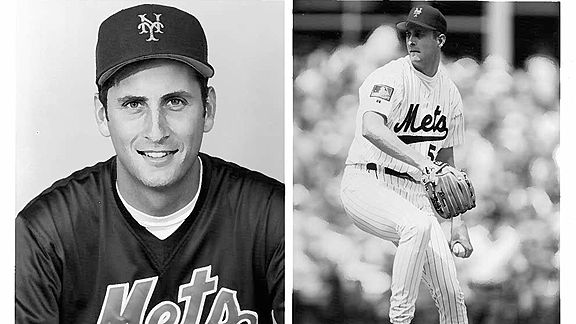 NY Mets
Eric Hillman preceded Chris Young as the tallest pitcher in Mets history.
Each Thursday, Mark Simon will commemorate the Mets' 50th season with stories and notes related to the history of the team.
Chris Young
does not stand alone as the tallest pitcher in Mets history. Before Young came 6-foot-10 left-hander
Eric Hillman
.
Hillman is oft-forgotten in Mets history because, though he stood out in a crowd, his stats weren't impressive. In 49 appearances over three seasons, he was 4-14 with a 4.85 ERA. Hillman had the misfortune of being on the 1993 Mets, who went 59-103 and became known as "The Worst Team Money Could Buy."
Hillman didn't throw hard, with a fastball that was in the mid-80s. So, like Young, he tried to take advantage of pitching at a higher trajectory by developing a sinker and a slurve. He admits: "I couldn't throw the ball by guys, so I tried to trick 'em. Some days were better than others."
Young has had more success in the majors than Hillman did because he was able to find what could get hitters out. Hillman, who later worked as a broadcaster on the Colorado Rockies' postgame show for three years, was impressed by Young's ability to hide the ball well and use his glove and motion to make it hard for hitters to see the ball.
The best moment of Hillman's career was a five-hit shutout of the Dodgers in Los Angeles on July 25, 1993. It was the second start in a two-start stretch in which he pitched 17 scoreless innings. But it became secondary to the story of teammate
Vince Coleman
throwing a firecracker into a crowd.
"That team was an absolute disaster," Hillman said. "I was 26 and I came up to the big leagues, which had been my dream since I was a little kid. And all I saw were players who were more concerned about their jewelry, their cars and their real estate than the outcome of games."
The best days of Hillman's career came in Triple-A, where he went 10-1 for the Mets' Norfolk affiliate in 1994, and in Japan, where he pitched for four seasons and won the Japanese equivalent of the Cy Young in 1996 for the
Bobby Valentine
-managed Chiba Lotte Marines. (Hillman liked Valentine so much he recently asked if he could be his bullpen coach if Valentine returned to the major leagues.) A shoulder injury ended his career after a comeback attempt in the States was unsuccessful. He retired in 2000.
Hillman's favorite on-field moments were meeting Cubs broadcaster
Harry Caray
, who mistook him for teammate
Dave Magadan
, getting "mauled" by then-Reds owner
Marge Schott's
mascot dog,
Schottzie
, and laughing so hard at jokes being told in the dugout that his eyes would regularly water up.
Hillman might have the most unique post-playing career in Mets history. He and his wife
Heather
own
Purepuppy.com
, which develops and sells dog care products, such as shampoos and conditioners, with an emphasis on ingredients that are all natural. Hillman's other passion, besides baseball, is the environment. On the back of one of his baseball cards, it says he aspired to someday become a marine biologist.
"In a world where gas prices are out of control, my wife and I are looking to do our part," Hillman said. "I've pushed very hard for recycling in this area and making businesses more responsible. There is only so much in this world. We need to be able to reuse it."
Hillman, who lives in Denver and turned 45 on Wednesday, is self-deprecating about his career and his height. He noted that the best thing about being 6-foot-10 is being the first to know that someone else is balding. He also jokes that his company's product "is as natural as the tears Mets fans shed every time I pitched."
But he did go on the message board at the popular fan site "Ultimate Mets Database" when a couple of posters criticized his pitching ability.
Hillman even contacted one who claimed that Hillman ignored him when asked for an autograph, and the two spoke at length on the phone. Hillman wants Mets fans to remember him in a positive manner, like one fan he met at Mets Fantasy Camp a few years ago, who thanked him for bringing him into the Mets' dugout as a little kid.
Hillman dealt with some tough times and bad teams during his Mets tenure, but has always been very positive about his time in the major leagues. That positivity has carried over into his post-playing career.
"I always tell my two kids that every day is a good day," Hillman said. "We're on the fun side of the soil here."
Five Things You May Not Know About Tall Mets
With help from Baseball-Reference.com
1--
Hillman is one of 25 players estimated at 6-foot-6 or taller to play for the Mets. Hillman and
Randy Johnson
were the tallest players in major league history until 6-foot-11
Jon Rauch
surpassed them. (Some sources list Rauch as 6-foot-10 as well.)
2--
Of those 25, 22 were pitchers, the winningest of which is 6-foot-7
Mike Pelfrey
, who enters Thursday with 44 major league victories. The only other "tall" Met to win 10 or more games for the team was 6-foot-6
Ed Lynch
, who pitched for them from 1980 to 1986 and won 38 games.
3--
Prior to Hillman, the tallest Met was 6-foot-9 reliever
Terry Bross
, a former center for St. John's, who pitched in eight games in relief in 1991. Bross is currently an agent.
4--
The three Mets position players who stood 6-foot-6 or taller were
Tony Clark
(6-foot-8),
Dave Kingman
(6-foot-6) and
Darryl Strawberry
(6-foot-6). That trio combined for 422 home runs during their respective Mets stints.
5--
The five pitchers in major league history listed at 6-foot-10 or taller are Hillman, Young, Johnson, Rauch and former Royals left-hander
Andy Sisco
. They combined for 394 major league victories, five of which have come for the Mets.