PORT ST. LUCIE, Fla. -- The Mets exploded for nine eighth-inning runs and then survived for an 11-9 win against the Washington Nationals on Thursday at Tradition Field.
The game was highlighted early by strong pitching from Jacob deGrom and Steven Matz and solo homers by Curtis Granderson and Michael Cuddyer.
Things devolved late.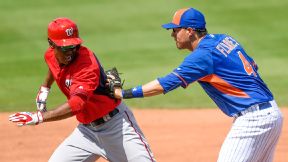 Brad Barr/USA TODAY Sports
Wilmer Flores tags out Michael Taylor during a rundown after Taylor's two-run double against Jacob deGrom.
Trailing 4-2, the Mets posted nine runs in the eighth against Mitch Lively and Eric Fornataro. Johnny Monell and Eric Campbell had consecutive RBI doubles as the Mets took a 5-4 lead. Matt den Dekker followed with a run-scoring triple and Alex Castellanos had a two-run homer.
However, an 11-4 lead nearly wasn't enough in the ninth. Lefty relief candidate Dario Alvarez failed to record an out among the four batters he faced. He walked Cutter Dykstra -- Lenny's son -- to force in a run and was pulled. Carlos Torres then served up a first-pitch grand slam to Clint Robinson.
DeGrom had struck out five batters through two innings. He surrendered a two-run double to Michael Taylor in the third.
DeGrom's final line: 3 IP, 3 H, 2 R, 2 ER, 1 BB, 5 K.
"He showed you in the first two innings, he just pounds the strike zone with all of his pitches," Terry Collins said. "That's what he does best. Once again, he changes the eye level so well. That's how he gets strikeouts. He's down, down, down. The next thing you know he comes up and it's tough to lay off it. He's just got a great feel for pitching."
Matz, not a candidate for left-handed relief, followed deGrom by working three innings as well. He surrendered two runs, including a solo homer to Danny Espinosa in the sixth on the lone changeup he threw. Matz's fastball sizzled at 97 mph. He said he only threw the lone changeup because the Nats' lineup was littered with left-handed hitters.
The initial run surrendered by Matz was unearned because a passed ball from Anthony Recker allowed the runner to get to third base ahead of Tony Gwynn Jr.'s run-scoring groundout in the fifth.
"That's some very, very good stuff," Collins said. "He's going to be very good. He's got enough fastball to throw it by you. He's got a good enough breaking ball. Like Dan said, we've got to get him to use his changeup a little bit so he can work on all three pitches. But he's got all the qualities and all of the tools he's going to need to be successful."
What's next: The Mets face the Atlanta Braves at 1:10 p.m. Friday at Tradition Field (SNY). Jonathon Niese opposes left-hander Manny Banuelos. Cody Satterwhite, Erik Goeddel and auditioning left-handers Scott Rice and Sean Gilmartin are scheduled to pitch.