May, 15, 2013
5/15/13
11:00
AM ET
Francisco Pena
spent time in major league clubhouses from a young age with his father, five-time All-Star catcher
Tony Pena
.
"That's where I was born," the Mets farmhand said. "I breathe baseball. I eat baseball. I do everything baseball."
This March, the father and son got to share a championship experience. The 23-year-old Pena was the backup catcher on the Dominican Republic's World Baseball Classic-winning team, which was managed by his father.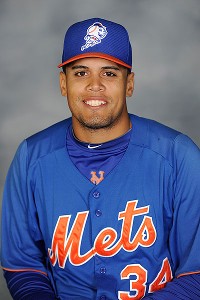 Courtesy of New York Mets
Francisco Pena

The Double-A Binghamton catcher had only two at-bats while playing behind
Carlos Santana
, but he would not have traded the experience of being among all those superstars on a team managed by his father.
"We treated each other as a ballplayer and a manager," Pena said. "But, as well, everybody knew that he was my dad. We have a real good relationship. When I saw him, I always treated him with respect. I always give him a kiss when I saw him. We have a father and son relationship as well.
"It wasn't as much playing time, but it was a great experience," Pena continued. "I learned a lot with all of those stars on our team, like
Robinson Cano
,
Jose Reyes
,
Edwin Encarnacion
. I tried to get some time with Robinson Cano -- seeing his approach and how he had his game plan and routine, all the stuff he did in the cage, off the field, and learn the little stuff. Just being around Reyes and being around Encarnacion, with the big year he had as well, and seeing those approaches and plans they have."
Francisco returned to Mets camp after the WBC 20-25 pounds lighter than during the 2012 season, which he split between Class A St. Lucie and Binghamton. He had undergone surgery for a stress fracture on the fifth metatarsal in his left foot in 2011 that required insertion of a pin. So losing weight meant less stress on the foot. He subbed water for soda and juices and increased his consumption of vegetables and chicken.
"It's all about eating healthy," Pena said. "Once I got routine down it was easy. I worked hard in my offseason. I played a lot of winter ball back home in the Dominican Republic. Before games I used to wake up early and just do my job. It was my game plan to try to lose a little bit of weight and try to be ready to go into spring training and have a good season here, being healthy. I had an injury, a broken foot. I'm just trying to put less stress on that foot and trying to be quicker and lose some weight. That's what I did and it's been working so far."
This season, Pena is hitting .258 with four RBIs through 66 at-bats with the B-Mets while sharing duties behind the plate with 2010 third-round pick
Blake Forsythe
.
Pena has been with the organization since signing as a teenager in 2006. It has been a slow ascent -- his career average is .234 -- but things are now going well.
"I signed when I was 16," Pena said. "My first year was when I was 17. And from the get-go they sent me to A-ball. I had never played baseball as much. I played baseball all my life, but we played baseball in the Dominican Republic probably like two times a week. We just practiced and practiced. We didn't have that much repetition playing-wise.
"I'm not making excuses, but it's hard for a young guy leaving his family, leaving his mom, leaving all his friends and just playing baseball. But now, the experience playing winter ball back home in the Dominican Republic, playing in the States for so many years, I think it's been helping me a lot."
Organization leaders
Average:
Kevin Plawecki, Savannah, .374; Andrew Brown, Vegas, .359; Jayce Boyd, Savannah, .351; Brandon Nimmo, Savannah, .322; Jamie Hoffmann, Vegas, .320; Cory Vaughn, Binghamton, .299; T.J. Rivera, St. Lucie, .295; Josh Satin, Vegas, .291; Omar Quintanilla, Vegas, .284; Rylan Sandoval, St. Lucie, .284.
Homers:
Dustin Lawley, St. Lucie, 8; Aderlin Rodriguez, St. Lucie, 6; Kevin Plawecki, Savannah, 5; Cesar Puello, Binghamton, 5; Josh Satin, Vegas, 5.
RBI:
Dustin Lawley, St. Lucie, 31; Jayce Boyd, Savannah, 30; Kevin Plawecki, Savannah, 29; Andrew Brown, Vegas, 27; Aderlin Rodriguez, St. Lucie, 25.
Steals:
Alonzo Harris, Binghamton, 11; Darrell Ceciliani, Binghamton, 8; Cesar Puello, Binghamton, 7.
ERA:
Rainy Lara, Savannah, 1.42; Domingo Tapia, St. Lucie, 2.23; Matt Bowman, St. Lucie, 2.47; Noah Syndergaard, St. Lucie, 2.61; Hansel Robles, St. Lucie, 2.64; Collin McHugh, Vegas, 2.74; Logan Verrett, Binghamton, 3.15; Rafael Montero, Binghamton, 3.47; Zack Wheeler, Vegas, 3.74; Luis Cessa, Savannah, 3.93.
Wins:
Matt Bowman, St. Lucie, 6; Logan Verrett, Binghamton, 5; Rainy Lara, Savannah, 4; Rafael Montero, Binghamton, 4; Gabriel Ynoa, Savannah, 4.
Saves:
Jeff Walters, Binghamton, 10; Bret Mitchell, Savannah, 4; T.J. Chism, St. Lucie, 3.
Strikeouts:
Rafael Montero, Binghamton, 54; Zack Wheeler, Vegas, 47; Matt Bowman, St. Lucie, 42; Rainy Lara, Savannah, 38; Noah Syndergaard, St. Lucie, 38.
Short hops
• St. Lucie prospect
Domingo Tapia
, whose 2.23 ERA ranks second among qualifiers in the organization, is not expected to be out long after burning his left, non-pitching hand cooking. He needs to wait for blistering to subside so that he can again put on a glove. Curiously, Tapia is the second St. Lucie pitcher to burn a hand in three years.
Jeurys Familia
also did so while with the Florida State League club.
• Princeton product
Matt Bowman
, the organization's 13th round pick last year, has not missed a beat since a promotion. Bowman, who has a
Tim Lincecum
-style delivery, moved to a collective 6-0 between Savannah and St. Lucie after combining with
T.J. Chism
on a one-hit shutout Tuesday. In two Florida State League starts, Bowman has a 2.08 ERA and .152 opponent batting average in 13 innings.
•
Noah Syndergaard
, the right-hander acquired from the Blue Jays in the December trade for
R.A. Dickey
, is on a tear with St. Lucie. Since allowing seven runs in three innings against Fort Myers on April 18, Syndergaard has allowed four runs (two earned) in 26 innings over four starts -- for an 0.69 ERA during that span.
•
Brandon Hicks
, the former Braves/A's infielder who cleared waivers at the end of spring training and remained with the organization, should quickly move to Las Vegas. Hicks recently played in extended spring training games after recovering from a calf injury. He appeared in a St. Lucie game for the first time Tuesday.
• 2011 first-round pick
Brandon Nimmo
is taking full batting practice with Savannah and should reenter games any day. Nimmo has not played since April 29 because of a bruised hand.
• The Mets are proceeding very slowly with right-hander
Michael Fulmer
, who underwent surgery for a torn meniscus during spring training. Fulmer pitched two innings in an extended spring training game a couple of weeks ago, but has not been in a game since. The Mets say nothing is wrong, but they don't want to go too quickly and do damage to his arm.
February, 22, 2013
2/22/13
6:44
AM ET
PORT ST. LUCIE, Fla.
FIRST PITCH:
Let the games begin.
The Mets play an intrasquad game at noon today at Tradition Field (admission: $6). Scheduled to pitch: Gonzalez Germen,
LaTroy Hawkins
, Scott Rice,
Collin McHugh
,
Elvin Ramirez
,
Greg Burke
,
Robert Carson
,
Brandon Lyon
and
Pedro Feliciano
.
"In our particular situation, we've got decisions to make, I've got to start seeing people play," Terry Collins said. "And I'm anxious to see them play. Yeah, I want to get started."
Friday's news reports:
• Union chief Michael Weiner
made his annual visit to Mets camp
to speak with players Thursday. Speaking with the media afterward, Weiner said about the Mets' payroll: "Everybody would like to see the Mets as a competitive team. And it's going to require a higher payroll." Weiner also asserted
David Wright
would have received a more lucrative contract had he tested free agency. Writes Mike Puma
in the Post
on the Mets' payroll comment:
A team official responded to Weiner's criticism by saying the union chief should check the average payrolls of the last three World Series winners. The Giants (2010), Cardinals (2011) and Giants (2012) averaged about $106 million in payroll in claiming the last three world championships.
Read more on Weiner's visit in
Newsday
, the
Daily News
,
Star-Ledger
,
Times
,
Record
and
MLB.com
.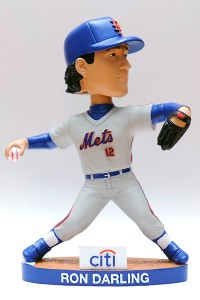 Courtesy of New York Mets
Ron Darling Bobblehead Day is coming to Citi Field on April 21.

•
Jenrry Mejia
is due to land Friday morning and be at camp by midday now that his visa issue is resolved. Dan Warthen and Wally Backman
both project Mejia as a future reliever
, but the right-hander will be a starting pitcher again this year … for now. Read more at
MLB.com
.
• The Mets announced their
full 2013 promotional schedule
, which includes five bobblehead giveaways: Ron Darling (April 21),
John Franco
(May 25), Wright (June 30), Dwight Gooden (July 21) and Tom Seaver (Aug. 25).
• Bobby Valentine reportedly will be the
next athletic director at Sacred Heart University
in Connecticut. Read more
in the Connecticut Post
.
• Ex-Met
Chris Young
signed a minor league deal
with the
Washington Nationals
. Read more
in The Washington Post
.
• Mets farmhand Francisco Pena will play for his father Tony Pena
on the Dominican Republic team
in the World Baseball Classic.
• Grantland is
not a fan of the Mets' outfield
. On that topic, columnist Mike Vaccaro
in the Post
found humor that
Bobby Bonilla
, who is getting $1.2 million annually from the Mets in deferred payments, visited the club on Thursday. Writes Vaccaro:
The highest-paid outfielder in the room wears a green polo shirt, blue slacks, white cross-trainers and about 40 or so pounds from his last listed playing weight. Retirement seems to be agreeing with Bobby Bo, who last played for the Mets in 1999 (both baseball and, somewhat more famously, clubhouse cards) and who last played for anyone in 2001 and now works for the Players' Association.
• Neil Best
in Newsday
chats with SNY analyst Bobby Ojeda.
• Collins has good reason to be concerned about the Mets' baserunning the past two seasons, Jared Diamond notes
in the Journal
. Writes Diamond:
Their runners went from first base to third base on singles just 25.2 percent of the time last season, which ranked 23rd in baseball. They finished dead last in a statistic the website Baseball-Reference calls "bases taken," which counts the number of bases teams advance on, among other things, fly balls, wild pitches and passed balls. Those elements of baserunning have less to do with pure speed than they do instincts and hustle.
•
Frank Francisco
will begin tossing a baseball Monday after suffering elbow inflammation early in camp, Collins confirmed. Read more in the
Star-Ledger
and
Daily News
.
•
John Buck
offers his take on the various starting pitchers to Anthony DiComo
at MLB.com
. On
Jonathon Niese
, Buck said: "I like his cutter. It's something that wasn't really in my mind when I faced him on the other side. But now that I've seen a lot more film and concentrated on that aspect, and [hearing] him talk about how that makes him feel comfortable … it stuck out to me."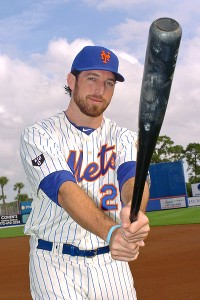 Steve Moore/Associated PressIke Davis
• Jorge Castillo
in the Star-Ledger
profiles
Ike Davis
, who had an extremely slow start in 2012 en route to a 32-homer season. "Every time you come back from an injury and you don't do very well for a long period of time, you're like, 'Did I lose what I once had?'" Davis told Castillo. "You start second-guessing yourself. Then, obviously, I started feeling better and I said, 'OK, I can do this again. I didn't lose my talent or lose my skill.'"
• On Sunday against the University of Michigan,
Dillon Gee
will pitch in his first game since undergoing emergency surgery at last year's All-Star break to repair a damaged artery in his pitching shoulder. Gee did get on a bullpen mound in September at Citi Field to allay concerns. "I accomplished what I wanted to last year, and that was to be able to come here with some peace of mind," Gee told Andrew Keh
in the Times
. "Now I feel like I'm ready to compete again."
Said Warthen to Keh: "His delivery is a little bit awkward, a little bit rusty, and his command isn't where he wants it. But his hand feels good, his arm feels good and he can actually feel the baseball out of his hand. He'll iron out a couple of delivery issues, and we'll be right where he needs to be."
• Collins said left-hander
Josh Edgin
worked on a sinker during the offseason that should make him more effective against righty hitters. Lefties hit .164 and righties hit .263 against Edgin during his rookie season. Read more in the
Post
.
• Feliciano, who pitches in today's intrasquad game, tells Kristie Ackert
in the Daily News
about his shoulder: "I am ready now, ready to pitch. There is nothing there. It is strong. It's stronger than it was before, because before the surgery and after, I have to work on it. I pitched in Puerto Rico in winter ball and I am ready to go."
• Wright tells columnist John Harper
in the Daily News
he is "looking to become a better leader."
•
Lucas Duda
will receive heavy playing time early in Grapefruit League play because he is working on a new stance, Collins said. Mike Kerwick
in the Record
speaks with Duda about the challenge of playing the outfield for a natural first baseman.
•
From the bloggers
...
Faith and Fear in Flushing
makes the case for retiring Nos. 31 and 17 -- and quasi-retiring some other significant digits. …
Mets Police
would like to see a TV show in which Howie Rose interviews ex-Mets. … Contributors to
Rising Apple
predict which Mets player is most likely to break out in 2013.
BIRTHDAYS:
Former Mets reliever
J.J. Putz
turns 36.
TWEET OF THE DAY:
Driving down to Florida and seeing @you_found_nimmo singing to himself in the vehicle behind me #priceless

— Michael Fulmer (@MFulmer12) February 22, 2013
YOU'RE UP: Should Jenrry Mejia be a starter or reliever?


Please use the comments section to weigh in
July, 12, 2012
7/12/12
11:42
PM ET
BUFFALO 8, PAWTUCKET 5:
The Bisons resumed play after their All-Star break with a four-run ninth -- all with two out, all unearned runs, and with the benefit of one hit and five straight walks -- to rally for their fifth straight win.
Matt den Dekker
reached on an error by Pawtucket first baseman
Lars Anderson
.
Clayton Mortensen
then walked
Josh Satin
and was replaced by
Garrett Mock
. He walked
Valentino Pascucci
to load the bases with the Bisons trailing, 5-4.
Matt Tuiasosopo
,
Rob Johnson
and
Fred Lewis
then consecutively walked as well to force in three runs.
Josh Rodriguez
greeted
Tony Pena
with an RBI single to cap the four-run frame before
Adam Loewen
flied out. All-Star closer
Fernando Cabrera
had an uneventful ninth for Buffalo to collect his 17th save. Starter
Jeremy Hefner
was charged with four runs on eight hits in 4 1/3 innings, although
Jenrry Mejia
allowed a pair of those runs to score after inheriting two runners. Mejia surrendered consecutive hits before recording a pair of outs. He was charged with an unearned run because of
Johnson's
passed ball.
Garrett Olson
, bumped to the bullpen, tossed three scoreless, no-hit relief innings to earn the win.
Zach Lutz
went 1-for-5 with a double and an RBI in his first Triple-A game since returning from surgery to remove a broken hamate bone in his hand.
Carl Crawford
went 2-for-3 for Pawtucket.
Box
ERIE 11, BINGHAMTON 7:
After the SeaWolves jumped to a three-run lead against starter
Greg Peavey
, the B-Mets answered with two runs in the second, on
Juan Centeno's
RBI single and
Wilfredo Tovar's
sacrifice fly. Binghamton took its only lead against starter
Ramon Garcia
on a two-run double by
Dustin Martin
in the third. Erie retook the lead with a pair of runs in the fourth, but Binghamton tied the score in the bottom half on
Juan Lagares'
homer. In the fifth, the SeaWolves plated two runs to take a 7-5 lead. Binghamton again wiped that deficit away in a three-batter span as
Jefry Marte
and
Sean Kazmar
homered to tie the score. Peavey departed after five innings, having allowed seven runs (six earned) on eight hits. His winless streak reached eight starts.
Armando Rodriguez
entered in a tie game and walked leadoff hitter
Brandon Douglas
. Douglas took second on a wild pitch, stole third and scored on
Jamie Johnson's
sac fly, one of four in the game for Erie. Garcia was shelled for seven runs on a career-high 13 hits, but handed off to the bullpen with a chance to win. After adding three runs in the ninth against
Brad Holt
, the SeaWolves looked to closer
Bruce Rondon
. The B-Mets loaded the bases, but Rondon induced three consecutive flyouts to end the game. Rodriguez (2-1) did not allow a hit in two relief innings, but suffered the loss. The B-Mets matched a season high by stranding 13.
Box
TAMPA 4, ST. LUCIE 2
TAMPA 1, ST. LUCIE 0:
Yankees farmhands
Jose Ramirez
and
Braden Pinder
combined to toss a seven-inning no-hitter in Game 2 of the doubleheader.
Rafael Montero
suffered his first Florida State League loss despite limiting Tampa to one run on three hits and two walks while striking out eight in six innings. In the opener, starter
Chase Huchingson
walked four and allowed two hits and was pulled after recording only two outs in Tampa's three-run first.
Kyle Allen
tossed 3 1/3 scoreless relief innings.
Jason Bay
went 0-for-3 with a walk and strikeout and manned left field for St. Lucie in the opener.
Aderlin Rodriguez
started at third base after a promotion from Savannah and went 1-for-3 with a double.
Box 1
,
Box 2
DELMARVA 3, SAVANNAH 2:
Starter
Michael Fulmer
(5-5) allowed two runs on three hits and three walks in five innings. The Gnats closed within a run in the ninth on
Gregory Pron's
single, which scored
Dustin Lawley
after a leadoff double. But after a walk to
Albert Cordero
put a second runner on base,
Brandon Brown
grounded out as Delmarva held on.
Box
BURLINGTON at KINGSPORT (ppd.)

BROOKLYN 4, CONNECTICUT 1: Rainy Lara
(3-1) allowed one run on three hits in six innings while striking out eight as Brooklyn snapped a four-game losing streak. Lara took the New York-Penn League lead with 31 strikeouts.
Dimas Ponce
singled,
Phillip Evans
walked and
Alex Sanchez
-- who has hit safely in every road game this season -- responded with a line-drive single for a 1-0 lead in the first.
Jake Stewart
led off the bottom half with a solo homer. Lara, though, retired 16 in a row from that point. In the second inning,
Stefan Sabol
doubled and
Brandon Nimmo
worked a one-out walk. With
Eudy Pina
batting, a wild pitch advanced both runners. Pina then contributed an RBI groundout.
Juan Gamboa
added an RBI single for a 3-1 lead. The Cyclones capped the scoring in the fifth as Ponce worked a two-out walk, stole second and scored on Evans' single.
Logan Taylor
, the Mets' 11th-round pick last month, made his professional debut with a perfect seventh.
Paul Sewald
tossed a scoreless eighth.
John Mincone
earned his second save.
Box
Compiled from team reports
December, 15, 2010
12/15/10
10:59
AM ET
By
Adriano Torres
| ESPNNewYork.com
Francisco Pena remembers watching his dad Tony Pena stretch out his leg while awaiting a pitch, and knew from that point he would like to emulate his dad one day.

Now, the younger Pena hopes to one day reach the majors just like his old man did as a five-time All-Star and four time Gold Glove winner at catcher during an 18-year career with Pittsburgh, St. Louis, Boston, Cleveland, the Chicago White Sox and Houston.

"When I was little, I was just watching him play every day," Pena said before a recent Dominican winter league game with Aguilas Cibaenas, the team managed by his father, who is currently the Yankees bench coach. "I was trying to do that stance he used to do with his leg out. That was my dream. Now my dream is to play in the big leagues. I just have to keep working hard to get there."

Pena was signed by the Mets in July 2006 for $750,000 at age 16. (Jesus Montero was signed by the Yankees that same period for $1.6 million.) Pena was assigned the following year to the club's low-Class A South Atlantic League affiliate in Savannah, where he caught 81 of 103 games in which he played. He returned to Savannah to catch 92 of 105 games the following season. He spent the 2009 season with at Class A St. Lucie and was behind the plate for all 100 games he saw action in.

The 20-year-old almost missed the entire 2010 season, playing in only 20 games due to a stress fracture in his right foot. He has a career .237 minor league average and .282 on-base percentage in four minor league seasons.

The Mets will have Josh Thole as their starting catcher and just signed Ronny Paulino. And Pena figures to open the 2011 season in St. Lucie or Double-A Binghamton.

Pena has only nine hits in 48 at-bats in winter ball. He's been spending time working on the catcher's position with his father when they're at their home ballpark in Santiago, getting to the stadium earlier than usual before games.

"He lets me call the games," Pena said. "I do a lot on my own. I learn a lot with him. I get a little bit more time and we get to the field early and work on every little stuff we need to work on. It's a good experience playing for my dad. It's not easy. You have to do your job to maintain your place in the lineup.

"I know I'm still young. I just want to play. I had an injury last year and I could not play much. I'm getting my playing time here in the Dominican and that will help me with the Mets in spring training."