New York Mets:

Torii Hunter
March, 8, 2014
Mar 8
2:13
PM ET
LAKELAND, Fla. -- Noah Syndergaard has been nicknamed Thor, after the mythological Norse god of thunder and lightning, by his rapidly growing fan base. Saturday, in his second Grapefruit League start, the top prospect proved mortal.
The 21-year-old Syndergaard struggled to throw his fastball for strikes -- albeit narrowly -- in the second inning and did not receive help behind him at a critical time. He ultimately was charged with two runs on two hits while striking out three and walking three in three innings against the
Detroit Tigers
at Joker Marchant Stadium. He threw 52 pitches (31 strikes) in what became a 3-2 win.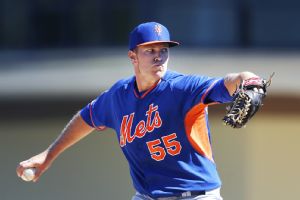 Carlos Osorio/Associated PressNoah Syndergaard walked three batters in three innings Saturday.
After limiting the
Atlanta Braves
to one hit in two walk-free, scoreless innings Monday at Disney, this time Syndergaard again possessed a fastball that ranged from 94-97 mph. But he walked
Don Kelly
on five pitches to lead off the second inning and then
Daniel Fields
two batters later.
That's when Syndergaard's fielders let him down. After big jumps allowed Kelly and Fields to successfully double-steal on a strikeout of
Bryan Holaday
,
Steve Lombardozzi
followed with a two-out ground ball to second base.
Eric Young Jr.
, getting exposure to the position for the first time in 2014 Grapefruit League play, had the makeable play glance off him and into right field for what was scored a two-run single.
Young is not expected to see any time at second base this season unless
Daniel Murphy
suffers an injury. Still, the Mets' middle-infield defense has been underwhelming overall in recent days. On Friday against the
St. Louis Cardinals
, Murphy committed an error at second base and
Ruben Tejada
had three misplays at shortstop, one of which was scored an error.
"It's a speed guy, so you try to cheat in a little bit on him," Young said about Saturday's critical grounder by Lombardozzi. "Obviously the more repetitions out there, you get a better comfort level, and more times than not I make that play."
Syndergaard nonetheless was relatively pleased with his performance.
He acknowledged throwing a high percentage of fastballs in the second inning. But catcher
Taylor Teagarden
(who likened Syndergaard's mound presence to that of former closer
Robb Nen
) indicated he called fastballs because runners were on base and he wanted Syndergaard to challenge the Tigers with his best pitch.
After that frame, though, pitching coach Dan Warthen implored Syndergaard to diversify his repertoire.
"I think he got a little frustrated with me because I had only thrown one changeup," Syndergaard said. "And that's something I really need to work on to make the next step to the big leagues -- being able to locate my changeup, and being able to also work behind in counts. Just be a little bit more unpredictable -- not so fastball-oriented. If you're not throwing the changeup, or you can't throw it for a strike, then hitters can just eliminate that pitch and they're going to sit on the heater."
August, 24, 2013
8/24/13
7:18
PM ET
NEW YORK -- There were no "Harvey's better!" chants Saturday at Citi Field.
In the first-ever meeting of All-Star starting pitchers in a regular-season game that same year,
Max Scherzer
surrendered only three hits while striking out 11 in six scoreless innings and the
Detroit Tigers
beat the Mets, 3-0.
The Mets loaded the bases with one out in the sixth against Scherzer, but
Juan Lagares
struck out and
John Buck
popped out to shortstop on the next pitch to strand three teammates. Scherzer then departed with his pitch count at 118.
Scherzer improved to 19-1, joining Rube Marquard in 1912 and
Roger Clemens
in 2001 as the only pitchers in major league history to reach that win total in their first 20 decisions of a season.
Harvey surrendered a career-high 13 hits. His previous high had been 10 hits, by the
Miami Marlins
on June 2.
He departed with the bases loaded and two outs and the Mets trailing 2-0 in the top of the seventh.
Scott Rice
entered and narrowly retired pinch hitter
Torii Hunter
on a fielder's choice to keep the Tigers off the scoreboard in the frame. Detroit manager Jim Leyland briefly contested ump Ed Hickox's call at second base, since
Matt Tuiasosopo
appeared as though he may have beaten shortstop
Omar Quintanilla
's throw.
Harvey's final line: 6.2 IP, 13 H, 2 R, 2 ER, 0 BB, 4 K. He had allowed eight hits in the first three innings, including an RBI double to Scherzer in a two-run second, before settling down.
The only other pitchers in Mets history to allow two or fewer runs while surrendering 13 or more hits in a start:
Jason Isringhausen
in 1995 and Al Jackson in 1962.
The biggest issue for Scherzer:
Ike Davis
, who went 2-for-2 with a walk against him, including a double as the Mets loaded the bases in what became a fruitless sixth. The Mets' only other hit in the game was a leadoff single by
Daniel Murphy
in the sixth.
Scherzer walked a season-high four batters. His 11 strikeouts matched
Tim Lincecum
on July 8 for the second most this season by a pitcher against the Mets.
Chris Sale
had 13 on June 25.
Scherzer's second-inning RBI double marked his first hit and RBI since 2009 with the
Arizona Diamondbacks
. He had been 0-for-8 since being acquired by Detroit in the three-team trade that also sent
Curtis Granderson
to the Yankees.
What's next:
The Mets try to avoid getting swept when
Dillon Gee
(9-8, 3.60 ERA) opposes right-hander
Rick Porcello
(9-7, 4.52) on Sunday at 1:10 p.m.
August, 24, 2013
8/24/13
4:55
AM ET
NEW YORK
FIRST PITCH:
A 2013 Cy Young winner should be pitching at Citi Field today, when the Mets face the
Detroit Tigers
at 4:05 p.m.
No disrespect to
Matt Harvey
, but we're talking about right-hander
Max Scherzer
(18-1, 2.82).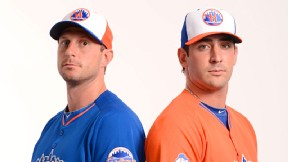 Rob Tringali/Getty ImagesAll-Star starters Max Scherzer and Matt Harvey meet again today.
The Harvey-Scherzer matchup marks the first time in MLB history the two All-Star starting pitchers have faced off in a regular-season game at any point that same year, according to the Elias Sports Bureau.
The Wall Street Journal notes All-Star starters twice have matched up in the World Series, though: Paul Derringer (Reds) versus Red Ruffing (Yankees) in Game 1 in 1939, and
Roger Clemens
(Red Sox) versus Dwight Gooden (Mets) in Game 2 in 1986.
"I think that's what makes Matt Harvey tick, to be honest," Terry Collins said. "It's not just Max Scherzer. It's the fact that he's going to see Prince [Fielder] and [Miguel] Cabrera and Torii [Hunter]. That whole lineup is a challenge. Matt relishes that. That's what makes him go. So he's very excited about pitching.
"It's going to be fun. It's going to be a good ballgame, obviously. Max is pitching great. He can strike you out. And one of the things we've got some issues with sometimes, we strike out. So we've got to be a little more disciplined … and put some balls in play."
After
Travis d'Arnaud
caught Harvey in San Diego last weekend, Collins indicated Friday he plans to pair
John Buck
with the ace today.
"They've been together for 25 or 26 starts. They're pretty comfortable," Collins said about the Harvey-Buck battery. "Travis d'Arnaud will catch him for 15 years. We'll make up that ground."
Saturday's news reports:
•
Daisuke Matsuzaka
allowed early homers to Hunter and Cabrera before retiring the final 10 batters he faced and allowed five runs in five innings as the
Mets lost to the Tigers, 6-1
, Friday at Citi Field. Matsuzaka indicated he
initially was nervous
in his Mets debut. He said he signed with the organization because of the opportunity to immediately pitch in a major league rotation. Matsuzaka will
earn slightly more than $100,000
for the remainder of the season, then be a free agent. Sandy Alderson called Matsuzaka the
Mets' "best option"
to plug a rotation void the rest of the season, since the promising Triple-A pitchers face innings caps.
Read game recaps in the
Post
,
Daily News
,
Times
,
Journal
,
Star-Ledger
,
Record
,
Newsday
and
MLB.com
.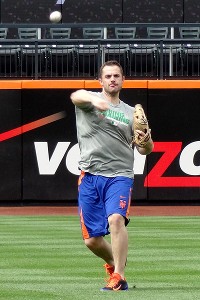 Adam RubinDavid Wright tossed a baseball and took grounders at Citi Field pregame Friday.
•
David Wright
took grounders at third base
pregame Friday. Collins indicated the third baseman should be in Port St. Lucie, Fla., doing significant baseball activities by Tuesday or Wednesday as he returns from a strained right hamstring.
• Read more on the Scherzer-Harvey matchup in
Newsday
.
• Benjamin Hoffman
in the Times
notes Matsuzaka's legendary "gyroball" turned out to be nothing more than a myth when he came to the States in 2007. Writes Hoffman:
Using FanGraphs' pitch-type data, provided by the record-keeping wizards at Baseball Info Solutions, Matsuzaka, like many other pitchers, relied mostly on his fastball, which he threw 53.1 percent of the time with the Red Sox. He also worked in a fair amount of sliders, cutters, changeups, splitters and curves.
The one hope that the gyroball does, or did, exist was that 0.8 percent of his pitches fell into the unknown-pitch-type category. Perhaps those were the gyroballs. Thus, when his 11,607 career pitches are considered, the possibility exists that he threw 93 gyroballs. That's not a whole lot.
•
Wilmer Flores
had a career-high three hits in the series opener. Read a profile of Flores from Mike Kerwick
in the Record
.
•
Frank Francisco
tossed a scoreless inning Friday,
in his second appearance in the Gulf Coast League
in three days.
• Jacob deGrom was charged with six runs in five innings with Las Vegas. Brandon Welch and Carlos Gomez combined on a six-hit shutout as Kingsport beat Bluefield, 7-0.
Alex Sanchez
had a grand slam in Brooklyn's 10-2 win against Vermont. Read the full minor league recap
here
.
•
From the bloggers:
Mark Berman from
Blogging Mets
has a blueprint for success for the 2014 Mets. …
Faith and Fear in Flushing
visits Astoria and stumbles upon a Mets video time capsule.
BIRTHDAYS:
Bartolome Fortunato
, the reliever who came from the Rays with
Victor Zambrano
in the
Scott Kazmir
trade, turns 39.
TWEET OF THE DAY:
My baseball card is already on eBay!

— Rob Whalen (@RobWhalen38) August 23, 2013
YOU'RE UP: Are you encouraged by Daisuke Matsuzaka retiring the final 10 batters he faced?
August, 23, 2013
8/23/13
10:09
PM ET
NEW YORK --
Daisuke Matsuzaka
did not have a charmed Mets debut. Not even semicharmed.
Matsuzaka surrendered homers to
Torii Hunter
and
Miguel Cabrera
before retiring the final 10 batters he faced. The Mets ultimately lost 6-1 to the
Detroit Tigers
on Friday night at Citi Field in the opener to their interleague series.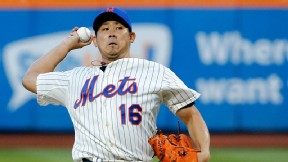 Anthony Gruppuso/USA TODAY SportsDaisuke Matsuzaka allowed five runs in five innings in his Mets debut.
Matsuzaka's line: 5 IP, 6 H, 5 R, 5 ER, 1 BB, 4 K, 2 HR. Working on short rest after pitching for Triple-A Columbus on Monday, he threw 86 pitches.
The Tigers grabbed a 5-1 lead in the second on Cabrera's three-run homer. Cabrera is now 6-for-12 with two homers, six RBIs and two walks in his career against Matsuzaka.
Austin Jackson
added a solo homer in the seventh against
Carlos Torres
, who tossed two relief innings after getting displaced from the start by Matsuzaka's addition.
The Mets' lone run in 6 1/3 innings against Tigers starter
Doug Fister
came in the opening frame, on
Marlon Byrd
's RBI single.
With
Hiroki Kuroda
starting for the Yankees at Tampa Bay, it marked the first time both New York teams started Japanese-born pitchers on the same date since Sept. 11, 1999. That day, the Yankees started
Hideki Irabu
and the Mets started
Masato Yoshii
.
What's next:
For the first time in major league history, the All-Star Game starters also square off during that same regular season.
Matt Harvey
(9-4, 2.25 ERA) opposes right-hander
Max Scherzer
(18-1, 2.82) at 4:05 p.m. ET Saturday.