New York Mets:

Travis Ishikawa
May, 16, 2012
5/16/12
2:43
AM ET
David Wright
jawed with his manager
,
Terry Collins
, in the dugout, but insisted afterward he was upset in the heat of the moment with the situation, not at his manager. The Mets ultimately
lost to the Milwaukee Brewers, 8-0
, Tuesday at soggy Citi Field. Collins pulled Wright in the bottom of the seventh along with
Daniel Murphy
, trying to protect the third baseman from getting drilled a half-inning after
D.J. Carrasco
served up a homer to
Rickie Weeks
, then plunked
Ryan Braun
with the next pitch. Wright wanted to stand in the batter's box to take the expected retaliatory blow and end the drama.
"At this level, somebody is going to get hit," Collins said about retaliation, to which the Mets skipper felt the Brewers were entitled. "And it wasn't going to be David Wright tonight. I can't control what's going to happen down the road. He's not going to get hurt in this game, in this situation, tonight."
Please join me for a Mets chat at 1 p.m. ET Wednesday
here
.
Wednesday's news reports:
• Before the T.C.-Wright dugout spectacle,
Dillon Gee
had let down the Mets. Gee served up a pair of homers to
Travis Ishikawa
and was charged with seven runs in 5 1/3 innings. "Mistakes that he makes are in the middle of the plate," Collins said. "I mean, when I took him out of the game, Nicky [catcher
Mike Nickeas
] said every mistake he made tonight they drilled."
Said Gee: "I don't know. I'm at a loss for words today. I felt good out there. I felt like I made a lot of good pitches. In my mind, I only made a couple of mistakes."
Meanwhile, Murphy extended his hitting streak to a career-high 11 games before departing the game.
Read game recaps in the
Record
,
Times
,
Post
,
Newsday
,
Star-Ledger
,
Daily News
and
Milwaukee Journal-Sentinel
.
• Columnist
Mike Vaccaro
in the Post
summarizes the Wright-Collins argument this way:
Whether [the hit by pitch] was intentional or not isn't important. Neither is the transaction of removing Wright from the game. This was: Both Collins and Wright care enough about this team and this season as it approaches the quarter pole that they were willing to fill the dugout with noise and rancor, even for a lost cause. They are a fine match, a manager who cares and a player who cares even more.
Read my take
here
. Columnist
Tim Smith
in the Daily News
also opines on the topic.
• Mayor
Michael Bloomberg
, MLB commissioner
Bud Selig
and Mets principal owner
Fred Wilpon
will participate in a ceremony at City Hall during which the 2013 All-Star Game
officially will be awarded to Citi Field
. The long-planned event was delayed in being announced for months as MLB worked out contracts with the Javits Convention Center for a fan fest as well as logistics such as NYPD staffing costs for a midtown parade of All-Stars and Central Park concert. You can watch the official announcement live at 11:30 a.m. on the city's web site
here
. Read more in
Newsday
, the
Times
,
Post
,
Daily News
and
Star-Ledger
.
• Collins told
Anthony McCarron
in the Daily News
that
Jason Bay
"absolutely" will get his left-field job back when he returns from the DL after dealing with a fractured rib. Collins acknowledged the challenge will be finding playing time for
Kirk Nieuwenhuis
as well, but the manager will make it work. "He didn't come here to be an extra player," Collins told McCarron about Bay. Nieuwenhuis went 0-for-3 Tuesday. He is hitting .294 with two homers, 12 RBIs, 14 walks and 39 strikeouts in 119 at-bats.
•
Josh Thole
was
examined Tuesday at Citi Field
and expected to imminently gain clearance to begin athletic activities. The catcher said he should learn the results of a concussion test Wednesday. Thole, who suffered what may be the fourth concussion of his professional career nine days ago in a plate collision with
Ty Wigginton
, said his headaches ended Friday. Read more in the
Star-Ledger
,
Record
,
Daily News
and
Newsday
.
•
Jenrry Mejia
and
Chris Young
are slated to move to Triple-A Buffalo to continue their returns from surgeries that both were performed on May 16, 2011. Mejia
soon should be exposed to relief work
to gauge his ability to contribute at the major league level in that capacity, an organization source told ESPNNewYork.com. Young was due to pitch for Class A St. Lucie on Tuesday night, but
the game was rained out
. He presumably will pitch Wednesday morning for the Florida State League club before moving to Triple-A.
• A special screening of the
Andres Torres
-centered documentary "Gigante," about the center fielder's battle with Attention Deficit Hyperactivity Disorder, will be held at NYU School of Medicine (550 First Ave.) on May 31 at 7 p.m. The free event is open to the public, but preregistration is mandatory at
yungogigante.eventbrite.com
.
• Wright
was noncommittal on his receptiveness to
discussing a contract in-season
if the Mets approached his representatives.
•
Brian Costa
in the Journal
profiles sudden pinch-hitter-extraordinaire/local product
Mike Baxter
. Baxter is hitting .471 (8-for-17) with five RBIs as a pinch hitter this season, including a sixth-inning double Tuesday. The contribution also includes a go-ahead two-run double in the ninth inning Friday at Marlins Park.
Plenty of players have found success in pinch-hit roles, but they tend to be veterans who were starters at one point. Baxter, 27, entered Tuesday with just 58 games of major-league experience and just 10 career starts. "Mike is becoming really good at it in a short window," said Mets third-base coach Tim Teufel, who had 192 pinch-hit appearances during his 11-year major-league career. "Usually for a young player, it takes time. He's taken to the role. He's found a way." The Mets' depth was a perceived weakness going into the season. But despite several injuries, they entered Tuesday with a 20-15 record, thanks in part to some unexpected contributions from players at the fringes of the roster. Players like Baxter.
•
Michael Salfino
in the Journal
looks at the Mets' patience at the plate under hitting coach
Dave Hudgens
. Among the relevant stats: Through Monday, the Mets had seen the most pitches per plate appearance in MLB (3.98), according to Stats LLC, better than runner-up Oakland (3.97) and No. 3 Arizona (3.94). Writes Salfino:
The epitome of the Mets desire to work counts as much as possible, though, is their place as the only team in baseball yet to swing at a 3-0 pitch (70 opportunities). That's widely regarded as the optimal hitter's count. But the Mets clearly don't want to help pitchers work their way out of trouble. New York's patient approach seems to be organization-wide. A spate of injuries have seen four opening day starters head to the disabled list, but replacements Justin Turner (4.22 pitches per plate appearance), Mike Baxter (4.23) and Kirk Nieuwenhuis (4.22) have actually improved the Mets average.
• Baseball America projects the Mets taking Louisiana high school shortstop
Gavin Cecchini
with the 12th overall pick in the draft next month. The magazine also says the Mets have been "strongly linked" to Texas high school outfielder
Courtney Hawkins
and Texas A&M right-hander
Michael Wacha
.
•
Brandon Brown
had three RBIs and
Dustin Lawley
homered as Savannah held on for a 4-3 win at Charleston. Read Tuesday's full minor league recap
here
.
• Collins is not a fan of prescribed roles in the bullpen, but the manager said pregame Tuesday that he needs to accept it as part of the evolution of the game. "Guys are here to do certain jobs," Collins said. "That's what they're paid for. That's what they prepare for. I mean, you have pitchers in the game today who don't even go to the bullpen until the sixth inning. They're not even out there. They're doing stuff in the clubhouse. They're stretching. They're getting rubdowns. That's the way it is and you have to adjust. I don't have to like it, but I have to accept it." Writes columnist
Mark Bradley
in the Star-Ledger
:
No one could have blamed Collins if he took a match and some gasoline to his bullpen roles after Francisco blew the lead twice last weekend in Miami, which was potentially damaging to the psyche of his entire team. And when Francisco got into trouble in the ninth inning on Monday, and the fans were letting him hear it, you wondered, was Collins willing to let another one get away? "The one thing I don't want to do is turn our bullpen inside out because we have a couple of blown saves," Collins said. "Everybody has blown saves. But if you start changing everybody's roles, then all of the sudden it's very uncomfortable for some guys." And then Collins repeated, "That's something I've come to accept."
•
Johan Santana
and
Chris Capuano
appear on columnist
Bob Klapisch's
list of 10 early season MLB surprises
in the Record
. Writes Klapisch on Santana:
You don't dominate hitters with an 88-mph fastball without brains and guts, both of which are still Santana's most precious currencies. His arm has been rebuilt by surgeons, who couldn't restore the left-hander's 94-mph heater of his prime. Still, Santana is so good, he's averaging more than a strikeout an inning. It's hard to believe Santana was on the DL for the entire 2011 season. Put it this way: The 2.92 ERA isn't just surprising, it's magic.
• SNY will televise its "Yearbook" show for the 1962 season for the first time on Thursday at 8 p.m.,
Ken Belson
writes
in the Times
. Writes Belson:
To sports fans, the show, which is called "1962 Yearbook," is a wonderful example of how sports was covered a half-century ago, complete with fawning announcers, eager players and a lack of whiz-bang technology that predominates on sports networks these days. "They were trying to generate interest and enthusiasm among the fans," said Gary Morgenstern, senior vice president for programming at SNY, said of the show and others that would follow. "They weren't terribly successful, so it was about getting people to fall in love with the team." The tapes were discovered in 2008, when the Mets were cleaning out Shea Stadium and moving to Citi Field. The video was not meant to be shown on television. Rather, it was to be used by the team's sales staff to drum up ticket sales in the off-season.
•
Miguel Batista
remains on target for his next start, despite dealing with a groin issue while tossing seven scoreless innings Monday. He is due to pitch at Toronto on Saturday.
• Mets players already were wearing hockey jerseys in the clubhouse Tuesday, in preparation for a dress-up en route to Toronto after Thursday's homestand finale.
Mike Kerwick
in the Record
spotted
R.A. Dickey
in a Predators jersey (he lives in Nashville), the Whitestone native Baxter wearing a Rangers jersey, and Nieuwenhuis -- a Denver-area product -- wearing an Avalanche jersey.
TRIVIA:
Who hit the homers off
Braden Looper
to spoil
Pedro Martinez's
Mets debut in Cincinnati on Opening Day in 2005?
Monday's answer: Gee
attended the University of Texas-Arlington.
May, 15, 2012
5/15/12
9:53
PM ET
WHAT IT MEANS: Dillon Gee
allowed seven runs for the second time this season. And the Mets' attempt to climb six games over .500 came up short for the third time in a week. The Mets
lost to the Milwaukee Brewers
, 8-0, on a wet Tuesday night at Citi Field as
David Wright
stewed about being pulled from the game.
Gee was chased with one out in the sixth and the Mets trailing 7-0 after serving up a three-run homer to
Travis Ishikawa
-- the ex-Giant's second long ball in two innings and his third, fourth and career-high fifth RBIs of the game.
Gee's ERA swelled to 5.65.
Gee (2-3) also allowed seven runs against the San Francisco Giants on April 23. His career high for runs allowed was eight against the Philadelphia Phillies in a 10-0 loss on Aug. 22, 2011.
Zack Greinke
tossed seven scoreless innings for Milwaukee.
D.J. FIASCO:
Tasked with logging innings with a lopsided deficit to protect the rest of the bullpen,
D.J. Carrasco
lasted all of three batters.
Rickie Weeks
launched a one-out homer to left field off Carrasco in the seventh to snap an 0-for-21 rut. Carrasco then plunked
Ryan Braun
on the arm with the next pitch -- either (1) unintentionally, (2) because of the homer, or (3) because of Braun beating a drug suspension. Carrasco was ejected by plate umpire
Gary Darling
. Braun has been hit by an NL-high five pitches this season, matching last year's total. Two of the plunkings came in Milwaukee's previous series, against the rival Chicago Cubs.
Ramon Ramirez
logged the final 2-2/3 innings.
SIT AND STEW:
Terry Collins
pulled Wright for pinch hitter
Jordany Valdespin
the half-inning after Carrasco's ejection, and Wright was shown on TV expressing displeasure with his manager for the decision to remove him.
It was not immediately clear whether Collins was motivated by fearing retribution for the Braun plunking since the two-game series was ending, or simply wanted to get Wright out of the game with an 8-0 deficit and wet weather. Collins recently said Wright would need a break during a 20-games-in-20-days stretch.
Wright went 2-for-2 to lift his average to .408 before departing.
NEW CITI JACKS:
Ishikawa's second homer would not have been a long ball under the old Citi Field dimensions. Opponents now lead 5-4 in homers that benefited from the revised dimensions.
WHAT'S NEXT:
The Cincinnati Reds visit Citi Field for a two-game series.
Johan Santana
(1-2, 2.92 ERA) opposes right-hander
Mike Leake
(0-5, 7.11) in Wednesday's 7:10 p.m. opener.
May, 13, 2012
5/13/12
9:30
PM ET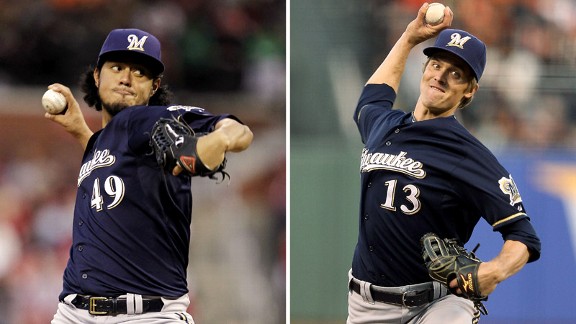 Associated Press/Getty Images
The Mets face Yovani Gallardo and Zack Greinke during a two-game miniseries at Citi Field.
METS (19-15, third place/NL East) vs. MILWAUKEE BREWERS (15-19, fourth place/NL Central)
Monday:
RHP Miguel Batista (0-1, 5.89) vs. RHP Yovani Gallardo (2-3, 5.35), 7:10 p.m. ET
Tuesday:
RHP Dillon Gee (2-2, 4.78) vs. RHP Zack Greinke (3-1, 3.35), 7:10 p.m. ET
Brewers short hops
• 2011 MVP
Ryan Braun
has nine homers since April 21, the most in the National League since that date. St. Louis'
Carlos Beltran
, who again went deep Sunday, is second during that span with eight long balls. Braun successfully contested a 50-game suspension for a positive drug test by challenging the chain of custody of his sample. He has received mixed fan reaction on the road this season -- vociferous booing, for instance, in Atlanta and a rather tame response in San Francisco.
•
Rickie Weeks
suffered a painfully bruised left hand/wrist injury when he was hit by a 96 mph fastball from Cubs reliever
Lendy Castillo
in the 13
th
inning Friday -- the second time he was plunked in that game. X-rays were negative, but the Brewers are waiting for swelling to subside to retest him for a possible hairline fracture. Weeks is not on the DL, but may miss both games of the Mets series.
Edwin Maysonet
started at second base Saturday in Weeks' place and belted a grand slam after an intentional walk to
Travis Ishikawa
.
Brooks Conrad
manned second base Sunday with Maysonet at shortstop so that
Cesar Izturis
could have a day off, but the Mets may see Maysonet both games at second base.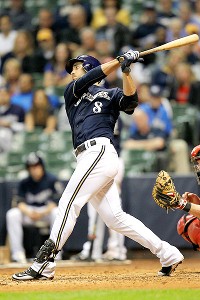 Mike McGinnis/Getty Images
Ryan Braun has received a mixed reaction from fans on the road since successfully combatting a suspension.

• The Brewers actually are without three-quarters of their original infield. The other two absentees are not returning this season.
Mat Gamel
, the successor to
Prince Fielder
at first base, was lost for the season with a torn ACL. Shortstop
Alex Gonzalez
also is out for the season after suffering the identical injury. Ishikawa and
Taylor Green
, with limited Conrad, now are sharing first base. Milwaukee recently spoke with unsigned
Derrek Lee
, but could not reach terms on a contract. The defensively oriented Izturis has taken over at shortstop.
• Closer
John Axford's
streak of consecutive saves ended Friday at 49 with a blown save against the Cubs. Axford was not around after that game to discuss his outing. His wife
Nicole
unexpectedly had gone into labor, and he left this playful note for reporters: "I put my wife into contractions with my performance tonight! The streak is over so now you can talk about it. The luck I've had in the past didn't show up tonight! All I can do is start another streak and keep my head up! Cliché ... cliché ... cliché ... another cliché. Gotta go! Love, Ax."
•
Francisco Rodriguez
is 0-3 with a 5.28 ERA through 17 appearances, but his numbers actually have been skewed by three bad outings; otherwise, he largely has produced in an eighth-inning role, albeit with his familiar tendency to allow baserunners. K-Rod produced his first save as a Brewer on April 10 at Wrigley Field. He had been offered arbitration last offseason with Milwaukee trying to get draft-pick compensation for him signing elsewhere. But with the closer market congested, Rodriguez accepted the arbitration offer and returned for this season for a guaranteed $8 million.
• The Brewers signed
Aramis Ramirez
to a three-year, $36 deal as a free agent to succeed Fielder in the cleanup spot, but the ex-Cub is hitting only .230 with two homers and 19 RBIs through 126 at-bats.
• Milwaukee brass has tabled extension talks with
Zack Greinke
, who is due to be a free agent after the season. The shelving of talks came shortly after
Matt Cain
signed a five-year, $112 million extension to remain with the San Francisco Giants. Greinke, who formerly acted as his own representative, has hired agent
Casey Close
to handle the negotiations.
• GM
Doug Melvin
and manager
Ron Roenicke
received contract extensions last week. Melvin, who also gained the title president of baseball operations, was extended through 2015. Roenicke's deal now goes through '14, with a team option for the following season.
• Ex-Met
Carlos Gomez
has landed on the disabled list with a hamstring strain. He is due to begin a rehab assignment Wednesday with Class A Wisconsin. Lefty hitters
Norichika Aoki
and
Nyjer Morgan
have shared center-field duties -- with Aoki starting against southpaws and the struggling Morgan (.200, no RBIs) against righties. Aoki joined the Brewers from the Tokyo Yakult Swallows, where he was a .329 career hitter and won Central League batting titles in 2005, '07 and '10.
•
Yovani Gallardo's
season totals look a whole lot better if you subtract a pair of starts against the Cardinals. He is 0-2 with a 22.24 ERA (14 ER in 5.2 IP) against St. Louis this season. Against others, he is 2-1 with a 2.45 ERA.
• Catcher
Jonathan Lucroy
was batting .333 as a catcher (29-for-87) before going hitless Sunday in four at-bats. That average matched
Carlos Ruiz's
for tops in the NL at that position. Overally, Lucroy now is hitting .326.
• Milwaukee has bunted in a run an MLB-leading five times this season.
Matchups
Batista vs. Brewers (career: 1-0, 2.72 ERA)

Jonathan Lucroy .500, 1 RBI, 2 PA
Rickie Weeks .333, 1 BB, 1 K, 8 PA
Travis Ishikawa .333, 1 RBI, 1 BB, 1 K, 4 PA
Cesar Izturis .222, 1 HR, 2 RBI, 1 BB, 1 K, 28 PA
Aramis Ramirez .143, 2 BB, 16 PA
Ryan Braun .000, 2 K, 4 PA
Brooks Conrad .000, 1 PA
Gee vs. Brewers (career: 0-1, 3.00 ERA)

Corey Hart .333, 3 PA
Rickie Weeks .250, 2 K, 4 PA
Jonathan Lucroy .000, 1 RBI, 3 PA
Ryan Braun .000, 1 BB, 3 PA
Aramis Ramirez .000, 1 K, 3 PA
Nyjer Morgan .000, 3 PA
Gallardo vs. Mets (career: 2-2, 3.47 ERA)
Lucas Duda .500, 2 HR, 3 RBI, 2 K, 6 PA
Mike Nickeas .500, 1 K, 2 PA
Scott Hairston .333, 2 RBI, 1 K, 6 PA
Ronny Cedeno .300, 2 HR, 4 RBI, 1 BB, 3 K, 11 PA
David Wright .214, 1 HR, 2 RBI, 2 BB, 7 K, 16 PA
Daniel Murphy .167, 1 RBI, 3 K, 6 PA
Justin Turner .167, 2 K, 6 PA
Andres Torres .000, 1 BB, 1 K, 8 PA
Ike Davis .000, 2 BB, 2 K, 6 PA
Greinke vs. Mets (career: 0-1, 6.43 ERA)
Ronny Cedeno .300, 1 RBI, 2 K, 10 PA
Scott Hairston .000, 1 K, 3 PA
Rob Johnson .000, 2 PA
Last series results
Milwaukee won, 3-0, at Citi Field, Aug. 19-21, 2011 (AP game recaps)
Brewers 6, Mets 1:
The Mets became the first team in major league history to lose the opening game in their first 10 homestands of a season, STATS LLC said. Prince Fielder hit a pair of RBI singles and later confronted Mets reliever Tim Byrdak in a late dustup that caused the benches and bullpens to empty. Shaun Marcum pitched the Brewers to their 20th win in 23 games. They closed out this testy victory at 12:51 a.m. Fielder already was 2-for-2 with two walks when he came up in the eighth. Byrdak's first pitch was a fastball at Fielder's chest that backed him away from the plate. Fielder grounded out on the next pitch, then took a sudden right turn after hitting first base, curling back to intercept Byrdak on the way to the dugout. Terry Collins, Josh Thole and plate umpire Angel Campos intervened to prevent any escalation. Order was quickly restored. Brewers reliever Frankie De La Cruz plunked Mike Baxter in the ninth, without incident. Ryan Braun wasn't around at the end. He looked at strike three in the third inning, loitered in the batter's box and was eventually ejected by Campos. Marcum (11-3) improved to 4-0 in nine starts since losing at Yankee Stadium on June 29. He allowed one run in seven innings.
Brewers 11, Mets 9:
Prince Fielder hit a long home run early and a key single in the ninth inning, spoiling the Mets' chances of a win against former closer Francisco Rodriguez. Casey McGehee followed Fielder's tying hit with a two-run single off Manny Acosta, capping a four-run rally. The Brewers blew a late 7-1 lead, but came back after Angel Pagan hit a two-run homer off Rodriguez (5-2) in the eighth. Mets reliever Jason Isringhausen (3-3) couldn't get an out in the ninth and left after a bases-loaded walk. Fielder, Ryan Braun and Yuniesky Betancourt all homered for the Brewers, who have won eight of their last nine games. John Axford pitched the ninth for his 37th save.
Brewers 6, Mets 2:
Prince Fielder drove in the go-ahead run on a botched potential double-play grounder in the eighth and Yovani Gallardo shut down the Mets for seven innings, leading Milwaukee to its first series sweep in New York. Casey McGehee homered off R.A. Dickey in the fourth and Ryan Braun had three hits, an RBI and scored twice after stealing bases for the Brewers. Gallardo (14-8) gave up six hits in the finale to match a career high for wins.
NBA
NHL
COLLEGE BASKETBALL
MLB