New York Mets:

Trevor Rosenthal
March, 12, 2014
Mar 12
6:22
AM ET
PORT ST. LUCIE, Fla.
FIRST PITCH:
John Lannan
's best bet to make the Opening Day roster appears as a second bullpen left-hander alongside
Scott Rice
, but Lannan continues to be evaluated at as a starter, too.
Lannan gets Wednesday's Grapefruit League start against the
St. Louis Cardinals
at Tradition Field at 1:10 p.m. (SNY). He opposes right-hander
Carlos Martinez
.
Terry Collins expects
Daniel Murphy
to be in the lineup Wednesday
for the first time since injuring his right calf on an aggressive slide into second baseman
Kolten Wong
in Friday's Grapefruit League game. The manager added that
Ike Davis
(calf) and
Lucas Duda
(hamstring) may only be a day away from at least serving as designated hitters on the minor-league side of the complex.
Wednesday's news reports:
USA TODAY SportsJohn Lannan is currently projected to join Scott Rice in the bullpen.
• Sources project to ESPNNewYork.com that if the Opening Day roster had to be named today,
Jose Valverde
and Lannan would make the bullpen and
Kyle Farnsworth
would not.
One source also asserts the Mets are leaning toward carrying
Daisuke Matsuzaka
over
Jenrry Mejia
as the fifth starter, although they still consider that a competition. If Mejia is not in the big-league rotation, a serious powwow would be convened to determine whether Mejia becomes a reliever, or is used as a starter at Triple-A Las Vegas. Regardless, Mets officials want to make a decision regarding Mejia's role and stick with it, rather than continue to shuffle him between the rotation and relief.
Lannan, meanwhile, is
receptive to a relief assignment
if it will get him on the Opening Day roster.
Read the full roster projection and analysis
here
.
Read more on Lannan as a potential reliever in the
Record
.
• Collins
became concerned Tuesday
when a fastball from
Jonathon Niese
to open his outing registered only 79 mph. Still, after allowing four runs on six hits and two walks against the St. Louis Cardinals, Niese suggested his velocity was in the upper-80s by the end of his two-inning appearance. More importantly, he
insisted his shoulder felt fine
.
Niese remains lined up for Opening Day. Collins said he likely would use
Bartolo Colon
, or possibly
Dillon Gee
, on March 31 at Citi Field against the
Washington Nationals
if Niese's final three exhibition starts reveal the southpaw is not ready for the season opener.
Read more in the
Times
,
Post
,
Daily News
,
Star-Ledger
,
Record
,
Newsday
and
MLB.com
.
•
Wilmer Flores
went 2-for-3 with a walk Tuesday, but it was his fielding assignment that was notable. Flores started a game at shortstop for the first time since 2011. He had a miscue on the first grounder to him, losing the handle as he transferred the ball from his glove to throwing hard. Regarding shortstop, "I definitely can play," Flores
insisted afterward
. Read more in the
Star-Ledger
,
Daily News
,
Newsday
and
MLB.com
.
•
Zach Lutz
delivered a tiebreaking solo homer
in the ninth against
Trevor Rosenthal
as the Mets beat St. Louis, 9-8, at Roger Dean Stadium.
Josh Satin
and
Kirk Nieuwenhuis
also went deep in the victory. Read more at
MLB.com
.
• Tuesday's game included a ninth-inning replay challenge initiated by the Cardinals, with St. Louis trailing by a run. It would have loaded the bases with none out against
Miguel Socolovich
if an out call at third base had been reversed. Dissatisfied that the call on the field was upheld by replay, manager
Mike Matheny
wants
MLB officials in New York to weigh in
.
• Palm Beach County commissioners discussed the future of baseball on the Atlantic Ocean side of Florida at an open meeting Tuesday. The Mets are among the handful of teams -- along with the Cards,
Miami Marlins
and Nationals -- that are isolated on this side of Florida, with only a few opponents within a two-hour drive. Read more
in the Palm Beach Post
.
On a related topic, Brian Costa
in the Journal
nearly watched eight different Cactus League games in Arizona in the time it took the Mets to drive from Port St. Lucie to Lakeland to face the
Detroit Tigers
.
•
Ruben Tejada
tells Dan Martin
in the Post
he does not pay attention to any chatter about free-agent
Stephen Drew
. Columnist John Harper
in the Daily News
writes that the Mets continue to scout Seattle's
Nick Franklin
and "are continuing to monitor the Diamondbacks' shortstop competition and 'could jump in' to try to make a trade for either
Didi Gregorius
or
Chris Owings
before spring training ends."
• Read updates on Murphy, Davis and Duda in the
Post
.
• AC Milan will play Olympiakos
in a soccer match at Citi Field
on July 24.
•
From the bloggers …
John Delcos at
Mets Report
revisits five questions heading into spring training.
BIRTHDAYS:
Darryl Strawberry, who slugged a franchise-record 252 homers as a Met, turns 52. Watch out Straw:
David Wright
enters 2014 with 222 career homers.
TWEET OF THE DAY:
Hey @MrMet welcome to Twitter! BTW, can you ask Mrs. Met why she won't call me back? pic.twitter.com/MnKEbagKLQ

— Sluggerrr (@Sluggerrr) March 10, 2014
YOU'RE UP: Should the Mets use Jenrry Mejia in the big-league rotation, big-league bullpen or Triple-A rotation?
March, 11, 2014
Mar 11
4:31
PM ET
JUPITER, Fla. --
Zach Lutz
produced a tiebreaking solo homer with one out in the top of the ninth to lift the Mets to a 9-8 win against the
St. Louis Cardinals
on Tuesday afternoon at Roger Dean Stadium.
Lutz's homer against
Trevor Rosenthal
capped a three-homer, 14-hit game for the Mets.
Miguel Socolovich
allowed two baserunners to reach in the bottom of the ninth, but survived that jam -- and a replay review of an out call at third base, which the Cards failed to get overturned -- to hold on for the save.
Josh Satin
took
Adam Wainwright
deep in the second inning, while
Kirk Nieuwenhuis
delivered a three-run homer against left-hander
Tim Cooney
in the fifth.
In the eighth,
Omar Quintanilla
delivered a game-tying RBI double and
Matt den Dekker
drove him in with a single as the Mets took an 8-7 lead. But
Gonzalez Germen
surrendered a game-tying RBI double to
Stephen Piscotty
in the bottom half.
Quintanilla's two-bagger plated
Wilmer Flores
, who reached base three times and scored twice while starting at shortstop for the first time since 2011, when he played for Class A St. Lucie.
The Mets had trailed 7-6 after
Jose Valverde
surrendered a two-run double to
Daniel Descalso
in the fifth.
After
Jonathon Niese
allowed four runs on six hits and two walks in two innings,
Rafael Montero
tossed a pair of innings as well, surrendering one run. Of the 14 batters to face Niese, eight reached.
Flores played a full game at shortstop. He could not cleanly handle a routine grounder from
Jhonny Peralta
in the first inning, helping cost the Mets a chance to turn a double play. Descalso reached on an infield single in the second inning to Flores, after which one scout said about Flores at shortstop: "The game is too fast for him."
Flores did single, double and walk in four plate appearances.
What's next:
John Lannan
, who appears most likely to make the team as a second left-hander in the bullpen, starts Wednesday's Grapefruit League game against St. Louis at 1:10 p.m. at Tradition Field (SNY). Lannan opposes right-hander
Carlos Martinez
.
September, 5, 2012
9/05/12
7:39
AM ET
Matt Harvey
surrendered three runs in five innings and
Jeurys Familia
tossed a scoreless frame in his major league debut as the Mets lost to the
St. Louis Cardinals
, 5-1, Tuesday at Busch Stadium.
Now,
R.A. Dickey
bids for his 18th win as the Mets try to avoid a sweep in the series finale. Dickey opposes right-hander
Adam Wainwright
(13-11, 3.90) at 1:45 p.m. ET as the Mets complete a three-city trip.
Wednesday's news reports:
•
David Wright
tells
Jon Heyman
at CBSSports.com
that he is "extremely optimistic" about reaching a long-term extension with the Mets this offseason.
Charles LeClaire/US Presswire
David Wright says he has "not a single complaint" as a Met.

"I've really enjoyed it here," Wright said. "... Although we haven't gotten things completely turned around, we've taken small steps in the right direction and have something to build on. ... There's not a single complaint that I have. [The Mets] drafted me as a kid. They developed me. They've given me an opportunity to make a living playing a game. There's a tremendous amount of mutual respect. They've gone above and beyond. ... My favorite player was
Cal Ripken
. The biggest reason for that was, I like that he stayed."
•
Keith Hernandez
tells
Richard Sandomir
in the Times
that his intention is to report for color-commentary duty for the Oct. 3 season finale in Miami without his signature mustache. Writes Sandomir:
Hernandez's mustache faithfully accompanied him through nearly all of his baseball career, his guest appearances on "Seinfeld" and his singing duet with Mookie Wilson on "Put Down the Duckie" for Sesame Street. Still, he seems about to take it off, after a long season of letting it turn increasingly gray. The color has been fading longer than that but was artificially enhanced with Just for Men gel. He was, of course, a paid company endorser and a star, with Walt Frazier, of several kitschy TV commercials that suggested a better life through dyed facial hair.
In the first and most famous ad, Hernandez and Frazier played the bar-side analysts of a sad sack Mr. Graybeard being rejected by Miss Hottie. Their facial hair was blindingly dark. "No play for Mr. Gray," Frazier said, evoking his penchant for rhyming. In a commercial made in 2008 they confronted another Mr. Graybeard, Emmitt Smith. "Your beard is weird," Hernandez told the retired Dallas Cowboys running back. But Combe Inc., which makes Just for Men, ended the campaign early this year and replaced it with one that stars a tuxedoed baby.
• Familia's major league debut began by striking out
Lance Berkman
with a 97 mph fastball. He then surrendered a single to
Jon Jay
, but immediately erased him by coaxing a double-play grounder from
Matt Carpenter
.
Fred Lewis
, 31, also made his Mets debut. He opened the ninth by grounding out to shortstop against
Trevor Rosenthal
. Read more in the
Star-Ledger
,
Newsday
and
Record
.
• Read game recaps in the
Post
,
Star-Ledger
,
Record
, and
Daily News
.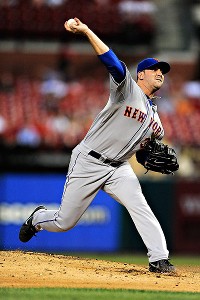 Jeff Curry/Getty Images
Matt Harvey has one or two more starts remaining in 2012.

• Collins said postgame it was not yet resolved whether Harvey would have one or two remaining starts. The five innings logged Tuesday give him 47 1/3 in the majors and 110 with Triple-A Buffalo this season. Read more in
Newsday
.
•
Tim Byrdak
is due to undergo surgery today to repair the torn anterior capsule in his left shoulder. That's the same surgery
Johan Santana
and
Chris Young
previously underwent. Team doctor
David Altchek
will perform the procedure. Byrdak's injury is career threatening, since he turns 39 next month. Byrdak also requires surgery to repair torn meniscus cartilage in his right knee. The other knee required that procedure during spring training.
• The Mets are offering free tickets to up to three children age 12 and under with the purchase of an adult ticket to any September home game. The team announcement:
For "The Kids Go Free" ticket offer available via phone at (718) 507-TIXX and in person at the Citi Field Box Office, fans buying one regularly priced ticket will get up to three complimentary kids tickets. For the ticket offer available online at Mets.com/KidsFree, fans may purchase a Family Four Pack that includes four tickets for the price of two. All tickets must be picked up at Citi Field the day of the game and children must be present. For more information, contact the Mets Ticket Office at (718) 507-TIXX.
• Brooklyn lost to Lowell, 9-1, Tuesday. The Cyclones must win their regular-season finale today, or have Batavia lose at least one game in its doubleheader, in order to claim the New York-Penn League wild card. St. Lucie lost its Florida State League playoff opener, 3-1, at Jupiter in a game interrupted three hours by rain. Read the full minor league recap
here
.
•
Mike Pelfrey
visited his teammates in St. Louis in part to participate in the players' fantasy football draft. Pelfrey, who underwent Tommy John surgery on May 1, is likely to be nontendered in December since he is eligible for arbitration and is making $5.6875 million this season. Players must make at least 80 percent of their previous year's salary if tendered a contract, and rarely receive a salary cut. Still, Collins said he would consider Pelfrey in a bullpen role (presumably if the Mets re-signed Pelfrey for a lower salary after making him a free agent). Read more in the
Post
,
Newsday
,
Times
and
Record
.
TRIVIA:
Which active player has the second-most homers against the Mets, behind
Chipper Jones
?
Tuesday's answer: Technically,
Mike Jorgensen
preceded
Tony La Russa
as Cardinals manager. Jorgensen completed the 1995 season after
Joe Torre
was fired with a 20-27 record in his fifth season at the helm.