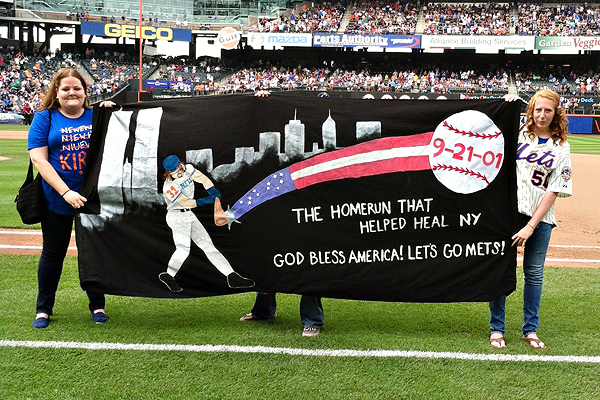 Courtesy of New York Mets
Cousins Olivia Nuzzo and Stephanie Giangrande show off the winning entry in the revival of Banner Day last May.
FIRST PITCH: Banner Day, the revived annual tradition, comes to Citi Field before today's game on what is forecast to be a rainy day in Flushing.
Edgardo Alfonzo, Kevin Burkhardt and 92.3 NOW morning-show host Ty Bentli will serve as judges.
Weather-permitting at 1:10 p.m., Jonathon Niese (2-3, 4.66 ERA) opposes left-hander Francisco Liriano, who is making his Pittsburgh Pirates debut after fracturing the humerus bone in his non-pitching arm on Christmas Day. Niese recently has been dealing with a back issue.
All eyes will be on the minors, too. Zack Wheeler tries to post a third straight solid start for Triple-A Las Vegas when he faces Albuquerque at 10:05 p.m. ET.
Terry Collins, by the way, says it's the front office's call -- not his -- about when the top prospect is promoted. (The front office is undoubtedly cognizant of not wanting to give Wheeler an extra year of arbitration, so the call-up may very well wait until June.)
Jenrry Mejia's road back to the majors also continues today. Mejia, shut down in spring training with forearm tendinitis, starts for Class A St. Lucie.
Saturday's news reports:
• Shaun Marcum failed to complete five innings for the third straight start. The ex-Brewer was charged with six runs in 4 2/3 innings as the Mets lost to the Pirates, 7-3, Friday night. Marcum also took a liner off his left thumb. X-rays were negative.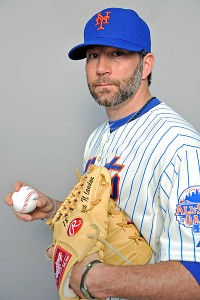 Steve Mitchell/USA TODAY Sports
Shaun Marcum has failed to complete five innings in any of his three Mets starts.
"When you look at what happened to him in spring training, with the extent of his injuries, he's a command guy," Collins said. "His sinker is his big pitch, and changeup. He has to pitch to both sides of the plate. And I think he's just still in the mode of getting himself right."
Said David Wright about the team's continued hitting woes after the Mets went 1-for-12 with runners in scoring position Friday: "I think guys are pressing probably a little bit, and rightfully so. Everybody wants to be that guy that gets that big hit to break the spell. But in doing so you put a little too much pressure on yourself sometimes."
Read game recaps in the Post, Daily News, Star-Ledger, Times, Record, Newsday, Pittsburgh Post-Gazette, Journal and MLB.com.
• Wright fouled a ball off the inside of his left knee. He hopes to be available to play today. Read more at MLB.com.
• Jeurys Familia is suffering from biceps tenditinis. That may prompt the Mets to activate Frank Francisco without another minor league appearance, with Familia potentially landing on the disabled list.
• On the timetable for Wheeler's promotion, Anthony McCarron writes in the Daily News:
So here's hoping, for their own sake, the Mets judge Wheeler's next few weeks wisely. They can't react to the lethargic crowds at Citi Field -- there was an announced attendance of 25,123 Friday, and the Mets started the day ninth in the NL in attendance -- by sending for Wheeler. Night after night, regardless of a few Mike Baxter walk-offs, some decent relief showings and Matt Harvey's magic, we're learning how difficult this season is likely to be for the Mets.
They don't score much anymore, as Collins noted when he said, "We aren't giving them much room to wiggle, on the mound." They have outfield issues and they need to fix Ike Davis and Ruben Tejada. They are 4-9 in their last 13 games.
In other words, what's the rush? Wheeler may help save the Mets, but that really feels like a 2014 narrative, not one from this season.
Columnist Kevin Kernan in the Post says Wheeler "can't get here fast enough."
• Jordany Valdespin admired his solo homer in the ninth. Collins said there is nothing he can do about it anymore. Meanwhile, as Mother's Day approaches, Anthony DiComo at MLB.com writes that Valdespin's major league earnings have allowed him to tell his mother to quit working as a housemaid in their native Dominican Republic.
• Columnist Joel Sherman in the Post suggests the Mets may be approaching the point at which they have to decide whether Davis or Lucas Duda plays first base … and trade the other.
• Read more on Liriano joining the Pirates in the Pittsburgh Post-Gazette.
• Darrell Ceciliani went 3-for-3 with a triple and two RBIs as Binghamton responded a day later to getting no-hit with a rain-shortened 8-4 win against Harrisburg. St. Lucie starter Domingo Tapia landed on the DL after burning his non-pitching hand. Beck Wheeler suffered the loss in relief as Rome beat Savannah, 3-2. Read the full minor league recap here.
• Jorge Arangure in the Times and Mike Vorkunov in the Star-Ledger write about Mike Baxter's success as a pinch hitter -- and his attacking approach as compared with his patience as a starter. Baxter, unused Friday, is 5-for-9 as a pinch hitter this season and produced his first two walk-off hits this week.
• Justin Turner started over slumping Daniel Murphy at second base Friday. Read more in the Star-Ledger.
• From the bloggers … John Delcos at Mets Report suggests the Mets should not think about signing arbitration-eligible Ike Davis to a multiyear deal. … Faith and Fear in Flushing frets over what to do when you can't get 3G or 4G but you want to know what's up with Dillon Gee. … Metsmerized points out the uncanny similarities between Matt Harvey and Tom Seaver and suggests younger fans can now feel what it must have been like when Seaver first came up.
BIRTHDAYS: Right-hander Walt Terrell, whose Dec. 7, 1984 trade to the Detroit Tigers brought Howard Johnson to Flushing, turns 55.
TWEET OF THE DAY:
You don't have to guess at Jordany Valdespin's twitter handle. twitter.com/Jay_HorwitzPR/…

— Jay Horwitz (@Jay_HorwitzPR) May 10, 2013
YOU'RE UP: Even if he is not the closer, can Frank Francisco be useful to the Mets?