New York Mets:

University of Michigan
February, 28, 2012
2/28/12
6:56
AM ET
Terry Collins
addressed his players
and the first full-squad workout is in the books. Now, the countdown to Grapefruit League games begins. The Mets' opener is Monday night, with
Dillon Gee
getting the start against the Washington Nationals at Digital Domain Park in Port St. Lucie.
Tuesday's news reports:
• Principal owner
Fred Wilpon
gave a 22-minute interview to reporters
Monday morning, as the Mets took the field for the first full-squad workout. Wilpon said the Mets will, in fact, sell as many as 12 minority shares in the team, each at $20 million for 4 percent. He acknowledged, however, that two have been bought by immediate family,
Jeff Wilpon
and
Saul Katz
. He also said another four are being purchased by SportsNet New York. Seven of the up to 12 blocks already have been approved by Major League Baseball and the money is in escrow. He also stated his family will remain majority owners for the long haul.
He said
David Wright's
future will be a front-office decision, and that
Jose Reyes'
departure was a prudent move based on the perils of long-term contracts. He tried to put the onus for the payroll dive on that being
Sandy Alderson's
preference before allowing that he sets the parameters. He also said he remains "optimistic" the 2013 All-Star Game will be held at Citi Field as planned, and that the delay in a formal announcement is because New York City officials and MLB are negotiating over picking up expenses.
Read the transcript of Fred Wilpon's interview
here
.
Column
Mike Vaccaro
in the Post
was turned off by Fred Wilpon pulling out the roll of bills with $5 on the outside. Writes Vaccaro:
If nothing else, the Mets should have the common sense and the common decency to realize their fans are not idiots, that if there are real financial concerns hanging like a millstone around the Wilpons' necks -- and no matter how much Fifth Avenue Freddie tries to spin it, every few minutes, it seems, another bill for another few million comes due -- then it is particularly stupid to taunt their customers so blithely, and so blindly. Alderson can get away with it. For one thing, he has a better sense of humor and a better sense of timing. His Tweets land and they get retweeted by thousands of anxious Mets fans who think they've got an ally, who think Alderson's voice represents their own, and it's one that says: Yes, we have cash issues. And you know what? Either we laugh about it or we cry about it.
Writes columnist
Ken Davidoff
in Newsday
:
Even if the Mets' owners prevail in the Madoff mess, however, they still face an uphill climb. They have not yet closed on the 10 to 12 shares (4 percent each, at $20 million a pop) they need for a cash infusion, which will allow them to pay back loans to MLB ($25 million) and Bank of America ($40 million). And there's the issue of so little money coming in from the actual team. "We've got to win the fans back," Wilpon said. "No, strike that: Win the fans and the customers back. ... The only way we're going to get that revenue is if we have a competitive, interesting team on the field." The problem lies deeper than that, though, as Wilpon joked. According to Michael Weinstat, an investment adviser / portfolio manager from Woodbury who owned Mets season tickets from 1987 through 2009, about 25 percent of Mets fans are rooting for the team to lose to expedite the Wilpons' departure.

Writes columnist
Bill Madden
in the Daily News
:
Listening to Fred Wilpon delivering his impromptu State of the Mets address Monday, he sounded far less concerned about becoming one poor owner than he did about assuming the dubious distinction of being one dumb owner. For obvious legal reasons, Wilpon could not discuss the court case looming in the wake of the Bernie Madoff ponzi scheme -- which reportedly could cost his family from $83 million to $386 million in clawbacks -- other than to say he was "optimistic -- I'm always optimistic." But when it came to the significantly shrunken Mets payroll, a hot button topic of conversation ever since Jose Reyes split for Miami for $105 million, Wilpon reiterated the company line that the estimated $50 million reduction from $140 million was mostly a subtraction "of people who weren't producing" and in no way related to the Madoff situation, but rather the hundreds of thousands of empty seats at Citi Field.
Fred Wilpon tried to put the onus on a fiscally conservative Alderson for a $91 million payroll, but it seems pretty clear the GM
would have spent somewhat more if it were available
.
Tyler Kepner
in the Times
quotes Alderson saying: "There's no question success is a function of two things: good management and resources. If you have both, you can have a pretty long and successful run. If you don't have both, your run is going to be short or it's never going to happen. But if you have resources and you have good management and execution, then we've got a shot. Resources are always going to be important, but they don't need to be determinative."
Here are
Jon Heyman's
take
at CBSSports.com
and
Howard Megdal's
take
at Capital New York
.
Read recaps of the principal owner's comments in the
Star-Ledger
,
Times
,
Record
,
Journal
,
Post
,
Daily News
and
Newsday
.
• The Mets distributed orange T-shirts to the players
with the "Underdog" logo
. The idea was Jeff Wilpon's, according to Collins. Read more in the
Post
,
Star-Ledger
,
Newsday
,
Daily News
and
Record
.
• Right fielder
Lucas Duda's
power is on display in camp
... and he's becoming slightly less introverted, according to teammates. Collins, by the way, said he is not entertaining flipping No. 6 Duda and cleanup hitter
Ike Davis
in the order at this point. Read more
in Newsday
.
• Wright
donned a University of Michigan football jersey
for Monday's workout after losing a Sugar Bowl bet with Jeff Wilpon.
•
Neil Best
in Newsday
chats with
Josh Lewin
, the new sidekick to
Howie Rose
on Mets radio broadcasts. Lewin, 43, called games on TV for the Texas Rangers in 2004, after the departure of
Alex Rodriguez
and what was the largest single-season payroll slashing in MLB history until the Mets decided to drop $52 million this offseason. "There were zero expectations that year, everyone crying about the payroll and kind of negative," Lewin told Best. "I'm not going to make any wacky predictions, but I've seen this movie before and it came really, really close to a happy ending. ... At the risk of being Pollyanna, I don't think it will be terrible." Writes Best:
Josh Lewin feels your pain, Mets fans. It is an emotion earned the hard way, as a youngster in Rochester who in 1978 favored the last-place Mets over the two-time World Series champion Yankees. "For whatever reason, the Mets seemed to resonate more," said Lewin, the team's new radio voice opposite Howie Rose. "Reggie [Jackson] was hitting three home runs and all that, but I was a Willie Montaez guy. And I loved Nino Espinosa's hair. There was something about the Mets and the underdog-ness. They were the Jan Brady to the Yankees' Marcia. I always was a Jan guy when I got a little older."

TRIVIA:
Who has surrendered the most homers to the Mets among active pitchers? (Hint: He once was a Met.)
(Monday's answer: Before
Ruben Tejada
and
Manny Acosta
, left-hander
Bruce Chen
was the last Panamian-born player to appear with the Mets, in 2001 and '02. The lone other play born in that country to play for the Amazin's:
Juan Berenguer
, from 1978 to '80.)
February, 27, 2012
2/27/12
2:46
PM ET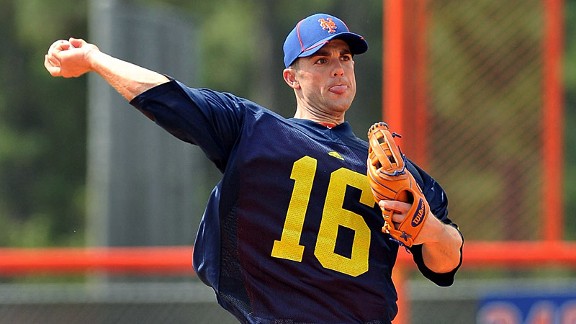 Brad Barr/US Presswire
David Wright dons a Michigan football jersey after losing a Sugar Bowl bet with Jeff Wilpon.
As players streamed out of the clubhouse after a 45-minute address from
Terry Collins
and
Sandy Alderson
on Monday morning for the first full-squad workout,
David Wright
had on a different uniform. Wright was wearing University of Michigan quarterback
Denard Robinson's
No. 16 jersey. It was the result of losing a Sugar Bowl bet with chief operating officer
Jeff Wilpon
.
Fred Wilpon's
alma mater is Michigan. Wright roots for Virginia Tech. The Wolverines beat the Hokies, 23-20 in overtime, in the bowl game.
"It was just a bet," Wright said. "I got a phone call from Jeff and his son the day of the Sugar Bowl game. I had a couple of brothers who went to Virginia Tech, and grew up rooting for Virginia Tech. You can't really say no to the owner -- especially you could expect a phone call when they're 3-, 3½-point favorites. I doubt they would have made that phone call if they were 3-, 3½-point dogs. Michigan ended up winning. The bet was the loser had to wear the other team's jersey out on the field for the first day. That's about it."
As for wearing Robinson's jersey, Wright added: "Well, it didn't make me any faster. It didn't help my spiral any. I know
Jon Niese
is a big Ohio State fan. Fortunately I didn't have to face him in live BP today. But it was all in good fun. And then during the meeting today they broke out the jersey. Hopefully they get a rematch next year."
The Judy and Fred Wilpon Family Foundation donated $12 million to the University of Michigan five years ago, which led to renovations of the baseball and softball facilities, which now bear the family's name. The Michigan baseball team played a baseball series against Iona at the Mets' complex this past weekend.
February, 24, 2012
2/24/12
12:06
PM ET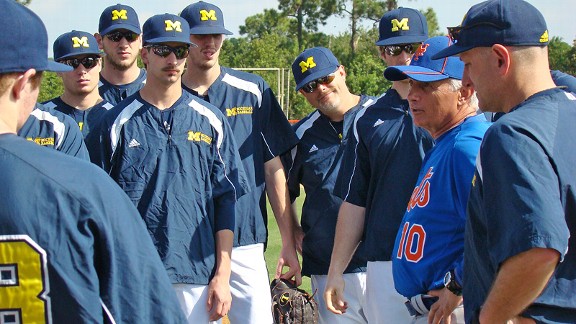 Adam Rubin
Terry Collins, a Michigan native, greets the University of Michigan baseball team before the Wolverines' NCAA game Friday against Iona at the Mets' complex.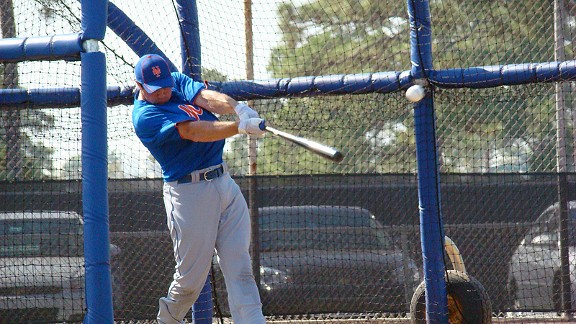 Adam Rubin
Versatile Vinny Rottino takes batting practice on Field 2.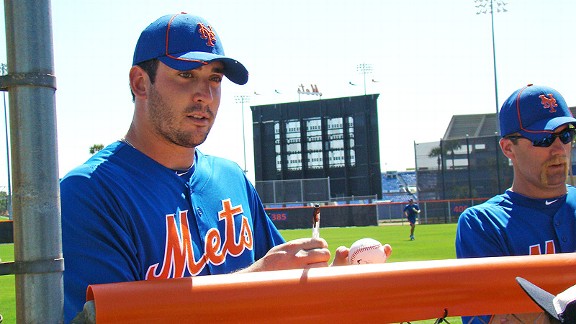 Adam Rubin
Pitching prospect Matt Harvey signs an autograph after Thursday's workout, along with bleached-blond Tim Byrdak.
February, 25, 2011
2/25/11
11:18
AM ET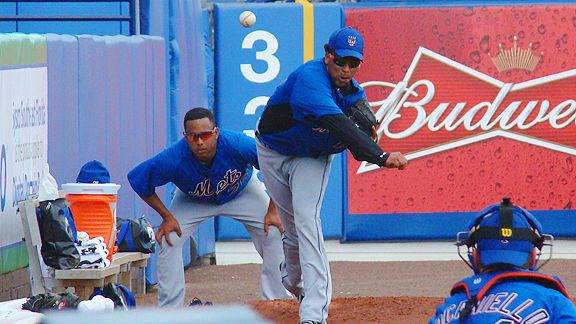 Adam Rubin
Francisco Rodriguez takes a hands-on approach during Rule 5 pick Pedro Beato's bullpen session. The closer, along with pitching coach Dan Warthen, provided instruction to Beato on his delivery, including stride length.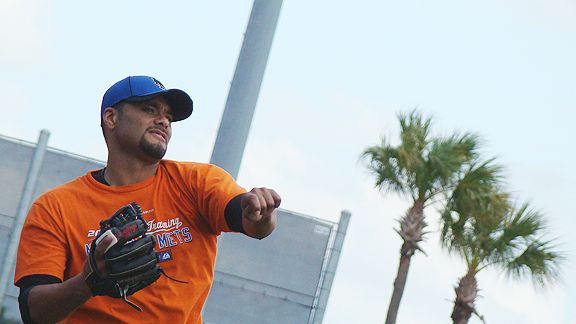 Adam Rubin
Johan Santana played catch on flat ground Friday morning inside the main stadium with Tobi Stoner.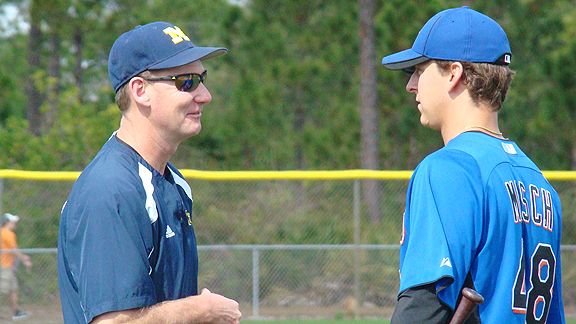 Adam Rubin
Mets left-hander Pat Misch, who played at Western Michigan University, warmly greets Michigan baseball coach Rich Maloney, who once starred at Misch's alma mater. Misch was willing to make an exception with Maloney, he said, although he noted generally about Wolverines: "I never liked those Michigan guys." Michigan plays the Mets on Sunday.