March, 7, 2013
3/07/13
6:32
AM ET
PORT ST. LUCIE, Fla.
FIRST PITCH:
Matt Harvey
gets the Grapefruit League start today as the Mets face the
Miami Marlins
at 1:10 p.m. at Tradition Field.
Greg Burke
and
Brandon Lyon
also are scheduled to pitch.
The Marlins are scheduled to start right-hander
Ricky Nolasco
.
Thursday's news reports: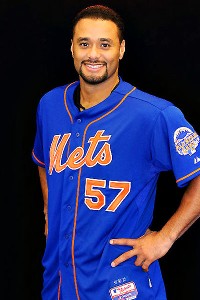 Courtesy of New York Mets
Johan Santana is aiming to enter Grapefruit League play next Thursday.

•
Johan Santana
is
due to appear in a Grapefruit League game
next Thursday against the
Detroit Tigers
in Port St. Lucie. Santana threw off a mound, while
Zack Wheeler
(oblique)
long-tossed Wednesday
. Venezuela manager
Luis Sojo
said
Santana is "very sad"
about being unable to represent his country in the World Baseball Classic. Read more in the
Star-Ledger
,
Newsday
,
Journal
,
Post
,
Record
,
Daily News
and
MLB.com
.
• Columnist Joel Sherman
in the Post
writes about the Mets about to bridge two eras, with Santana fading and Wheeler about to ascend. "What's not to be excited about?" special assistant J.P. Ricciardi told Sherman about Wheeler. "He's got great stuff. He has a great arm. He is a nice kid. And he has a good work ethic. If you aren't going to get excited about him, who are you going to get excited about?"
•
Jenrry Mejia
, who was
flagged for a thyroid issue
in his initial physical, is scheduled to travel back from New York to Port St. Lucie this morning.
•
Miguel Cabrera
led a juggernaut offense with two homers and
Jonathon Niese
tossed 2 1/3 innings as
Venezuela beat the Mets, 14-10
, in an exhibition game Wednesday at Tradition Field. Read more at
MLB.com
.
• Columnist John Harper
in the Daily News
discusses the importance of Niese to the franchise.
•
Kansas City Royals
first baseman
Eric Hosmer
, not
Ike Davis
, was tabbed to replace injured
Mark Teixeira
on Team USA's WBC roster
. Joe Torre acknowledged considering Davis but suggested Hosmer already being in Arizona, where Team USA opens play against Mexico on Friday, was a major factor.
"There were a couple of issues," Torre told David Lennon
in Newsday
. "We were looking for a left-hander, and Ike is certainly someone we talked about. We talked about
Ryan Howard
. But where we were, if we could stay in Arizona -- only because of how close we were to the end and he wouldn't be able to get here for [Wednesday's exhibition] game and stuff -- it just worked out perfect. He's here."
Read more in the
Record
.
• Although it is unlikely to materialize,
Francisco Rodriguez
said he would
like to rejoin the Mets
. K-Rod, who is pitching for Venezuela in the WBC, remains a free agent. Read more in the
Star-Ledger
,
Post
,
Times
,
Newsday
,
Daily News
and
MLB.com
.
•
David Wright
went 2-for-4 with an RBI
and played five innings at third base in Team USA's WBC tune-up against the
Colorado Rockies
.
•
Marlon Byrd
and
Jordany Valdespin
both
got looks in center field
during Wednesday's game against Venezuela.
• Kevin Kernan
in the Post
checks in with
Scott Kazmir
at
Cleveland Indians
camp.
•
From the bloggers
…
Faith and Fear in Flushing
celebrates the prospective return of
Pedro Feliciano
, suggesting the wrong Mets icon's image is gracing the spring-training caps this year. …
Mets Police
reports the Amazin's have a .684 winning percentage in games in which Dan Twohig has attended and kept score, dating to 1980.
BIRTHDAYS:
Jeff Kent
turns 45. … Right-hander Mauro Gozzo turns 47.
TWEET OF THE DAY:
As a former valet attendant, I would gladly accept Dark Chocolate Raisinets in lieu of a tip.

— Collin McHugh (@Collin_McHugh) March 7, 2013
YOU'RE UP: Whom should Joe Torre have chosen to replace Mark Teixeira on Team USA's roster: Ike Davis, Paul Konerko, Ryan Howard or Eric Hosmer?
March, 6, 2013
3/06/13
5:39
PM ET
PORT ST. LUCIE, Fla. --
Miguel Cabrera
slugged homers against
Carlos Torres
and
Elvin Ramirez
in consecutive innings and Venezuela's World Baseball Classic entrant built a huge lead en route to a 14-10 win against the Mets at Tradition Field on Wednesday afternoon.
Game tidbits: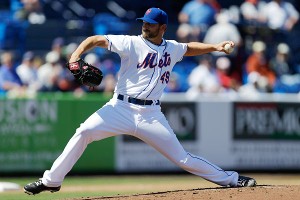 Julio Cortez/Associated Press
Jon Niese pitches against Venezuela on Wednesday.

FORMIDABLE FOE:
Facing a loaded Venezuela lineup,
Jonathon Niese
was charged with four earned runs on six hits and two walks in 2 1/3 innings. Two of the runs charged to Niese scored after being inherited by Torres.
Asked if he would ever see anything like the Venezuelan lineup again this year, Niese said: "Obviously not, unless I'm in the All-Star Game. They have an unbelievable lineup, and they battle very well. They made me throw a lot of pitches. I thought I executed some good ones, and then I didn't execute some. They made me pay for a bunch of them."
Niese stands to be the Opening Day starter if
Johan Santana
is not ready for the April 1 game against the
San Diego Padres
at Citi Field.
"He's working real hard to get back," Niese said about Santana. "He wants that spot more than anybody. It would be a great honor. I'm thankful that the Mets put that trust in me. But, like I said, Johan is working hard to get to that position."
LUCKY SEVEN:
Trailing 12-0, the Mets produced a seven-run fifth inning against
Wil Ledezma
and
Romulo Sanchez
. The damage included a three-run homer by
Marlon Byrd
against Sanchez.
CENTER ATTENTION:
Terry Collins used Byrd and then
Jordany Valdespin
in center field as he tries to identify lineup options. The manager noted postgame that he has been disappointed with the Mets' hitting thus far, so he's clearly experimenting. It marked Byrd's first time in center field and Valdespin's first time in the outfield this spring training.
"Well, he didn't get much action, except for balls blowing over his head that he had to go chase," Collins said about his impressions of Byrd in center. "He's played out there. I just wanted to get him out there and get to see how he looks. I'm going to play him again out there another time. I want to get Valdespin some looks in the outfield. We're not swinging the bats very good. I know it's spring training. I know it's early in spring training. Everybody has got 40 more at-bats to go. I'm looking for somebody to step up here."
DUCK!
Zach Lutz
was hit with a curveball in the back of the helmet by former Mets farmhand Deolis Guerra, but remained in the game and said he was fine afterward. Lutz had been drilled in the head twice with Triple-A Buffalo in 2011, each time suffering a severe concussion.
PARTING SHOT:
Venezuelan
Wilmer Flores
delivered a solo homer with two out in the ninth against his country's national team to cap the scoring.
March, 6, 2013
3/06/13
12:26
PM ET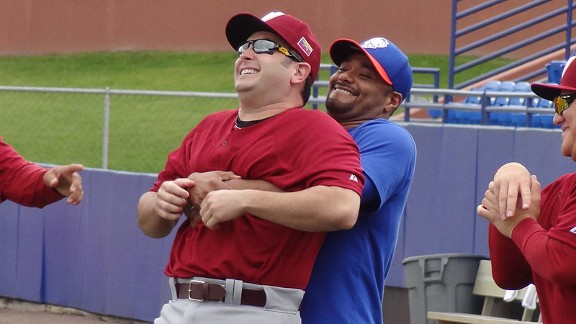 Adam Rubin
Johan Santana fools around with former Twins teammate Juan Rincon and other members of Team Venezuela before Wednesday's exhibition.
PORT ST. LUCIE, Fla. -- Venezuelan manager
Luis Sojo
spotted Terry Collins at Tradition Field on Wednesday morning and playfully shouted to the Mets skipper regarding
Johan Santana
, "Hey, he's supposed to pitch today for me. What happened? Huh?"
Replied Collins: "He's going manage today. He knows your team. He knows your signs."
Santana was nixed by the Mets from participating in the World Baseball Classic. But, as it turns out, he would not have been ready anyway. Santana stepped on a mound Wednesday for only the second time since resuming such activity.
Sojo said Santana genuinely wanted to represent Venezuela.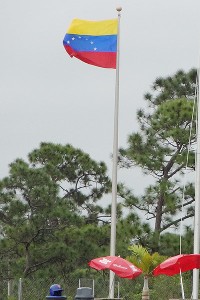 Adam Rubin
A Venezuelan flag stayed at full mast for Wednesday's game at Tradition Field.

"We talked a lot over the winter," Sojo said. "He and
Felix Hernandez
, they both wanted to be on the team. We understand the situation. It's unfortunate that they're not here, but you've got to move on and try to do our best. I think right now he's very sad. He has a very good relationship with the players and they're always talking about it. ... In his case it was the last minute that [the Mets'] made the decision for him not to participate."
Venezuela's roster is stacked anyway. The first five players in Venezuela's lineup Wednesday against the Mets are
Elvis Andrus
,
Asdrubal Cabrera
,
Miguel Cabrera
,
Pablo Sandoval
and
Carlos Gonzalez
.
And the people of Venezuela are excited.
"It's crazy," Sojo said. "People talk about that day in and day out. I managed last winter there and they didn't talk about my team. We won the championship, but they don't care. They're just talking about the WBC. Who wants to play? Who's going to play short? Who's going to pitch? It's amazing how people love this game."
As for the political news Tuesday involving the death of president Hugo Chavez, the Mets avoided any controversy. Sandy Alderson checked with the Venezuelan contingent before the game and was informed there was no expectation of a moment of silence or the Venezuelan flag flying at half staff.
"It was depressing," Sojo said about the president's death. "There's a lot of things going on right now in Venezuela. People are worried about it. A lot of people clapping. A lot of people very sad. He was the president. We showed some respect yesterday. In the meantime, we come here to play baseball. When it comes to the president, you've got to feel sad."
Sojo said he spoke with the team Tuesday regarding family members back home.
"I don't want people to think about that," Sojo said. "I know for a fact a lot of guys started calling their family members. So far everything is good."
Sojo did recall Chavez's baseball passion.
"He used to be a baseball guy," Sojo said. "A lot of times I got the phone call at 7 in the morning. I like to sleep. 'Hey, that was the president, and he wants to talk to you.' And after the games, the WBC, he used to call me. I mean, he loved baseball and he knows everybody -- all the guys that I used to have on the teams. That was my relationship with him, over the phone.
"One time ... I know we got the lead, like three runs in the third inning or fourth inning, and somebody scored five runs. He called me and said, 'How come you don't bring [in]
Francisco Rodriguez
?' He said, 'Hey, he's the closer, I can pitch him in the fourth, so you should know that.'"
NBA
NHL
COLLEGE BASKETBALL
MLB
MLS