New York Mets:

Vicente Lupo
July, 7, 2014
Jul 7
11:05
AM ET
NEW YORK -- Two Mets minor leaguers who were arrested and charged with drag racing were arraigned Monday morning in Kingsport, Tenn., according to Kingsport Police Department public information officer Tom Patton.

Lupo

Becerra
Wuilmer Becerra, 19, and Vicente Lupo, 20, are accused of driving at speeds in excess of 100 mph.
Patton indicated that Becerra and Lupo, who play for the Kingsport Mets, each posted $500 bond and were released within a couple of hours of their Friday arrest, which occurred shortly after midnight without incident.
They were charged with Class B misdemeanors, so they likely will only face a fine, although the judge will make that final determination, according to Patton. The judge could order the seizures of the 2013 Dodge Challenger and 2012 Ford Mustang, although that is not likely. Neither Becerra nor Lupo had a U.S. driver's license. Both are from Venezuela. Had their licenses been from Tennessee, those would have been revoked.
The Mets prospects owned the cars in which they were driving. Alcohol was not involved.
The incident allegedly occurred in an area with a speed limit of 45 mph.
July, 7, 2014
Jul 7
5:30
AM ET
NEW YORK
FIRST PITCH:
If the Mets want to be relevant after the All-Star break, they better win -- if not sweep -- their next series.
The
Atlanta Braves
arrive at Citi Field for a four-game series having just had a nine-game winning streak snapped by the
Arizona Diamondbacks
. Despite picking up a game in the standings Sunday, the Mets still trail first-place Atlanta by 10 games (and the
Washington Nationals
by 9½ games) in the division.
Daisuke Matsuzaka
(3-3, 3.72 ERA) opposes left-hander
Mike Minor
(2-5, 4.73) in Monday's 7:10 p.m. opener.
Read the Mets-Braves series preview
here
.
The Mets were swept in three games last week at Turner Field. The Amazin's squandered a two-run lead in the eighth inning last Monday when
Jeurys Familia
,
Juan Lagares
and
Eric Campbell
committed errors in an unsightly frame.
Catcher
Taylor Teagarden
is eligible to return from the disabled list for the series opener. The Mets have a few options: They can leave Teagarden on the DL, where he officially landed with a strained left hamstring two weeks ago. They can attempt to send him to the minors, although he would need to pass through waivers and also accept the assignment. Or they can demote
Anthony Recker
, who has an option remaining.
Of course, Recker homered Sunday.
The Mets essentially deferred the decision when
Travis d'Arnaud
was promoted by placing Teagarden on the DL, even though Teagarden had been getting treatment for that seemingly manageable hamstring issue for a considerable period.
Monday's news reports:
• The Mets placed
Jonathon Niese
on the disabled list
with a left shoulder strain before Sunday's game and promoted right-handed reliever
Buddy Carlyle
.
Dillon Gee
is slated to be activated from the DL on Wednesday to make the start in Niese's slot against the Braves.
Niese likely will miss only one start, since his DL stint will include the four-day All-Star break. He is eligible to return on July 20 -- the third game after the break, at San Diego.
Niese
insisted he is uninjured
. Still, Niese's fastball topped out at only 86 mph in his 12-pitch start Friday against the
Texas Rangers
-- an outing that ended when he was struck on the "love handle" on his left side by
Alex Rios
' line drive. Despite a solid 3.31 ERA, Niese's fastball is averaging a career-low 88.6 mph this season, down from 90.2 mph in 2013.
Although the DL decision displeased Niese, even the southpaw had previously expressed hope that the All-Star break would allow his fastball to get recharged. Niese actually had wanted to come back early after Friday's abbreviated outing and make two starts before the All-Star break.
He missed seven weeks last summer with a partial tear of his left rotator cuff.
Gee (3-1, 2.73) last pitched in the majors on May 10. He since has been on the disabled list with a strained right lat muscle. Gee made his final rehab start Friday with Brooklyn. He limited Aberdeen to one run on three hits and a walk and also hit a batter while striking out 10 in six innings. Gee logged 75 pitches. He then threw a bullpen session Sunday at Citi Field to further confirm his health before the Mets made the official announcement about Niese landing on the DL.
Read more in the
Star-Ledger
,
Daily News
,
Newsday
and at
MLB.com
.
Evan Vucci/Associated PressDaniel Murphy has been selected to his first All-Star Game.
•
Daniel Murphy
earned his first All-Star selection
and is the lone Mets representative to the July 15 game at Minnesota. Murphy (.294, 7 HR, 35 RBIs) is tied with Pittsburgh's
Andrew McCutchen
and San Francisco's
Hunter Pence
for second in the National League in hits with 106, trailing only Miami's
Casey McGehee
(108).
David Wright
and Niese were passed over for selection, although Niese would have been disqualified anyway because of the DL stint.
Milwaukee Brewers
third baseman
Aramis Ramirez
topped the second-place Wright by 338,728 votes in fan balloting. It is only the second time in the past nine years that Wright has been left out of the game. The other instance came in 2011, when Wright missed two months with a stress fracture in his lower back.
This marks the first time since 2003 that the Mets have only one All-Star selection. That year, it was
Armando Benitez
. This time, no Mets were selected via the fan or player ballots, so Murphy was chosen by
St. Louis Cardinals
manager
Mike Matheny
, who will lead the NL squad.
Read more in the
Post
,
Star-Ledger
and at
MLB.com
.
• The Mets scored a season-high five first-inning runs, capped by Recker's three-run homer, and
beat the Rangers, 8-4
, in Sunday's rubber game.
Zack Wheeler
surrendered only a solo homer to
Robinson Chirinos
in 6 1/3 innings. Wheeler had been winless in his last nine starts at Citi Field, going 0-6 with a 4.65 ERA since an Aug. 20, 2013 victory.
Gonzalez Germen
surrendered a pair of homers in a three-run eighth, forcing Terry Collins to insert Familia to protect a three-run lead. Germen could be vulnerable Wednesday when the Mets need to clear a roster spot for Gee's activation. The alternative presumably would be to drop the newly added Carlyle.
Texas has lost 15 of 18.
Read game recaps in the
Post
,
Daily News
,
Times
,
Star-Ledger
and at
MLB.com
.
• Prospects Wuilmer Becerra and Vicente Lupo were
arrested by Kingsport, Tenn., police
for allegedly drag racing at speeds in excess of 100 mph.
• The Brooklyn Cyclones held their "Salute to Seinfeld Night" on Saturday at MCU Park, on the 25th anniversary of the pilot episode, known as "The Seinfeld Chronicles," having been broadcast on July 5, 1989. The festivities included players wearing puffy shirts during batting practice and a Keith Hernandez "magic loogie" bobblehead giveaway.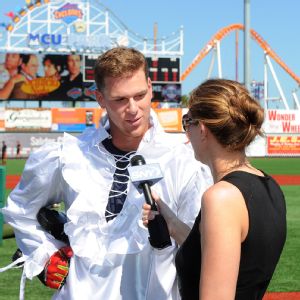 Courtesy of Brooklyn CyclonesFirst baseman Jeff Diehl, and the rest of the Brooklyn Cyclones, wore puffy shirts during batting practice Saturday.
ESPN's Mark Simon back in 2010 chronicled all the Mets references on "Seinfeld," which you can check out
here
. The most famous involves Hernandez's Feb. 12, 1992 appearance, on the episode known as "The Boyfriend." Wrote Simon:
Hernandez and Jerry become friends, with Jerry spending much of his free time worrying about how he can impress Hernandez. Hernandez and Jerry's ex-girlfriend, Elaine, date, and meet Mets outfielder Mookie Wilson (unseen) in a local restaurant. The relationship breaks up when Elaine sees that Hernandez is a cigarette smoker.
The highlight is the mystery surrounding whether Hernandez spit on Kramer and his friend Newman, after the two yelled insults at the Mets first baseman, following another game the Mets blew (based on a game "Seinfeld" creator Larry David and friends attended in 1986).
Using the same principles regarding the "magic bullet" theory in the John F. Kennedy assassination, Jerry attempts to debunk the story. In the end, it's revealed that the spitter was actually Hernandez's teammate, Roger McDowell, who was getting revenge for Newman's spilling beer on him in the bullpen.
Mike Salfino
in the Journal
notes "Seinfeld" actually was far more Yankees- than Mets-oriented.
• Noah Syndergaard allowed one run on six hits while striking out eight and walking none in seven innings as Las Vegas routed Albuquerque, 12-1.
Wilmer Flores
homered for the sixth time in his last five games. Cesar Puello homered twice in his first game since June 23. He had been sidelined with a concussion.
Chase Huchingson allowed two runs in the top of the 10th and the B-Mets lost, 10-9, after leaving the bases loaded in the bottom half despite a hit by pitch and three walks to open the frame. Jorge Rivero drove in three runs and Matt Obserte homered as Savannah beat Hickory, 8-2. Carlos Valdez and Gaither Bumgardner combined on a two-hit shutout as Binghamton blanked Abderdeen, 7-0.
• Columnist Kevin Kernan
in the Post
suggests the Mets start making trades.
• Columnist David Lennon
in Newsday
acknowledges trading a pitching surplus could be shortsighted. Writes Lennon:
On paper, it's true -- the Mets have some pitching currency for the trade market. If not in the next three weeks, then certainly in the offseason. But you also can understand why Alderson might be leery of dealing from that deck. The fragile nature of pitchers, now more than ever, has made it crucial to have quantity as well as quality. If the Mets go the trade route, the pressure to pick the right chip can be cause for hesitation.
• Stephen Haynes
in Newsday
recaps Wheeler's outing Sunday.
•
From the bloggers ...
Faith and Fear
offers an appreciation of Murphy as the perfect All-Star selection from an inherently imperfect Mets team.
BIRTHDAYS:
Third base coach and '86 Met Tim Teufel turns 56. ...
Andy Green
, now managing Double-A Mobile in the Arizona Diamondbacks organization, is 37. ... Minor-league left-hander Alex Panteliodis, a ninth-round pick in 2011 out of the University of Florida, is 24.
TWEET OF THE DAY:
Citi Field is leading all MLB stadiums in between-pitch sound effects for the sixth consecutive season.

— Bob Waterman (@esbbob) July 6, 2014
YOU'RE UP: Will the Mets be represented by the correct All-Star selection in Minnesota on July 15?
July, 6, 2014
Jul 6
7:55
PM ET
NEW YORK -- Two
New York Mets
minor leaguers have been arrested for allegedly drag racing at speeds of more than 100 mph early Friday morning, according to a press release issued by the city of Kingsport, Tenn.

Lupo

Becerra
Citing an incident report from the Kingsport Police Department, outfielders Wuilmer Becerra and Vicente Lupo were arrested, director of community and government relations Tim Whaley indicated.
Becerra, 19, allegedly was traveling at 107 mph in a 2013 Dodge Challenger. Lupo, 20, allegedly was clocked at 104 mph while driving a Ford Mustang "in close proximity."
Whaley indicated that one vehicle stopped immediately in response to an officer's siren and lights, while the second vehicle stopped shortly thereafter.
Becerra and Lupo were charged with drag racing, a Class B misdemeanor offense.
Both outfielders are from Venezuela and neither was carrying a U.S. driver's license, according to the report. No alcohol was involved, Whaley said.
Becerra was acquired from the
Toronto Blue Jays
with
Travis d'Arnaud
and Noah Syndergaard in the deal for
R.A. Dickey
.
Lupo played the night of the arrest as well as Saturday. Becerra did not play Friday, but since has appeared in both Kingsport games.
A Mets spokesman said the club was aware of the arrests but declined further comment.
September, 21, 2013
9/21/13
11:32
AM ET
PHILADELPHIA -- Here is a list of players at the instructional league in Port St. Lucie, Fla. Games begin Tuesday and run through Oct 4.

Pitchers
Gaby Almonte
Eucebio Arias
Martires Arias
Tyler Bashlor
Andrew Church
Chris Flexen
Dawrin Frias
Daniel Herrmann
Ricky Jacquez
Ricky Knapp
Kevin McGowan
Jose Medina
Casey Meisner
Craig Missigman
Marcos Molina
Yoryi Nuez
Darwin Ramos
Persio Reyes
Scarlyn Reyes
Ismael Tijerina
Rob Whalen
Ty Williams

Catchers
Adrian Abreu
Brandon Brosher
Jose Garcia
Colton Plaia
Dioni Rodriguez

Infielders
Gavin Cecchini
Phillip Evans
Luis Guillorme
Dilson Herrera
Branden Kaupe
L.J. Mazzilli
Jeff McNeil
Matt Oberste
Pedro Perez
Alfredo Reyes
Amed Rosario
Yeixon Ruiz
Dominic Smith
Jhoan Urena

Outfielders
Wuilmer Becerra
Michael Bernal
Jared King
Vicente Lupo
Brandon Nimmo
Hengelbert Rojas
Champ Stuart
Ivan Wilson
July, 30, 2013
7/30/13
11:28
PM ET
NASHVILLE 3, LAS VEGAS 1 (8 innings):
Rafael Montero
(2-3) allowed two runs in six innings. The game was called after a two-hour, 18-minute rain delay. The Sounds had loaded the bases in the home half of the eighth against
Armando Rodriguez
before
Josh Prince
drew a walk for his second RBI of the night. The umpires then halted the game.
Box
BINGHAMTON 3, ALTOONA 2:
Wilfredo Tovar
and
Blake Forsythe
each provided run-scoring extra-base hits and three B-Mets relievers combined for 3 2/3 scoreless innings.

Tovar
Binghamton, which produced only five hits, pieced together a pair of singles and received some help from the Curve to get on the board in the first inning.
Danny Muno
led off with a single against Altoona starter
Nick Kingham
.
Cesar Puello
followed by smoking a grounder to third.
Adalberto Santos
made a diving stop, but errantly fired to second, allowing Muno to move to third. Muno scampered home on a passed ball by
Carlos Paulino
. B-Mets starter
Mark Cohoon
made the lead stand, posting five scoreless innings to begin his outing. The southpaw stranded the bases loaded in the fourth. Binghamton broke through in the sixth.
Darrell Ceciliani
had a leadoff single and scored on Tovar's triple. Forsythe added to the lead and ended Kingham's night with an RBI double for a 3-0 lead. Cohoon (6-3) surrendered two singles to start the sixth and gave way to
Ryan Fraser
.
Justin Howard
greeted the righty with a pinch-hit RBI double. Paulino cut Binghamton's lead to one with an RBI groundout. Fraser bounced back and stranded the tying run at second by retiring pinch hitter
Andy Vasquez
. Fraser fell back into trouble in the seventh, allowing a one-out double.
Chase Huchingson
stranded the inherited runner.
Jeff Walters
recorded the final four outs for his league-leading 30th save.
Box
TAMPA 4, ST. LUCIE 1:
The Yankees had a three-run first inning against
Domingo Tapia
and held the Mets to four hits.
Kevin Plawecki
singled to plate
Cory Vaughn
with the Mets' lone run, in the second inning.
Kyle Johnson
had a one-out double in the third, but was stranded.
Matt Reynolds
had a leadoff double in the seventh, but also was stranded.
Lucas Duda
went 0-for-4 and played left field in his second game with St. Lucie on a major league rehab assignment. Tapia allowed two hits and one walk and hit a batter while allowing three runs in the first. He settled down and allowed four runs on four hits in six innings with five strikeouts and two walks.
Angel Cuan
tossed two scoreless innings.
Bret Mitchell
struck out two and allowed one hit in a scoreless ninth.
Box
SAVANNAH 9, ASHEVILLE 5:
The Gnats scored six runs over the final two innings to erase a two-run deficit.
Cole Frenzel
had a three-run double in the eighth to stake Savannah to a 6-5 lead.
Paul Sewald
earned his fourth save with two scoreless relief innings.
Box
ELIZABETHTON 7, KINGSPORT 1:
Starter
Persio Reyes
allowed four runs (three earned) in 4 2/3 innings.
Box
WILLIAMSPORT 1, BROOKLYN 0:
Williamsport scored the lone run in the fourth inning against
Seth Lugo
.
Logan Pierce
led off with a double and advanced to third on
Jiandido Tromp's
single. Lugo then induced a groundball from
Sam Dove
that resulted in a double play, but Pierce scored. Brooklyn's best chance came in the top of the ninth.
Patrick Biondi
led off with an infield single and stole second base. After
Gavin Cecchini
struck out,
LJ Mazzilli
stepped to the plate. Biondi swiped third, but Mazzilli ultimately struck out, too.
Jared King
then also fanned as Williamsport snapped Brooklyn's five-game winning streak.
Box
GCL METS 2, GCL CARDINALS 1
:
Vicente Lupo
was hit by a pitch with the bases loaded in the bottom of the ninth to force in the winning run. The ninth began with a leadoff double by
Travis d'Arnaud
, who went 1-for-4 as the DH. Mets starter
Octavio Acosta
retired the first 17 batters before allowing a two-out single to
Malik Collymore
in the sixth.
Box
Compiled from team reports
July, 29, 2013
7/29/13
11:10
PM ET
LAS VEGAS 8, SACRAMENTO 3
LAS VEGAS 10, SACRAMENTO 4:
Starter
Matt Fox
allowed one run in five innings in Game 1.
Matt den Dekker
went 2-for-3 with a triple, three RBIs and two runs scored. In the nightcap,
Jordany Valdespin
had a three-run homer and
Jamie Hoffmann
went 3-for-4 with two RBIs and two runs scored. Pitcher
Armando Rodriguez
, Valdespin and
Wally Backman
all were ejected in the seventh inning of Game 2, prompting
Ruben Tejada
to finish the game at second base. Valdespin had been hit by a pitch in the top half of the inning. The ejections occurred after Rodriguez replied in the bottom half by plunking a Sacramento player.
Box 1
,
Box 2
ST. LUCIE 5, TAMPA 4: Rob Refsnyder's
throwing error allowed two runs to score with two outs in the bottom of the ninth as the Mets rallied past Tampa.
Jayce Boyd
had a one-out single. After
Gilbert Gomez
pinch-ran,
Kevin Plawecki
doubled to put runners at second and third.
Matt Reynolds
received an intentional walk and
Robbie Shields
struck out. Then, with the bases loaded and two outs,
Kyle Johnson
ripped a 2-2 pitch to second. Refsynder knocked it down before throwing the ball away, toward the Yankees dugout, to allow Gomez and Plawecki to score.
Lucas Duda
went 1-for-4 with an RBI double and played left field in his first game with Class A St. Lucie on a rehab assignment. Johnson went 1-for-5 with a double and a run scored.
T.J. Rivera
had two hits and an RBI double. Shields added a double and a run scored.
Rainy Lara
received a no-decision despite throwing seven innings and allowing two runs and eight hits with no walks.
T.J. Chism
allowed two runs with two outs in the top of the ninth as the Yankees took a 4-3 lead.
Cody Satterwhite
recorded the final out of that half-inning to earn his first win.
Box
ASHEVILLE 5, SAVANNAH 4:
Hunter Carnevale
allowed a pair of seventh-inning runs as Asheville overcame a 4-3 deficit.
Box
KINGSPORT 4, ELIZABETHTON 0:
Martires Arias
tossed seven scoreless innings and combined with
Luis Rengel
and
Ricardo Jacquez
on the shutout. Leadoff hitter
Yeixon Ruiz
scored three runs.
Jeff McNeil
went 3-for-3.
Box
BROOKLYN 4, HUDSON VALLEY 0: Carlos Valdez
tossed six scoreless innings as the Cyclones won their fifth straight. It marked the second time this season Valdez went six innings without allowing an earned run. This time, he allowed four hits, walked one and struck out three before handing the ball to
Akeel Morris
. Morris tossed three shutout innings to continue his spectacular season. Through 25 innings, Morris has yet to allow an earned run. He has struck out 31.
Matt Oberste
got the Cyclones on the board with a long ball. The homer was Oberste's second of the season. The other came June 19 against Staten Island. After hitting only four homers through the first 36 games of the season, the Cyclones have now gone deep four times in their last four games. Oberste finished 2-for-3 with a walk. Brooklyn scored two more runs in the fourth. Oberste was involved again, leading off with a walk.
Alex Sanchez
followed with a double that put two runners in scoring position.
James Roche
took advantage, producing a two-run double. Roche has 11 doubles, tied for the team lead with
Jared King
. The Cyclones tallied their final run in the fifth, on a groundball that should have gotten the Renegades out of the inning. With two outs, Sanchez hit a grounder to shortstop
Julian Morillo
. Morillo intended to get Oberste out on the force at second, but bobbled it as King scored from third.
Box
GCL CARDINALS 5, GCL METS 2:
With the score tied at 2,
Gaither Bumgardner
(0-2) was charged with three runs on four hits and four walks in 1 2/3 innings.
Travis d'Arnaud
caught four innings and went 0-for-3.
Vicente Lupo
homered in the loss.
Box
Compiled from team reports
July, 18, 2012
7/18/12
11:59
AM ET
Organization leaders

Average: Maikis De La Cruz, Kingsport, .333; Eric Campbell, Binghamton, .323; Eris Peguero, Kingsport, .323; T.J. Rivera, St. Lucie, .314; Wilmer Flores, Binghamton, .301; Fred Lewis, Buffalo, .298; Matt den Dekker, Buffalo, .296; Cam Maron, Savannah, .295; Stefan Sabol, Brooklyn, .293; Josh Satin, Buffalo, .293.

Homers: Aderlin Rodriguez, Savannah, 16; Travis Taijeron, St. Lucie, 16; Cory Vaughn, St. Lucie, 16; Matt den Dekker, Buffalo, 15; Valentino Pascucci, Buffalo, 14.

RBI: Aderlin Rodriguez, Savannah, 60; Wilmer Flores, Binghamton, 58; Travis Taijeron, St. Lucie, 54; Valentino Pascucci, Buffalo, 53; Matt den Dekker, Buffalo, 51.

Steals: Alonzo Harris Jr., St. Lucie, 18; Fred Lewis, Buffalo, 18; Juan Lagares, Binghamton, 16; Matt den Dekker, Buffalo, 16.

ERA: Luis Mateo, Brooklyn, 1.47; Hansel Robles, Brooklyn, 2.36; Zack Wheeler, Binghamton, 2.39; Tyler Pill, St. Lucie, 2.44; Rafael Montero, St. Lucie, 2.45; Michael Fulmer, Savannah, 2.76; Collin McHugh, Buffalo, 3.05; Luis Cessa, Brooklyn, 3.16; Angel Cuan, St. Lucie, 3.29; Gabriel Ynoa, Brooklyn, 3.30.

Wins: Zack Wheeler, Binghamton, 9; Gonzalez Germen, Binghamton, 9; Cory Mazzoni, Binghamton, 8; Rafael Montero, St. Lucie, 8.

Saves: Fernando Cabrera, Buffalo, 17; T.J. Chism, Savannah, 15; Adam Kolarek, St. Lucie, 14; Adrian Rosario, Binghamton, 14; Robert Carson, Binghamton, 8.

Strikeouts: Matt Harvey, Buffalo, 106; Collin McHugh, Buffalo, 98; Zack Wheeler, Binghamton, 95; Rafael Montero, St. Lucie, 87; Tyler Pill, St. Lucie, 85.

Short hops

• 2011 first-round pick Brandon Nimmo produced four straight multi-hit games through Monday to lift his average with Brooklyn to .250 in 100 at-bats. Mets officials note Nimmo is the third-youngest player in the New York-Penn League at not quite 19 years, four months old. He nonetheless leads the league in walk rate (18.2 percent) and ranks fifth in on-base percentage (.392).

• Zack Wheeler produced his first professional complete-game shutout Saturday, against Erie. He required 106 pitches. Wheeler improved to 9-4 with a 2.39 ERA in 16 Double-A starts, and Sandy Alderson has indicated a promotion to Buffalo will occur soon.

Against Erie, Wheeler's sophistication showed. He walked the leadoff batter in the first inning, then went to three balls on the second hitter. But he recognized he was opening his left shoulder during his delivery, quickly self-corrected and breezed through the outing. He issued no other walks in the game.

Wheeler has been using a new grip on his changeup over roughly his past 10 starts, under the tutelage of minor league pitching coordinator Ron Romanick. Conceivably, Wheeler's final Double-A start may be Friday at Bowie, Md.

• Buffalo outfielder Fred Lewis -- who has appeared in 517 major league games, primarily with the San Francisco Giants -- is the reigning International League Batter of the Week. Lewis was the first Buffalo player to receive that recognition this season. He had three homers and seven RBIs in the first four games after the Triple-A All-Star break. Lewis, 31, is hitting .298 with eight homers, 31 RBIs and 18 steals in 70 games for the Bisons.

• Moving to left field from first base upon the return of Allan Dykstra from the DL has not slowed Eric Campbell. Campbell ranks second in the Eastern League in on-base percentage at .422 and third in batting average at .323.

• Catcher/first baseman Adrian Abreu, center fielder Oswal Caraballo and left fielder Vicente Lupo were picked to represent the Mets organization in the Dominican Summer League All-Star Game.

• Third baseman Aderlin Rodriguez was promoted from Savannah to St. Lucie after hitting .274 with 16 homers and 59 RBIs in 318 at-bats with the Gnats. Rodriguez is off to a 4-for-23 start in the Florida State League. An offense-first player, Rodriguez committed three errors in his first five games with St. Lucie.

• Second baseman Danny Muno, the Mets' eighth-round pick last year from Fresno State, returned to St. Lucie's lineup Saturday after completing a 50-game suspension for testing positive for a metabolite of Drostanolone, a performance-enhancing drug. Muno, 23, had been hitting .283 with five homers, 23 RBIs and seven steals out of the leadoff spot for the Florida State League club before the suspension.

• Center fielder Cesar Puello, who missed six weeks with St. Lucie while recovering from surgery to remove a broken hamate bone, has been back out of the lineup since Friday with soreness in that hand.

Adam Rubin's farm report appears Wednesdays during the regular season
August, 9, 2011
8/09/11
10:37
AM ET
Mets VP
Paul DePodesta
, who oversees the farm system and amateur scouting, takes time with ESPNNewYork.com to break down the organization's minor leagues.
You have almost completed a full minor league season, had a draft. What's the state of the farm system in a general sense?
"I certainly think we're making progress. It's been probably well-documented from the draft, and even to what we did at the trading deadline. One of the things we really sought out is potential impact talent. To the extent that it works out, we won't know for a while. But it's certainly been a target. And we've been able to bring some of these guys into the system. Some other guys that already have been in the system, we've been able to move them along fairly rapidly. I think in that sense I'm very pleased. I think the overall depth of the system is pretty solid. Our goal is to certainly make it better.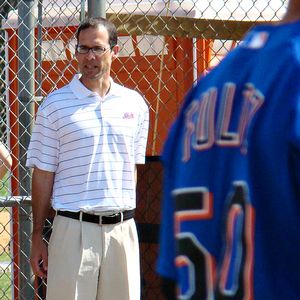 Adam Rubin
Paul DePodesta at camp Tuesday.

"On the impact end, I think we're making some progress. Again, I think there was probably a little bit more here when we first arrived than was sort of generally accepted. There were a couple of guys last year that didn't have great years who I think have high-end talent. So when we came in, they weren't heralded as maybe they should be. A guy like (right-hander)
Jeurys Familia
, he has a chance to be a big-time guy, and probably hasn't gotten at least that type of attention. Having him now with (2010 first-round pick
Matt
)
Harvey
and having (fellow right-hander
Zack
)
Wheeler
(from the
Carlos Beltran
trade) behind those guys, it'll start to show what kind of talent he is. Overall, I'm pleased. There's certainly still room for us to get better, both on the scouting side and on the development side. But I like where we are as of right now."
In terms of the upper levels of the system, is it bad luck with injuries to players such as Kirk Nieuwenhuis (shoulder surgery), Zach Lutz (pair of concussions, broken ring finger)? Or have there been a lack of available players to where you had to, say, call up a third catcher?
"I think there are a couple of things. One is, a lot of the talent at the upper levels we have seen here (in the majors). I'd say
Dillon Gee
,
Ruben Tejada
,
Lucas Duda
, I mean those guys were all projected to be at Buffalo this year and have been pretty significant contributors at this level so far. Beyond that, the saving grace for me in (corner infielder
Zach
)
Lutz
and (outfielder
Kirk
)
Nieuwenhuis
and (
Fernando
)
Martinez
and all the guys who have had some injuries is when they've played, they've all played extraordinarily well. Nieuwenhuis is a guy who is a really interesting case. Admittedly, from my standpoint, he's not a guy I knew a lot about. I didn't see him as an amateur at Azusa (Pacific University) when he was coming out. But he's one of those guys from sort of a smaller school, and as he's been in the minor leagues and moved up levels, he continues to get better at every level. His production continues to increase at every level, which is rare. So I'm excited about him. It's really too bad he had the shoulder injury and is going to miss the rest of the year. I think he certainly has a bright future.
"I think at the Double-A level, a lot of the guys we had there weren't necessarily ready to come here. But (infielder)
Josh Satin
had a terrific year and is now in Triple-A and hasn't missed a beat. (Middle infielder)
Jordany Valdespin
had a great year, and has actually played shortstop extremely well and has gotten better month after month and is now, I think, absolutely a viable major league shortstop. (Second baseman)
Reese Havens
is sort of like Lutz and Nieuwenhuis. When he's played, he's been awfully good. And then on the pitching side, we did fill in an awful lot at Triple-A with some veterans. Gee was sort of the one young guy we felt like was poised and ready. One guy that had a real breakout year was (right-hander)
Chris Schwinden
. He's put himself now in a position to help us.
"And then in Double-A we had some nice talent, but guys who were not quite ready to be here and we were probably pushing them even a little at Double-A -- guys like (left-hander
Robert
)
Carson
and now, through the course of the year, with Familia and Harvey there. Some other guys have had nice years. (Right-handers
Brandon
)
Moore
and (
Collin
)
McHugh
have pitched well. Both (right-handers
Brad
)
Holt
and (
Josh
)
Stinson
I think have pitched well now that they have been moved to the pen, which we all think is their ultimate roles. They seem to have adjusted well to that transition.
"But admittedly once (
Jenrry
)
Mejia
went down (with Tommy John surgery) and Gee came up, we didn't have the stable of young, major league ready pitching. We were a little thin. But I think that layer that's right behind them has a chance to be pretty darn good."
You still project Mejia and Familia as rotation as opposed to bullpen guys?
"Yeah, I do. We'll see as it happens. I think any player development system's hope is you get to a point where players sort of force themselves on the major league roster -- they sort of force the front office to make a move for them because their performance is so dominant and they're so clearly ready to be here, as opposed to bringing guys up just because you need them, you don't have anybody else and something has happened. If we can get to that point on a pitching staff where our starting five is so good that some of these other guys are ready and knocking at the door, who knows what role they may end up in at that point? History will tell you a lot of quality minor league starters end up being quality bullpen guys. But as we sit here today, we certainly still project those guys as starting pitchers?"
If you conceivably are going to devote a lot of dollars to Jose Reyes in the offseason and you have to be more creative at other positions, are there any minor league players who have yet to make their debuts who can be introduced early next season and have an impact? Maybe Josh Satin?
"You mentioned Satin. I think he's a guy who can contribute here. I think (Monday call-up)
Mike Baxter
is a guy who can contribute here. He has a different story because we just recently acquired him. I think Lutz is a guy. I think Nieuwenhuis is certainly a guy that can help. And I sort of hesitate to say this, because you never know what's going to happen when guys do move to the pen -- but sometimes those guys can really come quick, because if they have the stuff, and they have the command, it almost doesn't matter if it's in A-ball or Double-A or in the big leagues. It plays and will continue to play at each level.
"In that respect, we'll see what Stinson is able to do and we'll see what Holt is able to do as they continue to adjust to that role. One other guy, and I hesitate to say it, because it's a long way away, is
Josh Edgin
. He's a left-handed reliever currently in St. Lucie. He started the year in Savannah. But he's got major league stuff and he's left-handed. Again, you just never know how quickly those guys can come. He's in Port St. Lucie right now, which is why I'm squeamish about talking about 2012."
If Baseball America re-ranked the farm system after the trade deadline and placed Zack Wheeler No. 1, does that mean you made a great trade? Or is it a commentary on the system a little?
"I don't know. Harvey is awfully good. It's starting to show at Double-A too. His last few starts have each gotten better, and his last one was just absolutely dominant. Technically, he's a little closer. Some of their midseason lists, I don't know if it was Baseball America or somebody else's, I think Harvey was maybe a couple of slots ahead of Wheeler. I think it's debatable. We moved Familia to Double-A before Harvey. Certainly part of that was for development reasons. He was just ready earlier. But I don't know why his ceiling is different than those guys. He throws just as hard. He's got a good slider. He's generally in the zone. He's awfully good too. Look, Wheeler was the No. 6 pick in the country (in 2009). Harvey was the seventh (in 2010). Maybe that gives Wheeler an edge."
Does something have to give with Fernando Martinez? Or he does have an option for next year, so he could go back to Triple-A in 2012 if need be?
"He has another option after this year."
St. Lucie's Wilmer Flores has been ranked atop many rankings in the past. What is his future? Will you move him from shortstop?
"We'll see. I think with any of these guys, when we've considered position changes, it will be well-discussed. We have talked about it with (
Wilmer Flores
) at different times. We've talked about the benefits of him staying at shortstop and it will help him regardless of where he moves. We do think that the next move, if there is a move, and I think it's probably likely at some point, it will be in the infield. The play at shortstop has been solid. It actually has been quite solid. The question is whether or not we think it's going to hold up, and ultimately from his standpoint where he's most comfortable.
"He's played some third in winter ball. There's been some talk about second base. We'll discuss this as we sort of wind down the season and head into the offseason. I think we feel like regardless his time at short has been well-spent, and will continue to be well-spent if he continues to stay there. To his credit, he's really played it well.
"He just turned 20 years old. And one thing I feel strongly about, and one thing I think we feel strongly about organizationally, is that one of the things that improves dramatically with repetitions is infield defense probably as much as anything in the game. Guys might get a little bit better in the outfield. They get better with routes and jumps. But there are limitations in terms of how much better they can get. Hitting is tough. There are limitations with how much better a guy is going to get. But infield defense, there are just a lot of stories of guys who made 30, 40, even 50 errors in the minor leagues and went on to become very solid defensive infielders in the major leagues."
I had just heard the range, the foot speed and first step weren't where it would need to be for shortstop.
"And that could be. I think that's probably a question. I don't think the question right now is with the hands or with the arm. It's an untraditional arm stroke, but he gets it over there and it's accurate for the most part. I think you're right. I think that's a fair point about whether or not he stays there. I think that will be probably the defining question in terms of whether or not he stays there."
People have visions of a rotation in two or three years of Matt Harvey, Zack Wheeler, Jenrry Mejia and Jeurys Familia. As a development person, I'm sure you want to go 4-for-4. But if you hit on two of those four in the rotation, would you be thrilled? What's good return on that type of inventory?
"I think that's probably fair. If we hit one out of every two, I think we'd be thrilled. We feel it's a very good group. We're going to try to add to the group. Maybe this time next year we'll be talking about (second-round pick)
Cory Mazzoni
in that group or (44
th
overall pick
Michael
)
Fulmer
right behind those guys. Who knows?
"We've actually got a lot of good arms in short season that were here before I got here that are young, young kids, but with power arms and have a chance to come quickly. Guys like (U.S. Virgin Islands native)
Akeel Morris
,
Miller Diaz
,
Domingo Tapia
, there are a handful of them. These are guys who are consistently throwing in the mid-90s, some of them touching high-90s. Tapia is throwing 100 mph this year. Every outing has been in the upper 90s.
"One thing you can be sure of is we're going to continue to try to stockpile them, sort of knowing that we're not going to be 100 percent on these guys. I use this in a much broader context than just those four that you mentioned that are at the upper levels, or close to the upper levels, but shoot, I think we'd be killing it if we hit at 50 percent."
Was there anyone signed internationally this year, even if it was a low signing bonus, that you were particularly pleased you got?
"There are a handful actually. There's one who is already over here in the States and has moved past the GCL and is into Kingsport.
Rafael Montero
is a right-handed pitcher. He's a little older. He's 20 already and I think was just about 20 or already 20 when we signed him. But he has a good arm, a good feel and it's a legitimate three-pitch mix. It's low- to mid-90s. Good body. Good command. He's an interesting package.
"I was just down in the Dominican last week and saw some of the kids we had signed.
Pedro
Perez
, who we signed, is technically a shortstop. He's playing third base. A switch-hitter. He's a good-looking young hitter. And there's an outfielder named
Vicente Lupo
-- the kid who got really sick last fall. Really, really sick. He's an outfielder from Venezuela. He was the one who had malignant hypothermia. He's back and playing. He's swinging the bat well. There's another pitcher named
Luis Mateo
, who is also a little older. He's 21. He has really good power stuff. He's actually still in the Dominican. All those guys were signed this year.
"I believe there's an outfielder name
Mikais de la Cruz
, who is in the Dominican, that I believe was signed in this cycle but before I got here. The international market, the fiscal year is July 2 to July 2. So I'm not counting anybody we have signed in the last month. It's everybody we signed pre-July 2. There are a handful of them, but Montero has certainly been the quickest mover.
"There's also a Cuban second baseman we signed named
Jorge Rivero
, who we've already brought over. He's playing in the GCL and is swinging the bat pretty well. He's also older. He's 21, I think. He's a good-looking hitter."
"In-depth" appears Tuesdays during the regular season