New York Mets:

Vince Gennaro
April, 17, 2012
4/17/12
9:33
AM ET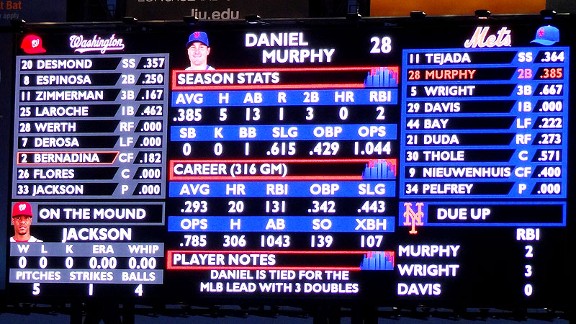 Adam Rubin
A look at the new-look Citi Field scoreboard, which has added OPS and WHIP to among its stats.
Considering the advanced metrics available these days, OPS and WHIP hardly are high-tech statistics by sabermetric standards.
Yet their introduction to the Citi Field scoreboard this season is a first step in what may be a transformation to the in-game viewing experience in Flushing.
In Year 4 of their new ballpark, the Mets have decided to go beyond the basic statistics that have been staples for decades on their scoreboards at Shea Stadium and now Citi Field -- average, home runs, RBI, win-loss record, ERA.
Trying to more closely replicate the experience of watching on TV with a laptop or iPad opened to MLB.com's Gameday (or ESPN.com's equivalent), the Mets debuted slightly more advanced statistics on their scoreboard during the season-opening homestand.
The organization was partly influenced by other teams as well. The Mets studied screen grabs from other stadium scoreboards and particularly borrowed from the existing in-stadium experiences at Chase Field (home of the Arizona Diamondbacks), Coors Field (Colorado Rockies) and Turner Field (Atlanta Braves).
OPS merely is the sum of on-base and slugging percentage. WHIP is merely walks plus hits divided by innings pitched.
"There's a lot there. It's easily digestible," said Mets VP
David Newman
, referring to the data available via computer. "Now it's how you make it translate well in-park and make it easy to read. The goal was, if someone is coming to the park, how do you provide more content than they would otherwise have? Certainly this is a big step from the stat presentation last year."
Vince Gennaro
, president of the Society for American Baseball Research, is all for enhancing the in-stadium statistical experience.
"I've discussions with team execs on this very topic," Gennaro wrote via email. "I think there is somewhat of a limitation as to what you can execute on the scoreboard, given the space constraints. I do think OPS and WHIP are excellent starting points. For a pitcher, his groundball/flyball ratio (or groundball rate) is very informative, as is his K-rate and BB-rate. We tend to see K's and BB's as counting stats on scoreboards instead of rate stats (i.e., per 9 IP).
"The other way to execute in-stadium stats is thru a dedicated portal accessible thru free wifi, while a fan is in the ballpark. Many of the fans interested in such stats will have a cell phone or smartphone, so there is a lot of information that can be conveyed to these fans while using the main scoreboard to 'entertain' fans. Ideally, a combination of both -- some advanced stats on the scoreboard, supplemented by an in-stadium portal with additional advanced stats -- seems to be ideal.
"The Diamondbacks have a
portal called Digital D-backs
. I'm not sure to what degree they deliver advanced stats, but I really like the concept of communicating more info to fans who are in attendance. The TV viewing experience has become highly informative. We need to 'up the ante' for fans that come to the ballpark so that teams can compete, with their own telecasts, for live attendance."
Added
Bill Nowlin
, vice president of SABR: "Vince's point is a great one -- serving the people at the park with the option of a menu of statistics. In theory, I guess there'd be no reason the same feed couldn't be offered to people watching the game [on TV] as an option that could enrich their viewing experience, as a supplement to what the telecasters were saying."
An informal survey of MLB teams found a mixture of the traditional and the new.
The Yankees have included OPS and WHIP on their supplemental stats board -- just to the left of the main board -- since the new Yankee Stadium opened in 2009, the same year as Citi Field.
At PNC Park, the Pittsburgh Pirates show the vertical and horizontal break on pitches.
At Miller Park in Milwaukee, a team spokesman said, on-base percentage and slugging percentage remains "as fancy as we get."
Chase Field in Arizona, one of the models for the Mets' new adaptations, has displayed OPS and WHIP since installing a new board in 2008.
"We have shown some more not-so-common stats such as range factor, but that is only on occasion, and generally only for players that have exceptional range factor," Diamondbacks director of media relations
Casey Wilcox
wrote via email. "We did mention that
Gerardo Parra
was rated as the No. 1 left fielder by Fan Graphs last season."
Said
Adam Lane
, director of entertainment and productions for the Cincinnati Reds: "We have been displaying WHIP the past six seasons. In the last two years we have added OPS and OBP to our displays. A lot of this is based on suggestions from our stats coordinator,
Rich Linville
, and requests from our baseball operations department. We have heard from fans that they enjoy the extra stats while at the game."
Are the Mets slow-walking fans into a new generation of stats such as wOBA, OPS+, BABIP and xFIP? Is there a danger in making things too convoluted or busy, like a thoroughbred racing board that contains all of the exacta odds?
"You gauge fan reaction," Newman said. "The big question: What is understandable and what is digestible for hardcore fans and people just coming for the first time, so it's not intimidating."
"In-depth" appears Tuesdays during the regular season
June, 9, 2011
6/09/11
10:05
AM ET
The Mets grabbed a 6-2 lead with a five-run eighth, then watched it erased the following half-inning against
Pedro Beato
and
Jason Isringhausen
. They suffered their first walk-off loss of 2011 an inning later, 7-6 to the Milwaukee Brewers.
"Right now there's an empty feeling because we thought we had that one wrapped up,"
Terry Collins
said.
Thursday's news reports:
• Isringhausen allowed
Prince Fielder's
second two-run homer of the game. "I made a mistake. I know I have first base open," Isringhausen said. "And as hot as he's been, I shouldn't give him anything to hit right there. That ball caught a lot of the plate. Mistake on my part. As soon as I came in the game, Terry said, 'Don't forget you have a base open.' The last thing I wanted to do is leave one in the middle of the plate -- especially a straight one." Read game stories in the
Record
,
Times
,
Star-Ledger
,
Post
,
Daily News
and
Newsday
.
•
Jason Bay
does not believe a vision issue is contributing to his struggles
. He's now 0-for-23. Writes Newsday's
David Lennon
:
During day games, Bay is hitting .304 (14-for-46) with a .429 on-base percentage. At night, that plummets to .165 (15-for-91) and .243, respectively. Bay was curious when asked about the splits, but doubted that his eyes were the reason. The leftfielder said he has astigmatism in his left eye, but that hasn't been an issue, and the 32-year-old doesn't wear glasses or contacts. When he was last checked, during his spring training physical, Bay said his vision was 20-20. Bay did say, however, that the subject had come up, and for the moment, no eye exams are scheduled. ... [Hitting coach Dave] Hudgens believes it's more of a mental block.
Collins indicated he is
sticking with Bay in the lineup
. Still, Bay told
Mike Puma
in the Post he is
aware the bench could be looming
if he does not pick up his performance. "That's the reality of the situation we're in," Bay said. "I'm not going to sit here and tell you that is not an option. I'm pretty aware of what's going on."
• Newsday columnist
Ken Davidoff
writes
Jose Reyes
will be the most high-impact player -- position player or pitcher --
available at the trading deadline
.
•
Brian Costa
of The Wall Street Journal
looks at the Reyes trade/free agency issue
as well. Writes Costa:
The better Reyes plays, the more expensive he likely will be to re-sign, and the more value he figures to command on the July trade market. As a result, it becomes harder for the Mets to hold onto him. At the same time, the longer Reyes keeps playing this way, the more difficult a break-up becomes. How could a big-market team allow a homegrown star in his prime to sign elsewhere? Vince Gennaro, author of "Diamond Dollars: The Economics of Winning in Baseball," said it would be unwise to value Reyes based on a performance spike in a contract year. But failing to re-sign him would be a hard sell to a fan base that is already frustrated. "The odds that this is the new Jose Reyes and that he's going to have a five-year run that even remotely resembles this are minuscule," Gennaro said. "But that's not where the fan base is going to come from."
•
David Waldstein
in the Times
looks at the relationship
between Isringhausen (293 career saves) and
Francisco Rodriguez
(285 saves). Writes Waldstein:
Rodriguez needs nine to vault Isringhausen, who has now made it his goal to assist him in doing just that. "If I can help him achieve something that he wants, then that makes me feel good," Isringhausen said. "Hopefully he ends up with 500."
BIRTHDAYS:
Billy Baldwin
, the former Met and not the Hollywood actor, turns 60. Like June 7 birthday boy,
Esix Snead
, Baldwin's only Mets home run was a walk-off, on Sept. 24, 1976 against the Cubs. He played in nine games for the Mets. The team won seven.
-Mark Simon