September, 30, 2013
9/30/13
7:40
AM ET
Kathy Willens/Associated PressMike Piazza is flanked by former teammates John Franco and Edgardo Alfonzo during Sunday's Mets Hall of Fame ceremony.
NEW YORK
FIRST PITCH:
The Mets will have a familiar look in 2014, at least in terms of manager and coaches.
Sandy Alderson is due to announce a two-year contract extension for Collins with a team option for 2016 at a noon press conference today at Citi Field. Collins' entire coaching staff also is
expected to return intact
.
The Mets completed their season Sunday with a 74-88 record -- identical to 2012 -- after
beating the Brewers, 3-2
, behind two unearned runs in the eighth inning. They finished in third place, a game ahead of the
Philadelphia Phillies
, although
David Wright
was not impressed
. The Mets will
pick 10th in next June's draft
-- meaning they will not forfeit their first-round pick should they sign a premium free agent.
Want to voice your opinion about which players stay and go? Please vote in our Take 'em or trash 'em poll
here
. We already have more than 2,500 ballots cast.
Monday's news reports:
•
Mike Piazza
became the
27th inductee into the Mets Hall of Fame
on Sunday. Mayor Mike Bloomberg declared it "Mike Piazza Day" in New York City.
Kathy Willens/Associated PressPiazza addresses the capacity crowd during Sunday's pregame ceremony.
Columnist Jim Baumbach
in Newsday
suggests Piazza's ceremony is a vivid reminder of the importance of spending money on players. Writes Baumbach:
Because as the Mets embark on one of their most important offseasons in some time, Piazza's return was a timely reminder of all the good that can come from spending money on the right player. It's easy to forget, but when the Mets acquired Piazza in a 1998 midseason trade and gave him $91 million that next offseason, it represented an organizational shift in strategy.
Burned by a few high-priced contracts in the early 1990s, the Mets grew reluctant to spend and turned their focus within. Sound familiar?
Columnist Kevin Kernan
in the Post
advocates Piazza getting enshrined in that Hall of Fame in Cooperstown, too. Writes Kernan:
There is no getting around the PED scandal and Piazza is pointing out that is the way the game went down in that era. In his heart of hearts he believes he will be in the Hall of Fame someday.
There is no doubt in my mind Piazza is a Hall of Fame player. I voted for him last time and I will vote for him again next time. Piazza received 57.8 percent of the vote his first time on the ballot. He needs 75 percent to get into Cooperstown.
Mike Puma
in the Post
notes Bobby Valentine, who managed Piazza, was not among the group invited to take part in the on-field pregame ceremony. Writes Puma:
According to sources, Valentine -- who worked in-studio for SNY on Sunday -- was not extended an invitation to the event. Piazza provided the club with a list of people he wanted invited.
Read more in the
Daily News
,
Star-Ledger
,
Record
,
Times
,
Newsday
and
MLB.com
.
•
Matt Harvey
continues to undergo physical therapy
at the Hospital for Special Surgery. Collins said he believes Harvey soon will be cleared to begin his throwing program in Port St. Lucie, Fla., in the hopes of avoiding Tommy John surgery. Read more in the
Daily News
.
• Bob Raissman
in the Daily News
notes how Howie Rose handled the Mets' final game on WFAN. The station is switching to Yankees games next season, prompting the Mets to need to find a new home. Writes Raissman:
In the end, Howie Rose was not looking back.
During the eighth inning of the Mets' final radiocast on WFAN, he thanked everyone responsible for getting the games on the air since 1987 when WHN became WFAN. And in the ninth, he said farewell-- for now.
"Well, Shakespeare said the play is the thing," Rose said. "But for a baseball broadcaster the game is the thing."
He said "it's time to listen to the games" in a new location. He did not know where that would be, but told fans to "stay well" and "stay safe."
"And like that old cliché goes," Rose said, "check your local listings."
•
Eric Young Jr.
won the NL steals crown with two on the final day to finish with 46. He entered the day tied with Milwaukee's
Jean Segura
, who sat with a cranky hamstring. Young and father Eric Sr. became the first father-son tandem ever to win league steal honors for a season, according to the Elias Sports Bureau.
• Read game/season recaps and looks ahead to the future in the
Post
,
Daily News
,
Journal
,
Newsday
,
Star-Ledger
and
Record
.
• The representative for free-agent-to-be
LaTroy Hawkins
and the Mets already have spoken about a return in 2014, according to multiple reports.
•
From the bloggers …
Mark Berman at
Blogging Mets
hands out final grades in his Mets report card.
BIRTHDAYS:
Dave Magadan
, now the
Texas Rangers
hitting coach, turns 51.
TWEET OF THE DAY:
Thanks @mikepiazza31 #favoriteplayer #mets #HOF pic.twitter.com/HvZcnCHlzj

— Don Flatts (@DonnyBearFlatts) September 29, 2013
YOU'RE UP: Do you approve of Terry Collins and the entire coaching staff returning?
September, 12, 2013
9/12/13
7:26
AM ET
FIRST PITCH:
Young players on the Mets can begin to earn spots on the 2014 roster with their September performances. They also can begin to disqualify themselves from consideration, Terry Collins noted.
And let's just say Collins largely has not been thrilled with the players' approaches at the plate after the Mets were shut out for the second time in three days Wednesday.
"We can sit here every night and discuss the same stuff over and over," Collins said. "You've got to make adjustments. You can't keep thinking you're going to get balls to pull, or try to go up there and pull every pitch. You've got to step out of the batter's box, or sit in the dugout and pay attention, and realize what the opposing pitcher is doing to get you out, and try to come up with a plan to make an adjustment at the plate and put the bat on the ball.
"I know they're young. That's all part of it. But, as we've said before, in the growing stages in this part of the year, we want to see some guys get better. And part of that getting better is being able to gather yourself on the side, and get in the batter's box, and put a good at-bat on."
The Mets try to get on track and avoid getting swept in the four-game series against the
Washington Nationals
when
Aaron Harang
makes his Mets debut opposite right-hander
Tanner Roark
at 1:10 p.m.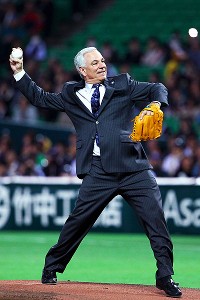 Koji Watanabe/Getty ImagesThe Yankees took exception to Bobby Valentine's criticism.
Thursday's news reports:
• Yankees president Randy Levine called it "very sad" that Bobby Valentine on Tuesday suggested the Yankees were AWOL when the city needed them after the 9/11 terrorist attacks, writes Andrew Marchand
for ESPNNewYork.com
. "Bobby Valentine should know better than to be pointing fingers on a day like today," Levine told Marchand. Read more in the
Post
,
Daily News
,
Newsday
and
Star-Ledger
.
• Collins will return to manage the Mets next season, Mike Puma reports
in the Post
. That is consistent with what
ESPNNewYork.com reported Sept. 1
. The organization would only shift course if something monumental occurred, such as a managerial behavior meltdown. As for the Mets' 2-8 record in September, which is better than only the
Chicago White Sox
, a team official told Puma: Collins "can't totally be graded on something he doesn't have right now."
As for Triple-A manager Wally Backman's future, Puma writes:
According to sources, Backman considered tendering his resignation near the end of spring training because he was unhappy receiving orders from team officials about playing time for certain individuals. Backman then angered [Sandy] Alderson later in the season, with comments about how he would fix Ike Davis, after the first baseman was demoted to Las Vegas.
But Backman knows how to manage, something that was reaffirmed this season when he took Las Vegas to the Pacific Coast League playoffs despite having his roster decimated to fill holes with the Mets.
Look for Backman to land in another organization next season, unless the Mets are willing to give him a shot on the major league coaching staff. But such an addition could create an uncomfortable situation because of the mostly false perception that Backman would be the manager in waiting.
Puma also wrote:
Alderson, through channels, has made it known there is almost no chance he would hire popular Wally Backman to manage the Mets if there was an opening.
Backman has thrived managing at the Triple-A level, but there are fears within the organization he would clash with this front office, which -- make no mistake about it -- has the final word on everything related to the on-field product.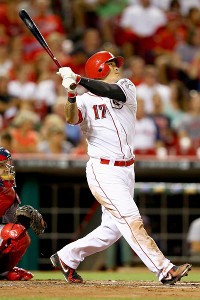 Andy Lyons/Getty ImagesShin-Soo Choo may be a top Mets target.
• Jon Heyman
at CBSSports.com
writes that free-agent-to-be outfielder
Shin-Soo Choo
"fits the bill" for what the Mets need this winter. On the Mets' offseason spending, Alderson tells Heyman: "There's no question long-term contracts carry risk, and right about the time you're clearing payroll you can wind up right back where you started if it doesn't work out. On the other hand, you have some times where you have to roll the dice. I certainly haven't ruled out a big-ticket item." Heyman suggests the Mets like the Boston Red Sox's model of several middle-range free-agent additions.
Writes Heyman:
The Mets expect to have their first-base answer in-house, between Ike Davis, Lucas Duda and Josh Satin, and will pencil in Travis d'Arnaud at catcher, Daniel Murphy at second base and [Juan] Lagares in center -- though they hope to see more offensive consistency from d'Arnaud and more plate discipline from Murphy. With David Wright back at third base, that will leave shortstop and the outfield corners as the main areas for import.
Ruben Tejada had a lost year and is out of favor and Omar Quintanilla looks like a utilityman, so shortstop will very likely be an emphasis, though the free-agent market at that premium position is less than promising. The emergence of Lagares, the addition of speedy veteran Eric Young Jr. and especially the enormous surprise season of Marlon Byrd meant a potential disaster area in the outfield was somewhat better than expected, but Byrd was traded to the Pirates and Young is seen as an excellent fourth or fifth outfielder they'd like to bring back as a backup. So outfield will once again be the biggest area to look at.
While Choo appears like the best fit, there will surely be a bidding war for a player who is second the National League with a .425 on-base percentage. Choo was below average in center field this year, but will presumably be coveted as a corner man by many teams.
•
Zack Wheeler
surrendered one run in seven innings
, but the Mets were mathematically eliminated from postseason contention
with a 3-0 loss to the Nationals
on Wednesday night. The Mets mustered only three hits against
Dan Haren
and four relievers. Tejada went 0-for-3 in his first major league appearance since May 29.
Read game recaps in the
Post
,
Daily News
,
Newsday
,
Times
,
Star-Ledger
,
Record
and
MLB.com
.
• Wheeler has tossed 163 2/3 innings. The organization is likely to let him make two more starts and approach 180 innings. Read more on a rookie pitcher trying to pitch deep into September
in the Journal
.
• The Yankees' move to WFAN -- both AM and FM signals -- was made official Wednesday, bouncing the Mets elsewhere on the dial. Read more in
Newsday
, the
Post
and
Journal
.
• Wright
ran the bases Wednesday
for the first time since suffering a strained right hamstring. Collins estimates Wright may be back in a game by the middle of next week. Read more in the
Star-Ledger
and
Journal
.
• An MRI taken on Wednesday revealed
Justin Turner
suffered a small right hamstring strain
a day earlier. Turner should miss a couple of games, Collins suggested.
• Binghamton manager Pedro Lopez has
joined the major league coaching staff
. Backman will not be added.
• D'Arnaud discusses his struggles
in the Daily News
. Scouts on Wednesday told ESPNNewYork.com that d'Arnaud is going to have to make his swing more compact. Right now, he is helpless against breaking balls. And it seems like he is not catching up to the fastballs he is sitting on. He is hitting .152 (10-for-66) with a homer and three RBIs since his promotion.
• Jorge Castillo
in the Star-Ledger
looks at
Matt den Dekker
's season and future.
•
From the bloggers …
Faith and Fear in Flushing
marks the passage of another lost season. … John Delcos at
Mets Report
suggests Valentine is misguided judging the Yankees' post-9/11 contribution.
BIRTHDAYS:
Luis Castillo
, known during his Mets days for that drop at Yankee Stadium, turns 38.
TWEET OF THE DAY:
@AdamRubinESPN Why do fans insist on seeing "the kids" play, then complain with the anemic results, like the last 2 series?

— Anthony Messana (@AntJCM47) September 12, 2013
YOU'RE UP: Was Bobby Valentine in the wrong disparaging the Yankees' contribution after 9/11?
September, 11, 2013
9/11/13
8:29
AM ET
FIRST PITCH:
Zack Wheeler
's season has about 20 innings remaining, Mets personnel tell ESPNNewYork.com.
That total further declines when Wheeler (7-4, 3.38 ERA) opposes
Washington Nationals
right-hander
Dan Haren
(8-13, 5.23) at 7:10 tonight at Citi Field.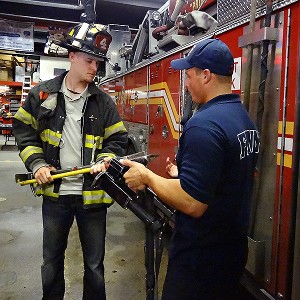 Adam RubinZack Wheeler, who visited a Manhattan firehouse on Tuesday, has about 20 innings remaining in his season.
The rookie has logged 156 2/3 innings this season between the majors and minors. He tossed 149 innings in 2012. Teams generally are comfortable with 30-inning jumps over the previous season for young pitchers.
Wheeler's next outing would come against his former employer, the
San Francisco Giants
, likely next Tuesday. It looks like Wheeler would get one more start beyond that before skipping one turn at the very end of the season.
For the record: The Mets' tragic number for postseason elimination stands at two. A loss tonight would drop them a season-worst 16 games under .500.
Wednesday's news reports:
• Chief operating officer Jeff Wilpon confirmed he
expects the Mets to be changing radio affiliates
for next season. The team has partnered with WFAN since 1987. The Yankees reportedly will move to that spot on the dial. Read more in
Newsday
, the
Times
,
Post
,
Daily News
,
Journal
,
Star-Ledger
and
Record
.
• Dr. Robert Watkins performed surgery on
Bobby Parnell
on Tuesday in California to repair a herniated disk in the closer's back. Sandy Alderson said he expected Parnell
to be unaffected during spring training
. Lefty reliever
Scott Rice
also underwent surgery
, in Philadelphia to repair bilateral sports hernias.
•
Matt Harvey
said he feels great and remains
hopeful he will avoid Tommy John surgery
, but conceded he will lean on doctors' advice, including James Andrews. Harvey is due to visit Andrews on Monday for a second opinion regarding the ace's partially torn ulnar collateral ligament in his pitching elbow. Harvey's comments came as he joined
David Wright
, Wheeler and Wilpon for a
visit to a midtown firehouse
. Read more in the
Post
,
Daily News
,
Newsday
,
Star-Ledger
,
Record
,
Times
and
MLB.com
.
•
Justin Turner
plans to
get an MRI of his right hamstring
this morning after an issue arose as he rounded third base last night.
• With his free-agency eligibility delayed until after the 2017 season,
Ruben Tejada
joined the Mets on Tuesday.
In response to Alderson's recent criticism
of his work ethic, Tejada said he is a hard worker. Read more in the
Post
,
Daily News
,
Journal
,
Newsday
,
Star-Ledger
and
Record
.
•
Dillon Gee
allowed solo homers to
Jayson Werth
and
Adam LaRoche
and
Nats beat the Mets, 6-3
, Tuesday. Read game recaps in the
Post
and
MLB.com
.
• The Mets
released their 2014 schedule
. They open at home on March 31 against the Nats. There are four separate West Coast trips. The Mets play in the Bronx on May 12 and 13, then at Citi Field against the Yankees the following two days. Interleague series include trips to the L.A. Angels (April 11-13), Seattle (July 21-23) and Oakland (Aug. 19-20). The A's (June 24-25), Rangers (July 4-6) and Astros (Sept. 26-28, to close the season) visit Citi Field. The last time the Mets visited Anaheim, back in June 2008, there was a 3 a.m. ET firing. Read more in the
Star-Ledger
.
• The
Toronto Blue Jays
confirmed they will face the Mets in exhibition games
at Olympic Stadium in Montreal
on March 28 and 29, 2014.
• In remembrance of the 9/11 terrorist attacks, the Mets
will wear caps tonight
representing different New York City first-responder organizations during batting practice -- but not in-game.
• Seth Lugo tossed six scoreless innings and Jeff Glenn went 3-for-4 with two doubles and three RBIs as Savannah beat Hagerstown, 6-2. The Gnats evened their best-of-five South Atlantic League championship series at a game apiece. Gabriel Ynoa gets Game 3 on Thursday in Savannah, with Long Island native Steven Matz set for Game 4. Read the full recap
here
.
• Read more on the Mets' firehouse visit in the
Daily News
.
•
From the bloggers …
John Delcos at
Mets Report
considers what still drives people to watch the Mets. …
Faith and Fear
tunes in to the Mets' impending departure from WFAN.
BIRTHDAYS:
Frank Francisco
turns 34.
TWEET OF THE DAY:
@AdamRubinESPN Mayeb you should just post a surgery schedule instead of a game schedule.

— Drew Kerr (@DrewKerr) September 10, 2013
YOU'RE UP: Is there a particular must-see Mets series in 2014?
September, 10, 2013
9/10/13
12:57
PM ET
NEW YORK -- The Mets expect to leave WFAN, their radio partner since 1987, team chief operating officer Jeff Wilpon confirmed during a visit to a midtown FDNY firehouse Tuesday.

"That's fairly accurate," Wilpon said. "There's nothing definitive yet, but it's fairly accurate. Right now we're still negotiating with numerous parties about what we're going to do with our radio rights."

Wilpon said the team should select a new radio partner in about six weeks.

Newsday reported the Yankees are close to moving to WFAN. The report added that ESPN New York 98.7 and Clear Channel Communications, which owns WOR, are among the parties vying for Mets rights.