New York Mets:

What's Next
February, 17, 2012
2/17/12
10:00
AM ET
By
Mark Simon, ESPN Stats & Information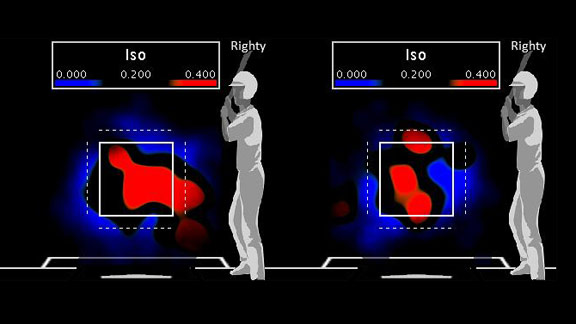 Left: David Wright's power hot/cold zones in 2010
Right: Wright's power hot/cold zones in 2011
Click here to create your own Wright heat maps
Baseball Tonight (airing at 3:30 p.m. eastern) will be taking a closer look at players in spotlight for 2012, and today's focus is on David Wright. Share your thoughts in the comments section and join in the discussion.
What's next for
David Wright
?
The
New York Mets
third baseman had his worst season in 2011, a year in which a back injury greatly hampered his production.
Wright came back in the middle of the season fully healthy and pelted line drives for a good part of the second half, though he hit only .216 with three home runs in September.
Wright's biggest bugaboo in 2011 was pitches located on the inner-third of the plate and closer to him. He was unable to muscle an inside pitch in the air.
Our video analysis tool allows us to give a player credit for hitting the ball hard, meaning usually either a fast-moving line drive or a ball hit to the warning track.
In 2010, Wright had 27 "hard-hit" fly balls against inside pitches (about 36 percent of his fly balls). In 2011, he had only three (not even 10 percent). He also hit the ball on the ground with greater frequency, as noted in the chart on the right.
With the Citi Field fences now both shorter in distance from home plate and height, Wright has an opportunity to get back to being the hitter he was.
Will he succeed? Share your thoughts in the comments section.
February, 16, 2012
2/16/12
10:00
AM ET
By
Mark Simon, ESPN Stats & Information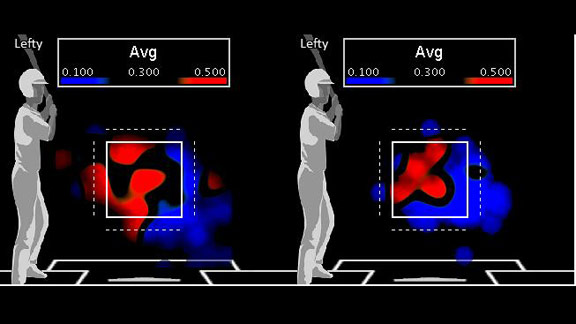 Left: Ike Davis' hot/cold zones vs lefties in 2010.
Right: Davis' hot/cold zones in 2011
Click here to create your own Davis heat maps
What's next for
Ike Davis
?
Davis' first two seasons with the Mets showed a lot of potential, with 2011 cut short by a freak injury that sidelined him for three-quarters of the season.
Davis says he feels good, and for now we'll take his word for it.
Davis looked like an All-Star for the first 36 games of 2011, bashing right-handed pitching like few other hitters in the majors. He hit .372 with seven home runs against them in 99 plate appearances.
But, over that small sample, Davis did have one issue that could cause him trouble in 2012- his performance against left-handed pitching.
Davis looked really good against lefties his rookie year, hitting .295 with 12 extra-base hits in 122 at-bats.
In 2011, it looked like some lefties had figured him out. Davis was just 7-for-43.
That's not necessarily predictive of future performance, but there was something noteworthy about the way he was pitched.
Davis showed some vulnerability in his debut season when a lefty worked him away, with about half of his outs coming on pitches on the outer-edge or further outside. In 2011, two-thirds of his outs came on those pitches.
You can see that the outside part of the plate was a "cold zone" for Davis in the heat maps above.
Davis stopped swinging at those pitches when a lefty got him in a two-strike count. He took strike three on (or just off) the outside corner fives times against lefties in 2010. That rose to 11 in 2011 (in about one-third as many chances).
The NL East added two quality left-handers in
Mark Buehrle
(Marlins) and
Gio Gonzalez
(Nationals), the latter of whom will pair up with
John Lannan
. The Phillies duo of
Cole Hamels
and
Cliff Lee
both return as well.
So it won't be an easy task for Davis to find the approach that works best for him.
Will he be able to do so and perform at superstar level in 2012?
You tell us. Share your thoughts in the comments section.
February, 15, 2012
2/15/12
10:00
AM ET
By
Mark Simon, ESPN Stats & Information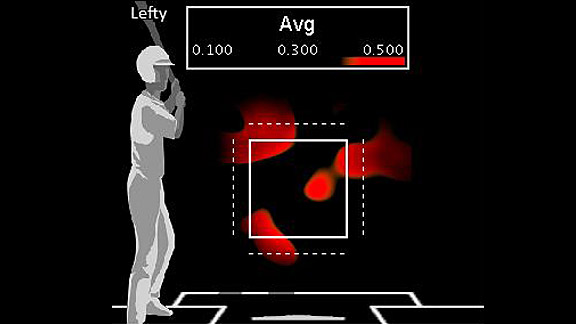 Daniel Murphy's hot zones in 2011 included areas outside the strike zone.
Click here to create your own Murphy heat maps
Continuing our series looking ahead to notable Mets for 2012
What's next for
Daniel Murphy
?
Before his season-ending injury, Murphy had a 109-game run in which he was basically the Mets second-best offensive player behind
Jose Reyes
.
Murphy hit .320 with an .809 OPS and key to that was what he was able to do against pitches out of the strike zone.
Murphy had 32 hits against pitches out of the strike zone last season. He was the master of getting a hit against what we'll call the eye-high pitch.
Murphy became adept at hitting line drives against that pitch, rather than ground balls. And when he swung, he rarely missed.
The average major leaguer misses about once every four swings at an eye-high pitch. In 2011, Murphy took 101 swings and missed on only 10 of them.
Had Murphy played the entire season, he'd likely have led the major leagues in hits on those pitches, ones that missed above the strike zone, according to our pitch-performance data.
Instead, he finished with 18, tied for sixth-most in the majors, and tied with then-Rays first baseman
Casey Kotchman
for the most by a left-handed hitter.
How valuable was that specific "skill" to Murphy's success?
Those 18 hits might not sound like a lot, but had Murphy hit against those pitches like an average major leaguer (which was how he fared in 2009), he'd have had seven hits instead of 18.
The 11 extra hits were worth nearly 30 points to his 2011 batting average.
There are some hitters who are good at guiding the ball when it's out of the strike zone, who can maintain that success over an extended time period.
Ichiro Suzuki
in his prime and Rangers infielder
Michael Young
(like Murphy, not necessarily viewed as adept with the glove) are two examples.
The optimistic Mets fan might think that Murphy can be that sort of hitter, since at age 27 (which he'll turn on April 1), he's just entering the prime of his career.
The pessimist will tell you that Murphy couldn't do this sort of thing in 2009 (he hit .197 against eye-high pitches that season) and that his 2011 performance was a fluke.
Can Murphy stay healthy, sustain this sort of success and become the sort of hitter that the Mets can count on over the long term?
You tell us. Share your thoughts in the comments section.
February, 14, 2012
2/14/12
10:00
AM ET
By
Mark Simon, ESPN Stats & Information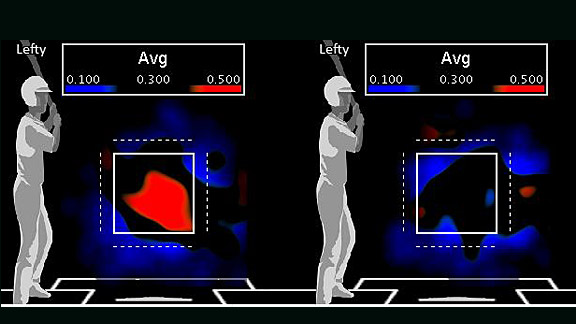 Left: Andres Torres' hot/cold zones in 2010
Right: Torres' hot/cold zones in 2011
Click here to create your own Torres heat maps
What's next for
Andres Torres
?
On the long list of things that the Mets need to happen to be reasonably decent in 2012, one is for Torres to re-find the magic that turned him into a first-time success at age 32 in 2010.
It wasn't quite Jeremy Lin-like, but Torres made quite an impression in the Giants' championship run that season. Much of that came from
the value he brought with his baserunning and defense
. But he did hit a little bit too.
For the switch-hitting Torres, hitting success came from the left side of the plate.
The lefty-swinging version of Torres thrived at slamming fastballs down the right field line for doubles (his spray chart shows 19 doubles along the right field line, tied for most in the majors by a lefty) or for a home run (he had nine such home runs, a total that would have led the Mets that season).
That patch of space by the foul pole in right field that we now refer to as "Utley's Corner" (because of the Phillies second baseman's propensity for homering there) would seem to be an inviting target for Torres, if he can find some of that 2010 magic.
That's a big if, however, given what happened in 2011.
Last season, Torres battled through an Achilles injury that caused him to miss a month early in the year and lost a little bit of the oomph he generated from the left side.
He was unable to sustain the rate at which he hit line drives. Those turned into fly balls, and the fly balls he hit left the ballpark about half as often. Torres stopped crushing the fastballs, cutters and sinkers and those slams down the line became less frequent.
Check out the heat maps at the top of this article. In 2010, Torres had a specific area in which he could crush pitches. That completely vanished in 2011.
This offseason, Torres was deemed expendable and sent to the Mets with pitcher
Ramon Ramirez
in the trade for
Angel Pagan
. He gets a chance to start from scratch and work with hitting coach
Dave Hudgens
on re-finding his form.
Can Torres return to his 2010 level of performance? You tell us. Share your thoughts in the comments section.
February, 13, 2012
2/13/12
10:00
AM ET
By
Mark Simon, ESPN Stats & Information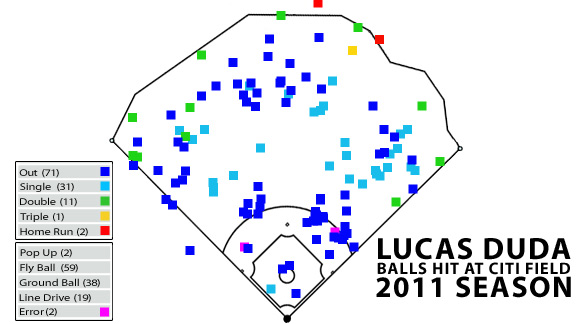 Lucas Duda's 2011 spray chart at Citi Field.
Continuing our preview of notable Mets heading into 2012
What's next for
Lucas Duda
?
Duda made significant improvements on the offensive end from 2010 to 2011, finishing with a .370 on-base percentage, .852 OPS and 10 home runs in 301 at-bats.
What should we be watching for from Duda in 2012? The Mets have done two things that should lead to further improvements.
Offense: Citi Field fences moved in
Duda only hit two home runs at Citi Field last season, but a look at Duda's Citi Field spray chart from last season (at the top of this article) shows a few balls that came close to being home runs.
Significant among those are that two of them are doubles (one to right center, one to dead center) that came against left-handers- Braves southpaws Mike Minor and a 410-foot to right center against Jonny Venters.
Duda has not yet homered in 86 career plate appearances against a left-hander. But he has shown the ability to hit the tough lefthander, as he did in those instances.
Lefties hit only .127 against Venters with two extra-base hits in 79 at-bats. Duda had one of them.
They only hit .145 against Phillies lefty Antonio Bastardo, but Duda had one of those hits, a fly ball triple that just missed reaching the right-center warning track.
Balls like those may do more damage in the new-look Citi Field.
Defense: Addition of Torres
It's a good thing that Duda will have a good defensive centerfielder next to him in Andres Torres. He's going to need the help.
Remember last September 3 against the Nationals when Duda botched what turned out to be
Ryan Zimmerman's
two-run walk-off single with a failed dive for the ball in the bottom of the ninth?
That was one of 16 Defensive Misplays & Errors that Duda was charged with by the folks from Baseball Info Solutions in his 335 innings in right field.
Duda had trouble coming in on balls and he had trouble going back on balls too. Duda had four Defensive Misplays for failing to anticipate the fence, which rated his biggest defensive issue.
Pro-rated over a full season, Duda's misplay rate would come equate to nearly 60 Defensive Misplays & Errors for an everyday player over a full season. That would be about as bad as could be. Last year's major league leaders,
Justin Upton
of the Diamondbacks and
Mike Stanton
of the Marlins, had 49.
Other advanced defensive metrics are not kind to Duda either. Duda was charted as costing the Mets eight runs with his right field defense, combining the value of his ability to get to balls with the deterrent ability of his throwing arm.
The Mets hope that the value of what Duda brings in will be far greater than what he lets in.
Do you think it will? Share your thoughts in the comments section.
February, 10, 2012
2/10/12
10:00
AM ET
By
Mark Simon, ESPN Stats & Information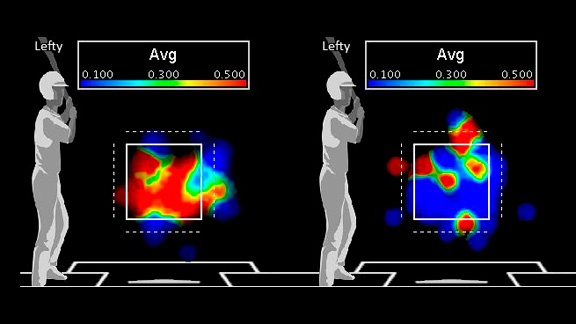 Left: How Frank Francisco fared against lefties through July 20.
Right: How Francisco fared through the rest of the season.
Click here to create your own Francisco heat maps
Continuing our statistical look at some of the key players for the 2012 Mets, we focus today on new closer, Frank Francisco.
What's next for
Frank Francisco
?
The Mets hope their newest closer, signed to a two-year, $12 million deal in the offseason, will have meaningful games to close and that he will do so in a manner similar to how he fared in the latter part of 2011 with the Blue Jays.
Francisco got shelled early in the season, one that started late due to injuries, but closed the year strong, with a 1.17 ERA and .218 opponents on-base percentage in his last 22 outings.
Statistically, the difference for Francisco almost entirely was in how he fared against left-handed hitters over the final two months.
Lefties hit the ball all over the place against Francisco throughout the first half of 2011.
In the second half, Francisco mixed up his pitch location a bit more. He threw up and away to lefties more frequently, rather than middle-away -- an area that had been a bugaboo for him early in the season.
He also threw his splitter a little bit more often, and that pitch became more of an out pitch than it was earlier in the season.
The results were such that two primary issues were greatly reduced -- his line-drive propensity and his walk rate.
In turn, he was able to finish the year in a positive fashion from a statistical perspective. That netted him this deal from the Mets.
So what's next for Frank Francisco?
Can he replicate his late-season success for a full year? Will he have any games to close?
You tell us. Share your thoughts below in the comments section.
February, 9, 2012
2/09/12
10:00
AM ET
By
Mark Simon, ESPN Stats & Information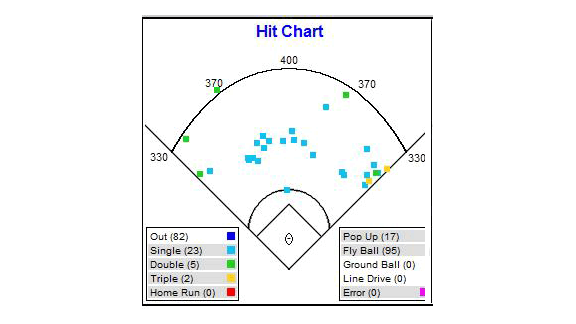 Locations for the 30 base hits that Jonathon Niese allowed on softly hit fly balls in 2011.
(Thirty ranked tied for second in MLB.)
Continuing our statistical look at some of the key players for the 2012 Mets, we focus today on Mets lefty Jonathon Niese.
What's next for
Jonathon Niese
?
The lefty, who missed the final five weeks of the season due to a strained oblique, represents a glimmer of hope for Mets fans. At age 25, he is perceived to be just coming into his own.
Statistically, there's a reason to be optimistic about Niese for 2012.
Though Niese finished 2011 with a 4.40 ERA, there are reasons to think he pitched better than someone with an ERA that high.
There are tools that sabermetricians use as ERA predictors. These have funky names such as FIP, xFIP, SIERA and True ERA.
What these formulas measure are the different factors related to Niese's performance, such as his strikeout and walk totals, his flyballs or home runs allowed, and his ground-ball rate, and come up with what Niese's ERA should have been, based on historical precedent.
The thinking is that if a pitcher's ERA was higher than his predicted ERA, that his performance was impacted by other factors, such as his defense, pitching in a hitter-friendly environment or bad luck.
Thus, if those factors can be better controlled the following season, and the pitcher continues to pitch at the same skill level or better, his performance should improve.
Studies show that the predictive ERA tools are
very
good at determining success the following season. Their biggest hits last season were Rays ace
James Shields
and Red Sox starter
Josh Beckett
, both of whom improved greatly upon their 2010 numbers in 2011.
This year, the ERA predictors have their eyes on Niese, whose strikeout-to-walk rate and groundball/fly-ball rates were pretty good.
The estimates on what Niese's ERA should have been last season range from 3.28 (xFIP) to 3.77 (True ERA). That's a substantially different ERA than a 4.40.
What caused Niese's ERA to be so high last season?
We have a few tools that allow us to look at Niese's performance. One is some video-review data that rates every ball hit against a pitcher as "softly/normally hit" or "hard hit."
Something jumped out at us when we looked at that, along with some hit-location charts for all the fly balls and pop ups Niese allowed.
The average pitcher allows hits on about 10 to 12 percent of soft/normally hit fly balls and pop ups.
Niese's rate last year? A whopping 27 percent.
That led to his batting average on balls in play (BABIP) being among the highest in the majors -- .333.
In baseball-measurable numbers, that's the difference between allowing 30 hits on such balls (as Niese did) and allowing 11 hits (what the data suggests the average pitcher allows).
At the top of this story is an image that shows the location of those 30 hits. There are two clusters -- one in shallow center field and one along the right-field line.
The optimist will tell you some of those balls will be caught this season by new center fielder
Andres Torres
and some of those balls that straddled fair/foul status will bounce Niese's way.
The pessimist will tell you Niese has a history of giving up more hits than the average pitcher, even dating to his minor league days, and that those issues will be replaced by new ones in 2012.
Mets fans, which will it be? Will Niese rise to the level of statistical expectation or continue to perform as an average pitcher with the occasional glimmer of hope?
You tell us. Share your thoughts in the comments section.
February, 8, 2012
2/08/12
10:00
AM ET
By
Mark Simon, ESPN Stats & Information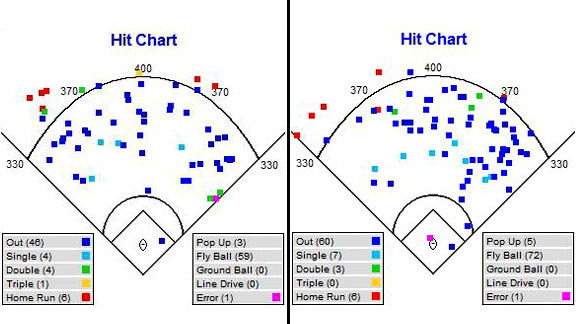 Left: Results when Jason Bay hit a ball in the air at Citi Field in 2011.
Right: Results when Bay hit a ball in the air on the road in 2011
Baseball Tonight returned to the air at 3:30 pm Tuesday and featured a segment asking "What's next?" for various players around the majors. We decided to get in the spirit of that, so we'll be breaking down some Mets in the coming days, asking you to tell us "What's next?" First up: Left fielder, Jason Bay.
What's next for
Jason Bay
?
In two injury-filled, disappointing seasons with the Mets, Bay has hit 18 home runs, half as many as he hit for the Red Sox in his final year with them in 2009.
Much has been made about how moving the fences in at Citi Field should help Bay's power numbers get back to something close to what they used to be.
A few of the deep flies that Bay has hit for long outs and the occasional double now have a better chance of being home runs.
But that may not be the only issue Bay has to fix.
Bay has the same number of home runs at home as a Met as he does on the road. Away from Citi Field, his performance has been awful.
Why?
Bay had a couple of flaws that were more prevalent away from Citi Field.
One was that he missed more frequently on his swings, which made him a more frequent strikeout victim.
The other was that he didn't pull the ball when he hit it into the air. Take a look at that in the chart on the right.
Bay was an easy out when he lifted the ball straightaway or to the opposite field. He made 31 outs to the center fielder and right fielder at home, but made 49 to those spots on the road.
Those outs along with his strikeouts were killers to both his batting average and his power numbers.
The image at the top of this article shows Bay's spray charts for when he hit fly balls in home games and road games last season.
You can see the vast difference, and the larger number of increased can-of-corn fly outs in the chart on the right.
It was a long way from 2009 when Bay could take aim at the Green Monster. In that season, he pulled the ball nearly half the time when he hit it in the air, regardless of where he was playing.
So while it's easy to say that Bay
should
be better, it's important to note there is more than one issue that may need to be addressed.
What's next for Jason Bay? Will he return to being the power threat the Mets thought they were getting when they signed him? Or will he continue to struggle?
You tell us. Share your thoughts in the comments section.